Trent-Severn Waterway Wraps Up: July 27 2022
Our Great Loop continued along the Trent-Severn Waterway through locks 6-12 to tie up at the Campbellford wall in the evening (7/13). The scenery is stunning (with Waterway run campsites dotted along the way) and the lock process is slow and steady (even at the double lift lock, 11 and 12). We walked along the wall with a cocktail to say "hi" to fellow boaters before the rain started. Campbellford has a few things to see…like the Dooher's Bakery (voted the sweetest bakery in Canada). Their cream filled donuts are a big hit but a sleeper tip came from a lock tender who used to work there…the pizza bagel. Yum! They were both tender, soft and absolutely delicious (7/14).
The Ranney Gorge Suspension Bridge was nearby so we walked a bit of the Trans Canada Trail for a peek and a further stroll along the Waterway. Back aboard I had planned on updating the blog; unfortunately, chaos exploded and it is going to take some time to sort it all out. Drat! In the meantime, more local exploring led to Empire cheese (purchased at Sharpe's Market), World's Finest Chocolate factory outlet (my sisters and I used to sell this chocolate for group fundraisers growing up – quite the blast from the past) and the giant Toonie (a local artist created the polar bear on the Canadian two dollar coin). Dinner at Capers Tap House was delicious and gave us a chance to laugh and chat with customers and staff. Fun night.
Most of the 44 locks are powered by lock tenders pushing a wheel in a circle to open and close the wooden lock doors. However, the larger locks are hydraulic and worked with the push of a button. Despite being fueled up with a second breakfast at Dooher's Bakery we had a fender-and-rope-swap dance of a day which had us pooped...starboard side tie, port side tie, starboard side tie, double lift lock up and starboard side tie through locks 13-18 (7/15). Fellow boaters, m/v Cygnus, photo-ed us in lock action. The Waterway transit has every fender and every rope deployed. Ship shape is not the term for Barefeet right now, she's purpose ready and making miles. Just like us with tan lines from tshirts and shorts rather than bikinis and trunks. For the night we anchored in Rice Lake with mirror smooth water, loons singing, homemade pizza and a great sunset. Onward tomorrow.
Morning dawned with chatty cows, periodic loon song, woodpeckers, ducks, geese and gobs more birds that we cannot identify. Calm conditions continued as we crossed Rice Lake and made our way along Otonabee River (7/16). Current weather is so wonderful in shorts and t-shirts that it is hard to imagine the long and cold winters that so dominate this area…but the hockey sticks hung on interior walls of the boat houses give us a hint. Today, progress was 30 miles but only one lock. And since it was Saturday we were joined in the lock by a run about motor boat, a jet ski, 2 kayaks and another cruising boat. It is weekend fun and we anchored in the middle of it in Little Lake…perfect seats for the evening Peterborough Musicfest performance in the amphitheater. The band (Dwayne Gretzky) cranked classic pop rock to a packed lawn and water crowd. Definitely feels like summer!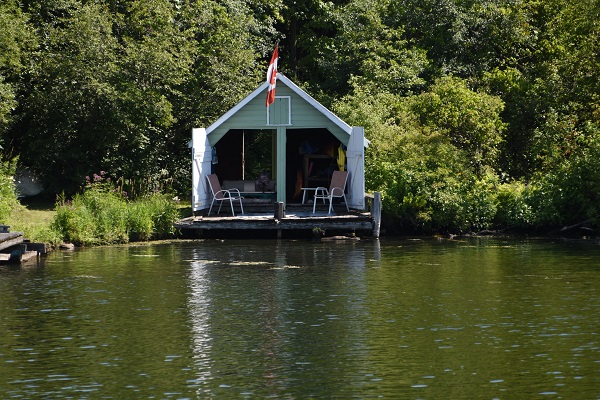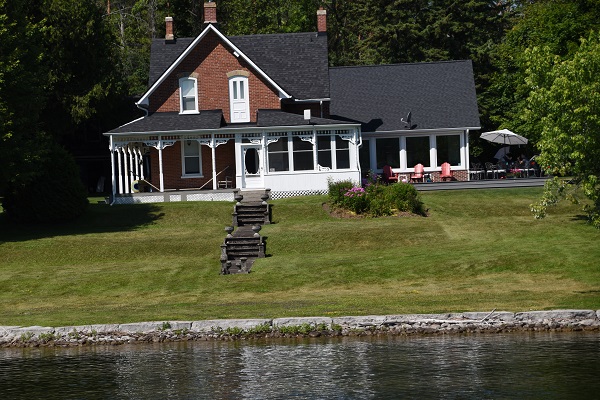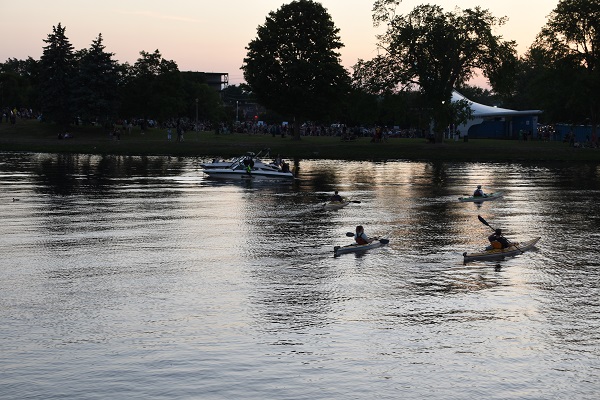 We strolled around Peterborough past street murals, terracotta shamrocks on Hunter Bridge…and checked out the main draw in town…the Peterborough Lift Locks (7/17). We'll pass through them tomorrow and reconfirmed that our 5.5 foot draft is okay to pass. Yep, no problem. Dinner was a jovial time of conversation with locals at McThirsty's Pint. Forecasted morning rain kept us at anchor until it lightened up at about Noon (7/18). Off we went but it was a pump fake and the rain continued for the rest of the day. Our passing through the Peterborough Lift Lock was amazing. Holy cow: it consists of two pans of water/bathtubs (filled at 1300 tons each), boats load into a pan, gates close, one foot of water is added to the upper pan (now heavier by 130 tons), the heavier upper pan now descends forcing the lower chamber up 65 feet, gates open and we are on our way – wow. We were joined by the sightseeing paddlewheel cruise boat…and we think we are in a few family summer albums. We called it a day on the wall of Lock 22. Wildflowers abound and a well tended lock garden is open to all.
After passing through five locks we were into the Lakes Region loaded with summer cottages (growing into McMansions like everywhere else) and a real summer vibe – like being dropped into a mash-up of Maine (without lobster pots) and Lake Winnipesaukee (7/19).
Our travel pace is faster than we expected with little time for dawdling (or hobbies – for me: needlepoint or a pine needle basket and for Chris: python coding) because Mother Nature is in charge of our dance card so unless we want to be frozen in place we need to keep moving despite this great weather. Everyone tells us that Canadian summer is the last week and a half in July. No kidding, EVERYONE. Including a scene from the TV show "How I Met Your Mother" when Canadian character Robin comments, "I dated him all summer"…conversation, conversation…"Wait, you dated him for only 1 ˝ weeks." Robin exasperatedly clarifies, "Yes, like I said – I dated him all summer." We are lucky to catch this fleeting time and moved along in stunning Stony Lake with swimming off the boat and cranking tunes. It is summer!
During breakfast a cottage owner stopped by in her carbon fiber rowing skull (7/21). She filled us in on the area including the big storm about a week ago. The eye passed right over the lake and tumbled trees (already weakened from gypsy moths last year) as well as cottage foundations. That storm was what we left Kingston one day early in order to avoid Lake Ontario in an uproar. Phew for us but the Stony Lake damage is massive. However, we had our own bit of weather at a pinch point between two granite rock clusters. Rain and wind so on went the radar. Slowly nearing the pinch point. What?! Three boat coming the other way. Yikes – slammed it into reverse in a narrow channel with shallow edges. Such quick turns that the auto-pilot couldn't keep up. Where are we?! That was awful! The bird in the water is standing on a ROCK - navigation is a big challenge (see picture below).
Our heart rates got back to normal and we stopped for the night outside Bobcaygeon. It's a busy place so we anchored on Pigeon Lake and dinghied into town. Bigley's Shoes (est 1911) is as massive an emporium as billed with shoes, clothes, water sports gear…you name it. A stroll of the town then we settled into 72 Bolton Sports Café for burgers, the odd happy puppy and tips from locals for our upcoming locale of Georgian Bay. Thanks!
Winds dropped and it was a slow morning of ham and cheese crescent rolls for breakfast (7/22). The Bobcaygeon Lock (#32) is always VERY busy so we started calling the lock at 9am (opening time) to see when there was room for us to come onto the blue line (next up in the lock). No need to poke our nose into the frenzy because there is not even enough room for us to turn around in the alley approach to the lock. About an hour-and-a-half later things calmed down and in we went. The photo shows our exit…jet skis, run-abouts, house boats, tinnys, kayaks and more. On we went to Fenelon Falls where we found a spot on the lower wall for the night. No power or water but at $1CAN/foot it is a great deal and has us plunk in the center of this cute town. First stop – Kawartha Dairy Company ice cream at Slices and Scoops. Yum!
Today, we broke many of our casual guidelines for the waterway: don't do more than 6 locks (we did 8 locks, nos. 34-41); don't drive more than four hours (we drove 7hrs), don't travel much on weekends (today is Saturday during the height of Canadian summer vacation). All of this was done in the name of Mother Nature who is supposed to bring buckets of rain and strong winds tomorrow. The long day was made even more challenging with the Trent Canal (7/23). It's super narrow and a v-cut through granite rocks. Gulp. All went well until the very end when a GIANT houseboat came into view. No worries – the houseboat gang were fabulous. All eight passengers grabbed trees on the side of the canal and hugged them close until we passed. Phew – that was amazing! After that the Kirkfield lift lock was a breeze - complete with those bathtubs/pans full of water. Out we came to manmade lakes…bump, bump…with deadheads. And a final bump as we exited through Hole In The Wall Bridge. A local boater and lock buddy described it as a weird stretch of water – bingo. We made it past the final swing bridge of the day and tied to jetty walls just before entering Lake Simcoe. "Freedom!" As stated by bridge tender Jennifer – could not have said it better. Her little bridge tender mushroom was a welcome sight. Loaded nachos on the top deck were a satisfying reward after the long day.
We were still a bit pooped after yesterday but the rainy forecast did not encourage much activity anyway (7/24). Inside project - the freezer was unloaded and defrosted while we stayed put. Between rain showers we walked the cottage and farming community of Beaverton. Bridge tender Jennifer was a font of knowledge and clued us in on the plaque on the nearby bridge honoring Samuel de Champlain. Holy cow! We have been traveling (in reverse) the route taken by explorer Samuel de Champlain in 1615 with a team of Huron Indian warriors who paddled and walked: across Lake Simcoe, up Talbot River to portage to Balsam Lake to Sturgeon Lake to the head waters of the Trent River at bay of Quinte Bay enroute to Lake Ontario. Wow! We humans are a curious and technologically advancing bunch…canoes and paddles to float planes?!
In the hopes of lighter winds we crossed Lake Simcoe early in the morning (7/25). It was pretty sporty and we bounced our way across. We anchored outside the marina waiting for it to open. Yikes – weeds were back and were not totally removed from the anchor until we were tied up at slip #180 in Port Orillia Municipal Marina. The weeds mess with the depth gauge, too. We read 4 feet in the marina fairway but were told it was 7 feet…at the slip we were 9 feet upon arrival but 14 feet a few hours later. We strolled the cute town that began as a trading post in 1815. Bakeries, homemade jams, cottage charm and bikinis were all options.
Morning dawned beautifully as we awoke in the Muskoka Lakes region (7/26). This area is known for multi-million dollar "cottages" with equally exquisite scenery. We will be cruising this corner of the planet through the remainder of the Trent-Severn Waterway, Georgian Bay and the North Channel. Maybe we'll bump into Goldie Hawn and Kurt Russell (supposedly they are two of the many celebrities in the area). Off we pedaled for some bike exploration on the Oro-Medonte Rail Trail towards Barrie. The gravel rail trail was completely separate from roads and bordered by cat tails, Queen Ann's lace, blooming wildflowers and swans floating on ponds. The afternoon had us getting sorted out with chores like laundry, fresh fruit and vegetables (some from a local farm), scrubbing bathrooms and filling water tanks. Our day ended with a dinner of burgers, dogs and milkshakes from 100+ year old French's…just a beach shack surrounded by the lakeside Couchiching Park.
Okay today is the big day. The Big Chute Marine Railway Lock day (7/27). But first we needed to get past the railroad swing bridge (open on demand but could have been a wait since there was a derailment yesterday resulting in heavier than normal traffic today). It was open when we arrived – yippee. Two more locks – steady and smooth. Now or never. It's chute time. Big boats like us (larger than 11' beam) can only pass during the week and staffing has been an issue this summer. We nosed up to the blue line and waited. It's offline, closed, maintenance that should wrap up soon but the best comment was from a lock tender when I pointed to our spot in the growing queue, "You have a good chance of getting through today." We'll take it. Sling points were marked on the side of the boat with painter's tape and fenders were pulled on deck. We're up! The PA system directed us into the steel carriage (30' high and 27' wide) where we floated into slings (like a travel lift), water drained out, carriage moved along railroad tracks over an auto road, forward 600 feet, down 27 feet and plopped into the water on the other side. It sounded scary, looked like a roller-coaster ride but was actually the easiest lock yet. My knees rattled but Chris was giddy at the technological achievement. Lock staff even eyeballed our bottom and said all looks good - thanks (and, phew, after our bumps earlier in the Waterway). We finished the day at 5pm tied up at Starport Marina in Port Severn. Celebrations are in order! First toast is to the Naiades (Greek freshwater nymphs) since Poseidon (Greek God of the sea) is over 500 miles away. New old fashion cocktails and farm fresh tomato sandwiches on Wilke's Bakery bread were amazing on our lake back porch and we feel great!
We have one more lock to go and we will be into Georgian Bay with the 240 miles and 44 locks of the Trent-Severn Waterway in the rear-view mirror. We need to pinch ourselves.
Refrigerator Pickles (Pia Staerke)
1 cucumber, peeled and sliced and halved
1 cup boiling water
1 Tablespoon sugar
˝ cup white vinegar
Dash salt and pepper
Dissolve sugar in boiling water. Add remaining ingredients, cucumbers last. Store in fridge in air tight container until chilled and ready to serve.