Continued River Drifting through Kentucky, Tennessee and Mississippi: October 24 2022

Green Turtle Bay Marina is located in Grand Rivers, KY. It's a spot where the Cumberland and Tennessee Rivers come in from the north and exit to the south in the form of Lake Barkley and Kentucky Lake then continue along again as the Cumberland and Tennessee Rivers. It is a perfect spot to explore the Land Between the Lakes (LBL). This narrow, wooded area has always been an isolated pocket of wilderness. During Prohibition it was home to one of the nation's most notorious moonshining operation (capitalizing on the limestone-rich mineral water and the abundant corn in the area). LBL is an island peninsula that was created in 1963 by President Kennedy as a recreational and environmental area when the dams were built and the area was flooded, creating Lake Barkley on one side and Kentucky Lake on the other. The dams have a very practical purpose that is coming into play right now in 2022. Because of below-normal rainfall in the midwest, the Mississippi River at Cairo, IL, is approaching its lowest river level since 1901 (at harvest transport time, no less). To help stabilize commercial navigation conditions on the lower Ohio and Mississippi Rivers, the Tennessee Valley Authority is scheduling special water releases from the Kentucky Dam on the Tennessee River and the Barkley Dam on the Cumberland River to help low river level impacts.

For me and Chris, Land Between the Lakes represents 40 miles/170,000 acres of undeveloped shoreline, hiking trails, campsites and secluded coves loaded with wildlife such as bald eagles, deer, turkeys and armadillos. We hopped on the bikes and headed for the hiking trails (10/9). Today, we only saw an armadillo but hope for more wildlife when we boat along the LBL on Kentucky Lake/Tennessee River in a couple of days.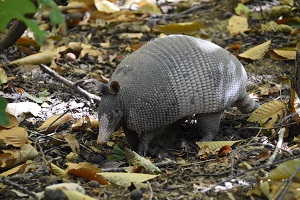 In the meantime, we moved slips due to a high volume of looper boats migrating south (10/10). Green Turtle recently changed from family owned and operated to corporate which is straining operations and causing grumbles from both staff and boaters. Time will tell how this favored spot will evolve. On the up-side our slip move meant that we got to see how the covered slip folks live (10/10). Wow – covered finger piers 70 slips long and totally tricked out; floor mats, twinkle lights, sofas, dining sets, mounted TVs, grills, smokers…clearly, we need to up our boat porch game. Finally, borrowing the courtesy car for two hours gave us a chance to make quick, last minute runs to the dentist (nothing to worry about – just a check), the supermarket (it has been so long since we last saw Monterey Jack cheese) and the liquor store (it's an adventure every day and a party every night on the water). Completed laundry and filling of both water tanks had us ready to toss the lines tomorrow morning.
And toss the lines we did (10/11). Our current itinerary has us slowing down our miles per day in order not to get to Mobile, AL, before November 1st (due to a boat hurricane insurance requirement). I tidied up the deck by stowing lines and fenders for our next few lock-free days which has Barefeet feeling more like a boat again. We tucked into Clay Bay to anchor for the night. It's a Land Between the Lakes cove all to ourselves except for the periodic bass boat fisherman, soaring eagles, graceful deer and an elderly, limping feral pig. Not a light or structure ashore. The next day was another gentle ride on the lazy river until a squall hit just as we were pulling into our anchor spot (10/12). Sheesh – on went the radar because we needed to pick the center spot between the islands. At 30ft deep we needed to drop 150ft of chain…islands were only 400ft apart which made our 300ft of swing room work only if we dropped in the center. Buckets of rain as the chain dropped turned Erin into a drowned rat. Honest – not a few sprinkles on her shoulders…it looked like she had jumped into the river. A hot shower followed by BLTs and a well deserved anchor beer were perfect. The storm passed quickly resulting in a quiet night (and a great boat wash).
Morning dawned dry and peaceful for another gentle meander on the lazy river (10/13). The Fall colors ashore are exploding and mix with the stone bluffs to make for an impressive sight at Lady Finger Bluff. We passed under bridges, past a few barges and even a dredger but there wasn't any drama on this wide stretch of river. For the night we anchored off Beech Creek Island and dinghied into Clifton for a look around. Town is about three blocks and not much more than a Bank, a coffee shop and the Chamber of Commerce…just as expected since the googles didn't even show that much. As planned, we had dinner at the Clifton Marina Bar and Grill where the food was fabulous and the vibe could not have been more welcoming from Susan (Mom), Christopher (son) and Stacey (daughter-in-law); pulled pork sandwich, gator bites with mojo sauce and a stellar Old Fashioned cocktail. Heck, Chris even found a new favorite beer brewed in…Scotland?! Quite a place. Family owned and operated rocks!
The sun rose to dense fog which meant there was no need for us to rush off. By 9am it had lifted and we were on our way (10/14). Water levels are clearly a concern on the Tennessee River due to the shoreline covered with all fashions of stairs, ladders, stilts and countless tons of riprap. We have seen exposed, dry river banks and channel depths of generally 30-50ft; however, channel depths have ranged from 12ft to 70ft. In 2019 the river rose 39ft to record levels. That is A LOT of water that crept and crept and crept - higher and higher as rains continued to soak the area. To put it into perspective - global tides average 3.3ft with the outlier Bay of Fundy being 52ft. We have been happy to be transiting in October rather than in February. Winds kept up in the afternoon as we anchored behind Wolf Island (near Savannah, TN) but the anchor stuck well for a peaceful dinner of homemade chicken tikka masala. Fabulous!
In the morning the boat still smelled marvelously like a curry house after our masala dinner last night making for a warm and comfy start to the day despite the grey skies. Our short mileage day included one lock so out came the ropes and fenders again. We passed through Pickwick Lock smoothly with numbered floating bollards (so civilized)…up we went 50ft. Out of the lock we emerged into Pickwick Lake where shores are more thickly wooded, the houses are BIG and autumn colors are even more vibrant (10/15). Again, not a structure in site as we anchored in the cove of Zippy Branch, MS. Yep – we are in a new state – Mississippi. Sausage, cheese and chile baked casserole dip with tortilla chips for dinner at the end of the rainy day paired perfectly with the final Daniel Craig as James Bond movie. This dip really is a stunner! The ingredients patiently wait in the larder (forever) until needed to warm the soul and fill the belly - we've made it tons of times, always a crowd pleaser (recipe below). Enjoy!
Within one hour of departing Zippy Cove we were tied up in slip D42 at Aqua Yacht Marina in Iuka, MS (10/16). There is not much in the area despite being the point where Alabama, Tennessee and Mississippi come together (that's A LOT of letters). The big draw here is a means to visit the Civil War battlefield of Shiloh. No kidding – there is not a rental car to be had in Clifton, Savannah or Iuca. The option for wheels is a courtesy van from Aqua Yacht (they have three). Thanks! We made a quick visit within the 2.5hr courtesy car time limit. The 5,000 acre Shiloh Battlefield has placards and markers in three colors designating the three fighting armies; the Army of the Ohio (Major General Don Carlos Buell), the Army of the Mississippi (General Albert Sidney Johnston, killed) and the Army of the Tennessee (Major General U.S. Grant). Shiloh was a battle – most definitely fierce and bloody (the bloodiest battle up to this point in American history) but more importantly it was an emotional wound to both the North and the South. It was the first battle of the Civil War that shocked Americans into seeing just how long and just how terrible the war would be…occurring one year into the fighting with three fiery years yet to go. For a few specific facts: the battle lasted two days in April 1862; it included events named bloody pool and hornet's nest; battle lead switched at least twice; most soldiers were barely trained; it was the first major battle in the Western theater and leaders on both sides were severely criticized. New Orleans novelist George Washington Cable commented that, "The South never smiled again after Shiloh." Chris and I were humbled.
Needing to switch up the mojo we turned to football at the Aqua Yacht Harbor Grille. Nibbling on a burger and fried catfish with fries and hushpuppies (yum) while chatting college football with locals at the bar is so fun! Ha – definitely not many sad faces after Tennessee's upset of Alabama. Mississippi is starting to take shape for us…Elvis, back country roads, race cars and, hey, that's the state flag – the magnolia state.
The forecast cold snap arrived which had us extending our stay at Aqua Yacht for another night so we could crank the heaters in the low 30F morning temps with accompanying freeze warnings. It also gave us a chance to do some route planning from here to Columbus, MS. It's approx. 120 miles with 8 locks so we needed lots of bail out ideas depending on our speed passing through the locks. We're ready! Chris had a zoom call and Erin headed to Freddy T's for dinner with the marina courtesy car (10/18). Yes, even the guys at the bar thought it was a bad idea for Erin to walk to the bar…with the whizzing lumber trucks along the highway and no shoulder or sidewalk to speak of. After cranking the heaters we tossed the lines at 8am. Oops – tread carefully on the ice on Barefeet's decks…crazy slippery. Despite the crisp temps it was a tranquil day to the Natchez Trace anchorage of five fingers without a structure or antenna in sight (10/19). The location is again bursting with stunning fall colors and we cannot wait for the stars to come out. Chilly temperatures were made cozy with a roast chicken dinner on a bed of onions and potatoes (recipe below). Yum! We are always happy for this meal.
The cold snap continues which has us happy to be moving south where its warmer. Behind us the early cold snap has docks winterizing by shutting down fresh water at places like Paducah, KY, and Clifton, TN. Morning smoke on the water at Natchez Trace silhouetted the fishermen to beautiful effect. Okay, up comes the anchor - let's see how far we can run today?! We were super lucky with the locks continuing on the Tenn-Tom for 8.5hrs, roughly 50 miles, 6 locks and 222 feet lower in lock elevation (10/20). It was great progress as we make our way back to sea level. Our day ended at almost 5pm anchored in Canal Section Cut-off.
So many miles yesterday means an easier day today (10/21). Our river motoring feels like an eco-system change with loads more birds and wooded forest all the way down to the shoreline with a swampy kinda vibe is creeping in, too. Just two locks and we were anchored in the oxbow beside Columbus, MS. Dinghy dock is a stone's throw away and town is just a few blocks beyond that. Perfect!
The cold snap is over and we are loving Columbus, MS (population 23,500). College football allegiances fly from every porch, the southside historic district is packed with lovingly maintained homes of architectural beauty and "sweet tea" is a Best Of category in the annual restaurant awards. Playwright Tennessee Williams was born here so we started with a tour of his first home (10/22). Downtown Columbus has its share of historic Main Street storefronts similar to the historic homes in the residential neighborhoods. Zachary's was a lively spot for Mississippi football games (Ole Miss and Mississippi State); unfortunately, neither won.
A walk along the winding Riverwalk Trail beside the Tombigbee River was a nice way to start the day (10/23). After the wooded trail we headed for the southside historic district where the homes are architecturally beautiful as well as steeped in history - each with its own story. Some are massive (originally sitting on an entire city block and constructed over six years - Riverview), others are cottages (graceful Louisiana style, yet, still sitting on a city block - Lehmquen), others display extravagant tastes in the "Columbus Eclectic" style (combining Gothic, Greek Revival and Italianate – White Arches) and yet others are woven into the tapestry of history (a basement hospital after the battle of Shiloh, a WWII servicemen's center decorated with original artwork sent by Walt Disney and as the place Eudora Welty described in 1939 as where hospitality had reached its height, including the Whitehall Mint Julep – Whitehall). We marvel at the work it must take to keep the shimmer. Dinner aboard centered around the remaining roast chicken…Lindy's Delish Roasted Cauliflower, Capers and Pasta (recipe below). Awesome flavors! Thanks Lindy.
We'll spend a few more days here enjoying our snug anchorage, warmer temperatures and exploring the greater Columbus area before continuing south toward the Gulf of Mexico.
Sausage, Cheese and Chile Casserole Dip (James Villas) serves 6-8
3/4lb bulk pork sausage
8oz cream cheese, room temperature
7oz Rotel tomatoes and chiles, drained
1/4lb extra sharp cheddar cheese, grated
Tortilla chips for dipping
Optional garnish: chopped cilantro once removed from the oven
1) Fry sausage over medium heat, breaking up with a fork until well cooked. Drain on paper towels.

2) Preheat oven to 350F. Grease 1.5qt casserole dish.
3) Combine sausage, cream cheese and Rotel. Mix well until blended.
4) Scrape into casserole. Sprinkle cheese evenly on top. Bake until bubbly (approx. 20 minutes). Serve hot.
Note: super forgiving and easily modified depending what you have on hand: any meat will do (and since most sausage comes in 1lb size – I use that amount); substitute one can of petit diced tomatoes (drained) and diced jalapenos (from a jar) to preferred heat level for Rotel
Ina Gerten's Perfect Roast Chicken (Serves 3 to 4)
1 5- to 6-pound roasting chicken
Kosher salt
Freshly ground black pepper
1 large bunch fresh thyme
1 lemon, halved
1 head garlic, cut in half crosswise
2 tablespoons butter, melted
1 Spanish onion, thickly sliced
1 cup chicken stock, preferably homemade
2 tablespoons all-purpose flour
· Preheat the oven to 425 degrees.
· Remove the chicken giblets. Rinse the chicken inside and out. Remove any excess fat and leftover pinfeathers and pat the outside dry.
· Place the chicken in a large roasting pan. Liberally salt and pepper the inside of the chicken. Stuff the cavity with the bunch of thyme, both halves of the lemon, and all the garlic. Brush the outside of the chicken with the butter and sprinkle again with salt and pepper. Tie the legs together with kitchen string and tuck the wing tips under the body of the chicken. Scatter the onion slices around the chicken.
· Roast the chicken for 1-1/2 hours, or until the juices run clear when you cut between a leg and thigh.
· Remove to a platter and cover with aluminum foil while you prepare the gravy.
· Remove all the fat from the bottom of the pan, reserving 2 tablespoons in a small cup. Add the chicken stock to the pan and cook on high heat for about 5 minutes, until reduced, scraping the bottom of the pan. Combine the 2 tablespoons of chicken fat with the flour and add to the pan. Boil for a few minutes to cook the flour. Strain the gravy into a small saucepan and season it to taste. Keep it warm over a very low flame while you carve the chicken.
· Slice the chicken onto a platter and serve immediately with the warm gravy.
Erin's Note: I don't fuss with the gravy and all is delicious.
Lindy's Delish Roasted Cauliflower, Capers and Pasta (serves 4)
1 head cauliflower, cut into bite-sized florets
6T capers (plus juice), approx. 3.5oz jar
5T olive oil
1/2 t salt
1/4t pepper
¼ cup Parmesan, grated (more to serve)
1 onion, chopped
3 cloves garlic, minced
2t fresh thyme, chopped
2T lemon juice (more to serve)
Cooked chicken, chopped (approx. 3 cups)
8oz pasta (short – fusilli, rotini, bow tie, etc.)
· Heat oven to 425F
· On a baking sheet pan toss florets, 4T capers, 4T olive oil, salt and pepper until coated Spread evenly and cook approx. 30-40 minutes until edges are well browned (stirring every 5 minutes)
· Saute onions in olive oil until translucent. Add garlic and saute 1 minute. Add 2T capers, caper juice, chicken, thyme and lemon juice.
· Boil pasta and drain.
· Toss all together with Parmesan cheese
· Pass lemon wedges and Parmesan cheese to serve