North Carolina and Virginia…Chesapeake Bound: May 5 2022
Right on schedule the rain stormed through Carolina Beach. All cruising boats had stowed their dinghies aboard and simply hunkered down for the day (4/18). The up-side was that we confirmed that Barefeet has no leaks after the massive day of deluge. The next day cleared and we were off for the Mile Hammock Bay anchorage on the Camp Lejeune Marine Base. Cruising life is mostly about making decisions under uncertainty (like most of life). Usually, the uncertainty for us comes from Mother Nature or a schedule to meet; however, today it came from the Marines and the Coast Guard. Practice exercises had been announced via Federal Register so we made loads of calls in an attempt to track down the exercise schedule…all to no avail except for the response from Coast Guard and area bridge tenders…no exercises are planned – you are all set. Okay, off we went and were anchored at Mile Hammock at 2.30pm…settled in for the night and readied for a conference call for Chris at 5.30pm. I showered and as I dried off Chris yelled down, "We need to go." What?! It was 3.30pm and the non-existent exercises would wrap up at 4pm. To leave an anchorage as the day is winding down…and the next option for a dock or anchoring is two hours away?! This was very unusual but when the Coast Guard tells you to, "Depart the anchorage immediately." You simply do it and make the best of it. On the positive side we made the Onslow Bridge's every thirty minute opening, I got a fancy salon blow out for my hair (due to my wet head and the high winds while raising the anchor) and we saw a bald eagle wrestle with an osprey over a fish right in front of us. By 6pm we were anchored at Swansboro, Chris made his conference call and we were truly settled in for the night. Sheesh – that was way more pivoting than we like. No real clarity was provided about the exercise scramble except a call returned 24hrs later by the Coast Guard who said the Marines were supposed to widely communicate the schedule and they dropped the ball. Oh well, it's in the rear-view mirror and we are further north…all good.
Our next hop was to Morehead City…now just a two hour drive after yesterday's scramble. Quickly tied up at the Morehead Yacht Basin we jumped in an Uber with driver Edward to revisit Beaufort, NC (4/20). We strolled the main drag of Front Street popping into shops and grabbing a drink at Clawson's Restaurant & Pub. Clawson's is a brick and beam building from the early 1900s lovingly restored by current owners and loaded with memorabilia and period furnishings…like the massive mahogany bar. Cheers! With t-shirts in hand friendly Edward drove us back across the bridges to Morehead City (fleet of one Uber drivers here). Sport fishing charters were returning to the docks after a day on the Atlantic Ocean…with quite the haul on m/v Bill Collector – congrats. Dinner at the Ruddy Duck was a treat – a real favorite of ours (and closed the last time we passed through). We come mostly for the banana cream pie but also for the cruiser crossroads – Hi Staten (from Brunswick Landing) and Hi David and Nancy (that's their dog Morgan with his head out m/v Synergy's window).
Pivoting continues to be the name of the game for us. This time due to weather…as well as marina space in shorter supply than usual. Case in point – the New Bern Grand Marina was full with a waiting list for slips so we stayed two nights at anchor rather than one week at the dock. All good but it keeps us on our toes. New Bern is about 14 miles up the Neuse River and a place we always pass...until...this time. We dinghied into the marina and explored the historic riverfront town scoping out a place for dinner (4/21). The Mitchell Hardware store was amazing and sells just about everything…including horse shoes. Wow! This store is an area landmark that has been around since 1898 and has its own tourist leaflet. Dinner…hhhmmm. Wildly popular Morgan's Tavern was on Spring Break (so that their employees can catch their breath before the summer season kicks in) so we went to Cypress Hall and dove into the craft cocktails. Oh la la – that Gold Rush Martini is (almost) too pretty to drink. Thanks for the tip m/v Synergy.
The next day was a stunner at 80F and sunny (4/22). Off we went to the Tryon Palace. This was North Carolina's first permanent colonial capital (and the original state capital). The estate was built in 1770 by the British appointed Governor, William Tryon. William thought grand thoughts and built the Palace at 3x the original budget (overage was made up for by taxing the colonists...you see where this is going). William and family only lived in the Palace for one year followed by the second Governor who stayed only three-ish years after seeing the writing on the wall about the American Revolution and scuttled out of town under the cover of night in 1775. Then the building became an event space and burned down in 1798. The Palace was reconstructed in 1945 with excruciating research of every detail…original architectural drawings, period furnishings (including some original pieces auctioned off when the Governor scedaddled in 1775) as well as detailed inventories by Tryon himself. It is a fascinating step back in time where the cantilevered grand staircase is the highlight…and the most expensive piece of the Palace when originally built as well as when rebuilt. We rounded out the day with Chris' pizza on the top deck…until the annoying midges swarmed. Not really biters but they do leave a nasty green poo behind.
Our morning departure from New Bern was slightly delayed due to fog dropping with a thump before we were off for Oriental, NC (4/23). It was an unexpected treat as m/v Twin Sisters pulled into the anchorage, too, which led to a great afternoon catching up, snacking on donuts and having a cocktail on the porch of Toucan Grill where the grass lawn flows to the harbor's edge with boats backed up in the Inn's slips. Exploring even included some fun girl time shopping (the guys happily entertained themselves). Great afternoon and we'll see ya down the road, Russ and Lori. Another great weather day had us off exploring Oriental further afield out to River Dunes Marina on the bikes (4/24). It is a pretty place and super protected so we'll keep it in our rolodex. Looks like weather forecasts have shifted which has a messy Albemarle Sound crossing if we don't make miles and cross in one day rather than two. This had us passing Belhaven and continuing through the Pamlico Sound, Pungo River, Fairfield Canal and anchoring at Tuckahoe Point in the Alligator River (4/25). Hey, there is an ICW mile marker – not many of those left across its 1,090 mile distance. Mile 0 is at Norfolk so we are closing in on the Chesapeake. This favorite anchor spot was made even better with a comforting chicken dinner roasted while underway (recipe below).
This was a magical morning. The Milky Way splashed across the sky with a sliver moon before sunrise followed by blue skies and cotton ball clouds (4/26). We cranked songs like Brandy, Ventura Highway, Horse with No Name…and crossed the Abemarle Sound in calm conditions. The night was spent tied up at iconic Coinjock. Reason #1 was to receive a laptop computer battery for Chris since his battery has been expanding and "stretching out" his computer's skeleton. The swap was made but two pesky screws required a dremel in order to be removed. He was back in business. Reason #2 was a snug spot while night storms passed.
An early 6.30am start gave us light winds as we crossed the Currituck Sound (4/27). This is the closest we will get to the Outer Banks this time around because we are Norfolk bound for dinner with dear childhood friends of Erin, Mr and Mrs Ash. We anchored in familiar Lafayette River to dinghy to their backyard. We had a wonderful evening - perfectly familiar and relaxed. The homecooked meal was a real treat. We departed before sundown loaded with ideas for tomorrow's Explore Norfolk itinerary – what a marvelous small world it is.
Our Explore Norfolk Itinerary began with a driving tour - audio guided by Mrs Ash and navigated by Mr Ash (4/28). It was neat to see Norfolk through their eyes and hear the love she has for her wonderful hometown. They dropped us off at the Chrysler Museum with walking tour ideas for the rest of the day. Thank you! We spent hours in the museum's permanent galleries, special exhibition of M.C. Escher and the Perry Glass Studio for a glassmaking demonstration. From the museum we walked to Botetourt Street to relax at Cure Coffee before continuing to the Freemason District. The Freemason District is the oldest standing neighborhood in Norfolk where cobblestone streets, brick sidewalks and mature trees conjure a bygone time…including the private residence at 351 Botetourt where a grand reception was held for General Robert E. Lee in 1870 (it's the three story white house with black shudders). Dinner capped off the Explore Norfolk Itinerary at Voila with beef wellington, lamb chops and espresso martinis for dessert. It was delicious and the perfect end to a fabulous day.
Boat work is top of the list for an oil hose replacement with hose shop installed fittings. The shop is only open Monday thru Friday which could be a problem. Our arrival from Norfolk will be on a Friday and we hope to squeak it all through. Just to be sure we took four nights at Downtown Hampton Public Piers and rented a car because having the engine disabled we feel better at a dock. Holy cow – everything came together so smoothly. We were tied up, engine oil drained, car acquired and hose replaced in just a few hours (4/29). B&B Hose and Rubber on Aberdeen was lightning fast – thanks guys. Plenty of time for a supermarket run with m/v Twin Sisters – cruisers always meet. We love it when a plan comes together! Now we have three days to explore the area: Yorktown, Williamsburg, Smithfield…you get the idea.
Revolutionary War history was front and center for us and the rental car. Being from Boston it is easy to think of the war as tea thrown into the harbor, a midnight ride, Battles fought in Lexington…and bam – we're a country. The reality was a seven year long guerrilla war between the global British Empire and a rag tag Colonial Army. Park Ranger Ty brought this alive at the Yorktown Battlefield where the British and American soldiers met exhausted after six years of fighting (4/30). The French arrived with a staggering 26 warships and the British surrendered in what had become a World War. George Washington was the masterful cheerleader that kept it all together finally ending the fighting and America had begun. A few colonial homes survived the siege in which one cannon ball per minute was fired for eight days. The quiet, peaceful Yorktown of today is hard to imagine as a deafening bombarded war zone of its past.
We continued driving along the Colonial Parkway to Williamsburg where dining al fresco under yellow umbrellas nestled beside the campus of the College of William and Mary, the ninth oldest English speaking institute of higher learning in the world. History is everywhere on this Virginia peninsula. Next up was a drive to Smithfield for ham. Easy – simply type in the destination in the phone and out spits the directions. As we neared the water there was no bridge anywhere in sight. Oh, it's a ferry crossing. That was unexpected but a good laugh as we boarded the Jamestown – Scotland Ferry. Now it's all about the hams along lovely backroads. As described by Fine Cooking, "hams dry-cured, hickory-smoked, and aged in and around Smithfield, Virginia, have been legendary since the days Thomas Jefferson and Queen Victoria ordered them, and today there is still no more ceremonial ham for the formal buffet table." We bought a quarter ham and cut it into smaller sizes for vacuum sealing and into the freezer.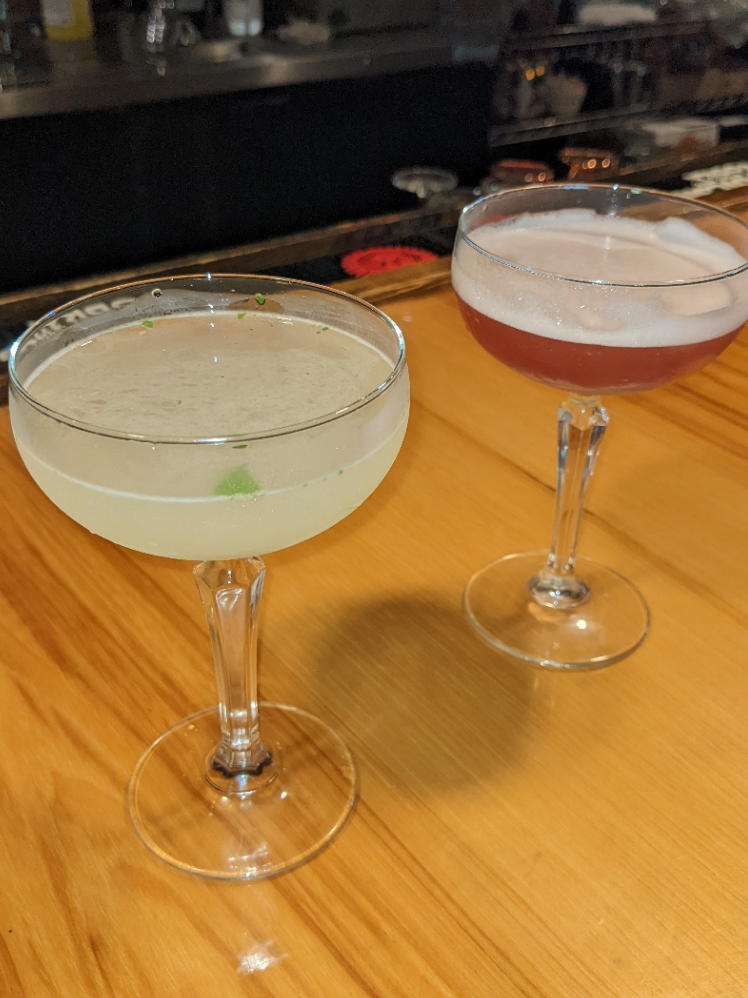 Back aboard Barefeet Chris changed out the main engine's oil filter. Hhhmmm…oil pressure seems high but still within specifications. That is weird and led to a deep dive online about possible causes. Our determination – a bad oil filter. Okay, simply get another one and swap it out. Voila – that was it and the oil pressure is back where we are used to seeing it. Along with research we visited the Mariner's Museum and Park in Newport News (5/1). They have cool maritime artifacts like a fresnel lighthouse lens and enormous ship figureheads but the real focus is the Battle of Hampton Roads (thanks for the tip Mr and Mrs Ash). The Civil War navy battle was the first battle between the irons (steam powered, ironclad warships CSS Virginia and USS Monitor). It occurred on the heels of a horrendous US naval defeat the day before (nothing worse until Pearl Harbor). This meeting ended in a draw but forever changed naval warfare. Our heads were overflowing with historical events so a 5 mile walk on the lake loop Noland trail was perfect. We rounded out our time in Hampton at Venture restaurant for Martini Monday (thanks for the tip – Russ and Lori).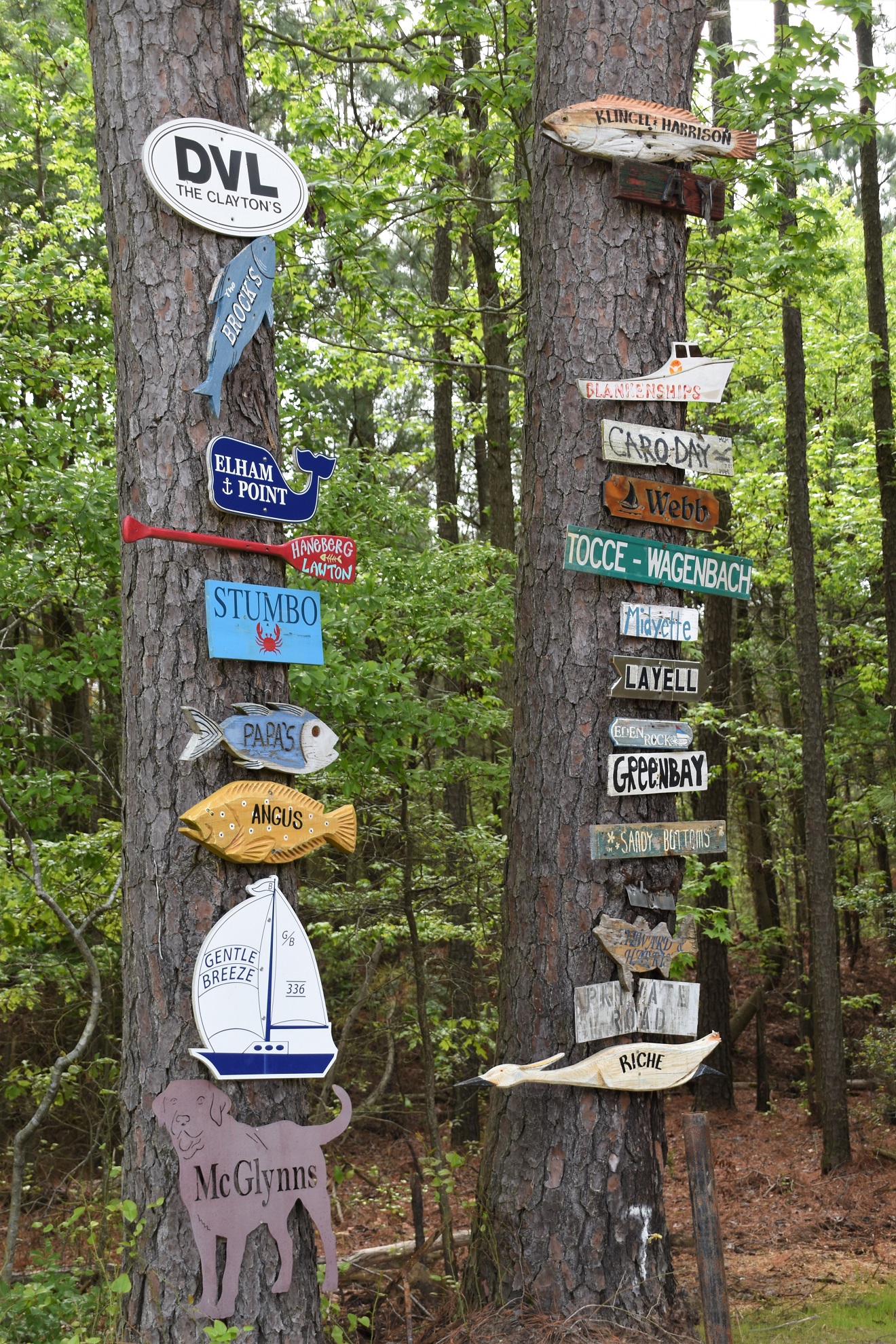 Time to move north. Departing Hampton will get us solidly into the Chesapeake Bay. Off we went early at 6.30 am in order to make miles before the wind piped up in the afternoon (5/3). Drat! The weather forecast was exactly wrong. Initial calm conditions quickly shifted to fog (radar on), 3ft waves/3 seconds apart and 20 knots of wind, gusting higher. Needless to say, it was 6.5hrs of singular focus with waves splashing the windshield and higher (windshield wipers used) and breakfast was postponed until Noon when we anchored in Jackson Creek (Deltaville, VA). The Chesapeake is approximately 200 miles long with quickly shifting weather conditions and very different micro-climates. So, we need loads of bail out options and varying lengths of travel days. Deltaville is a boating mecca with several large marinas. We dinghied ashore to check them out as possible summer storage for Barefeet in the future (5/4). Everyone was super friendly and facilities looked solid - we both agreed that this would be a nice spot for summer storage. Back aboard Barefeet we awaited the forecast afternoon/evening storms. Heck - we liked the sound of a fresh water rinse after yesterday's sloshing. A bit of rain did arrive but, sadly, not the car wash style rain we had hoped for. We will continue moving north but a cold front and changeable conditions mean we do not have a precise lily pad itinerary path up the Chesapeake.
Roast Chicken (Ina Garten) serves 3 - 4
1 5- to 6-pound roasting chicken
Kosher salt
Freshly ground black pepper
1 large bunch fresh thyme
1 lemon, halved
1 head garlic, cut in half crosswise
2 tablespoons butter, melted
1 Spanish onion, thickly sliced
1 cup chicken stock, preferably homemade
2 tablespoons all-purpose flour
Preheat the oven to 425 degrees.

Remove the chicken giblets. Rinse the chicken inside and out. Remove any excess fat and leftover pinfeathers and pat the outside dry. Place the chicken in a large roasting pan. Liberally salt and pepper the inside of the chicken. Stuff the cavity with the bunch of thyme, both halves of the lemon, and all the garlic. Brush the outside of the chicken with the butter and sprinkle again with salt and pepper. Tie the legs together with kitchen string and tuck the wing tips under the body of the chicken. Scatter the onion slices around the chicken.

Roast the chicken for 1-1/2 hours, or until the juices run clear when you cut between a leg and thigh. Remove to a platter and cover with aluminum foil while you prepare the gravy.

Remove all the fat from the bottom of the pan, reserving 2 tablespoons in a small cup. Add the chicken stock to the pan and cook on high heat for about 5 minutes, until reduced, scraping the bottom of the pan. Combine the 2 tablespoons of chicken fat with the flour and add to the pan. Boil for a few minutes to cook the flour. Strain the gravy into a small saucepan and season it to taste. Keep it warm over a very low flame while you carve the chicken.

Slice the chicken onto a platter and serve immediately with the warm gravy.