Water (Winter) Wonderland on Lake Michigan: August 24 2022
Before heading down Lake Michigan we took a detour to explore Grand Traverse Bay. It's 32 miles long, up to 620 feet deep (in spots) and dotted with many u-shaped natural harbors which provide protection from three out of four wind directions. When we toss the lines from Suttons Bay our itinerary will unfold based on wind direction with friends – it's vacation time after the Trent-Severn Waterway and all the miles to this point. Our frequent flyer Barefeet friends, Lino and Phyllis, arrived for one week of summer fun…perfect timing (8/10). Who knew there is a non-stop flight from Boston to Traverse City?! We stowed garden fresh tomatoes and cucumbers (yes, they were carry-on luggage), settled into dinner at Wren and talked late into the night. Welcome!
Suttons Bay is on the pinkie of the mitten that is Michigan. To soak up more of the area I am reading Recipe Box by Viola Shipmen which takes place in Suttons Bay (complete with…you guessed it…much loved Michigan recipes). Did I mention cherries?! We strolled the shops, Lino vanquished the Mighty Mary and we moved onto Omena (8/12). The anchorage was 70 feet deep which had us emptying our chain locker. But what a reward – emerald to aqua to turquoise water that is crystal clear surrounded by orchards of cherries, apricots and peaches. We got a propane fill ashore then settled into an afternoon of swimming/jumping off the boat and sunbathing before heading into Leelanau Cellars for a bit of wine tasting. It seems that the 45th parallel is great for wine: Italy's Piedmont region, the Rhone Valley and Bordeaux in France…and…the Leelanau Peninsula in Michigan. Michigan sure is full of surprises. Back aboard with the sun slowly setting a woman swam around Barefeet to win a $100 bet from her husband reposing on the shore (her girls on the paddleboard were "helping"). Great summer vibes are everywhere.
Winds arrived ahead of schedule so we pulled up the anchor before breakfast (8/13). Note to self - it takes a long while to pull up 275 feet of chain. We drove two hours to Traverse City for better wind protection; however, the rain never evaporated so off we went in rain jackets to check out the town on our way to dinner at 7 Monks. This is clearly the Big Smoke with the several Bachelorette Parties (complete with matching cowboy hats) and two hour waits at a few restaurants. The rain blew through during the night so we returned to a drier Traverse City after a pancake breakfast a la Chris to wander the historic district filled with lovely turn of the century Victorian homes of lumber barons, fruit canners, etc. Another afternoon wind shift had us moving another short two hours to anchor in Bowers Harbor (8/14). Protection from the north winds made for a calm night of homemade sunset pizza, Lino's garden fresh cucumber and tomato salad, Leelanau wine and a sunset packed with shades of blues and purples. We are livin' large. Cheers!
A short dinghy away from Barefeet was Power Island (8/15). It's by far the largest island in Grand Traverse Bay at 200-acres. Once owned by Henry Ford (among others) it is now a public park with Caribbean-esque water, campsites and shores littered with Petoskey stones. Petoskey stones were formed during the glacial period of the Ice Age combining rock and fossilized coral. It's the sea shell hunt of northern Michigan and it's fun. A local who has been boating here for decades was our ultimate arbiter as we learned the finer points of identifying the stones. The distinctive pattern is best seen when wet so we plan to polish and varnish our stones to better highlight the design. For dinner we made a beach landing (much more civilized on a lake in fresh water minus the surf line of the ocean). The Jolly Pumpkin had a silly name but the lakeside setting and delicious food made for a laidback lake evening.
A lazy morning of coffee and banana/dried cherry/oatmeal bake (recipe below) moved to a lazy afternoon on the beach (8/16). An attempt to recreate the previous pizza dinner fell a bit flat. It seems that in our zeal to keep the fridge stocked with cheese we managed to run out of yeast. Gulp. An attempt was made to substitute beer for yeast but no dice – it just makes a cracker. Drat! Oh well, melted cheese and toppings on a cracker are fine, too. And just like that Lino and Phyllis were back to Boston (8/17). See ya next time! Their morning departure had us pulling up the hook and moving along to Northport. We explored the few blocks of town but had no Mario Batali sightings (he is a resident). We ended the day with sundowners aboard m/v Arion who also happens to be in town. We compared port stops and the differences between lake cruising and ocean cruising. We unanimously prefer the clean feel of the boat in fresh water but thoroughly dislike the lake critters like flying biters, spiders and ants but it is all about trade-offs and all time on the water is good time. Back aboard Barefeet and the stars exploded in the night sky with the Milky Way front and center.
Morning conditions were so calm that we could clearly see the anchor dug into sand 15 feet below the surface in Northport (8/18). The Bahamas or Michigan?! Never thought that comparison was on the table. We rounded the pinkie of the mitten, past the Grand Traverse Lighthouse and headed due south. Our plan is to bump along the lake towns of Michigan as long as weather conditions are good and pausing when they are raucous. We took Wisconsin off the boating itinerary but will add a road trip from Chicago to the Door Peninsula as we wait for repairs to be wrapped up at the Brandon Road Lock by approx. Sept 8th…or at least that's our idea for now. Our first stop was Leland – lovingly called Fishtown for its charming fish shanty look. We tied up at the small Leland Municipal Marina where our hailing port of Marina del Rey created a stir since two dock hands are from Southern California…one from Chula Vista and one from La Crescenta, the town next to my hometown of La Canada. It is a small world and it was really fun to chat about Tommy's burgers (it's the screen saver on my phone), SoCal weather and other neighborhood haunts.
Leland is quite photogenic and introduced us to a few more Michigan specialties like superman ice cream and the Chubby Mary cocktail. We tried one but passed on the other. Superman ice cream is said to have been invented in Detroit. It is a technicolor combination of cherry/Detroit red pop, almond extract, blue raspberry, rich vanilla and lemon. Who creates such a thing? Stroh's Ice Cream is who and we gave it a thumb's up. At The Cove for dinner we passed on the Chubby Mary - a Bloody Mary topped off with a smoked chub fish…nose to tail and all fins in between. Yuck; however, everything we did order was delicious as we sat perched above the Leland River. The evening floor show was a spectacular sunset that drew everyone to the breakwater and docks.
The summer season is short in Michigan which has marinas in high demand, especially on the weekends. Only one night available for us, Thursday, in Leland so we headed one hour further to anchor at Good Harbor (8/19). The watermaker was greased, the dinghy engine was greased and we zipped ashore to walk the beach in search of Petoskey stones. The sun went down, wood smoke tinged the air as beach bonfires were lit and we were the only boat at anchor. Stunning! The next morning a painted sky sunrise accompanied us on a bumpy ride past Sleeping Bear Dunes. Watching the Pats pre-season football game from the previous night on the laptop as we drove was a nice distraction to the motion of the ocean…I mean the lake. This section of Lake Michigan has manmade harbors with carved out entrance channels. In we went to Frankfort. It's a cute town with a supermarket, hardware store and The Cabbage Shed (okay, technically it's in the neighboring town of Elberta but that just needs the dinghy). The Cabbage Shed is a rustic barn of a restaurant overlooking the bay with the tag line – older than you. They aren't kidding – it was established in 1867. Live music on a perfect summer evening was wonderful.
Before our morning departure the main engine oil was changed. Chris has the process down to surgical precision…and voila – it's done. The manmade channels are handy but they are often clogged with fisherman which means idle speed and a slow, frogger type egress. Another hop south had us tied up at the Manistee Municipal Marina which was good for linen laundry and a quiet Sunday (8/21). Another day of smooth conditions had us anchored at Pentwater - a delightful small town with a population of 850 and, as we learned from Wendy at the Antler Bar, a graduating senior class of about 20 (8/22). The Antler Bar seemed like a real local joint with customers saying "hi" into the kitchen, complimenting a waitress on a new hair cut (Wendy has known said waitress since she was 4 years old) and patrons stopping to chat at tables on their way to their own table. Michigan has a real fun, beachy vibe.
Our day started with dropped eggs on toast and baked beans before another gentle hop south along a lovely dune covered shoreline topped with dense forest (8/23). This afternoon we arrived in Muskegon. Their entrance channel has a bit of a twist with a bulge of a water/beach playpen before emptying into a large lake for anchoring or marinas dotted along the lakeshore. Showers all around then we jumped into the dinghy headed for Dockers Fish House. Oops – we missed the Harbor Town Marina entrance on our first pass and needed the phone for navigation. Spotted on the deck was the first shark we have seen in months (his name is Bruno). Back aboard Barefeet conditions were perfect for a sundowner on the bow with tunes playing. It is crazy to think how rare this tranquil moment actually is.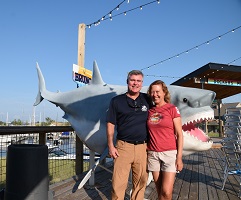 We have been lucky for so many mellow weather days on Lake Michigan; however, it means that we have been moving for eight straight days. That's okay but we are ready for a pause. A combination of lack of marina availability and winds due in a couple days has us moved along to anchor at Saugatuck (8/24). It's a small-ish town with an artsy vibe added to the beachy summertime feel that has thus far defined Michigan for us. The Michigan license plate motto is not wrong…Water Winter Wonderland. We'll wait here until the winds pass and then continue to Hammond Port Authority (it's in Indiana but think of it as Chicago). At Hammond we'll do a few boat projects, catch up with family in the area and visit the Door Peninsula by land while repairs on the Brandon Road Lock wrap up. The Brandon Road Lock is about four miles south of Joliet, Illinois. Once the lock is back up and running we'll continue down the rivers targeting an arrival in the Gulf of Mexico in early November.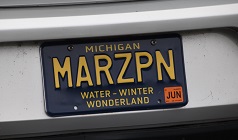 Banana Dried Cherry Oatmeal Bake (Menonite Girls Can Cook)
2 cups old fashioned oatmeal (large flake)
1 teaspoon baking powder
½ teaspoon salt
1 teaspoon cinnamon
1/3 cup brown sugar
¼ cup veggie oil
1 egg
1 ½ cup milk
2 bananas, mashed
1 cup dried cherries (or blueberries)
½ cup chopped almonds (optional)
· Grease 8x8' square baking dish.
· Mix together oats, baking powder, salt, cinnamon, sugar and almonds (if using).
· Whisk together milk, egg and oil in a separate bowl. Add mashed bananas (or in blender until smooth).
· Add to oat mixture and stir to combine.
· Gently stir in cherries/blueberries and spread in prepared dish. Save a few berries to put on top.
· Bake at 350F for 35 minutes, or until golden brown.
· Serve warm with a drizzle of maple syrup, dollop of yogurt or splash of milk. Reheats well.