Inching Our Way North from Florida to North Carolina: April 17 2022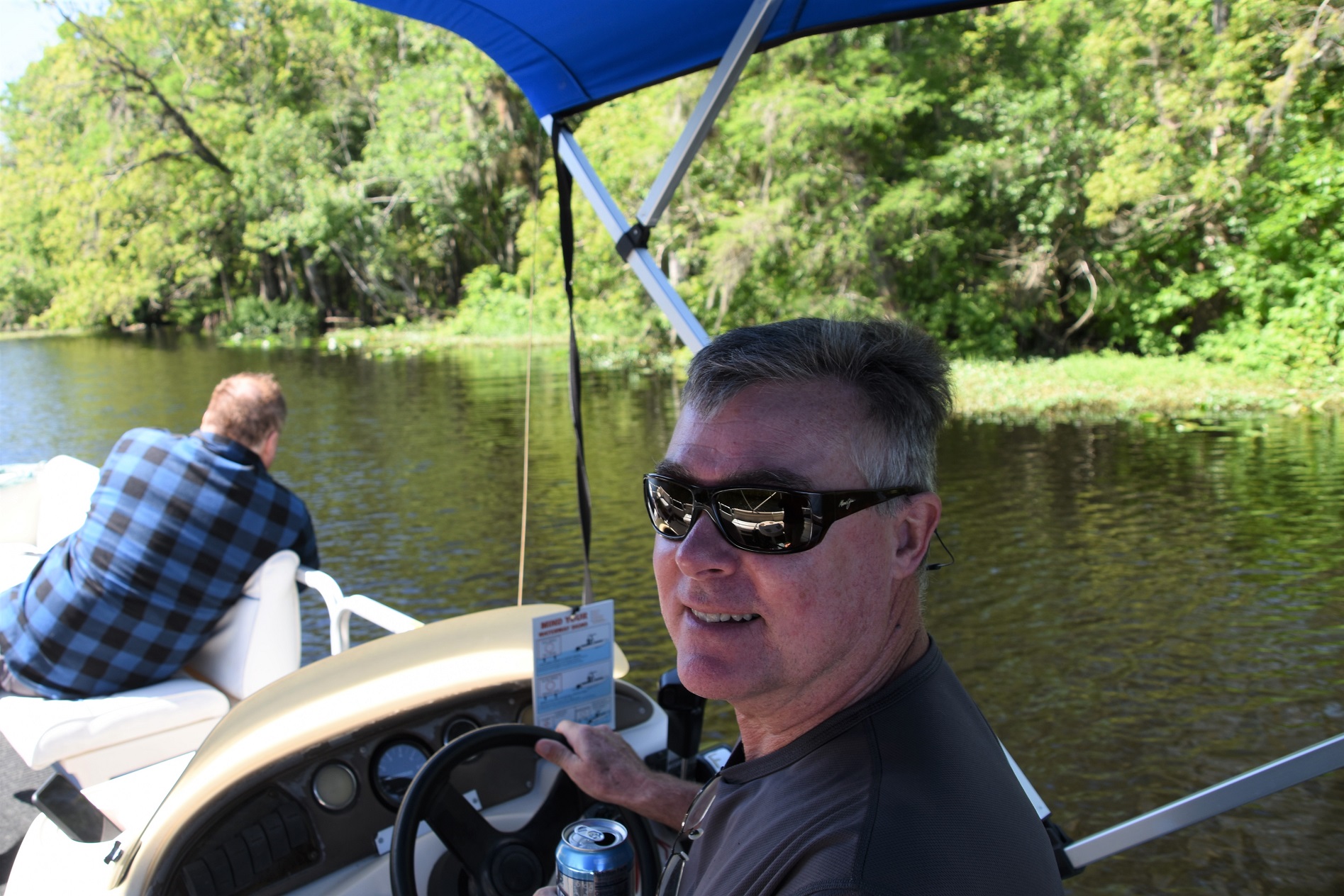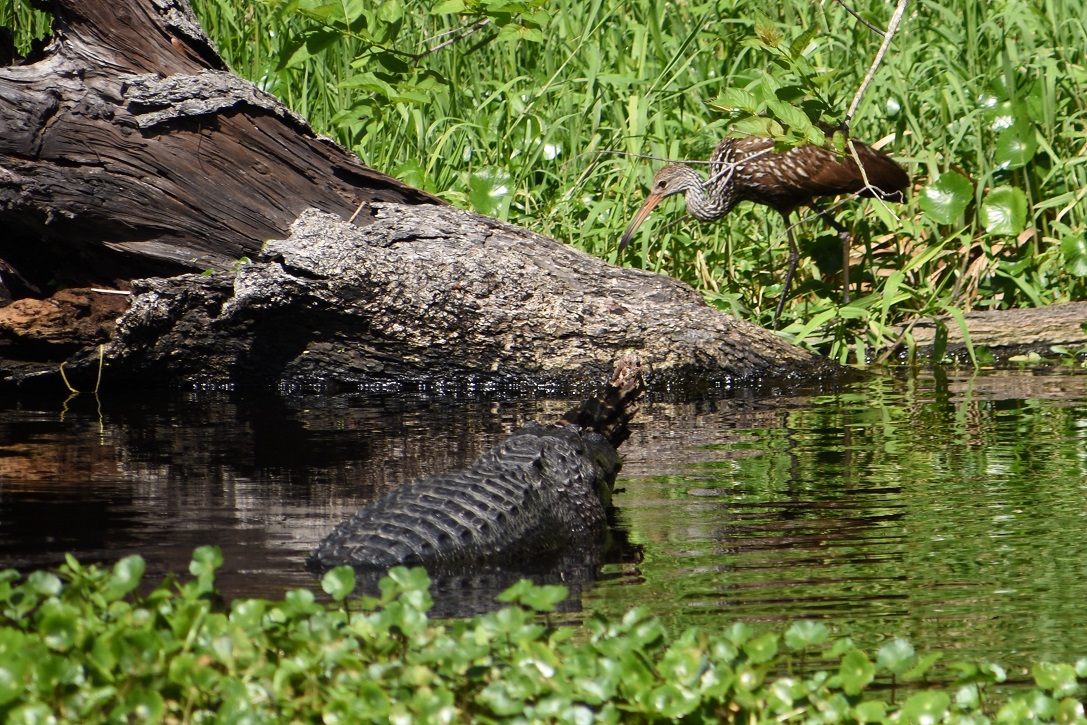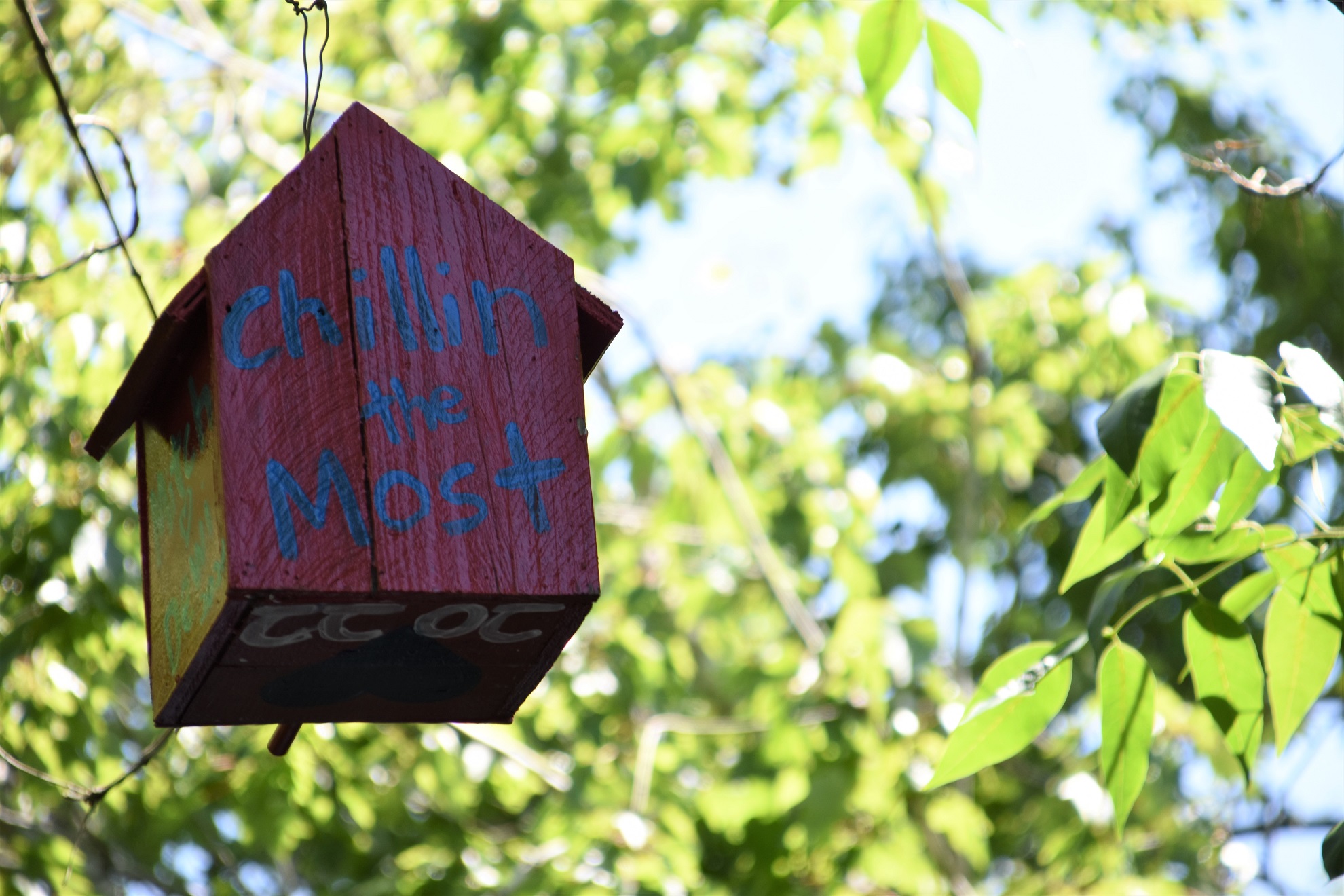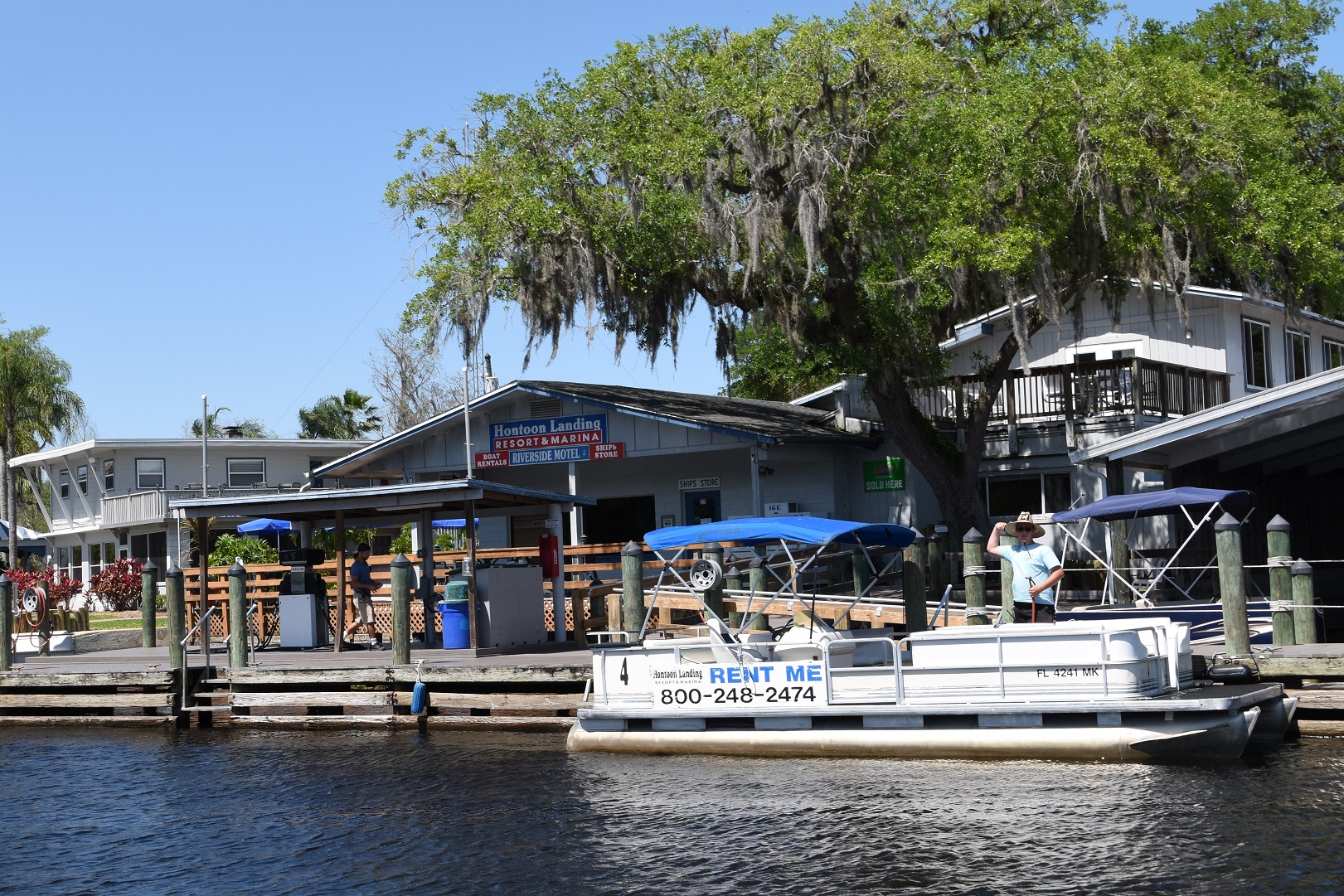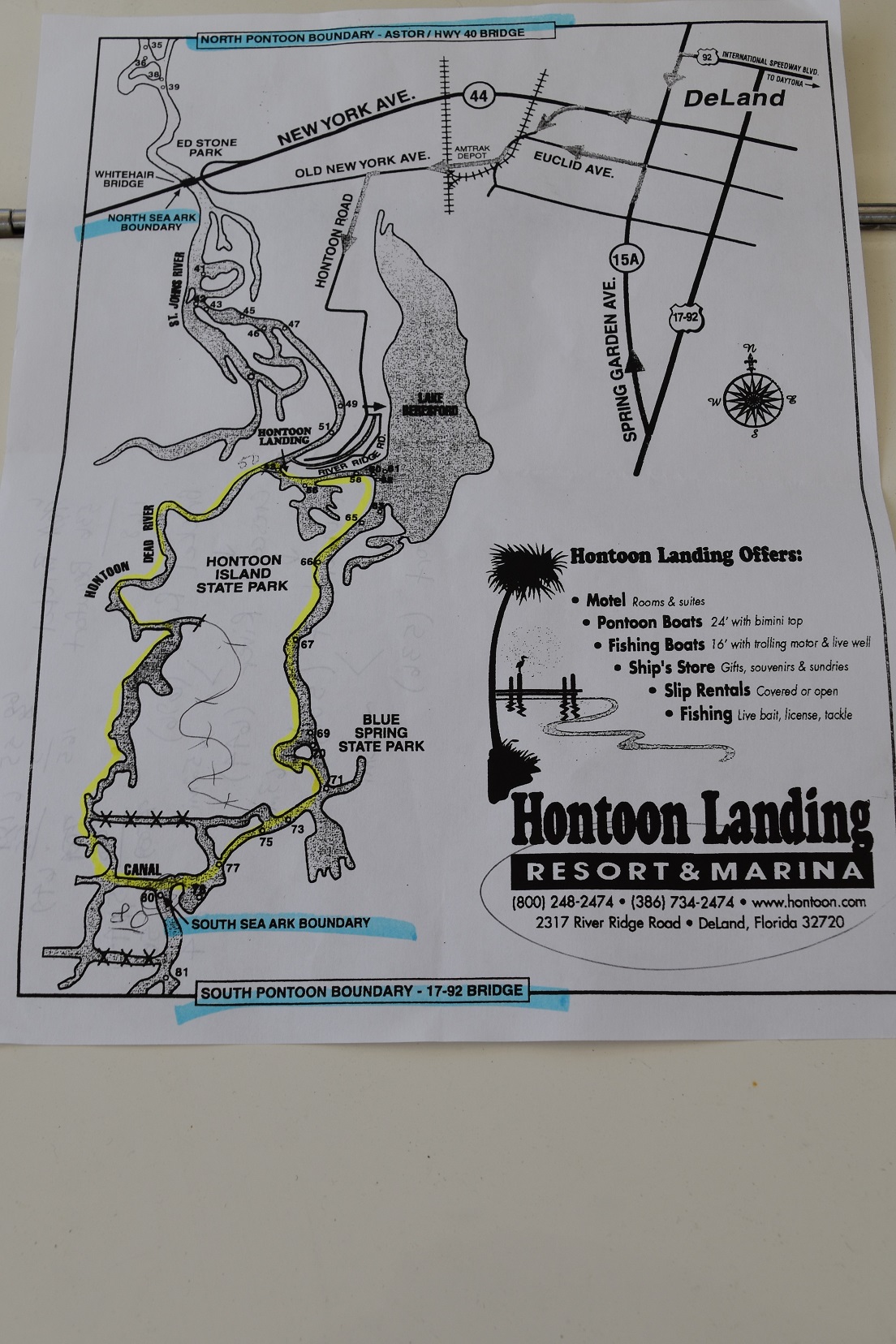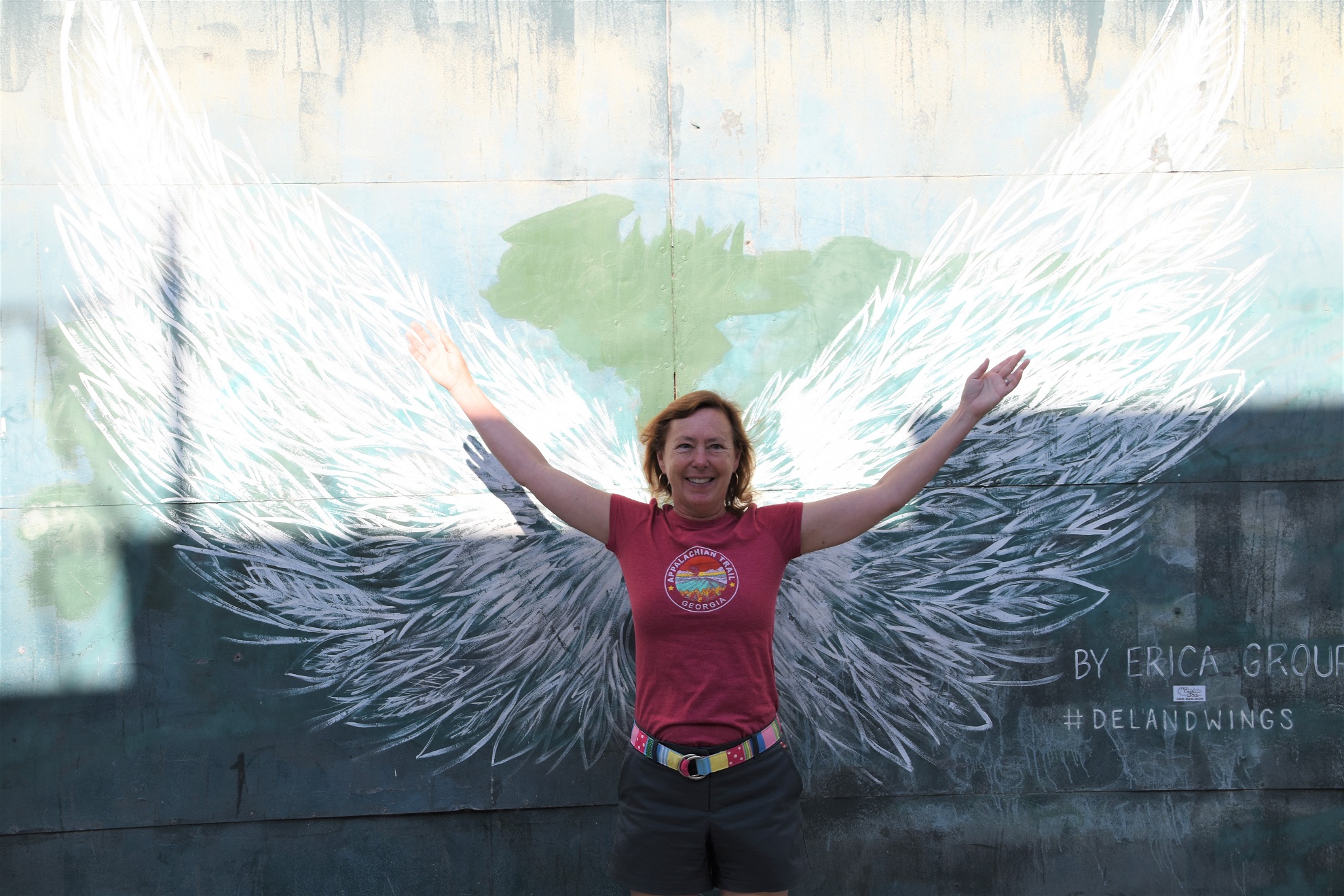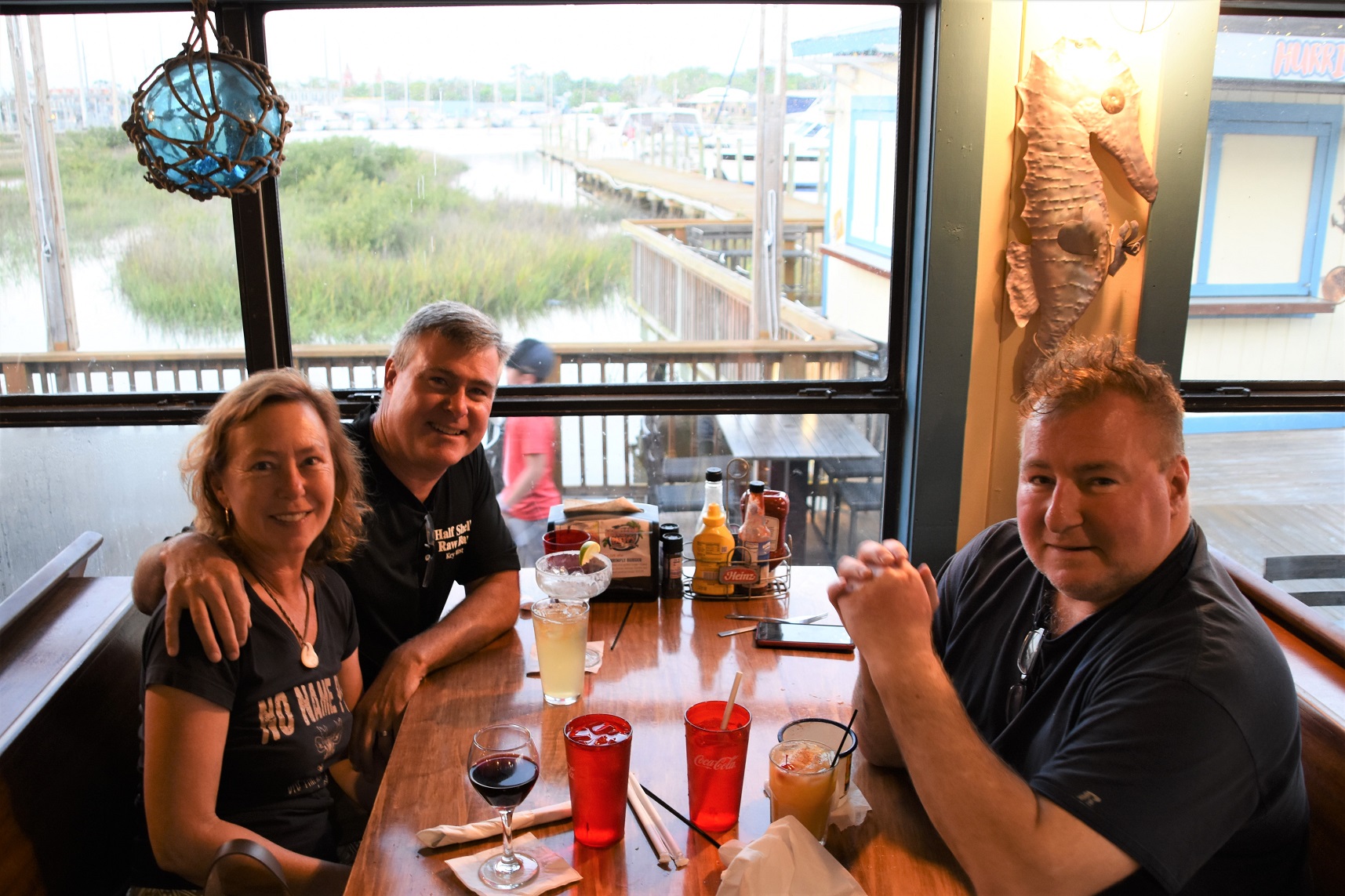 It's always about Mother Nature. We hunkered down, the front passed and we had just enough time to squeeze in one more visitor in St Augustine, FL. This time from Chris' brother Hugh (3/25). We made the usual introductions to Hurricane Patty's, Georgie's Diner and Pelican Landing (for a March Madness game). But the real fun was a day on a pontoon boat on the St Johns River (3/27). Off we went to Pontoon Landing Marina in DeLand with snacks, drinks and cameras. We saw gators, birds, manatees and turtles. It was a picture perfect day! We stayed the night in DeLand to soak up the small town feel. DeLand is home to the oldest University in Florida (Stetson University founded in 1883), often called the Athens of Florida and charmingly dotted with tree lined streets, red-bricked buildings and Greco-Roman columns. A more modern touch are the several murals scattered around town…including the angel wings off of Artisan Alley and behind Persimmon Hollow Brewing Co. On our visit there was a bit too much shadow for a good photo but that's okay – we'll be back. The drive back to Barefeet was a gentle amble through Central Florida with cow pastures, horse stables, growing crops (this time cabbages) and live oaks dripping with Spanish moss mingling with palm trees and pine trees. And just like that we were back at Hurricane Patty's for a farewell dinner (3/28). Smooth travels home and we'll see ya next time.
Hugh was off to the airport in the morning so we did our last minute departure tasks (such as a supermarket run and laundry) before tossing the lines in the afternoon from River's Edge Marina (3/29). After 1.5 months on the dock in St. Augustine the butterflies in my stomach were not softly fluttering but, rather, clanging around loudly like bats in the belfry. Calm conditions quickly mellowed my nerves into nearly breathless excitement as we were once again on the move! We happily anchored for the night just north of the Jacksonville inlet…all is good. Our next hop was in preparation for a forecast 36hrs of wind and rain…a short 21 miles to Fernandina Beach (3/30). It felt like a good anchor set but the combined strong current and howling winds made it tough to confirm so we sparked up the anchor alarm. Aaahhh, a beautiful halo appeared showing Barefeet's swing pattern and zero anchor dragging. Stormy conditions continued with gale force winds offshore but the highest spike we saw in the anchorage was 41 knots of wind. The constant wind noise puts our souls on edge like a screaming tea kettle in the distance that cannot be taken off the burner…and then, just like that a switch is flipped and there is no noise at all. The day ended with a beautiful sunset and industrial factories twinkling in the dark night (3/31).
As the stormy days clicked along we watched our calm weather window to go outside on the Atlantic Ocean shrink and ultimately evaporate; however, the inside ICW through coastal Georgia will do just fine as well as keep us moving north (4/1). Yikes, but plowing through 4.7ft depth of soft mud in our 5.6ft draft was not relaxing at all. Once through the aptly named Mud River we soaked in the Lowcountry landscapes to anchor in the Crescent River. We were the fourth boat in at the end of a draining day. However, sundowners on the top deck followed by the night sky illuminated with stars was marvelous. The stars remained as we readied to leave at first light for an 8hr run to Thunderbolt, GA (4/2). We have been to Thunderbolt before but there is no room at the inn…well, maybe, but call back later. Honest, across five marinas – no available slip. Plan B is anchoring in Herb River and dinghying ashore for a March Madness Final Four game. Phew – at 2.30pm we confirmed dock space at Thunderbolt Marine. It is better to walk to Coach's Corner sports bar than to dinghy and walk.
The sun was shining in the quiet morning for a gentle ride across the Savannah River and through Port Royal Sound for arrival at the downtown docks in Beaufort, SC (4/3). We love this place and we took one week of dock space. Yippee! A must see (for me) will be my favorite monogramming store – Lowcountry Stitch on Bay Street (who knew I needed one of those...but I do). Florida is in the rearview mirror, Georgia is in the rearview mirror…it's The Great Loop or bust, baby!!
Another picture perfect day had us getting out the bikes to explore the Spanish Moss Trail and the town of Port Royal (4/4). It's a 12-foot wide rail trail for bikers and walkers with Lowcountry water and marsh views and coastal wildlife spotting. Exploring Port Royal took us to The Sands Beach with boardwalk and observation tower as well as downtown to the Cypress Wetlands populated by gators, turtles and birds. Seriously, the wetlands are smack downtown between the Police Station and the YMCA – super cool. Back we went to Barefeet where the bikes were stowed in advance of a few stormy days ahead. Our slow pace north has given us warmer days which had the installation of another magnetic window screen for better ventilation. The day was capped off with a fantastic return to Saltus for dinner. We are lucky people!
Before the rain arrived we wandered a bit of lovely Beaufort. The majestic homes form peaceful neighborhoods filled with even kinder residents – always getting a wave and a warm, "Hello." Downtown is only a manageable few blocks filled with small restaurants and charming boutiques and stores. But Barefeet is not left out. Being at the dock has Chris excited to strip and varnish the two floor panels in the kitchen – perfect squares and all around accessibility. Plus, turning the top deck into a workshop makes the process much easier than working on the pilot house with its fixed furniture and walls with fiddly bits. Wrapped up for the day we went to Luther's Rare and Well Done for burgers and fries…and to watch through the river view wall of windows as the storm barreled through the area. There was rain and wind, cell phones blared weather alerts, a tornado touched down nearby, thunder and lightening exploded throughout the night. It was one heck of a storm – check out the Lady's Island Bridge storm photo above that was captured by an @ExploreBeaufortSC contributor.
A calmer morning than last night had us back at floor panel stripping and town exploration (4/6). The Parish Church of St Helena Anglican Congregation is three centuries old but far from a dusty, musty museum. It has a vibrant congregation today of over 2,000 members and regularly scheduled services. That said, their history is rich…including a former parishioner who was a signer of the Declaration of Independence (Thomas Heyward). The two docents provided loads of details…like the pews are a single length of pine board (at 12 feet – that was quite a group of trees) and the current alter was carved by sailors from the USS New Hampshire who were stationed in Port Royal Sound during Reconstruction. But the real highlight was getting better acquainted with Robert Smalls (whose birthday was yesterday, April 5, 1839). The short version is that he was born a slave, was a smart businessman, was a father and a husband, was a boat thief, was a war hero and was a five term Congressman. The longer version is that he was an inspiring visionary who lived his life with kindness shown to all. For example, he responded to criticism over caring for his former slave owner until her death, Jane McKee, by saying that when the McKee's had power over him, he was treated with kindness and consideration. With the power positions reversed Smalls stated that he would not fail to show his gratitude and respect to her (thank you docent Wynn Englisbe). As the Church closed for the afternoon exploration continued to Robert Smalls statue, grave site and former home (the place he had been enslaved, was married and which he purchased for himself and his family). The human spirit is amazing.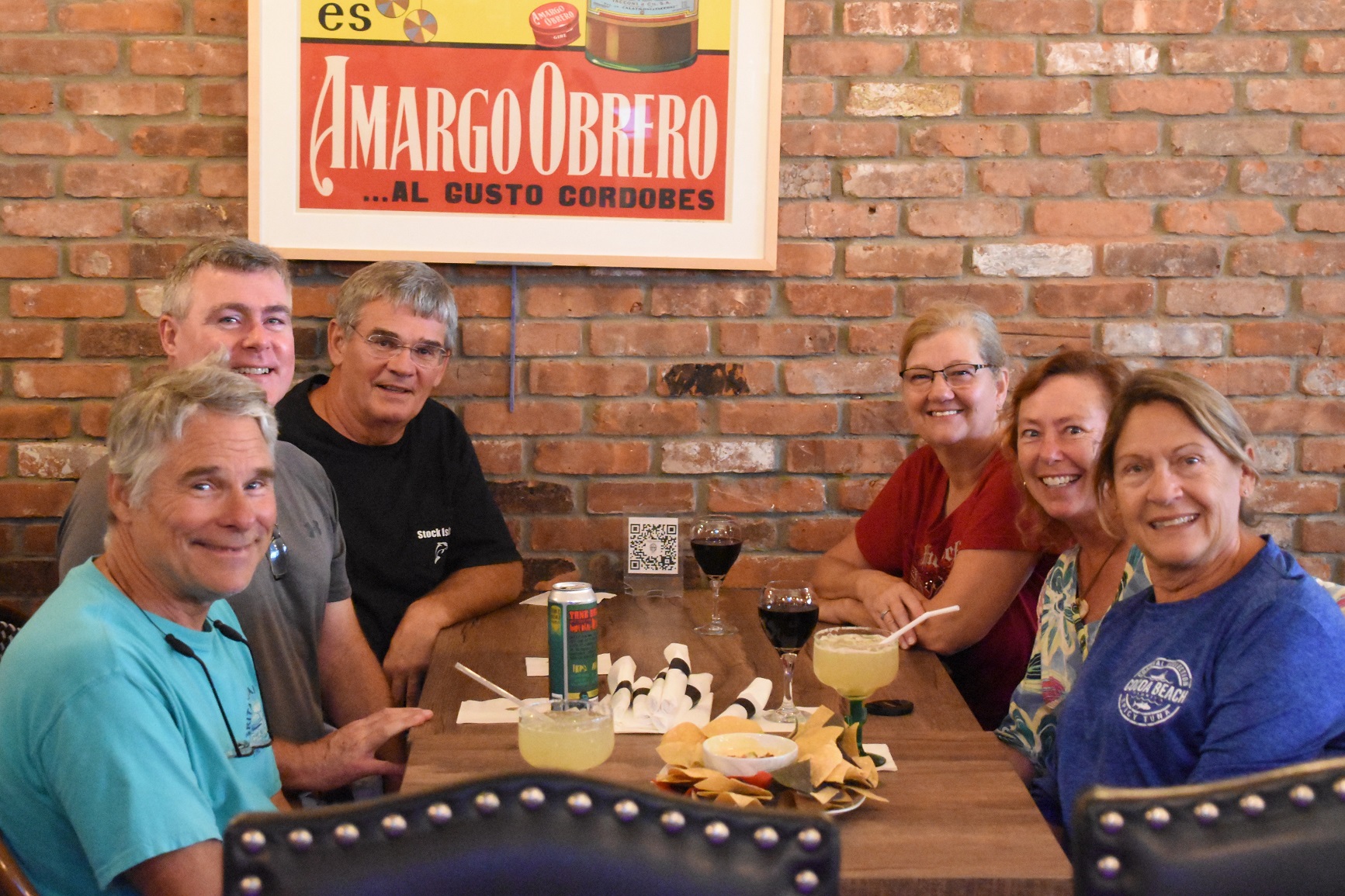 That is a lot to take in for one day. Things turned social as we joined two other Looper boats at Lost Local on Bay Street for a taco dinner. Home ports in Illinois and Kentucky meant that they had travel suggestions for areas that we have not yet visited. Thanks for the info and so much fun, Steve & Jan and Ken & Cheryl.
The stripping, sanding and varnishing was not complicated but it took time for the stripper to dig in before being scraped off and the varnish needed to dry between applications. Plus, humidity had to be down below 75% in order for the varnish to set correctly. With the floor panels removed it was a bit like cooking on a tightrope. So, needless to say, cooking aboard Barefeet was at a minimum for a few days. Thank goodness a cruiser recipe came to the rescue – KT's Zucchini Bake (4/7). It was fabulous! And easy to make for breakfast, brunch or sundowner appetizer (thanks Katie). Now look at those floor panels! They look awesome! And just like that it was time to move further north. Winds died down as forecast and we were off just after a top deck boat wash (delayed until now due to the strong winds). It was a positively tranquil day of driving to our anchor spot at Church Creek just south of Charleston.
The ICW was feeling familiar…even the skinny water at the Ashpoo/Coosaw Cutoff and the Dawho River. There were dolphins swimming beside us and black night skies illuminated with stars above us (4/10). A new stop for us was a visit to McClellanville (40 miles north of Charleston). It has a population of about 500, a shrimper fleet and the TH Graham & Co restaurant (4/11). Sadly, we did not go to the restaurant because they are closed on Mondays; however, we did get some homemade crab dip from Carolina Seafoods across the street from the Shrimp boats (the fish monger swooned when we mentioned the restaurant saying it is, "the bomb"). The charming town is small and boasts a 1,000 year old resident – the Deerhead Oak. Wow! The trunk size looks more like a redwood than a live oak at 30.6 ft circumfurance. We will definitely be back.
Our scenery is slowly changing from Lowcountry grass lands and historic towns, like Georgetown (with its 3x per week pool league at the Gator Grill restaurant), to natural splendor in black water rivers, like the Waccamah (where bald eagles are as abundant as ospreys and pelicans). We are happy to have gentle weather to soak it all in. But all good things come to an end and there is some stormy weather on the horizon a few days out so we set our sights on Carolina Beach, NC. It was a long 10-hr run from the ICW, up the Cape Fear River (loaded with commercial traffic) to picking up a mooring ball in Carolina Beach but it's great to be further north (4/14). We are in North Carolina!
Carolina Beach is a seasonal summer town which we have generally hit out of season (or during covid) which means we have some ground to make up of local haunts…primarily the SeaWitch Café and Britt's Donuts. We went to the SeaWitch two nights in a row after seeing three sailboats who just arrived from the Bahamas (4/15). Their 77 hour passage from the Abacos clearly trumped our 10 hour passage from Georgetown. It was the perfect spot to catch up, tell lies and hear some great live music. And who doesn't like bathroom doors adorned with a life sized Neptune and a mermaid?! Tough to get confused there. See ya down the way s/v No Limits, s/v Dragonfly and s/v Onward. Britt's Donuts is a seasonal donut shop that has been in business since 1939. Their seasonal opening is announced on radio stations and tv channels and lines are a thing of lore...often hours long. We were numbers 9 and 10 in line after arriving 40 minutes before opening time on their second day open for the season. They only make plain glazed because that is all they need to make - yum - hot and light and misshapen...like you want Krispy Kreme to be, but aren't (thanks for the tip, Russ & Lori).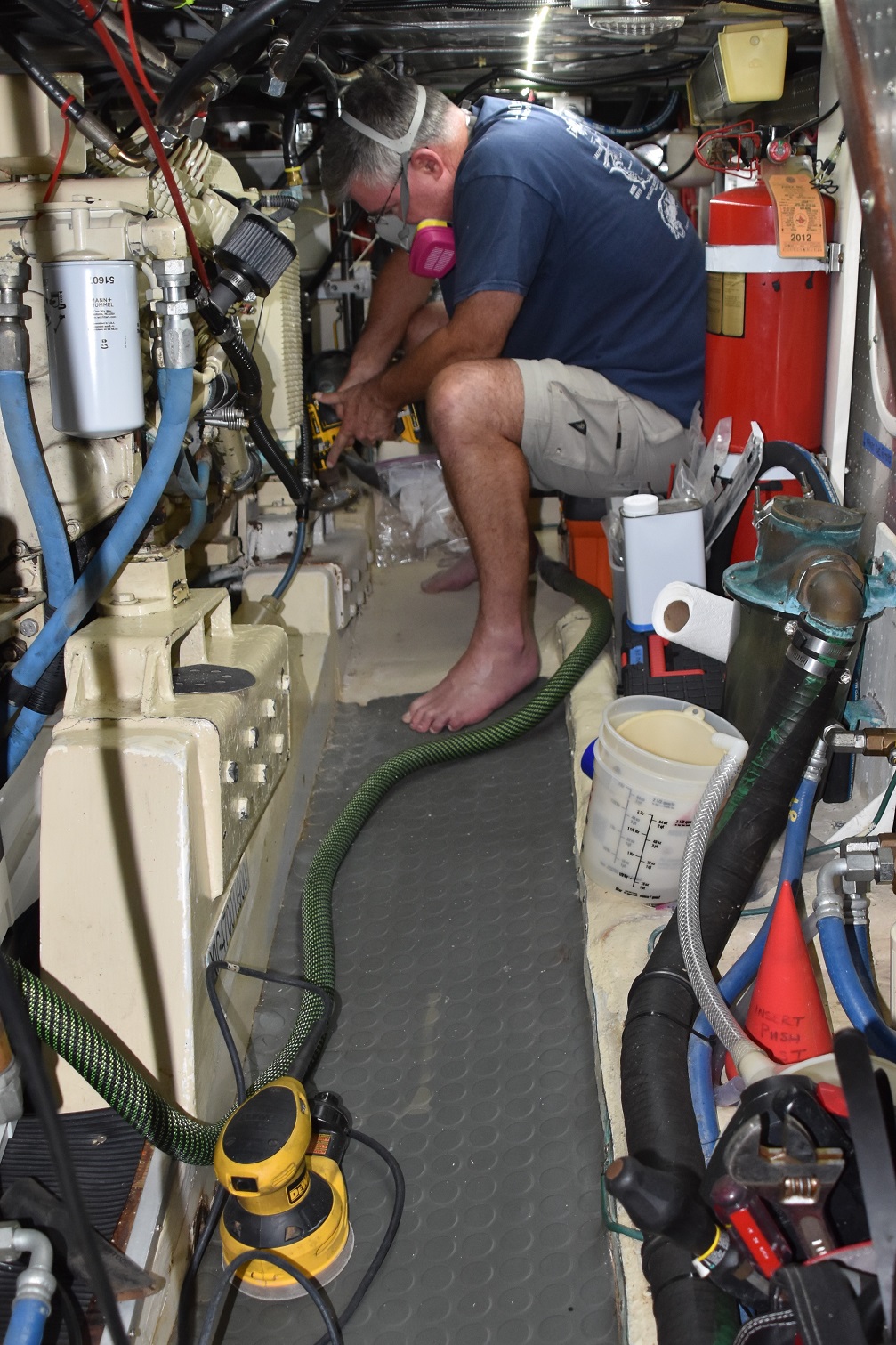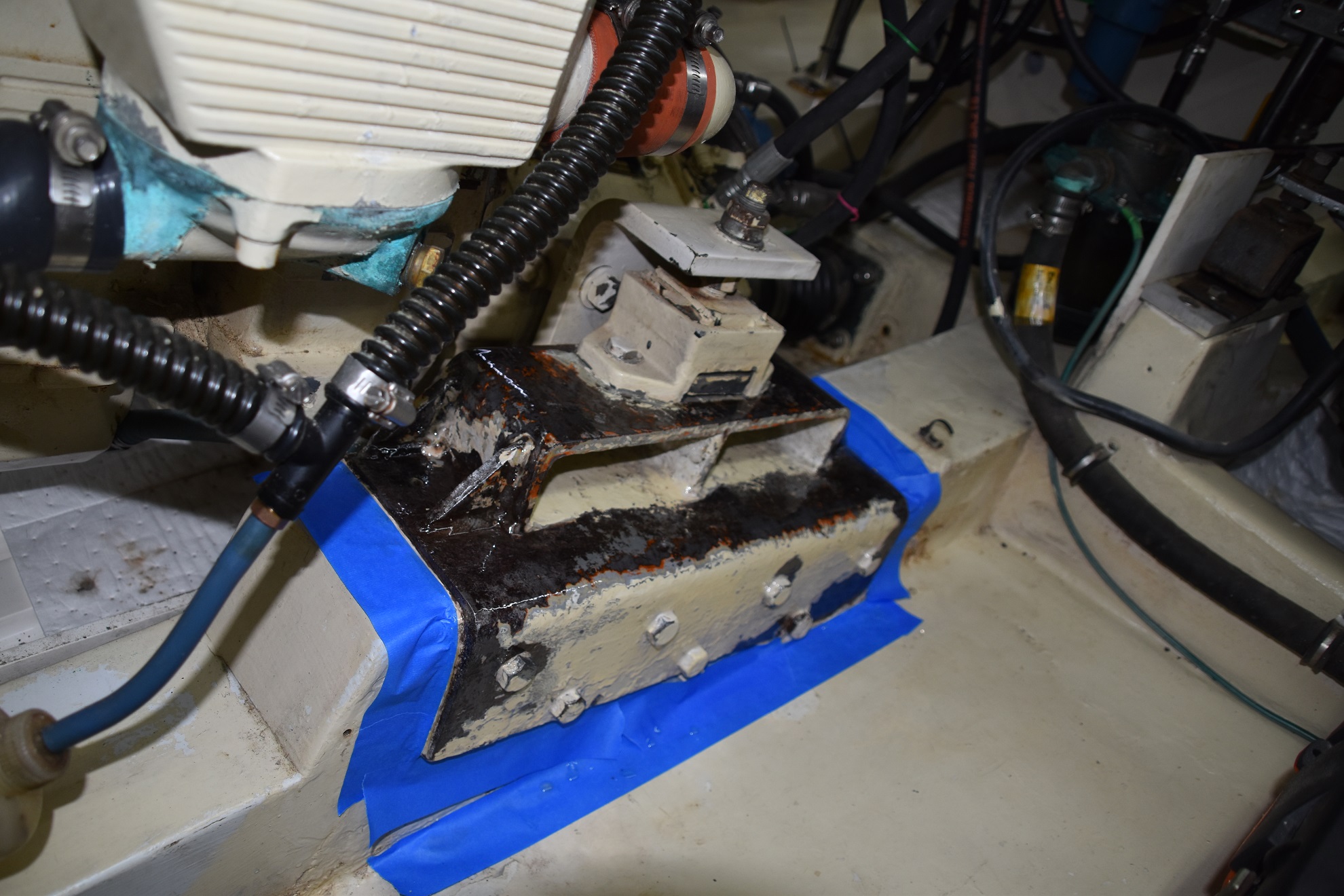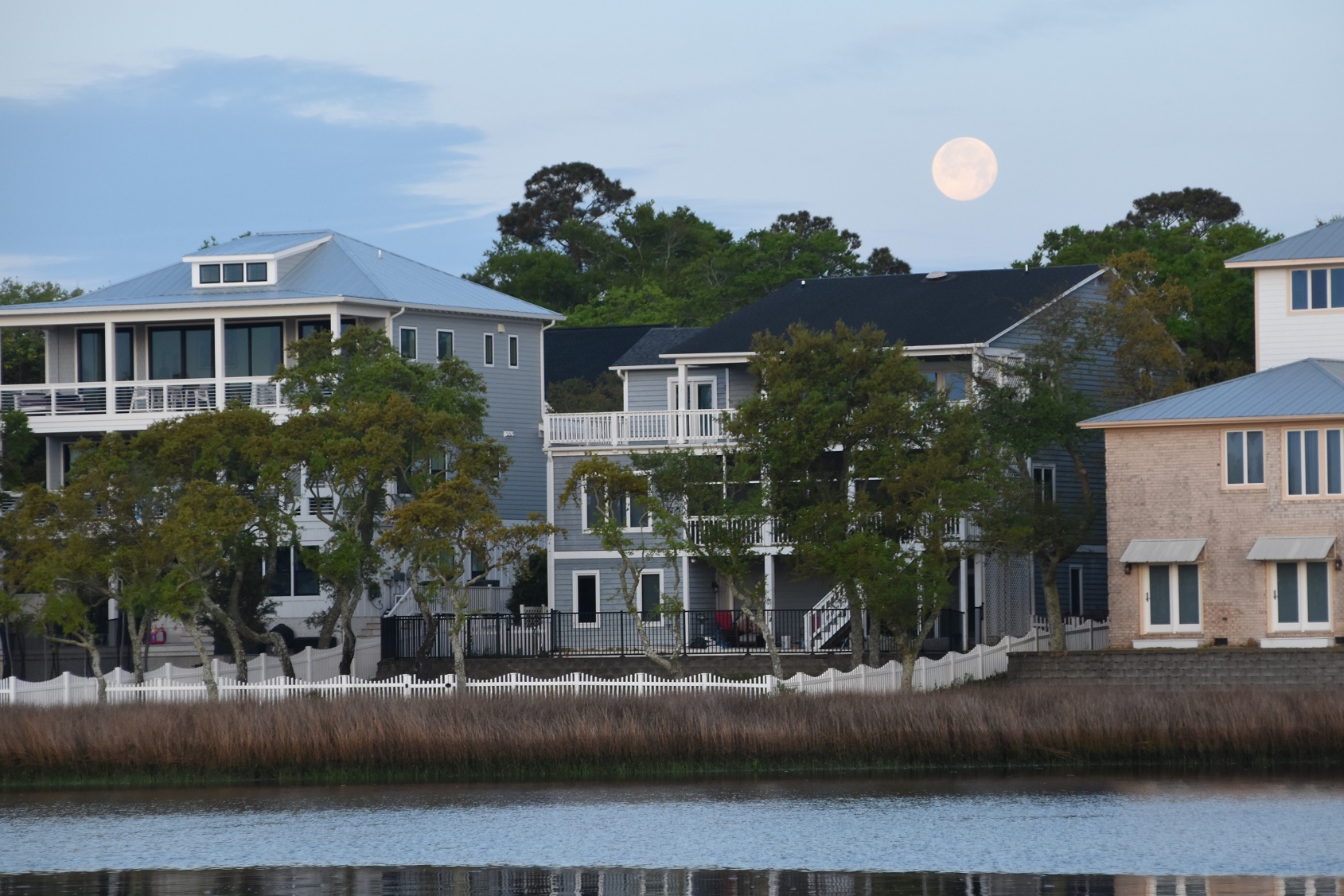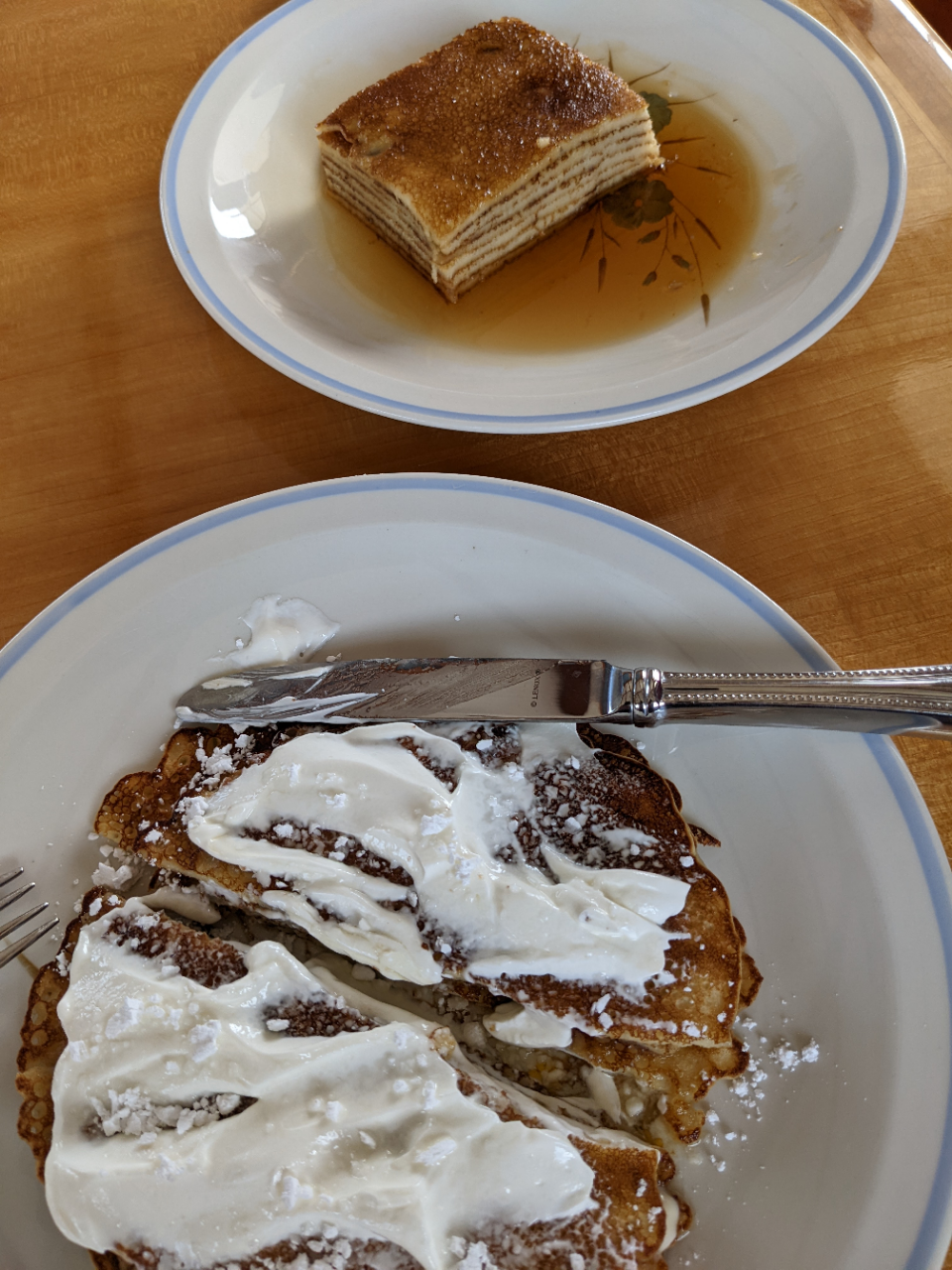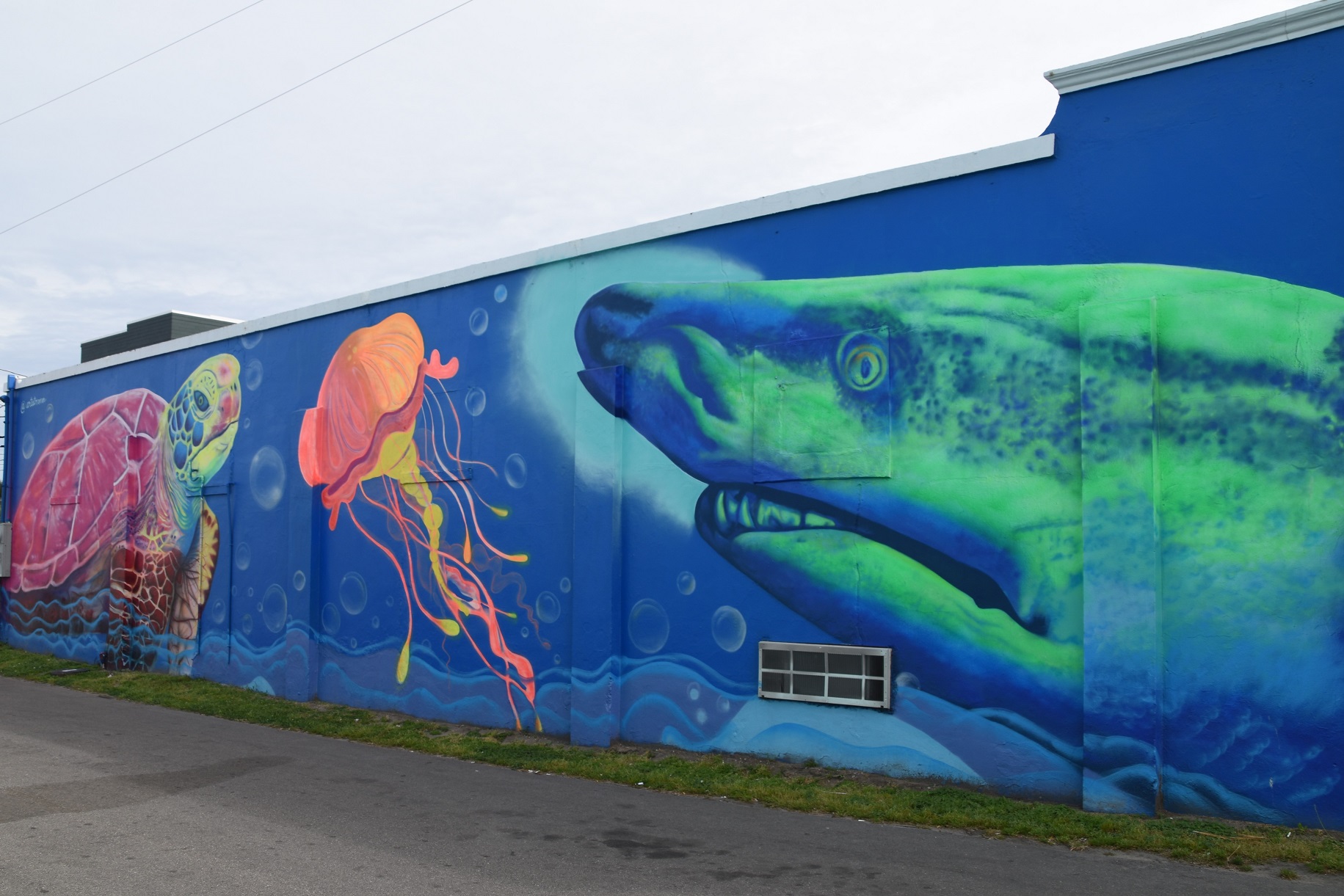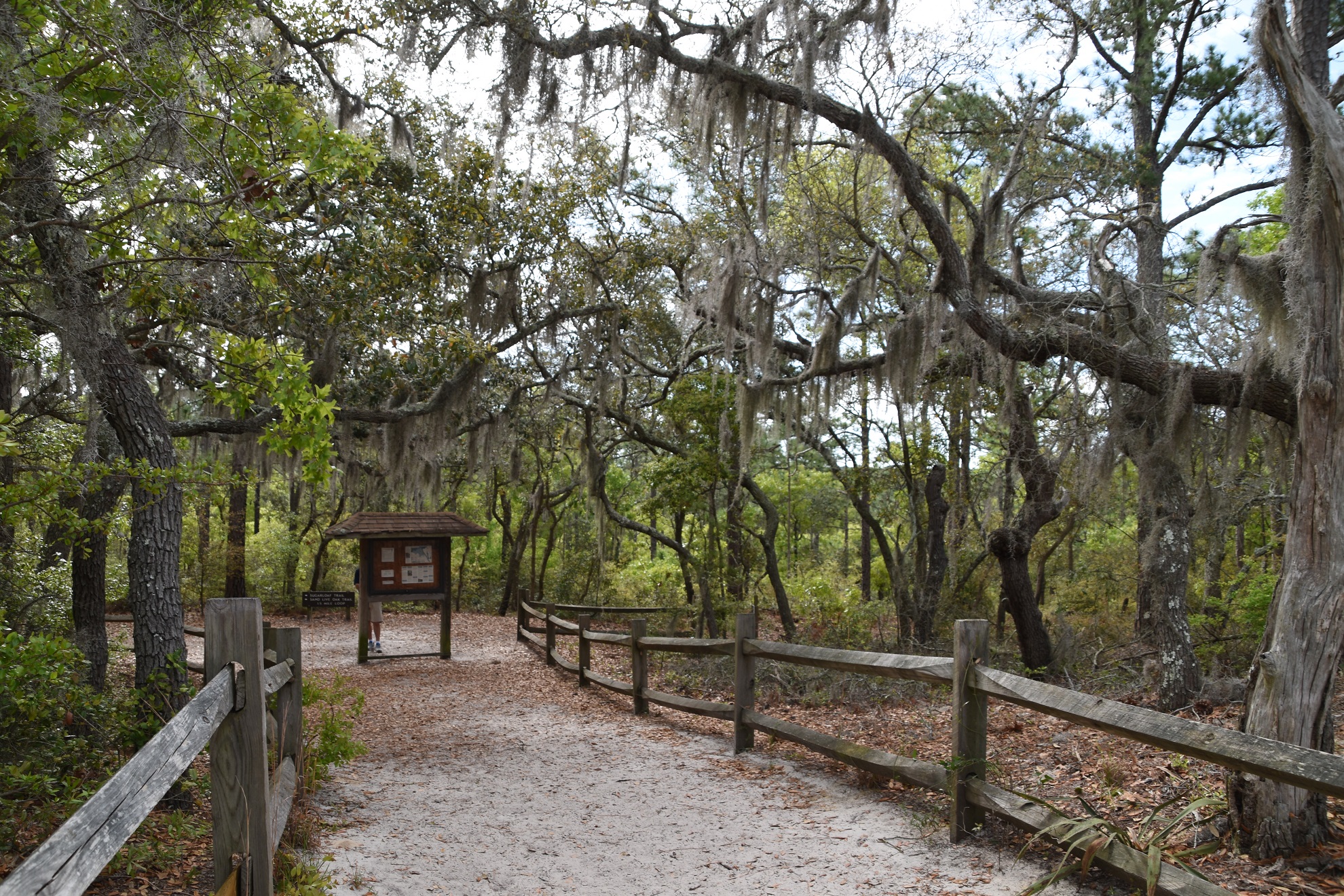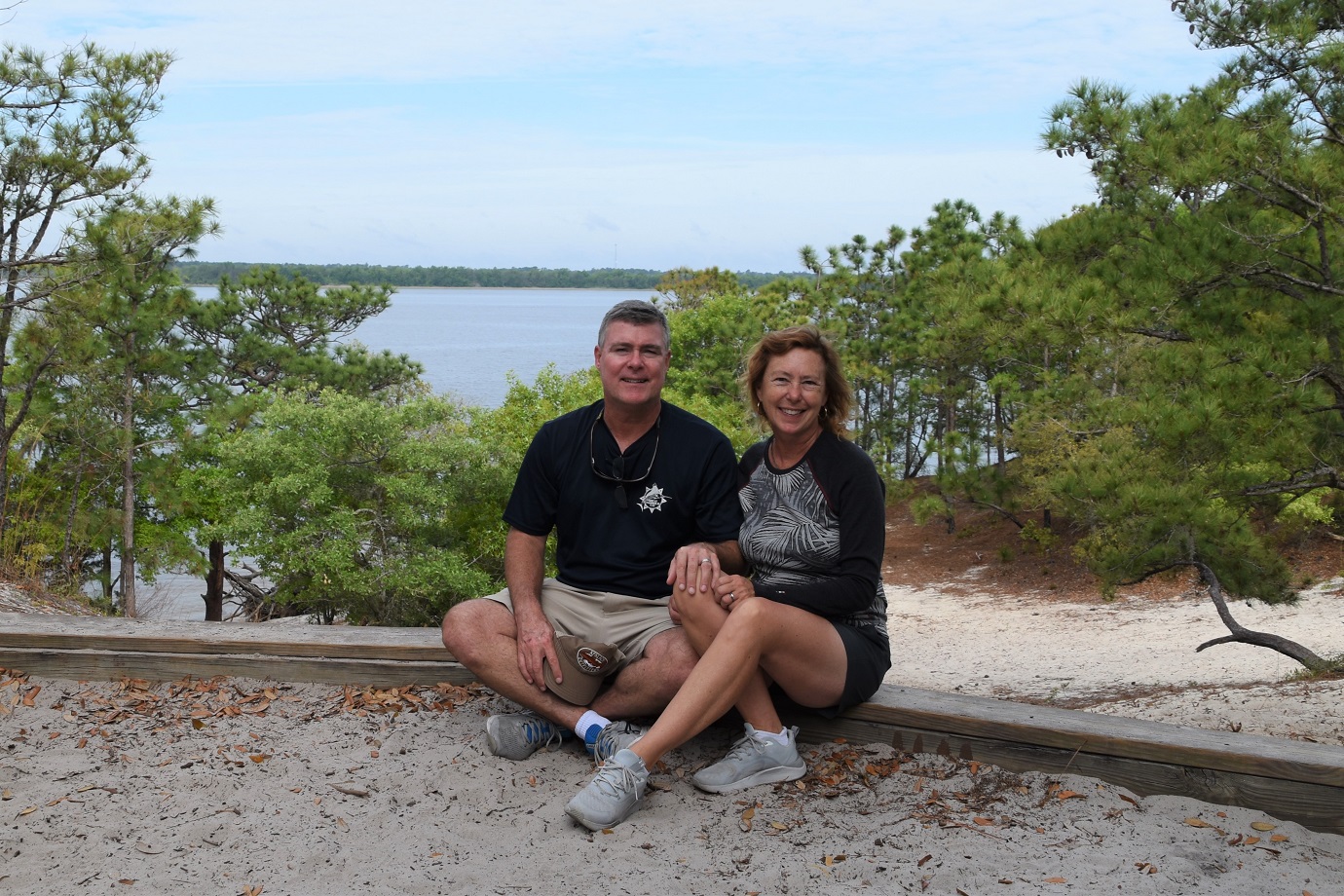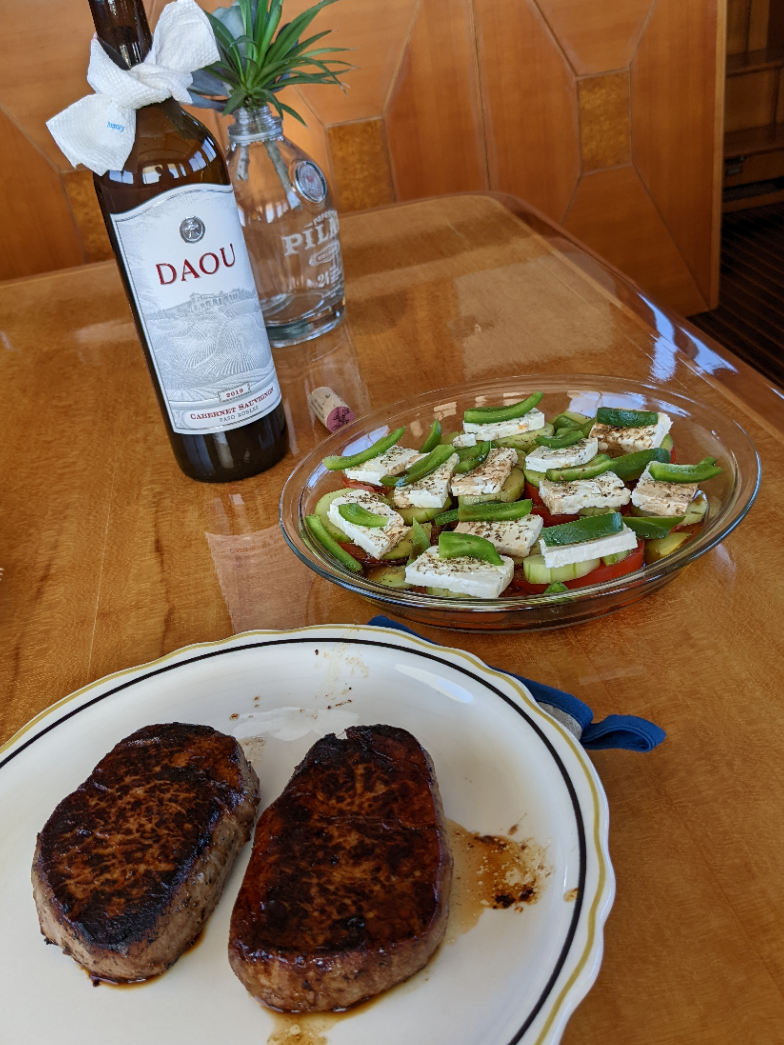 Chris stripped grunge and old paint from another engine mount followed by the application of a layer of epoxy (4/16). Now ready for painting - it is gleaming. Dinner was a return visit to Deck House Casual and another wonderful evening meeting interesting people...and learning more info for next time (Soul Flavor restaurant and SunFun for golf cart taxi service). Have we said how much we love eating at the bar?! Monday is forecast to be windy and rainy and miserable ALL day so we took full advantage of the preceding sunny Sunday (4/17). After a pancake breakfast we headed to Sugarloaf Dune and hiking trails on the banks of the Cape Fear River. The Dune has quite a history. It has been a navigational marker for river pilots since 1663 and during the Civil War 5,000 troops camped here. Our visit was less dramatic. We walked side-by-side on the sandy paths under a shaded canopy of longleaf pine and dripping moss oak trees. Pine cones were scattered like Easter eggs on the floor of the coastal evergreen forest - a real mash-up of mountains and seashore in one spot. Back aboard Barefeet we stowed the dinghy in its cradle so that all our ducks are in a row for the bad weather. We will let this stormy patch pass before again inching north...Camp LeJeune, Morehead City, New Bern and beyond.
KT's Zucchini Bake (Katie s/v Interlude)
Great for brunch or make-ahead of a passage or for potluck cocktails (cut into finger sized pieces). It is like a hearty quiche without the hassle of the crust.
4 eggs
One lb cooked bacon (or sausage) crushed into bits.
½ cup grated cheese
¼ cup vegetable oil
½ cup self rising flour (if not available use regular flour with ½ teaspoon salt and 1 ½ teaspoons of baking powder) If using self rising add ½ teaspoon salt to dish anyway.
One grated small zucchini
¼ teaspoon freshly ground pepper
One grated small yellow onion
Butter pie dish or other glass casserole dish
Mix liquid ingredients
Add flour mixture
Add solid ingredients
Pour into buttered dish
Bake at 180C or 325F degrees for about 30 minutes until egg has firmed (to where a toothpick barely comes out clean) and edges are slightly brown. The key is to NOT overbake it or the dish will be dry. I also turn the dish around half way through for even cooking.
Serve hot, warm or cold