Holidays are all about the Food: January 11 2022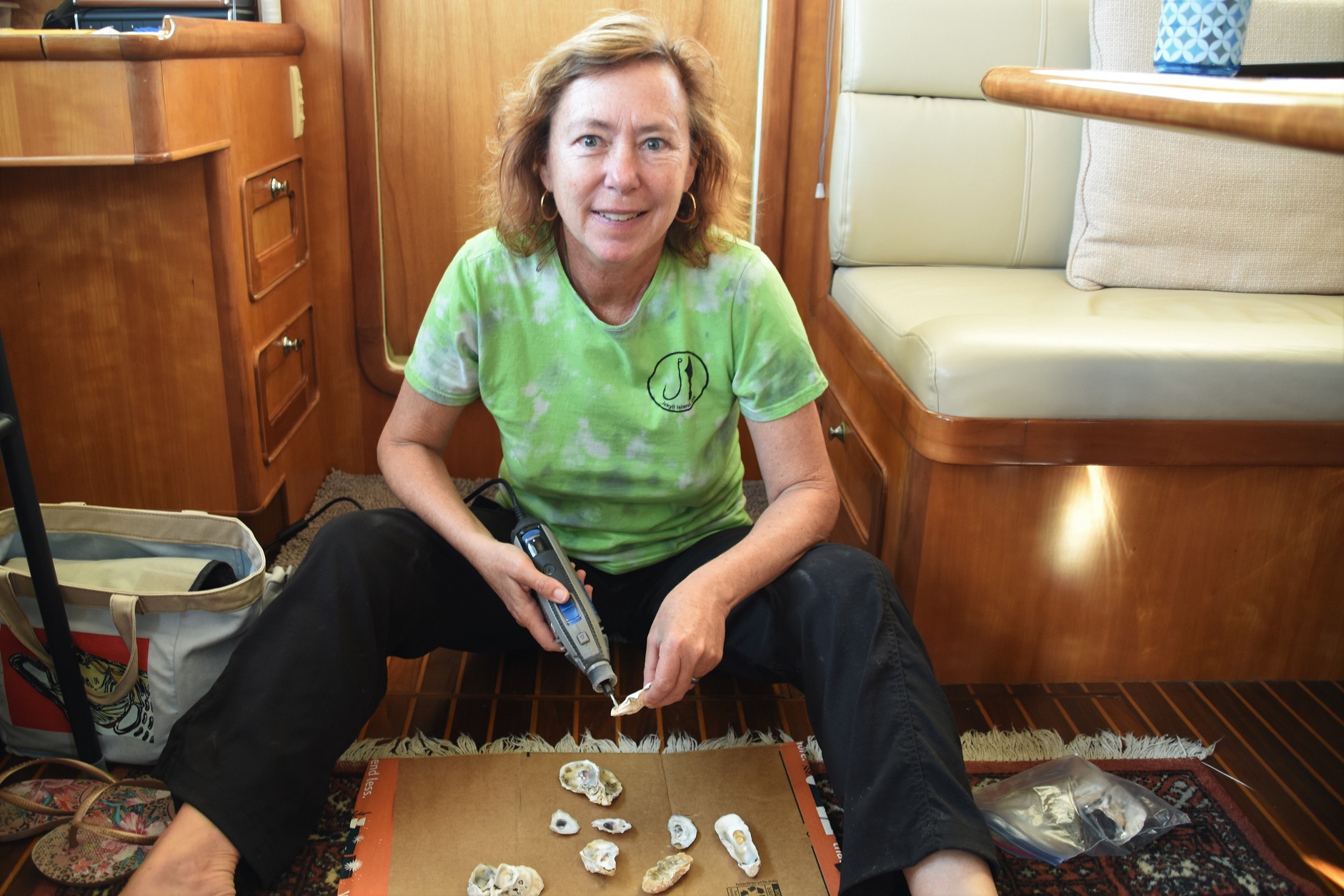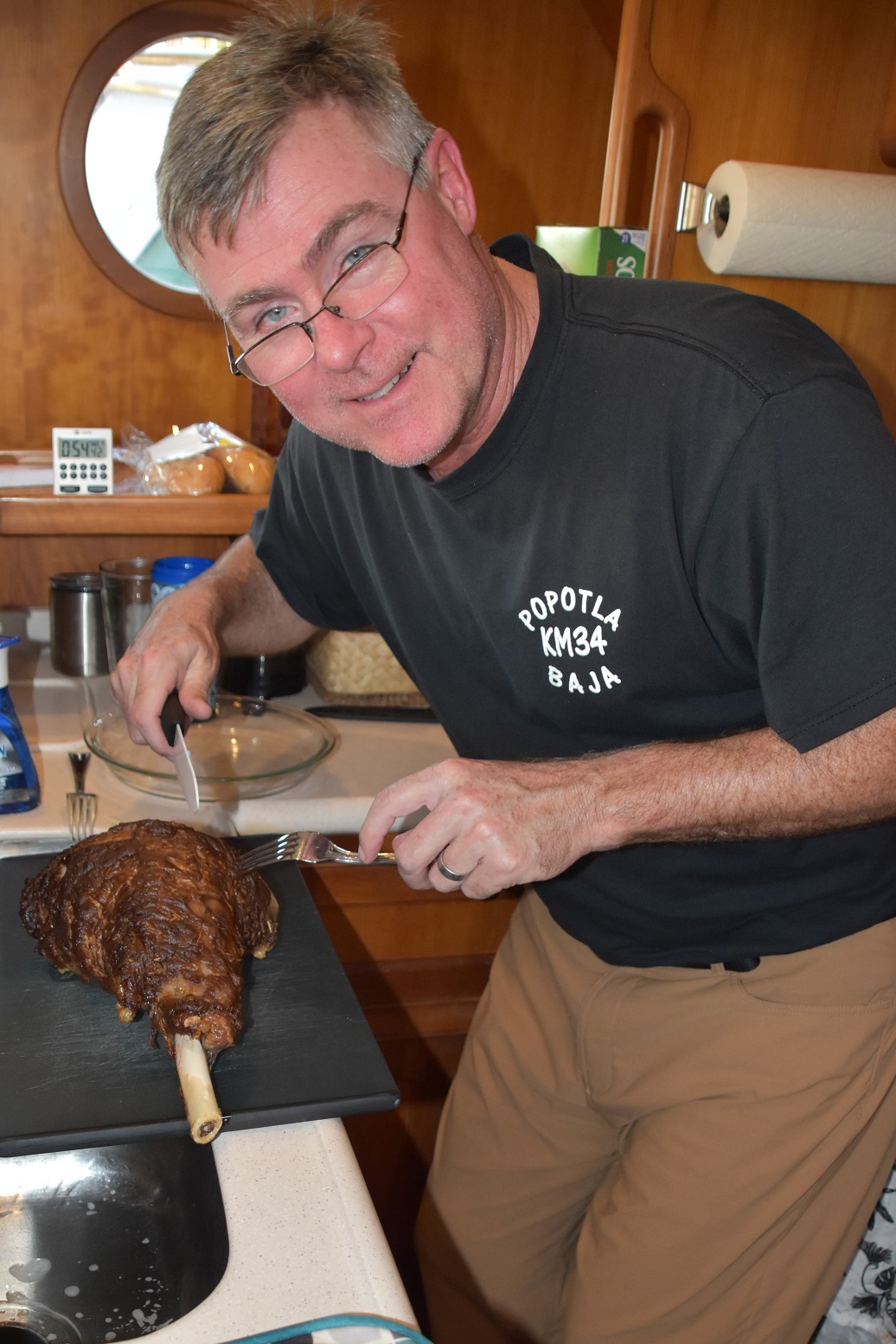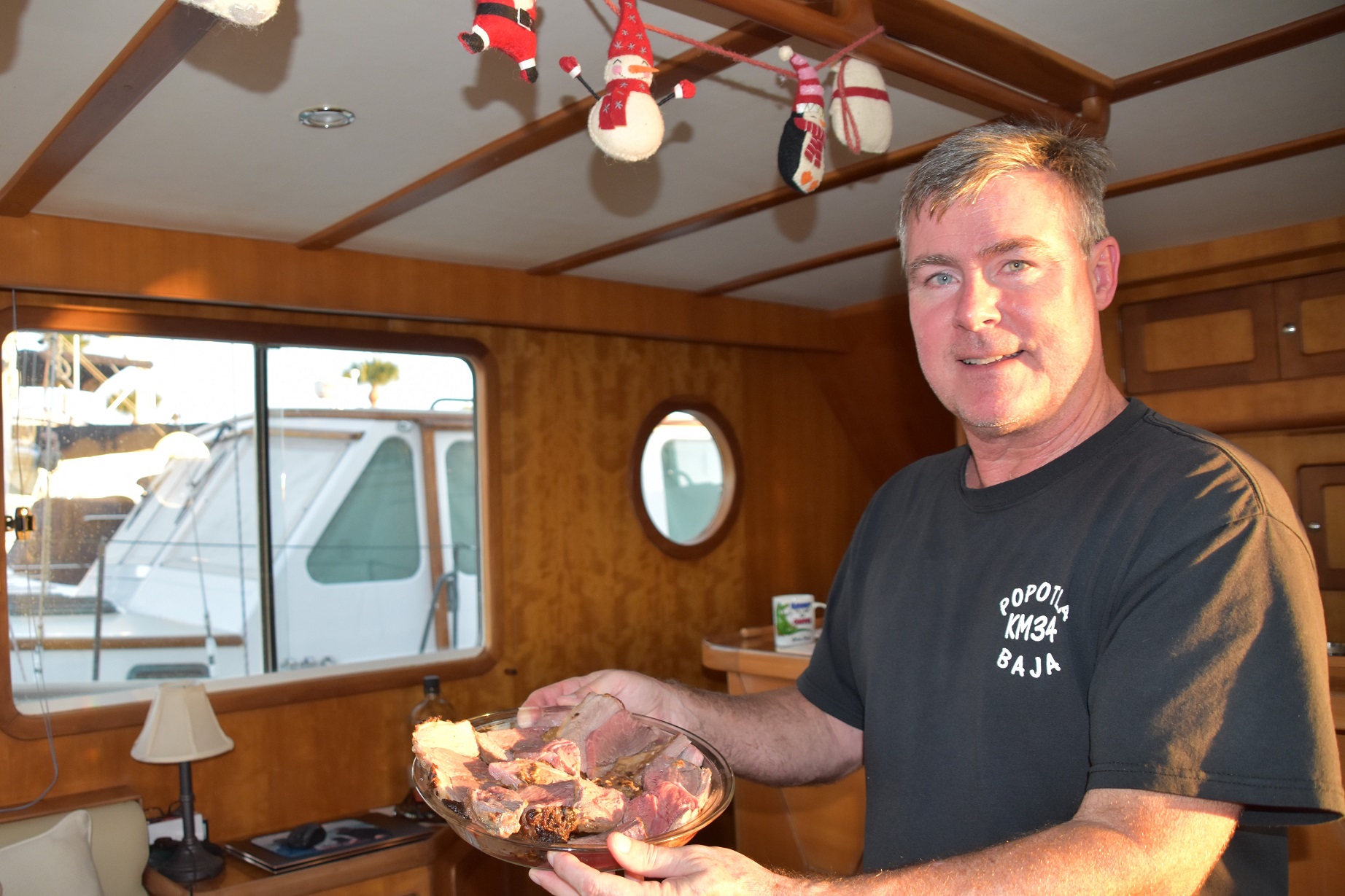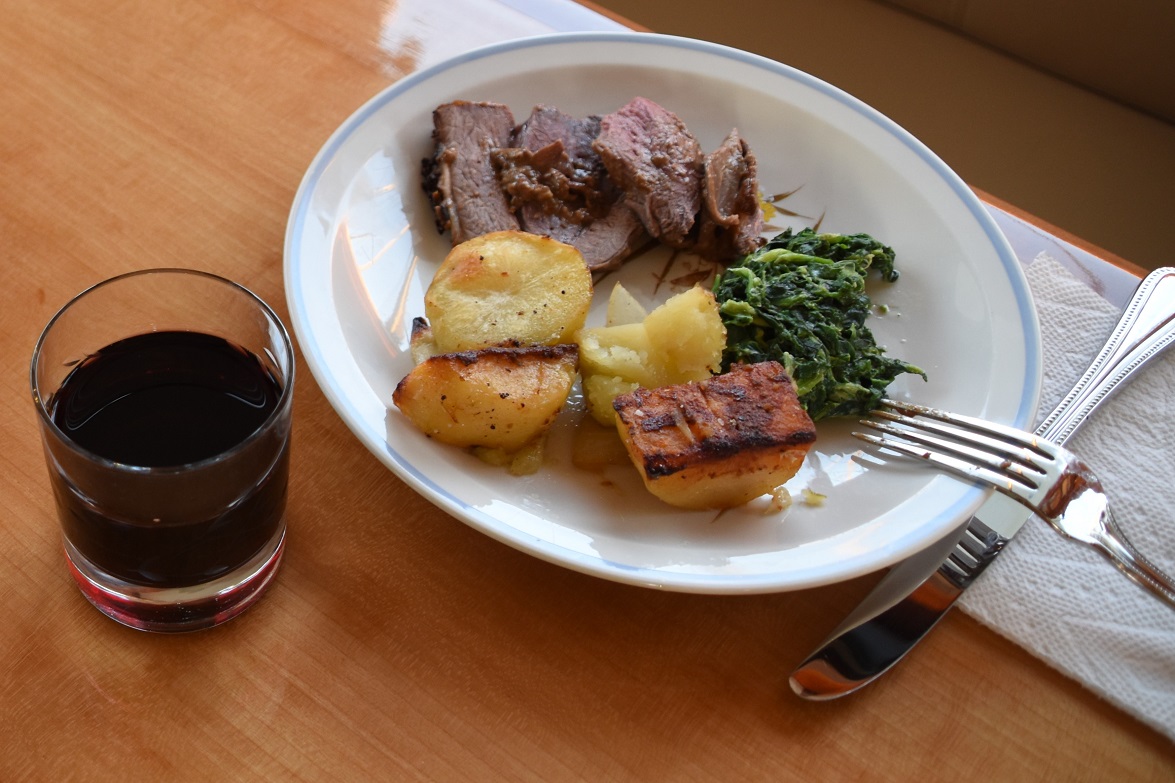 The Holidays arrived and it is all about the food. We made a final supermarket run for Christmas Eve and Christmas Day and settled into one of Chris' childhood favorites for dinner – open faced sandwiches slid under the broiler for browning (cole slaw, salami and Swiss cheese on a sub roll – recipe below). Yum! A couple small tasks like getting holes drilled into oyster shells and replacing the rusty old shower rod (and washing the shower curtain - it's the little things) and we were into celebration mode. Merry Christmas Eve! Aromas of roasting lamb and potatoes filled the boat while we sipped hot toddies. Our floating Holiday table has fewer people around it but everyone is here in spirit – especially with family recipes for the Christmas Eve feast…right down to the gingerbread (12/24).
A lazy morning unfolded on Christmas Day with a clear blue sky and bright sunshine as we prepared for the cruiser potluck at 2pm. Chris made a triple batch of egg nog that flew off the table. It was thick and rich…with extra hooch on the side for floaters. The marina provided ham, sweet potato casserole and peach cobbler. Erin made a rice/feta/pepper/dill casserole that squeezed amongst delicious boat kitchen masterpieces like green bean casserole, grilled veggies, cajun mac and cheese…and on and on. Ho, ho, ho to all the cruisers as well as those on dirt.
Onto a bit of exterior boat washing, laundry and fossil shark tooth hunting. What?! That's right – fossil shark tooth hunting (12/26). We met up at the club house and biked across the river to the prime hunting grounds. It's kinda like shelling at the ocean but in the marshes sifting through dredging remains. However, equipment is important. There are no beach bathing suits nor sand between your toes. Instead, it's long sleeves and long pants with shoes and socks to fend off the gnats and mosquitoes. I think it was a bit of beginner's luck but look what I found. Super fun! The teeth are supposedly from the megaldon (aka enormous species of shark that went extinct millions of years ago) who are also called the school bus with teeth. Today, great white sharks measure in the 20ft range whereas 2 million years ago megalodons measured in the 60ft range and roamed the waters of south Georgia. Who knew?! The Pats game was another disappointing loss but we ended on an up note with dinner at the Silver Bluff Brewery. Food was from Mr Shuck's Food Truck and buffalo eggs are our new favorite appetizer…hard boiled eggs rolled in buffalo sauce, battered and deep fried. Yum! Didn't we say it's all about the food during the holidays…more to come.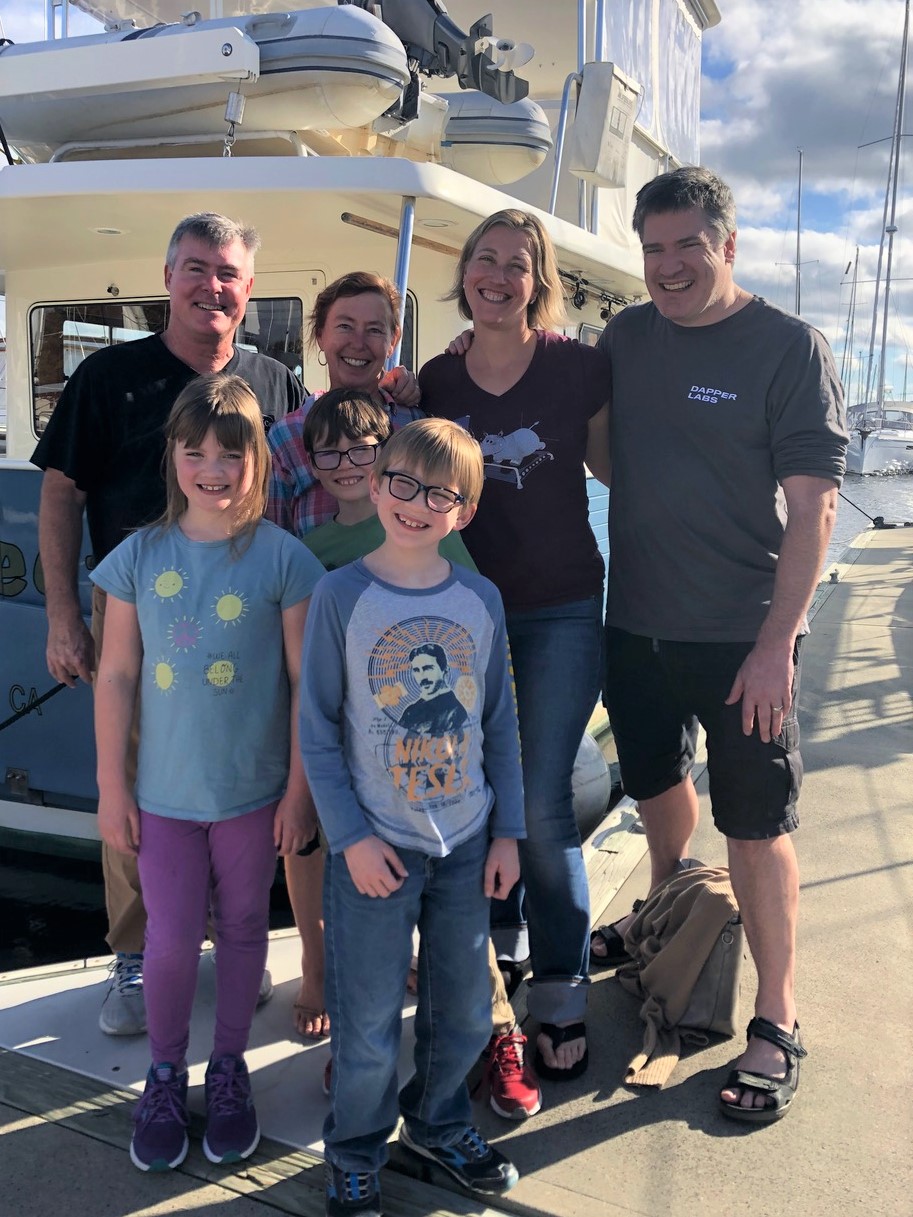 Cousin Ardelle and family are having a Holiday road trip in the southeast passing right through Brunswick. Yippee! We were all in for the regional theme and had a Twin Oaks BBQ lunch aboard Barefeet (12/27). We piled on the Southern Smoked BBQ with lots to sample: pulled pork, ribs, baked beans, cole slaw, BBQ sauce and mac and cheese. Just in case things seemed too foreign we had pigs in a blanket and chocolate chip cookies for meal insurance. But there was no need to worry because all was enjoyed. Tee, hee, hee - gnawing on the ribs was a kid highlight while we adults caught up about life's happenings. So many smiles and so much fun.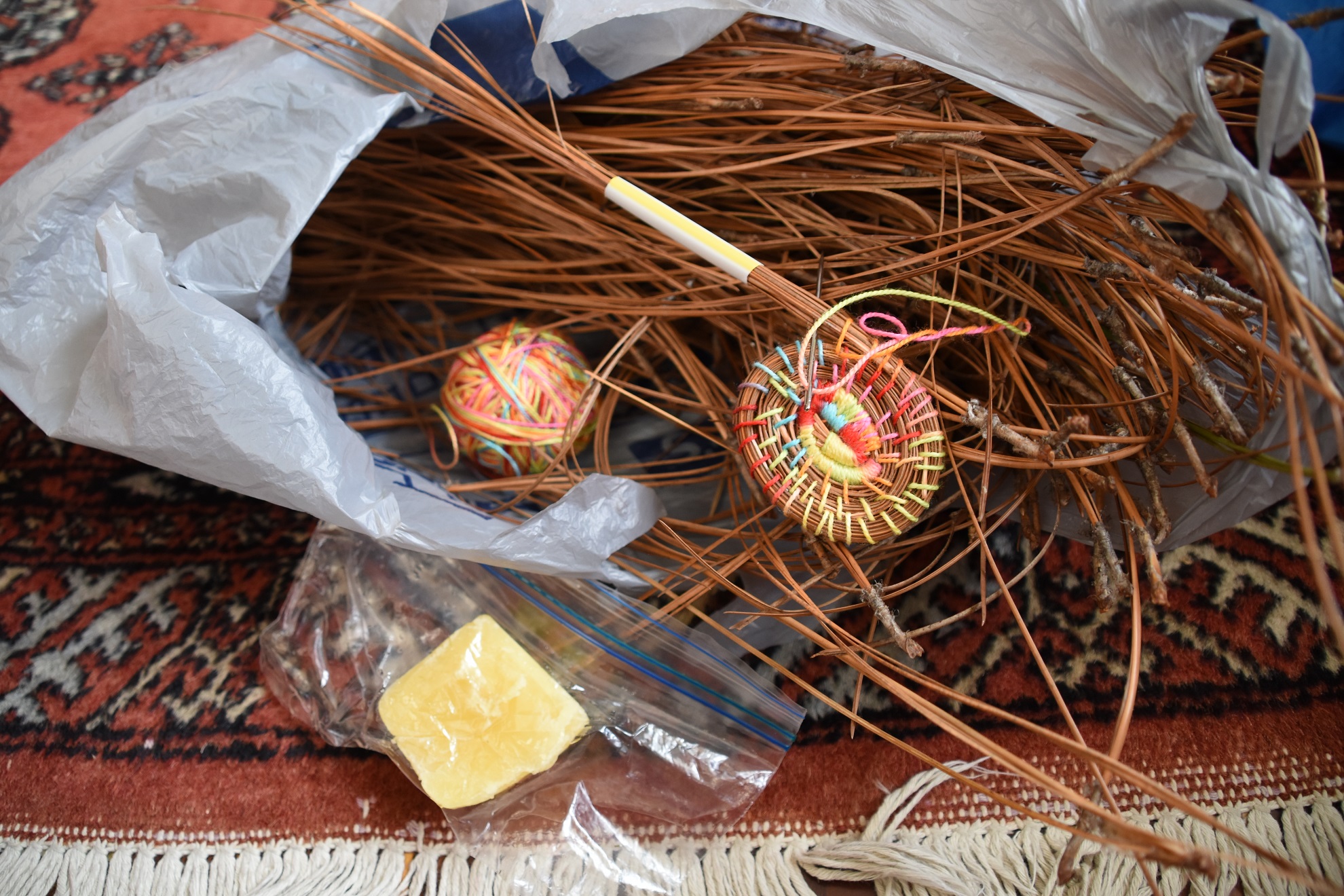 Barefeet is getting some more TLC after our Christmas break. The main engine transmission oil was changed and routine generator maintenance…gulp…uncovered a doosey of an issue (12/28). The fresh water pump bearings are going. Good catch. If this had been an on-the-road-failure it would have been way more stressful. But since we are at the dock Chris ordered the parts (including new screws not knowing what shape the old ones might be in) and we have not missed a beat. New skills are around every corner and for me it is learning to weave pine needle baskets. I have admired these in Mexico, the US and the Bahamas. It is definitely tricky but I'm aiming for a wine bottle coaster. Not too tricky of a first project in the hopes that it does not become a UFO (unfinished object). Dinner was a free form mash-up of leftovers that resulted in tasty sauteed cabbage/onion/tomato/garlic/pulled pork with BBQ cream sauce over pasta.

Our days continue to unfold in mellow ways. Walking for supplies has really hit home how much Brunswick loves its trees. The town diverts sidewalks and even roads around them which definitely encourages their majestic size and imposing presence (12/29). Barefeet keeps getting TLC with the change of dinghy oil and pilot house wood stripping, sanding and varnishing. The wood is coming beautifully back to life. Spring-like weather with 70F days means it is time to dust off the grill and be sure it, too, is in working order (12/30). Scrubbing the grill plates and basic cleaning was all that was needed to have it ready to go. Yum - marinated pork chops were good to the bone (literally). Thanks for the recipe Diana (recipe below).

More wood sanding has Chris a man possessed. Wow – looking amazing! So many previous boat sins are wiped away to gleaming warm beauty. We keep fueled with pancake breakfasts and the projects continue (yes, Erin's pancakes have butter, sour cream and powdered sugar). New Year's Eve had us over at Joe and Annie's with hummus/tabbouli/feta dip. Okay, now I can make tabbouli from scratch – who knew?! And did you know that bulghur wheat was the first convenience food?! It is parboiled and dried so cooking time is really quick. I always have more to learn about food. 2022 started out in a familiar way with the Rose Parade and football games on TV. Being in the South we also started the year with black eyed peas…bring on as much good luck as possible.

Boat halyards are clanging like a forest of windchimes as the expected cold front barreled through at o'dark thirty (1/3). Temperatures plummeted but we were warm and happy with a visit from Sue and Doug. They drove down from Savannah for a lunch visit. We caught up and chatted and laughed. Great to see you guys!! Our cruising population is fluid and folks continue to toss lines (Carole and Rudy as well as Jan and Annette) and folks continue to arrive (Sheela and Jimmy). We gather when we can then look forward to the next time…like a walk and lunch around Brunswick with Annie. I learned about hickory trees/nuts, wild grasses, community gardens and so much more. Brunswick has some rough edges but the natural beauty is everywhere.

We have a stretch of open days and decided to explore more of Georgia. After a survey of boat neighbors who are from Georgia we outlined a nice road trip itinerary. Last time we went south into the Okefenoke swamp but this time we are heading north into the mountains. An early morning departure with coffee in hand took us to Vidalia for breakfast at the Kountry Kafe (1/6). Yes, you guessed it – Vidalia is best known for its sweet onion (and yes, there is even a vidalia onion museum). The ancient world has clearly made an impression on this state. We are headed to Athens, passed Sparta along the way and see Rome a bit more northwest. But first we stopped at the State Botanical Garden of Georgia. There are not many blooms other than camellias this time of year; however, what really stole our hearts were the sculptures with natural bits and pieces created by Susan Carlton Smith Cavanagh. Wow – her talent and creativity is wonderful whimsy with dancing plant roots, grasshopper piano concert, tiny mouse with a parasol, a cocoon coach and many more.

Athens is our home base for two nights and the home of the University of Georgia (Go Dawgs). We walked to The Last Resort Grill for a delicious dinner (thanks for the tip alum Aaron), wandered the campus and ventured out of town for walks in a nearby state park. But we are in the middle of a cold snap and, honestly, we're wearing ALL the clothing that we brought. We even purchased gloves and hats (because ours are all back in Boston). Bbbrrr! There is a lot of tradition on campus...like the Arch whose three iron pillars represent wisdom, justice and moderation. Superstition says you cannot pass through it before graduation day or you will suffer bad luck. As a campus tour guide explained, "...it's a really exciting thing when graduation day rolls around and the entire senior class lines up on the sidewalks of North campus and pass underneath the Arch for the first time as a class, leaving the University of Georgia campus and passing into the real world". Wow! One of the most beloved residents in Athens is The Tree that Owns Itself. It is located at the corner of Dearing and Finely Streets in downtown. Colonel William H. Jackson's will deeded the tree possession of itself and all the land within eight feet of its trunk as thanks for all the joy it provided him as a child and beyond. The rights have never been contested and the Junior Ladies Garden Club look over the tree. Again, wow!

Our walk outside of town was at the Watson Mill Bridge State Park (1/7). The park contains a picturesque covered bridge spanning 229 feet. The bridge is held together with wooden pins and is one of less than 20 still remaining in the state (originally there were more than 200). Its origin in the 1800s was practical as part of a grist mill but today it is miles of hiking/biking/horse trails, camping/picnic sites, fishing and boating. We were bundled up and enjoyed the gentle trails.

So long Athens – we are off to the mountains (1/8). Mama's Boy states what many are thinking for the championship game in a few days…University of Georgia vs. Alabama. Go Dawgs! We got ourselves into the hiking mojo with a stop at Mountain Crossings in Blairsville. It's the Georgia terminus of the Appalachian Trail which spans about 2,200 miles from Maine to Georgia (most hikers hike through in 5-7 months). Mountain Crossings is a treasure trove of all things hiking and camping as well as a place for hiker mail to be delivered. Out front is the Shoe Tree which is a site of reverence for those who have completed the epic trail. On our visit the two sales clerks had both completed the AT (at least once) and overflowed with fun tales to tell. Thanks! Our hike was not as epic but definitely stunning. Fellow cruisers Molly and David grew up fishing and hunting in the area and gave us detailed info about where to hike. Wow – were they right! It was a super trail we could walk on side-by-side that wound beside Wildcat River (near Lake Burton). What a great afternoon! But the shadows are lengthening and we really need to get checked into the Historic Lake Rabun Hotel & Restaurant before it gets much later and we miss one of the mountain road's hairpin turns. Distances in these mountains are measured in time not miles.

The hotel has been operating since 1922 and is rooted in a love for the natural beauty that surrounds it (https://www.lakerabunhotel.com/). It's the perfect spot to explore the mountains…or…curl up inside the cozy parlor with fires glowing when the rain comes down. We kept a sharp eye on the weather and did a bit of both (1/9). Right after breakfast we struck out for Tallulah Gorge – a pretty cool spot that sparked an environmental battle during planning but was eventually built in 1914 resulting in a total of 6 waterfalls, 2 miles in length and almost 1,000 feet deep (the third largest hydroelectric plant in USA when it was built). The hike follows the rim trail then descends 531 stair steps to a suspension bridge 80ft above the rocky canyon floor followed by another 531 stair steps back up onto the rim trail. We experienced the place nearly alone with fog creeping into the vistas. Just as we left the gorge the rain started and did not let up until the next morning. There was no dinner at the hotel tonight so we stopped at Ingles supermarket for cheese & crackers, sushi, apple pie and wine. Back at the hotel it was a relaxing, dry afternoon and evening of football with our parlor picnic while the cold rain pelted outside.

Our drive back to Brunswick was done in one 6-hour shot (1/10). Georgia roads are in great condition. We kept off of major interstates and passed through the charming town of Madison on Rte 441. General Sherman spared the town on his March to the Sea during the Civil War in 1864. Legend says it was because Sherman said, "The town is too pretty to burn," but closer to the truth is probably the fact that Madison was home to pro-Union Congressman (later Senator) Joshua Hill. The town is charming…right down to a restored mural advertising Chero-Cola. The mural was restored by a University of Georgia professor and his students. Completing the project on-time meant that the students would miss a big UGA football game. They did miss seeing the game but the town brought out radios and food to the worksite...so not all was missed. Go Dawgs! We arrived back to Barefeet in time to sort out dinner then head up to the Club House for the Georgia vs. Alabama game. Now we certainly have a bit of Georgia woven into our soul which made the game more exciting…and an exciting Georgia win. Go Dawgs!

The calendar is moving so we have an idea of heading to the St Johns River near Jacksonville, Florida, aboard Barefeet. So, we'll wrap up boat projects, fill the larder and watch for a weather window to move south.

Salami/Swiss Cheese/Cole Slaw Sandwich

(makes 4 open faced sandwiches)


Slices salami
Slices Swiss cheese
¼ head cabbage, grated
Mayonnaise
Salt and pepper
2 sub rolls, cut in half length wise




·

Combine grated cabbage, mayo and salt & pepper to taste (start with 3 spoonfuls of mayo and add from there).

We like a heavy hand on the pepper.
·

Layer on a baking sheet: bread half, evenly spread cole slaw, layer of salami slices, layer of Swiss cheese slices.


·

Broil in oven until top is browned and a bit of singing on edges.


Roasted Leg of Lamb with Mustard Sauce (a la Mom Fran and Julia Child)
6lb leg of lamb (or whatever will fit in your oven)
½ cup Dijon mustard
2 Tablespoons soy sauce
6 cloves garlic (minced)
1 teaspoon dried rosemary or thyme, ground
¼ teaspoon ground ginger
2 Tablespoons olive oil

· Blend all ingredients except olive oil. Slowly add olive oil to make like a cream.

· Paint the lamb with the mustard sauce and marinate in the fridge several hours or overnight.

· Remove from fridge 2hrs before cooking.
· Sear in oven at 450F for 15 minutes.

· Lower temp and roast 350F for 1 1/4hr (med rare, 147-150F meat thermometer) or 1 1/2hr (well done, 160-165F meat thermometer)

Neil's Creamed Spinach (serves 2)
5oz baby spinach
2 Tablespoons butter
1/8 teaspoon nutmeg
¼ teaspoon salt
¼ cup sour cream (full fat)

· Steam or saute spinach until wilted (use butter if saute). Cool and squeeze out extra liquid.
· Mix nutmeg, salt and sour cream. Modify seasoning as your taste prefers. When happy with the taste add to spinach. And that's it! Expands well for a crowd.

Baked Rice with Sweet & Hot Peppers, Scallions and Feta (Aglaia Kremezi) serves 6
1/3 cup olive oil
2.5 cups scallions, chopped (including most of the green)
2 green bell peppers, seeded and diced
3-4 jalapenos, seeded and finely chopped
1.5 cups med-grain rice
1lb feta, coarsely chopped
1 cup Greek yogurt
1 cup fresh dill, chopped
Black pepper
3.5 cups milk (maybe a bit more if needed for moisture)

· Preheat oven to 400F.

· In a skillet heat olive oil over med-high heat. Add scallions, bell peppers and jalapenos – saute until soft (approx. 6 min).

· Add rice and saute 2 minutes more. Remove from heat and let cool slightly.

· Add dill, pepper, feta and yogurt. Stir to combine and scrape into 2.5qt baking dish. Stir in 3.5 cups milk.

· Bake 20 minutes. Stir with spatula and continue baking 20 more minutes. Stir again and cook until milk is absorbed and rice is cooked (approx. 20 min more).

· Let cool 10-15 minutes. Serve warm or room temp. Very forgiving recipe for one pot meal or part of a buffet meal.




Teriyaki Pork Chops with Sauteed Apples (EatThis.com from Diana)
Serves 4
4 pork chops (about 6 oz each)
1 cup bottled teriyaki marinade
1⁄2 Tbsp peanut or canola oil
1⁄2 onion, diced
1 Tbsp grated fresh ginger
1 apple, peeled, cored, and diced
1⁄2 cup apple juice
1⁄4 cup apple cider vinegar
1 tsp Chinese five-spice powder
Salt and black pepper to taste

· Combine the pork chops and teriyaki sauce in a shallow bowl or sealable plastic bag, turning the chops to coat.

· Cover the bowl or seal the bag and marinate in the refrigerator for at least 1 hour and up to 8.

· Preheat a grill, grill pan, or large cast-iron skillet.

· While the grill warms up, heat the oil in a medium saucepan over medium heat. Add the onion and ginger and cook for about 2 minutes, until the onion is translucent. Add the apple, apple juice, vinegar, and five-spice, and stir to combine. Lower the heat and simmer for about 10 minutes, until the fruit is softened (but not mushy) and the liquid has thickened enough to cling lightly to the apples.

· When the grill or pan is hot, remove the pork from the marinade, blotting off the excess with paper towels, and grill for 4 to 5 minutes per side, until lightly charred all over and firm but slightly yielding to the touch. (Be careful—if the grill is too hot, the sugars in the marinade will burn. Ultimately, you want a nice medium heat.)

· Serve each chop with a scoop of the apple chutney.