Jaw-Dropping Georgian Bay and Back to USA: August 9 2022
We stayed an extra night at Starport Marina in Port Severn to catch our breath and plan our upcoming legs across Lake Huron. Port Severn is a small town which is perfect to stretch our legs. Breakfast was not more than a wide spot in the road next to an Esso Gas Station; however, it was top notch and very popular (7/28). On the way back to the marina something caught our eye next to the General Store…a pizza vending machine. What?! Yep, pizza available 24/7 and cooked in three minutes. Well, it was intriguing but we stuck with Trading Post Cabin for dinner.
Off the marina dock at 7am to be on the blue line and first in line for Lock 45 (7/29). This is a real milestone for us. In the last two months we have passed through 75 locks (23 in the Erie Canal, 8 on the Oswego Canal and 44 through the Trent-Severn Waterway). The Trent was the biggest nail biter because Barefeet is considered a big boat for the waterway due to her 5 ½ foot draft (nothing more than 5 feet is recommended…remember the waiver we signed back at Lock 1?!). We were a bit nervous we would have to turn around at some point – phew – never happened (think of it like heading out on a 10-day backpack trip only to realize on day 7 that you left your wallet in the car and would need to turn around – big bummer). Needless to say we are totally relieved. Plus, returning to open water is a schedule that better suits us – getting up when we want rather than slotting into the lock schedule of 9am-5.30pm with about 20 minutes to process through each lock. Exiting Lock 45 had us into Lake Huron…specifically, Georgian Bay. Yippee! This wilderness area has been eagerly anticipated by us as a high point of The Loop and it is fabulous to enter these pristine waters! Gulp. But it's not all easy with navigation taken especially seriously, here, since a mistake would mean tangling with hard granite. As the photo shows - channels are well marked but can be complex. We wound our way through pine studded granite channels to Frying Pan Island, Sans Souci, and Henry's restaurant for an iconic fish and chips dinner. The fish tonight was pickerel (fresh water and part of the pike family). We made it and it feels great!
For centuries Georgian Bay has been travelled by canoes, sailors, fur traders, lumber tugs, fishing boats, kayaks and now...Barefeet. Our strategy is to focus more on nature and anchorages rather than cute towns. But sometimes we get both. Like last night at Sans Souci with Henry's and tonight at Safe Harbour anchorage with Gilly's restaurant (7/30).
Morning dawned with light weather conditions which meant we could travel offshore rather than through the squirrely (but protected) small boat channel (7/31). Off we went to the Bustard Islands – an archipelago of large, small and tiny islands. Hook down and it was time for a bit of boulder hopping and dinner aboard - the perfect way to soak in this stunner of an anchorage.
Continuing to move west we again had mild conditions that allowed us to travel offshore past the town of Killarney – gateway to the North Channel (8/1). Killarney has a small community that makes a welcoming cruiser stop; however, we decided to anchor just a bit beyond the town at Covered Portage Cove. It's a summer weekend which has the inner cove looking packed so we anchored in the outside cove. After we were anchored we dinghied inside to check out the space inside. Nope – too tight for our taste with boats rafted together and tied to trees ashore…we're happy in the outer cove. Back to Barefeet and a local cruiser couple stopped by and filled us in on lots of local info – some we knew and some was new to us. Thanks s/v Respite! Glad we did our exploring early because the afternoon pelted down with rain before clearing up around dinner time.
Another quiet morning provided a gentle ride to Baie Fine (pronounced Bay Fin) and a check-in on The North Channel Cruisers' Net. The Net is hosted (and originated) by Roy Eaton with broadcasting from Anchor Inn in Little Current daily at 9am on VHF 71 during July and August (yes, the season is that short). Baie Fine is a scenic fjord-like cut in the earth. Wow – "scenic" is an understatement. We headed about four miles up Baie Fine past May Anne Cove and into an unnamed cove that we had all to ourselves. Our days get, well, more and more remarkable with each new anchorage. For some aerial perspective we clambered up the "tape" trail to Casson Peak. The root and boulder path is better than bush-whaking as we followed orange tape tied to trees and branches to a jaw-dropping panoramic view across Baie Fine, Frazier Bay and McGregor Bay. And the only place with a cell signal to wish my sister a Happy Birthday.
Back aboard Barefeet we did some laundry until the generator conked out. Dang it! Seems there was an air lock in the system which overheated everything. Must have been when we did Lock 44 Big Chute and were out of the water. We closed the main engine's sea cock but did not do the same for the generator. Laundry was finished with power from the solar panels but the generator repair will wait until tomorrow. Tonight is steaks on the grill with wine, mashed potatoes and Greek salad bites. We are lucky to be visiting such a pristine place.
The expected rain arrived but the wind seemed from the opposite direction…maybe these fjord-like walls have something to do with that. It was a quiet day kicked off with jalapeno hash and eggs (8/3). This is a favorite of ours from the Local Yolk in Manhattan Beach. We have done our best to copy their masterpiece and at this point…maybe…we make mashed potatoes for dinner simply to have jalapeno hash in the morning (mashed potatoes, butter, salt, pepper, shredded jack cheese, cream cheese, diced jar-style jalapenos). Plop an egg on top and voila – nirvana. Next up was the generator. Sure enough – bone dry. The impellor took the brunt of the damage (3 of the 4 fins were found - that is going to have to be good enough). Back in business and we made water for two hours just to be sure. No cell or internet coverage so the fog creeping down the pine covered ridge was especially entertaining.
Up anchor early to pass through the town of Little Current and its' swing bridge (8/4). The bridge opens hourly for 15 minutes so we timed our arrival and continued to our destination - anchor between the Benjamins. Wow! Did we mention how stunning the scenery is?! Truly jaw-dropping. But sometimes the camera catches something unexpected. I snapped a pic of a pretty butterfly…but…it seems in reality it's a dragonfly EATING a butterfly. Gulp – nature, red in tooth and claw. A bit more boulder hopping and back to Barefeet when m/v Arion stopped by. Great to see familiar faces! The last time we saw these guys was in Oswego, NY. It was fun to compare paths and experiences. See ya down the way.
We love traveling in the morning when the light is soft and the world is quiet. This stretch has the added characteristic of placing us closer to the North Pole than to the Equator (8/5). Crazy, huh?! This was a long, 10hr run to Drummond Island and Harbor Island's anchorage through a key hole entrance. It's well protected and 9ft nearly throughout. We checked back into the USA via the ROAM app submission process and a phone call. A month in Canada was not enough but winter is coming. We are in Michigan!
Another morning of calm conditions had us moving onto St Ignace marina and a ferry to Mackinac Island (8/6). Well, no – not exactly. We arrived about Noon only to have a slip snafu delay us for hours. A not-yet-departed-sailboat racer hadn't actually left the slip that we were told to go to so we took the closest possible slip and chatted with the marina who insisted on tracking down said racer to determine a move, no move outcome…bottom line - would we be able to stay? We waited and waited as Mackinac Island evaporated for us. Oh well, eventually we were told we could stay. To salvage the day we walked the town and had a great dinner of a burger and a southern fried BLT (fried green tomato, that is) at the Village Inn.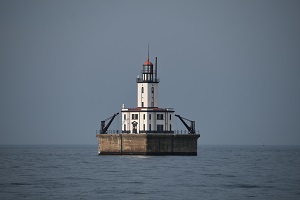 One more long day of miles to find a good spot to hide for strong winds and rain passing through. We tossed the lines, slid under the Mackinac Bridge and moved from Lake Huron to Lake Michigan (8/7). Lake Charlevoix has great protection but first we had to get into the canal and through the draw bridge (opens on the hour and half-hour). Sounds straight forward but the rain and fog made things a bit trickier as we did station keeping (hovered) for 20 minutes. Ah, hook down in Oyster Bay. We are snug!
Rain, fog and cool temps arrived on schedule so we settled into a quiet day while storms barreled through (8/8). Thankfully, the weather lifted and cleared on schedule, too. We dinghied into charming Charlevoix to check out the Mushroom Houses. Earl Young built 31 structures in Charlevoix over 52 years. He used mostly stone, limestone, fieldstone and boulders he found around Northern Michigan. They are like they sound – cute and ready for a gnome to move in. A few blocks away is the main drag full of blooming flower boxes, American flags and everything cherry...at Cherry Republic (thanks for the tip s/v Respite). We sampled and went home with a cherry horseradish sauce perfect for pretzel dipping. Then it was off to Earl Young designed The Weathervane for a drink followed by dinner at The Bridge Street Tap Room where we learned a few more tid bits ahead on our trip. Thanks for the info! And check out the photo in the bar – Charlevoix lighthouse in summer with swimmers and winter with ice…Mother Nature leaves her mark in Michigan.
Storms…what storms?! Today dawned quiet and clear so it's hard to remember the storms of yesterday. Off we went for the 8am bridge opening and onto Suttons Bay (8/9). Our mouths are still agape at the massive boat houses on Round Lake as we left the harbor. It was a gentle ride to Suttons Bay's Municipal Marina where we tied up to slips 31 and 32. No car rentals so it is a small town but it's criss-crossed with bike paths - excellent. This is the first time we have been in a supermarket bigger than a 7eleven (okay, Hansen Foods' hard liquor section would fit on two card tables but we can make it work). Hey, did we mention that we are in Lake Michigan! At dinner we chatted about possible routes to Chicago at Boone's Prime Time Pub over Arizona egg rolls (to die for) and juicy burgers. The choice is Michigan or Wisconsin…or a little bit of both if we zig zag across the 50-ish miles of Lake Michigan between them. Whichever path we choose we look forward to summer vibes on this stunningly clear water.