A Gentle Pace of Work and Fun in St Augustine: March 3 2022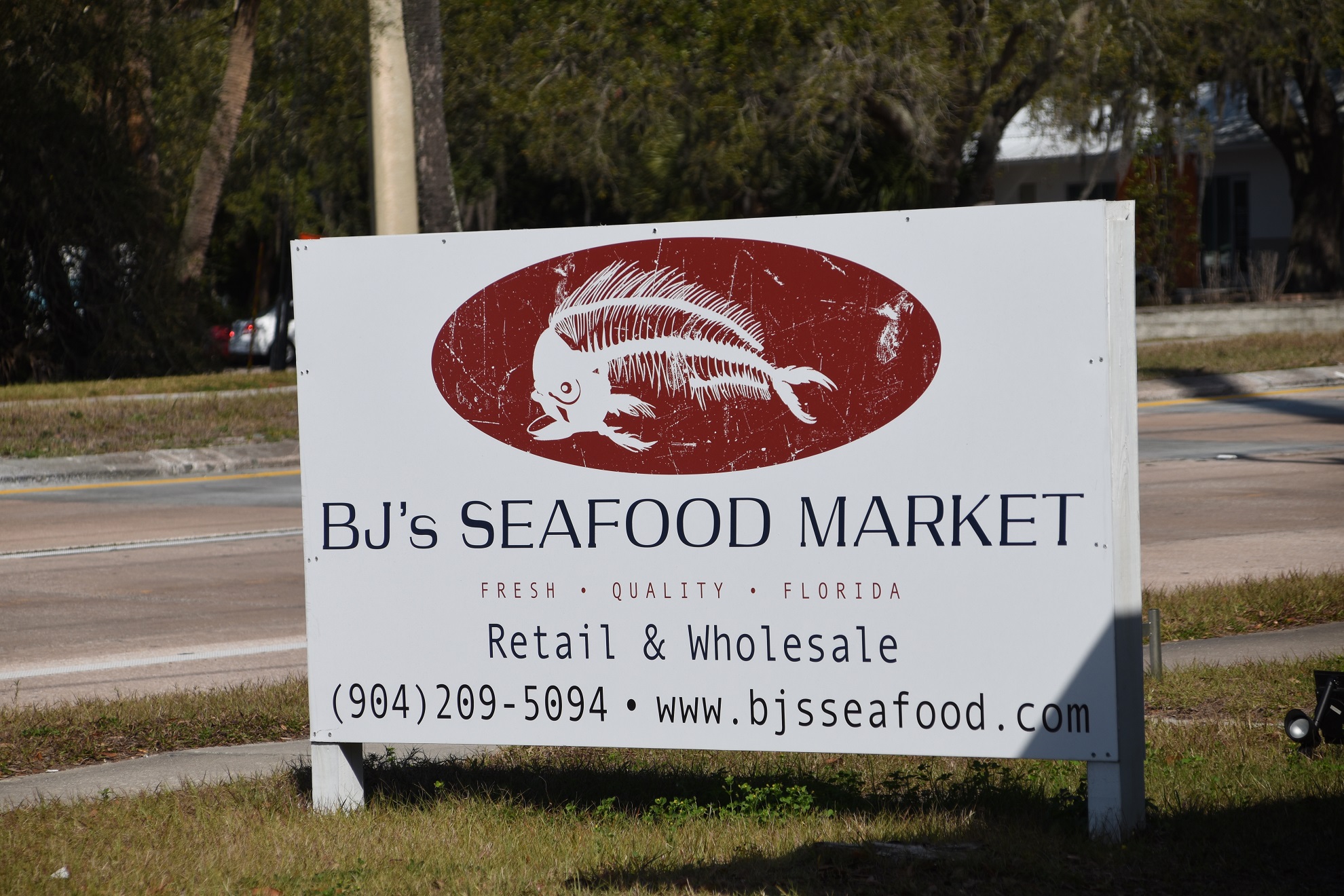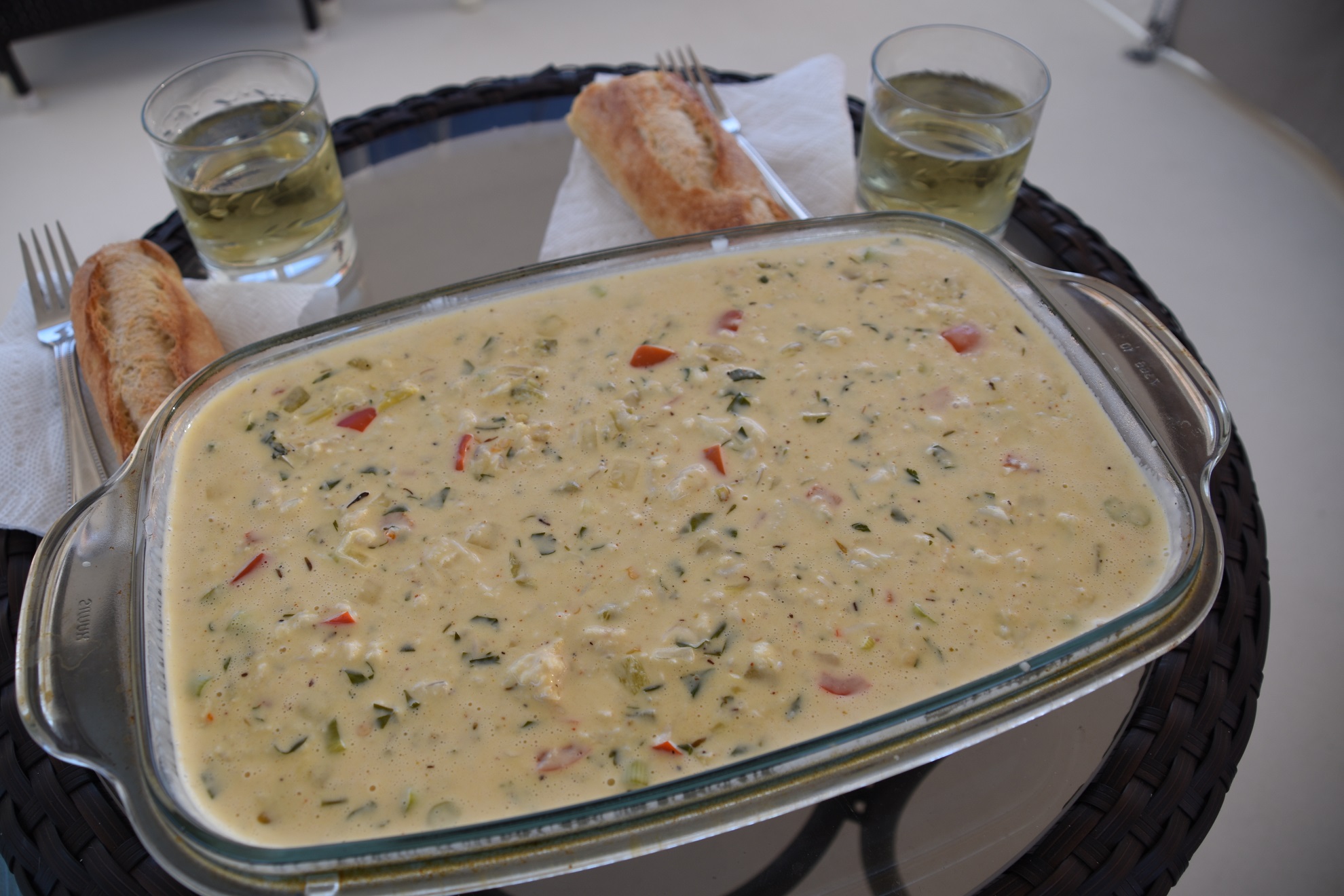 St Augustine for one month – we love the sound of that! The days are sunnier, we are at a slip at River's Edge Marina and we are settling back into this historic town (2/17). Winn Dixie supermarket is within walking distance, laundry was a must (my orange fleece positively walked itself into the washing machine) and BJ's Seafood, a family owned seafood market, has us once again experimenting with seafood dishes - this time thanks to the Key West Commercial Fisherman's Cookbook. Ah, gooey goodness of Southwest Crab Queso Dip with bread from the BEST French bakery (Les Petits Pleasures on A1A). Fabulous dinner (recipe below)!
The last time we were in St Augustine was April 2020 when uncertainty and fear had everything locked down due to COVID. Everyone pivoted and tried to help each other in a completely unfamiliar world. Our blog from back then said, "For dinner we got take-out from the Athena Restaurant on Cathedral Place just steps from the dinghy dock. The scene was surreal with tables barricaded just a few feet inside the open door indicating the place for payment and pick-up. As we thanked the man for being open he said he would likely be closed tomorrow. Gulp – so sad. What kind of tip do you leave for that?!" That was then and resilience won out. We had breakfast at Georgie's Diner (sister restaurant of Athena on Cathedral Place). When we asked about Athena the waitress said that take-out saved them and the boss was great. Both restaurants are still open - awesome. Fueled up with breakfast we biked around historic neighborhoods, the Fountain of Youth and stunning Magnolia Avenue on a beautiful 82F day.
River current and wind speeds were still enough this morning to spin Barefeet around (2/19). She sits better in the slip stern in but current was too strong when we arrived so we went bow in. Ah, that feels much better. Since we will be here for a month we do not have to run around like headless chickens to accomplish everything in 48-hrs. So, we settled into the neighborhood with supplies and diners nearby. Sundowners on the top deck felt like the Saturday that it was; boats ambling past, meeting dock neighbors, music wafting from Hurricane Patty's and birds in the grass lands across the river. My sister, Lindy's, Delish Pasta was indeed a delicious mix of roasted cauliflower, capers, chicken, onion, lemon juice, Parmesan pasta for dinner (recipe below).
Boat projects intermingle with social fun at a gentle pace. Some projects are quick but others stretch over days. And some projects insert themselves on the already written To Do list. Insert the toilet solenoid. It was disassembled and cleaned…voila – water once again flows in at the rate it should (2/20). Love the quick successes. And it was a good thing because we had social plans. Off we biked in the afternoon to hang out with the s/v Blue Moon crew. Their boat neighbors are also longtime cruisers which was loads of fun and led to take-out pizza and many tall tales. Great fun then diving into another project - you see the pattern. One of our longer term projects is the decking below the windlass. Water is seeping in and needs to be stopped. Chris removed the windlass and will dry it out over the next several days before sealing and reinstalling the windlass (2/21). I did a bit of Spring cleaning wiping walls and floors with a dish soap and water mixture (1 tsp wand wash dish soap for every 2 cups of water). It worked like a dream and no rinsing was necessary – yippee! Check, check and check. Another nice combo of work and fun was having breakfast at the French Bakery followed by bike tail racks and bag/basket attachments next door at Island Life Bikes. Installation was a bit tricky in the parking lot but was eventually accomplished (2/22).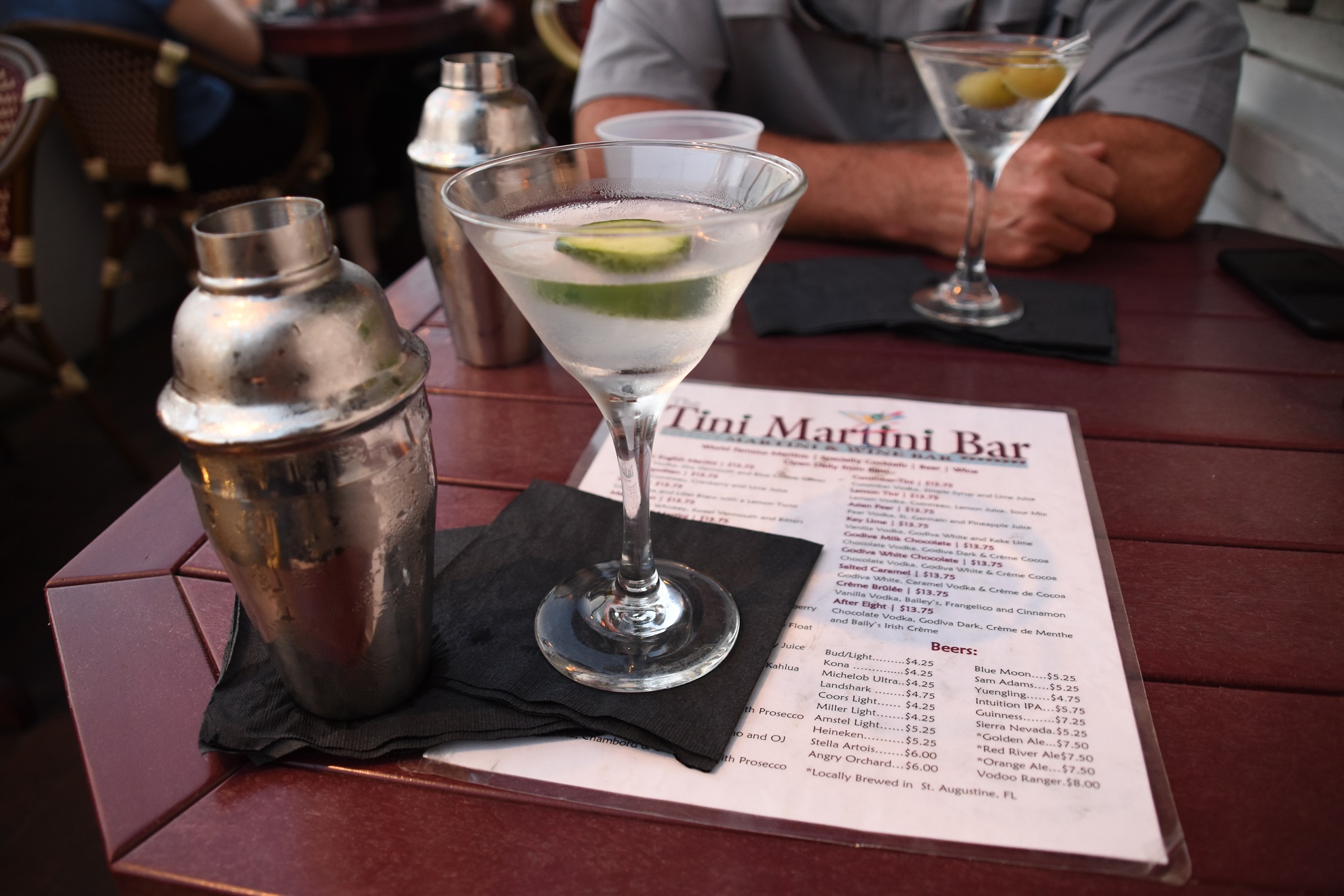 We cruisers are a migratory bunch. As we read fellow cruiser blogs some boats are starting to head back north from the Bahamas. That gets us thinking – is it time for us to move?! Should we be further along?! Relax and no – Barefeet does NOT need to move yet. It is still way too cold up north and we have loads of time available at the slip. Back to work and fun. More deck grinding and scraping out wet wood at the windlass before walking into town. We explored the Old Town and settled into a martini at the Tini Martini Bar before having dinner at A1A Ale Works to watch a Duke basketball game. A real bonus were the fun patrons and friendly staff.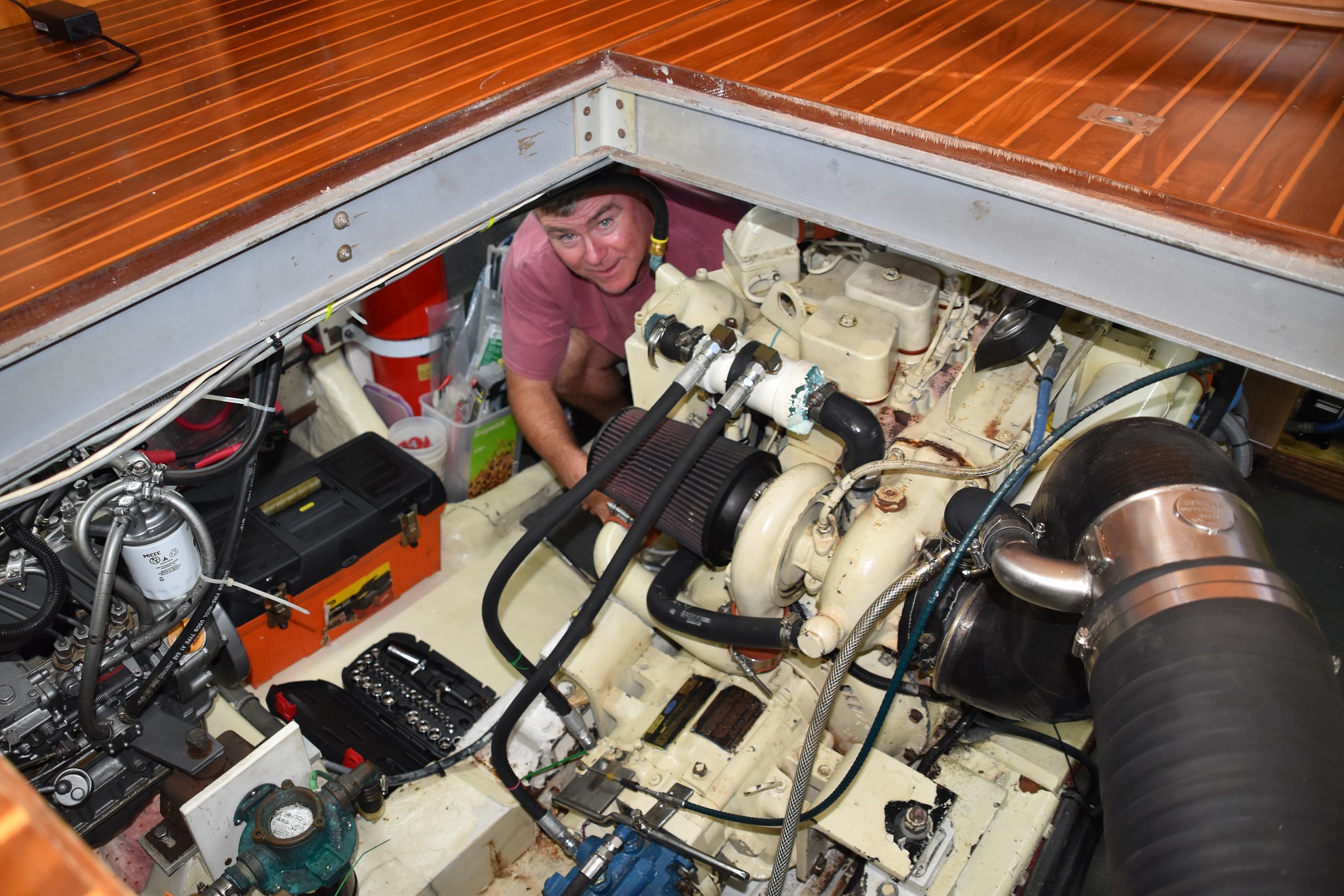 We are really lovin' this mixture of a bit-of-work and a bit-of-fun in a single day rather than a pedal to the medal race through the To Do list until we toss the lines from the slip. Remember that engine coolant leak? Well, the tiniest drip still remains. Literally not more than a teaspoon but it is happening so Chris will replace the gasket on the turbo. Gggrrr…feels a bit like Groundhog Day from the engine gasket replacement project as the sea cock is closed, salt water is drained from the engine and coolant is drained from the engine (stored in buckets in the guest shower – you know you're a red neck if…yep, that is us). Drat – no 6-point wrench aboard. Rather than risk stripping the bolt an $8 wrench was ordered and will arrive tomorrow. Ah, gentle pace. Margarita sundowners with neighbors Nancy and Randy involved tall tales and laughs which kept going...so...we asked if they wanted to stay for a fish taco dinner. They said sure, why not. I was a bit nervous because I had never made this recipe before but phew - it was delicious and easy to pull together at the end. It was a nice night. Thanks for the red snapper, BJ's. Link to the recipe here: https://www.recipetineats.com/marinated-fish-tacos/.
Boat projects clipped along with the arrival of the 6-point wrench which made quick work of the bolt removals (2/25). Did we mention how much we love the plastic cafeteria trays to corral the project mess?! While on the dock cleaning the turbo a couple of yard mechanics passed by and gave Chris "the look"…yes, it should be repainted…you're right, ugh…and paint was ordered. While Chris worked on the turbo Erin worked on the stainless portholes. I went with a new method this time because I hate the chemical dripping down across the hull paint…even with loads of rinsing. This time I used a 400 grit dremmel "wheel" (looks like a blob of cotton candy) then polished the stainless. Wow - it positively sparkles…fingers crossed it lasts for awhile. The photos above are a before and an after stainless polish job. Marine Oil is still our boat repair paradise. This was our first visit of which we are sure there will be many. Another sunny morning had us biking to an Old Spanish Coquina Quarry (2/26). Coquina was quarried and used for the nearby Fort (Castillo de San Marcos) as well as other structures (unlike wood – fire and termites would not be a problem). Think of it as the concrete of the mid-1500s but to extract the seashell based stone was truly back-breaking work. Today, the quarry is gentle trails beneath squiggly oak trees mixed with green palms with splashes of color from azelia blooms…that opened into the weekly Amphitheater Farmer's Market. That's a fun surprise! There were garden plants for sale, farm fresh fruits and veggies, handmade crafts, breads, knife sharpening and on and on. Back to the docks in time for dinner we headed next door to Randy and Nancy's boat for lasagne. Another fun night with laughs and good food. Thanks guys!
Having the luxury of time and a mailing address means that jobs don't need to be rushed…especially when heavy, morning dew takes hours to burn off every day. A final paint patch was needed in the bow after the removal of the door to the Portuguese bridge last summer (2/27). It is literally three small, pencil tip sized holes that were filled with epoxy…but who wants a polka dotted boat, right?! Chris prepped and rigged up a clever paint booth for the job. The paint patch looks awesome! Re-ordering the custom created paint from FinishMasters in Worcester, MA, was a breeze thanks to Joel…the rest of the FinishMaster location crews…not so much. Thanks Joel! Tracking down a replacement EPIRB battery took a few unexpected twists and turns (and half a day) since our model has been discontinued. However, perseverance paid off and its on the way, too. That's it for today – it's time for dinner. Taking advantage of the lovely evening we walked to the historic district for dinner at Scarlett O'Hara's. The wooden back porch bar was casual and fun.
Good thing we wandered out yesterday because the cold front arrived as expected with plenty of rain that kept us inside for the day (2/28). The rain passed by the next morning and boaters came out to continue work as power tools again filled the air. For us it was turbo cleaning and degreasing followed by two layers of high temperature paint to tolerate high engine room temps. Uncovered bits of engine parts were also cleaned and painted grey...a much better color/condition than rust. Looking good! Dinner was a take-out pick up order from Queen Falafel in the Winn Dixie strip mall (3/1). It's a tiny Lebanese place with food that explodes with freshness. We had falafel sandwiches and foule madamaas (fava bean salad spiked with lemon, mint, garlic and more). It is a one woman show and the Queen makes everyone feel special. Another inserted project in the To Do list was organizing a long cable used to lock the dinghy to docks. When not in use the cable is coiled inside the dinghy. Unfortunately, the velcro on the strap holding the cable while stored has burned out in the sun and no longer corrals the cable. Chris sleuthed a snap type solution and installed it with the help of a grommet kit from, you guessed it, Marine Oil (3/2). Bingo! This little project is a big lifestyle boost because the cable was constantly coming undone and getting underfoot. Happy Hour at Hurricane Patty's was an easy way to end the day. Work and fun. Another warm day revealed that the high temp paint was dry...so on went the turbo (3/3). The high temp silicone gasket material needs 24hrs to cure so coolant won't be added until tomorrow. Ah, the luxury of time is truly a luxury for us. A couple more weeks in St Augustine should wrap up our projects nicely and continue the trend of warmer days.
Southwest Crab Queso Dip (Key West Commercial Fisherman's Cookbook) serves a crowd
1 T olive oil
1 red bell pepper, chopped
1 small onion, chopped
1 clove garlic, minced
½ cup dry white wine
2 cups heavy whipping cream
1 (8oz) package cream cheese, cubed
1 (8oz) package velveta, cubed
1lb lump crab meat
1 (4oz) can green chiles, chopped
¼ cup lime juice
¼ cup scallions, chopped
1 T taco seasoning
1 tsp chili powder
1 tsp crushed red pepper
1 tsp salt
Bag tortilla chips
· In a 4qt sauce pan heat olive oil over medium heat. Add red bell pepper, onion and garlic. Cook 3 minutes.
· Stir in wine and cook until liquid is reduced by half, stirring frequently.

· Add cream, cream cheese and velveta – stirring until thickened.
· Stir in crab meat, chiles, lime juice, scallions, cilantro, taco seasoning and chili powder. Simmer 15 minutes.
· Add salt and crushed red peppers. Serve hot with tortilla chips.
Lindy's Delish Pasta (serves 4)
1 head cauliflower, cut into bite sized florets
6 T capers
5 T olive oil
½ tsp salt
¼ tsp pepper
1 onion, chopped
3 cloves garlic, minced
2 tsp fresh thyme (1 tsp dried)
2 T butter
2 T lemon juice
3 cups cooked chicken, shredded (like rotisserie from supermarket)
8oz pasta (short like fusilli, rotini, bow tie)
¼ cup Parmesan cheese
Garnish individually: lemon wedges and Parmesan cheese
· Heat oven to 425F. Combine florets, 4T capers, olive oil, salt and pepper on baking sheet and toss to coat. Cook 30-40 minutes until edges brown (stirring frequently).
· Saute onion in olive oil until translucent. Add garlic and saute 1 minute. Add 2T capers, chicken, caper juice, thyme and lemon juice.
· Boil pasta and drain.
· Toss onion mix with pasta and Parmesan cheese. Serve.