Chicago to St Louis on the Rivers: September 24 2022
Boat projects and provisioning runs have us getting ready to enter the inland rivers of the USA. The repaired hydraulic ram for the dinghy crane was repainted by Chris in his workshop (ha, ha – the top deck). All systems are go and it functions like a dream (9/11). The rain arrived as forecast with lightening, thunder and 33 knot wind microbursts…love the glimpse of a rainbow when it had all blown over. It was nice to have a short walk to the Casino's sportsbook to watch our home team Patriots. Unfortunately, the Pats lost but energy was high since the local Bears fans had a good game full of cheers and smiles.
A return provisioning trip to The Farm gave us amazing veggies for the larder…and a fabulous margherita pizza for dinner that brightened up an otherwise grey day (9/12). Indiana got the short shrift regarding exploration but we squeezed in a visit to an Amish bakery. Rise 'N Roll had donuts and coffee for now and handmade egg noodles for future meals. Maybe next time we'll make it out to the Elkhart area for a glimpse into Amish society. The car was returned, boat filled with water, laundry done and the main engine sparked up. After two weeks at the dock we are back on the go and off to the Calumet River (9/14). Our geoclimate has changed and now includes BIG locks, BIG barges and tons of bridges. We had Barefeet's roof specifically made so that we could fit under the 19'5" bridge outside of Chicago (downtown Chicago at 17' bridge height was totally out of the question). We took it real slow and slid under with a bit of room to spare with our height of 18'5". Thanks builder Jay! Despite all the BIG industry there is a lot of bird life and green shorelines. Gulp – and the birds know to sit on the fence above the electrified stretch of water that keeps invasive species out of the Great Lakes. If a fish wanders in it dies of electrocution and is quickly snatched up by a bird. If a human falls in – the Coast Guard will not save you.
Commercial traffic takes priority passing through the locks. Totally get it; however, it can take hours for the multi-barge tows to get through a lock because the more tow barges there are that need to be broken apart, cycled through in pieces and then re-attached at the other end of the lock…the longer it is until it is our turn as a pleasure craft (PCs – that's us in river lingo). Locals simply recommend to be patient because on any given day you can be delayed for hours. Today, we were delayed for five hours at the Lockport Lock. It was long and massively tweaked our schedule. The up side was that we met m/v Talisman (inches away from completing their Loop) and m/v September (Kentucky natives who filled us in on what lies ahead…and passed along a Cumberland River cruising guide - thanks). The schedule tweak meant that PCs stacked up and arrived at the Joliet town wall just as the sun set. The wall swelled from 2 to 9 boats in the blink of an eye. Including any boats with plans to go further - all abruptly stopped. Dinner was simply cheese and crackers…on any given day, on any given day.
It was a quiet night on the Joliet wall with regular police patrols with flashlights – thanks town of Joliet. It seems local teens have been known to simply untie boats in the middle of the night (unbeknownst to the sleeping owners). We were all up with the roosters coordinating bridge openings and lock timing. On any given day (so much for plans). At the Brandon Roads lock we rafted with Talisman and September then waited 4 hours at the Dresden Lock (anchored for the wait) where we rafted 4 deep on 2 floating bollards (9/15).
Third time was the charm and we sailed through the Marseilles Lock (pronounced mar-sails). But the schedule damage was already done as we exited the lock with the sun already setting. We had a nice anchorage picked out but had to stop one hour shy of it at Heritage Harbor Marina. It's a nice spot but we had called ahead and their water is not deep enough for our 5.5' draft so we stopped on a single dock in the river, out of the channel, that they offer for just this type of situation. Thank you! We were tied up by 7.30pm in the twilight. Phew. The night was dark as a bat's ass except for the stars and the barge spotlights. It must be terrifying to drive those BIG tows at night. Check out the cool photos we got of the experience.
We woke up and pushed rewind moving on to the anchorage we had picked out for last night – Buffalo Rock State Park (9/16). Oops - but first we did some soft bumping of the bottom from the dock to the channel. Buffalo Rock had us anchored below stunning sandstone cliffs - ah. First up was more adventures for the SSH (super spider hunters). We found A LOT of spiders. It's totally gross but now they're gone. Touches of autumn colors tint the trees and we planned lily pad hops from here to Alton where my sister Jana will come aboard. Dinner was delicious and fun at Captain's Corner in Starved Rock Marina. Potato chip coated fried chicken sandwich with great chats with friendly folks. We met a guy who will be a first time Dad in 4 months who could not be more excited (it's adorable), met a retired electrician who lives in a log cabin and brings veggies from his garden to the bar staff, met a houseboat owner headed to Tennessee to buy property to build a house and learned the lore behind nearby Starved Rock. In 1760 a Native American battle resulted in one tribe seeking refuge on a rock where they became trapped and eventually all starved. Pretty grim but war usually is.
The new river "rules" are feeling more familiar as we meander along the Illinois River. There are bald eagles, deer and white pelicans. The floating lock process is gentle and small towns dot the river bank.
Tonight, we pulled into the town of Henry, IL (9/17). At the Henry Harbor Marina we tied to original lock walls (circa 1870) – no kidding?! Super cool. It is owned and operated by the Passini family. Dad (David), son (Jacob) and son-in-law (Anthony) could not have been friendlier as they gently slid us into our spot along the original lock wall. Once tied up we met the Mayor (Jeff Bergfeld), received some town swag and strolled the Cruise In car show. There was even a 1936 Ford drag racer with handwritten tachometer and speedometer. The town slogan is, "Best town in Illinois by a dam site." Clever – get it?! We certainly arrived on the right day as the car show melded with food trucks and cookouts that eased into an outdoor movie night with smores at a nearby fire pit. Today, life is easy on this river.
Where to next? Well, it has gotten complicated with tornados, massive flooding and hail on the overnight forecast. Not to mention that the Peoria lock will be closed for 2 days (tomorrow and the next day). There's nothing for it so we hightailed it early and far (9/18). It was a long 60 mile day that started off well with a quick passage through the Peoria Lock. Nature was on full display and we even spotted an adult wolf before it ducked into a den. Wow! Lots of Loopers had the same idea as we did which had the Quiver Island anchorage filled to the gills. Once anchored we settled into a dinner of spaghetti with meat sauce and our Pats football game. Perfect!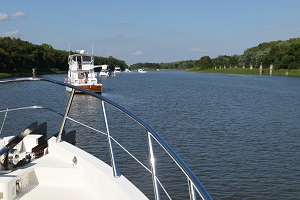 The stormy weather passed through in several tranches but the morning dawned quiet and still without a single boat dragging (9/19). Back on the go we had a short day of driving after yesterday's longer haul. Sheesh – bald eagles are positively as common as feral chickens; eating on the shore, standing sentinel in trees and gliding overhead. Next stop was Beardstown where we tied to Logdon Tug Service. Honest – we tied to a tug boat on the Illinois River. Super cool! Beardstown has a population of 6,000 but dig a little bit and there are some epic stories here. For one - do you remember the Beardstown Ladies of the 1980s? They were a group of 17 ladies (all over 70 years old) who formed an investment club that met in a church basement. Their initial returns were stupendous but were later revised much lower after it was realized that fees were incorrectly calculated into the returns. So it goes – sorry ladies. Another Beardstown tid bit is further back – to a courtroom in 1858. It's where Lincoln defended Duff Armstrong in the famous Almanac Trial (a huge triumph for Lincoln). It's the only courtroom where Lincoln practiced law that is still used as a courtroom to this day. We were the only two in the Old Lincoln Courtroom and Museum resulting in a private docent tour. Fascinating! The town has a historic vibe but keeps fresh with murals. So tickled with our tie up for the night we had docktails on the deck of the tug with m/v Sea Clef and m/v Off Leash. Caution - footing is tricky over ropes and cleats and all things tug. Cheers!
Temperatures have sky rocketed to 90F. It was an early line toss from the tugs headed for the La Grange Lock (9/20). This is our last lock on the Illinois River. The wait was only an hour with the rest of the gentle drive bookending between eagles soaring on tree lined river banks and massive tug and tows. Check out how high the houses are built due to river level fluctuations in the picture below. Crazy?! We anchored the night at Willow Island. There was no cell signal but sparking up the generator gave us an hour of power for showers with air conditioning. Up anchor the next morning and we transitioned from the Illinois River to the mighty Mississippi River and past the lovely cliffs above Grafton, IL. Did we mention the crazy amount of nature that there is?! We spotted a bobcat hunting a racoon on the river bank…unbelievable (and we caught a photo). The Peoria Lock closure had us moving ahead of schedule to Alton one day early (9/21). It was nice to tie up as a storm barreled through…and nicely dropped the temps 20 degrees.
Having an extra day in Alton gave us more time to get ready for my sister, Jana, to come aboard for a week; boat work, provisioning, cleaning and exploring the town (9/22). The coolant in the generator was changed. Oops – forgot to open the sea cock so an impellor got completely chewed up (all veins were found – phew). A provisioning gold mine was Hansen Meat Co on Landmarks Ave across the street from the marina. And Chris got a haircut from a cool guy who described Alton as, "A working man's town with a Led Zepplin/Grateful Dead soundtrack. But I keep a baseball bat in my shop…because…it's Alton." We wandered around town and would agree…but the community pride definitely outweighs the baseball bat. Miles Davis was born here and a life long local glowed with pride as he described the money raised for his statue and insisted on taking our picture in front of it (he and his wife have a brick at the base of the statue). Thanks. Alton has been around since 1837. Many of the old buildings have been saved and repurposed…like the old Post Office that is now the Post Commons. It's a coffee shop and a café and an event space described as the living room of Alton. It is amazing and we loved it.
Yippee! Jana has arrived! She got quickly settled (she knows the deal as part of our boat frequent flyer program) and we were off to Morrison's Irish Pub for dinner (9/23). In the morning we hit the ground running...I mean the river. A gaggle of 10 looper ducklings were off the docks and through the Mel Price Lock by 10am (9/24). The sight of St Louis' amazing Arch to the West was impressive; however, there was no time to dawdle on the mighty Mississippi as we dodged barges and sped along at 10 knots due to river current. Our day ended tucked into Hoppies Marina and Tiki Bar tied to barges. A river briefing was much appreciated but we were bushed so dinner was take-out sandwiches from Dough Depot in Kimmswick, MO. Needless to say we all slept like babies under the star studded sky. Welcome aboard Jana!