Back in Time on the St Johns River: February 17 2022
Our ebike scramble was sorted out thanks to a free dock in Jacksonville, a rental car and the Home Dept (storage strategy = plastic tubs with wheels + patio furniture cover for rain cover + ratchet straps to cinch). We celebrated the ebike success with dinner in the eclectic and lively 5 Points neighborhood (1/26). Noodle bowls at hipster Asian restaurant Hawkers were flavorful and filling topped off with a drink at dive bar Wall Street Lounge. The dive bar was a hoot and felt like stepping back into the 1980s – a smoke filled, Pink Floyd cranking, cigarette machine in the corner bar where a glass of wine and a beer were less than $10. There are plenty more nooks and crannies for us to discover in this town named after celebrated war hero (and future President) Andrew Jackson but the St Johns River beckons…and we want to stay ahead of the weather as a cold front is due to roll through the area.
We tossed the lines and made a quick turn up the Ortega River along Marina Mile to Lamb's Yacht Center to fill up with diesel (1/28). The Salty Southeast Cruisers Net keeps an eye on fuel prices and this is one of the best in Florida at the moment. We took on 730 gallons at $3.25/gallon…and a few boat parts, too. Ouch – glad we don't have to fill up more than once a year. Because of the expected cold front with 30 knot gusts we anchored in Doctors Lake close to the NW shore. Steaks on the grill with mashed potatoes and Greek salad bites for dinner was serene and relaxed. Our anchorage choice was good for the conditions and we were the only ones at anchor.
The big smoke of Jacksonville with high rise office buildings, paper mills, Maxwell House Coffee and more banking and insurance companies than you can shake a stick at is fading into the background as we get further into the St Johns River. The St Johns is the longest river in Florida at 310 miles positioned north south but flows north (an odd characteristic for a river) at a lazy pace. Described as Florida's first highway various populations across the centuries have utilized its location through the wild interior of Florida. The Indians called it the river of lakes because its flow created several lakes along its path and European, colonial and pioneer settlers treated it as a superhighway for trade in a largely undeveloped swath of what would become the United States and, later, Florida.
For us it is a laid back slice of Florida where critters, nature and fish camps are the name of the game. We are excited to see it for ourselves! Off we went to anchor outside Julington Creek in order to dinghy to Clark's Fish Camp (1/30). Clark's is home to the largest public taxidermy collection in the US along with Southern size portions, fresh seafood…and two TVs to watch NFL playoff games. We donned winter gloves and knit hats for our 2.5 mile dinghy ride. This is definitely a packed place in the summer but in winter we were the only boat tied to the restaurant's docks…and porch patio umbrellas were tightly closed. Holy cow the stuffed critters are amazing – tigers, lions, deer, birds, snakes…a giraffe?! When we asked the bartender where the critters came from he said that except for a couple of the deer that the owner had shot they all came from a zoo and they all died of natural causes. Okay?! Let's go with that. The menu is as exotic as the décor but we stuck with middle of the road items like fried onion and jalapeno loaf, buffalo chicken sandwich and ahi tuna. Delicious and fun – so far so good on the St Johns.
We are trying to stay ahead of the weather but it is remarkably difficult to outrun the 32F mornings in north Florida this year. Up anchor and we headed up river (that's actually south – it's confusing and we're still getting our heads around it). Black Creek was our stop for the night with plenty of time to dinghy up the creek to a railroad bridge as well as investigate a couple of creek offshoots looking for birds and turtles (1/31). Back to Barefeet and it was just us as the sun slid behind the trees – the tallest things around.
Today was a smoke on the water kind of morning with a bigger 4hr jump to Palatka (2/1). Once anchored the mirror calm conditions encouraged us to dinghy the folded bikes ashore (one at a time) and have a real test run…complete with cars, street lights and navigating a new town. Yippee – all went well and we celebrated with a Dairy Queen cone on the way back to Barefeet. Oops – then Mother Nature stepped in with afternoon winds and a bit more action on the return dinghy ride with bikes; however, both we and the bikes stayed out of the water so all was a success. The next day we returned to Palatka to play tourist. Breakfast was at Angel's Dining Car (the oldest diner in Florida). Their specialty is the black bottom sandwich which was delicious (egg, crispy bacon, grilled hamburger combined into a "patty" for a sandwich between two buns and topped with lettuce, tomato, onion, pickle, mayo). Angel's owner, John, gave us lots of river travel ideas. Fueled up and off we went down the street to the Ravine Gardens State Park (built by the WPA in the new deal era in 1933). Azalea season is January – March with a regularly updated bloom meter on their website. Bloom metric for our visit was 35%. Trails were a gentle stroll on sandy paths canopied by live oaks dripping with moss, bright green palms and splashes of pink and red azalea blooms. We capped off the day with dinner around Devil's Bend at Corky Bell's Gator Landing. The crispy hushpuppies were amazing!
Another nice breakfast at Angel's with good food and good river info…from both owner, John, and fellow cruisers on m/v Red Eagle (2/3). Thanks guys! Gorgeous 80F weather had us anchored off Turkey Island for two days exploring creeks in the dinghy. We went up Bear Creek and returned down Ocklawaha River finding turtles, gators, birds and fisherman all soaking up the sunshine. On the way back to Barefeet we wandered the cute little town of Welaka…and might return to Long's Log Cabin Bar for the Superbowl. Who knows?!
Next up was two nights in a slip at Renegades on the River in Crescent City (2/5). It's a family owned wide spot in the road with boat slips, RV sites, cabins, a Tiki Bar, restaurant, pool and club house…all impeccably clean and tidy. The sun was still shining so we took the ebikes on a real test drive out to Mud Springs. Wow – a crystal clear, spring fed pool - very cool! That light spot behind us in the photo is white sand where the spring feeds the pool. This is our first spring but we hear that the area is loaded with them. That said, we were skeptical after only seeing brown tannin colored water ever since Jacksonville. John described the river with a clear love of place as only a man whose family has lived on the St Johns for 150 years and traces further family back to the founding of St Augustine from Minorca, Spain, "It just gets prettier and prettier the further up river you go. It's Florida of 150 years ago." Well, that is reaching way back. 150 years ago was 1872 - Ulysses S. Grant was president, Mark Twain published "The Adventures of Tom Sawyer" and the can opener was invented. We love traveling! Back at Renegades we went to the Tiki Bar for a fabulous pizza dinner (particularly the crust) and the friendliest people ever. Plus, live music that started at the civilized hour of 7pm. Maybe this is where we'll be for the Superbowl?!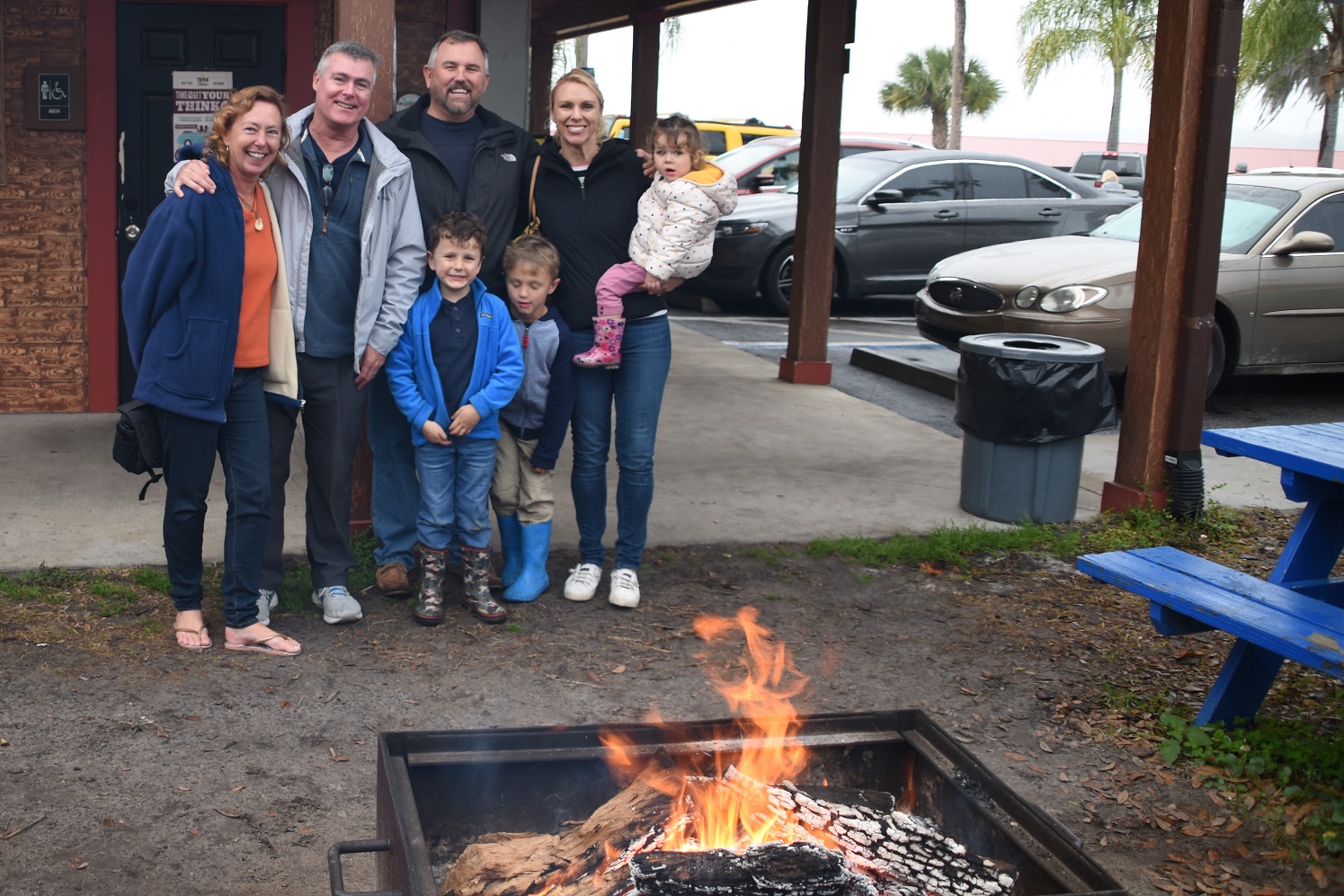 Mother Nature is in another feisty mood which has rain and cold temperatures scattered in the forecast…and drizzly mist all day. Drat! Just when we were meeting fellow global cruisers Jimmy and Caroline (and their three kids). Pivot, pivot, pivot. My eyes teared up a bit when they first arrived and that emotion felt great (2/6). Our history goes back to 2007 in the South Pacific and we did not miss a beat today. All aboard Barefeet for some Sour Cream Chocolate Chip Bit Cake (recipe below). Then it was back outside for corn hole, pizza, drinks and many remembered tall tales. Cruisers rule!
Planning a bit for the remainder of the river and accommodating the weather has us tossing the lines after the fog lifted and motoring to anchor at River Forest Loop to wait out a solid 24hrs of rain (2/7). We thought we would go all the way to Sanford on this trip but, instead, it looks like we will anchor in Blue Spring as our turn around point. Pivot, pivot, pivot - no room at the inn in Sanford due to Barefeet's height (slips are covered there). No worries – we cannot see everything. At Renegades we had planned on filling the water tanks; unfortunately, the water is not potable. Ooops – guess we should have postponed the load of laundry. Pivot and we unpickled the water maker. She ran like a champ and tanks are full. As expected we hunkered down for a grey, rainy day with total cloud cover (2/8). However, close riverbanks allowed for the greatest boob tube (no – not the anatomical kind…the wildlife kind). A dinner of BLTs were perfect. Recreation on the river is often done on house boats. They amble along the creeks and river then literally nose onto the shore for the night. They are a bit of an eyesore in daylight but kinda charming at night.
What a difference a day makes. The morning dawned without a drop of rain, loads of bird song and only a few remaining clouds (2/9). Off we went to Blue Spring State Park and anchored in a cutoff between G73 and G75. In the summer the spring is packed with swimmers and kayakers and scuba divers….easier to spot gators in clear water. In the winter it is packed with manatees - no humans allowed. The manatees come here for the constant 72F degree water…only leaving to have some river vegetation meals before returning back to the spring…until the rest of the river heats up when they leave for the season. On our visit the manatee count was 577. Wow – and loads of land people, too. Yikes – more people than we have seen in awhile and a bit more than we like so back we went to Barefeet where manatees jet past for the vegetation café. It was a gentler nature experience and much preferred. Tonight is party time as we celebrate our turn around point on the St Johns with Caesar pork tenderloin, mashed potatoes and peas. Yippee! We have been planning this river trip for awhile and it feels great to have done it. Cheers!
John was right – the river just gets prettier and prettier the further south you go. Now retracing our path north we anchored in an Oxbow near our previous River Forest Loop anchorage (again all alone). We dinghied around creeks and walked ashore on sunny, leaf strewn trails (2/10). Wildlife is everywhere: gators, manatees, barred owls (so far only heard their hoots), wood storks, limpkins, vultures, eagles, turtles, ospreys, herons, egrets, squirrels. Sheesh! John Bartram, a British botanist, visited the river in the 1760s at the age of 66 with his son, William Bartram (a British naturalist/artist), who fell in love with the area making many later visits as well as observations and drawings of all these critters. For me it was observations made with the camera – super fun! And what is that knocking sound?! Woodpecker or sasquatch/bigfoot…swamp lore abounds.
Nature remains as we continue back north (2/11). No.13 was lucky for this eagle as he chomped a fish. Heck, there was even an eagle vs osprey battle over our heads in the sky as we crossed Lake George. We anchored back near Renegades on the River in time for Chris to change the main engine's oil and filter before we dinghied into the Tiki Bar for dinner and meeting new friends – great spot. A current topic of conversation has been Bass fishing since the Bass Elite Fishing Tournament is in process up in Palatka. Another nice hop had us back anchored off Corky Bell's right around the corner from Palatka (2/12). Chris did some boat washing and I filled the pantry ashore…oh thin mint Girl Scout cookies, too?! Score! In the afternoon we dinghied to Palatka for the 3.30pm weigh-in on Semifinal Saturday. There was hoopla, swag and individual fisherman weighing their day's catch on a stage after everyone stood for the singing of the National Anthem (televised by ESPN no less). At the end of today the field narrowed from 47 to 10. Those top 10 compete on Championship Sunday for a purse of $100,000. We especially enjoyed chatting with a young couple sitting beside us about hunting alligator. When we asked how it's done the response was – there is the legal way and there is the humane way. The legal way is harpooning the gator, pulling him to your boat then shooting him. The humane was is to feed them and when they get close make a single shotgun shot to the head. He showed us phone photos of his HUGE catches. It was a great afternoon!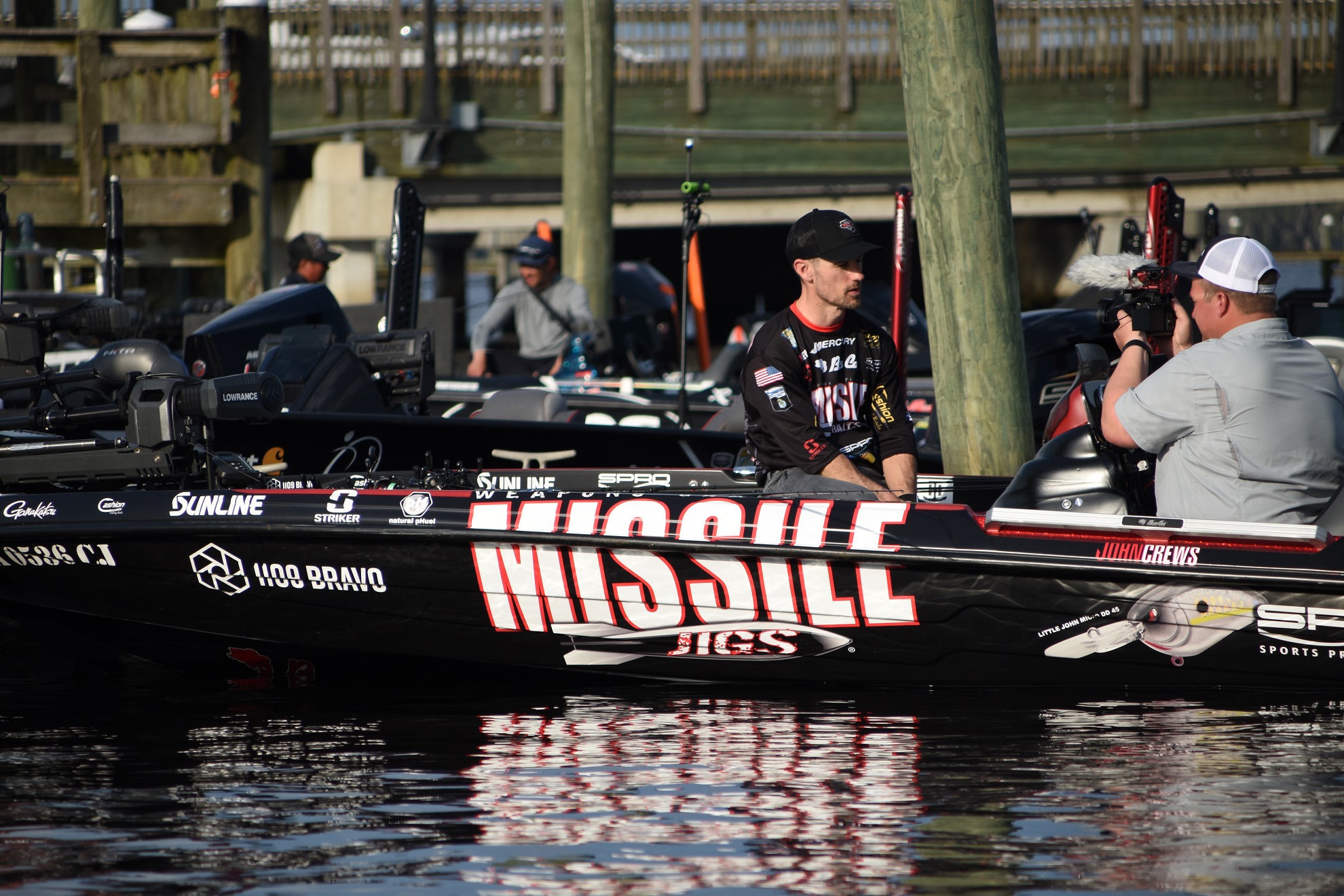 The morning started grey and raining but exploded in excitement at 7.30am as the final 10 competitors of the Bass fishing tournament thundered past to start fishing on Championship Sunday (2/13). Eight hours later they flew back to make the weigh in deadline. Virginia Pro John Crews won the Bassmaster Elite Fishing Tournament (that is him in the above photo giving an interview). Congrats! Crews' four days of fishing was a mere 1lb4oz ahead of the second place finisher. Seems a narrower margin than we would expect but they will go at it another eight times in the series across eight states. Now for the football championship. We headed to Corky Bell's to meet up with Sherry and Sax of m/v Red Eagle. It was fun to compare notes from each of our time on the St Johns, hear about future itineraries and catch a bit of the Superbowl fun on the TVs hung around the bar.
Up anchor had us back to the big smoke of Jacksonville leaving behind the winding river, wild animal kingdom and nothing taller than the trees (2/14). We thoroughly enjoyed our time up river on the St Johns – we'll be back. Anchored in JAX between flyover freeway bridges we made a quick run back to Lamb's for a delayed delivery engine part. Back aboard the sun slid down and the high rise lights twinkled beneath a dazzling moon. Every environment has its beauty. Our morning departure had us moving along and narrowly missing a train bridge being lowered which would have stopped us in our tracks (previous day observations showed the bridge lowered for 30 minutes or more). We are closing in on St Augustine (2/15). River current was mostly against us but we still had plenty of time to make our anchorage at Pine Island. Gulp - an extra low tide level due to an almost full moon had us glued to the depth meter. Phew – just a small dip below 6 feet so we never bumped. A fiery, apricot sunset in the grass lands brought the day to a close.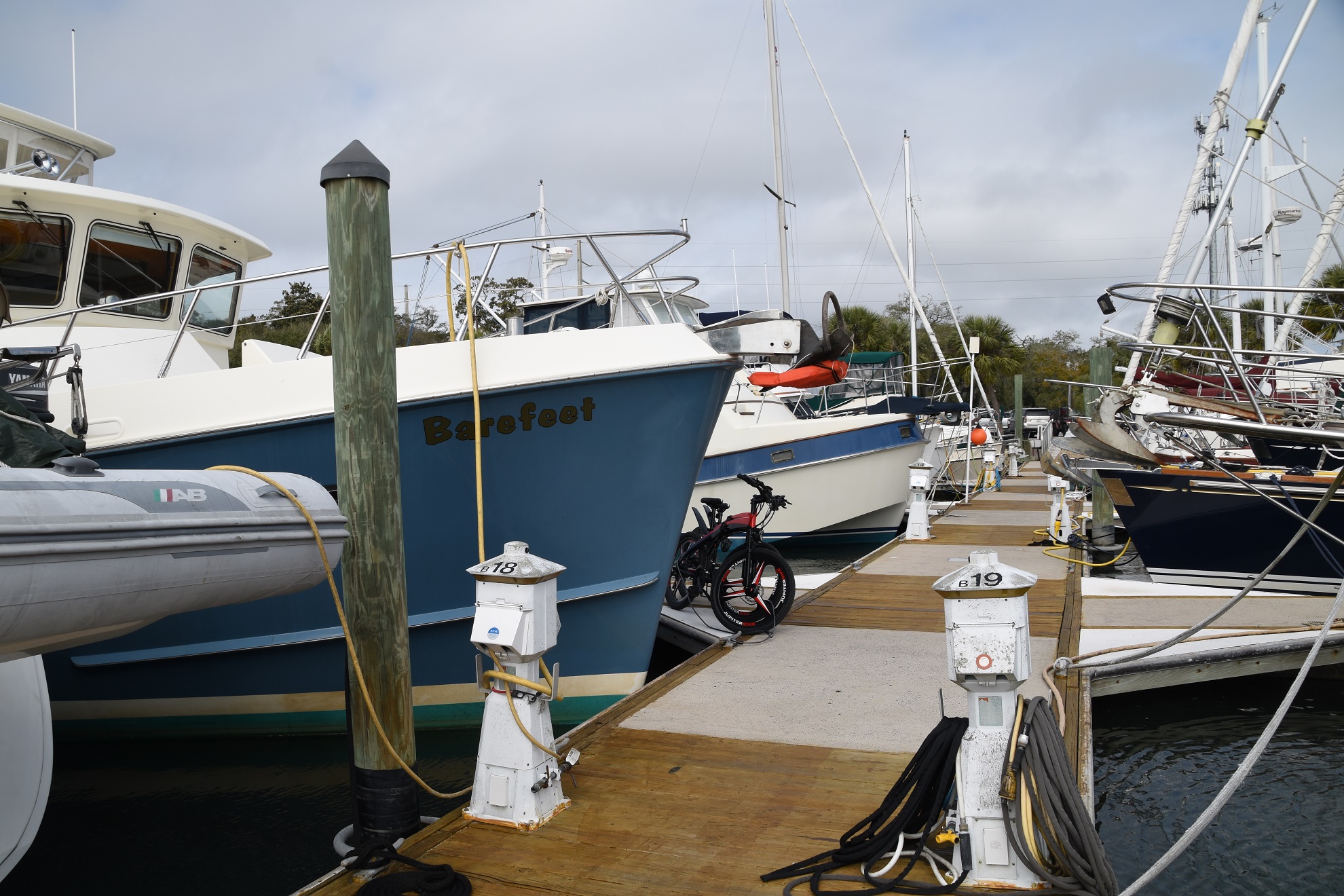 There has been movement in the cruiser fleet and some space opening up in Florida marinas which has us in a slip at River's Edge Marina in St Augustine (2/16). Yippee! We like this historic town with its warmer temperatures and its beachy vibes so we'll stay for a month then think about moving back north along the ICW...but not before up north starts warming up.
Sour Cream Chocolate Chip Bit Cake
6 Tablespoons butter, softened
1 cup plus 2 Tablespoons sugar
2 eggs
1 1/3 cup unsifted flour
1 tsp baking soda
1 1/2 tsp baking powder
1 tsp cinnamon
1 cup sour cream
1 package (6oz) semi-sweet chocolate chips
Mix butter with 1 cup sugar until blended.
Beat in eggs one at a time.
Stir flour with baking powder, baking soda and cinnamon. Blend flour mixture with creamed mixture.
Mix in sour cream.
Pour batter into a greased 9x13" pan.
Evenly scatter chocolate chips over batter.
Evenly sprinkle 1T sugar over chips.
Bake at 350F for 35 minutes until cake just begins to pull away from the sides of pan.
Serve warm or cool cut into rectangles. DO NOT refrigerate. Enjoy!