Eastern Seaboard Howls NJ to NC: October 28 2021
Yep, the winds remain so we are sitting tight in Cape May, NJ. A bit more time in port gave us a chance to check out Congress Hall thanks to a suggestion from neighbor boat m/v Drageen (aka Dragon). Congress Hall occupies a city block and was first built in 1816. Originally, it was called "The Big House" but was renamed "Congress Hall" when proprietor Thomas Hughes was elected to the House of Representatives (no lack of ego there). It's 200+ year history takes understandable twists and turns like burning to the ground in the Great Cape May Fire of 1878, being the summer White House for President Benjamin Harrison (late 1880s), becoming a Bible Conference site (1970s) and eventually being fully restored in 2002 to the luxurious resort that it is today. The four of us headed over and enjoyed exploring the grounds: a glass of wine on adirondack chairs facing the beach, the veranda bar with rocking chairs on the porch rimmed in vibrant orange marigolds, peeking into the elegant Prohibition era lounge (Brown Room) and finally settling into the Blue Pig Tavern for dinner (10/12). The stories these walls could tell?!
Our waiting for weather paid off with winds mellowing enough for us to depart Cape May and head into the Delaware River in nearly mirror smooth conditions (10/13). Hooray! Our day ended anchored at Chesapeake City, Maryland – a favorite port for us because we get to catch up with friends Phil and Lisa. Oh, and Barefeet's engine room looked great without a drop of hydraulic oil anywhere. Chris has fixed the stabilizer!
Chesapeake City was again a quiet spot for us to stay for a couple of days. The cruiser migration ebbed and flowed with arrivals at sunset and departures at sunrise. We took it slower and walked along the C&D Canal, stopped into Chick's Boutique and learned a bit more about the Canal history at the C&D Canal Museum (located in the original Canal pump house). Today, the Canal is a 14 mile long ship canal that saves 300 miles of open ocean run. It connects ports on the Delaware River such as Philadelphia and Wilmington with ports in the Chesapeake Bay such as Baltimore and Richmond. It's humble beginnings as a lock system at 66 feet wide with a 175hp engine (basically the engine of a Honda Civic) to move the water and raise/lower the shipping traffic that was pulled by mules or horses is hard to imagine as it sits today as a 450 foot wide canal where oil tankers and barges up to 740 feet long and 78 feet wide glide through. After our explorations we were back to Barefeet and our day faded from sunset to moon rise on the top deck relaxing with Phil and Lisa (10/14).
After farewell breakfast sandwiches and coffee with friends at Café on the Bay we were off to Annapolis. The annual Sailboat Show is in town so we went a bit further away from downtown to anchor up the Severn River in Weems Creek. It's close enough to hear the Star Spangled Banner played every morning at sunrise at the Naval Academy but far enough to be tucked in while winds swirled on the Bay (10/15). A morning dinghy ride into town had us in the melee and bedlam that is the Annapolis Sailboat Show. Our parking spot was parked two deep at the dinghy dock (10/16). Flags were flying, boats were gleaming, shoes were piled on docks before stepping aboard and booth sellers were friendly. We bought two low-profile Datrex life jackets (https://www.datrex.com/) and two pairs of shorts (Montauk Tackle Co). It was a bit of retail therapy for both of us…an you guess who was drawn to which item? We returned to Barefeet in time to be aboard for a 3pm wind shift and dramatic front to roll through. Then we zipped back to shore for the real draw for us to Annapolis - seeing Tom and Suzie (s/v Priscilla). So great to see you! We get on like a house on fire! It was great to catch up, hear about future plans and remember our travels together in the South Pacific. Not to mention the Red Hot & Blue Annapolis BBQ and live music. See you guys again further south.
The cold front that roared through yesterday stole our warmer weather and deposited chilly northern winds. Happily, Barefeet is snug in Weems Creek as white caps froth just beyond in the Severn River. We bundled up and headed ashore to Heroes Pub for the Patriots game…parking at the Tucker Street boat ramp NOT driving outside (10/17). Every street in Annapolis that dead ends into the water has a boat ramp suitable for a dinghy dock. What a great town! Too bad the nail-biter of a game was not as great.
Winds continue so we will stay put in Annapolis one more day (10/18). And are we glad we did because we watched the Noon Formation at the Naval Academy (free). The formation tradition began in 1905 and happens every day (except in winter). The simple description is that the Midshipmen gather and go to lunch – an eight minute affair. The pageantry description is that more than 4,000 Midshipmen gather in full uniform (some with swords) in front of Bancroft Hall (the largest dormitory in the US). Bagpipes and drums sound, the American flag waves and crips movements prevail. It makes our American souls proud and was especially poignant as the death of Colin Powell was announced this morning.
Cooler temperatures meant it was a perfect night for meatloaf and mashed potatoes (recipe below). This is a tag team dinner with me on the meat loaf and Chris on the mashed potatoes. Perfect! Clean-up was quick because dishes simply sat in the sink. Gulp. This is painful for my neat-nik soul but we'll wait until tomorrow for hot water when the engine gets going. Yes, hot (or even warm) water makes a HUGE difference for cleaning dishes. We could turn on the generator but we'll wait until tomorrow…my soul will survive (tee, hee, hee).
Off we went for a short 2-hr run to Herring Bay (10/19). In the past we have often left Barefeet in Florida while we return to Boston for the summer 6-mos of the year (yes, we are being generous to Boston weather patterns). The Florida summer sun and heat is intense and puts wear on the boat so we wonder if somewhere further north might be an alternative summer home for Barefeet. Along those lines we headed to Herrington Harbour South to kick the tires for a night and see if it might be an option for us. We had a smooth ride and along the way we passed the Thomas Point Shoal Lighthouse. It is a screw-pile style lighthouse which was once prevalent in Maryland waters consisting of a hexagon shaped wooden cottage with fog horn and light on top. Today, this is the only one left in its original location and she is a beauty! Okay, back to the boat. We tied up and were off to kick the marina tires. We did laundry, showered, rinsed the boat, walked the neighborhood, filled with water and had a delicious dinner at Ketch 22. Who doesn't like fried cheese curds for Happy Hour?! We'll keep the place in mind.
Next up is the Solomons for a bit of business and pleasure - visiting boating friends Ann and Mike and kicking some more marina tires as a potential 6mos storage location for Barefeet at some point. Weather was picture perfect for our stay anchored in Back Creek. We had a lazy morning then dinghied over to Mike and Anne's dinghy dock (10/21). They lived aboard for a few years and made personal use of a couple of marinas in the area. Before lunch at The Pier they drove us through all the marinas and had great intel to share. Cruisers are wonderful! A bit more catching up and we were back to Barefeet.
The next few days were a bit of a blur as we constantly played with daily mileage distances and weather forecasts. We departed the Solomons channel in a veritable conga line of southern migration boats – sail and power (10/22). Check out our morning commute thanks to the AIS on the chart plotter…the green blobs are all boats and we are the red arrow in the middle. Our evening anchorage in Jackson Creek at Deltaville saw the cruiser head count swell to 24 boats.
Up anchor with a gentle sunrise had us passing from creeks of the Chesapeake into (and through) the massive military complex that is Norfolk, VA (10/23). That said – the warship vacancy rate seems pretty high…where in the world are they all deployed?! During the day we passed through our first lock of the season and plastered a Barefeet sticker to the side wall of the Great Bridge Lock. See it there? It's the blue oval on the right. That was a fun pandemic lockdown project for cruising yet to come. For the evening we pulled into Atlantic Yacht Basin and again kicked some 6mos storage marina tires. Thanks for the tie-up and storage info Kyle. This place gained in the rankings after a fun, walkable bit of college football at Big Woody's Bar & Grill.
Our plans for the next three months are beginning to gel with a two-ish week tie-up planned at Brunswick Landing in Georgia and a flight home to Boston for Thanksgiving. Therefore, our distance traveled per day vs weather has an added component of a hard calendar deadline. Off we went just as the sun rose for an 80 mile day and 11.5 hours of motoring. Conditions were calm and peaceful but it was a loooong day (10/24). We finally pulled into Deep Point anchorage on the Alligator River for a quick dinner of spaghetti with feta and homemade sauce (thanks Mike and Diana) and settled into the recorded Pats football game. Aaahhh…and then the stars came out. They never disappoint.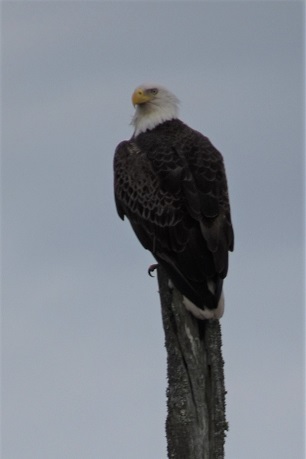 Another long day at 10hrs of driving had us across the Abermarle Sound, the Pimlico Sound, bald eagles perched on tree tops, past Belhaven and anchored in Oriental, NC (10/25). We crept back into the harbor, under the 44 foot bridge and anchored in 7-8 feet of water. Sheesh – sheets of rain and winds up to 30 knots passed in the night.
A few long travel days have placed us within solid itinerary planning of Brunswick Landing. But hey, scheduling can wait – tonight is for a party because it's Chris' birthday. Fellow Bahamas cruiser Holt lives nearby (and has the same birthday as Chris…how fun is that). Our favorite restaurant The Ruddy Duck is not open tonight so we embraced the pivot and had the party on Barefeet tied up at the Morehead Landing Yacht Basin (10/26). Yippee! It's martinis, pizza and cuppers (recipe below)…plus smoked turkey soup and broccoli salad from Holt. A true cruiser potluck meal. We love it!
Old Fashioned Meatloaf (Paula Deen) serves 4
1 green bell pepper, chopped
1 onion, chopped
2 cloves garlic, minced
1lb ground beef
1 egg, lightly beaten
1 ¼ teaspoon salt
¼ teaspoon black pepper
1 ½ teaspoons Worcestershire sauce
½ cup quick cooking oats
8oz canned diced tomatoes, drained
Glaze Topping
1/3 cup ketchup
2 Tablespoons brown sugar
1 Tablespoon mustard (hot dog type)
Preheat oven to 375F.
Saute onions and bell pepper until soft. Add garlic and saute two minutes more. Set aside.
Mix all remaining ingredients well. Add onion/pepper/garlic and mix well.
Place in baking dish shaped like a loaf.
Mix topping ingredients and spread onto loaf.
Bake for 1 hour.
Let rest 15 minutes before cutting so that it will hold together.
Cuppers (makes 12)
1 stick butter, softened
1 cup sugar
1 egg
1 teaspoon cloves
½ teaspoon lemon extract
½ cup sour cream
2 cups flour
1 teaspoon baking soda
1 teaspoon cinnamon
½ teaspoon nutmeg
¼ teaspoon salt
Combine and mix thoroughly butter, sugar, egg, cloves, lemon extract and sour cream. Add flour, baking soda, cinnamon, nutmeg and salt. Mix thoroughly. Spoon evenly into cupcake wrappers. Bake at 375 degrees F for 20 minutes.