Chasing the Warmth NC to GA: November 12 2021
Carolina Beach was snug but rain kept us aboard for a dinner of nachos (10/28). No worries – it was a good pivot since the Sea Witch restaurant was closed for Netflix filming. Winds howled all night topping out at 34knots. A narrow morning window of light winds was perfect to move from the mooring ball to the anchorage a few boat lengths away since all the balls were full tonight (10/29). The Cape Fear River would have been more raucous for travel than we wanted so we stayed put and instead took a stroll on the beach…well, until the winds made the sand too pelting (winds still blowing at 35 knots). A stroll through town led us to a local baker who recommended dinner at The Deck House – done. The restaurant was established in 1998 in a former Presbyterian Church that was built in 1946. It was a great tip! We met friendly locals and ate regional fare in a cozy lounge at a u-shaped bar without a breath of wind (marvelous). Nice!
As hoped for – the morning dawned peaceful and quiet after 24hrs of noisy wind (10/30). We sipped coffees on the top deck waiting for the sun to come up before joining the string of boat lights stretching ahead and behind of us as far as we could see. The twinkling floating caravan snaked effortlessly out to the Cape Fear River – what a difference a day makes. Lockwood Folly and Shallotte Inlet made for squirrely navigation but day markers laid solid paths through the shifting shoals. Ocean inlets gave way to vacationland Myrtle Beach (love the Chillaxin boat as a deck) and into silent rivers in the Waccamaw. We are in South Carolina! Our stop for the night was Osprey Marina ($1/ft per night). Wow – this is a super welcoming place. A goody bag at check-in and the friendliest folks ever. Maybe we can stay longer when we head north in the Spring?!
Happy Halloween! The stillness of the narrow swamp paths opened into expansive grasslands dotted with palms and Spanish moss draped oaks as we ambled further south. Our early in the day arrival had us anchored in Georgetown, SC, beside the abandoned steel mill while fermented scents from the operating paper mill wafted in the air. We have been coming to this anchorage since 2006 and a bit of exploring in this charming town had us again captivated by the stately oaks and much loved porches.
This time around there were also Halloween decked homes and a TV for the Patriots football game. Oops – but only the NFL Red Zone for our game…gggrrr. TVs lined the walls at Buzz's Roost spanning female rodeo, NASCAR and a few football games. Sheesh – a bit too manic for my watching pleasure. However, Chris summed it up well…it's like watching a hunting dog trapped in a box with a squirrel. A Patriots win made us smile and the illuminated steel mill and paper mill made for a dramatic night landscape. It's certainly different from the Waccamaw but we like both.
Another short hop had us in Charleston at the City Marina's mega dock (11/1). The term "mega dock" refers to the massive face dock (not Barefeet). At 1,530 feet it is the longest free standing, floating fuel dock in the southeast. It fills with boats on both sides…and lots of exercise for those at the end (like us). This time of year the boater migration is evident with loads of arrivals every afternoon and loads of departures the next morning. However, we decided to stay two nights in order to explore the city and meet up with friends Terry and Fred. And boy are we glad that we did.
Charleston is nicknamed the Holy City because of the many church spires that dot the cityscape. The historic texture of this town starts at the tip of the spires and continues down to the brick paths, slate sidewalks and cobblestoned alleys…and everything in between. The palmetto palm (symbol of South Carolina) is found everywhere…including on the State Seal adopted in 1776: a palmetto palm represents the victorious defenders, the fallen oak represents the British fleet and the 13 spears represent the original 13 states of the Union. But enough history for now because we are ready to eat. And eat we did - buffalo style fried cheese curds and a caprese panini at The Blind Tiger Pub (a former speak easy) followed by apple crumble cheesecake and dessert martinis at Carmella's. Yes, the thin mint martini tasted exactly like a liquified thin mint Girl Scout cookie (or Andes mint). Yum! Thanks for the dessert tip Blind Tiger crew – their sole dessert offering of peanut pie was just not for us.
We dug deeper into Charleston after a sunshine filled brunch with Terry and Fred in their back courtyard (11/2). It was great to see these guys, catch up and have a walk to the Dock Street Theater (built in 1736) and through the Gateway Path of gardens and graveyards (maintained by the Garden Club of Charleston since 1930). See ya next time! Dinner was at the award winning F.I.G. restaurant. We were 15 minutes ahead of opening and the third couple in line (the bar has 11 first-come-first-serve seats and the tables are reserved 30-days in advance). Our line conversations continued as we sat together along the bar while ordering truly delicious food: ricotta gnocchi Bolognese, prosciutto and cheese toast, buttered pappardelle with lump crab and pork tenderloin with duck sausage and mashed potatoes. Our sides ached from laughing and our taste buds were ecstatic. Winding down after such social fun came easy as the flickering gas lamps again illuminated our quiet walk home through this jewelry box town of history and elegance.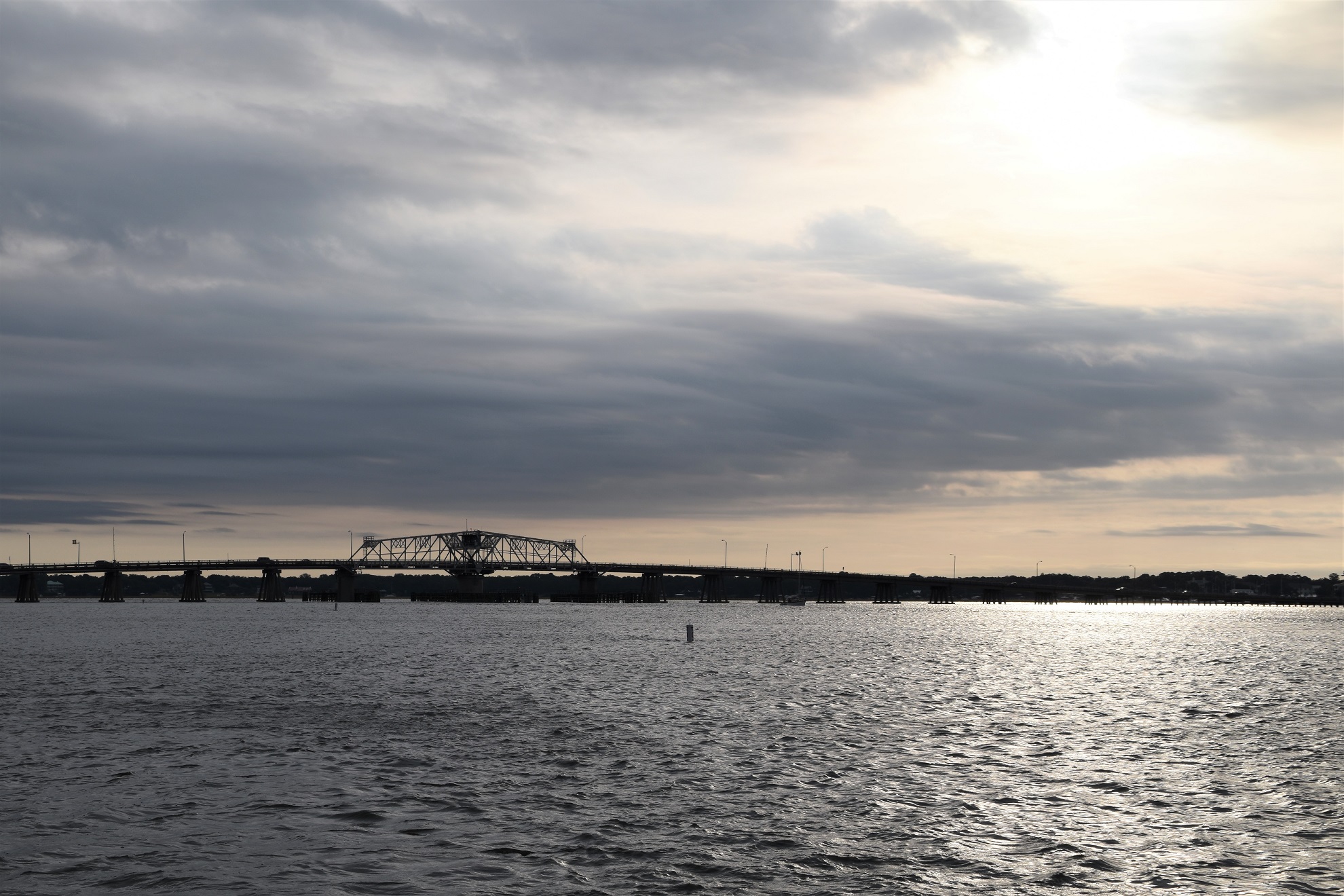 Yesterday's shorts were replaced with fleeces today (11/3). The winds are swirling offshore with weather radar colors like red and purple…as opposed to our preferred gentle blue. No worries because we tossed the lines at Charleston City Marina for a 55 mile run on the inside ICW route. Wind and wave considerations were replaced with current and depth calculations: 1) slack current to depart the dock and 2) 4.5ft mean low water at Ashepoo River cutoff. The slack current arrived conveniently as the sun broke the horizon – check. Calculating low water was a bit less obvious because it is about 28 miles into the journey. We had current with us (boat speed up to 9kts) and against us (boat speed down to 5 knots) off and on four times. Luckily, we made it to the cutoff 1.5hrs before mean low water and saw nothing less than 6.4 feet (we need at least 5.5 feet). Phew and check. Dolphin frolicked along the way and we were anchored off Beaufort, SC, for dinner aboard.
The seasons are marching on with chilly mornings clearly felt (11/4). But Beaufort is always a favorite stop for us with more flickering gas lamps, big porches, whispy Spanish moss and friendly souls. We fueled up with a breakfast of coffee and warm tomato pie at the Common Ground Coffee Shop. Yum! Then I was off to explore the town while Chris stayed at the coffee shop. Oh! I replaced my tired (but well loved) canvas camera tote with a new one from Lowcountry Stitch. Now, I am not one who usually goes for monograms but, hey y'all, when in the South… Back to Barefeet we cleaned up and returned ashore for dinner at Saltus. Gosh, we are on a winning streak of delicious meals! A total home run of spicey watermelon and tuna sushi, crab bisque and fried chicken.
We would have liked to have stayed another day in Beaufort to enjoy First Fridays after Five where Bay Street is closed to traffic for a street party of fun, shopping and restaurants…but maybe we can catch it in the Spring. Right now Mother Nature is whipping up some exciting weather and we need to be tied up. Off we went to Thunderbolt Marina in Georgia where pelicans and dolphin kept us company throughout the day (11/5). As expected Mother Nature is on a tear. It's raining like cats and dogs, the winds are swirling and the temps are 45F (weather folks say it feels like 37F – they are not wrong). On the bright side 1) we are lovin' our boat heater 2) all water is on the outside 3) warm Krispy Kreme donuts from the dock office and 4) perfect weather for an afternoon of college football (11/6). Off we went to Aaron and Jenny's for some football watching, chili on the stove, gooey brownies and a fire in the fireplace. It was a great day.
Rise and shine and we decided to extend our stay by another night. Hey – look at us staying while others move on…are we actually slowing down?! The sun came out and the winds mellowed for a nice walk along the river (11/7). The watermaker was pickled and we were headed to Tubby's Tank House for the Patriot's game. This is livin'! Great seats to watch the game and tasty game day snacks. Our walk back to the marina was amazing with the night sky on spectacular display.
Days are starting sooner with the time change which had us tossing lines at 6.45am in the morning light (11/8). We spent the day peacefully snaking through the salt marshes of Georgia's barrier islands. With gale force winds still swirling offshore Atlantic swell rolled in at ocean inlets like St Catherine and Sapelo sounds. We love cities and have had fabulous meals lately in Charleston and Beaufort, SC...and met wonderful people, too. However, we also love the quiet of nature. Our anchorage for the night was in Crescent River. We were alone except for a few fishing boats that went out for the night. It's just a wide spot in the ICW with bald eagles sharing a fish on the river banks, pelicans dive bombing and dolphin splashing. Then the lights really went out and the Milky Way emerged. Wow!
Our day started as fisherman returned from a night of fishing and continued with an uneventful ride past St. Simons Island and into Brunswick Landing Marina (11/9). Holy cow – the salvage work on the car carrier Golden Ray is almost complete. This behemoth of a vessel was loaded with 4200 vehicles (capacity is 7742) and capsized in September 2019. What?! The exact details are squishy but the fact is – the ship was declared a total loss and needed to be removed. The salvage work with enormous barges and massive cranes carved the carrier into smaller pieces with a chain functioning as a knife. Yikes! Up the river we passed the final stages of the salvage followed by the fishing fleet and finally our slip at Brunswick Landing Marina on Dock #6.
We set to work cleaning Barefeet from stem to stern: clothes and sheets into the free washing machines, bilge with the wet/dry vac and the anchor locker. Sheesh – those muddy anchorages left a sludgey brown mess that will degrade the chain if it continues to sit in the muck. So it was out with all the chain dropped at the slip, hosed out the mud on the locker walls and floor and replaced the chain into the cleaned locker…carefully cleaning the chain on the way back into the locker. It is fun to feel the energy of adventure and travel in the air as boats are being readied for points south with waxing, greasing, unfurling and provisioning. This is a great cruiser community. As for us - we are at a crossroads and not sure of our next steps. For now, we will keep Barefeet in Brunswick for about a month, fly briefly to Boston for Thanksgiving and return to the boat. Florida marinas are full, full, full which has us pivoting…maybe stay at Brunswick Landing? Maybe hope that marinas thin out when cruisers take off for the Bahamas? We will play it by ear. In the mean time there are marina Happy Hours three times per week, a charming town to walk and explore and warmer temperatures. Our first Happy Hour was a cruiser organized chili cook-off which had 16 entries and loads of small cups to sample as many (or all) chilis for voting (11/10). It was a hoot! And we cannot wait to see this historic southern town decked out for Christmas. Stay tuned.