Embracing the Pivot – Fall River to Cape May: October 12 2021
We are at it again and it feels great! Plus, a friend has already named this cruising season – Embracing The Pivot. And I think she has nailed it (thanks Eleanor). It has been a challenging and ever changing last 18 months in every way possible (as we are all aware due to COVID). Barefeet was on the hard in Fall River and we were bundled up in Boston staying in a social bubble and largely stationary within just four walls (like everyone else on the planet). However, that is in the rear-view mirror and we are back out on the water. That said, we are ready to pivot as needed with an itinerary that is even more vague than usual and barely more than an "idea." The idea - we are heading south to St Augustine, FL. Bahamas? Other ports in Florida? They are all options but we will play it by ear.
October 1st we tossed the lines from Borden Light Marina in Fall River, MA. It was a great summer eating our way through the Portuguese, Lebanese, Chinese, chicken wing and sub shop gems of Fall River while Barefeet was tied up in a slip on welcoming E Dock. But the chill is coming and the days are getting shorter so we need to get moving south. We started with a smooth ride down Narragansett Bay past Newport's stunning Castle Hill Inn and out into the Atlantic. Hey, what is that in the distance on the surface of the water?! Holy guacamole – it was a nuclear submarine skimming along between Block Island and Montauk. Where is he headed?!
Our gentle first day ended as we pulled into Montauk Harbor to anchor where weather is rarely a threat – aptly named Lake Montauk (ocean gap was given a nudge when it was blasted out by a real estate developer in 1927). The easy dinghy ashore had us pass through a bustling commercial fishing fleet to tie-up at Liar's Saloon behind a boat yard. This "quaint drinking village with a fishing problem" is a fascinating combination of beach resort chic, salty grit and characters haunting every corner. We spotted a dockside wedding complete with a white silk festooned bride and a tuxedoed groom in the foreground and fishing boats returning to port with patinas well worn from hours of ocean toil in the background – ying and yang. We grabbed a bite to eat at hipster bar T.T.'s (tacos and tequila - complete with neon art and fern wall paper) and rounded out the shore visit with a couple of drinks in plastic cups back at Liar's Saloon where fishermen came straight from their vessels still wearing their white rubber boots. Heck, the supposed inspiration for the character Quint from the film Jaws is based on the late Montauk boat operator Frank Mundus who, among other things, caught a 4,500-lb great white shark with a harpoon. Yeah – Liar's Saloon was the favorite but food was limited to bags of chips…so the tacos slotted in perfectly. Montauk is definitely a fun mash-up of interests and characters. Oh, and don't forget the miles of beaches.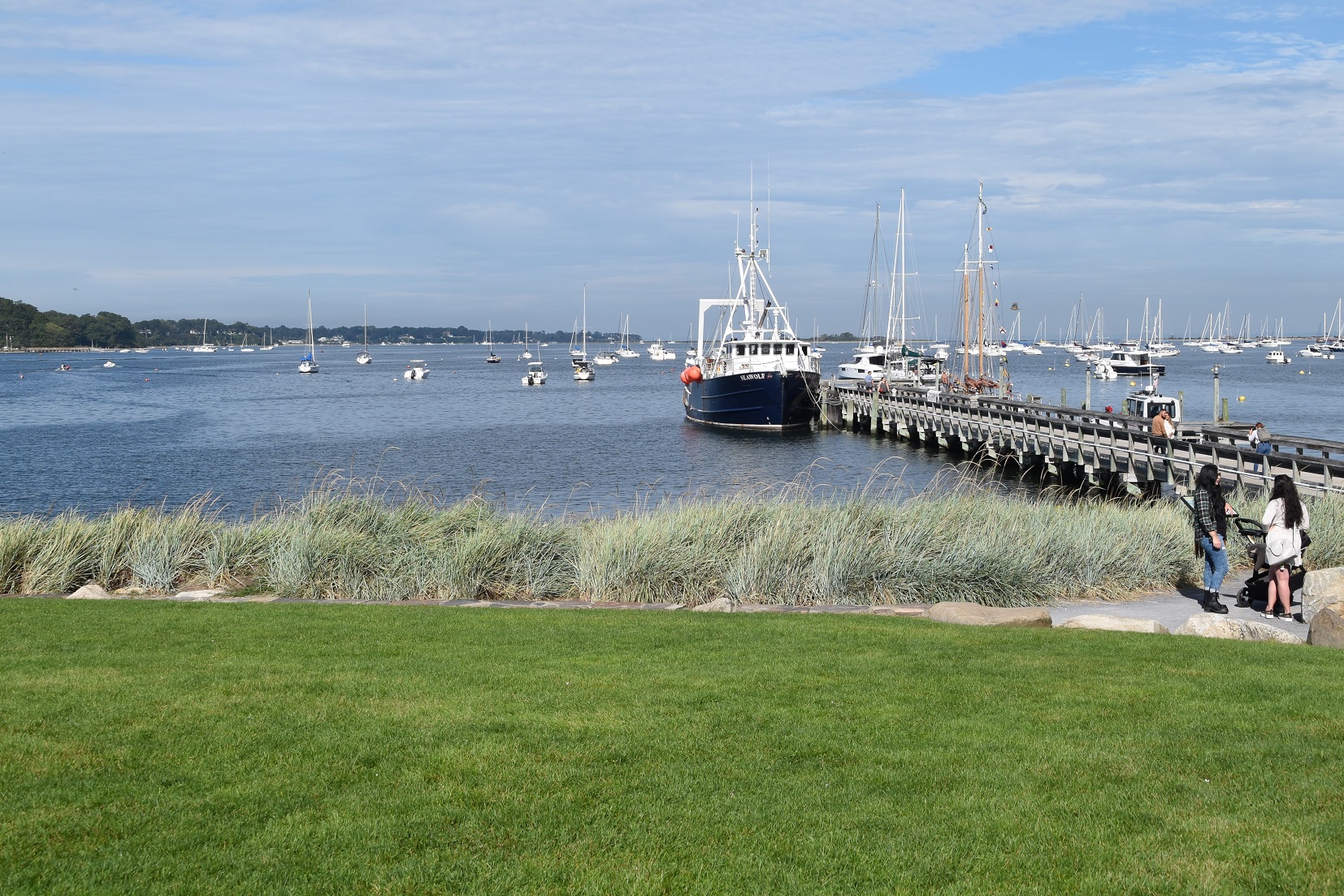 Next up is Port Jefferson (Oct 2). Our Montauk departure was before the sun came up which had Chris at the helm and me wearing the ever stylish headlamp in order to see the anchor up and aboard. The day started quietly with a double green flash sunrise. You may have heard of the green flash just after the sun falls below the horizon at sunset...well...this is the same just before the sun breaks the horizon at sunrise. Wow – that doesn't happen every day. We passed through Plum Gut nicely at slack tide only to be met by a very bumpy 7-hour ride on the Long Island Sound into the inlet of Port Jefferson. Once anchored in the placid harbor the stable platform was divine for showers and dinner aboard - gooey nachos and cocktails on the top deck. We'll head into town tomorrow but, for now, we watched the parade of boats returning for the night and the illumination of bright stars in the dark sky. It is nice to be cruising again.
Port Jefferson is a charming town officially named the Village of Port Jefferson (or Port Jeff if you're a local). We tied up the dinghy at Danford's Hotel & Marina ($10 for 24hrs) and fueled up with an awesome breakfast and coffee at Toast Coffeehouse (Oct 3). Then we were off to explore the town. It developed as a ship building village with grand homes of a bygone era dotting the tree lined streets that gently climb up hills to ring the harbor. Most ship building has long since departed but Bayles Boat Shop maintains a bit of maritime history with a workshop for small boat building projects and restoration (https://www.lisec.org/). A restoration project underway is restoring a 1949 canoe. In an attempt to keep it "original" they got the recipe for the "epoxy" which will take five weeks to dry…five weeks?! Chris was green with envy for the super cool workshop. Right across the street was a bustling Farmer's Market…oh la la…garden tomatoes cannot be beat. Dinner was at Billie's 1890 Saloon where the locals were friendly, building historic and football on every TV (thanks for the tip Mike).
It was a good thing we walked the town when we did because a stationary front came to call and simply sat over Port Jeff bringing rain, wind and quite a grey day. We stayed aboard and planned our next move. Onto Port Washington (Oct 5). Chris was swathed head to toe complaining he was so cold that he would die as we motored from inside the pilot house – time to be further south (tee, hee, hee). Once anchored we headed ashore. Port Washington does not embrace its historic side as much as Port Jefferson. The hamlet displays strip malls and modern convenience more than its importance as a sand mining town (largest sandbank east of the Mississippi) used for concrete to build many of NYC's skyscrapers (including the Empire State Building and the Chrysler Building).
Our planned dinner was to be at a local Indian restaurant until a clerk at ACE Hardware recommended a Tex Mex place – embrace the pivot to taco Tuesday. It was a great call! The Cactus Café was well hidden in a Stop & Shop supermarket strip mall but delicious: sloppy Mexican, awesome fresh tomato salsa, house made and house bottled sangria. Our stroll back to the dinghy was slow and sated.
New York City is a mere 21 miles away but the schedule maker is the current at Hell's Gate which needs to be timed correctly because it rages. We pulled up the anchor at 9am and were into the East River and through Manhattan (Oct 6). We got the current right and moved along at up to 10 knots. Boat traffic was light this day which made for a low stress passage. And two swimmers?! That is a new one (well surrounded by kayaks and police boats).
Our anchorage for the night was at Sandy Hook, NJ. Calm weather conditions and the slightest bit of blue sky encouraged us to walk the beach. There were horseshoe crabs in all sizes, driftwood, clam shells, osprey and a few fishermen in waders casting into the ocean. Back aboard and we counted nine boats anchored - it seems a cruiser migration is indeed happening which makes us happy. BLTs for dinner were positively perfect with the Port Jeff Farmer's Market tomatoes.
We started pulling up the anchor at 6am with head lamp again in place (Oct 7). The Jersey shore has always been about getting it done for us rather than a time to explore and enjoy. The reason for this is that the 125 miles from Sandy Hook to Cape May is a straight line of exposed shoreline out to the open Atlantic Ocean with barely a cove or inlet to speak of. Good weather is a must and never taken for granted – when it's good we run as far as we can. This time we ran straight to Atlantic City. I tried for a bit of fun this time around with a recommended off-the-beaten-path old school NJ Italian restaurant (BYOB and cash only) that does not disappoint (Chef Vola's); sadly, it was a grind of a day with a 10hr run and without stabilizers (thank goodness for the calm conditions). The stabilizers have been acting up but chose NOW to call it quits. Chris jumped into action to have a hydraulic seal kit sent overnight to our marina in Cape May (fingers crossed that that is the issue) and cleaned up the spewed oil in the engine room…sheesh – boats do not like to be ignored…ever. The miles gently rolled by and the Jersey shoreline always fascinates us as it makes an immediate switch from massive and dense NYC to water towers as the highest thing on the skyline that stick up way above homes like thumb tacks on a cork board. Dozens of dolphins swam along side us with roiling bait balls as big as Barefeet. Pretty soon Atlantic City exploded on the horizon with high rise Casinos and hotels. We anchored for the night and had Chris' homemade pizza for dinner…aahhh. Hopefully, we can visit Chef Vola's in the Spring when there are more daylight hours.
Morning departure was after the sun came up and the conditions were as forecast – even more mellow than the day before (Oct 8). Hooray! Nature continued to be on display with squadrons of pelicans added to the show. Winds were calm but the current was running out at the entrance to Cape May which had us doing a bit of surfing in at the slow speed of 4 knots. The current grew calmer the further inside the harbor we got which resulted in a non-dramatic tie up at South Jersey Marina on B Dock. Docking is on floating piers but they are short and the end lines are tied to pylons with a ring that slides up and down on a bar as the tide rises and falls its range of five feet. It's a clever process but new to us which made the dockhand help from Jared invaluable. And the seal kit was waiting for us when we checked in at the office. We did a fresh water rinse for Barefeet from top to bottom then stretched our legs reacquainting ourselves with this charming town. South Jersey Marina will be our snug home for a few days as a cyclone slowly passes offshore. By the way, it is not an empty boast to say that their bathrooms are the best marina bathrooms on the East Coast – oh, la, la! Yippee – the Jersey shore is in the rear-view mirror! Onto the Chesapeake!
South Jersey Marina is located beyond the commercial fishing fleet tucked next to the iconic Lobster House restaurant amongst a forest of impressive sport-fish boats with soaring tuna towers and names like Beast. A walk around town before the rain came discovered the annual Lima Bean Festival (Oct 9). It was a hoot with t-shirts, hats, bags, chili and even trash cans emblazoned with the humble lima bean. New Jersey lives up to its motto – the garden state.
Back to the boat project – replacing the seals on the port stabilizer. It was lots and lots of oil, grunts and oddly shaped tools as the hydraulic actuator was removed, dis-assembled and re-installed. Go Chris! Yes, that piece of wood in the engine room is, in fact, a tool (aka leverage). I am a good cleaner-uper and extra set of hands, as needed. Now for the test…fingers crossed. Ta da – no leaks today (and hopefully that will continue).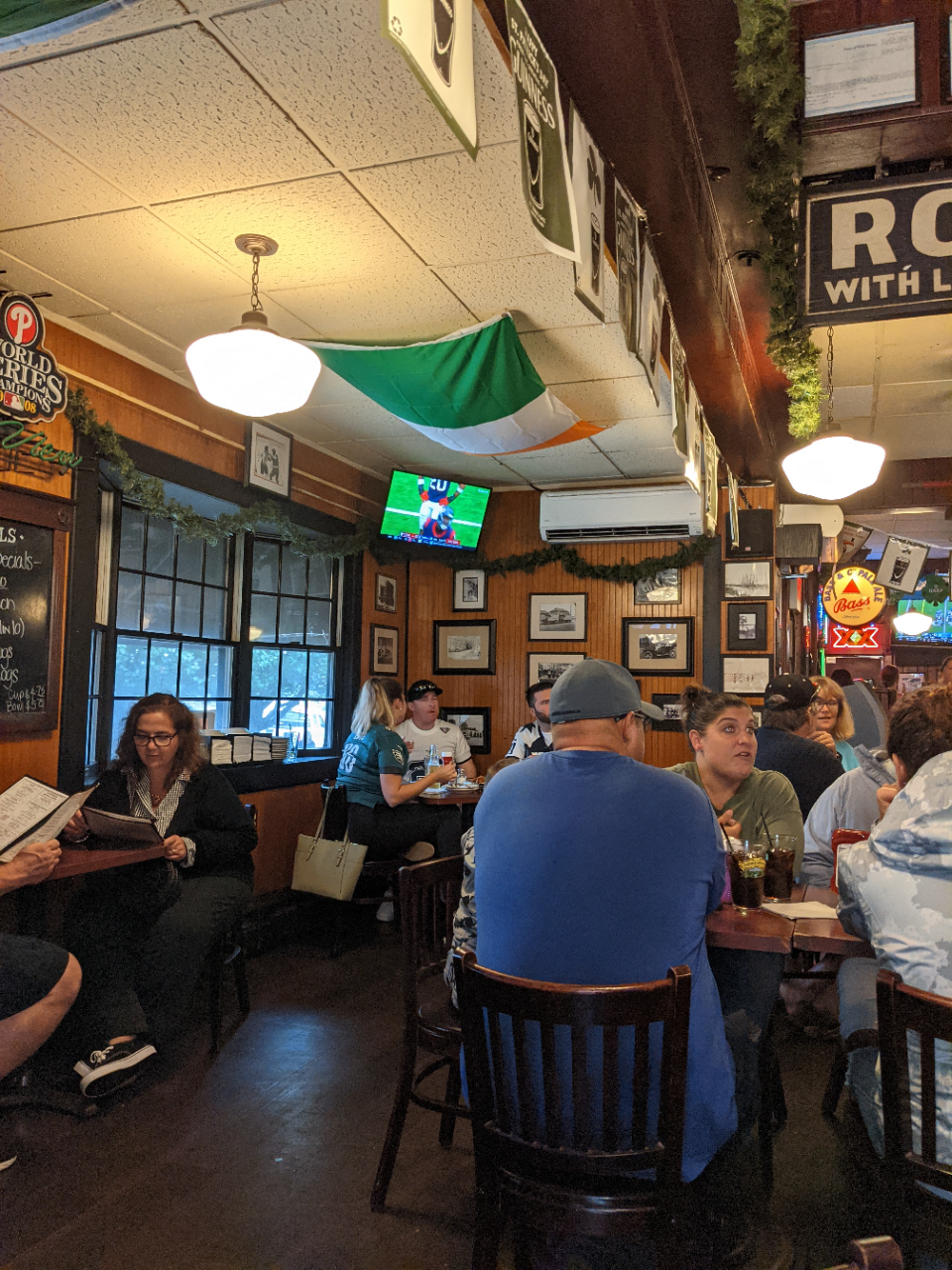 A job well done as the winds swirled on a grey day with rain and sun swapping the lead of the dance (Oct 10). Clean up can wait until tomorrow. For now, let's watch the Patriots football game. Our first attempt was aboard Barefeet streaming from our cable box back in Boston. Gggrrr…a no go here in New Jersey so we scrambled into town and nearby C-View Inn (the oldest Tavern in Cape May). There were 9 TVs all with the Eagles/Carolina game. We asked nicely and a small TV in the corner was given the Pats game. Think your grandfather's old black and white TV perched on a stool. It was a bit like watching munchkins but it was the game (and in color). Everyone in the bar was bedecked in Eagles gear except for us and most people knew each other with rounds being bought back and forth. It was fun and lively with a selection of game day food specials.
The offshore winds stretch from Long Island, NY to Ocracoke, NC. The system is moving slowly which has us continuing to push our departure date out. We have seen wind speeds hit the upper 20s in the harbor but offshore buoys show steady high 20s and even 30s. One boat went out and immediately returned to port reporting steep waves very close together (10/11). No pain, no pain. We'll wait…and have sundowners with neighbors and maybe another dinner at C-View Inn.