Two-Steppin' with Thunderstorms in the Carolinas: April 23 2020
We have seen that weather settles into patterns each season and this Spring it's thunderstorms. It's a partner dance: quick, quick, slow; quick, quick, slow. After a night at anchor in Georgetown, SC, we needed to plan the next few days of travel in order to be secure at a dock for forecasted thunderstorms with 50 knot winds and heavy rain passing through in a couple of days. The next logical spot north is in the Myrtle Beach area but many places are full or not taking transients. That is definitely a new boating twist. We are not in a hurry so we looked closer – at Harborwalk Marina in Georgetown. Space was available and Dockmaster Larry tucked us in at an inside slip (4/11). We will stay snug here until after the storm. Boater migration is definitely different with COVID-19. Larry mentioned that today four boats arrived but last year it would have been ten. Current reasons are that 1) people are leaving their boats at docks further south and returning home north (Canadians have the added uncertainty of whether or not the border will be open to them and/or their boat) 2) people are returning home and hiring a captain to bring their boat north 3) people are staying further south with their boat until normalcy returns (added uncertainty here occurs because most boat insurance policies require boats to be "north" before the hurricane season which generally starts June 1st). It is a real balancing act. As for us 1) our insurance policy says we need to be in the Chesapeake Bay by May 31st and 2) we have a paid-in-full mooring ball in Boston Harbor which is described as "closed" on their website; however, boaters are in residence. The insurance requirement should be no problem for us and we will let a few more weeks and miles go by before checking on the mooring ball. Now let's explore (shuttered) charming Georgetown.
Georgetown was founded in 1729 on Winyah Bay. Although it was once the center of America's colonial rice empire (Carolina gold) with a grand plantation culture where some of America's richest families resided before the Civil War it is most often thought of as an accessory to Charleston (70 miles south). Rice was in highest demand from northern Europe which required a port for shipping. Unfortunately, Georgetown's harbor silted in. By 1838 the passage to the sea was crooked, hard to navigate and a mere 7.5 feet deep at low tide. Luckily for us many of the beautiful homes from the 1700s and 1800s have been lovingly maintained along with the majestic live oaks. Walking the historic waterfront neighborhood is a perfect social distancing activity.
Gas lanterns flicker on columned porches which are populated with wicker or rocking chairs or both. Shrimp boats idle at wooden docks and cats dart around seafood shacks. Happy Easter! Georgetown is not a ghost town today after being nursed back to life through various economic efforts over the years such as a paper mill (1936), the Army Corps of Engineers deepened the Winyah Bay channel to 27 feet (1951) and a steel mill (1973). Our day continued at a gentle rhythm. We did a bit of engine room cleaning and a bit of stainless polishing to keep Barefeet gleaming in this polished town. Dinner was an easy meal of hot beef brisket dip topped by a blanket of cheesey, creamy goodness (recipe below). Tortilla chips were the delivery vehicle of choice and the barbeque was thanks to Wiley's and their extra tingly BBQ sauce. Honest - it's on the label - Extra Tingly BBQ Sauce.
As the sun rose and the storm started to gear up we helped secure a 20ft fishing boat that had broken free from its single tied line, skittered until it could go no more and bounced back-and-forth on the nose of a beautiful robin's egg blue sport fisher – definitely someone unclear on the concept of "secure." Right on schedule the howling winds arrived. At 47mph they barreled through ink black skies with tornadoes touching down in the low country (but not in our neighborhood). Lightning and thunder soon followed (4/13). I made more progress on my stitchery and Chris enjoyed a good book. By the afternoon the air was dry and warm which is appreciated even more after a storm. The quote of the day came from the South Carolina radio when someone commented on their lack of geographic knowledge, "Is Vermont a city or a state?" Tee, hee, hee – we chuckled.
Slowing our schedule down felt decadent as we enjoyed a calm 80 degree day at a dock in good weather without the need of repairs or To Dos - we are lucky. Anchoring is in our future so we ventured to the Piggly Wiggly for groceries and managed to find two N95 masks in the boat project supply bin (4/14). We wore them in the store but it is surprisingly hard to hear each other when wearing the mask and speaking. What?! What did you say?! Speak up. It is a new era when there is a proud TP tower display in the produce section. We walked around town where golf carts seem to be as much an option as cars which adds to the laid back vibe of the place…along with the ambling roosters. The golf carts are gussied up with custom paint jobs, upholstery and tires - oh la la. We could not buy local in the cute Rice Birds store; however, I will do my best online (https://www.ricebirdsshop.com/). One way we can help the historic downtown is by ordering take-out for dinner from Castaways Bar & Grill. When asked how they were doing the response was that it's hard and we were only the fifth order today. Dang it!
Another storm passed through during breakfast which brought back chilly 50 degree temps. As it wrapped up we departed about Noon for a short hop to Cow House Creek in the Waccamah River (4/15). This is one of our absolute favorite anchorages and was another reason we delayed in Georgetown so that we would not have to skip it. The place is as peaceful as we remember (even with two derelict boats canted on the shore). Wow – as darkness fell the bright stars reflected in the still waters. Awesome. The next morning with coffee in hand we eased through the Waccamah River again awed by the solitude (4/16). Passing through the Socastee Swing Bridge had us back on the ICW where we were lucky to continue to ride the tide all the way to the Calabash River where we anchored for the night and were treated to a stunning sunset.
Up anchor from Calabash River on another calm, cloudless morning with smoke on the water (4/17). No – not the "smoke" like in the Deep Purple song with a flare gun that burns the gambling house down…but…a thin veil of fog that floats just on the surface of the river…like smoke on the water (and yes – we do sing the song for emphasis to the morning event). Sorry to pass by friendly Southport but we'll catch it next time. Today's route has several inlets and river crossings with accompanying shifting shoals that need to be avoided in order to not go aground and, today, all went well. Last up before the end of our route was traveling a short distance along then crossing the Cape Fear River; a right turn into Snow's Cut followed by a right turn into Carolina Beach for a mooring ball. Thanks for the tip m/v Lightning. It's a great deal at $20/night and can be reserved ahead of time (https://www.carolinabeach.org/visitors/marina-and-mooring-field/carolina-beach-mooring-field). This beach town is close to Wrightsville Beach and looks like a hoot of a spot with oodles of bars…all with great names like The Fat Pelican, Hurricane Alley's, Sea Witch Café, Lazy Pirate, Deck House and on and on. But we already have plans (and COVID-19 has everything locked down). Our buddy Holt is arriving! We are the first people he has seen in four weeks…and what a long, strange trip it has been. He single handed from the Bahamas with only 40 gallons of diesel (because no one would sell it to him as he departed the country), lost his cell phone overboard in the Gulf stream in 6ft waves, hand-steered a lot because the autopilot kept conking out, arrived in Beaufort (SC) at dark 11pm, ran out of eggs, continued north along the ICW (first time ever in the ditch) with foul weather gear due to the cold, wet temps and here we are. We have been chatting daily for several days but tonight is a celebration. Great to see you! We feasted on Chris' special chicken tikka masala, told lies and drank a toast (or two) to Neptune.
Stay or go, stay or go? Back to the thunderstorm two-step. A thunderstorm is on the way with howling winds, the Wrightsville Beach Bridge only opens on the hour, is Camp LeJeune conducting live ammo exercises which will close the ICW and the Mile Hammock anchorage and the Onslow Beach Bridge does not open in winds higher than 30 knots. All of this and more is in the decision-making hopper. We decided to stay for three more nights until the weather settles down. Let's head ashore to stretch our legs (4/18). We walked in the Carolina Beach State Park where the amazing pine scent positively knocked us over. It has been a long time since we last smelled that smell. Dinner was a relaxing fish feast aboard s/v Agandau with fish caught by Holt accompanied by bacon mashed potatoes, pickled beets and coleslaw. Everything was homemade and everything was delicious. Great to have you in the neighborhood.
The storm was grey and gloomy but did not amount to much scariness for us as the storm mostly tracked a bit north and a bit south of us. That said, since noon the Coast Guard announced on the VHF radio: severe thunder storms with damaging 35kt winds, heavy downpours, possible water spouts, an offshore gale watch and mariners should seek safe harbor. We sat tight and planned dinner. Did we mention that we totally look forward to mealtime and strategize it throughout the day in anticipation?! Sometimes we'll add the caveat of using what is a leftover as a base - forcing an added level of difficulty to the strategizing. Decisions, decisions - chicken fried rice from leftover white rice (recipe below).
Being boat bound also meant a few more boat projects were completed. The generator zinc was changed and the main engine's serpentine belt with associated turning engine parts was checked for wear. The belt check caused a bit of anxiety to start but all looked good – phew (4/20). Pelicans are clearly not bothered by the stormy conditions which provided some fun entertainment as they would swoop and crash dive into the water for fish. A bit of clearing of the stormy conditions in the afternoon gave us a chance to walk along the beach side of Carolina Beach. This place must be hopping during the season.
Finally, weather forecasts were settled so off we went (4/21). Winds still blew at 25 knots but the ICW was smooth as we continued north. The hourly opening of the Wrightsville Beach Bridge temporarily choked the boat traffic before again spreading us out into a well-spaced conga line of migrating sail boats and motor boats. There were ospreys nesting on channel markers, a patchwork of grass tufts lining the shore and osprey (F-22 military versions) flying overhead near the Camp LeJeune Marine Corps Base. We were the first to arrive at the Mile Hammock Bay anchorage (on the Marine base so no going ashore) but it quickly filled up with a dozen boats before the sun slid behind the trees. While underway the watermaker made 100 gallons of water and the transmission oil level (again) did not budge. Yippee – the repairs done at Thunderbolt are a success. Well done Chris!
Up anchor at Mile Hammock Bay resulted in an awful mud mess – heavy, black vampire blood mud thickly coating every inch of the anchor chain. Maybe made thicker by the (anticipated) 180 degree wind shift during the night?! Nasty stuff. Once on the waterway it was again windy but smooth. Holt peeled off at his home port of Beaufort, NC. See ya next in the Bahamas! Barefeet kept going a few more hours but the crew was sorry to miss Beaufort and the banana cream pie at the Ruddy Duck Tavern (closed for COVID-19). As the ICW opened into Adams Creek we felt like we were transported to a mountain lake. Flora and fauna have taken another change and it is beautiful. Our day ended anchoring in Greens Creek at Oriental, NC (4/22). We are beyond the town marina, through the 40 foot bridge and in 6 – 7 feet of water. It feels shallow to our brains but it is enough for our 5.5 foot draft.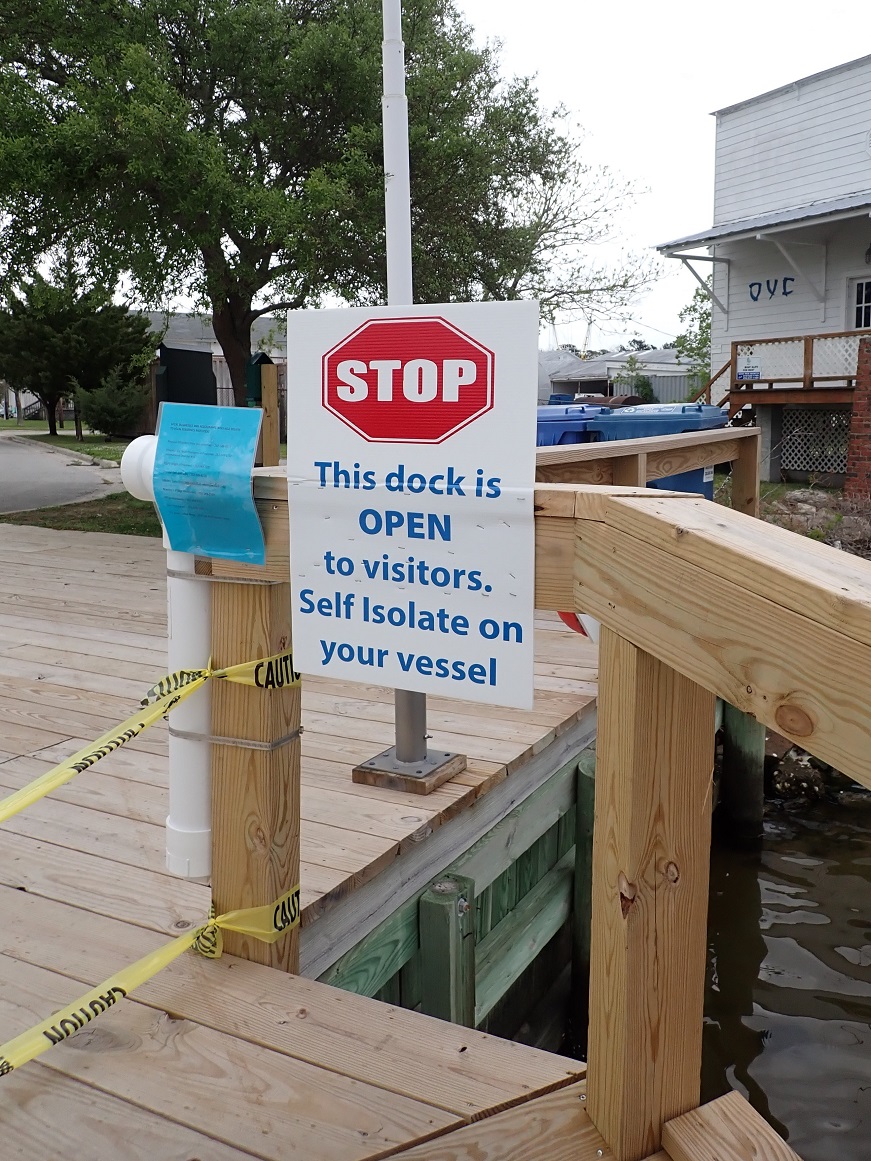 As we've mentioned, severe thunderstorms packed with lightening, winds and rain have become a real factor in our route planning as they roll through with a pretty high frequency of about once every 3 – 5 days which means that we need to be specific about having a protected spot during the storms. Remember two steppin' with the thunderstorms?! It's a partner dance: quick, quick, slow; quick, quick, slow. This time we will stay anchored in Oriental through the raucous action (4/23). However, ashore is pretty strict about not visiting – note the caution tape, sign and blue sheet with all local businesses and associated phone numbers for delivery to the dock. Thankfully, our supplies are well topped up. After the storm passes we will continue in North Carolina toward Belhaven, Alligator River, Coinjock and into Virginia.




BBQ Brisket Dip (Ted Reader, King of the Q)
3 cups BBQ beef brisket, coarsely chopped
4 green onions, slice
1 cup chopped and grilled white onions
1 Tablespoons mixed herbs (combo parsley, sage, thyme, rosemary)
1 Tablespoon hot sauce
½ cup BBQ sauce
½ cup ranch dressing
½ cup sour cream
1 (8oz) package cream cheese, softened
1 egg
½ cup Parmesan cheese, grated
1 cup mozzarella cheese, grated
Tortilla chips or crackers for serving

· In a large bowl combine brisket, green oinion, grilled onions and herbs. Add hot sauce and BBQ sauce. Mix and set aside.

· In a separate bowl combine ranch dressing, sour cream, cream cheese and egg. Whisk together until smooth. Add ¼ cup Parmesan and all mozzarella. Whisk until well combined.

· Preheat oven to 350 degrees F. Place brisket mixture in a 9x13 casserole dish. Spread cream cheese mixture evenly on top of brisket mixture. Sprinkle remaining ¼ cup Parmesan. Bake until hot and cheese topping is golden brown (approx. 20 minutes). Serve immediately with tortilla chips or other dipper of choice.

Perfect Fried Rice (Jet Tila)
Fried Rice
3 Tablespoons cooking oil
4 – 6 garlic cloves, coarsely chopped
2 eggs, lightly beaten
4 cups day old rice
½ teaspoon salt
1 – 2 Tablespoons soy sauce
1 Tablespoon oyster sauce (or Wocestershire sauce)
½ teaspoon sugar
2 teaspoons white pepper
2 – 3 green onions, chopped

Chicken and marinade
3 – 4oz chicken, sliced for stir fry
1 teaspoon corn starch
1 teaspoon baking soda
1 teaspoon veggie oil
Pinch salt

· Combine chicken and marinade in a small bowl and reserve.

· In a large skillet heat oil until a whisp of smoke appears. Add eggs and lightly scramble until set.

· Stir in garlic and chicken for 2 minutes, until chicken is almost cooked through.

· Fold in rice (pressing down to separate grains). Add salt, soy sauce, oyster sauce and sugar. Continue to fold approx. 1 or 2 minutes. Don't be afraid to scrape off bottom. Cook until rice absorbs liquid and slightly crispy on edges. Fold in green onions and white pepper. Cook additional minute. Serve immediately.