The Season Wraps Up in Boston: June 6 2020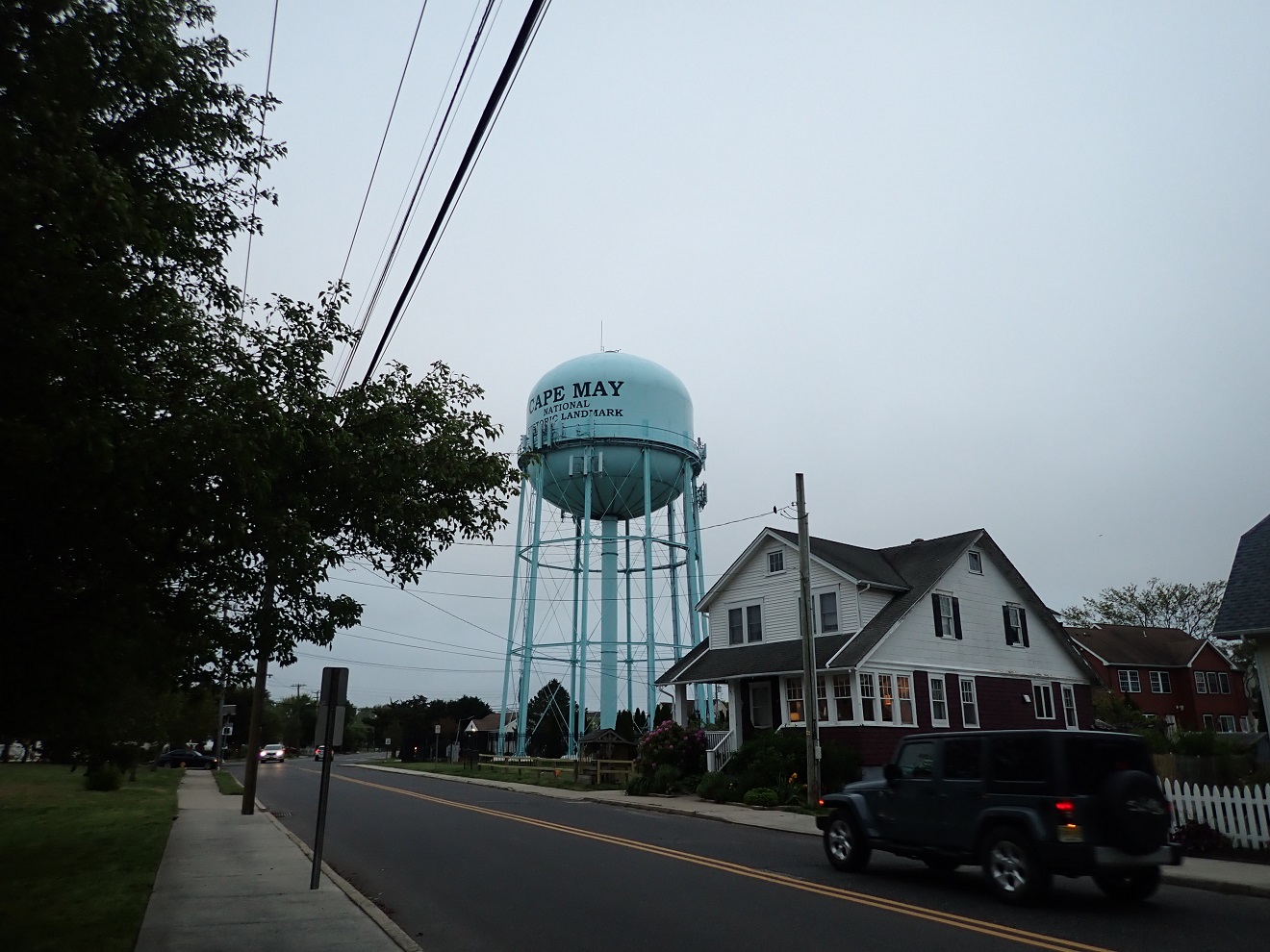 Settled into Utsch's Marina in Cape May (the jewel of the Jersey shore) on Memorial Day weekend should have been a party. Unfortunately, COVID-19 and Mother Nature have quite literally rained on the parade. Pivot, pivot. Everyone is adapting and the fun will continue in new and imaginative ways. Our day started out with the unexpected depletion of our cooking propane tank…during breakfast. Dang it! Ernie Utsch generously drove us to get the tank filled ASAP. Kindness on the water is special and we did not miss a meal – thank you. The remainder of the day was filled with fog and drizzle (5/22).
The day spun with thunder, lightening and pouring rain until miraculously swinging to 74F and sunny, blue skies (5/23). It is a gorgeous day! We wandered the historic beach town with colorfully painted Victorian homes and exploding garden blooms in a rainbow of colors. Jersey has a bit of a reputation as being the (gulp) armpit of the US but its state motto is actually the Garden State. As it happens New Jersey is renowned for tomatoes, blueberries, corn, peaches, cranberries and Welch's grape juice (yep, founded in 1869 in New Jersey). Heck, Cape May even has an annual Lima Bean Festival?! Eating is a primary activity at this Exit Zero on the Garden State Parkway with fresh fruits and vegetables abounding as well as a commercial fishing fleet brimming with seafood…not to mention holidaymaker delights such as boardwalk hot dogs and limitless flavors of ice cream.
Our Cape May departure is not coming into focus. It seems that the pattern of our previous mad dashes during short periods of calm sandwiched between longer periods of strong winds and weather continues. Our next bit of travel is heading up the Jersey Shore which is in the wide open Atlantic Ocean. At this time of the year the winds are generally out of the south which provides a nice little push up the coast and warmer temperatures. This year (you guessed it) winds are howling out of the north, on the nose and cold. Neighbor fisherman on Legal Limit has gone out three times on this very snotty day – he is a tough salt. We are not that tough…especially after making an eyeball of the offshore conditions at 6ft waves. Waiting until twilight provided better weather for exploration by foot. Check out the festive curbside pick-up at Lucky Bones restaurant: beer kegs indicate social distancing and Abba cranked from the speakers while you waited for pick-up (https://luckybones.com/). Continuing into the residential neighborhoods sizzling grills scented the holiday weekend air, groups of three or four sat on porches with glasses of wine and twinkle lights began to dot the charming yards (5/24).
Sheesh… the wind has been howling for several days both day and night...then wham...this morning all was calm. The quick switch and changing on a dime never ceases to amaze me. So, it looks like we might be able to head off tomorrow…if the conditions hold. Time to soak in more Cape May vibes (5/25). I had a hot dog just the way I like it from Hot Dog Tommy's pick-up window (mustard, raw onions and American cheese). Perfect…and Chris said that it smelled like summer (http://www.hotdogtommys.com/). Triple vanilla Peace Pie ice cream sandwiches were tasty despite wearing a jacket and socks and sneakers. The final stop on our rounds was Flying Fish Studio (https://theflyingfishstudio.com/). Sue makes off beat, clever designs hand printed on clothing such as, "The world is your oyster…don't shuck it up." She greeted me at the door with my already bagged order – thank you. One more peek at the ocean and the seas are definitely lying down. Our farewell party to Cape May was a pub meal for two on the top deck from C-View Inn on Washington Street. What a lovely place Cape May is!
The sun came up and lines were tossed from Utsch's Marina. We were off to Atlantic City (5/26). Patchy fog dropped and slightly raised all day. The lack of a visual horizon made us both feel pretty woozey. Phew - visibility improved just long enough for us to enter the harbor to drop the hook off the Golden Nugget and Harrah's Casinos where we were greeted by loads of frolicking dolphins. Tomorrow is a big day so we slept fast.
Atlantic City to Coney Island was a long 12hr day; 5.30am to 5.30pm (5/27). Dense fog was with us for the entire trip which meant that the autopilot and the radar were the work horses and heroes of the journey. Seas were calm and VHF conversations reflected caution from everyone. At one point a bird landed on our anchor. If you look beyond the bird it should be wide open ocean…not…a wall of white. The quote of the day came from a boat requesting the opening of an inland bridge, "Ocean Street bridge I need a lift. Oh, and can you tell me when the bridge is up because I can't see it." Tee, hee, hee but yikes – we feel that pain. We spent the night anchored in Coney Island Creek beside hulks of scuttled wooden boats (a submarine, too) and socially distanced, masked fishermen. Is New York City really around the corner?! If the fog does not improve we will not attempt passing through busy New York harbor with such bad visibility. We'll see what tomorrow brings.
Fog horns and signals could be heard throughout the night and into the early morning. After breakfast the fog lifted just enough to make us comfortable enough to transit busy NYC harbor and we were off (5/28). Here's a screen shot of our AIS…all the green blotches are boats/tankers/barges/ferries. NYC was not very photogenic today but still magical with Lady Liberty and her illuminated flame as well as the engineering marvels of her bridges. We got a 3kt push at Hell's Gate which put New York City in the rear-view mirror and the Long Island Sound ahead of us.
A quick turnoff once into Long Island Sound had us in well protected and good holding Port Washington, NY, which allowed us to anchor for two nights in order to let the weather shake itself out. We had a bit of everything in that 48-hrs: steaks on the grill with baked potatoes and Greek salad bites; curling waves in the anchorage as gusts barreled through, pelting rain and a dramatic sky display by Mother Nature. Heavens to Betsy – cruising is never dull.
Moving through the Long Island Sound from New York to Connecticut revealed a familiar New England landscape with a collection of shingled homes and sharp steeples laid along sandy beaches with randomly strewn rocks and boulders. Additionally, tides are deeper (7ft) and the ocean floor is harder (rock). In the afternoon we anchored in the Cockenoe Islands off of Norwalk, CT, and it feels like summer (5/30). Temperatures are warmer, sailboats are gliding past, fisherman are trolling and runabouts are darting. As the sun dipped below the horizon we were left as the sole boat at anchor. The next morning was calm which had us moving Barefeet with coffee in hand at 6am. It was a relaxed motor with the Sound almost entirely to ourselves (5/31). We moved 40 miles and made 100 gallons of water before dropping the hook in Westbrook Harbor, CT. This is just one cove over from point-of-interest Katherine Hepburn's former home (aka estate) in Old Saybrook where Howard Hughes used to land his sea plane for a visit…the man certainly knew how to make an entrance (tee, hee, hee)?!
Hey – it's June 1st! Summer?! Well, let's not jump to conclusions because it's a crazy time. However, the date does signal a couple of things: 1) it's the start of the Atlantic hurricane season (with already two named storms - this season might be a douzy) 2) Rhode Island has opened up (a big step after previously stopping vehicles from out-of-state when crossing the RI border). We made another early 6am departure out Long Island Sound, through The Race, past Fischers Island and into Block Island Sound. The seas were flat as a bed sheet which was fantastic. Additionally, visibility was as clear as we have ever seen it with views of the mainland, Block Island and Fischers Island all in one shot. Unfortunately, we cannot seem to hold onto warmer temps. A quick switcheroo back to 58F as we dropped the hook in Great Salt Pond, Block Island. The place was barely recognizable and eerily quiet with literally 3 boats at anchor and 6 boats on mooring balls. That is crazy?! Usual boat count is at 1,000 boats for any average summer day. Strong afternoon winds did not encourage us to venture ashore so we had pizza on the top deck…oops…make that inside due to the chilly weather.
Another calm morning had us off from Block Island for an 8 hour run to Onset, MA, located between Buzzard's Bay and the Cape Cod Canal (6/2). Watermen remain on the waters but their catch is different as lobstermen have replaced crabbers. It was a smooth ride; however, the turn into Onset is always hairy due to current and Murphy's Law busy with boats at the narrow entrance. Anchored and settled we checked on the generator. It is guzzling coolant which is a real head scratcher – more investigating needed. Mother Nature is still in charge of our schedule which had us staying in Onset for a second, calm night in order to allow winds and waves to die down on the Atlantic. Breakfast quesadillas filled with end-of-season odds and ends fueled us for a walk ashore (6/3). It's the first time off the boat in eight days. Yikes! It has certainly been nice to anchor every night but this dog needs walking. The pine forests and carriage trails in the Mass Audubon Great Neck Wildlife Sanctuary were filled with bird song and even a giant honking heron flew overhead as we ambled the Heron Point Loop trail.
We can smell the barn and had the anchor up and stowed at 5.30am for our final run to Boston (6/4). A great 3 knot current pushed us through the canal and into the Atlantic Ocean. Conditions were amazing with satin smooth water, bright sunshine and whiffs of pine trees wafting from shore. We made it to our mooring ball at Waterboat Marina in the early afternoon with plenty of time to schlep three loads of stuff off the boat and to our home (https://www.waterboatmarina.com/). Holy cow – we're home. What a long strange (virus) trip it's been.
That's a wrap for this season and it was awesome! The Bahamas to Boston with several adjustments and pivots along the way…not to mention a pandemic?! In the last three months we have passed through ten states and two countries. Bringing the boat to Boston is the plan in order to be ready to start the Great Loop (inland waterways of US and Canada… https://www.greatloop.org/) in Spring 2021. The Eerie Canal is not yet re-opened due to COVID-19 but there is gobs of time until our start so we will leave things in place for now with a mooring ball in Boston Harbor for the summer then hauled and on the hard nearby for the winter. Settling back into the North End of Boston and we see much of what we have seen all along the coast…lots of kindness and clever people navigating the upside down landscape in imaginative ways. In our neighborhood there is a weekly opera from the balcony. How clever is that?! And a real mood lifter (6/6). I will probably not post again until we start the Great Loop but feel free to toss an email or check back from time to time. Summer or bust!