Season Starts - Boston to Florida: January 21 2020
The holidays are over and it is definitely winter in Boston. We stored Christmas decorations and wreaths, we emptied the fridge and we packed our bags (with things collected and needed since we were last at the boat). We locked the door and off we went to the airport. Hello Florida and welcome back to cruising! We arrived at River Forest Yachting Center at 3pm – just in time to say "hi" to Tracy and George and JP and Alex (Jan 3). A bit of engine room work needs to be buttoned up but otherwise, we should splash in three days. Boxes were moved aboard and the full enclosure was put up. Hey – not a single drop of hydraulic oil leaked from the dinghy crane…huge success! We checked in at the Marriott Courtyard and grabbed dinner at Charlie's.
Coffee, ladder climbs, sleep, repeat (Jan 4 and 5). The weekend means the marina is quiet but we scurry to do last minute tasks before splashing; zincs changed, watermaker re-organization completed, moving stuff outside that has been piled and stored inside, laying rugs in the sun to freshen up, cleaning walls and surfaces…you know the drill. Plus, I found the dinghy cradle protector at Chapman's Marine Supply (nylon reinforced sanitation hose) and together Chris and I split it with the gee-whiz roto-tool and got it replaced before the dinghy is dropped back into place. Inventory was made of our larders in preparation for our big food and liquor shopping runs…slowly, slowly; siga, siga.
Today is splash day! We were up early, really early – even before twilight occurred (truly black as a bat's ass). A quick McDonald's breakfast to go and we were at the marina (Jan 6). Into the water she went only to have water pouring in at the stern bilge. Drat! It's a cracked PSS…or is that a piece of shit – just kidding…it's a twenty-year-old shaft seal. That water thing is not supposed to happen – water is meant to be on the OUTSIDE. Still in the slings it was quick to lift us right back out of the water. The replacement part was found in Washington state (could it be further away – nope). Overnight shipping should keep us moving forward. Barefeet is back on the hard and we are checked back into the hotel.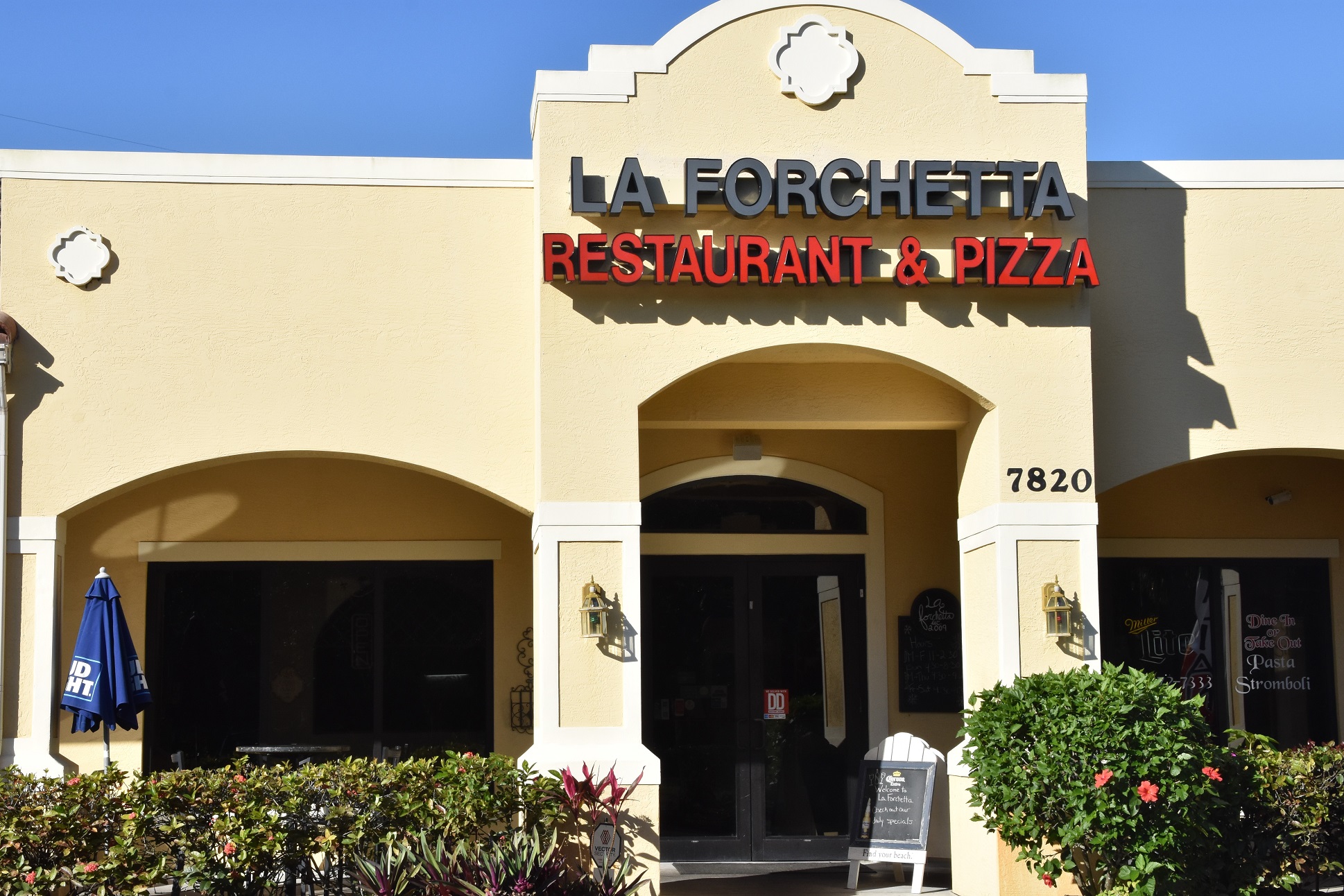 Moving forward is good but it has felt a bit like one step forward and two steps back. Two strike outs on chair cushion replacements (looks like they are harder to match than hoped) and the Westerbeake generator impeller replacement will simply not fit. What?! Gopher Erin went to Chapman's, West Marine and finally Shearwater to find said impeller part with exact part number. Chris snuggles up to the generator, reaches behind it and installs the impeller blind. Install, that is, except for the last quarter inch. Crazy – do we need a bigger hammer?! A bit of research shows that there is a lot of chatter and frustration about this in the boating industry. It seems there is a slight difference in the pin size in the center of the impeller between the impeller that fits and the one that does not fit. This happens when the generator water pump is upgraded which results in the fact that the impeller is no longer backward compatible. Sheesh! Well, the marina ordered the right part for delivery tomorrow and we should be back in business. Okay, time for a change in latitude. We joined fellow cruisers Jeannine and Richard for an Italian dinner at La Forchetta. Hey – it is right across the street from our hotel on Lost River Road; however, we have never noticed it tucked between the Wendy's and the Holiday Inn Express. It is family run, homey and delicious – the perfect reset.
It is a new day and we hit the ground running (Jan 7). The new impeller greets us as we arrive and slides in like a dream. Voila! Wow – industry knowledge is priceless. Can you tell the difference between the two impellers in the photo?! A run to the Town & Country laundromat was followed by a run to Walmart for a stock up on toiletries. As we move through the day we are reminded of past projects that make our lives easier…like the gas struts in the pilot house pantry and the stern lazarette. They make us smile. The day wrapped up with a dinghy project. The dinghy stern plug has been slowly leaking while the dinghy is in the water. It's not enough to sink us and is quickly emptied with a hand pump…but…Chris is sure that there is a better way…and has sleuthed a solution. He removed the old drain plug, gooped up and installed a new one and installed a flapper scupper. The sun is setting, the UV4000 goop is drying and we are off for showers and $2.50 Taco Tuesday at Charlie's. Slowly, slowly; siga, siga.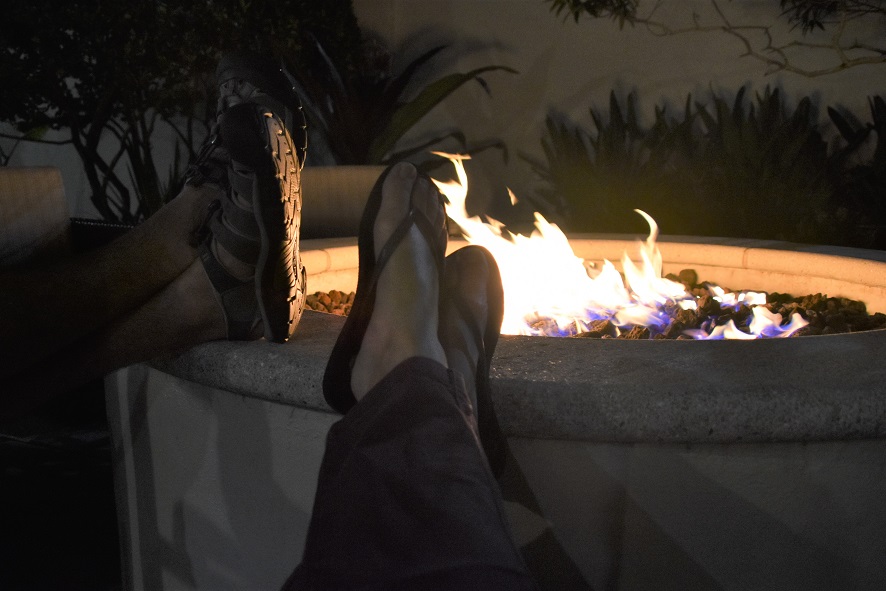 Tasks are starting to be completed which feels great: generator service – done; wing engine service – done; PSS shaft seal part – arrived and installation started by John. We re-splashed late in the afternoon (Jan 8). Whoop, whoop! We are moving forward. Nightly showers lead to the discovery of new bruises and scratches – affectionately referred to as boat bites and definitely par for the course. Tonight it's tacos and burritos from The Taco Truck on SE Dixie Highway for a hotel fire pit picnic (and some wine, too). Aaahhh.
More runs for Gopher Erin with hydraulic and engine oil from the friendliest NAPA at 745 SE Monterey Road. Oh la la – and meats for the freezer from Supreme Meats at 2026 SE Federal Highway. Yep, fridge and freezer systems are running and get the thumbs up. Late in the afternoon we went for a sea trial. Drat! Full throttle and then a whistle screamed followed by a big bang. We stopped in our tracks and the Yanmar 80-ish horse power get-home-engine got us home (solid girl). A look-through the engine showed 1) a hose clamp that had blown off on the high pressure side of the turbo which likely caused the loud bang and 2) a more worrying fact that the engine temperature was very hot. The best idea is that there was an air lock in the coolant lines. Back out tomorrow morning to test the theory. But that's tomorrow, for now – it's time to wind down with sundowners aboard m/v Almost Perfect. Thanks Jeannine and Richard.
Bright and early at 7.30am we took sea trial #2 (Jan 10). We put Barefeet through her paces running in forward, in reverse, at full throttle, at idle and once again. She is purring like a kitten and mechanic John has checked temperatures and vibrations while underway. Fantastic!! Thanks to the River Forest gang of Alex, John, George and Austin we are still focused on the Bahamas...maybe next Friday?! Well, it's way too far in the future at nearly a week away to know for sure but who knows…maybe?!
System checks continue with toilets, sinks (sole leak at the kitchen sink was quickly remedied), fans, washing machine, oven, stove, shower sump, navigation systems, VHF radio, etc. Mechanical lists are shrinking and provisioning is getting closer. Now, if I were a cookie sheet where would I be?! Oh, right – in the cupboard above the stove. Gopher runs to two Ace Hardware's and one Lowe's allows the watermaker work to continue.
Several days blur together as we fill the larder and spares lockers. Lists, lists and more lists while driving hither, nither and yon. Plus, the final few projects get finished. The watermaker leak police (aka Chris) has stopped all leaks. And, the tank sight tubes have been replaced…one on the water tank and one on each diesel tank (check out those shiny brass elbows – definitely boat jewelry). In the evenings we rally for some fun aboard with dinner on the top deck (until the mosquitoes chase us inside) of pizza or Korean ground beef (recipe below). But sometimes it is extra fun - TGIF! Friday night we had dinner at Twisted Tuna with Boston friends unexpectedly in the area (Rich and Jodi). It had been a long time since our last get together which had the poor waitress returning again and again as the band tuned up before we even managed to open a menu. Great to catch up - good friends are good for the soul.
Back at it and the routine continues. The dinghy jerry cans are filled with gasoline, deck wash pump functions, meat is portioned into dinner servings and vacuum sealed for the freezer, Bed Bath & Beyond is visited, decks are scrubbed, Chapman's Marine is visited (again)…and…you know you're a cruiser when you have hose clamps in your purse. The dinghy went for a test drive – yeehaw!
The NFL playoffs are less stressful now that the Patriots are out of the mix; however, we still love the game. So off we went to Charlie's Bar & Grill for the San Francisco vs Minnesota game (Jan 11). Lots of TVs means that there are many good angles to catch the action but we miss the play-by-play commentary. Hey, what's that?! It's a re-chargeable box that tunes to the game telecast and sits right on your table. Cool! Feeling festive we dove into some deep fried oreos?! Wow – amazing. Yes, they make your teeth ache they are so sweet but – wow.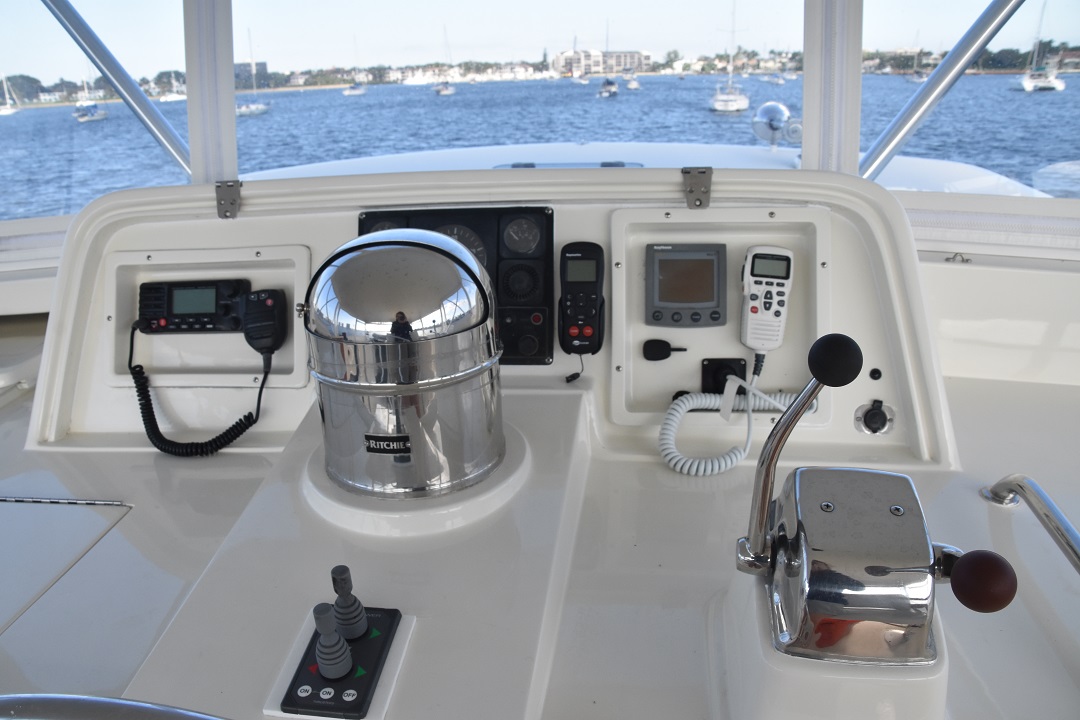 Another day, another project (Jan 13). We bit the bullet and purchased a new wireless auto pilot remote. We have been nursing along the original remote and watching the wire connection points becoming more and more fragile. Chris thinks simply breaking open the unit will lead to a fix but if it does not fix it – we will be without a remote. The remote is important because it means we can steer while away from the motherboard in the pilot house. This is especially helpful for driving from the upper deck. We have kept an eye on Ebay for a couple of years but we have not found a replacement for sale. Well done – the wireless is installed and running. Fabulous! Go Chris, go Chris!
Lists and projects and errands took a pause for a couple of hours with a visit to The House of Refuge at Gilbert's Bar (Jan 16). The drive meandered through a charming area of Stuart on SE St Lucie Blvd with vibrant bougainvillea, Manatee mailboxes and a stunning Banyan tree tunnel. The Gilbert's Bar location got it's name from ruthless Pirate Gilbert who went marauding on the sea but dragged his boats across the bar into a protected hiding spot away from the authorities whenever they got too close. The term "ruthless" came about because he was supposed to have said, "Dead cats don't meow" whenever ransacking a captured boat. Pirate Gilbert was successful but greedy and re-located to Boston where he hoped for greater riches. Unfortunately, without his hiding spot his luck ran out. He and three of his crew were caught, tried and hanged at the mouth of Boston harbor in 1835.
From Gilbert's Bar's nefarious past came a life-saving mission. In 1876 a shipwreck life-saving station was built and staffed by keepers – generally a married couple or young family. The US Life-Saving Service scattered a dozen Houses of Refuge along the Florida coast to watch for stranded sailors. This location is the only one that remains. Life of a keeper was solitary and isolated with the nearest supplies located in Titusville approximately 120 miles north and reached by small sailboat. The Gilbert's Bar House of Refuge transitioned from the Life-Saving Service to the US Coast Guard and then the Navy who built a spotting tower to look for WWII German U-boats. Today, it is owned by the Martin County Historical Society. Storms have understandably battered the location over the years and in 2004 a hurricane unearthed human remains and pottery which were carbon dated as 3,000 years old. It was a small museum but fascinating and packed with stories and lore. Definitely swing by if you are nearby.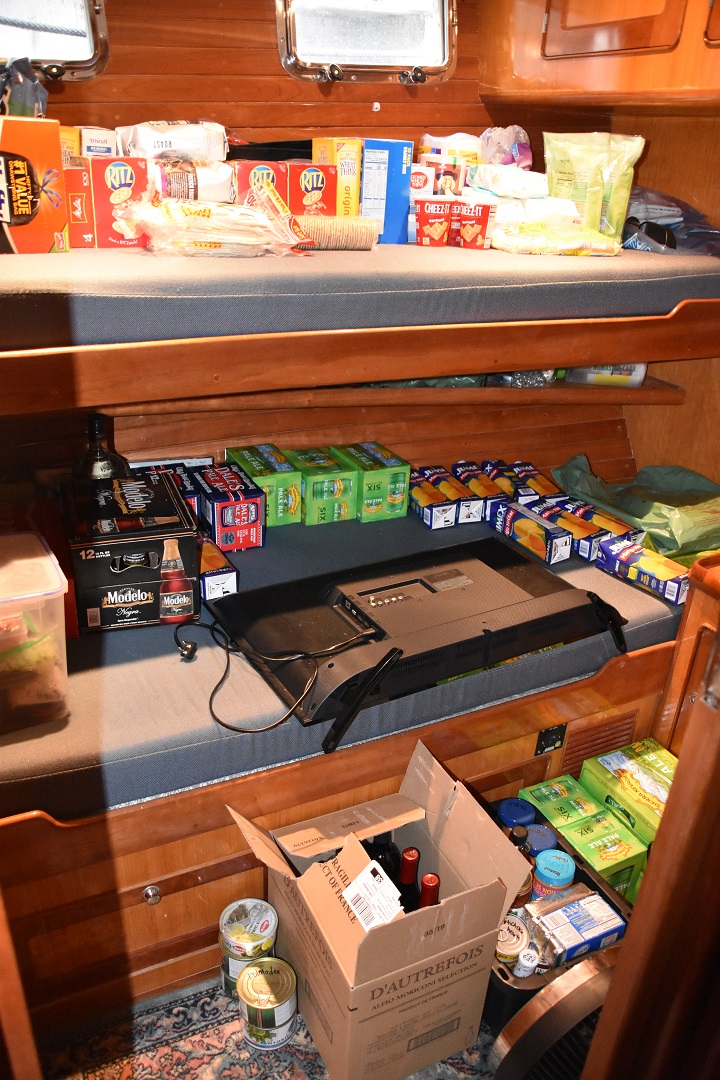 Two weeks and we are ship shape! It has been full tilt so we are excited to toss the lines and slow down a bit. Off we went to anchor off of nearby Stuart (Jan 18). The sun is setting and we are on the top deck with sundowners. Cheers! The next morning we moved about 30 miles south along the ICW for better protection from upcoming strong, northern winds. Coffee brown water transitioned to blue and the water's edge transitioned from mangroves and stumps to sand. We returned to often visited Lake Worth with good holding and familiar surroundings – including a Publix supermarket and pharmacy, Duffy's Sports Bar and Enterprise Rental (just in case). Let the cruising rhythm begin…and it has. We have spotted dolphin ambling through the anchorage and elegant egrets flying overhead. Our plan is to cross to the Bahamas as soon as a good weather window appears. Nothing on the horizon yet so we have no idea of timing. In the meantime, we will keep heading south to Miami for a better jumping off point.
Korean Ground Beef (kawalingpinoy.com) serves 4
1lb ground beef
1 Tablespoon vegetable oil
2 cloves garlic, minced
1 thumb-sized ginger, peeled and minced
¼ cup soy sauce
3 Tablespoons brown sugar
1 Tablespoon sesame oil
½ teaspoon crushed red pepper flakes
¼ cup green onion, chopped
Sesame seeds – garnish
1) In a wide pan over medium heat, heat veggie oil. Add garlic and ginger and cook until aromatic. Add ground beef and cook, breaking apart as you go (3-5 minutes, lightly browned). Drain excess fat.

2) In a bowl, combine soy sauce, sugar, sesame oil and pepper flakes. Stir until sugar is dissolved. Add to beef pan.
3) Continue to simmer until beef is cooked through. Add green onions and cook, stirring to distribute, for about 1 minute.
4) Transfer to serving platter and garnish with sesame seeds. Serve hot over rice or wrapped in lettuce leaves.