We're On Georgia Time: April 10 2020
St Augustine was a great spot to top up our fuel, top up our larder and to plan our next moves north. The mooring balls at the Municipal Marina are smack in the center of town on either side of the Bridge of Lions with access to dinghy dock, trash disposal and shower/laundry facilities. At $25/night it is a great deal even if services have been modified due to the coronavirus pandemic. The Winn Dixie was well stocked in all areas except paper products and cleaning supplies which were completely decimated with nothing more than empty shelves as place holders for the next shipment. Oh, and the volume in frozen foods was pretty thin. We were mostly interested in fresh fruits and vegetables so we were all set.
Tasks were completed so we walked outdoors around Old Town (keeping social distancing with the mere handful of other walkers). St Augustine was founded in 1565 by Spanish explorers which makes it the oldest European settlement in America (yes, even older than Jamestown and Plymouth Rock). The Old Town is the colonial Spanish quarter with 18th century buildings many of which still display coquina shellstone constructed walls. Palm trees, jasmine, bottlebrush and bougainvillea were draped everywhere in this charming historic gem of a coastal town (3/25). Most doors were closed indefinitely but that did not diminish the romance of the place. St Augustine was founded in the time of piracy and bears the mark. A less blood and guts piracy fact is that the town can claim the narrowest street in the USA at 6 feet 1 inch – US Treasury Street. It connects the waterfront bay with the Spanish Treasury - just barely wide enough for two men to carry a chest of gold thus discouraging thieves from riding off with the loot on horseback or via horse-drawn carriage. The street is the final photo above on the right.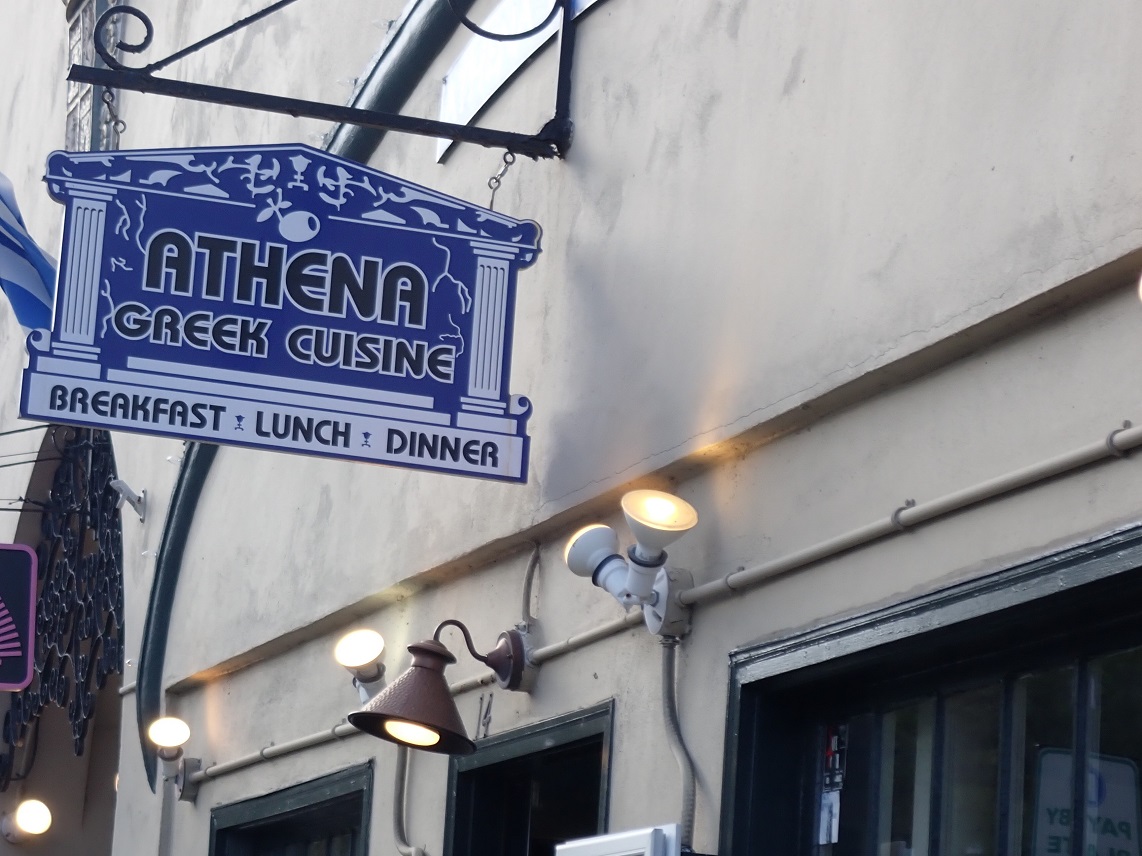 We feel lucky for our mostly self-sufficient traveling bubble that is Barefeet; however, we feel awful for so many restaurants and shops that were blindsided by the needed reactions to the pandemic. For dinner we got take-out from the Athena Restaurant on Cathedral Place just steps from the dinghy dock. The scene was surreal with tables barricaded just a few feet inside the open door indicating the place for payment and pick-up. As we thanked the man for being open he said he would likely be closed tomorrow. Gulp – so sad. What kind of tip do you leave for that?!

Travel planning has many inputs - including temperature. Boston is currently 50 degrees cooler than St Augustine so there is no need for us to rush back north. We will focus on the next week and take it from there. Fueled with a hot breakfast of leftover hash-browned Athena French fries topped with cheese, jalapenos and poached eggs we cleaned Barefeet's interior from top to bottom (3/26). Sheets and towels were washed and dried, floors were vacuumed and washed (with water/vinegar solution), watermaker sparked up and objects policed and put away. Phew! One more walk ashore had us headed away from Old Town along the seawall to Fort Castillo San Marcos and its sleepy neighborhood of Uptown (as announced on each street sign). Construction of the Fort began in 1672 with occupation being repeatedly passed back and forth between the Spanish, British and Americans. The historic Uptown neighborhood is a 5-block area much newer and more charming than the Fort. The neighborhood is packed with personality where all streets gently fade into the bay.

We have been looking forward to moving north along the ICW to Boston ever since we made the plan last summer. Sadly, like so many other people, our plans have been radically altered due to the coronavirus. We will maintain our route but concentrate on anchorages rather than cities in order to reduce our interaction with people. This is odd to write and a disappointment to implement because it likely means taking Savannah, Beaufort, Charleston and so many other wonderful towns off of our list of stops. Oh my…and missed meals ashore, too; wood pit BBQ, fried chicken, grits, hush puppies, banana pie. However, we will play it by ear one step at a time. With that in mind we will leave Florida and amble through Georgia rather than jet through it.

Our first hop was only a few hours north to anchor in a creek off of Nassau Sound (3/27). We tossed the mooring lines and motored past the St Augustine inlet to the Atlantic Ocean, across the lazy St Johns River with its tricky channel markers but tons of deep water and into a salt marsh creek for the night. It is Spring which means biting bugs. Thank goodness for our new gadget – the Thermacell (thanks for the tip Holt). It heats up a coated pad with a butane cartridge that sends bugs packing. Honest, to be outdoors camping or hunting in the south has EVERYONE singing Thermacell's praises. Us, too! During sundowners on the top deck we played country band Florida Georgia Line tunes on the geographic Florida Georgia line (tee, hee, hee). Our only company was when a sand bar became exposed and welcomed two boaters with chairs, tunes and two dogs…until it was again submerged in the creek and they floated away. Florida Georgia Line was replaced by abundant bird song over a dinner of creamy lemon pasta (recipe below). This is a keeper – thanks for the tip Kim and Dave.

A beautiful sunrise and continued abundant bird song greeted us in the morning. We pulled the anchor and slowly slipped out of the creek (3/28). Moving along we passed by Fernandina Beach with its humble wooden docks juxtaposed next to an enormous paper mill complex (which I used to visit in a previous working life – what crazy paths we loop back through). As our itinerary evolves we have played a bit of catch-up by again devouring The Cruising Guide to the Georgia Coast by Nancy and Tom Zydler. This time focusing on isolated anchorages and remote walks ashore in order to maintain social distancing. First up was a return to Cumberland Island lined with majestic live oaks draped in Spanish moss, verdant palmetto palms and gnarled tree stumps beautifully weathered along the shore. The anchor set quickly so off we dinghied north along the salt marsh coastline into Old House Creek. The textured shoreline mixed with solitude is stunning and takes our breathes away.

Coffee in hand we were surprised to hear the Star Spangled Banner blaring at 8am?! Oh right – the Kings Naval Submarine Base is just across the sound. Fog descended then quickly lifted and it was time for dinghy exploration no.2 (3/29). Today we headed south to Beach Creek. The creek snakes through salt marshes with so many twists and turns we were not sure exactly where we would end up. Soaring wood storks marked the end of our watery trail at the back door to the Dungeness ruins. The mansion (now ruins) was originally built by Thomas Carnegie and his wife in the 1880s, abandoned in 1925, destroyed by fire in 1959 and currently preserved by the National Park Service as part of the Cumberland Island National Seashore. Due to the coronavirus the Park was open but services were closed. We had the grounds to ourselves with the exception of some roaming marsh tackies (feral horses). After a couple of hours of exploring we meandered back out the creek. Anglers standing in their flat bottomed skiffs with lines in the water nodded as we passed. Back aboard Barefeet I dove into Baked Risotto with Spinach and Salmon for dinner. Well, a bit of boat pantry tweaking was required – regular rice for risotto and canned peas for fresh spinach. Oh was it good – and creamy and delicious – thanks Aussie pirate Ferne from s/v Kinchega (recipe below).

A few days ago at the very end of making water in St Augustine the watermaker made a loud bang and suddenly lost pressure. We shut the system down and hoped it was dirty filters. Filters were changed but to truly test the watermaker we need to be outside of the ICW in the salt water. Off we went from Cumberland Island into a calm sea state with two foot seas and a long period. A distant shrimper made an iconic silhouette against the rising sun. Chris sparked up the watermaker but pressure simply would not hold. Drat! Okay, inoperable watermaker and oil loss in the transmission means we are getting a critical mass of issues for us. Plus, boater info is changing rapidly which makes it hard to tell what is fact and what is rumor. However, states and counties up and down the coast are shutting down land services and closing marinas. We have changed plans three times today and finally settled on anchoring as far north as we can tonight in order to arrive at Thunderbolt Marina tomorrow in order to make repairs ASAP. Tonight we will be anchored at Crescent River, Georgia. We pulled in at 5.30pm beyond two already anchored trawlers. Despite our basket of uncertainties this was a marvelous anchorage with plenty of room and tranquil conditions.

Sad to leave our quiet anchorage; however, Hell's Gate is on the route today which we want to be sure to hit at high tide (3/31). Driving in the Georgia section of the ICW means keeping one eye on the depth meter at all times. It gets tiring and a bit butt clenching but today is an additional bit of fun with Hell's Gate. Hell's Gate is a narrow channel (probably 45 feet wide) with current strong enough to push the boat around. The depths are described as shoaling to 2.5 feet, in the channel at 6 feet and marker Green 89 is dry at low tide. We are 5.5 feet and would rather a bit more water below our keel for flexibility of movement so we are targeting high tide and its extra 6 feet of water. On our approach to the channel boating friends Lori and Russ hailed us and mentioned that the channel was dredged in 2019. Okay, scrap the concern – though the current still existed we never saw less than 16 feet. It was dreamy.

The boater's coconut telegraph is currently exploding with lockdown scenarios ranging from boaters being evicted from marinas (fact in Marathon, FL) to not taking transients for periods less than 30 days to diesel not being sold from Florida to Maryland, to not being allowed to check into the country. The line between fact and fiction is very squishy and definitely a moving target from state to state and county to county. With all of these points in mind we pulled into Thunderbolt Marina outside of Savannah. They are a full service yard covering everything up to and including mega yachts so even though mechanics are not working since the yard is closed we hope to be able to receive shipped parts so that Chris can make our repairs to Barefeet. Plus, Thunderbolt is considered an essential service as a base for the marine police and marine fire departments so we will not be evicted because the marina will not close. We are fine for fuel but we would like a secure spot to make our repairs. Heck, a thunderstorm with a possible tornado is even expected in the next hour or so.

The city of Thunderbolt is a small shrimping community on the Wilmington River right on the marshes. An ethnic immigrant mix of Italians, Portuguese and Scandinavians brought their expertise to this thriving shrimp industry including innovations in packing and shipping with Georgia shrimp enjoyed as far away as Los Angeles as early as the 1920s. Languid Georgia landscapes surround us. Let's get started on diagnosis (4/1). Chris dove into manuals and dialed as many experts as he could find as he sleuthed our issues. I walked to the Food Lion where I got a lay of the land. Supply levels were quite reasonable with social distancing practices solidly in place. Making this stop reminds us that we are disappointed not to be able to visit lovely coastal cities and eat their local specialties - but even more - we are thoroughly disappointed not to be able to catch up with friends along the way in Florida, Georgia, North Carolina, Virginia, Maryland, New Jersey, New York. And right here we cannot visit with Sue and Doug who live minutes from the marina - dang it. So it goes and we are certainly not the only ones with upended plans. Maybe relaxation of social interaction will occur in the next few weeks?! Fingers crossed.

Parts have been identified and ordered for the transmission, its oil drained and filter screen examined for metal shavings (to indicate transmission damage). Zilch was found so we feel confident that no damage was done to the transmission and that the seal replacement is all that is needed. Next up is the watermaker (4/2). Chris found one broken valve seat (there are a total of six but one is broken) and he is understandably ecstatic at the quick diagnosis. Several dead end calls for a valve repair kit eventually led us to make an order with Sandy at Thunderbolt Marine. Delivery time of tomorrow is priceless – thank you. I cleaned the pilot house and wandered to the package store through a cute neighborhood along the river. Businesses are adapting to the virus distancing requirements as seen at this marine supply store. Sundowners and pizza on the top deck felt celebratory as all issues are well underway.

Our soothing island roosters have been swapped out for squawking, cawing birds with more panic and energy than a troop of chattering monkeys. It must be Spring and the race for a mate is on?! As we wait for parts we borrowed the marina courtesy car for a run to Walmart for 8 gallons of hydraulic oil and a bit of supermarket staples (4/3). Back aboard and the watermaker valve kit has arrived – thanks Sandy. Out with the old and in with the new. What?! The springs are too long?! MacGyver Chris snipped and shortened them but nothing is ever easy. Upon closer inspection it seems that the "good" valve seats all show evidence of tiny cracks so it was clearly time for servicing. Testing shows that the watermaker is back up and running - solved. Local eatery Tortuga's Island Grille is doing take out which made for a nice evening stroll and a shake-up in our menu ideas. Community is where we are and we want to help - thanks for dinner.

It's now a waiting game for the transmission part. The business is closed over the weekend with a tracking number that shows simply that "a label has been made." We distracted ourselves with a return walk to Bonaventure Cemetery (4/4). Along the way we saw an incredible tree house and pretty magical neighborhood house. Johnny Mercer is one of the folks at rest at Bonaventure and his family has quite the spread of plots and headstones. Johnny Mercer was a prolific songwriter starting in the 1930s and even won four Academy Awards for his original songs. He wrote more than 1500 songs including; Moon River, Hooray for Hollywood and Days of Wine and Roses. On the saucier side he had an on-again-off-again affair with Judy Garland for years.

Boat projects filled in our waiting time. The generator oil and filter were changed, boiling water poured down all drains, top deck windows were cleaned and polished (with 210 magic aerosol), changed the oil in the dinghy transmission and on and on. Tasks further afield were accomplished with the marina loaner car: propane tank fill at Herb Creek Landscape Supply, grocery store (paper towels AND shelf stable UHT milk – score) and BBQ haul for the freezer. We are over the moon for the bit of regional fare from Wiley's BBQ – 2 lbs of beef brisket and 3 lbs of pulled pork. Wiley's BBQ opened in 2005 tucked in a strip mall and is routinely named the city's best BBQ with national titles every year for over a decade (https://wileyschampionshipbbq.com/). Curbside pick-up is no problem. Our taste buds thank you.

Morning coffee update is that the transmission part is in Savannah (4/7). Yippee! We went into overdrive for pre-departure tasks in the hope of being off the dock tomorrow. Too much pressure Chris?! Barefeet was soaped and scrubbed from top to bottom, water tanks filled and laundry was completed by 11.30am when the part was hand delivered – thanks, Sandy. Floor boards are up and tools were assembled. Drat – the tiny needle-nosed plyers are still too big so the Dremel shaved them down to size – bingo. The transmission is disconnected but oil is leaking despite the fact that the crank case is empty. Yep – transmission and hydraulic are definitely connected so the hydraulic oil reservoir needs to be emptied sooner rather than later. Sad to see the nice, clean oil dumped but handy to have a used oil drum available at the marina. Go gopher Erin twice schlepping the 30+ pounds of jerry can oil to the disposal site. Sheesh. It took the two of us hammering and grunting to remove the old seal (along with three screws, vice grip clamp, screwdriver and a hammer). The new seal was inserted, transmission buttoned up, tested at idle and all looks and sounds good. While Chris was below in his workshop (engine room), I was above in mine (the kitchen) making coconut lentil soup for dinner…with grilled cheese sandwiches just in case (boat modification for soup – no spinach and delicious all the same, recipe below). We are ready to go!

Tossed lines and we're back on the ICW moving north (4/8). The next few days will be anchorages not cities. We are sad to pass Savannah and Beaufort and Charleston but social distancing and lock downs mean that there is little point in stopping anyway. Our first anchorage attempt had the anchor stuck but the swing room felt too tight with the strong current so we moved onto Bull River Junction located half way between Hilton Head and Charleston. Plenty of swing room and good holding. Ah, much better. The transmission oil level is solid which gives us hope that the transmission issue is fixed. Next up boat surprise is the discovery of a way too hot battery. Not too bad – simply disconnect and move on for now because the bank is still large enough.

The eau de paper mill fragrance wafts in and out as we move through Georgia and South Carolina. Landscapes morph from salt marsh to include denser, taller forests. Pow - strong and elegant - there is no missing the bustling seaport of Charleston gracefully poised on the Ashley River before we again enter the salt marshes and our anchorage at Dewees Creek where we are nicely protected despite strong winds (4/9). Another full day of driving through serene South Carolina with pelicans dive bombing for fish, dolphins playing in our bow, bald eagles perched on the shore and hooded bandit birds swooping and diving erratically brought us to anchor in familiar Georgetown in front of the rusty factory building (4/10). Bbbrrr – daily high temperatures are barely into the mid-60s F which means speed is not required. Stormy weather is due in a few days which will have us at a dock but other than shelter we hope to anchor out. Plus, rumors are still swirling and changing by the hour about marina closures to transients (others saying it is an essential service) in addition to no boat traffic allowed as we move further north to Maryland, New Jersey and beyond. We will take it one day at a time and change our plans accordingly.


Lemon Pasta (serves 3)
8oz spaghetti
2 Tablespoons butter
1 Tablespoon olive oil
3 cloves garlic, minced
3 lemons (1/4 cup juice; zest of 2 lemons)
1 cup sour cream
¼ teaspoon salt
Parmesan cheese, shredded
Extra lemon juice
¼ cup fresh basil, chopped

· Preheat oven to 375 degrees F.

· Cook and drain spaghetti.

· In a skillet on low heat melt butter & olive oil. Add garlic & ¼ cup lemon juice. Turn off heat.

· Add sour cream and stir to combine.

· Add lemon zest and salt. Stir to combine. Taste and add more salt as needed.

· Add pasta to sauce and stir together. Serve and garnish or continue with bake instructions.

· Scrape into oven safe casserole dish.

· Bake, covered, for 15 minutes.

· Remove foil and bake another 7 minutes.

· Remove from oven. Squeeze more lemon. Top generously with Parmesan cheese.

· Garnish with basil (if you've got it – just fine without it).

Baked Risotto with Spinach and Salmon (Ferne s/v Kinchega) serves 6
2 Tablespoons olive oil
1 cup Parmesan cheese, grated
½ cup cream or milk
8oz cheese, grated
3 cups chicken stock
1 cup rice
1lb red salmon, canned (smoked is good, too)
1 medium onion, chopped
2.5oz baby spinach leaves (or canned peas)
Pinch paprika

· Heat oil and fry onion until soft. Add rice and stir to coat with oil. Add stock, bring to boil.

· Reduce heat, simmer, covered, 15 minutes. Stir midway. Remove from heat and stand 10min.

· Stir in cream and half of combined cheeses.

· Spoon half of rice mixture into 9x13 casserole dish, Top with spinach then salmon.

· Spoon remaining half rice mixture over top. Sprinkle with remaining half cheese mixture.

· Sprinkle with paprika.

· Bake uncovered 450 degrees F for about 10 minutes until lightly browned and heated through.

Coconut Lentil Soup (Bon Appetit) makes about 8 cups
1 large onion
6 garlic cloves
1 3-inch piece of ginger
2 Tablespoons coconut oil (or veggie oil)
5 teaspoons curry powder
½ teaspoon cayenne pepper
1 13.5oz can unsweetened coconut milk
1 cup split red lentils
½ cup unsweetened shredded coconut
2 teaspoons salt, plus more
1 10oz box frozen spinach, thawed
1 15oz can crushed tomatoes
Yogurt for serving, optional

Steps

· Peel 1 onion and chop. Smash 6 garlic cloves with the flat side of your knife. Peel, then finely chop. Peel 3" piece ginger, then finely chop.

· Heat 2 Tbsp. oil in large Dutch oven over medium. Add onion and cook, stirring often, just until translucent, 6–8 minutes.

· Add garlic and ginger and cook, stirring often, until garlic is starting to turn golden, about 5 minutes.

· Add 5 tsp. curry powder and ½ tsp. cayenne and cook, stirring constantly, until spices are aromatic and starting to stick to bottom of pot, about 1 minute.

· Add 13.5 oz. coconut milk and stir to loosen spices, then stir in 1 cup lentils, ½ cup shredded coconut, 2 tsp. salt, and 5 cups water.

· Bring to a boil over medium-high heat, then reduce heat to medium-low to keep soup at a gentle simmer. Cook, stirring occasionally, until lentils are broken down and soup is thickened, 25–30 minutes.

· Meanwhile, remove 10 oz. thawed frozen spinach from packaging and squeeze between your hands over sink to remove excess water. Transfer to cutting board and coarsely chop.

· Add spinach and 15 oz. tomatoes to pot and stir to combine. Taste and season with more salt. Simmer just to let flavors meld, about 5 minutes. Taste and season again with more salt.

· Ladle soup into bowls. Top with yogurt, if desired.