Sunny Skies - Eleuthera to the Exumas: February 25 2020
The forecast winds arrived and hung around as expected. With extended time in the area we rented a car to explore on land. Last year we explored north from Hatchet Bay to Rock Sound. This time we headed south from Rock Sound to the southern tip at Cape Eleuthera. Friendly Bob's Car Rental was easy (and friendly) at $75/day (242-359-7806). Thanks for the tip m/v Journey. The car was delivered to Frigates Bar from the airport. It was clean and solid with strong air conditioning…and…dashboard warnings in Japanese?! No worries – our biggest concern was to remember to stay to the left side of the road. Stay to the left, stay to the left. Oops – that's not the turn signal…it's the windshield wipers (definite expat warning label).
First stop was the Boiling Hole and the Cathedral Cave just south from Frigate's along the Queen's Highway (2/12). The Boiling Hole was tranquil when we were there rather than a bubbling surface caused by gas building from the bottom. The Cathedral Cave was massive and took our breathes away. Entrance is down wooden stairs (replacing a wooden ladder - phew) that open into an enormous cave with roots cascading from the surface along with sunshine streaming in. As we walked around the cave I thought…is that flapping I hear?! Yep, Chris shined the flashlight on the ceiling to discover pockets of bats – okay, hundreds of bats. Oh, too creepy for me so no time for a photo.
We continued to the end of the road at Cape Eleuthera Marina for a look see. It's a nice, protected spot should we need it in the future – good to know ($2.50 per foot per day, power and water extra, restaurant onsite). Now onto the main event – a tour of the Cape Eleuthera Institute (http://www.ceibahamas.org/) and Island School (http://www.islandschool.org/) established in 1999. We had a tour for just us with Adam who has been part of the school for five years. We arrived with only vague ideas about what the organizations do but left truly awed with what has been created (and in the Bahamas no less). After cruising the Bahamas on and off since 2006 we realize how challenging it is to create AND maintain a world class anything here. Adam walked us through the entire property with deep knowledge (and fun anecdotes) all along the way; from the dorms to the labs to the dining hall to the scuba shop (island middle schoolers were getting PADI scuba certified while we were there) to the farm and on and on. The day was a real highlight.
Sustainability is the name of the game at the Institute and Island School. It is woven into every aspect of living and research. Scientific research is conducted at the Institute in wet and dry labs to improve understanding of marine ecosystems and to support a sustainable future for the Bahamas. The Island School provides semester and summer study abroad programs for high school students where, "daily life on campus allows Island Schoolers to gain deep understandings of leadership, sustainability, community, and sense of place without the distractions of cell phones and internet, living closely with peers and faculty alike." And if that isn't enough - five mornings each week students train for either a half-marathon or a four mile open-ocean swim. Check out the improvised gym weights?! All of this while still meeting curriculum requirements in history, literature, math, etc. We can only imagine the enormous positive impact made on each and every student who participates in the programs.
Infrastructure of the campus was not slapped together in mere moments. Rather, every aspect of structure, power, water and food was thoroughly evaluated before being implemented. Low hanging fruit was easy – raise their own pigs and chickens for food, biodiesel for vehicles, solar power, wind turbine, compost pile, navy showers, rain water collection and sinks that run with potable water prior to filling a toilet tank (perfect for washing hands or brushing teeth). A bit more involved were the tilapia fish tanks where fish poo water is used to nourish hydroponic lettuce and herb gardens used in daily meals. The tilapia are also periodically harvested for meals.
Holy cow - our heads were spinning in overdrive as we left. Thanks Adam! Lunch was at low key Sheryl's Inn in Deep Creek. Cracked conch burgers are supposed to be the-best-on-the-island. Sadly, there was no conch due to strong sea conditions resulting in no fishing. Drat! Oh well, make it two plates of cracked chicken and fries. We relaxed over lunch chatting about the Island School and Barefeet's future travel routing.
Our remaining time in Rock Sound had us sparking up the wing engine for a test, hitting the supermarket after the boat was unloaded, laundry, trash disposal – normal life stuff. Boats came and went from the anchorage but we stayed put for upcoming calmer conditions. We even jumped into the water for a refreshing afternoon swim. Final night sundowners aboard m/v Journey rounded out another pleasant stay in Rock Sound. Oh, and the artichoke dip never disappoints (recipe below).
Forecasts remained intact and we had two good travel days which had us into the Exumas. Day #1 was 77 miles from Rock Sound to Staniel Cay through Wax Cay Cut. Dropping the anchor at Staniel just as the sun was setting felt good. Day #2 was 54 miles further south to George Town out Dotham Cut at Black Point and in at Conch Cay Cut. Overall, travel conditions were less comfortable than expected but all went smoothly enough. An especially good omen was the dolphin welcome as we entered the Exumas (2/14). We were not alone in taking advantage of the lighter winds. There was positively a mass migration of boats south as far as the eye could see on both days. We dropped the anchor at Monument Beach and were welcomed by several friends who popped by to say "hi" (2/15). Boat count is at 302 which is a big change from 20 boats at Rock Sound and 12 boats in the Berrys. Let the social swirl begin!
Our anchor spot looks good for several days with varying wind directions but to be triple sure Chris dove on the anchor to eyeball the set – yep, well buried in sand - all good. What?! As he was just about back to the boat he practically rocketed out of the water when he saw three dark blotches coming close. Phew – just rays. Now it was our turn to circle around the anchorage to say "hi" to folks, check out Chat 'N' Chill and walk on Flip Flop Beach. Hey look, Lumina Point has changed hands and is now Kahari. Nice excuse for lunch while catching up with Melanie and Paul with conch salad, burger and fries. Boat projects are on island time but a few tasks were completed; reflective tape onto the dinghy engine cover for night driving, remount of the exterior catch on the port pilot house door so that it is a true fit (epoxy will be involved), remove and replace boat registration stickers (2/17).
Rhythms in George Town are generally easy with many resources available depending upon which category of supplies are needed or which tasks need to be accomplished as well as a plethora of activity options depending on your mood and desired location (above and below the sea). There is a BIG dinghy dock for access to propane fills, two supermarkets, a coffee shop, straw market, hardware store, laundry, jerk shack, computer store, bakery and many other nooks and crannies in a flip flop walkable town. Further afield is an airport, car rentals, pharmacy, hotels and more. Supplies are delivered by cargo ship and mail boats that slide right past the anchorages emphasizing the need to know your charts and where you are on them in order to avoid being in the big boat super highway.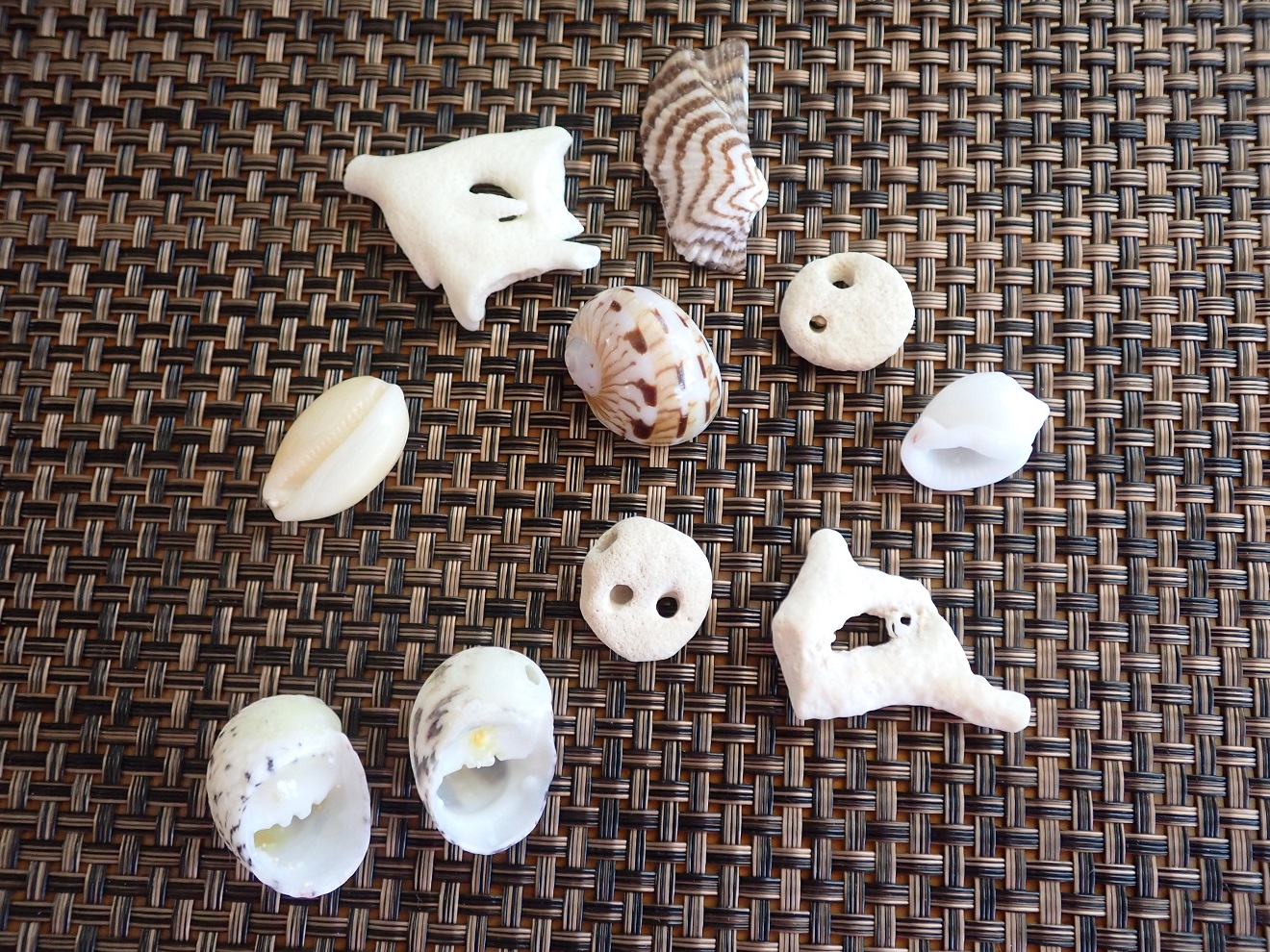 Boat projects become inserted here and there such as rinsing watermaker filters, exterior rinsing off of salt with vinegar and water (and my favorite sponge), making water, laundry and whatever just happens to need attention on that day. Additionally, activity options abound and can be solitary or group oriented. Chris enjoys Texas Hold 'Em at St Francis and even came in third place out of 54 players one night and second place another night. Baby's gettin' a new pair of shoes! But the real draw for activities is nature. We enjoy walking the beaches and trails, birthday bonfires on the beach (sour cream chocolate chip bit cake recipe below), sundowners with fellow boaters as conch horns signal the sunset and, of course, looking below the water's surface.
A few hours of (rare) calm were all the encouragement we needed to collect our snorkel gear, assemble Chris' Hawaiian sling spear and zip in the dinghy to Channel Cay (close to Conch Cay Cut at N23'34.279 W75'49.473). We were tipped off to this place by fellow cruisers with a hugely informative underwater marine biology blog - http://cruisingbiologists.com/. Thanks s/v Spiraserpula. There were patch reefs full of corals, sponges, Gorgonians, fish, turtle…not to mention a stunning Elkhorn coral reef (2/21). Conditions were calm and when the sun peeked beyond the clouds the underwater scene absolutely exploded with color. Kind of like a grey photo suddenly turning into a technicolor movie. After exploring and snapping many photos I was back in the dinghy when I noticed Chris swimming on the surface with the spear held above the water…and he had a FISH! Well done and whoop whoop! It was a beautiful parrotfish which made a tasty sundowner snack (pan fried, sprinkled with a bit of homemade blackened seasoning and squeezed with a squirt of lemon). Um, just a snack because my filleting skills need some work.
Our return from snorkeling was timed so we would be aboard Barefeet when the winds temporarily shifted out of the west so that we could keep an eye on our location to be sure we did not kiss the coral wall. Indeed, we did get close to the wall but we never bumped - phew. Winds continued to clock and we were in the clear and away from the immovable wall. Winds and rain continued to howl through the night (wind observed at high 20 knots) but our little corner of the anchorage was fine. Glad we stayed where we were and the anchor stayed well stuck. Unfortunately, a few boats dragged; however, the cruising community rallies quickly. Of course, everything happened at 3am in the dark but several dinghies immediately arrived on the scene to untangle anchors, etc. The sun came up and it was a new day; with a vibrant rainbow display, enough sun to take a walk on Sand Dollar Beach at low tide and the kids sailing club zipping around Elizabeth Harbour (2/22).
Feeling a bit penned in we decided to cross bouncy Elizabeth Harbour in the dinghy for a bit of change in scenery (2/23). We had a relaxing and lovely lunch at the Rusty Anchor at February Point. It was tender conch fritters, gooey pepperoni pizza and festive cocktails as we marveled at the stunning views in the Bahamas – we are very lucky. The third photo is a view across to our anchorage at Monument. Before heading home after lunch we visited with m/v Twin Sisters. Always great to catch up and wonderful to see you guys! Back to Barefeet and it was impromptu sundowners with neighbors s/v Mahina. Cheers to friends new and old!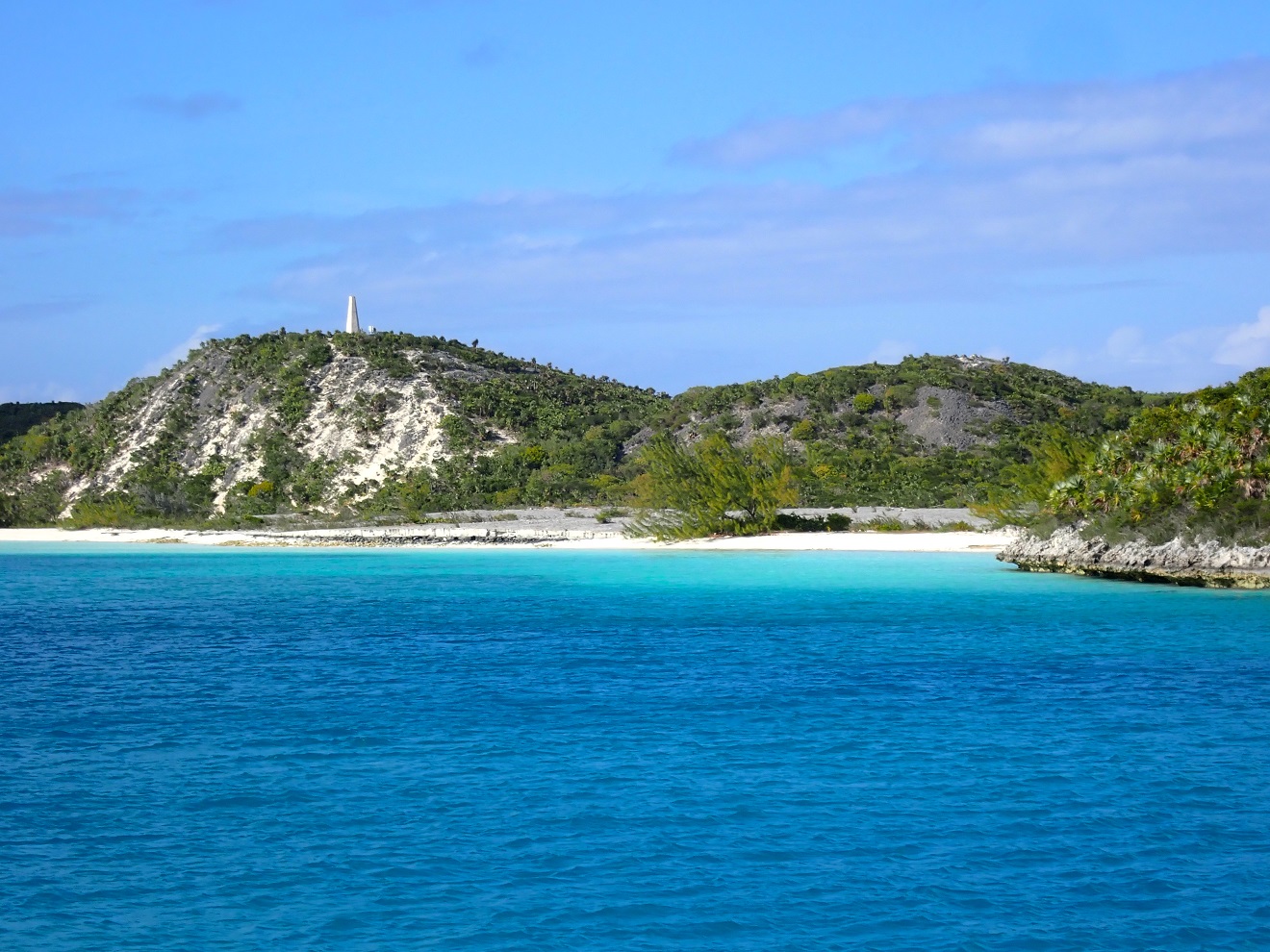 Boat anchoring and traveling (aka our itinerary) are generally made in 4-day increments (4, 8 and 12 days out – that is as far as we can look with any degree of confidence). Conditions at Monument anchorage will not be comfortable for us for the next seven straight days so tomorrow is the day to move. But where? Make no mistake - travel plans are on the minds of all the boats in the harbor – a whopping 333. Eeegads! In preparation to move we slogged across the harbor for some chores; trash, supermarket and Smitty's Pharmacy as well as chores on the boat; make water, clean engine room, etc. Okay, back to travel and anchoring plans (2/25). We had been eyeing a return to Staniel Cay but the winds just do not support that plan anymore. Plan A is to move to protected Redshanks anchorage but if that is full Plan B is to go to Emerald Bay Marina. A wonderful diversion from our travel decision was sundowners with s/v Seaforth and some hamburger and jalapeno pizza. Whatever we decide in the morning...so long Monument (for now). Spoiler Alert: happily anchored at Redshanks.
Artichoke Dip
9oz jar/can artichoke hearts (in water), drained and chopped
1 cup Parmesan cheese, shredded
3/4 cup mayonnaise (like Hellman's)
8oz cream cheese, softened
Mix together all ingredients. Scrape into 9" pie dish. Bake at 350 degrees F for 30 minutes or until top is golden brown. Serve with crackers, bread or chip of choice.
Sour Cream Chocolate Chip Bit Cake
6 Tablespoons butter, softened
1 cup plus 1 Tablespoon sugar
1 1/3 cup unsifted flour
1 teaspoon baking soda
1 1/2 teaspoon baking powder
1 teaspoon cinnamon
2 eggs
1 cup sour cream
1 package semi-sweet chocolate chips (6 oz)
Mix butter with 1 cup sugar until blended. Beat in eggs one at a time. Stir flour with baking soda, powder and cinnamon - then blend with creamed mixture. Mix in sour cream. Pour batter into greased 9x13" pan. Scatter chocolate chips evenly on top. Sprinkle 1 Tablespoons sugar evenly on top. Bake at 350 degrees F for 35 minutes or until cake just begins to pull away from the sides. Completely cool before cutting into squares. Do NOT refrigerate.