Back From the Bahamas: March 24 2020
The big blow has started and we are tucked into Big Majors anchorage at Staniel Cay. It will gather steam and remain for several days. Updating logs is a perfect activity and three have already been done – one by me and two by friends whose blogs we follow. Our Bahamas courtesy flag is Exhibit A as to the strong winds this year. And this flag has only been used for six weeks?! Other activities include cleaning (wiping down floors with vinegar and water), plowing through books waiting to be read, tracking Mother Nature's moods (small white caps, bursts of rain, ink black clouds and slightly more mellow conditions), futzing with the watermaker's salinity meter, etc. Meals are always a highlight and nachos never disappoint. Eventually, the day and night screaming meemies downgraded to simply solid howling which is better for the nerves. The (anchor) proof is in the pudding and our anchor app has not budged while tracking our movements – Barefeet is the anchor symbol in the center. Plus, the entire anchorage seems to have stayed well stuck without a single dragging boat. Well done!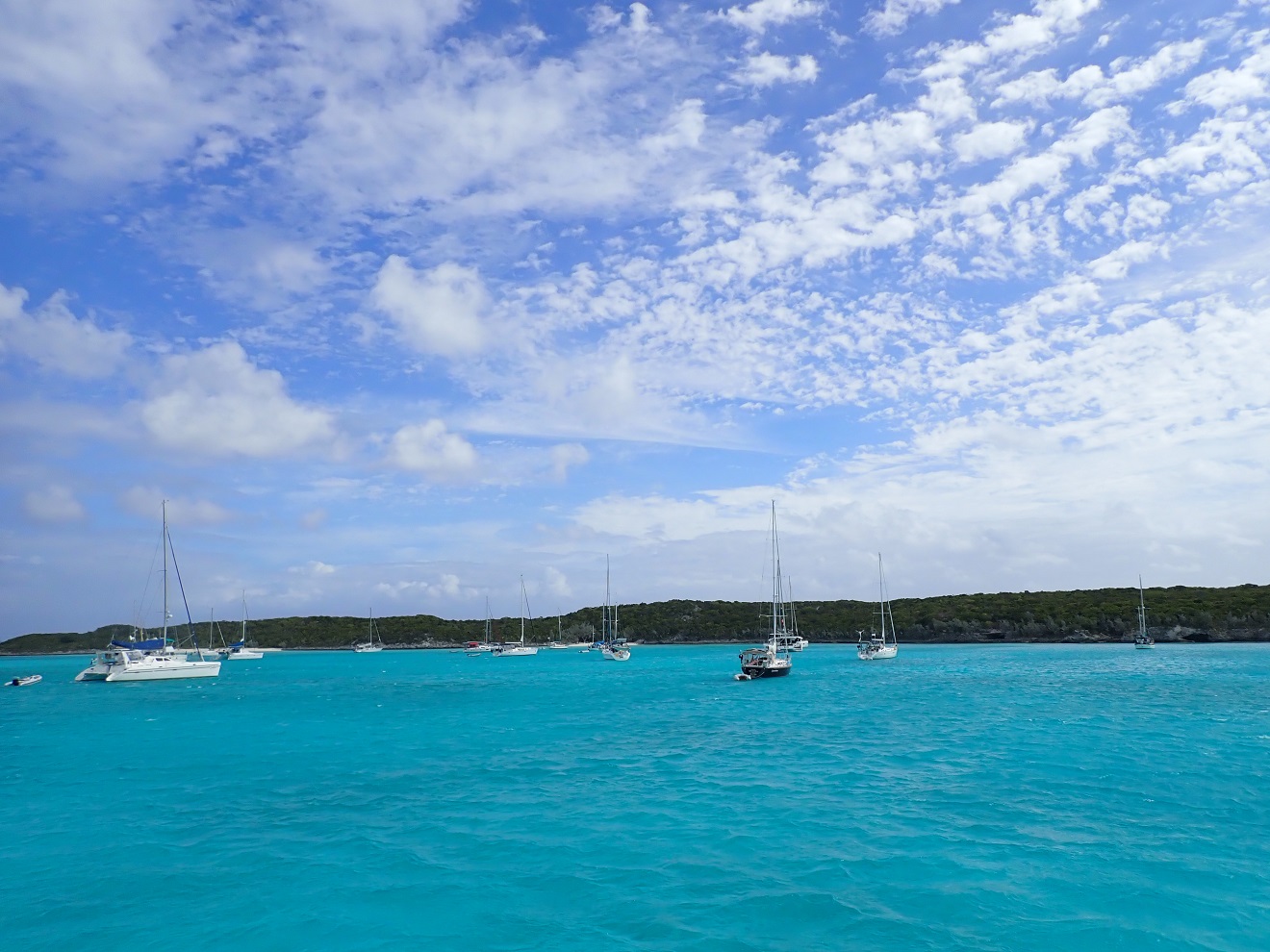 A drop in the winds had us heading ashore for a bit of walking around to check out the town (3/10). We picked up a few things at Isles General Store and The Pink Store. The level of supplies is better than in years past but the prices are still not at fill-the-pantry levels (bag of Tostitos is $7). However, beautiful tomatoes must be purchased which means it will be BLTs for dinner. While in town the anchorage filled up as folks moved from favorite hiddy-holes to be closer to town. We will move north tomorrow and let our specific itinerary fill in as the weather forecasts become more reliable. Dawdle in the Exumas? Stroll through the Abacos? Back to Florida? Time will tell.
We topped up the transmission oil, raised the anchor and were off for Norman's Cay – a new spot for us (3/11). It was a 5 hour motor a bit bumpier than expected; however, the sailboats unfurled all sails and beautifully flew along. They were glorious to watch. The evening anchorage was off Skipjack Point (and MacDuff's). Navigational charts are not the same everywhere. Some are a bit more art than science; some are a bit more local knowledge than survey equipment verified. Norman's is one of those places. The charts show just 2ft depth into the anchorage but everyone says it is no problem. In we crept and never saw less than 11ft…but we made a track in to follow back out…just in case. The anchorage is stunning! MacDuff's used to be nothing more than a burger shack but today it is a collection of cottages with a laid back bar and restaurant (burgers still available). We headed ashore to check it out. Drat – closed on Wednesdays. Oh well. It looks like a wonderful spot and we will be back (http://www.macduffscottages.com/).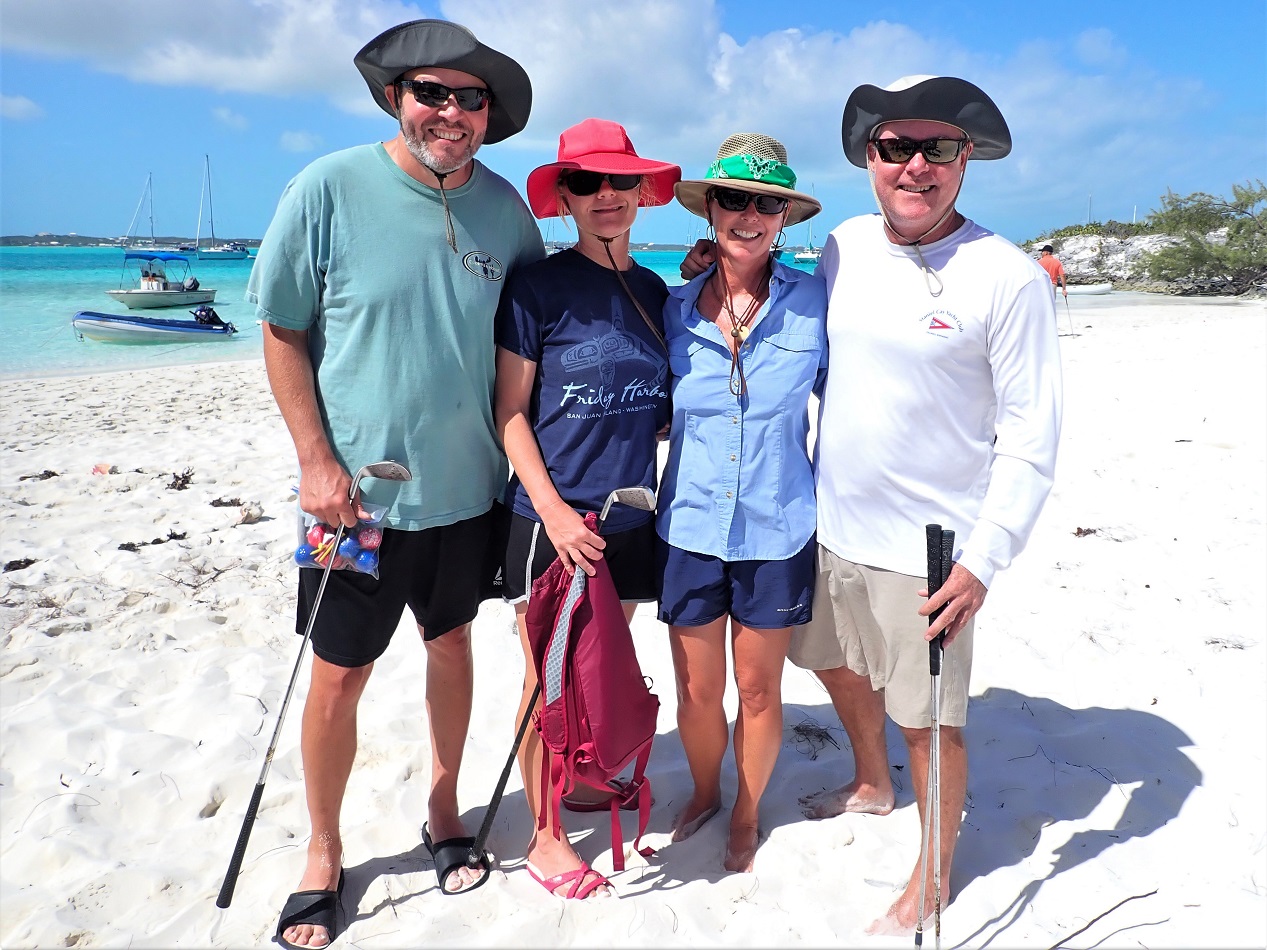 The next day we were up anchor at 8am to cross the Yellow Bank and anchor at Rose Island off of Nassau (3/12). It was a rolly anchorage due to swell which was not great for sleeping. Weather reports indicate a possible crossing to Florida in three days. Okay, we'll add that data to our bag of decisions. Next stop was Chub Cay (3/13). The ocean remained pretty rolly with some things falling off of shelves and bumping around in cupboards but by early afternoon we were anchored. Hey – lots of other folks are on the move, too…there is s/v Seaforth and on the horizon is m/v Vector. But first things first – the transmission is still leaking oil but we cannot find where it is going. Even inserted a mini-camera into the bell housing for a look – nope, no collected oil. This is a bit of a pickle because from here to Florida will be a 21 hour motor run and we are out of 30wt oil. It was s/v Seaforth to the rescue with a gallon of oil. Thanks, Thanks, Thanks! That's the four of us at Beach Golf at Regatta.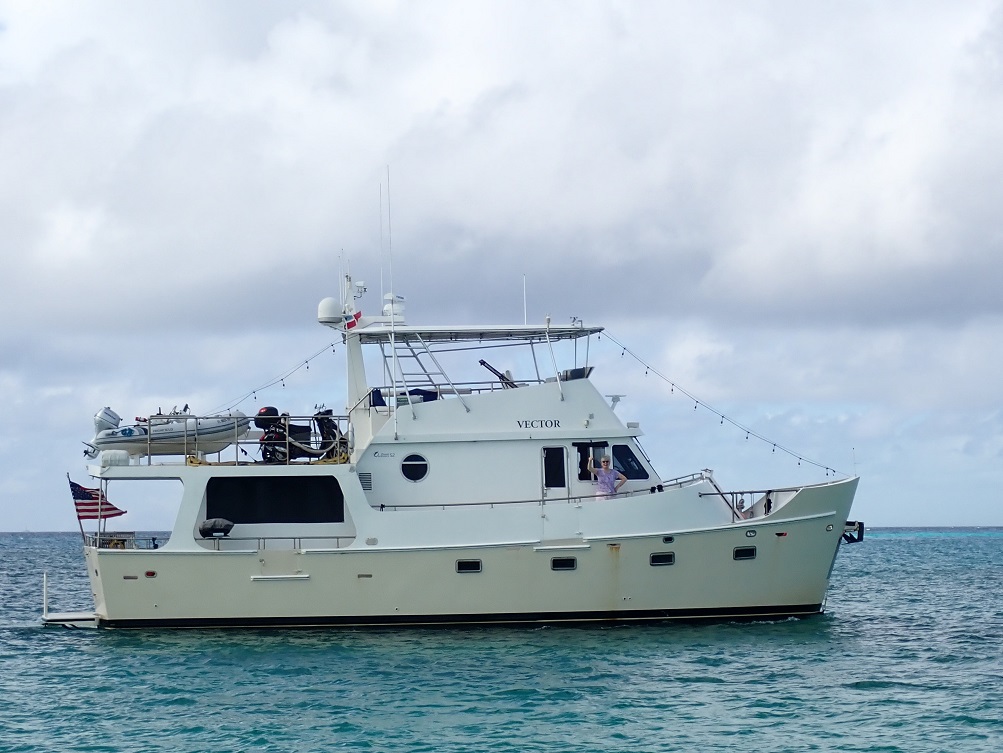 Crossing paths with m/v Vector was wonderful! We have been chit chatting about travel plans but did not think we would connect this season. Super lucky to meet as we are heading west and they are heading east! Boat repairs are always part of cruiser conversations and Sean helped with additional transmission sleuthing and brainstorming – much appreciated. Later we gathered aboard Vector with Sean and Louise for dinner, drinks, catching up and much laughter…including a toast to their completion of The Great Loop. Congrats!
Weather reports still encourage moving the boat…in the direction of Florida for us due to 1) possible need of professional help for the transmission and 2) more time to explore in the Chesapeake on our way back to Boston. Okay, we'll return to the Abacos another time. In the morning Vector was off towards Nassau and Seaforth was off toward Canaveral. We are headed toward Lauderdale for possible transmission help and to collect an ordered heat exchanger at a UPS office. Therefore, the best timing for us to be in the Gulf Stream is tomorrow late morning…so…we worked our time table backward from there. Extra thanks to Bill and Louise for the weather info. Now we just need to wait in this rolly anchorage until 7pm. Note: the rolls are not from ocean swell but rather from a constant parade of sport fishes barreling into and out of Chub Cay Marina. Tick tock, tick tock.
We are not good at waiting and pulled up the anchor at 6pm after a dinner of BLT sandwiches (3/14). Sea state was smooth and calm - a welcome and huge improvement from travel and anchoring over the last few days. We had our last Bahama sunset and made our way west: 1am at Mackie Shoal as the moon rose, 6am at Bimini, Noon at Port Everglades (Fort Lauderdale), 4pm at Lake Boca and 7.30pm anchored at West Palm (3/15). We had originally planned to anchor at Lake Boca but clearly that was not happening due to the Spring Beak/sunny Sunday boat party that missed the Coronavirus memo from Anthony Fauci. Plus, check out the clogged ICW with boat traffic in the area. It is crazy. On we went to West Palm Beach and dropped the hook just as the sun was setting. Phew – we are pooped. Time for showers and a celebratory dinner of cheese and crackers. We cleared customs and immigration enroute via the ROAM app and we are officially back into the USA.
Anchored in peaceful West Palm Beach between the Royal Park and Flagler Memorial bridges provided a great night's sleep and a slow start to the day to make our plans; engine transmission, travel itinerary and coronavirus impact. The transmission lost much less oil than expected and shows no sign of milky-ness from sea water intrusion (Chris checked the oil level every 3 hours while underway) which has us optimistic that the new heat exchanger will fix things. We dinghied ashore and in this city of vibrant murals there is even a mural UNDER the bridge. We found the city quiet but not deserted as we have heard of other cities like Boston. The coronavirus has expanded to include chatter about border and port closures taking over the news which has us feeling a bit of serendipity about being back in the USA. We will take things one day at a time as we wait for our part to arrive and continue north after that.
As it happened my birthday landed on our overnight passage. So, we postponed it until Tuesday (3/17). Well, we are at Tuesday and the coronavirus pandemic is in full bloom complete with curfew, restaurant restrictions, social distancing – you know the drill. But it is not all bad because, thankfully, lots of folks have maintained their sense of humor through these difficult times. For example, Trevor Noah killed it when he said, "Tom Brady is leaving. The bars are closed on St Patrick's Day. Has anyone checked on Boston?" We will switch gears, too, and celebrate aboard. Chris made me pancakes for breakfast and the evening was a party a deux. It was Sudan Blow cocktails followed by loaded nachos – ah, you can never have too much cheese or too many refried beans. The Sudan Blow was created when we were boat bound in, well, Sudan and it is a keeper: 5 parts apple juice + 4 parts absolute pear vodka + shaken in an ice filled shaker = cheers!
Restrictions due to the coronavirus are ramping up in Florida as elsewhere. We have stayed aboard except to gather supplies. As is common for us – we strategize and plan meals with excitement. Tonight, we had a Hard Boiled Egg Curry atop cubed roasted potatoes (recipe below). I took some shortcuts with the recipe since I made it in Barefeet's galley. Apologies to Madhur Jaffery; however, it was delicious! No kidding – super amazing. And the curry sauce made a second appearance the next night on pizza as the sauce below the cheese – yum.
Our new heat exchanger has been delivered so into town we went (3/19). We started in the charming El Cid neighborhood at Hall Hardware for a brass bushing (water pump replacement of a plastic one – slow leak stopped) and NAPA Auto Parts for 2 gallons of transmission oil. Next was into downtown Palm Beach to the UPS Store. It is a bit spooky as we walk around due to virus nerves evident in everyone - polite wariness above a solid layer of compassion.
Let the heat exchanger replacement begin! One step at a time; drain salt water from the system, ratchets spin and click, grunts spewed, oh - love that a full length zinc fits without being cut in the new heat exchanger. Hhhmmm…looks like the old exchanger which requires the pencil zinc to be cut (shortened) bumped up against the tubes. This could have been the issue?! Out with the old and in with the new. A test run with the engine in neutral looks good so we are all systems go to move north tomorrow. Well done mechanic Chris!
We moved from West Palm Beach to St Augustine over five days. Each day was roughly 50 miles and 7 – 8 hours long. It was a gentle ride during the day along the ICW and calm nights in anchorages with never more than a couple of other boats. Our route took us from West Palm Beach to Jensen Beach to Melbourne to Mosquito Lagoon (no biting bugs) to Fort Matanzas to St Augustine. We passed ocean inlets like Jupiter Inlet with its picturesque lighthouse, spotted many critters (pelicans, osprey, dolphins, manatees and rays), swapped off driving in one hour increments, observed Coast Guard announcements transition from the Miami station to the Jacksonville station and eat familiar boat meals like ham and cheese filled crescent rolls for breakfast and spaghetti or chicken tikka masala for dinner.
Our time away from land has kept us more tranquil than most with the constant deluge of coronavirus warnings, confirmed cases, living restrictions, cleaning procedures and on and on. Our cruiser friends still in the Bahamas are experiencing similar information overload in addition to border closures across the Caribbean Island chain and threats of no pleasure craft movement of any kind. It is a strange time which can only be taken one day at a time.
Mosquito Lagoon was an anchorage all to ourselves shared only with the zillions of stars in the black night sky (3/22). It felt like our own private campsite. Further down the road - a bit of history was mixed in at the Fort Matanzas anchorage (3/23). The spot is a lovely river inlet between the ICW/Matanzas River and the Atlantic Ocean. Back in the days of pirates and colonization it was a place of strategic value to the Spanish who built a fort here in 1742 out of the common shellstone building material of the area called coquina. We shared the anchorage with a single other boat and dozens of frolicking dolphins.
Okay, time for a bit of boat focus. Transmission oil was again measured and actually diminished in quantity?! What?! Hhhmmm…we ran the engine at higher revs yesterday which seems to have reduced transmission oil. Still nothing in the bell housing or the bilges. This got Chris thinking that the only other place the oil could possibly go is into the stabilizer hydraulic tank (because the pump is run through the transmission). So, he checked the level in the hydraulic reservoir. Much higher!! He then got online and found that yes, some people have claimed that the oil has leaked from their transmission into their hydraulic pump. One claimed it went through the gasket that bolts the pump onto the back of the engine. Someone else claimed that it leaked through a seal around the shaft. Not quite sure what to do about it all yet - but Chris is pretty sure due to the higher oil level in the stabilizer tank that that is where the oil is going. Of course he mentioned that he was pretty sure about the heat exchanger too. At least this diagnosis does not lead to potential sea water in Barefeet's oil!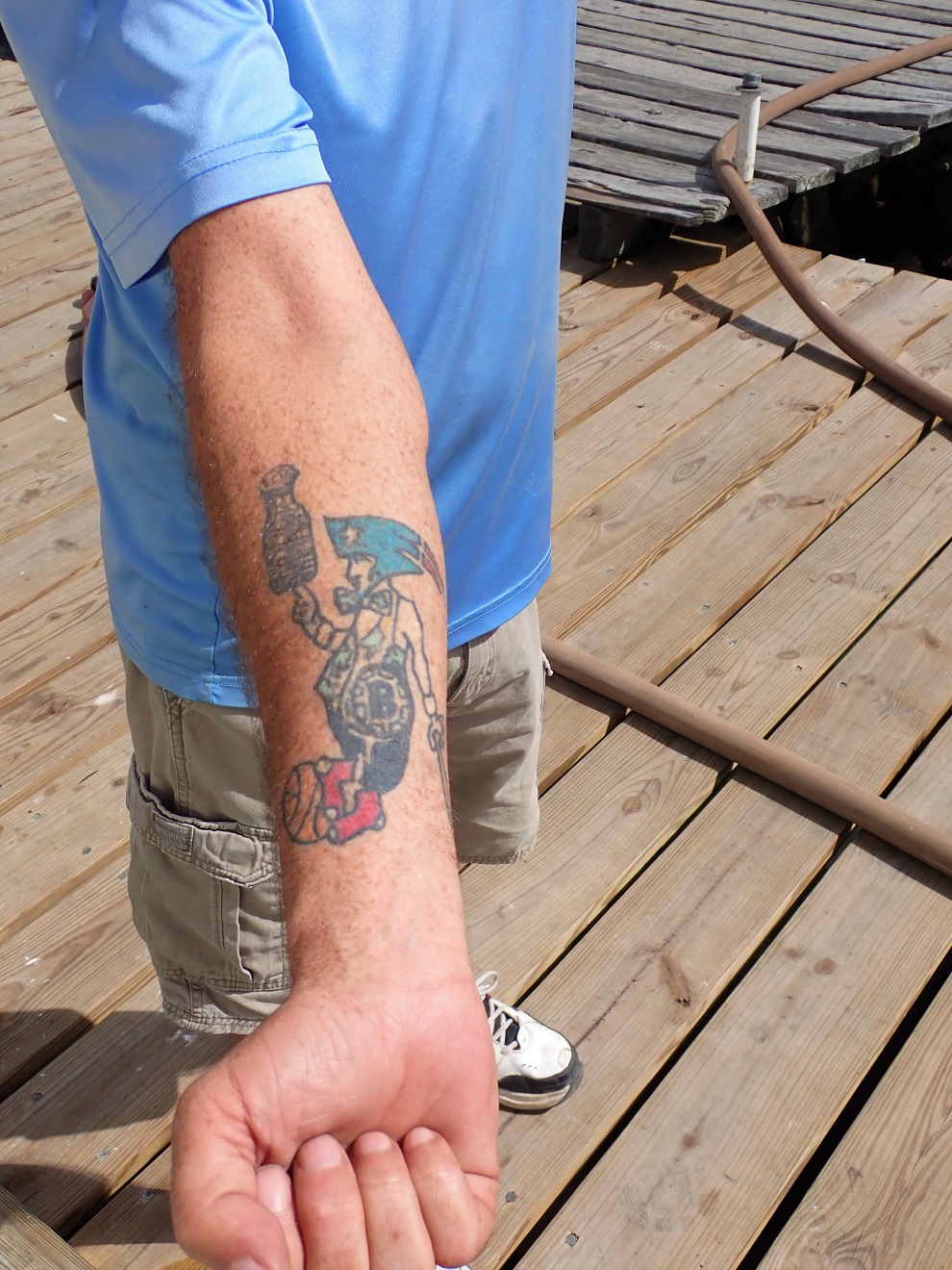 Arrival in St Augustine meant filled diesel tanks at Marine & Oil Supply ($2.75/gal). We took on 494 gallons and should be good for several months. Filling was fun as we chatted with a Boston transplant about roast beef subs, Brady leaving and how kids today do not appreciate scorpion bowls. He got a great tattoo to remember New England before leaving town – clever mash-up of all the sports teams. The Marine & Oil Supply commercial fisherman's outpost was a ghost town…but…it was open. Evidently the fishermen aren't getting orders because all the restaurants have closed and no one will buy their fish - no point in even going out. One guy said he got just 2 orders all day.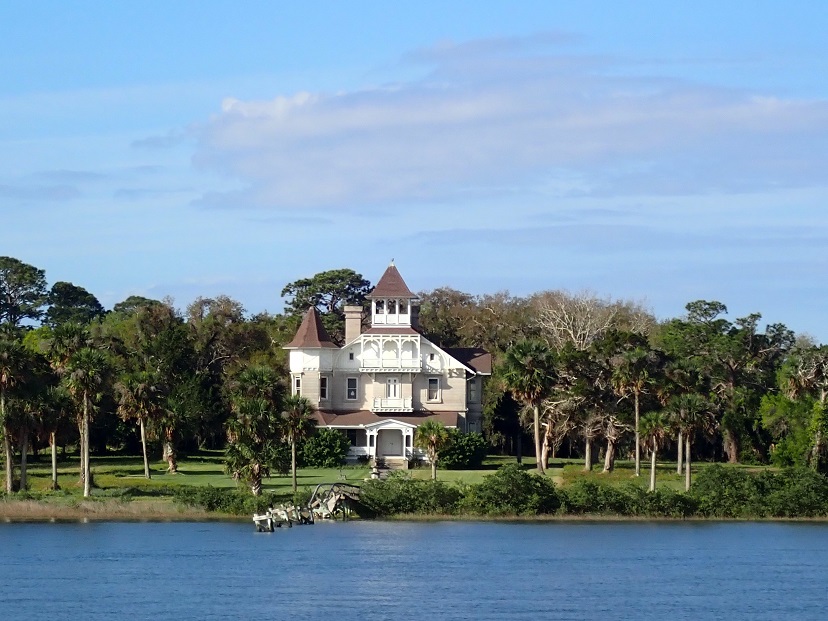 There are so many ripples from the coronavirus with unintended consequences that will take months or years to fully unwind and repair. Like everyone else we will take it one day at a time. As we plan our next couple of weeks and gather supplies we have tied to a mooring ball in St Augustine (3/24). We will 1) continue to focus on anchorages and avoid marinas/cities unless supplies are needed; 2) not hurry since temperatures get less warm north of Charleston and 3) choose nature's great everywhere over the interior of four walls in Boston. Tomorrow we will walk around the lovely historic town of St Augustine enjoying the sunshine (and avoiding people - that sounds strange).






Hard Boiled Egg Curry by Madhur Jaffrey (serves 2)
I used some short cuts since I made it in the boat kitchen – apologies Mrs Jaffrey
½ teaspoon cayenne
½ teaspoon ground turmeric
1 ½ teaspoons ground cumin
1 teaspoon ground coriander
1 teaspoon fresh lemon juice
¾ teaspoon salt
Freshly ground black pepper
2 Tablespoons veggie oil
5 Tablespoons onion, finely chopped
½ inch ginger, peeled and finely chopped
14.5oz can diced tomatoes
¼ teaspoon sugar
3 – 4 Tablespoons cilantro, chopped
4 hard boiled eggs, peeled and cut in half

· Combine cayenne, turmeric, ground cumin and coriander, lemon juice, salt, pepper and 1 Tablespoon water in a small bowl. Mix and set aside.

· Put oil in a medium skillet over medium heat. When oil is hot add onion and ginger then spices. Stir and cook for 15 seconds. Add tomato and sugar. Bring to a simmer.

· Cover and simmer gently for 10 minutes. Add cilantro, stir once or twice. Lay eggs in sauce and spoon sauce over them. Gently simmer, covered, 2 – 3 minutes. Serve over rice or roasted potatoes (recipe below).


Roasted Potatoes (Yotam Ottolenghi)
4 potatoes, peeled and cut into cubes
Salt
Pepper
Olive oil

· Place cubed potatoes in a bowl and cover with water. Sprinkle 2 teaspoons salt. Bring to boil. Reduce heat and simmer for 6 minutes until almost cooked but still have a bite.

· Drain and spread on oven tray lined with foil. Toss with 2 Tablespoons olive oil and sprinkle of salt and grind of pepper.

· Roast in 450 degree F oven for 35 minutes, stirring once or twice, until golden brown.