101 Wind Gods Hangin' Out in the Exumas: March 8 2020
Wikipedia lists 101 wind gods which span the globe geographically. Could they all be hangin' out in the Exumas right now?! We say yes. Per the spoiler alert at the end of the last log - off we went from Monument to Redshanks for better protection in upcoming wind shifts (2/26). Well, this latest change in plans unexpectedly lands us smack dab in the middle of the 40th Annual George Town Cruisers Regatta. Switch gears and let's go. Holt stepped in and immediately took us into his fold at Chat N Chill beach for sign-ups. We are in for the Poker Run, the Coconut Challenge and Beach Golf. Back across the harbor to Barefeet and we are stable and solid despite swirling winds. And Russ and Lori are coming over for dinner – nice to be in the same neighborhood. Yippee! Thanks, Jana, for the new recipe – Chicken Bacon Ranch Casserole (recipe below). It's flavorful, gooey and delicious…but not very photogenic.
The morning cruiser's net at 8am on VHF72 keeps us up to speed on harbor happenings. Morning storms passed through but the Poker Run is still a go (2/27). Our dinghy of four was Holt, Nicki, Chris and me. It was a hoot! From 11am to 4pm 52 dinghies zipped around to six bars to pick up a playing card at each in the hopes of assembling a winning poker hand. Each bar had a drink special and a food special; Twin Turtles, Peace & Plenty, Jerk Shack teamed with Daiquiri Shack, Choppy Waters, Rusty Anchor and Peace & Plenty Beach Club. There were frozen mango daiquiris, rum punches, pepperoni pizza, jerk plate (ribs & chicken dripping in sauce with mac & cheese), nibbles plate (conch fritters, fried shrimp and chicken wings artfully drizzled with sauce). It was a festive day with tons of laughs. Nah, we did not win but that's just fine. We were pooped at the end; however, Chris rallied and played poker at St Francis…coming in second and making the dark dinghy ride home across the harbour.
Drat – we seem to have picked up a cold in tandem so we laid low and chuckled at my sexy Marlene Dietrich voice. R&R was necessary because next on our Regatta dance card was the Coconut Challenge (2/29). The what?! This sign-up required a bit more arm twisting by Holt but we eventually relented and we were glad that we did. Our team was Holt, Scott, Chris and me – Team Agandau. This is how the two part challenge works: Part 1 – the collection…four people, one dinghy (engine removed) and two flippers paddle furiously to collect as many floating coconuts as possible into the dinghy (1700 coconuts were dropped into the small bay). Then madly paddle dinghy and four people back to shore for a coconut count (we got 113). Part 2 - the toss...one person throws backwards (Scott), one person feeds coconuts to the tosser (Erin), two helmeted people catch the thrown coconuts in a garbage bag (Chris and Holt) (we caught 23). Scores were merged and winners named. Holy guacamole – we came in 2nd place!! Whoop whoop! It was a bottle of wine and a 2nd place flag for each of us. This is Barefeet's first Regatta flag evah!
The protected Redshanks anchorage understandably filled up, raucous winds arrived and boats were calm. Plus, cruisers find a way to enjoy it all. Tonight was sundowners at the Redshanks Yachting and Tennis Club (aka the beach at low tide). It's self-park, BYOB and bring a nibble to share if you like (3/1).
Next up was Beach Golf on the flats below the monument (3/3). We are getting into the Regatta swirl and having fun. I brought a batch of oatmeal chocolate chip cookies to share and the 242 Liquor Store's beer tent kept folks hydrated…and sold out of inventory. Over 100 golfers were set off in foursomes every 10 minutes to make their way through the nine hole course created by Frank (and Rose) on m/v Local Knowledge. There were a few more hazards this year so bring your flip flops. Everyone is provided with equipment (by Frank); one club, four balls, eight tees, one pencil and one scorecard. Rules are minimal; all shots use a tee, the girls tee from the Queen (conch) line, the boys tee from the (coco) nuts line and both stop counting strokes at 7. We were paired with s/v Off the Hook (Annette and Steve) and had a blast. Hey, Steve even came in 3rd overall for men. Well done! Beach golf wrapped up and we headed over to Chat N Chill to read in the shade until poker registration in the afternoon. Renaldo was busy making conch salad at the shoreline, rays floated through the shallows and pick-up volleyball games were a combination of laughter, grunts and spumes of sand. Chris did not place at poker this time but the ride home with two of us in the dinghy was much easier than one person alone.
Hhhhmmm…we woke up this morning and the wind gods said what?! Okay, seasonal wind patterns have been windy for 5 – 7 days (or more) then a front barrels through. Ahead of the front are milder winds for 1 – 2 days. Plenty of life long islanders have said this is the windiest winter they have seen in 40+ years. All that backdrop plus current weather forecasts mixed together led us to decide to scoot north TOMORROW to Staniel and tuck in for the next front. We have decided not to continue further south and to wrap up our time in the Bahamas in the hopes of having more time in the Chesapeake later. Only time will tell if this pans out over the next couple of months. We made a final run into town for a haircut for Chris, trash disposal ($2 for a small bag, $3 for a large bag) and a peek inside the supermarket (3/4). Hey, they've got artichokes – dinner menu is made. We'll have steamed artichokes dipped in butter and lemon, grilled steaks and baked potatoes.
Our plan is in motion so let's get moving. Anchor up at 6am and we soaked in the George Town vibe one last time as we slowly slid past the Elizabeth Harbour anchorages and out Conch Cay Cut (3/5). We would have liked a bit more time with new and old friends but Mother Nature is never biddable. It was a smooth ride north with loads of other boaters also on the move – headed both north and south. Back into the Bahama Banks at Galliot Cut was no drama – love that. At 2.30pm we arrived at the Big Majors anchorage at Staniel Cay where we nuzzled as close as possible to the northern shore (for the most protection during the next front). A quick swim off the boat was perfect in the hotter temps due to warm southern winds. Now it's time for a burger in paradise at the Staniel Cay Yacht Club. Carl is still behind the bar and the laid-back vibe endures. Making a slow dinghy ride home through the anchorage we checked out the beach pigs (looking a bit too inbred and quite indifferent to swimming) and spotted former Monument anchorage neighbors s/v Mahina. Hey guys – we'd love to come aboard for a cocktail. Cheers.
The seasonal weather pattern we mentioned earlier has us currently in the mild wind portion of the cycle so it is time to play before we are boat bound by high winds. We dinghied to familiar Pipe Cay at low tide (3/6). Wow – it just never disappoints. There are countless shades of blue woven through the water and the sky, blinding white sand soft under foot and not another soul on the beach. We are very lucky. Back aboard we policed outdoor items ahead of the winds tonight and made a chicken stir fry with Diana's tangy tahini sauce for dinner (recipe below – thanks Diana). The front passed through as expected in the wee, dark hours of the night and scoured the boat with a fresh water rinse. Boats rotated without issue and have now settled for the days of 25 – 30 knot strong winds from the north/northeast.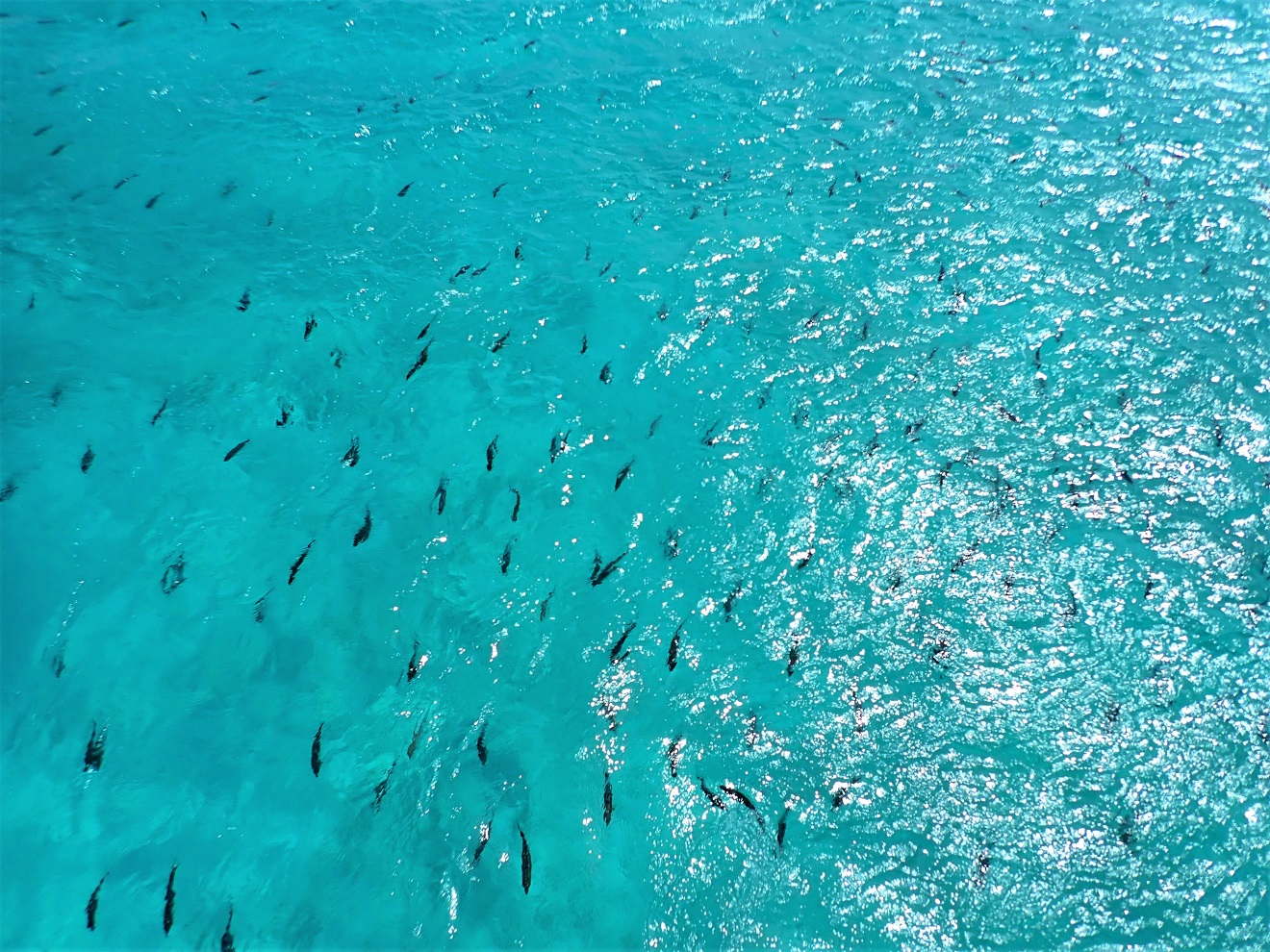 The sun is brightly shining but winds are strong (3/7). Time for chores on the boat; two loads of laundry, make water, sharpen kitchen knives…so it goes. Also, freezer consolidation happened which has Chris doing the happy dance. One less freezer drawing power is marvelous for Barefeet's overall energy budget. The day clicks along and the winds do not dip or stumble. It seems the happiest person in the anchorage is the kite surfer. Well, it looks to be windier tomorrow…and even windier the day after that?! Really?! That said – this is truly one of our favorite places on the planet. And Mother Nature always keeps it interesting…like this school of fish that swarmed the boat. What are they doing?! We'll ponder that and sit tight until the winds mellow for continued movement north.

Chicken Bacon Ranch Casserole (Jana and WholesomeYum.com) serves 8
2 lbs chicken breasts, cooked and cubed or shredded
8 slices of bacon, cooked and crumbled
3 cloves garlic, minced
¾ cup Ranch dressing
1 cup mozzarella cheese, shredded
1 cup cheddar cheese, shredded
1 lb frozen spinach or 4 cups broccoli (cut into florets)
· Preheat oven to 375 degrees F.
· If using frozen spinach – thaw and squeeze to drain first. If using broccoli – place in a pot of water and bring to a boil. Simmer 1 – 2 minutes until bright green. Drain.
· Combine chicken, bacon, grained spinach or broccoli, garlic, ranch dressing and half of shredded cheeses in a bowl. Stir until well incorporated. Transfer to a greased 9x13 casserole dish.
· Top with remaining cheeses.
· Bake until bubbly (approximately 15 minutes).
Diana's Tangy Tahini Dressing
2 cloves garlic, minced
4 Tablespoons tahini
¼ cup maple syrup
Juice of 1 lemon
¼ cup soy sauce
Pinch cayenne
1 ½ inch piece ginger, peeled and minced
· Combine all ingredients (whir in food processor if you have one). Set aside.
· Cook chicken pieces, if using. Set aside.
· Steam veggies of choice.
· Combine back in pot – veggies, chicken and tahini sauce. Cook together for a few minutes.
· Serve atop rice or pasta.