Work and Play in Key West: April 17, 2019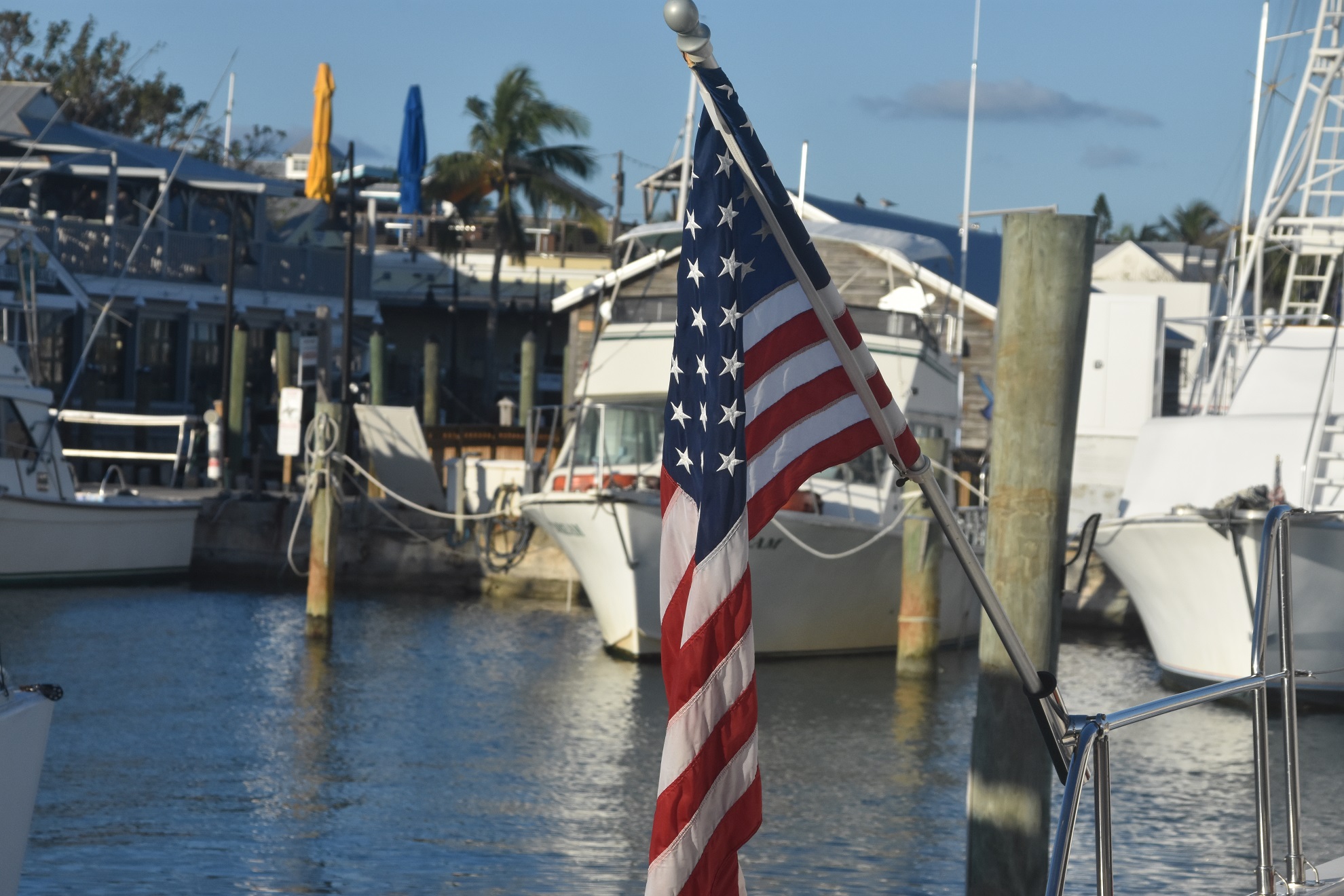 We are back in the USA and headed to Key West. Historically, we have spent a week or two (or seven) in boat yards at the end of a cruising season to sort out all that got out of whack…as well as to get Barefeet closer to our goal of what we want her to be. Thankfully, we are at the end of those mega-long lists which means our needs are simpler. This time around we will be in Key West tied to a dock working on boat projects by day and relaxing in the neighborhood by night. This beats hands-down the commercial yards in Fort Lauderdale, etc. No offense Lauderdale but climbing a ladder in a parking lot of an industrial boat yard has less of a rosy glow than the mellow vibes of Key West dripping with bougainvillea and jasmine. We look forward to the change.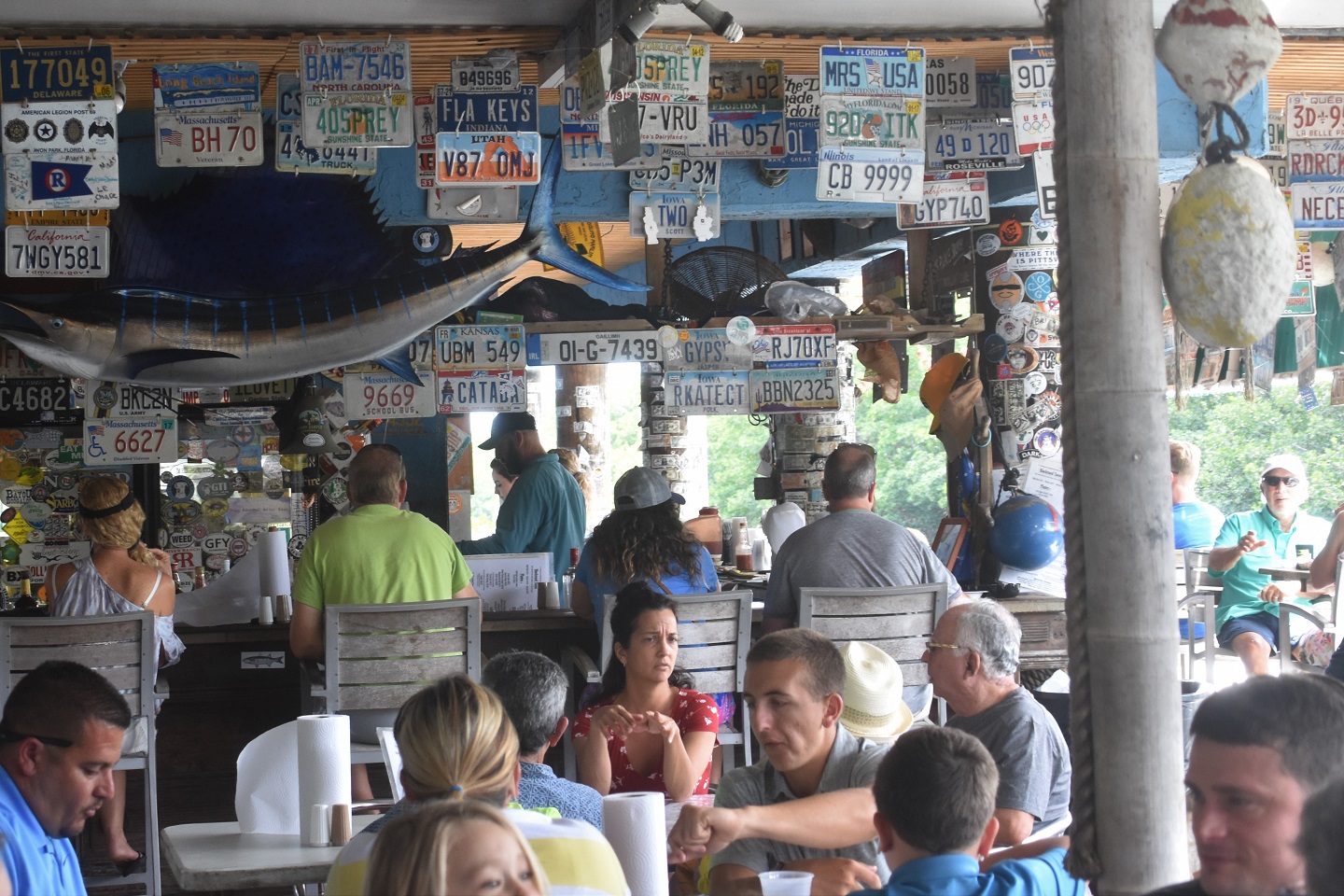 Our marina reservations were made a year ago for a slip at Key West Bight Marina so picking a date was like throwing a dart at the calendar. That said – we are on-track and simply need to get from Miami to Key West in about one week. Sounds good but DO NOT leave Mother Nature out of the equation. We ambled to Little Card Sound and strategized from there after our celebration at Alabama Jack's. We have three options: 1) ICW inland route, 2) Hawk Channel outside route with moderate protection and 3) Atlantic Ocean route – the outside, outside route. The ICW is least dependent on weather so we put it at the top of our travel list. However, depth is an issue on the ICW. We spoke with everyone who would listen about getting our 5.5ft draft Barefeet from Little Card Sound to Marathon on the ICW; Active Captain online reviews, cruiser gurus Bill and Louise (s/v Andelen), Key Largo Boat US captain…you name it. Our call to Boat US responded that they tell people with a 6ft draft not to do the ICW but we would probably be okay at 5.5ft if we stuck to the channel. We decided to give it a go and hoped we would not need to make a second call to Boat US.
Over two days we made the trip from Little Card Sound to Bahia Honda on the ICW, roughly 70 miles. It was a fun change of scenery with patches of waterway lined with mangroves ashore and cranes flying overhead. Winds blew offshore in the upper teens but we never had more than a mild chop in the inland waterway. Our first night was spent anchored in Sunset Cove of Buttonwood Sound off of Key Largo (4/8). Since cleaning an anchor buried in mud is more work than one buried in Bahamian sand – the salt water deck wash hose is a lifesaver.
Day #2 we had the anchor up at 7am for an 8.5hr run to our Bahia Honda hidey hole. Following is what we saw on our depth meter. The ICW route south generally showed depths of 7ft+ but there were several points in the low 6ft range. Then it got really shallow between R78 and R84 (Cotton Key Basin/Cowpens area) when we saw 5'7" several times...at low tide…a mere two inches under Barefeet's keel. Gulp. We started breathing easier at Lignumvitae Basin and beyond but depth challenges were replaced with scrambling to dodge crab pots. Our call to Boat US had their info dead on. Thanks for the local knowledge.
As we neared Marathon we gave the mooring field a phone call just in case space had opened up. Nope, no big boat moorings were available so we kept going to our hidey hole just north of Little Pine Key. And yes - just as we were anchoring a large squall barreled through...gggrrr. It took us three drops to set the anchor but we were well stuck on the third try. Conditions made our adrenaline flow with black skies, strong winds and loads of grass islands floating past waiting to clog and immediately stop any intake possible; engine, bow thrusters, you name it (but that did not happen - phew). Our nerves were still rattled and a bit shaky as we set an anchor alarm app on the phone for an added back-up. Alarm, alarm, alarm – anchor app or something else?! Something else - the VHF sounded a weather alert (no shit Sherlock). Too many alarms blaring and the rain pelting down challenged our ability to focus. We have anchored in this place before (even in 40kt white out conditions when we held firmly) which has us confident in our location choice so we just need to move forward one step at a time. Slowly, we worked through each alarm and secured the boat for the night. As the afternoon went on the storms mellowed and we relaxed with showers followed by a hamburger and jalapeno pizza on the top deck. Our floor show was the stormy sky – better than when we anchored but still pretty ominous.
The morning dawned quiet and calm with the only evidence of the craziness from yesterday's anchoring melee the remaining grass piled around the anchor windlass where it looked like a river monster had climbed aboard…and this amount was after the scouring rain showers subsided. We are the only ones here which is peaceful. The nearby small, uninhabited islands look like they are still recovering from the most recent hurricane with only patches of green vegetation. Time to check the engine's raw water strainer for grass (it's a Keys thing). Yep, plenty to clean out.
Storms have subsided and the morning dawned not just calm, like yesterday. but positively still (4/11). Perfect traveling conditions. Off we went out the Bahia Honda channel and under the twenty foot bridge into the Hawk Channel. The bridges were a cool image in the soft morning light…old Highway 1 beside new Highway 1. The old bridge has a gap cut into it but the new bridge does not (hence the 20ft limitation). The Hawk Channel depth is in the twenty foot range so there is little to think about as we head to Key West. As we passed Cudjoe Key it was easy to spot Fat Albert floating in the sky. Fat Albert is a 6,500 pound tethered blimp that single handedly stopped drug smuggling on a dime through Key West over thirty years ago by detecting boats and planes up to 150 miles off the Florida coast.
Once in Key West we picked up a mooring ball…with the help of neighbor s/v Journey who was in his dinghy when we pulled in – thanks Don…even in calm conditions it's nice to have an extra hand. We showered and headed into town to check-in with the Garrison Bight Marina Office for ball C32. The mooring field is first come, first served – no reservations. And at $19.82/night it is a good deal that includes; trash, laundry machines, secure dinghy dock and wifi at the office (https://www.cityofkeywest-fl.gov/department/division.php?structureid=122). We rounded out the afternoon with tuna nachos and live music at gravel floored, open air Schooner Wharf where chicks peep and poke under barstools under the watchful eyes of roosters and hens. We are glad to be back in Key West.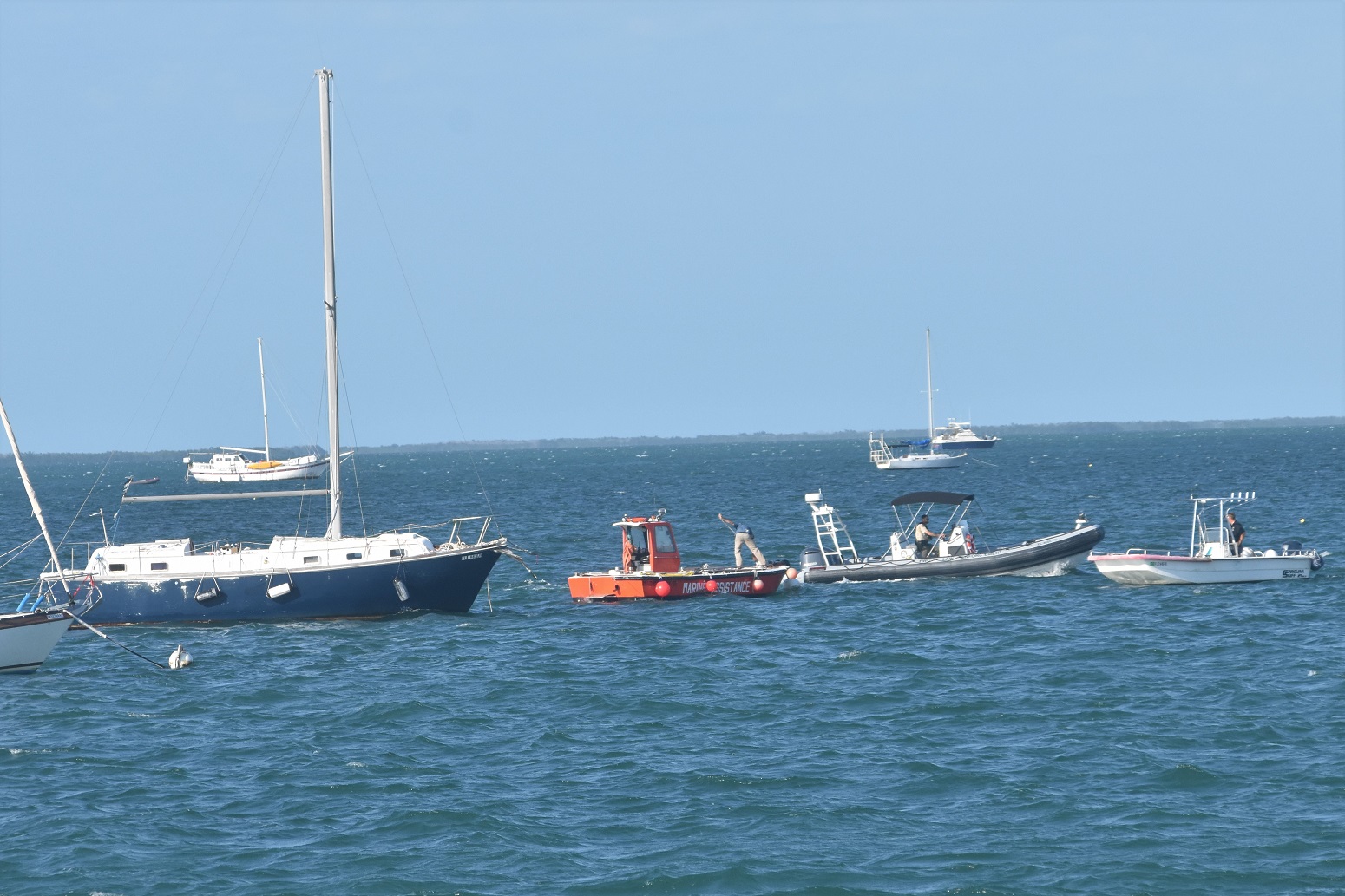 Key West is not your average island paradise. Sure, it's a tropical island (7 square miles) with palm trees waving and the scent of the sea in the air but there is no protected cove to while away lazy afternoons at anchor and "beach" is a postage stamp swath of sand at the far edge of town. What Key West does exude is humor and fun through bars and restaurants squashed cheek to jowl with names like Tattoos & Scars, Dirty Pig, The Glitch and Sloppy Joe's. There are pirates and parrots, rum and limes, music and seafood and the feeling that smuggling and wrecking is not as distant a memory as you might think. The mooring field is bumpy (especially in northerlies when it is nearly impossible to dinghy ashore) and the anchorage has winds AND a strong current. From both the mooring field and the anchorage boats routinely go on walk about. Take our neighbors Don and Barb (s/v Journey), for example, whose mooring line chafed through in the middle of a stormy, January night that washed them aground (in the end all was okay as the tide came up but it's a heck of a way to start an inaugural cruising season). Or the un-manned boat AND mooring ball that floated away during sundowners (4/13). We called the coast guard on the VHF, the boat narrowly missed Don and Barb and marine services came to re-attach the boat to a mooring. The seas here are raucous and unforgiving which seems to encourage having fun whenever you can take it and with as much abandon as you dare.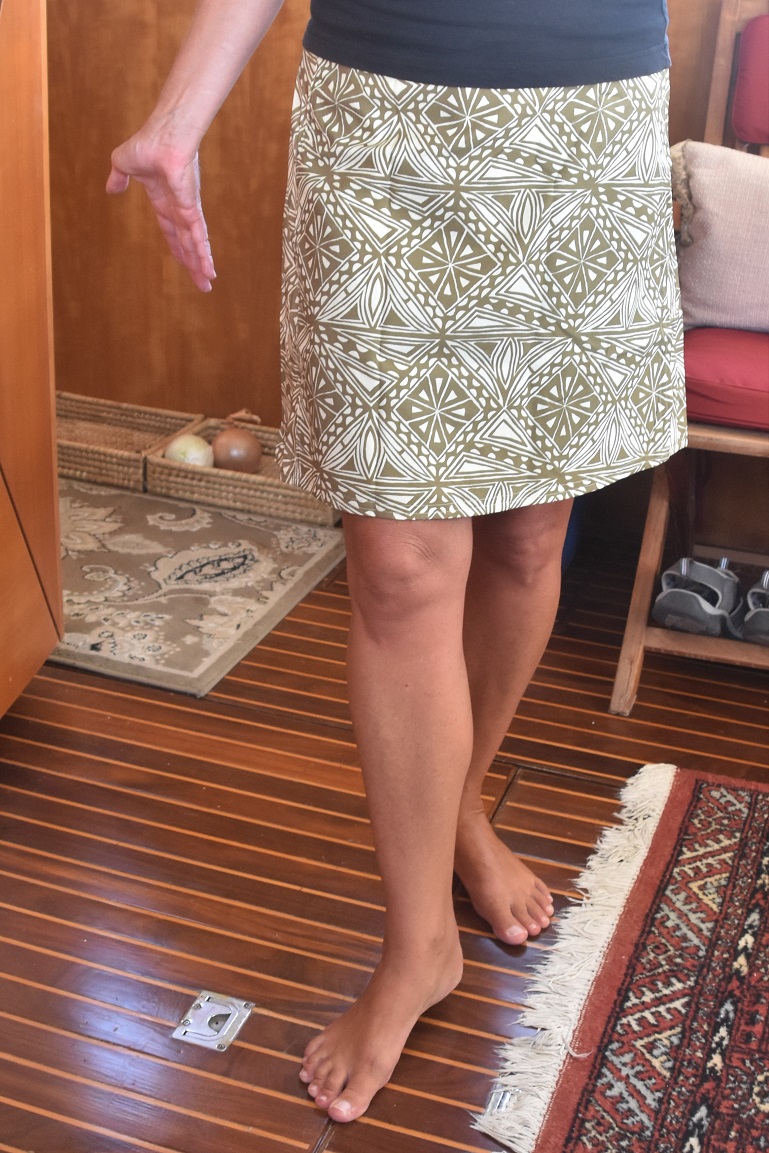 The rowdy and unpredictable sea conditions made us happy to move into our slip at Key West Bight Marina a few days early (4/14). It has been about four months since we have been at a dock which makes this work platform a wonderful novelty for walks to town for fun, too. Being at the marina also means that we have a mailing address. I got a great new skirt (https://ripskirthawaii.com/) and Chris got boat parts. The skirt is lightweight, quick dry, easy to move in and brightly colored (thanks for the sleuthing Kim). Boat parts were…well…boat parts.

It's Sunday so boat stores and mechanics are shuttered. We tied up, cleaned up and got settled. Dinner was at the newly opened Dirty Pig – literally open for less than a week. It is a bbq joint run by brothers Dan (pit master) and Ben (Key West DJ for 29 years with loads of music connections for nightly live music) and Dan's wife Kim (professional baker who makes all the homemade desserts). What a team! Oops, and of course Sweet Melissa – the 5,000lb smoker. She is super impressive and is lovingly stoked 24/7. We had ribs and smoked pork tenderloin and potato salad and mac & cheese and smoked baked beans…and a mile high carrot cake. Great musicians Bill Blue and Larry Baeder came on at 7pm. It was a fun and delicious night. Kim and Dan are in the photo in front of Sweet Melissa.

It's Monday morning and we are off and running (4/15). We removed the hydraulic crane bit that needs to be replaced and delivered it to Bone Island Welding in Big Coppitt Key – fingers crossed that they can get it working again minus the leaking. I dropped a few things off with Joanne at The Seam Shoppe for alterations which will be ready in a few days – awesome (https://www.tropicalfabricsonline.com/). Plus, it is wonderful to wander the lovely streets of Key West for daily errands – Frances Street is a favorite of mine. Since we are back in Key West we haves fish on our minds…Mahi in coconut sauce sounds perfect (recipe below). It's delicate and creamy and delicious.

We made an early morning walk to Glazed for some donuts for the Marina Staff (and for us). Yippee! They are back to off the charts amazing…after a so-so experience last year. I had an apple fritter and Chris had a pina colada and a glazed. We kept working through our project list full steam ahead (4/16). I cleaned every wall, door, window and interior surface with a vinegar/water solution. Chris installed a new house water accumulator/expansion tank; the small space of choice was the back lazarette. And while the water heater was empty Chris also changed the hot water heater tank's zinc and added a drain valve (making tank emptying simpler in the future). The zinc is probably okay but by changing it now we should be good to go for another five years. We wrapped up early afternoon with plenty of time to get a little dressed up and head to Sarabeth's for dinner (http://sarabethskeywest.com/). After a hot day of work (even my knee caps are tired) we sat inside…and had the whole restaurant interior to ourselves. Everyone else opted for the patio draped with flowering plants. Maybe next time. Dinner was delicious, slow paced and perfect (thanks for the tip Micky and Caroline). On the walk home we stumbled upon a garden corner that was truly magical.

Fueled with avocado toast on multigrain bread from Old Town Bakery we continued busily crossing items off our lists (http://oldtownbakerykeywest.com/). Chris reconfigured the house water pump and filter configuration. Yikes, who knew a humble piece of plywood could be transformed into a display of such space-saving organizational majesty?! A couple of hoses will be shortened (soon) when fittings are purchased. I cleaned and polished the stainless around the windows on the starboard side of the boat (the side beside the dock) and scoured the dinghy. Phew! Just about done when Barb and Don stopped by for a visit. It was great to have a break to tell some lies and share boat project war stories before they were off to Happy Hour and we completed tasks. All wrapped up and we slowly dragged ourselves to Half Shell Raw Bar. We were pooped! But this spurt of boat work has us well positioned for the remainder of our stay in Key West so that fun is better integrated with work.






Snapper with Coconut Sauce (serves 4)
(Josh Nicklaus, Captain - Key West Commercial Fisherman's Cookbook)
4 lg snapper fillets
1 lime, juiced
2 Tablespoons olive oil
3 cloves garlic, minced
1 medium onion, julienned
1 stalk celery, julienned
1 Tablespoon tomato paste
2 cans coconut milk
1 chicken boullion cube
2 bay leaves
1 tomato, julienned
2 cups cooked white rice

Cook rice according to directions.
Sprinkle filets with lime juice.
In a large, deep skillet heat oil on medium. Stir in garlic, onion, celery and cook for 10 minutes, stirring often.
Stir in tomato paste and cook 2 minutes.
Stir in coconut milk, boullion and bay leaves.
Bring to boil and simmer on low for 10 minutes, stirring occasionally.
Stir in tomato slices. Add fillets, gently pushing into sauce.
Simmer for 5 minutes or until fish is cooked and flakes easily with a fork.
Place cooked rice on plate with fillets on top. Ladle sauce over fillets. Serve.