Civilized Pace of Work and Play Continues in Key West: May 2, 2019
We have just one slip move to make before we will be settled for a few weeks in the same spot in Key West (4/18). Thanks Key West Bight Marina for squeezing us in a few days ahead of schedule. We made the move in the early morning before the wind piped up…and even before coffee?! The move has us tied in slip A14 on the port side which is why I scampered to get the starboard side stainless cleaned and polished before the slip switch (previous slip A9 was a starboard side tie). After coffee we settled into a few small boat projects. Chris replaced the old, corroded drain valve on the forward water tank with a shiny new one. I wiped down the stern lazarette containers and chucked a few old items no longer needed.
They say that a watched pot never boils and that is how we feel as the final few hours tick down before friends from Boston arrive for a visit. We tidied up a bit (it is positively decadent to have a huge trash bin within short walking distance of the boat), walked on and off the boat willy nilly and picked up the alteration items from the Seam Shoppe. Yippee – Lino and Phyllis have arrived! Off we went to the Green Parrot for live music a la Bill Blue at Sound Check at 5.30pm (4/19). As usual, the crowd spilled out onto the sidewalk and the popcorn machine perfumed the air.
Lino and Phyllis are part of our frequent-flyer-program so we all quickly slid into an easy routine. We had breakfasts at Harpoon Harry's and the Old Town Bakery, relaxed and read, had drinks at Tattoos & Scars (check out their crazy cool mural), listened to live music at Schooner Wharf and had dinners at Mangia Mangia (amazing homemade pasta and sauce), Chris' pizza aboard and B.O.'s Fish Wagon (burgers and onion rings to die for). And don't forget oysters and buffalo shrimp at Happy Hour at Half Shell Raw Bar. Heck, even we feel like we are on vacation with boat projects placed on hold.
Weather has been low humidity and positively divine – I have even had a fleece on in the mornings. Easy walks around town have all of us oogling the cozy cottages, lovely Victorians and lush gardens…all with a touch of whimsy. It has also been no problem to catch the Bruins hockey playoff games. Island Dogs is a Boston sports bar hangout and their hot dog was, indeed, delicious...with great street side seating for fun people watching between periods (https://www.islanddogsbar.com/). Time is never long enough with these guys and we are already having our last dinner together. Tonight, it is Sarabeth's on the shaded garden patio that explodes with colorful blooming flowers (4/24). Goodbyes were quick because we will all be back in Boston in about a month or so for more shenanigans.
Our friends are off and we are back to integrating boat projects into the frivolity that is Key West. Chris finished the water system reconfiguration with the shipped and received parts…and a visit to the Cubanos Marine Hardware across the street (4/25). I cleaned and polished the port side stainless around the windows (4/26). The windows are not a monumental task but they are the trickiest and most time consuming stainless section on the boat. The reason for this is that water cannot be sprayed to rinse with abandon otherwise the interior (mainly the master and guest beds) would be drenched. It is a lot of inside then outside then inside repeated over and over. We have settled on Starbrite products for the job but it is a measured decision. We are careful with abrasive cleaners that run onto lovely paint as rust stains are wiped away. The process goes like this: screens are removed and rinsed of salt, gloved hands apply and rub (and rub and rub) away rust stains with the cleaner, fresh water rinses away the cleaner (by hand on the inside with a bowl/rag and with the hose on the exterior hull all the way down to the water line), vinegar and water solution does a final clean of the stainless and (once dry) polish is applied and buffed away to discourage rust from attaching again. Finally, Chris ordered engine replacement hoses via sent photos, emails and telephone chats – there are 17 hoses in all so that will be a big job. Temperatures have turned hot and humid which has us cooling off inside with the AC between parts runs and project breaks.
Our visit to Key West has us overlapping with the Conch Republic Independence Celebrations. Honest, it's a thing. There is a week long celebration of sea battle re-enactments, a parade, a Pirate's Ball, sailing races and on and on…each with its own award ceremony where the rum flows and the music plays well into the wee hours. It might seem a bit tongue-in-cheek but the events are rooted in real events that caused great frustrations and genuine concerns for the Conch Republic (defined as Monroe County – the islands of the Florida Keys and a portion of the Everglades on the mainland...of which Key West is the Republic's capital). The first event was in 1982 when the US Border Patrol put up road blocks to search every vehicle for narcotics and illegal immigrants. At the time there was only one airline flying into Key West which had the bulk of tourists arriving in Miami and driving on the single-lane highway into Key West or paying elevated airline ticket prices. When City Council complaints went unanswered the Mayor proclaimed Key West's Independence (April 23, 1982), declared war on the USA, quickly surrendered after one minute and promptly applied for $1 billion in foreign aid. The second event was in 1995 when the Army Reserve conducted a mock island invasion but did not notify Key West officials or any citizenry. Subsequently, the (same) Mayor sent a schooner out to attack an incoming Coast Guard Cutter with water balloons, conch fritters and stale Cuban bread. The Coast Guard responded with their fire hoses which quickly ended the battle. Mayor Wardlow certainly had an eye for the dramatic with a touch of brazen humor. Today, the events are remembered mostly as a tourism boost with clever t-shirts emblazoned with the slogan, "We seceded where others failed." And the "Sovereign State of Mind" seeks to bring more "Humor, Warmth and Respect" to a world in sore need of all three (according to the Republic's late Secretary General, Peter Anderson). Happy Conch Independence! Wow - the sea battle re-enactment comprised of biplanes, the Coast Guard and the Conch Navy (with heavy duty water pumps on deck for battle accuracy) was given extra drama this year with strong winds and a fiery sunset (4/26).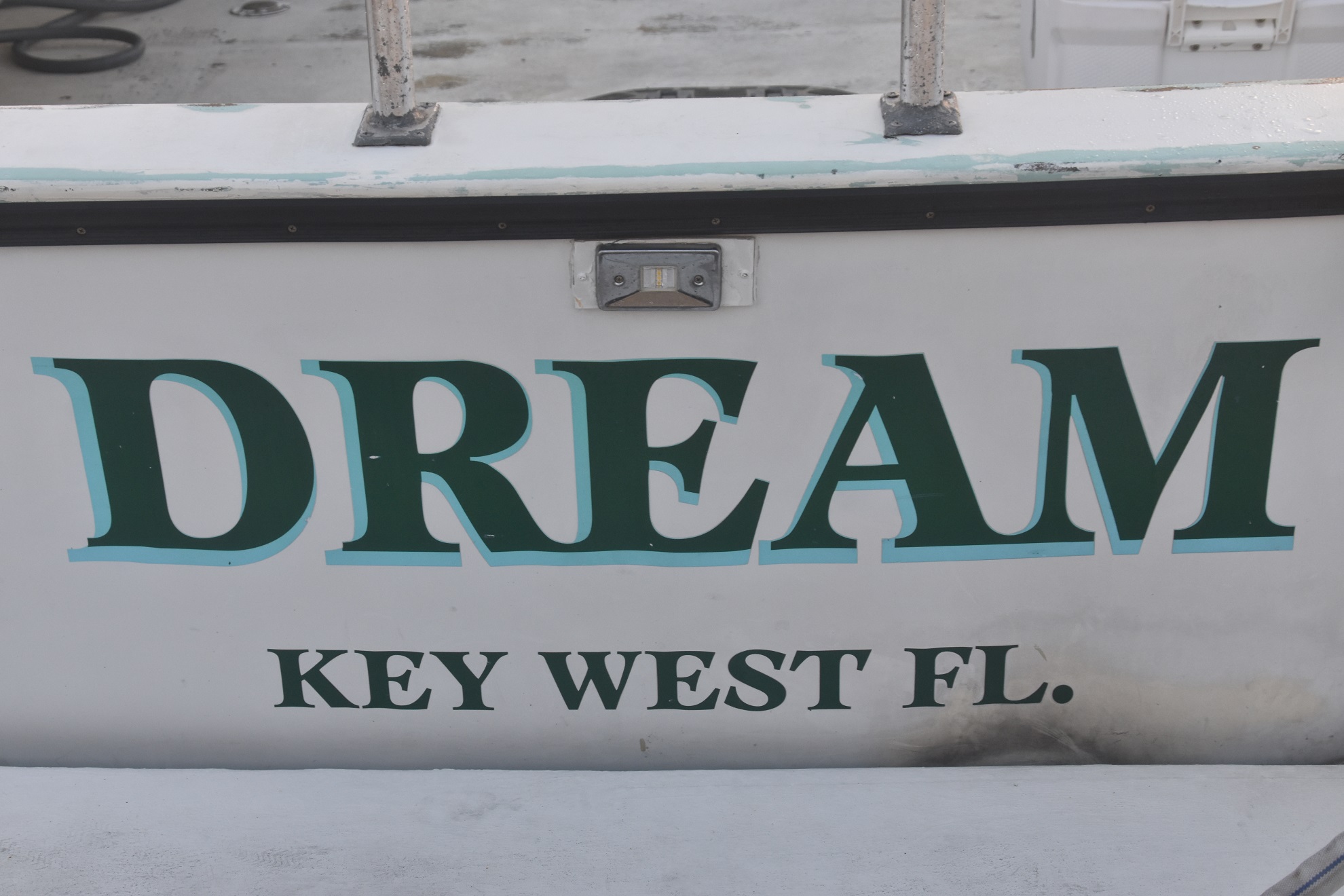 Keeping to our bit of boat work mixed with a bit of fun Chris changed out the generator's zinc and the wing engine's fuel filter (pristine fuel means maintenance is on schedule). In the meantime, I boxed up beach treasures for transport to Boston, made a supermarket run and checked on the water levels at Lake Okeechobee (4/27). We always have one eye on present weather and one eye on conditions for our next hop. Our initial plan was to return north to Stuart via Fort Myers and the Okeechobee Waterway. However, due to dry, hot conditions it looks like water levels will be too low on the Lake for us to pass. We are looking at the water level reported by the Army Corps of Engineers and need to see no less than 11.4 feet – that depth is measured "above sea level" and translates to a route depth that would allow us to cross the lake (http://w3.saj.usace.army.mil/h2o/currentLL.shtml). Okay, so be it. Not to worry because there are options and we will likely re-route to Stuart via the east coast of Florida past Marathon, Miami, etc. Phew - glad to know this before we went toward Fort Myers and had to back track.
Now it's time for some fun in the form of dinner and a show. For dinner, we got out the grill for some cumin rubbed pork tenderloin with guacamole salsa and Spanish rice (recipe below). It was flavorful deliciousness! The show was a Nashville songwriters "in the round" with Ron Hatch, Justin Wilson and Paul Jenkins at the Key West Theater. Holy cow – we were in the second row…and there is drink service to the seats. It was like hanging out chatting in a friend's basement or family room learning how chart topping hits came to be such as "I Don't Dance," "Later On," "Life Ain't Fair," "Don't You Wanna Stay" and many more. The songwriters perched on stools with guitars on their laps and drink stools within easy reach. Each songwriter was funny, down to earth and (obviously) very talented.
Next up – the windlass, anchor chain and anchor (4/28). We dropped all of the chain into the harbor (since we are tied to the dock) in order to empty the chain locker for cleaning. The rust was removed, grass/dirt/debris cleaned and we were onto the windlass. Okay, lubricate bolts, re-grease and re-paint. What?! Where did that one dark (wet) cloud come from as soon as the primer was applied where the chain stripper touches the windlass?! Yes, a spot where aluminum touches stainless steel so corrosion needs to be managed and minimized. A make-shift cover seems to have worked for time to pass while one coat of primer and two coats of paint dry. All we can do now is wait so we wandered to Sloppy Joe's. The original beginning of Sloppy Joe's was in 1933 when Prohibition was repealed; however, it was around before that as an illegal speakeasy operated by and for Key Westers who viewed Prohibition as nothing more than an "amusing governmental exercise." The current bar is one large room with twenty-foot ceilings smack on the corner of Duval and Greene Streets. The raw size of the open room is immense…think high school gym. This massive size makes the place feel more like a village square with a roof rather than a neighborhood bar. And the actions of the patrons reinforce this vibe; an entire wedding party in full length gowns and regalia fit compactly at a few tables to the side and a reunion of friends flowed smoothly with more and more arrivals but was barely noticed beside the live music being performed on stage. You just never know what might happen at Sloppy Joe's.
Our projects continued, live music flowed and errands took us meandering along quiet neighborhood streets. The propane tank was re-filled at Suburban Propane on Catherine Street, more supplies were gathered from mail-order, Los Cubanos and Ace Hardware and ice cream capped off the day at Flamingo Crossing. The forward water tank was cleaned, the windlass re-assembled with anchor and chain stowed and we tandem cleaned below tip top roof solar panels (wow - quite a 360 degree view if you can stomach the wobble). Plus, I am super lucky! Julie of Julie Pischke Needlework got me sorted out for another needlework project. I love it! Julie's designs are colorful, tropical and fun (http://www.juliepischke.com/). We will enjoy another tid bit of Key West in Boston (yes, we did get a disco ball for the guest bathroom and the gecko needlework doorstop is a great splash of color).
There does not seem to be a single soul in Key West that is one dimensional. There is the Sebago Watersports guy who mans the kiosk under an umbrella…who previously made global boat deliveries for decades. Or the shoeless vagrant on the park bench who gleefully put money in the fish food dispenser to show a tourist kid about feeding the fish. Or the electrician who wrote a novel – Tropical Quest (by Wesley Sizemore). Or the jean and t-shirt clad guy sitting next to us at the bar who is a master mason restoring the damaged coral block wall at the Catholic Basilica. Our Happy Hours after boat work are always interesting in wonderfully unexpected ways.
And the boat work continues with replacement of gas springs on the hatch of the back lazarette; drained coolant from the main engine (looks clean so maintenance appears on track); main engine sea strainer maintenance (cleaned, repaired weeping and replaced busted drain screw) and stainless cleaning and polishing continues…and continues. Humidity is adding to the heat of daily temperatures with us and neighbor boats deploying window covers and all means of shade makers. Showers were taken and we were off to Mary Ellen's Bar for dinner (https://maryellensbar.com/). This is a neighborhood place with the only exterior light coming from the open (standard size) front door. Honest, not a single window. But that is just perfect after a day in the blazingly bright, Key West sun. We sampled the cheesy tots, grilled cheese, Caesar salad and buffalo chicken tenders. And for dessert. Oh la la – it was a frozen Irish coffee with crumbled oreo cookies on top (made with just vanilla ice cream, Jameson whiskey and cold brewed coffee...maybe we can replicate this at home). The frozen Irish coffee was decadent and perfect for watching the entertainment. Entertainment…who knew?! It was vibrator races (tee, hee, hee) with the winnings going to charity (Special Olympics). It was a hoot! People bid on a vibrator (each with a VERY colorful name), highest bid won the vibrator for the heat of the race and then they raced (four vibrators per race). The winning vibrator's owner split the pot with Special Olympics (and often donated their half, too). Patrons were raucous and energetic in their bidding...without an ounce of awkwardness in sight (5/2). We'll keep at this rhythm of boat work and neighborhood fun for a bit longer as we enjoy a civilized wrap-up to this cruising season.
Cumin Cured Pork Tenderloin with Avocado Salsa (serves 6)
Rub
2 Tablespoons ground cumin
2 Tablespoons ground black pepper
1 Tablespoon salt
1 shallot, chopped
3 cloves garlic, chopped
1 Tablespoon olive oil (or more)
2 pounds pork tenderloin, trimmed
Salsa
1 large Haas avocado, peeled and diced
2 Tablespoons lime juice
Zest 1 lime, finely chopped
1 Tablespoon fresh cilantro, chopped
1 Tablespoon gold tequila
¼ cup green onion, chopped (green part, too)
1 jalapeno, seeded and finely chopped
½ cup bell pepper, diced
Salt and pepper to taste
For the rub: Combine all ingredients (except pork) and mix into a paste, adding more olive oil as needed. Rub paste all over the pork tenderloin and refrigerate, covered, 2 hours or overnight.
To cook the pork: Cook on grill until done (approx. 25 minutes). Or, Preheat oven to 350 degrees F. Bring pork to room temperature. Rub off extra spice paste. Heat 2 Tablespoons olive oil in a heavy skillet until smoking. Add meat and sear on all sides. Transfer to baking pan and cook in pre-heated oven until internal temp is 150 degrees F (approx. 15 – 20 minutes). Rest for 10 minutes before slicing into ½-inch thick medallions.
For the salsa: Combine all ingredients and mash as desired. Serve same day.
Assembly: Arrange 4-5 medallions per plate with 1/3 cup salsa alongside pork. Serve immediately.