Underwater Beauty in the Exumas: January 22 2019
So long Eleuthera - hello Exumas! We departed Rock Sound in conditions so still that they seemed more like the ICW in the Carolinas rather than an island in the Atlantic – we'll take it (1/14). The photos are near Powell Point in nine feet of water – stunning! It was a smooth 6.5hr crossing from Eleuthera to anchoring in Cambridge Cay (between Staniel Cay and Warderick Wells). We had a fish-on which looked like a colorful mahi but he got away. Next time. Cambridge is just as lovely as its neighbors both above and below the water and we could not resist an immediate exploration. The underwater photos are at a place called the aquarium. The ray on the ocean floor never budged during our snorkel but the fish were very curious and inquisitive. Looking ahead on the weather shows some fairly strong winds that will clock around 360 degrees arriving in a few days which will likely have us tucked in at Emerald Bay Marina (near Georgetown). When the winds lighten we plan for more traveling.
Until then we will enjoy a bit of living on the hook and snorkeling the nearby areas. Dang – looks like there is shenanigans at the Exuma Land & Sea Park. The entire area of the park now requires payment to anchor. Yes, it is only 50 cents per foot but that quickly adds up to $700/month. And that fee comes with nothing – no wifi, no trash disposal…absolutely nothing. Sorry to get on a soap box but this feels like a money grab of greedy proportions. Another tip to the greedy is the online price sheet for park fees…including $1,000 for a beach setup fee. Really?! A mega yacht can enter the park and put a disco at Conception Island for the night?! It's a shame and sure leaves a bad taste in our mouth. We hope at least some of that money finds its way to help the park rather than building a swimming pool for an official in Nassau. Enough ranting…back to the beauty.
Before the day got too hot we headed ashore for a hike across and atop the island (1/15). Wow! The water color looks unreal…like jell-o…and never ceases to amaze us. Later we headed back to the aquarium closer to slack current for a second look. Striped sergeant major fish darted, grouper loped and parrot fish nibbled the coral. The coral was hard and soft and colorful. Gosh, the ray remained nestled in his spot and another floated past above the rippled sand floor. Heck, there was even a turtle that checked us out.
We departed Cambridge Cay out Bell Cut for our next hop along the island chain (1/16). It was a bit jerky and rolly that made me feel a bit woozy; however, not too bad and I still made a breakfast of chicken, refried bean and cheese quesadillas. We re-entered the Great Bahama Bank at Galliot Cut to anchor off of Cave Cay. It is a bit cloudy today but should be clear and sunny tomorrow which tells us to snorkel the mermaid and piano tomorrow. For today, we will check out Safe Harbor Marina at Cave Cay (http://www.cavecay.com/). This is one of the few all around protection spots in the Exumas for a safe option if weather gets rowdy. There are no shore amenities (like a restaurant or bar or market) but you have the run of the island trails and beaches. At $3.25/ft/day it is not free but losing your boat in a storm is also not free (reduced rates for longer stays). This is a safe spot and we will keep it in mind if needed. For now, our anchor spot has a bit of surge but it is okay. Tonight, we sat on the top deck with sundowners and watched the lights turn on at David Copperfield's island – Musha Cay. Cheers to a lovely corner of the planet, David.
The forecast for clearer skies arrived so off we went to the mermaid and piano (1/17). Wow – we really are getting the right weather at the right time. We have wanted to snorkel the mermaid ever since our first trip to the Bahamas in 2006; unfortunately, not until now have we had the right weather for it. David Copperfield installed a stainless steel statue of a life-size mermaid sitting beside a grand piano. We have seen photographs but it is even cooler in person. Well done, David. The statue sits in about fifteen feet of water so it is pretty hard to spot from out of the water amongst scattered grass, rocks and coral heads. Not leaving anything to chance I found the lat and long coordinates online: N23'52.163 W76'14.157. Holy cow – just me and Chris and the mermaid. Awesome! Back aboard Barefeet and it was not yet noon. Should we move along or stay? Hhhmmm…the surge seems to have lessened so we'll stay another night.
Time to go but the wind feels more brisk than expected (1/18). Aaagghh...the cut. We exited Cave Cay cut with definitely more wind than forecast so it was a raucous wind against tide exit. Once outside in the Exuma Sound conditions remained stronger than expected with 3-4 foot waves close together and a stiff 15-17 knots of wind (rather than the 8kts forecast). So it goes. Many folks were suckered into traveling, too, so we heard numerous yucky cut exit stories as we moved along the island chain. Also, there was much shared disappointment about getting covered in salt water after a wonderful, strong fresh water rinse of rain before the sun came up. All said it was only four hours and we were tied up at Emerald Bay Marina (https://www.marinaemeraldbay.com/). Emerald Bay is not quite as lux as it used to be but it is still pretty darn awesome; we are in the $1/ft per day for water but no power slips (power slips $2.25/ft per day), all docks are floating, good shower rooms (but no complimentary products anymore), great lounge (with a TV for sports), free laundry, propane fill service, morning complimentary coffee and everyone working at the marina is super friendly. Winds are crazy for a bit so not sure when we will leave...maybe next Thursday, six days away...still too far out to say with any certainty. Sundowners were a bit of commiserating about the cut and travel day with Eric and Lisa (s/v Music & Lyrics). Many cruisers strolled the docks and we all raised a glass to being snug and tied up.
Emerald Bay is a nice spot but it is a bit all alone at this end of Great Exuma Island. We took a morning walk with coffee for a walk down Queen's Highway (1/19). Yep, pretty empty – the only retail in sight is a duty free liquor store. That's okay because the water is clear and blue, the palm trees are catching the wind and we have a sea turtle for a neighbor. Back aboard and we did a few boat projects like changing the house water filter and making orange cinnamon bread for the Marina Staff (and Chris, too). Thanks Erika, Shane and the gang. Getting cleaned up for sundowners I managed to forget my towel when I went to the shower…oops…the outside of my "dirty" shirt worked just fine. It was nice to get to know Gary and Betty (m/v Laa Dee Dah) over sundowners. And they were also up for watching a Duke basketball game in the lounge. Hhhhmmm…looks like a lounge lizard is watching "his program" so we played pool until he got tired and scadaddled. Andrey and Natalia (s/v Bella Vita) stopped by, too. It was a fun night.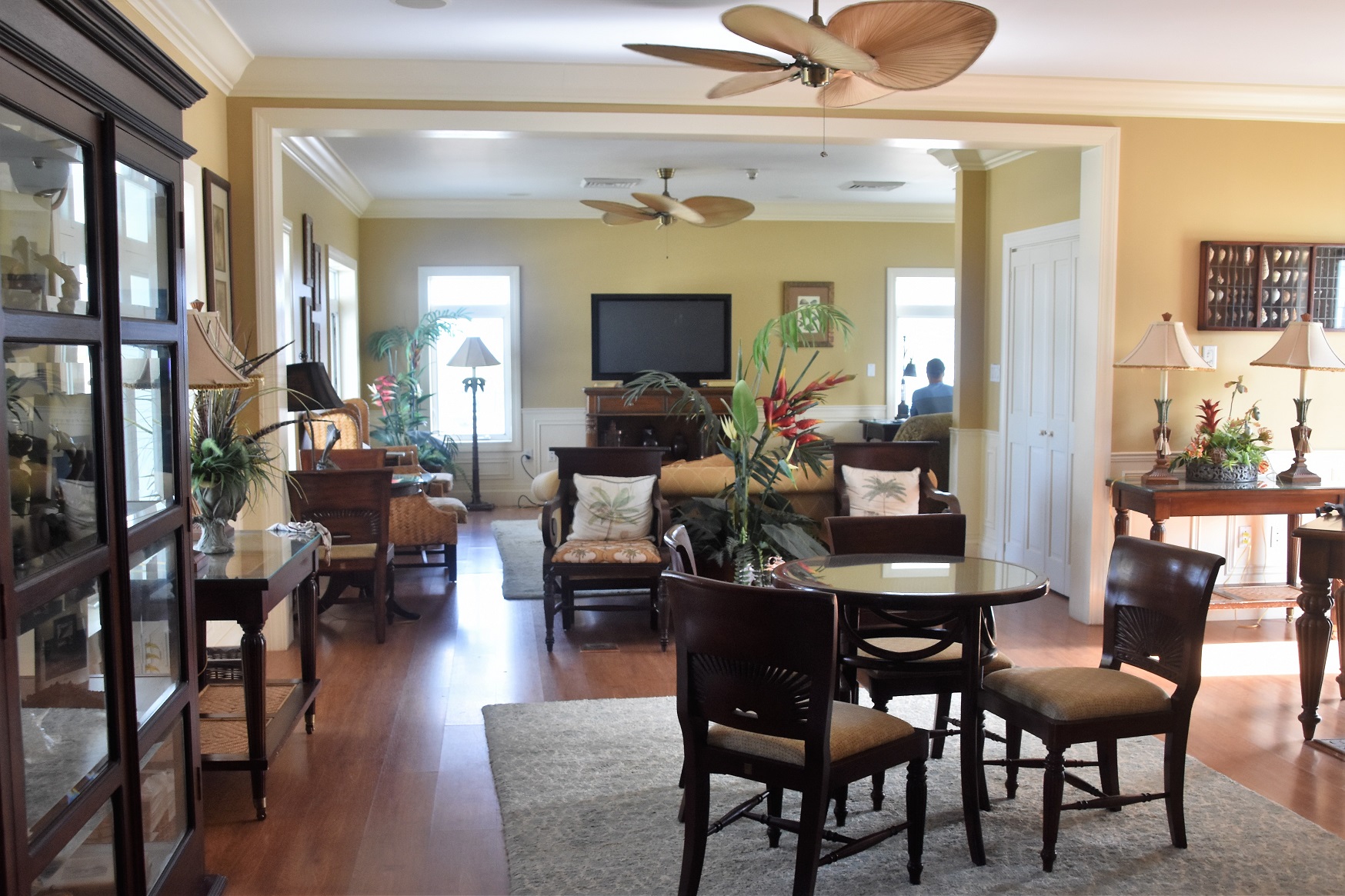 A morning squall of wind and rain barreled through as this period of winds slowly gets started (1/20). A fellow cruiser stopped by and asked if we wanted a quick lift to the Convenience Store while he kills some time before picking up family at the airport. Cruisers are the best – thanks Dean (s/v Chaos). I picked up a couple of fresh veggies and some eggs as well as learned where this store is located. Okay, time to think about the game. The Pats playoff game is tonight and we are bringing oatmeal chocolate chip cookies. I have all the ingredients but needed to start early because my easy-bake boat oven is not speedy. We settled into the Marina lounge with cookies to share and a Mediterranean meze plate for us (dolmades, cucumber, hummus and crackers). There were Chiefs fans and Patriots fans with friendly ribbing but mostly just happy to be on a sofa watching the game with snacks and football camaraderie. Sheesh – it was a great win but an exhausting game. We will sleep well tonight.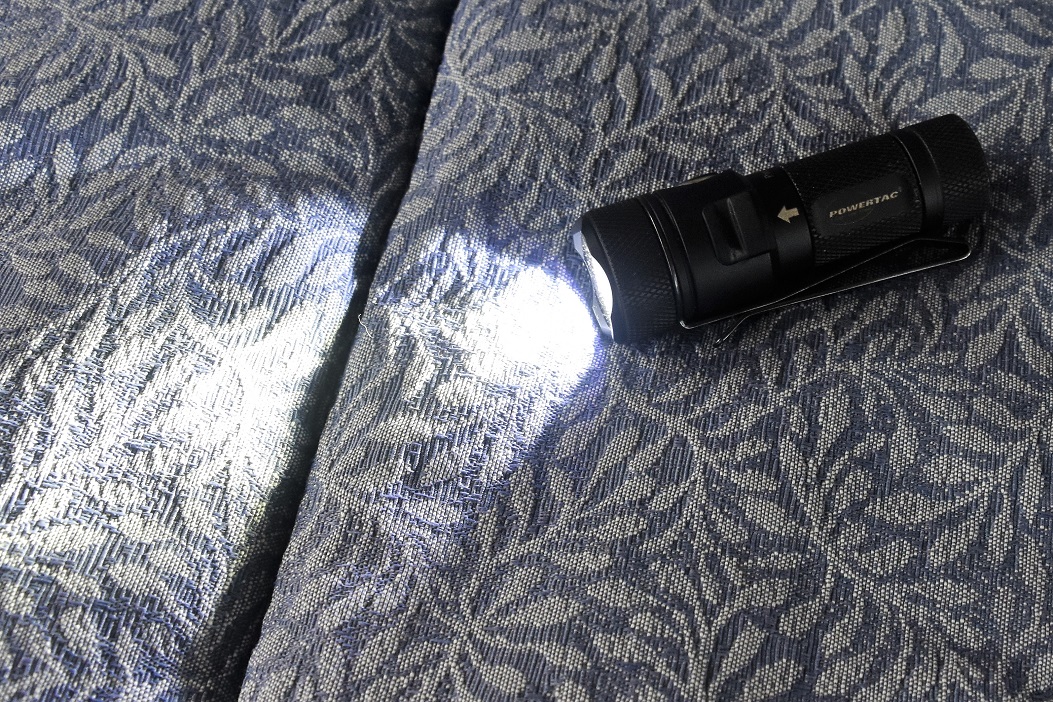 We are settling in and the day dawned dry with bright sunshine (1/21). We did a load of free laundry, fixed the shade on the hatch above our bed and checked the weather. Eureka – Chris found his favorite flashlight! Technically, he has two but one has been lost since last season. He was sure he would find it in a nook or cranny of a previous boat project but he did not find the exact cranny until today – under the bed in the bilge. Oh, and the bilge looks great, by the way. In an effort to do my part of reducing our power draw (by turning off the second freezer sooner rather than later) I made Korean ground beef lettuce cups for sundowners (recipe below). We laughed and told lies until the dark of night with s/v Music & Lyrics and s/v Odyssey – thanks guys. And we have a new sundowner recipe – simple and flavorful – a slice of summer sausage, spread of cream cheese and a couple slices of pickled jalapeno all secured like a taco with a toothpick. Thanks s/v Music & Lyrics.
Yep, the first front has arrived (1/22). There might be white caps in our coffee but Barefeet is snug in her slip. Winds will stay strong and shift to various directions for the next few days which means we will stay put. The first moving opportunity looks like it might be on Friday (four days away) but we will not rush it. In the meantime, we walked out to the entrance of the marina to remind ourselves why we are here. Gulp, it looks rough out there with curling rollers into the mouth of the marina?! While walking the docks we saw a TINY lizard. He should be careful in the wind not to blow away. Another fun distraction we have lined up is a bit of land travel in two days. Two years ago we rented a car and drove south of George Town to the tip of Little Exuma Island. This time we will rent a car and head north of George Town to the tip of Great Exuma Island (Berlie's Car Rental 242-336-3290). There is no way to rush the weather so we will settle into the slowed pace.
Korean Ground Beef (https://www.kawalingpinoy.com/)
Korean Ground Beef has all the flavors of your favorite Korean BBQ but made budget-friendly with ground beef. It's delicious served over rice or wrapped in lettuce leaves!
Prep Time5 mins; Cook Time15 mins; Total Time20 mins; Servings: 4
Ingredients
1 pound ground beef
1 tablespoon vegetable oil
2 cloves garlic, peeled and minced
1 thumb size ginger, peeled and finely minced
1/4 cup low-sodium soy sauce
3 tablespoons brown sugar
1 tablespoon sesame oil
1/2 teaspoon crushed red pepper flakes
1/4 cup green onions, chopped
sesame seeds
Instructions
In a wide pan over medium heat, heat vegetable oil. Add garlic and ginger and cook until aromatic.
Add ground beef and cook, breaking apart with the back of a spoon, for about 3 to 5 minutes or until lightly browned. Drain excess fat.
In a bowl, combine soy sauce, sugar, sesame oil, and red pepper flakes. Stir until sugar is dissolved. Add to the pan.
Continue to simmer until beef is cooked through. Add green onions and cook, stirring to distribute, for about 1 minute.
Transfer to serving platter and garnish with sesame seeds. Serve hot.