Season Slows And We Return to the USA: April 7, 2019
Okay, here we are ready to dive into a boat project that was on pause until parts arrived with Kim and Dave (huge thank you). Kim and Dave have departed and the weather is calm enough at Sand Dollar Beach to provide a solid work platform so we are back in business. Watch out bathroom fans – here we come! We left off with the old fans being removed after cutting a larger access point in the interior fiberglass wall of the lazarette on the Portuguese bridge. Fans were brought with us from the states but a flange was needed to complete the task. Now that all pieces were together the installation began (3/22). There were odd bits of starboard screwed into the interior fiberglass piece for mounting, fan was mounted and silicone caulking was applied to better insure lack of airflow anywhere but AT the fan. Lots of progress was made but completion will wait for another day.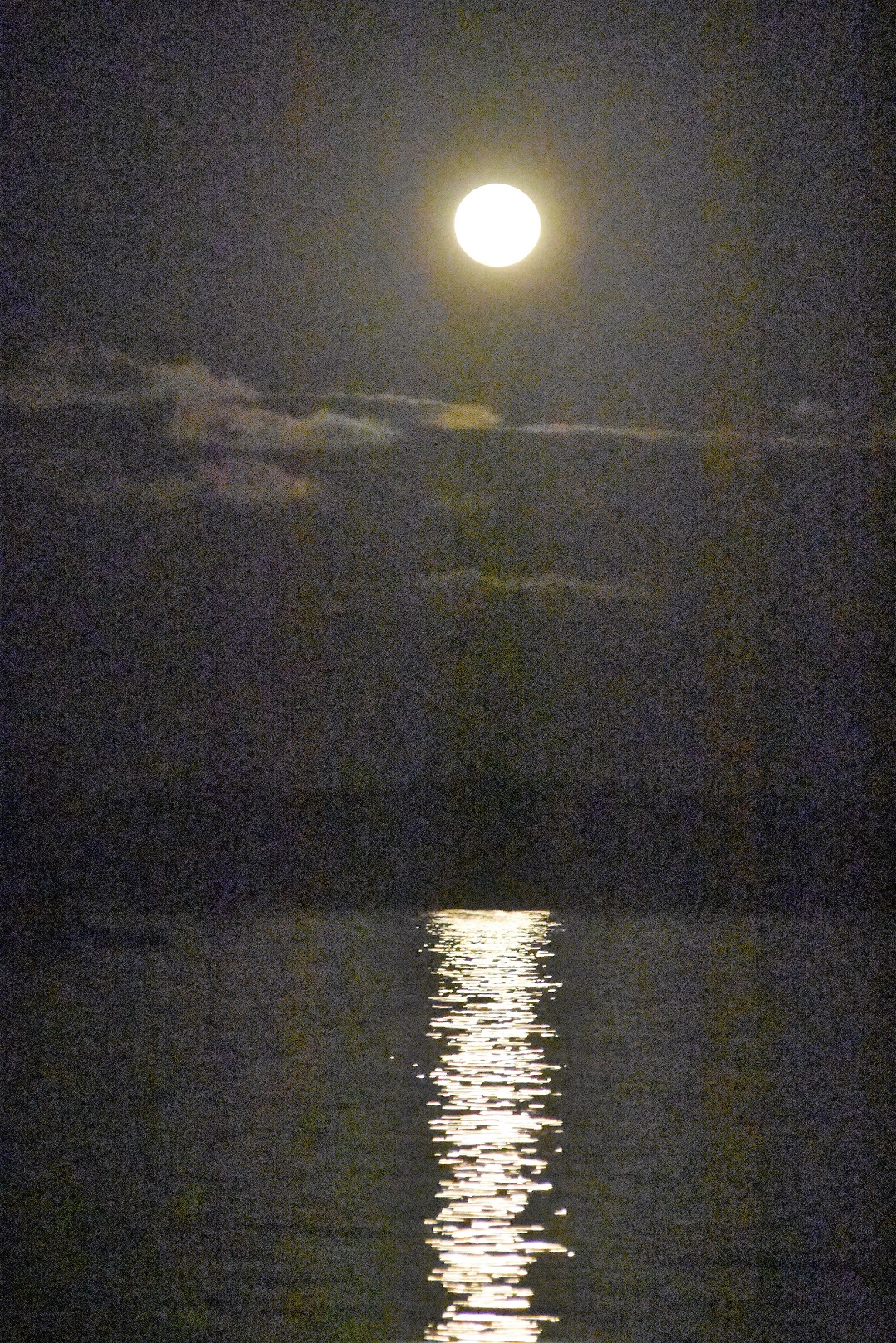 In the meantime, between the construction we spotted a turtle behind the boat and walked ashore at Sand Dollar Beach. A dinner of sausage, green pepper and onion pizza was followed by the continued appearance of the Worm Super Moon. It truly is enormous and seems to be called a worm moon because it is the first moon of March which signifies the thawing of the winter cold earth and the reappearance of earthworms…soon followed by the robins and the continued increase in warmth of the Spring season. The frozen and warming seasons feel a bit mythical out here but nature continues to cycle at all latitudes.
Okay, back to the bathroom fan project (3/23). Sheesh – Chris describes this as the hardest "simple project" to date. There was more screwing, drilling, wire crimps and hose clamps through the 10" round opening…one hand only, please. Simply lining up the fan so that it is not offset is ridiculously difficult because the small opening allows you 1) eyeballs to see it or 2) one hand to hold the fan…but…definitely not both #1 AND #2 and certainly not a second hand. The guest bathroom fan was installed and the final test was needed – suck a sheet of toilet paper to the vent…success! Onto the master bath. Drat – the toilet paper suck test failed…gggrrr. After some investigation it seems that the smallest bit of caulking was stopping a fan blade from spinning. Remedied and it was back to the toilet paper sucking test…success! We celebrated with a walk across to the beach on the sound side and a fan install party on the top deck. Dr Martin's Mix of pork sausage, rice and veggies was flavorful and filled a wrinkle (recipe below).
As forecast the winds piped up in the dark of the night and continued howling and whistling throughout the next day (3/24). Stormy conditions kept dinghies tied to boats with washing machine sloshes at anchor. Cabin fever set in so later we headed to St Francis for a burger and to watch Duke in the NCAA tournament. The satellite cut out a couple of times due to torrential rain but we watched most of the game…and celebrated the Duke win.
The weather forecast shows that it is time for us to move north. But before departing we got together aboard Barefeet with Melanie and Paul for a breakfast of bacon and Chris' pancakes (recipe below). Such fun to hang out with these guys and chat so easily (3/25). See ya next time! In the afternoon it was a final run to town to dispose of garbage and get supplies for the larder and the dinghy (fuel). It was a restless night as our emotions pinged all over the place; season turn-around point, cruiser goodbyes in the rear-view mirror, Boston hellos on the horizon, weather windows needed to get back to Florida (and Key West by mid-April). One day at a time, one day at a time. First up was an 8 hour run to Black Point. While out on the sound we spotted a graceful white-tailed tropic bird in the calm conditions. Adrenaline got going a bit more as we entered Dotham Cut with a 3.5 knot current against us. Dang – cuts are always nerve-wracking.
A dolphin duo welcomed us to the anchorage which was great. We anchored in twelve feet of water that looked more like a swimming pool than a harbor in the Atlantic Ocean. Heck, we could see the anchor chain AND the anchor on the sandy bottom. Time to make our first visit to the iconic cruiser bar – Scorpio's. It's Tuesday which means it is cruiser Happy Hour with 2-for-1 rum punch, free popcorn and tasty appetizer specials. Who knows why it took us so long to get here but this is a place that lives up to the lore and we will definitely be back.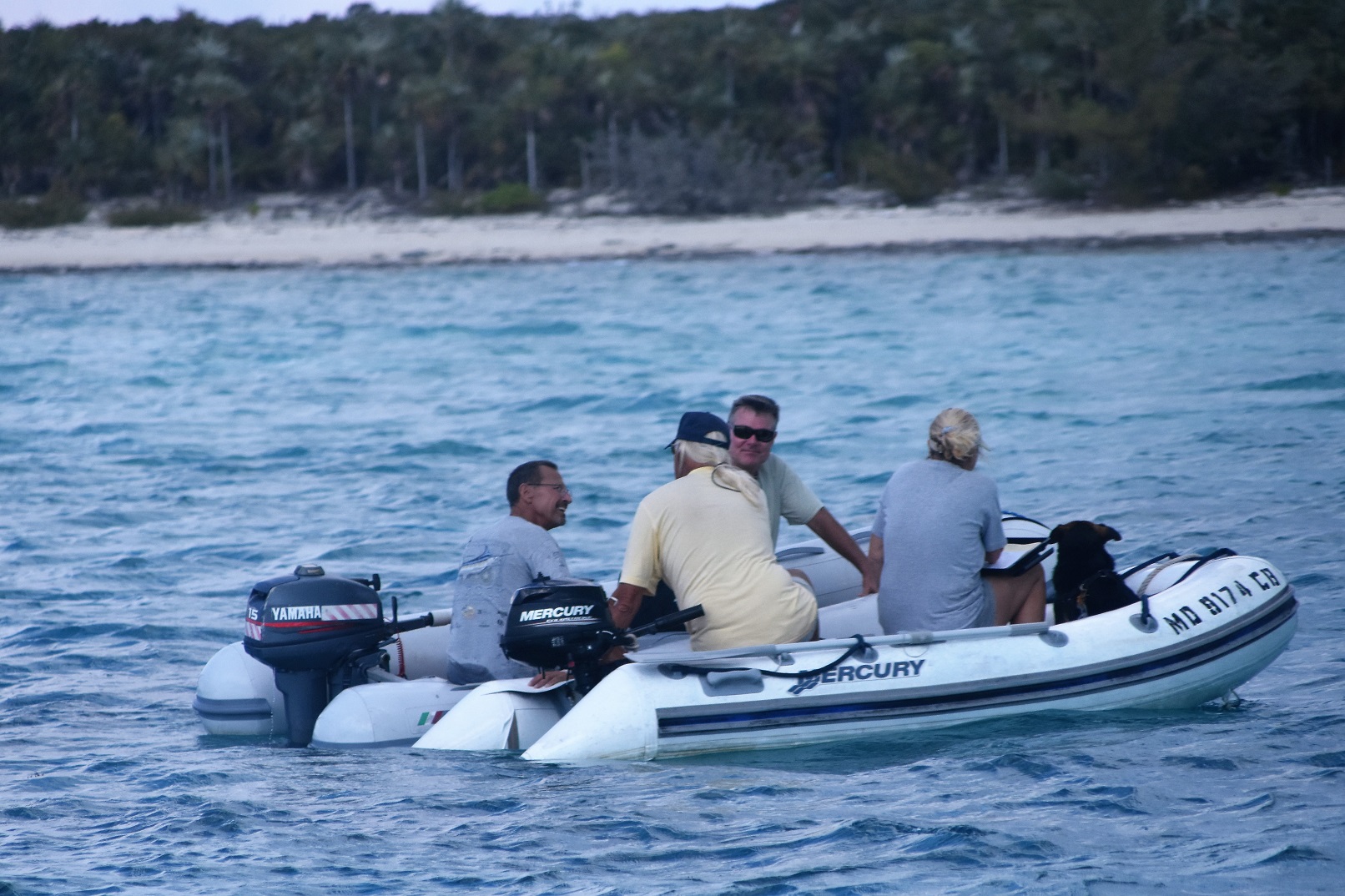 We awoke to the return of roosters in the morning which is always calming for us (3/27). Unfortunately, we cannot dawdle because conditions are supposed to get messy from the west which means Black Point is not the place to be. Instead, we headed to Cambridge Cay to anchor in our usual spot. Yes, they are still charging $.50/foot to anchor but you already know how we feel about that so we will not go into it again. Due to the west winds and the few options of places to hide in this area we were not alone…including three 100+ foot mega yachts. Dinner was blackened and grilled fish with Holt from s/v Agandau. Maybe he can give us some fishing pointers?! Delicious – thanks. We laughed and told lies into the night which was made even more stunning as the stars illuminated the ink black sky.
Before pulling up the anchor we headed ashore for a trail walk to the island's stunning vistas (3/28). Our vista photo back to the anchorage puts the mega yachts into perspective (second photo above from the left). They are massive. Incidentally, Barefeet's blue hull is to the left of the dark hulled mega yacht. Back aboard and it was close to high tide – perfect for departing Cambridge on the inside route. The lowest depth we saw was 8.5 feet. Winds were behind us which was comfortable but the crazy blue water with a bit of white-water on top resembled a 1950s unmolded jell-o salad complete with dollops of white mayo or whipped cream. Entering the Big Majors anchorage at Staniel Cay always feels like coming home and we will be here for a few days.
Morning conditions were a bit chilly and windy with a bit of rain as the front wrapped up (3/29). In the afternoon we did the nickel tour of Staniel. There is some freshly poured concrete on the roads and a few gussied up buildings with fresh paint but for the most part all is as we remember from two years ago; Staniel Cay Yacht Club, Pink Store grocery, Blue Store grocery and Isles General Store. We had completed the island exploration so it was time to head further afield (3/30). We dinghied out past Fowl Cay to Compass Cay Marina then back through Pipe Creek and Sampson Cay. We walked on sand bars, looked for coral and rocks with the look-see-bucket (for lobster hunting tomorrow - the last day lobster season) and remain amazed at the range of blues that do not quit. They say that Ireland has 40 shades of green. Well, the Bahamas must have at least 40 shades of blue. Breathtaking!
The pigs on the beach at Staniel are still a huge tourist draw (by boat AND by sea plane) but there are now "caretakers" who bring in food which does not encourage the pigs to swim...so...a bit of the magic has faded for us. Chris and Holt went hunting and returned with a conch – well done! Into the freezer he goes in the hopes of an easy removal. Showered and clean we headed to the Staniel Cay Yacht Club for a burger and the TV for the Duke NCAA game. But first, we swung by m/v Putzin' Around for a quick cocktail. We have not seen Brigitte and Scott for two years (and m/v Job Site, too). It was wonderful to catch up…and I came away with a great recipe for black bean hummus. All moved to the bar and who walked through the door but…Chris Christie…yep, the Chris Christie from New Jersey. He was gracious and let folks take many photos with him attired in just a casual t-shirt and shorts. A dry dinghy ride back to Barefeet in calm conditions is always appreciated. The continued calm conditions will have our anchor up at 8am tomorrow; but first one more cocktail as we gaze at this awesome anchorage, stars and all.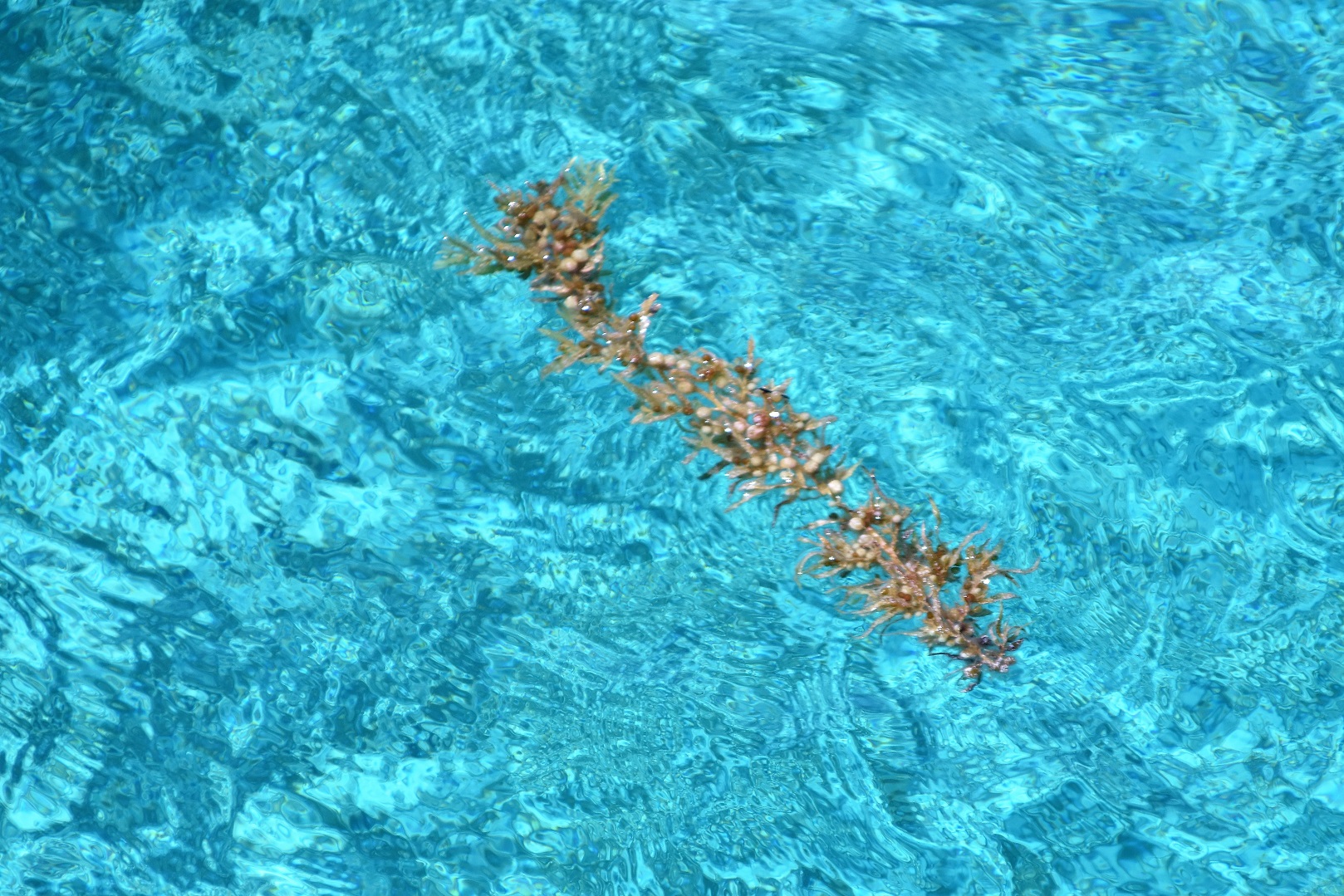 It was a breakfast of dropped eggs on jalapeno hash as we gently motored 35 miles north to Norman's Cay (4/1). The conditions were so mellow that our Bahamas courtesy flag was slumped and listless showing only rare whiffs of life (we love boring). There is a resort being built ashore which has a few posts for channel markers (3 posts and one orange ball); however, depth stayed close to 13 feet as we neared low tide. We anchored at Norman's Cay (island is approx. 4 miles long) with a barracuda eyeing us as we dropped the anchor and a large, dark ray who flew fully out of the water doing a back flip to show his white belly after the anchor was set. Wow! Heck - even the drifting seaweed is lovely. There is a current which has us changing direction four times in a twenty-four hour period but it is gentle and barely noticed.
This tropical tranquility has a lawless, drug smuggling past. Exhibit A is the submerged C-46 aircraft in the anchorage (large, twin-engine WWII transport plane). Drug smuggling of the 1970s and 80s came to Norman's Cay as a smuggling hub for cocaine transport from Colombia to USA for Pablo Escobar's Medellin cartel via the cartel's co-founder and transport leader, Carlos Lehder. The smuggling hub is fact but how the plane became submerged is less clear. Various stories exist; the plane was too heavy with kilos of cocaine and missed the runway, there was a landing miscalculation by a pilot who took a six-pack along for flights which resulted in missing the runway or there was a plane delivering appliances to the island that had a malfunction and missed the runway. Regardless, it is a fun object to snorkel because it is in shallow water with tropical fish who love to have visitors. Carlos Lehder was arrested in 1982 and Norman's Cay was confiscated. Today it is back to its tropical tranquility.
Fellow cruisers Chris and Candace on s/v Dragonfly know of a great snorkel drift dive nearby so off we went with Holt for a three boat adventure. We dinghied approximately 1.5 miles south to Wax Cay Shoals at Norman's Cut (4/2). Wow – we would say that this is the most vibrant and largest volume of coral we have seen to date this season (thanks Chris and Candace).
Look what we made...conch fritters!! It was fun and tasty...but definitely a bit of a process. You may remember the conch Chris gathered near Staniel Cay that was tossed into the freezer in order to kill him (don't tell PETA). Well, we have moved onto fritter making. We removed the conch from the freezer to let him thaw just enough to yank him out in one piece; I cleaned him (usable meat is only about the size of your hand once the eyes, foot, intestine, etc. are removed); tenderized him (with the mallet because the natural texture is like that of a flip flop); whipped up the batter (recipe below); formed the batter into balls; rolled them in Ritz cracker crumbs; fried them...voila!! Back home we plan to use corn kernels but we will keep these fritters in our menu rotation.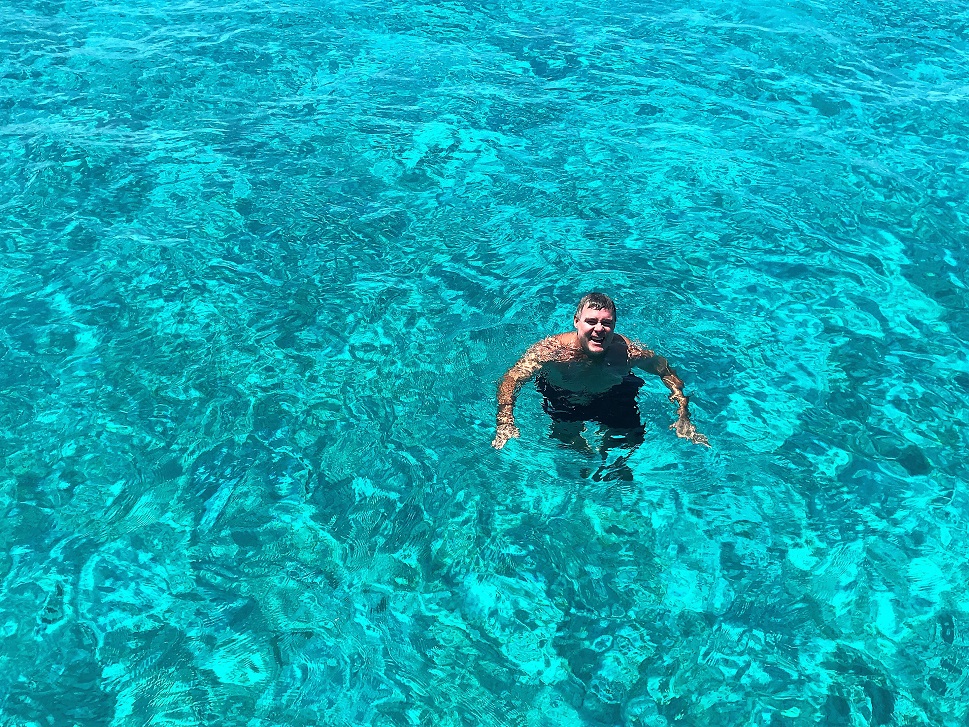 After breakfast we made a short 12 mile hop north to Highborne Cay (4/3). The conditions were beautiful and calm – a perfect day for moving. We anchored off of the west side of the three mile long island on the Exuma Banks side with depth of about 16 feet. We were not alone with loads of cruisers and mega yachts well spread out in the large anchorage…looks like many folks are eyeing the good traveling conditions with us. From here we are looking at an overnight crossing back to Florida in two days but we will keep an eye on the weather to be sure conditions remain as desired. But for now – have we mentioned how amazing the water is?! And a great way to visit friends on other boats.
The night remained rolly but it is good prep for our impending passage to Florida. We find it hard to conquer our inertia when we are so close to a departure. It starts to feel like we are simply watching the grass grow or watching a pot come to boil. Thankfully, snorkeling was the perfect foil to get us moving. Candace and Chris showed us another great spot at a perfect time of the tide. It was the Octopus' Garden at the north end of Highborne Cay (4/4). Depths were shallow at about 10ft to the sandy bottom but coral rose to about three feet from the surface. This meant that the bright sun illuminated the coral in vibrant colors rather than the mostly muted blue at deeper depths. Wow! We all showered and warmed up then reconvened aboard Barefeet for a grilled fish dinner before we all scatter for the season. Thank goodness others are better fishermen than we are – thanks guys.
Tick tock…we are off to the USA! Mixing and matching weather, distances, places to duck out if conditions change…you know the drill. Our final decision was to motor 199 miles from Highborne Cay to Miami in one shot (28 hours). We raised the anchor at 8am on Friday morning (4/5); were through Nassau by 1pm; across the Tongue of the Ocean and through the pinch point at the Northwest Shoal onto the Banks at twilight (7.30pm making 9.5 knots with help from the push of the current); navigated across the Mackie Shoals; passed Bimini at 4.30am; crossed the Gulf Stream; entered through Government Cut and anchored at the Marina Stadium in Miami just after noon on Saturday (4/6). The passage was pretty uneventful and conditions were slightly better than expected – we even made baked potatoes covered with chili, cheese and jalapenos for dinner – very comforting. Nassau is positively bursting with construction. Atlantis and its peach colored palace architecture used to rule the skyline…now Atlantis is simply a blip amongst a forest of development and an armada of cruise ships. As the day ended, we were treated to a beautiful final Bahamian sunset.
Our arrival into Miami on a Saturday meant that weekend warriors would be out in droves. Yep – more than we could have imagined and a bit of sensory overload after four months in the islands. Holy cow - we are definitely in the big smoke. Government Cut was crazy with 20 (yes, 20) jet skis jumping boat wakes in the cut...and a boat pulling a child in an inner tube...narrowly missed by a few sport fishers on plane. We wound our way to the Marina Stadium anchorage only to find the bulk of it blocked off for crew races. Eventually, we tucked into a spot on the edge and settled in. First up, we need to check back into the USA via Customs and Immigration. Officialdom was a slog but we persevered through multiple log-ins and passwords on the CBP Roam App…gggrrr. Just got our online confirmation that we are accepted back into the USA (without a visit to the office). The CBP Roam App was a shi**t-show but do-able…slowly, slowly. High fives all around. We are giddy!!
The crew races wrapped up and the party boats arrived. Latin music boomed and more people than you would think possible crammed the decks. At one point as a party boat returned to shore the captain could be heard saying, "There are a lot of you aboard. Look around and check that your BFF is here because we are leaving." Simple and sweet. We got comfortable on the top deck to watch the floor show with BLT sandwiches (oops – no more mayo so sour cream stepped in). The sun went down and the Miami skyline was magically illuminated.
Our season is wrapping up after nearly four months in the Bahamas (using almost every day of our 120-day cruising permit). We had a great season full of snorkeling, discovered places, friends, new recipes and weather that never got too out of whack. For the remainder of the season we will bounce along the Florida Keys to Key West where we will spend about a month fixing and maintaining what needs to be done before ready-ing Barefeet for her months on the hard in Stuart while we return to Boston.
Although Miami is not our scene we got officially checked-in and are now free to move along. So off we went to Little Card Sound (4/7). We motored four hours south along the ICW. The waterway had a couple of areas with dredged channels and water did get skinny; however, we never saw less than 8 feet depth at mid-tide. Once the anchor was set we scrambled as quickly as possible to lower the dinghy and headed to Alabama Jack's for a welcome to the USA celebration meal. This casual place is a favorite of ours nestled in the mangroves of Key Largo. It's not much more than an open-air dive bar frequented by motorcycle riders and boaters with a friendly bartender and interesting patrons. We love it. And we imagine that you can guess what the Americana smorgesbord was that we ordered – chili cheese fries, cheeseburger and jalapeno poppers. Perfect!
The weather forecast for the next few days is a bit windy so we will take it slow but the current mantra is definitely...Key West or bust.
Dr. Martin's Mix (I Hate to Cook Book by Peg Bracken)
1 – 1.5lbs pork sausage (hamburger will do)
1 green pepper, chopped
2 green onions, chopped
3 celery stalks, chopped
2 cups chicken bullion
1 cup raw rice
½ teaspoon salt
1 Tablespoon Worcestershire sauce
Crumble the pork sausage into a skillet (large enough to eventually hold all ingredients) and brown. Add all other ingredients and give it a stir to distribute evenly. Dr. Martin then puts the lid on and lets it simmer on the LOWEST possible heat while he goes out and sets a fracture. When he comes back in about an hour, his dinner is ready.
Chris' Pancakes (via Keek and Kenny)
2 cups buttermilk (or 1 cup regular milk, 1 T lemon juice)
2/3 cup wesson oil
2 eggs
1 tsp baking powder
1 tsp baking soda
1/4 tsp salt
1/3 cup sugar
1 cup flour
...thin with buttermilk as needed
In a blender combine buttermilk and oil and whiz up. Add remaining ingredients and blend thoroughly.
Conch Fritters (yields approx. one dozen) Diane Minns, George Town, Exuma
1 cup conch, tenderized and diced
½ onion, diced
Juice from half of a lemon
Salt and pepper
3 splashes Worcestershire sauce
Squirt of ketchup (for color)
1 egg
½ teaspoon baking powder
¾ cup flour
Ritz crackers, crushed into crumbs
Mix together all ingredients except Ritz crackers. Shape into small balls. Roll balls in crushed Ritz crackers. Drop fritters into hot oil and fry until golden brown on all sides. Serve with dipping sauce (ketchup, mayo, lime juice, Worcestershire, hot pepper sauce).