Swing Around to Pivot North: March 21, 2019
Life in George Town has slowed to a mellow rhythm for us. We have done a few boat projects, sat in the shade reading, snorkeled, collected shells and visited with friends. Winds have been up and down but not modified enough in direction or velocity to encourage us to raise the anchor and move from the Monument anchorage. Warm, windless days encourage biting bugs but cool northern winds shoo them away and have Chris in shoes and socks…and us with a comforter on the bed.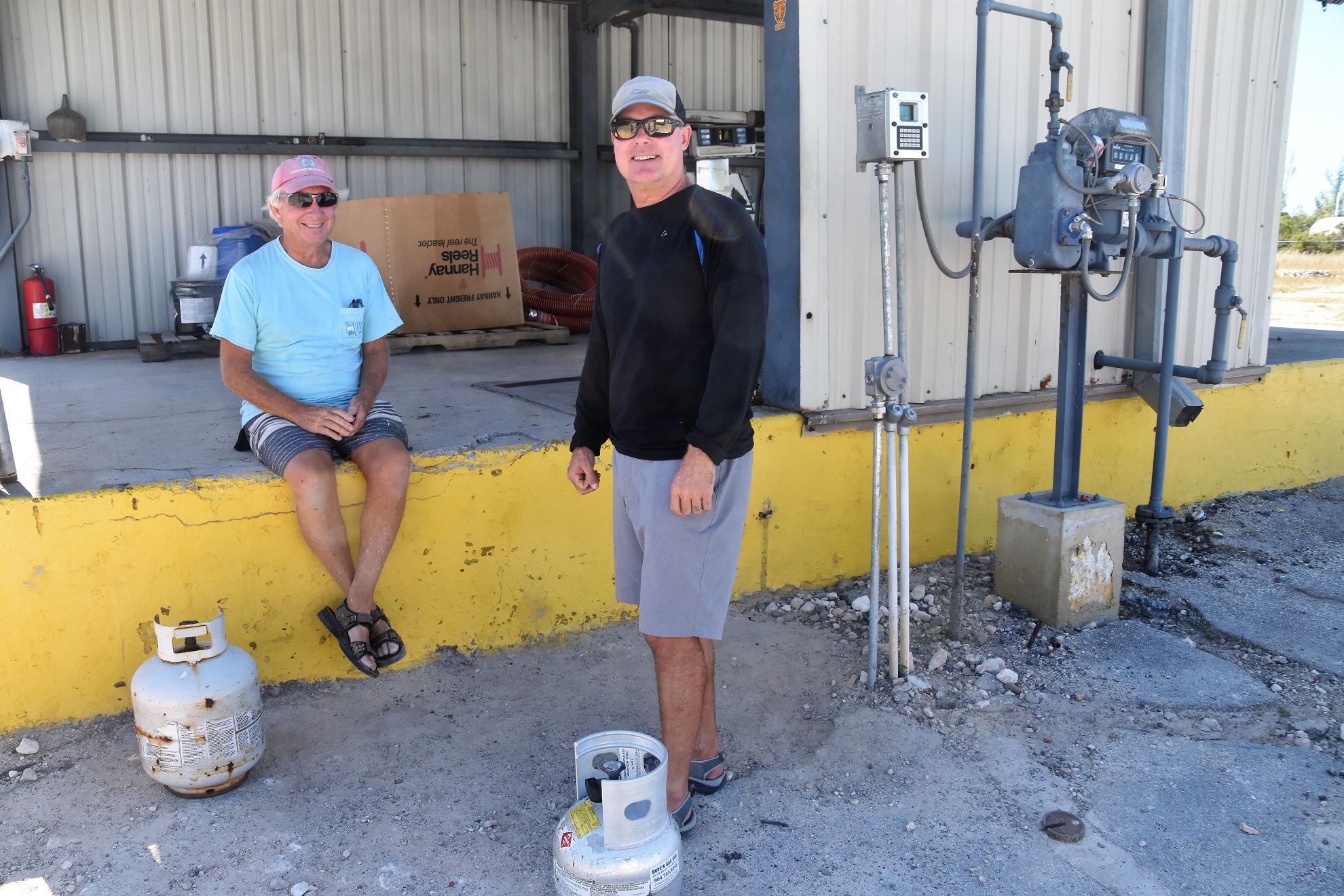 Our boat oven and stove run on propane. We have a latched box on the top deck with two propane bottles plumbed directly to the kitchen. One bottle is in use and one bottle is a spare. We just ran one bottle empty so we need a refill. There is a guy in town, Clarence, who generally does propane refill runs with his truck; however, a series of mechanical and other mishaps have had him out of commission for…uuummm…awhile. No problem – option no.2 – dinghy across the harbor, tie up at Augusta Bay, walk up the hill, have the tank filled at Sun Oil (Monday thru Friday), and it's done. We took option no.2 and it could not have been easier (3/8). Plus, we met Ian and Diane who were doing the same propane fill thing as we were. Ian circumnavigated in the late 1980s and Diane is new to living aboard but is loving it which led to some great chit chat.
A bit later we changed out the fan in the bedroom and walked along the beach with s/v JennaBird. Different types of shells on the beach means different types of projects. Alicia has me thinking about filling glass lockets with TINY shells and beach sand. Thanks for the tip! We chatted and sifted through the tide lines with baggies in-hand. Chris and Harry were happily chatting which gave Alicia and I more time to shell. Back aboard Barefeet Chris and I had a relaxed dinner of grilled lemon pepper chicken (a great creation by Chris).
It was another run to Top to Bottom hardware. This time we needed a switch – just a single switch. Installation of the switch was more troublesome than expected (of course) despite being a short wire run from the guest bathroom to our bathroom (okay, about 12 feet). The switch will allow us to over-ride the sensor which activates the pump which pumps out water from the bathroom sinks and showers. The sensor usually works but sometimes an air bubble messes with the "go" function so giving it a push to get it started is sometimes necessary. A switch has already been installed in the guest bathroom but having one in the master bathroom would be helpful (and avoid us parading dripping wet in front of guests in order to drain the shower). As the project neared completion it was a bit of a scramble to finish in time to attend a couple of talks at Chat N Chill…so…tool clean-up will happen later.
The talks were both educational and interesting. First up was a cruiser who is a retired doctor. He gave a brief talk on medical issues afloat. The focus was common sense immediate action and highlighted a few basic items recommended for your boat first aid kit. The bandages mentioned were new to us and described as revolutionary in their ability to keep a wound clean…apparently, originally created to ease pain and infection from bedsore wounds. We will add them to our stores.
Next up was Cordell Thompson, local Exuma Historian and Director of the Pompey Center for Studies in Traditional Art, Music, Food and Unresolved Mysteries. He talked about the past starting with the founding populations of the Bahamas. They were primarily British (American) loyalists in the 1780s (largely from the Carolinas, mostly South Carolina) as well as slave ships diverted from making their deliveries in the 1800s by the British who outlawed the slave trade in 1807 (the Royal Navy subsequently resettled almost 7,000 Africans in the Bahamas). Cordell brought the timeline forward with Bush Medicine which was taught to him by his Grandmother. Bush Medicine evolved from necessity as natural remedies from plants and herbs in a place where medical clinics are few and far between. Incidentally, Cordell's first visit to a hospital was when he was 74 years old (nope - not even birth because he and his nine siblings were all born at home). Moving further forward to the present day he mentioned his efforts to help Rum Cay rebuild after devastating hurricanes through transplanting trees. He made an open request to cruisers to take some of his plants aboard if they are heading that way. Cordell had a calming presence from the minute he started his presentation…by requesting the audience to ask him, "How are you today?" We did. And his response with a twinkle in his eye was, "Somewhere between oh Lord and thank God." It was a nice afternoon.
Reduced wind speeds encouraged us to snorkel. Off we went to the cut just south of Sand Dollar Beach…complete with dinghy mooring balls (3/11). There were sea fans, corals, colorful fish and a big, loping sunfish. Everything swayed with the surf and sparkled in the sunlight. On the way back in the dinghy we spotted a friend returning from a visit to New Hampshire. Holy cow - it was minus 2 degrees F?! We are glad to be here…and so are lots of folks. Boat count is still high at 263 boats despite the daily migrations; morning departures and afternoon arrivals.
Continued calm conditions are well savored because a messy front will be passing in two days. Time for shelling and swimming in the gin clear water. It was a calm, sunshine filled day that we dream about. Later, the sun slid down in the apricot sky as conchs were blown and someone in the anchorage played Taps on the trumpet. What an amazing end to the day…and Chris made it to the final table at Texas Hold 'Em.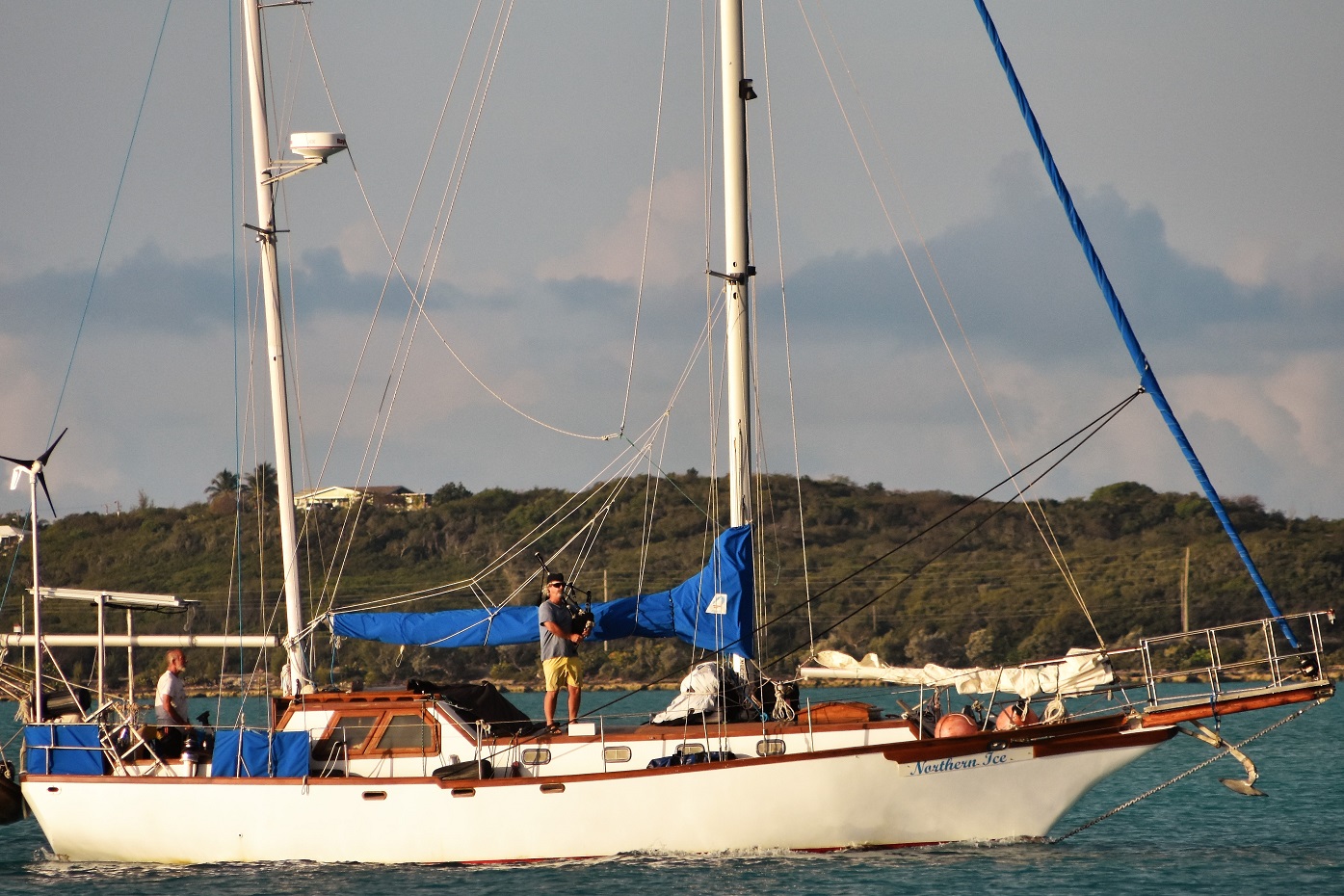 Today started with the morning cruiser's net…and…bagpipes?! Sure enough. Northern Ice is leaving the harbor with a bagpiper playing on the deck – totally awesome. We made an early dinghy run to the supermarket in the hopes of getting back aboard before the front started (3/13). Phew – we made it by about 20 minutes. The day continued with winds and rain just as forecast. Fingers crossed it will end on time, too, for our trip to town tomorrow to pick up friends Kim and Dave.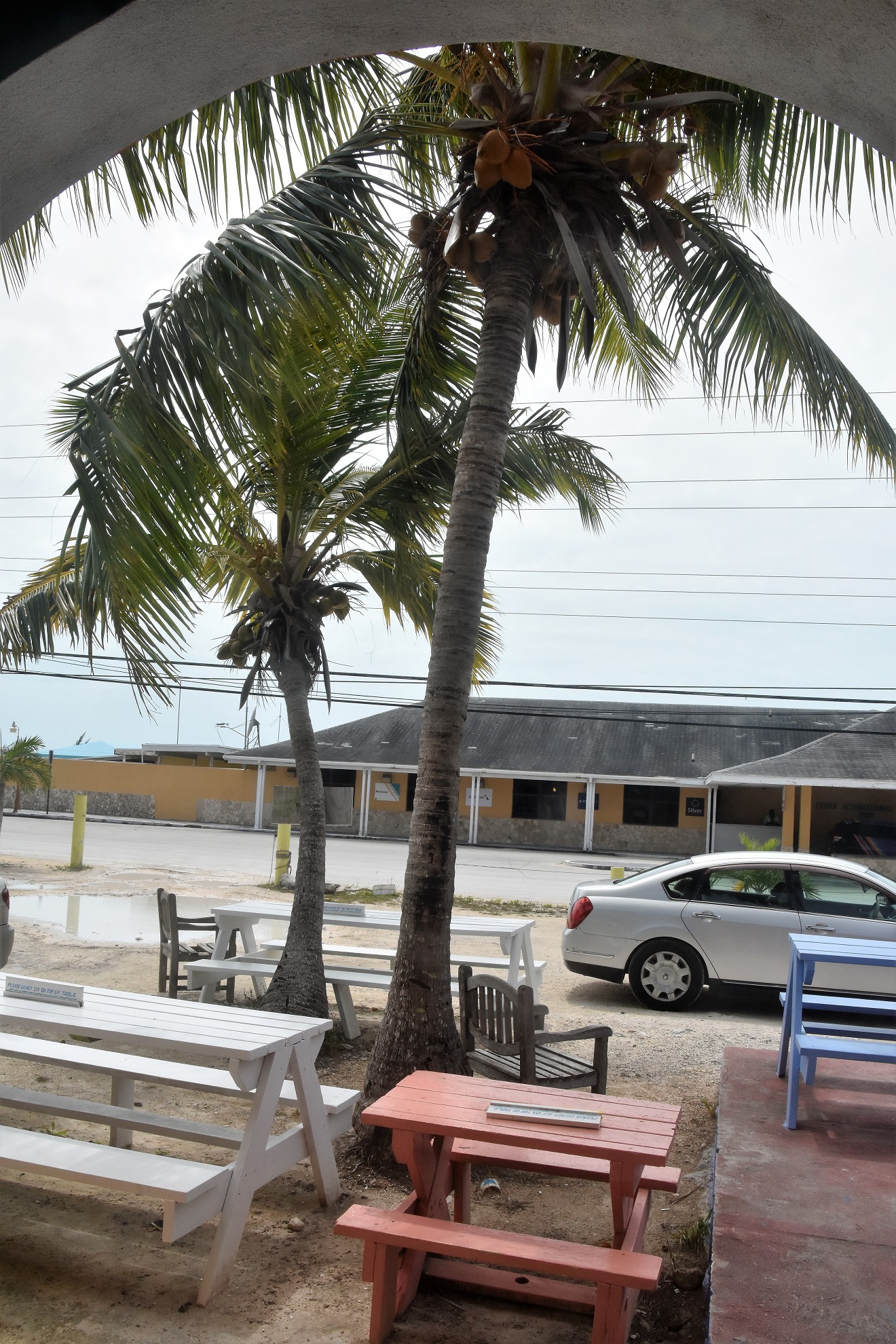 The net started today with a snipit from Bob Dylan's song Blowin' In The Wind. It was a clever and fun weather reference as the front wrapped up right on schedule. Planes could not land yesterday but today is okay - phew. Kim and Dave timed their trip well (3/14). Leslie shuttled us to and from the airport (taxi no.12; 242.524.0012 and VHF 16). Okay, "airport" is a bit of a fancy, modern word for this island runway. Actually, it is a small concrete and stucco, single story building with a chain link fence barrier and de-planing accomplished by a wheeled up, open air staircase. Our friends were through customs and immigration and we (and our boat part) were on our way. We wrapped luggage in trash bags and headed across Elizabeth Harbour (or as our friend on s/v JennaBird calls it…the Indian Ocean). The afternoon was spent in bathing suits with snacks and cocktails at Flip Flop beach before returning to Barefeet for a grilled steak and potato dinner. Oh la la and a bit of bubbly from Kim and Dave for my birthday. Thanks guys – super festive!
The day started bright and sunny which was perfect for a bit of George Town exploration (3/15). We made the rounds to the top of Monument Hill and over to Chat N Chill. Renaldo was at his conch shack making conch salad which is always fun to watch…and keeps the sting rays nearby in the shallows hoping for a hand out.
Mellow weather conditions meant that we would have a couple of days to move the boat around. We have never been to Lee Stocking Island so we decided to check it out together (3/16). The 30 mile hop was bumpy to start but mellowed as the morning progressed. Barefeet was anchored by Noon and we were off for a bit of snorkeling and island exploration. Hey, there is a lizard ashore…no wait…it's an iguana and there is another, and another AND ANOTHER?! Whoa, some are pretty big with red coloring and clothed in armor. It appears that (human) uninhabited Leaf Cay is on the Exuma Tour speed boat route which means the iguanas are used to hearing engines and then getting fed. We did not have anything to feed them but they were still curious. These rock iguanas were approx. 2.5 – 3ft and can live for forty years. It was quite a kick to watch them lumber across the sand in their funny, lopsided gate…but they are not slow. It was definitely an unexpected beach surprise.
Lee Stocking Island is abandoned today; however, from 1984 – 2012 it was home to the Caribbean Marine Research Center of the Perry Institute for Marine Science. The Center was connected to NOAA and considered one of the most productive marine laboratories in the world. Then it closed. The Perry Institute still exists but facts about the Center are a bit thin at the year 2012 in its history. As we walked around the abandoned buildings and labs it was as if one day research simply stopped and the people left. Rooms of aquariums were left behind along with white boards and markers; a washing machine (with towels still inside); a hyperbolic chamber (with keys still in the door). It was like a creepy, Caribbean ghost town. We left the ghost town in the rear-view mirror and continued along beach trails and eventually wandered back to Barefeet before a couple of squalls passed through giving Barefeet a fresh water rain rinse.
Happy St Patrick's Day! When in the Bahamas green beer becomes replaced with fresh coconut water cocktails from green coconuts gathered ashore (thanks Dave). Lacking a machete we stuck with a drill followed by a knife and a mallet.
Continued calm conditions had us doing a morning snorkel at Lee Stocking before returning to George Town. Wave state was much calmer on the ride back; however, the wind forecast for the future is a bit unsettled so we headed to the well protected Red Shanks anchorage (3/18). Our day ended marvelously. We blew conch horns, were awed by the vibrant sunset and feasted on Caesar pork tenderloin. It is fun to share this place with friends from back home because it makes it more real for us.
One day left for Kim and Dave means we have just enough time to visit Moriah Cay at low tide (3/19). We fueled up with breakfast quesadillas and dinghied to this stunning spot. The countless shades of blue, seemingly endless sand bars and sunny skies never disappoint. There were even a few starfish and sand dollars thrown in for good measure. The next day was a lake smooth, planing dinghy ride back to George Town and a rendez-vous with Leslie of taxi no.12 back to the airport. So long guys and safe travels. See ya next time!
Well, this is officially our turn-around point for the season when we pivot back north. We will begin with the next weather window…but not before Chris has another chance to play poker at St Francis. The next good weather window looks to be in about four days so we headed ashore for some errands; trash, supermarket, etc. And hey, we are still bumping into friends who have not yet flown the George Town coop (Lisa and Dave). Our plan is to go north along the Exumas then strategize a plan to cross to Florida based on evolving weather patterns; maybe through the Berries, maybe past Nassau, maybe above Andros…not really sure until Mother Nature shows a few more of her cards.