George Town and Beyond: February 17 2019
We are happily anchored at Sand Dollar Beach in George Town off of Stocking Island (2/2). Stocking Island is a narrow strip of land (approx. 3.5 miles long) that protects Elizabeth Harbour and George Town from the ocean waves of Exuma Sound and the Atlantic Ocean. Dotted along the shore are anchorages and on the island are various trails. Off we went to climb up to the top of Monument hill. Okay, not really a monument but actually a cement beacon supposedly a marker for ships dating back to the salt trade in the 1800s and restored over time to be used later by planes as a marker to the airport (before more advanced technologies were created). We anchored the dinghy at shore and ran through the mosquito gauntlet from the beach up to the monument at the top…thus avoiding the biting bugs lurking in the trees. Despite our best efforts countless marauders buzzed in our ears which kept us moving…even through the small stretch where a rope assist "handrail" gets you up the steps chiseled in rock. The view from the top is a 360 degree stunner with all the anchorages laid out at your feet. Back to the beach and we kept heading north to Flip Flop beach. Oh, there's cool shade…we will be back another time with chairs and books. The day ended with grilled lemon pepper chicken and baked potatoes.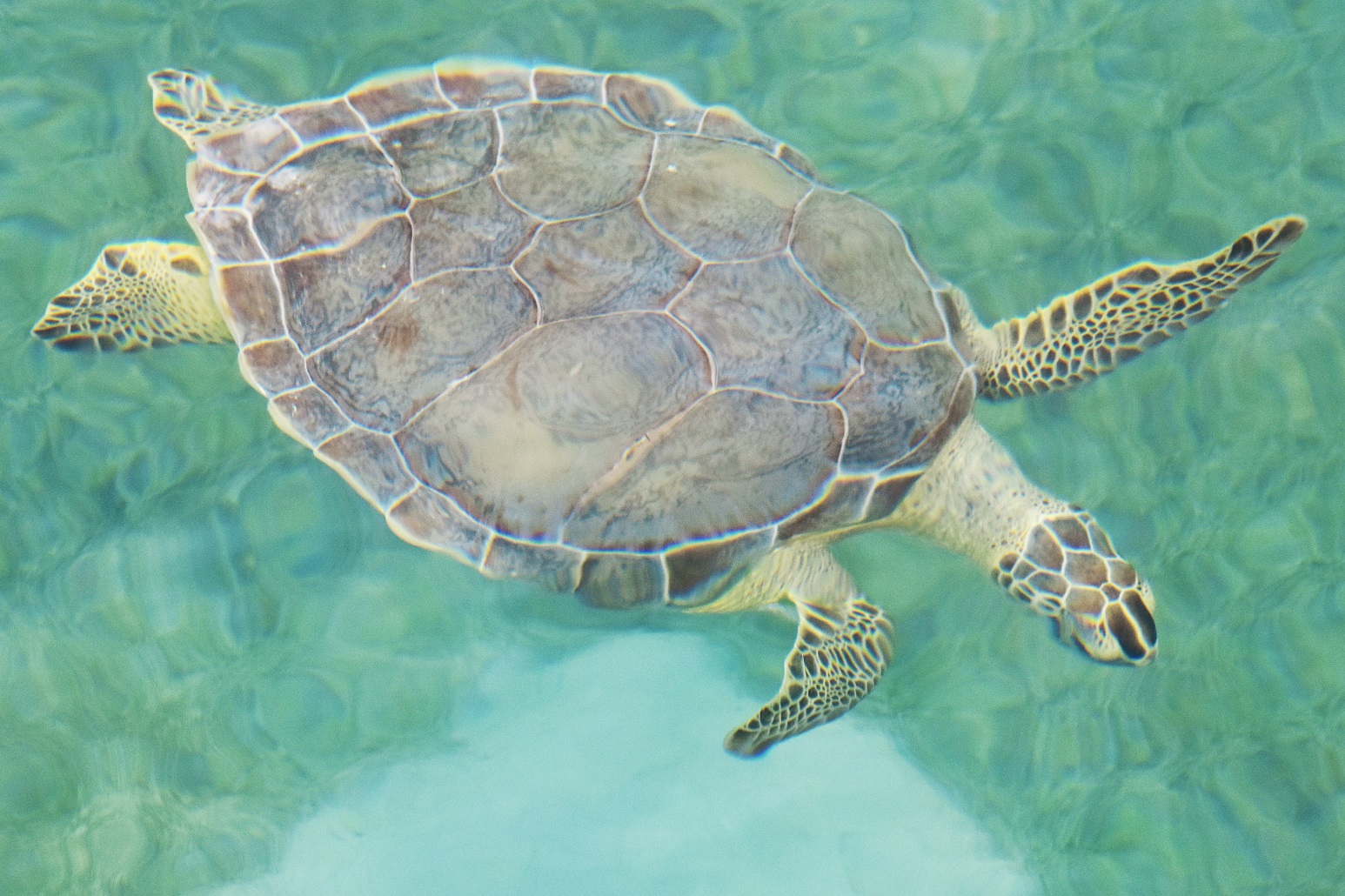 Yesterday, we were able to consolidate our remaining freezer meat into one freezer which means the aft lazarette freezer was turned off. Yep, a morning check on the batteries shows them 10% fuller. Chris is a happy man loving his power budget! A weather check shows that our possible window to hop to Conception and/or Cat Island has collapsed. No worries – we'll sit tight and wait for good conditions…and have lunch. February Point is a resort of residences and vacation rentals located across the harbor on Great Exuma Island (https://februarypoint.com/). The Rusty Anchor is their restaurant which we checked out with Russ and Lori (m/v Twin Sisters). A turtle greeted us when we tied up the dinghy and lunch was filled with good food and great chit chat (2/3). I am planning to turn shore treasures into bracelets so I asked Lori countless questions since she has been making jewelry for years (she even passed along some surplus beads – thank you). It was all super helpful but, now, I need to overcome my inertia and just get started. Back aboard and we had an impromptu Super Bowl potluck invite from Paul and Melanie. That is awesome! Their big screen TV family room means we won't need to elbow for a seat, etc. (very civilized). Plus, we met new cruisers. I contributed cheesy jalapeno square appetizers recently adored at an ARG meeting (alcohol research group). Thanks Kris of s/v Tilt (recipe below). The recipe is a real keeper! The Super Bowl was emotionally exhausting but a great Pats win. Yippee!
Our day started with feet still floating from the Super Bowl win as we sipped our coffee. Later it was onto a boat project (2/4). Chris installed the second strip of LED lights in the engine room and it is a great improvement with enough leftover light strip for a small space somewhere else…maybe the pantry storage in the pilot house below the helm?! As you can see from the photo on the left the LED strip is much like a spool of ribbon ready to attach into any shaped configuration. Neat! Harbor boat count temporarily dipped to 176 boats but is climbing again after folks return from the annual First Friday in February Festival at Little Farmer's Cay (5F's). Sounds like there were 80-100 cruisers this year. We have never made it to the Festival but we hear it is a giant party ashore and Bahamian boat racing regatta on the water. Another time.
Calm conditions combined with low tide enticed us to Moriah Harbor Cay in the afternoon. It is nearly 17,000 acres where white sand bars twist and turn seemingly forever, waters are countless shades of blue (turquoise, sapphire, robin's egg, ice – there are not enough names), creeks are lined with mangroves and cool starfish abound. Stunning! We are lucky to be here and we enjoy every minute.
Calm conditions are expected to continue into the night which means an easy dingy across to George Town. And since tonight is Monday – it's Eddie's Rake 'n Scrape so we are headed to town. Eddie's weekly dance party is a favorite of islanders and cruisers alike but we have never made it. Tonight, we went across just as the sun went down and tied up at the dinghy dock followed by a short walk around Lake Victoria to Eddie's Edgewater Cafe. We shared a mammoth plate of cracked chicken and fries while chatting with cruisers and islanders. Eddie has passed but his granddaughter keeps the tradition going. Hey – that's North Star Fred and Barbara and Ken (m/v Barbara). It was a raucous time with a packed, sweaty dance floor. True Bahamian décor means no rugs or drapes to muffle the sound…play, play, play. There is even a new instrument in the band – a $55 saw – very snazzy. Stepping out onto the porch brought a cool breeze and more fun telling lies and sharing laughs. Great night and great fun.
Activities are in overload with continued sunny skies and moderate winds (2/5). Tonight, it's Texas Hold 'Em, a dinghy drift and a jazz jam session on the beach. We pondered our options while sitting at Flip Flop beach reading our books. Russ and Lori walked by and so did Cort – hi guys. Birds are not very plentiful in the Bahamas; however, there is a resident osprey or two on Stocking Island. Looks like he left a feather on the beach…a rare treasure indeed. What smells like it's rotting?! And that coconut seems to be alive and moving?! It is a day of unexpected discoveries on this crab tracked sand. Upon closer inspection it was a hermit crab feast inside a dropped coconut. Sheesh – a bit spooky but quite the party. Back to Barefeet and Chris was off to Texas Hold 'Em and I stayed aboard to hear the jazz jam session. Gentle notes wafted from the beach where a saxophone and clarinet played Bossa Nova, Gershwin and other favorites. Then the sun slid below the horizon and the stars illuminated. Amazing! But no Southern Cross…yet.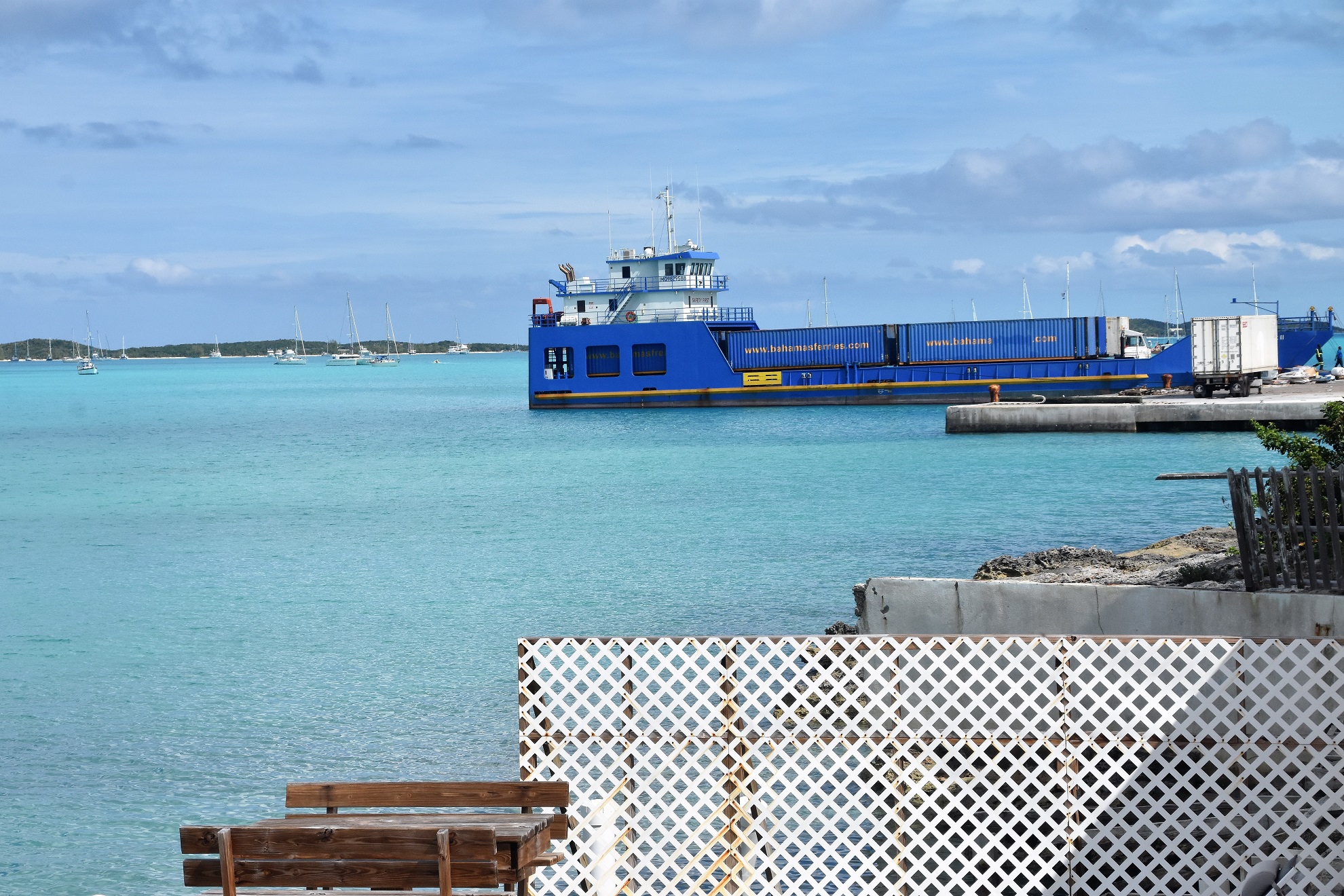 This is a bit of insight into food shopping. If that does not interest you please jump ahead one paragraph. George Town is an island located roughly 314 miles from Ft Lauderdale and (nearly) everything comes into the island by boat. Before supermarket shelves can be stocked – the shipping containers pass through customs, are offloaded at the Government Dock and are delivered as ordered. The item of most scarcity is fresh produce. Both islanders and cruisers strategize in an attempt to arrive at the market when it has its largest volume and broadest variety of produce. The whole boat offloading and shelf stocking process is a multi-factoral equation. What we know is that a Ft Lauderdale boat arrives once per week (mostly with fresh produce) and a Nassau boat arrives twice per week (mostly non-perishable items). From there it's a crap shoot regarding the timing of shelf stocking. Variations occur due to bad weather impacting the boat travel time and unloading as well as what day of the week it is because Customs is closed on the weekend (yes – items will sit in containers for two days if Customs is closed). Bottom line - we try not to arrive at the supermarket with too many specific desires. Plus, we can mostly tuck in around the edges thanks to our USA stocked freezers full of meat and dried seasonings and spices brought with us from the States. Additionally, we modify our menus and recipe choices to be more in line with what is available (like evaporated milk and plantains). Pricing is also different and much more expensive than in the States. Partly, that is because it is an island but mostly it is because of the VAT which is added to almost everything (VAT is 12%). For an added crazy twist – the VAT is applied even when withdrawing money from the ATM machine. This caught us off guard in 2017 but now we know to use the credit card and/or arrive with extra cash (US dollars are used 1 to 1 with Bahamian dollars).
Off we went to town for a supermarket run with fingers crossed (2/6). Hustle and bustle was as usual at the dinghy dock – so far so good. Holy guacamole – it was a produce-a-palooza?! We unexpectedly added fresh cilantro, oranges and yellow AND red peppers to our basket. Wahoo! Back to Barefeet and Chris gave the dinghy a thorough scrub – sparkling - while I made a hot pork/cheese/chile dip for sundowners on s/v Dragon Fly. During our respective cleanings we have noticed a growing ecosystem under our boat…especially at meal time. Initially, we saw a small black and grey grouper darting around whenever we cleaned dishes or got into or out of the dinghy (so much so that other cruisers ask us about our pet). He has been joined by a multitude of medium sized grey fish as well as a remora. And today, a bit of pork blood from a vacuum sealed bag seemed to be the dinner bell for a 4ft barracuda. Eeek – that was a bit shocking as I rinsed a shiny, metal bowl off at the swim platform (Chris protectively wrapped his hand around my waistband for good measure in the event of an unexpected strike - thanks).
We have had a string of lazy, sunny days which found us walking along the barefoot ready sandy trails of the island and searching for sand dollars at low tide. And, of course, a few small boat projects. Chris has changed out the watermaker filters. Hey – half a season on one set of filters is awesome. We ran the generator and made water, cleaned the engine room, ran the get-home engine and checked the main engine zincs. Okay, I need to get started on my bracelet making – no more procrastinating. Before leaving Boston I scurried around craft stores collecting raw materials for what I thought might be useful and have Lori's insights in my head. The outcome is mixed. I did one knotting style and two elastic band style. I like the results of both types but knotting does not come naturally to me. For now I like the elastic medium better but maybe I will grow into the knotting?! We wrapped up the day with fresh squeezed oranges with vodka and a sunset pizza. TGIF!
We continue to tinker with the boat in order to make our life aboard more pleasant. Our master bedroom is in the bow which means we hear the anchor chain rubbing on itself as it stretches out and contracts back. Usually, we pop in ear plugs but now we have a solution thanks to m/v Mi Via. A simple tie of a rope across the catenary of chain and voila – no more noise…none at all. Cruisers are clever – thanks for the tip. For lunch we checked out Lumina Point with Melanie and Paul (2/10). Lumina Point is a collection of eco-hotel bungalows nestled on a hill overlooking the turquoise waters (http://www.luminapoint.com/). It is a beautiful spot, the lunch was delicious and we always enjoy visiting with these guys.
The 39th Annual Cruisers Regatta is one week away and the harbor is filling up with current boat count at 239 boats (https://georgetowncruisingregatta.wordpress.com/). Increased numbers mean groaning tables at beach potlucks and interesting, fun people to meet. Everyone enjoys swapping travel itineraries and stories of how they came to live-aboard. It is never dull and the sense of humor leads to loads of laughs. We saw a great baseball hat today emblazoned with – boat hair don't care (tee, hee, hee). A common gathering place at 2pm daily are the sand volleyball courts at Chat 'N Chill. There's fun volleyball, regulation volleyball, dominoes, basket making, reading in the shade, snacks from the CNC kitchen and more telling of lies. We finally made our first appearance due to a mail hand-off need. We have a few birthday cards for family in the states that we want to get in the mail. Bahamian post is far from reliable so cruisers have stepped in and created their own network. It works like this - cruisers who have guests visiting offer to take the stamped and addressed mail back to the states (or Canada) and drop it into a post box. This is awesome and helps to keep us a bit more connected back home.
Squally weather passing through has conditions all over the map and us swinging 360 degrees at anchor. There was some early morning adrenaline as a few boats dragged (thankfully, not close enough to Barefeet for us to be concerned). The rain filled and filled and filled the dinghy with water…up to my ankles. First bailing then pumping out. In between the showers we headed to Volleyball Beach to sign up for a few Cruiser Regatta activities – gotta regatta (2/13). Hey, the weather forecast says we might be able to hop to Conception Island in a couple of days.
The squalls wrapped up in the early morning and the conditions transitioned to super calm - perfect for the Regatta Poker Run (2/14). Don't focus on the "poker" part because it is really more of a pub crawl. This is how it works: we visit five bars around Elizabeth Harbor and collect one playing card at each stop (and nibble and drink because each place has drink and food specials)…plus collect one card at the start (11am) and the finish (3.30pm) at Chat N Chill. From those seven cards make a five card poker hand (no trading). There were 57 dinghies signed up. It was a hoot! Dinghies buzzed around the harbor and each location was a party; Rusty Anchor at February Point, Eddie's Edgewater, Choppy Water's, Peace & Plenty and Peace & Plenty Beach Club. Russ and Lori joined us and we had a great time! Our final hand did not win but it was an afternoon where we learned of a few new places around the harbor and we partied away the afternoon.
The calm conditions are awesome for the Poker Run but they mean that the biting bugs are back buzzing around. We deployed the gifted bug zapper – ta da – all bugs are gone (thanks Melanie and Paul). The dead calm afternoon ended in a stunning red sunset. Happy Valentine's Day.
Despite the calm we had a restless night. The dawn could not come soon enough because we are going to Conception Island – yippee (2/15)! The last time we were there was eight years ago when we closed the loop on our circumnavigation. Today, the morning was still and the Exuma Sound had gentle rollers spaced widely apart as we made the 42 mile hop. Along the way we filled the water tanks and spotted many other boats also on the move. By 1pm we were anchored in West Bay and pinching ourselves that we had arrived. Off we went in the dinghy to the inland lagoon. There were deep pools colored teal blue and shallow sand areas shining bright white. In between there were various shades of blue – the road map to snake our way deeper inland. There were turtles popping their heads up for a breath and skittishly darting past…as well as rays swimming beside the dinghy. It is a magical place. Back to Barefeet for sundowners where we were joined by a 6ft shark who slinked through the anchorage…no doubt looking for leftovers…and with a dozen boats in the anchorage he might find something. However, he was out of luck from us. We finished all of our dinner; grilled steaks, baked potatoes and Greek salad bites. As the bright moon came out we walked the decks and again spotted our shark friend. This time casting a shadow on the rippled sand floor as he made another pass through the anchorage. Wow.
We are glad to be at Conception but the price we paid was a rolly night due to swell – we'll take it, it's worth it. The sun came up behind the palm trees and the birds chattered ashore more like songbirds and less like the squaking gulls and ospreys we have become accustomed to. Yikes, looking back - we were anchored at Sand Dollar for 18 days so it feels nice to be moving a bit (yes, I checked, there was fuzz growing on the anchor chain when it came up – tee, hee, hee). Conception Island is uninhabited and undisturbed natural beauty. Not even wifi or cell coverage which adds to the remote, out island vibe. Okay, Columbus and others have landed here but it is wholly unmarred by civilization. However, hurricanes have left a mark and re-arranged things a bit since our last visit.
After breakfast we headed to shore for a walk across the small island (2/16). On the other side we met a nice couple watching their four grandkids. They were super impressive as they mentioned circumnavigating 1974-84. Wow - that was when the adventure was hard. Our hats off to them.
Back to Barefeet to collect snorkel gear and we headed just a bit southwest of our anchor spot. There were multiple corals and sea fans and colorful fish but we called it quits when we came eye to eye with a big barracuda. Yeah, they are mostly just curious but it is a bit spooky. As we tied to the big boat we noticed a ray stealthily slipping under Barefeet's shadow. Our day ended with drinks on the beach and everyone lending a hand as dinghys skittered and maneuvered in a shoreline surge.
Not wanting to get too cute with the weather forecast we headed back to George Town at 6.30am (2/17). The anchor was clearly visible at a depth of 16 feet on the rippled, white sand ocean floor. This water clarity never gets boring. It was a lovely morning with flat, smooth seas. Thanks for the visit, Conception, hope to see you again. The day unfolded with sunny skies and an uneventful return to Sand Dollar Beach. So uneventful that we did not even get a nibble on the fishing line - drat. We will be here in George Town for a few more weeks but we will always keep an eye on the weather for a quick hop to nearby Cat or other island.

Kris' ARG Party Jalapeno Cheese Square Appetizers
Ingredients
1 lb cheddar cheese shredded
1 lb monterey jack cheese shredded
1 lb sharp cheddar shredded
12 oz sliced jalapenos drained (or canned green chiles depending on your heat preference)
1 can(s) evaporated milk (12 oz.)
1 c self rising flour (or…place 1.5t baking powder and ˝ t salt in a measuring cup – add all purpose flour to fill measuring cup)
2 eggs
Directions
Combine all shredded cheeses in a large bowl. Place half of the cheeses in a sprayed 13x9 pan. Layer jalapenos over cheese mixture and then top with remaining cheeses. Beat flour, eggs and evaporated milk til smooth. Spread over cheese mixture. Bake at 350 degrees for 40-45 minutes. Let cool for about 20 minutes to set before cutting. For variations I have added minced onion, crumbled bacon or ham…
For most parties a half recipe is plenty…I made a ˝ recipe in a 7 by 11 pan. Plus, just mix everything together and spread it in pan. Much easier.