George Town Cruising Regatta - Balancing the Natural Tranquility with the Social Frenzy: March 6, 2019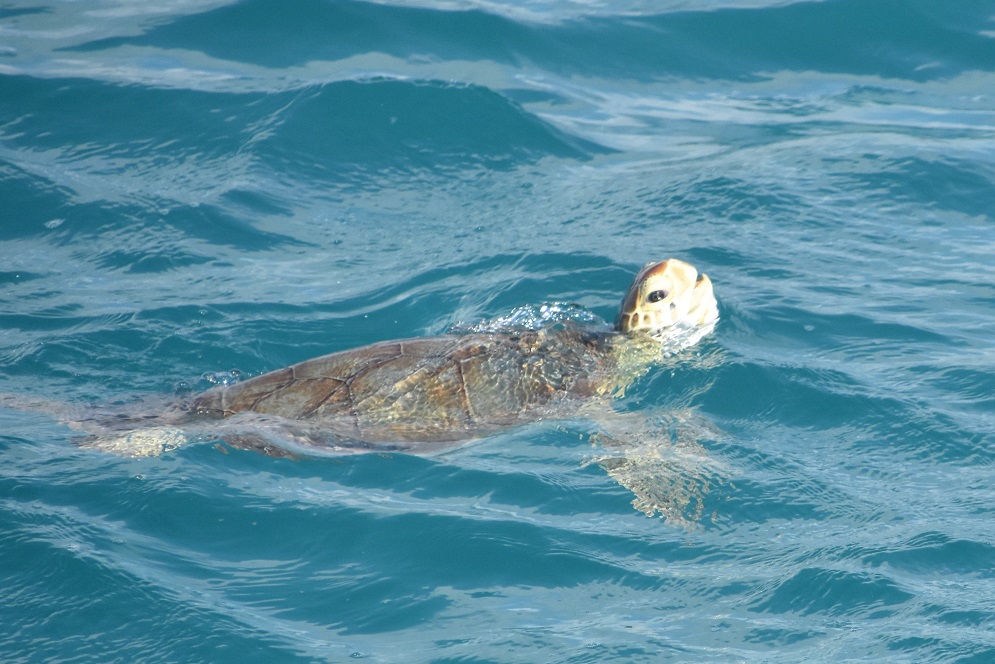 Our mornings start quietly with coffee and turtle spotting on the top deck as the sun comes up. After the daily cruiser's net wraps up about 8.30am the day is off and running. The 39th Annual George Town Cruising Regatta continues to ramp up with more and more boats arriving and activity calendars quickly filling up. Gotta Regatta! Well, actually, we are not the biggest joiners of large, organized gatherings but we do participate here and there. We compliment the overcrowded with the small get-togethers in order to keep from becoming too over stimulated. We spent lazy afternoons in the shade at Chat N Chill with toes in the sand telling lies and catching up on bocce and volleyball victories. However, we were sure to wrap up in time to have sundowners on neighbor m/v Traveling Soul (2/18). They provided a bubbling garlic and artichoke dip while we provided a cool fiesta dip (recipe below). We nibbled and chatted and had a wonderful time.
At anchor we were a bit bouncy but the bright sun made it all just fine. There was a super low tide so we wandered the shore digging our toes below the sand and found a couple more sand dollars. The gleaming white color of the dead ones makes them easy to spot. Tonight, we were the host to four boats for sundowners; s/v Carina, s/v Dragonfly and s/v No Limits (2/20). Yes, we were the only motor boat (m/v) of the group but they did not hold it against us (much). Cruisers are clever and marvelous cooks. Chris' sausage and green pepper pizza was joined by hot, creamy buffalo chicken dip, Italian garlic spread and shrimp & mango dip (the shrimp were self-caught in Georgia after casting net lessons from local kids – well done Doug). All was delicious!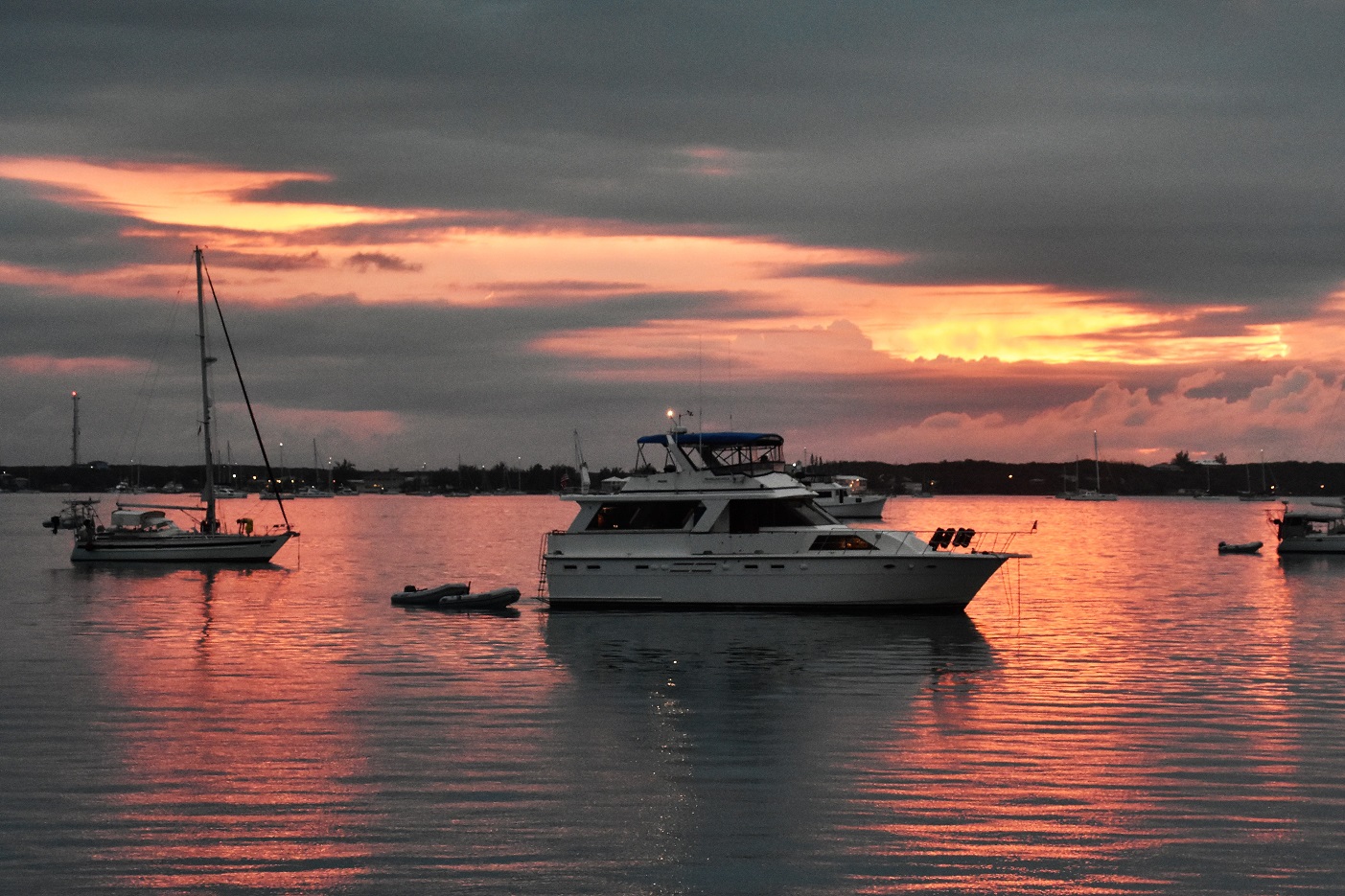 Having friends in the same anchorage (and right beside us) means it is a snap to get together…and a dry dinghy ride. We headed back to m/v Traveling Soul for a potluck dinner (2/21). Did I mention what amazing things are produced in boat kitchens?! Ann created homemade chicken enchiladas with all the toppings…cooked in cast iron pans. Wow – my Mexican comfort food craving was well satisfied. We brought over Spanish rice and a coconut custard pie (recipe below). These guys are easy to be with, interesting to chat with and their boat is warm and cozy. Thanks for another great night Mike and Ann.
Having friends in the anchorage also means that even mundane errands become fun. Joanne organized the ladies of four boats for a shared shopping trip to Prime Island Meats and Smitty's Pharmacy who both carry things not found within steps of the dinghy dock (2/22). Lisa drove us in the dinghy across the harbor and the taxi was waiting for us when we arrived (because both shopping locations are a bit north of George Town on the Queen's Highway). Prime Island Meats will cut meat to order like pork chops, ribs and prime steaks (even flash freeze it if you like) as well as slice-to-order deli meats. Additionally, they have several ready-made, homemade salads and grocery items. Smitty's is a great stop for items that need a prescription in the states but are over-the-counter in the Bahamas…such as stugeron for sea sickness and birth control pills (https://www.smittyspharmacy.com/). We gals were back aboard our respective boats within 1.5 hours – very efficient, ladies (the boys were shocked). Day by day the seasons are changing. Sunset has advanced to 6.02pm from 5.30pm when we arrived and the water temperature is up to 74 degrees F.
As the seasons change so do the cruising itineraries. Out and back island visits have changed to longer term voyages. Some boats are headed south toward Grenada while others return north to the states. An afternoon sail on gorgeous s/v Dragonfly for Joanne's birthday was a great farewell event (2/23). Dragonfly is a brand new, South African built catamaran from Balance Catamarans, model 526 (https://balancecatamarans.com/). Thanks Lisa and Dave – she is smokin'! Plus, the afternoon event meant that Chris had no trouble attending the Texas Hold 'Em Tournament with 80 players. Lots of fun but he didn't place this time.
For all of our moving around the harbor in the dinghy there are some days when we do not get off of Barefeet; however, there is always plenty to see. From the turtles nibbling on the coral and grass…to the fish hanging out below the big boat and dinghy (yep – Group our pet grouper is back)…to dolphin passing through…to admiring boat artwork (including a figurehead named Mildred)…to boat pets being ferried ashore for their constitutionals. There was even a round the harbor sailing race viewed from our top deck with colorful commentary by the dynamic reporting duo of energetic Nikki (the feisty Texan) and European Donna (with the Zsa Zsa Gabor-esque delivery) (2/24). They were a crazy ying and yang to hear shouting out the race standings and updates. Aboard Barefeet, Chris did a generator oil change and a belt check (generator and main engine). And me?! I made another bracelet.
Hey, it's time for beach golf! Gotta Regatta! This is a kooky, fun, nine hole golf course carved out of the sand. This year it is below the monument on Stocking Island (2/25). Frank on Local Knowledge designs the course and schlepps everything to the site; sea weed, coconuts, conchs…even the golf clubs – one per player (both leftie and rightie are available). The basics are that women tee from the conch shells and men tee from the coconuts. No need to get it into a cup – just get it into the seaweed circle. Stop counting at seven strokes. Foursomes went off every ten minutes starting at 8.30am. Yikes – at over 80 golfers – that's a long, hot day. Thank goodness for the beer tent and the sole scrap of shade in sight. We met new folks from s/v Lord Charlton and s/v Latitude Adjustment. It was a kick!
Golf was done so we crossed the harbor into town in the gloriously calm conditions. We picked up some groceries, got some hose (for the dinghy bailing pump) as well as small batteries at the hardware store (Top to Bottom) and checked out 242 Prime Spirits. Wow – it's like a party in here and the prices and selection is great. We have ourselves a new liquor store (located across from Island Boy/dinghy dock). Sundowners were a small get-together on our top deck with m/v Mi Via. Great chit chat and tasty nibbles – so fun to hang out with you guys, David and Gerry.
Eegads – boat count in the harbor has ballooned to 263 boats which has put constraints on the anchor shuffle (2/26). Unfortunately for us, there is just too much southerly component to the wind which is making Sand Dollar anchorage too rolly for us…so we moved to Monument anchorage. Monument is PACKED cheek to jowl but we shoe-horned our way among already anchored boats and tucked into a spot between the shore and the channel. It is important to be out of the channel so that delivery cargo ships don't make you into a hood ornament. No kidding because the cargo ships are navigationally constrained due to a combination of their deep drafts and the shallow waters. They travel day and night and no one wants any surprises. At 1pm we headed to Chat N Chill for the Regatta Closing Ceremonies. Sounded like a good idea at the time but…hhhmmm…seems we have reached our participation limit and have had a bit too much "joining" today. Thankfully, sunset was a quiet affair with a pod of dolphin slowly passing through the anchorage with leaps and tail flips and frolicking.
There is a massive exodus from the harbor since regatta is over and calm weather conditions dominate the forecast for good travel. Calm conditions also mean a solid work platform for boat projects (2/27). There are two projects that have not broken (yet) but can be improved. Both projects are in the master cabin and will require both closets to be emptied and torn apart in order to reach wire and hose chases. Needless to say, the bedroom has become a worksite. The first project is re-wiring the bow thruster so that it has a dedicated breaker rather than the current situation of sharing a breaker with the house bank. Yep, the mattress is also torn up to get below it. There were a few false starts during our tag team efforts to snake the fish through for a wire run; however, a clear run was eventually found and wires were connected – success. Now for a bit of re-con to be sure we can be off-and-running tomorrow for the hose replacement project.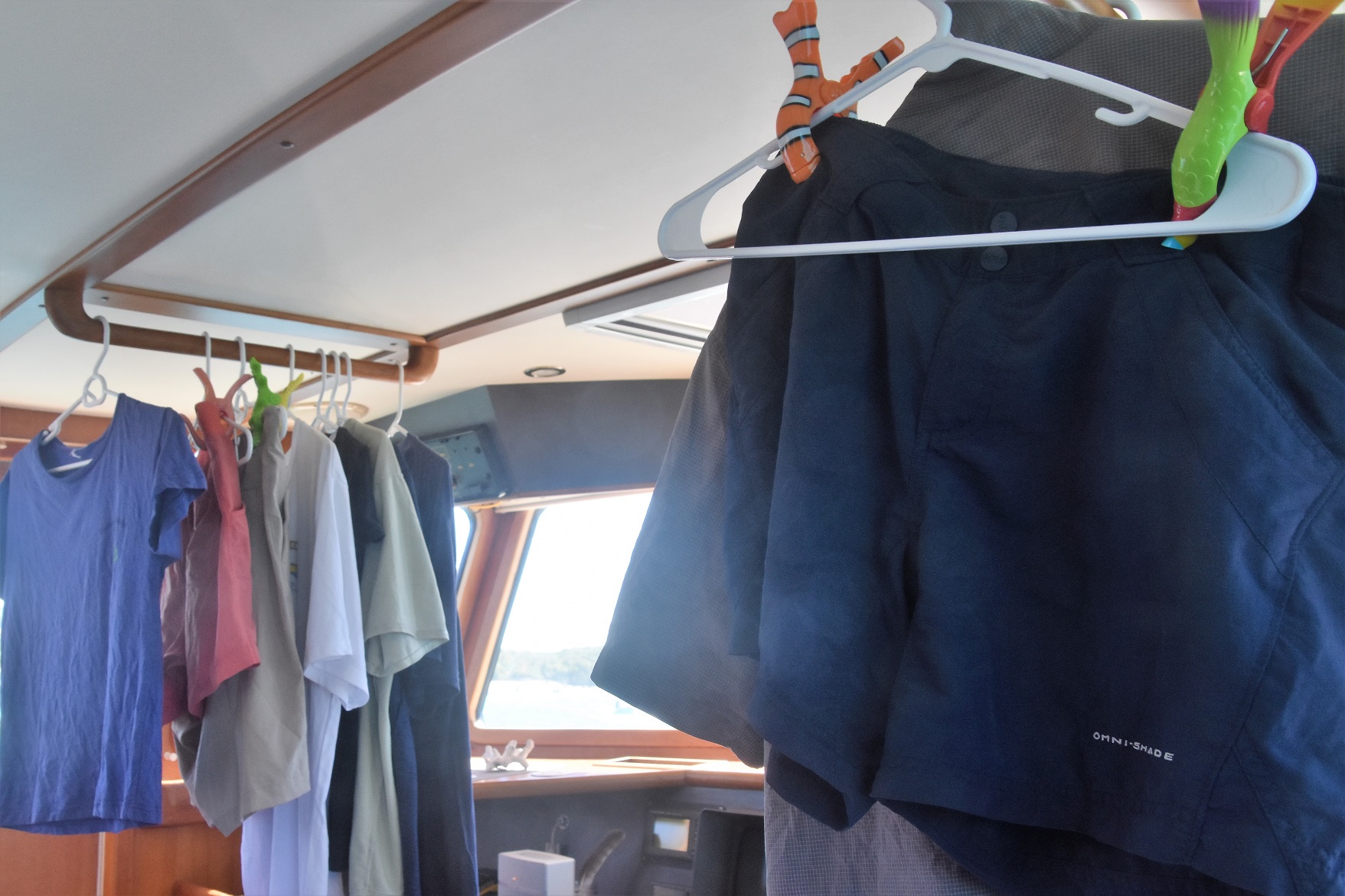 Keeping to another section of the boat – it's laundry day. We have a small, apartment sized washer dryer in-one aboard Barefeet. It works great but we take the clothes out when the wash cycle is complete and simply hang dry the clothes – it's quicker and uses less power. We use plastic hangers and super awesome clothespins to hang the items on the ceiling hand-holds in the pilot house and main salon. It might seem funny to be passionate about clothespins but there you have it – we love these clothespins. These pins are super strong and have almost zero metal. The zero metal means we do not get rust marks on our clean clothes. The pins are called boca clips and readily available at Bed Bath & Beyond, Kohl's, Walmart, etc. Plus, the crazy colors and designs like parrots and flamingoes and fish add a bit of fun to the mundane task of laundry.
Calm conditions keep the conveyor belt of exiting boats moving and us on a solid work platform (2/28). Closets remain torn up and we are onto the second project - hose replacement. The goal is to replace an original boat hose that runs from a bow deck drain overboard above the water line. The hose has not yet ruptured but it feels like a ticking time bomb in which my closet and its contents would get soaked. The offending original hose is black in the photo. This project starts with Chris in the large section of the closet, moves to me in the medium section of the closet and wraps up in the tiny section of the closet that is the size of a mailbox. It is a squirmy spot where only one arm and one shoulder can be involved. The heat gun did not budge the 20 year old hose so Chris rigged up a set of vice grips, levered a stick of wood and hammered with a rubber mallet. Brute force followed by more brute force finally set the hose free. We took the hose with us to Top to Bottom hardware store in town not wanting to goof on the length. Back aboard and back into the mailbox part of the closet (literally 7"x11" opening…that is smaller than a sheet of paper). We tag teamed the tightening of hose clamps…slotted screw driver, stubby screw driver and finally a socket wrench (after I had to squirm some more to find the wrench head after I dropped it - #@$%!). Sweat is everywhere but might be working like a lubricant to help us squeeze another inch into this space…gggrrr. Sheesh - we were pooped when we finally finished just as the sun went down. Please join us to ogle the clear plastic hose with silver, blue and red stripes in the photo. Done! Showers (yes) but too exhausted to even make nachos like last night so we settled for canned dolmades (stuffed grape leaves) and cheese and crackers on the top deck…until the mosquitoes drove us inside.
We awoke to sore arms, scrabbing knuckles and random scratches and bruises above the waist but the two projects are done so we took it a little easier today – yippee (3/1). Chris got a haircut at Tranee's salon (and fish market) and I had some sausage and grits at JJ's Restaurant. I am not quite sure what the "sausage" was but it filled a wrinkle with a drizzle of bbq sauce and hot sauce and the grits were creamy goodness – I cleaned my plate. Back aboard Barefeet where my closet was re-assembled and re-filled and hose and wire labels were made for the work from the last couple of days. At 4.30pm we headed over to Flip Flop Beach for a grill and bonfire organized by Erik and Lisa (s/v Music and Lyrics). It was great to catch up with folks still in the harbor before they soon scatter. We brought our own cocktails and an app to share. I had excess carrots this time around so I sleuthed the internet and found a recipe…Moroccan Roasted Carrot dip. Who knew?! Well, it was super tasty and is a definite repeat (recipe below). We just eeked out grilled hot dogs before the mosquitoe squadron descended. Dang – these flying biters are brutal…bug spray or no bug spray. Phew - outrunning them in the dinghy did the trick.
Onto the next project – bathroom fan replacements (3/2). One fan has died and the other limps along while bellowing loudly. Last summer Chris sleuthed replacements but he must now remove the old before installing the new. Yep, you guessed it – squirming into another small corner of the boat. This time behind his closet and the starboard side of the Portuguese bridge locker. Current access holes are too small to remove the fans so Chris cut a bigger access point. He used what felt like every tool he has…including the Dremel and the vibrating cutting tool. Not bad – two perfect cuts and one messy-as-shit cut (small spaces do not encourage perfection). While Chris worked on the boat I took a solo trip to town in the dinghy for a few errands. A good stopping point was reached in early afternoon so we wrapped up in order to swim in the not to be believed gorgeous water. Home grown basil from m/v Mi Via made for an out of this world margarita pizza. Okay, my hyperbole seems a bit much but it is the little things that often matter the most. Cheers!
Out with the two old fans and ready for the new ones…and ready to close up Chris' closet (3/3). Fitting the wall panels back into place is quite the Chinese puzzle. And don't lose track of the wires that need to come through for closet lighting. With these recent projects Chris is pretty sure that he has, now, been in EVERY nook and cranny of the boat…with new yoga poses and contortions to prove it. Working through these projects has the added bonus of shrinking our end of season project list…awesome.
We stroll the beaches for shells and other treasures; however, general consensus among cruisers seems to be that pickings are remarkably thin this year for shells, beans, fans…you name it. Not sure if it is a result of hurricane activity or what but treasures are definitely few and far between. Hey - these walks have identified my super power – walking faster than Chris in deep sand. No kidding…but it also could be my focus on finding treasures. Post walk we got together for sundowners with Twilight Traveler (3/3). These folks are easy to be around, fun to chat with and accompanied by their adorable pooch Ruby. See ya next time!
Since the old fans have been removed Chris is tracking down the ducting to install the new fans that he brought with us. It has been loads of online research with only mediocre results. He'll keep at it. In the meantime, calm conditions mean not only a good work platform but also an opportunity to scuba at nearby reefs. We headed into town to finalize details followed by burgers at Choppy's (3/4). Harbor crossing was not dramatic and we were soon under the bridge and tied up at the dinghy dock in Lake Victoria. Choppy's is a raised deck, open-air bar and restaurant overlooking the harbor. Their burgers are juicy, drinks are cold and there's a twist…daily shark feeding at 5pm. Owner Choppy chums the water and several black tipped reef sharks gather. These sharks are not the most aggressive of the species but they do put on a lively floor show.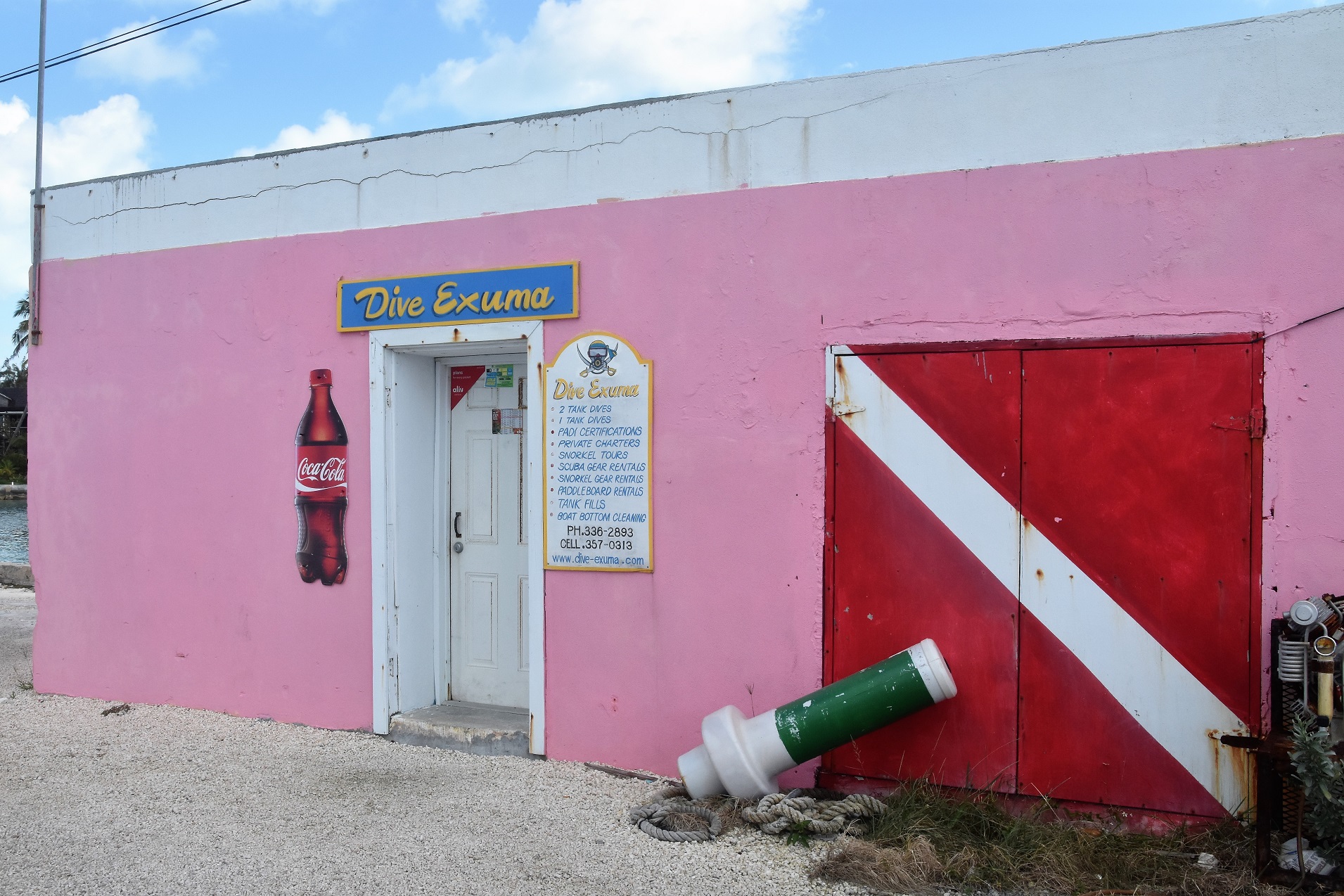 Chris was off bright and early for reef dives with Dive Exuma (http://www.dive-exuma.com/). There were just three divers and one dive master which made it a laid back experience. There was soft coral, one lobster and brightly colored fish. Plus, the Bahamians are re-seeding the coral reef. Small bits of coral are strung and dangled above the reef. As the small bits grow they are divided and planted around the reef while dangling bits continue growing to be again divided later and on and on.
The day continued along without drama. An osprey was spotted ashore as a blaze of white among an otherwise green wall of foliage. Sunset was tranquil with light and variable winds as a bright orange ball of sun slipped into the ocean. Cruisers dotted nearly every boat to watch the show and countless conch horns blew at the completion of the day (3/5). Hey, Chris placed third at Texas Hold 'Em – well done.
Winds are forecast to kick up to 20+ knots for several days. We will stay anchored at Monument but we took advantage of the last bit of calm to do some morning errands in town and check out a new coffee shop (3/6). Describing the conditions as "calm" does not really do the stillness justice. We saw the anchor dug into the sand at 15 feet of depth and crossed the harbor which more closely resembled a flat mill pond – a rare treat. Cat has created a cozy spot at Karijava (the old Two Turtles) with steaming coffee and amazing carrot cake and banana bread. Well fortified, we finished our errands and returned across the harbor before the winds picked up at precisely 10am…right on schedule. At this point, we remained aboard to be sure surrounding boats settled happily and did not become bumper boats. All was good so we headed ashore for afternoon beach walking at low tide. Yahoo – we have found gobs of shells! Okay, they are small and many are broken but it feels like the mother load compared to what we have seen anywhere else in the Exumas. These small bits with ready-made holes (mostly keyhole limpits) will be great for my bracelet endeavors.
We have friends visiting in about a week so we will stay put. However, after they depart we will begin heading north toward Florida. Until then we will walk the beaches, swim in the warm waters and enjoy the environs of George Town and Elizabeth Harbour.
Fiesta Dip (from Tracy)
14oz Greek, plain yogurt
1 pkg (0.87 oz) taco seasoning
1 cup shredded cheddar cheese
1 cup shredded lettuce
½ cup diced tomatoes
Optional additions: cilantro, green pepper, olives, avocado, etc.
Mix yogurt with taco seasoning (can mix together up to 24hrs ahead in order to let flavors meld). Spread yogurt in a 9" round pie dish. Top with cheese, lettuce and tomato. Serve with tortilla chips.
Coconut Custard Pie (aka Impossible Pie)
1/2 cup butter, melted
4 eggs
1/2 cup flour
2 cups milk
1 cup sugar
1 cup coconut
1 tsp vanilla

Blend all ingredients in a blender just a few seconds. Pour into a greased 10" pie tin. Bake 350 degrees F for 45-50 minutes. Sprinkle with coconut at very end (browns quickly). Can be served with whipped cream.
Moroccan Roasted Carrot Dip (the4blades.com) serves 6
1 lb carrots, peeled and roughly chopped
4 cloves garlic, minced
1 teaspoon salt
1 ½ Tablespoons ground cumin
4 Tablespoons olive oil
6 Tablespoons Tahini
2 Tablespoons lemon juice (approx. 1 lemon)
On a roasting pan or rimmed cookie sheet combine carrots, garlic, salt, cumin and 2 T olive oil.
Mix well so that all carrots are coated.
Bake at 350 degrees F for 30 minutes or until carrots are soft enough to puree.
In a blender or food processor scrape carrot mixture and add lemon juice, tahini and 2 T olive oil.
Blend until smooth.
Serve with crackers, pita, veggies…whatever.