Exuma's Social Swirl: February 1 2019
You guessed it - we still have white caps in our coffee but we feel good at our slip in Emerald Bay Marina (1/23). The entire Atlantic Ocean is screaming orange color with wind speeds at 25+ knots (windy.com). The most dramatic result of this that we see at the marina is that the winds have water activities at a complete standstill; dive shop dives have been canceled and zippy speedboats that tour the entire Exumas (like Coastline Adventures) remain tied up at the docks. This is a big deal. Generally, water activities function every minute that the sun is up with cash steadily flowing. Heck, people fly in from Nassau for these one-day trips and right now nothing is moving. Mother Nature certainly holds all the cards.
As for us, Chris installed a flexible LED strip light in the engine room. Wow – that is a lot of light! The added bonus is that the previous fluorescent tube light fixture could be removed…thus adding about three inches of headroom space. It might sound minimal but it is a great improvement. We fueled up with hamburger and jalapeno pizza for dinner then headed over to the lounge for some cruiser poker. It was a friendly game of Texas Hold 'Em with a $2 buy-in. Boat cupboards were picked clean for "chips" - pennies, nickels and dimes…along with owl and fox erasers (tee, hee, hee). Games were fun and full of laughs and chit chat. Chris was the big winner – twice. Hey, don't spend those singles all in one place young man.
Exuma is an archipelago of 365 islands/cays over a distance of over 90 miles in the southern Bahamas. Great Exuma Island is the largest island at 37 miles long and connected by bridge to Little Exuma Island (total length is roughly 60 miles and about 7 miles in width at the widest). Since winds still howled we headed for some land travel after a load of free laundry (1/24). Off we went in our dual colored Mazda from Berlies Car Rental (242-336-3290 - $65/day; $10 pick-up/drop-off fee to the marina). Our plan is to head to the northern tip of Great Exuma Island, work our way back south and wrap up with a bit of general errands stuff in George Town.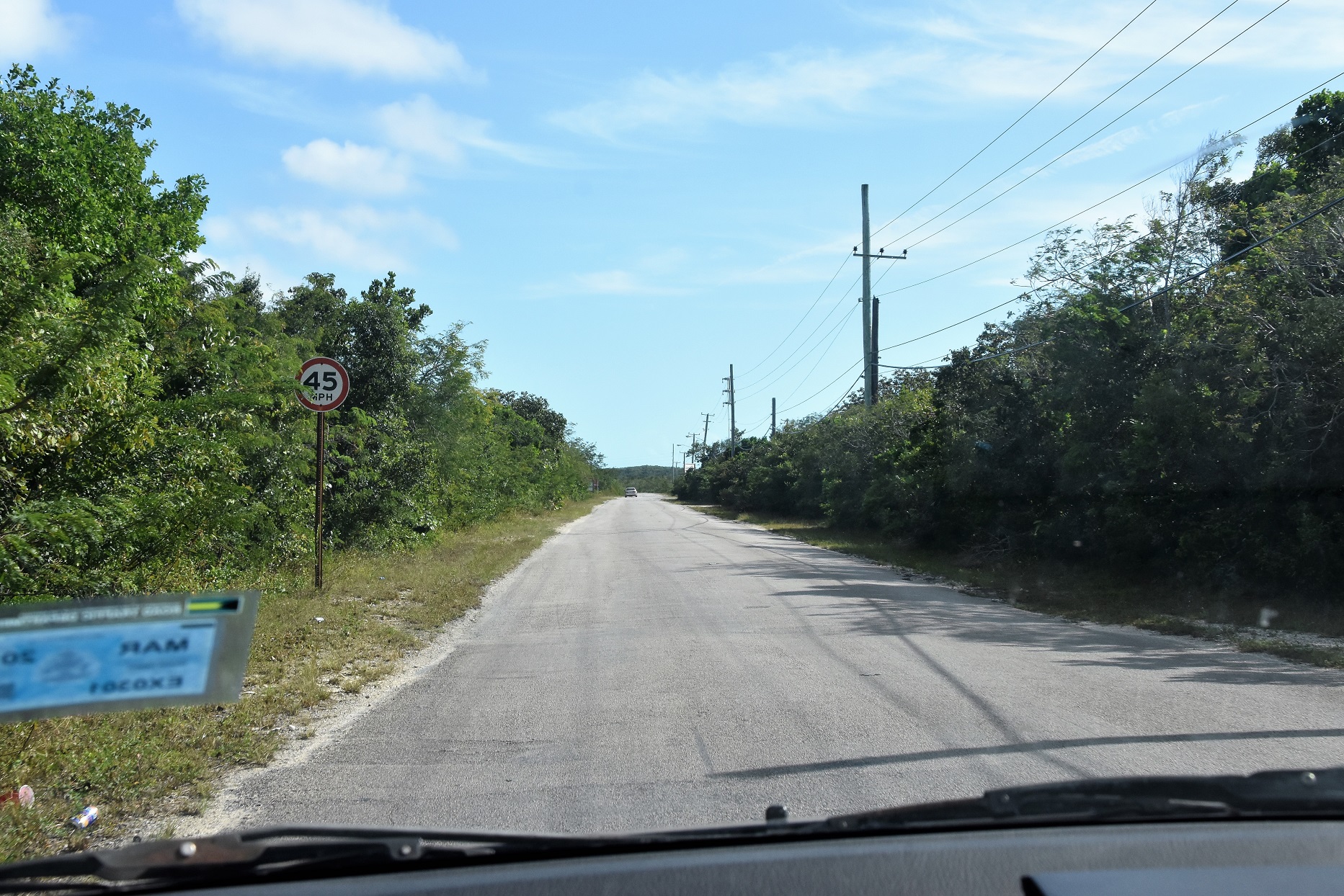 The single road north and south on the island is called the Queen's Highway (yep, same name as on Eleuthera). Rumor has it that the road was built by the US military in WWII and has not been improved since. Pot holes are abundant (and deep). Romaine, our rental car agent, mentioned that citizens often fill the pot holes themselves in an attempt to keep the roads in better shape. HHhhhmmm…definitely a bit of frustration with the high VAT taxes (12%) that do not seem to be fixing anything…just paying back Nassau's debt.
Our first stop was Barraterre (pronounced barry-tarry). It's a twenty minute jog off of the Queen's Highway which brought us to the tip of Great Exuma. Barraterre is a small town formerly known for its skilled boat builders but today is the jumping off point for the all-day tour Exuma charters. The turquoise waters beckon and the laid-back vibe is pervasive. Back south to the Queen's Highway and we again headed north toward Rolleville and Exuma Point. En route we stopped at Cocoplum Beach. There is no sign marking the beach but with few cross streets (or gravel paths) it is easy to guess and find the famed beach between Steventon and Rolleville. The beach is talc fine sand with a hint of pink from pulverized coral. Strong winds made it a kiters paradise during our visit. We sat under the whispy pines and watched the colorful dance of kites and boards as they jumped and twirled and floated above the surface of the water.
Nearby Cocoplum Beach is Exuma Point Restaurant which is owned by Maryann and Elvis Rolle. We had grouper fingers, bbq spareribs and fries in front of ocean views that did not quit. Maryann has gotten a bit of fame recently due to the release of the Netflix documentary about the fabulous failure of the Fyre Festival in 2017. We chatted with Maryann (and others throughout the day) about the experience. The common consensus was not one of anger but rather of heart-broken disappointment that the Festival did not work out and bring much needed business and jobs to the island.
After lunch we ambled south to George Town. Chris got his haircut at Trainee's Beauty Salon (yes, they also sell fish in the corner freezers) and we picked up a couple of things at the Exuma supermarket and the 700 liquor store. Back to the marina for a quick drop-off of the groceries and we headed back out to Big D's for conch salad that gets rave reviews from islanders and cruisers alike. Drat – no conch salad because the weather has been so bad that the fishermen have not been able to go out (did we mention about the strong winds?!). Oh well – good to know its fresh and the baked macaroni and wings were just fine. We'll just have to come back. Phew – we were parked back at the marina before dark. With only a few randomly scattered street lights we preferred not to be on the roads after dark. Our day ended with sundowners on the top deck and a colorful sunset display. Cheers!
Yep, the weather forecast is right on track. Winds are down, water is smooth and a bit of fog lingers among the palm trees. Water sport activities are up and running and we departed the marina after returning the rental car (1/25). It was a smooth two hour motor with rollers spaced widely apart. Entering Elizabeth Harbour in George Town was wonderfully familiar. And we got a hail from Dave and Lisa on the way in (friends we met in George Town in 2006). We passed through the anchorages one by one; Hamburger Beach, Monument Beach, Honeymoon Beach, Volleyball Beach/Chat N Chill and settled in at Sand Dollar Beach. It was early in the day so we headed ashore for the barefoot trail across the island to the rowdy Exuma Sound side. On the way back to Barefeet we noticed m/v Barbara (remember them – they helped us un-ground in West Palm). Hi guys! Looks like there is an ARG meeting at 4pm at Honeymoon Beach (ARG – alcohol research group). We headed to ARG after showers and a quickly cobbled together appetizer of hummus and crackers to share. It was fun chatting but we cannot dawdle and were off to catch up with Dave and Lisa at St Francis (http://www.stfrancisresort.com/). These guys warm our soul. We will be here for more than a month and look forward to catching up with many old friends and meeting new ones in the social swirl that is George Town.
A bit of clocking wind direction is coming (again) so we dinghied across the harbour to Crab Cay to check it out for a couple of days of protection (1/26). There is room for us and the protection will be good so we brought Barefeet over. This cove is small and deep (16ft) because it was dredged for a marina…but…the marina never materialized. The cleared out area is good with plenty of depth practically to the edges but the depth means every boat needs to and has out a lot of anchor chain (about 110 feet each). With the clocking winds we need to be in a place where we won't spin or rotate into other boats and we won't bump into the hard coral walls. It was a dance but we were happy with our spot after a couple of tries (4 boats in the anchorage). Dinner was a relaxing feast of Chris' chicken tikka masala on the top deck (recipe below). Then the real show began when the stars came out. The sky is stunning and the stars glitter more than Liberace's capes.
The George Town boat count is up to 197 boats which means there is a lot going on. We have been reconnecting with friends who are in the area via email. However, in order to keep up with harbour activities we tune into the morning net at 8am on VHF 72. One of the centers of activity is the Chat N Chill on Stocking Island (https://chatnchill.com/). Today, it's the weekly Sunday Pig Roast which means the place will be packed with folks hanging out at picnic tables in the shade, playing beach volleyball and generally relaxing on a Sunday afternoon (1/27). Off we went across the harbor to revisit the place. The conch shack is doing a business churning out conch salad literally in the shallows of the water, sting rays float along the shoreline enjoying the occasional conch cast off, the grills are smoking with ribs and burgers and t-shirts hang from the rafters above the bar (no – it's not laundry day). We tried our hand at a game of checkers but are way too fuzzy about the rules. We'll have to look that up later.
The waves seemed to keep growing so we headed back to Barefeet 2.5 miles across the harbor. Well, it was not as bad a ride as it looked from Chat N Chill but I did later find dried salt in my ear…hhhmmm. One of the boats beside us has an adorable dog named Ruby. Ruby is positively fearless! Check her out on the bow of the dinghy?! The harbor shuffle means boats are constantly moving around – sometimes closer in the same anchorage, sometimes further and several anchorages apart. It all depends on what creates the most comfort for each boat. Hey, looks like m/v Twin Sisters is nearby so we got together for sundowners. We have not seen these guys for a couple of years and we ran out of time to catch up before the sun was going down and it was time to go home. We will definitely have a repeat visit, or two. Boat count is up to nine in Crab Cay which should make the clocking winds interesting tonight.
During sundowners Russ and Lori mentioned ruins to explore ashore at Crab Cay so we headed in the next morning…but sure to be back before crazy squalls were due to arrive in the afternoon (1/28). Crab Cay is not connected to Great Exuma Island. At least it wasn't connected until a mega-resort complex was given the green light in 2007. The project built an ornate bridge between Great Exuma and Crab Cay, laid a lot of underground lines and pipes for infrastructure, blasted out the marina and even built a cement plant. Sadly, that is as far as they got and the site was abandoned with equipment rusting and tubing unconnected. The Bahamas seems to be where dreams go to die – lots of grandiose ideas but they rarely come anywhere close to fruition.
Our goal, the ruins, sit atop Crab Cay within the perimeter of the mega-resort project. There are no signs but the ruins are fairly easy to find. Simply head for the cement plant, exit it up the hill road to a T intersection, make a left at the T intersection, take the offshoot path to the right up a stone lined trail…voila. The ruins sit atop a location with 360 degree views of the water, sand bars and surrounding islands. Historical information about the ruins is thin but general consensus says that in 1785 William Walker settled on the top of this hill. His original plantation was built during the thriving cotton trade. There remain a couple of building remnants and maybe even a brick lined kitchen oven?! It seems William Walker knew how to pick his location – this is a beauty. Back aboard Barefeet and the dark clouds rolled through with rain and winds. The silver lining bonus – a great fresh water rinse for Barefeet. The action cleared before sunset so we shuffled back across to Sand Dollar Beach. Dinner was relaxing on the top deck with french fries and tzatziki for dipping (recipe below). Ah, we should be settled here for several days based on current weather.
It was a quiet, calm night which helped us to sleep like rocks and energized for the day. With the non-rocking boat platform Chris tinkered with the periodic growl of the fresh water pump (1/29). We are not losing fresh water but rather a backflow sort of issue occurs with the pump. Chris inflated the accumulation tank and the growl is nearly non-existent.
Low tide was at 9am so we popped ashore for a walk along the shore. We spotted a few medium sized conchs, a small helmet shell, a long-spined sea urchin, sea fans, some needle fish, a barracuda and countless sand dollars (no wonder it is called sand dollar beach). Back aboard and the cloudy day means the solar panels won't be successful at fully charging the batteries. Therefore, we sparked up the generator, made water and did a load of laundry. A few passing rain showers gave another nice rinse to the boat before Chris was off for Texas Hold 'Em at St Francis. The day ended with a vibrant sunset.
Days have unfolded leisurely filled with walks ashore, getting a few provisions in town, catching up with old friends and meeting new friends. We headed to Top of the World for brunch and a stroll along their carved out and maintained trails (1/30). Views stretch over the anchorages and among the multi-hued blue waters. There was no boa spotted but check out the windowsill frogs (yes, it's a scientific term...ha ha ha). They were the picture of contentment and kings of their realm…aka…the windowsill kingdom. Chris lamented a single mosquito tormenting him at night and Paul proudly produced a surplus bug zapper. Holy cow – it's Christmas for Chris. So long guys – see ya soon. Back aboard Barefeet to whip up a chicken tikka masala pizza for sundowners with new friends Vicky and Ron (m/v Twilight Traveller)…and big personality pooch Ruby. We meet the nicest folks while cruising and got on like a house on fire. See ya soon!
It is possible that the weather will be calm next week which will allow for a quick trip out and back to Conception Island and/or Cat Island. This encouraged us to zip across Elizabeth Harbour to the dinghy dock in Lake Victoria and a wander around town (1/31). We deposited trash and a fee at the designated truck, wandered to the supermarket (wonderfully quiet because it was 10am and the fresh fruit and veg from the mail boat would not be available until 2pm…when people would descend like locusts), entered Top II Bottom hardware store (we now have a gaff and are ready to land a fish), explored the straw market (rebuilt as a building not previous stalls that burned to the ground a couple of years ago). Town is much as we remember it but a bit gussied up with coats of new, bright paint. The day was capped off with a swim in the shallows before Chris headed to poker...and he came in third place winning $50. Go Chris!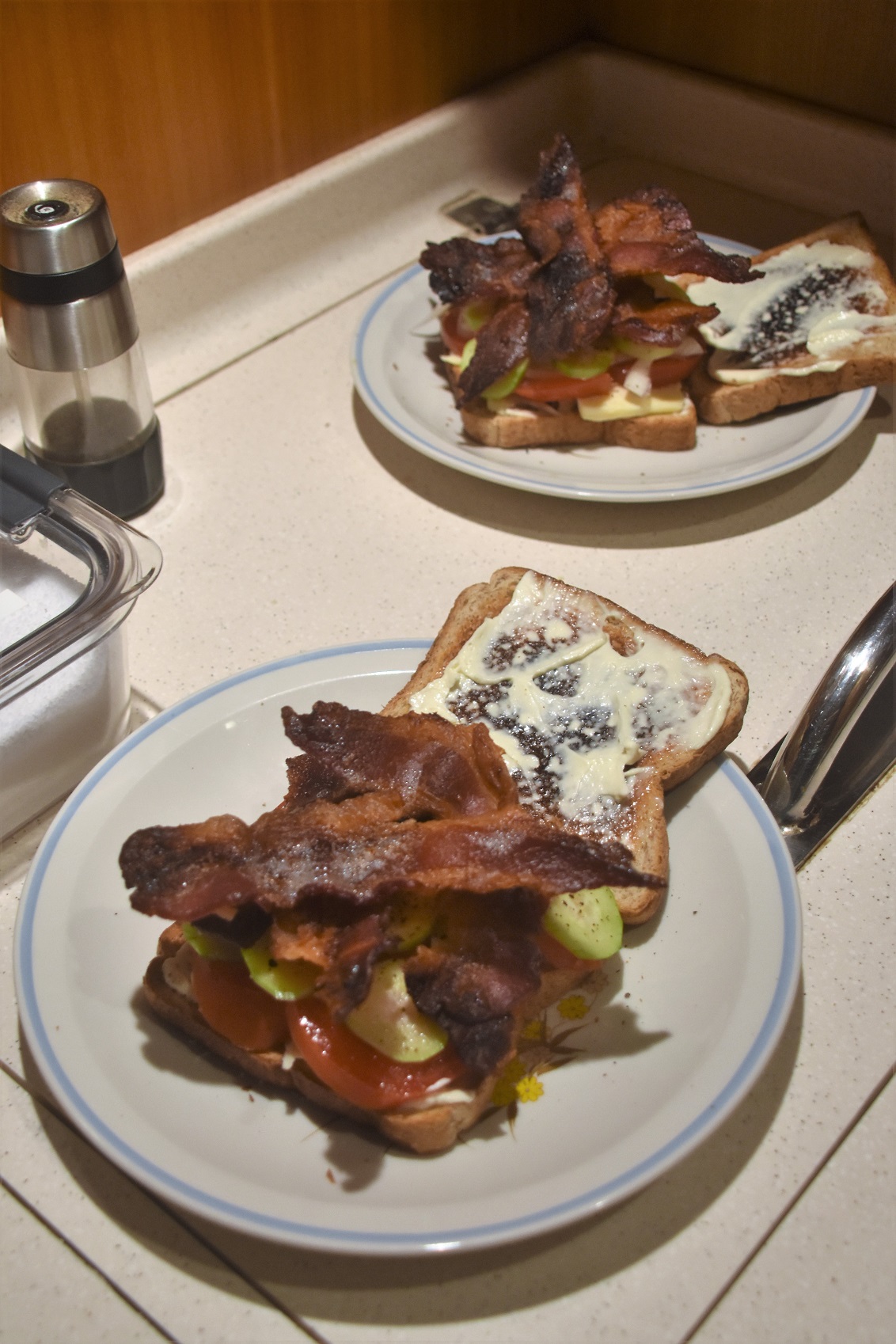 Rain showers and clouds are the name of the game today so we headed for an early beach walk around and over and through the south end of stocking island (2/1). We got back to Barefeet just as the rain began to sprinkle - good timing. We laid low for the rest of the day with sundowners on the top deck and goosed-up BLTs for dinner. George Town has plenty of options for Superbowl viewing so we are all set at our Sand Dollar anchorage. And we will keep our eye on the weather for a possible island destination next week.
Tzatziki
Totally loose recipe for great Greek dipping sauce for fries, veggies or whatever. Goose up or down based on your preferences.
7oz plain Greek yogurt (we prefer the highest fat content available)
½ cup peeled and minced cucumber
2 cloves garlic, minced
Pinches of dill, optional
Mix together all ingredients and store, covered, in the fridge until using. The longer the mixture melds the better. Keeps for several days.
Chris' Chicken Tikka Masala
3 Tablespoons tikka masala spice (recipe below)
2-3 garlic cloves, chopped
1 medium onion, chopped
1 yellow bell pepper, seeded and chopped
1 orange bell pepper, seeded and chopped
juice of half of a lemon
1.5 inch ginger, peeled and chopped
veggie oil
1 can (14.5oz) can tomato puree or diced
1 T tomato paste
1/4 cup water
1/2 t salt
7 oz plain greek yogurt (we use highest fat content possible)
1 full chicken breast, chopped into cubes

Heat oil and fry onion, garlic, bell peppers and ginger until browned.
Lower temperature and add tikka masala spice and fry for 2 minutes.
Add tomato can and paste, water, lemon juice and salt. Simmer for 15 minutes. Puree mixture in blender and set aside.
Add chicken to pan and sear and cook through.
Add pureed mixture and yogurt to cooked chicken. Simmer until warmed through.

Tikka Masala Spice Mix (combine all ingredients and store in an airtight container)
1.5 t cinnamon
1/4 t turmeric
3 t garam masala (recipe below)
1 t ground coriander
1.5 t salt
1/4 t cardamom
1 t cumin
1 T hot paprika
1/2 t cayenne

Garam Masala (combine all ingredients and store in an airtight container)
1/2 t cinnamon
1 t ground cloves
1 T cardamom
1 t ground black pepper
1/3 t ground nutmeg