Bumping Along Eleuthera from Top to Bottom: January 13 2019
We are in Eleuthera and it is fun to see a new place (1/7). The winds and timing have never been right for us to visit this island during our previous four Bahamas visits and we are excited to be here now. The main island is long and skinny at 110 miles long and generally not more than one mile wide…with additional chains of much smaller islands to the north and to the south. Population is scattered across the islands and totals roughly 11,000 people (a bit larger than the seating capacity of a large US high school gym). We took it easy today in the calm and peaceful anchorage of Royal Island harbor – no services ashore except for support items for a resort around the corner doesn't bother us at all – love the quiet (https://www.cuvee.com/villas/bahamas-private-island-rentals/). We renewed boat registration online, cleaned the sight tube in the fresh water tank, did a bit of interior boat cleaning and mounted the boat specifications plaque I had created by etsy.com. A bit of social sundowner fun with s/v Sea Duction resulted in nixing the burgers and instead sticking with simply the roasted potatoes with garlic, lemon and oregano for dinner (recipe below). We took the potatoes to the top deck and marveled at the amazing amount of stars. Holy cow – is that the Southern Cross just peeking out on the horizon?! We will have to keep an eye on that.
We move through Eleuthera with lots of great tips via the cruiser coconut telegraph (thanks, Bill and Louise of s/v Andelen – it's like you are anchoring with us). Up anchor from Royal Island and we continued south through the Current Cut (1/8). The channel is wide enough and deep enough but the current can flow like a river (some say up to 9 knots). This means that we wanted to be passing west to east through the three-mile cut 1.5hrs after the high tide in Nassau in order to get slack type water current. We saw an additional 1.5 knots of speed with us which means we got the timing we wanted - nice. This cut is a popular dive spot for a fast moving drift dive between rock walls loaded with critters; stingrays, sharks, and reef fish…we'll keep this in mind for another time (https://www.discover-eleuthera-bahamas.com/current-cut.html).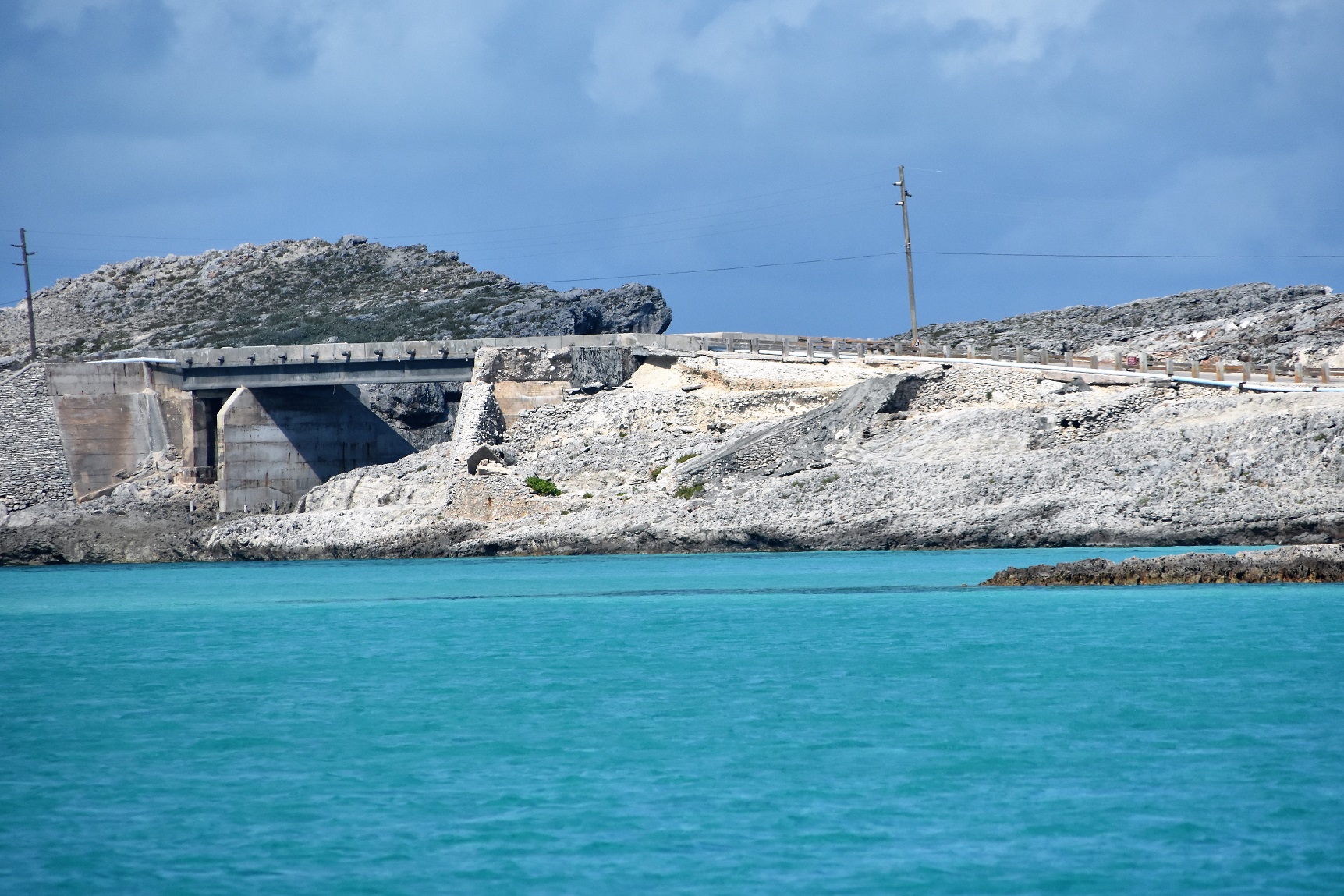 Half-way to our anchorage for the night we made a quick sight-seeing stop at the Glass Window. The anchorage has 9ft depth over pristine sand surrounded by island pines. It would be nice to stay the night but winds are expected to shift which will make it a pretty uncomfortable spot - just a pit stop this time. The Glass Window is a phrase that describes a geological formation of a 3 foot-ish spot of land that divides the shallow banks from the deep ocean. Technically, all of Eleuthera creates the wall but at this point it is at its most narrow. We headed ashore with s/v Sea Duction to check it out in person as well as to visit the Queen's Bath.

Standing at the point where the small strip of land divides the waters makes it pretty clear how different the waters are; one is the shallow, calm and turquoise Great Bahama Bank while the other is the deep blue and raucous Atlantic Ocean. Nature is pretty cool! The bridge connects the north and the south of Eleuthera which is a big deal. In 1991 a rogue wave shifted the bridge 7 feet during the same storm system that ravaged the North Atlantic…and created the "perfect storm" (inspiring the movie of the same name). Next stop – the Queen's Bath. We followed the coast and a cove opened up full of various levels of stone pools – thanks for the tip Jessica. Wow – the colors are like kool-aid?! After a bit of a dip we four walked out and found that there is a sign that marks the spot on the Queen's Highway…hhhmmm…well, we liked our bush-whacking route better.

Back aboard our vessels and we continued to Hatchet Bay – a protected spot with a TINY keyhole entrance. There are no depth issues but the entrance is definitely quirky…and not seen until you are literally AT the entrance. Nachos for dinner and a boat count of eleven tells us that many cruisers have the same idea as we do to move in the calm weather conditions. And the stars?! It is hard to sleep during such an amazing and glittering display.

The morning dawned as calm as a mill pond with a thin veil of fog spilling over the land (1/9). Plus, the addition of roosters and wood smoke ashore adds to the tranquil setting of Hatchet Bay. However, Chris is quite amused by the rooster habits and thinks they are rather dumb since they generally start crowing in the dark without a sliver of sunrise in sight…at 3am…morons (tee, hee, hee). Cruiser friends have mentioned tough dinghy landing options ashore in previous visits so we asked a dinghy departing town where to go – just over to the pavilion (and quite the quizzical looks of duh). Okay, that was easier than expected and seems a great improvement from rusty spikes or broken docks. We wandered the small settlement and were able to achieve our goal of a car rental for the next day. The clerk at the Five Star General Store scrolled through her phone and gave us Daniel Furgeson's number who rents cars from his home (242-335-0455; $80/day and a $150 deposit returned when the car is returned). All set so we continued to stroll Alice Town. Everyone seems to know everyone and as each car passes the sports bar they give a little toot of the horn…it is a nice feel. As seen on the town sign the town is proud of its safe harbor attributes; however, cruising guides are quick to add that it is NOT a hurricane hole – point taken. The oil in the watermaker was changed and we called it a day.

Thursday morning started bright and early as we were up and off the boat for a road trip around the island (1/10). Daniel picked us up at the General Store at 8am and within 15 minutes we had our rental wheels and we were off. Our primary goal is to explore the island; however, a close second is to find a TV that will be showing the NFL Pats game on Sunday…not sure if we are being too ambitious or not with that one. There is a single road that spans the island – the Queen's Highway. It is a two-lane ribbon of road with pot holes to be avoided and stealthy speed bumps not to be ignored. Oh, and driving is the British style – on the left – so stay alert. We started heading north to the Bat Caves. We were glad we had remembered a flashlight because it was, well, as black-as-a-bat's-ass. Okay, two flashlights would have been better. Pretty cool. We continued a bit further north to Gregory Town in the hopes of finding Thompson's Bakery for famed pineapple tarts (the island was most agriculturally prosperous from 1950 to 1980 including large crops of pineapples). Hhhhmmm, not sure if the bakery is gone or closed for the Majority Rule holiday or whether we just cannot find it. Oh well, there is more to see so we kept moving.

James Cistern was a sleepy settlement along the beach with a comfortable vibe and a few open-air beach huts. We have heard that ladies often barbecue chicken on the beach. Although today was not one of those days we can certainly see why they are drawn to the setting. The road continued with ocean views and whispy pines (casuarinas). However, behind the pines Governor's Harbour soon spread out with a decidedly different vibe. Victorian era structures dot the hills that extend above the shore. European settlers arrived in 1648 in the form of English Puritans (Eleutheran Adventurers) who attempted to create the first democracy in the Western Hemisphere (130 years before the American revolution). Unfortunately, settlement proved too difficult, numbers dwindled and only a few remained.

With stomachs growling we headed to the Buccaneer Club for some breakfast. The tranquil spot was a great stop; poached eggs, toast and sausage for Chris and Bahamian boiled fish for me accompanied by steaming mugs of hot coffee. Don't wrinkle your nose – I like the savory and enjoy mixing it up. The boiled fish was quite tasty despite its simplicity – fish broth (flavored with a bit of salt, pepper, cloves, garlic and celery), soft pieces of fish, thinly sliced potatoes and plenty of lime juice for a spark. The Buccaneer Club has a tree shaded patio, muraled bar, lodging and the ability to arrange any sort of water sport. This makes it a friendly one-stop-shop for vacationers (https://www.hwadventures.com/menus?utm_medium=referral&utm_source=tripadvisor). Continuing south through Tarpum Bay we hit our turn around spot of Rock Sound. Yippee – and the holy grail for the football game – a beachside restaurant with a dinghy dock, anchorage just a stone's throw away AND the NFL package on three TVs. We'll be back to Frigates Bar and Grill on Sunday (https://www.frigatesbarandgrill.com/).

Back we went to Hatchet Bay after a really fun road trip spanning 8.5hrs and 86 land miles. Eleuthera has a laid back and friendly feel everywhere we went. We dropped off the car, retrieved our deposit and capped off the day with a burger and fries at Twin Brothers' outdoor bar (http://www.twinbrothersbahamas.com/default.aspx). And, of course, a world famous daiquiri – strawberry and pina colada swirled with a coconut rum floater. Oh la la! It was a leisurely stroll back to the dinghy dock and it looks like more cruisers are taking advantage of the good travel weather because the bay anchor count is up to nineteen. But we aren't done with the island yet. Tomorrow we head to Rock Sound.

Our 5hr motor from Hatchet Bay was a real beauty with clear, pale blue skies; deep blue ocean; sunshine sparkling on the water and light winds (1/11). We even had a couple of dolphin drop by for a bit. Plus, we made water and Chris whipped up some pizza dough for dinner (recipe below). We anchored in Rock Sound just off of Frigates Bar...yes...the place with TVs for the sports games. Now, we are at the southernmost spot to jump off to the Exumas when the weather is right. For now, we'll stay here for a few days.

Stores will be closed tomorrow (Sunday) so we headed into town for just a few things at the supermarket (tortillas and peanut M&Ms), liquor store (coconut rum) and hardware store (propane bottle for the grill). All are a short walk from each other so the process is easy in Rock Sound. We were done with errands and back at Frigates for lunch and the Duke basketball game (1/12). It was just us and bartender Nathan which made for nice conversation. And what is that I hear?! Nathan had the answer so I was off to find the Junkanoo band practicing over at the Ocean Hole for a competition tonight in Governor's Harbour. Very cool to hear the band and glad to see the Ocean Hole, too (completely landlocked tidal lake rumored to be bottomless…and with healing powers). Good luck at the competition! I arrived back at Frigates just before tip off and Chris filled me in on all that he learned from Nathan…including…that Bahamians indeed love their rum drinks; just enough juice to change the color, please (tee, hee, hee).

It was another restful day in Rock Sound with some exploring, a boat project and a sports game (1/13). Early morning we dinghied to a non-wind beach for a bit of a walk on the beach where ours were the only footprints in sight. Back aboard Barefeet and we found a delivery of two homemade cinnamon rolls. Wow – these are gorgeous and delicious. Thanks s/v Carefree – happy to help out with the baking emergency last night…more flour. One quick boat project of a rinse of the watermaker filters and the watermaker will be ready for action tomorrow. Now, time for the main event so we made a return visit to Frigates for the Patriots game and we pinch ourselves with our beach bar location…and the amazing club sandwich. One, final check of weather before going to bed has us looking good for another mellow passage. Tomorrow we will jump from Eleuthera to the Exumas. We feel lucky to be getting the weather that we need at the right times.

Roasted Potatoes with Garlic, Lemon and Oregano (by Aglia Kremezi) serves 4 - 6
3lbs potatoes, peeled and cut into 1.5" cubes
1/2 cup olive oil
4 cloves garlic, minced
1.5 teaspoons dried oregano
1/3 cup lemon juice
1 teaspoon salt
ground black pepper
1/2 cup beef or chicken stock
option garnish: 2-3 T. fresh oregano and/or feta

Preheat oven to 400 degrees F.
Place potatoes in a single layer 13x9 baking dish. Pour oil over them. Add garlic, oregano, salt and pepper (to taste). Toss well to coat.
Bake 15 min. Add stock; toss; bake 10 min. Add lemon juice; toss; bake 15 min. or until cooked through.
If you like broil for a few minutes until golden brown.
Sprinkle with fresh oregano and or feta as desired. Serve at once.


Chris' Pizza Dough
1 cup water
1 package yeast
2 ¼ cups flour (more as needed to create a dry dough)
2 Tablespoons olive oil
1 teaspoon salt

Mix all ingredients until dough ball forms and it's no longer sticking to the sides of the mixing bowl. Separate into two quart-sized ziplock baggies coated inside with olive oil. Place dough in baggies and let rise on the counter for a couple of hours. Punch down and put in the fridge until ready to use (elasticity is best within three days).

We like to spread olive oil in a rimmed cookie sheet then evenly sprinkle a bit of cornmeal and salt. Stretch dough to fit pan. Top with whatever toppings you like. Bake at 450 degrees F for 25 minutes (or as high as it goes – at home we do 525 degrees F). On the boat we fry the bottom of the cookie sheet over the stove burners for two minutes before baking in order to help the crispy-ness along.