Abacos to Eleuthera: January 6 2019
Wow – we feel like we got our cruising life back now that the generator is back in business (12/29). The roosters crow, the sun is warm and the water is clear. How can roosters be calming?! Not sure – but they are for us. George came back for a final review of the generator this morning. He is a character! Arrived with avocados and sour oranges from his garden and would not leave until we were signed up on WhatsApp. Priceless to have a diesel mechanic on speed dial. Oh, and he had a string of crazy nut, loose nut, etc. jokes rolling at Chris' expense due to the loose generator nut on the rocker arm. We exited Green Turtle at high tide and followed the channel markers exactly. Channel markers are not common in the Bahamas (which does not mean that they aren't needed but local wisdom seems to be why replace them when the next storm will wipe them out). In contrast, Green Turtle has gone the extra mile of adding arrows so that it is CLEAR which side of the marker you need to be on.
Out of Green Turtle and we were into the Whale Cay Cut. It was bouncy but nothing dramatic with 3-4 foot waves spaced widely (enough) apart. We anchored the night off of Delia's Cay at Great Guana. Did we mention that we are walking on clouds with the generator fix?! Sundowner entertainment was watching watersport activities on countless toys from the nearby 200+ foot mega yacht…with accompanying 200+ foot chase boat solely for the toys.
Our day started with a peaceful morning after a gently rolling night (12/30). Next move – to a marina. Before we knew the generator would be fixed we had made a reservation at Orchid Bay Marina in order to fill up with water. We don't need the water anymore but we did not want to break a reservation. Plus, being at a dock would give us a chance to revisit Nipper's and Grabbers by walking rather than dinghy – they are two Bahama beach bar icons. Mackenzie helped us tie up but no need for power (yep, the generator is back in business – sorry, you already know that). Boats docked in the marina are from everywhere in the USA. Sure – plenty are from Florida ports but they are also from Orange Beach, Alabama, and Manhasset, New York, and Mackinac Island, Michigan. Everyone loves the Bahamas in December.
The windlass screeched and squealed while pulling up the anchor this morning so Chris took it apart and greased it. It was good timing because two bolts were nearly seized. Today is Sunday which means it's Nipper's weekly pig roast party (http://www.nippersbar.com/). We have seen a parade of boats into the harbor and we imagine they are all headed to one place – Nipper's. We wandered over for a drink and to see the party. Holy cow – it is crazy! Nipper's is perched above a white sand beach with level upon level of decks for dancing and drinking. The rum punch is famous but I stuck with straight-up coconut rum. Cruisers keep meeting each other as we move along and we see Fred over there (m/v North Star). We stopped to chat but it seems North Star Fred has a twin Fred from Alabama. No worries – we now have new friends in Alabama and swapped tales until our drinks ran out.
We moved on to Grabbers hoping for some food; unfortunately, it was just as crazy as Nipper's and clearly functioning on the ferry schedule to Marsh Harbor. This means no food for us so back to Barefeet we went…along with s/v Sea Duction and s/v N'Titled (from Old Bahama Bay). There are only three restaurants on the island so galley cupboards are a better option.
Feeling settled we decided to stay at Orchid Bay for a second night and a lazy New Year's Eve. We wandered the small settlement where we popped into the grocery store. It was neat as a pin and the three dozen freshly baked loaves of bread vanished in a few, short hours. Further down the golf cart main drag were cleverly painted benches, fenders and small inns along with a nautical themed Christmas tree in a park beside the harbor (don't trip on the extension cord). We especially loved the Bikini Hut Inn with rooms labeled bikini top and bikini bottom – top and bottom floors, respectively (tee, hee, hee).
Back to Orchid Bay where Chris reassembled the windlass and that's it for today. Off we went for a dip in the pool and a New Year's Eve lunch of burger and cracked conch at Sunsetters at Orchid Bay. Can you guess who had what? Yep, burger for Chris and conch for me. Glad I remembered about drizzling hot sauce around the edge of my conch plate to keep the flies away from their holy grail Bahamian food (honest – they love it and the hot sauce works). We caught the 10pm fireworks from Barefeet's deck…and the Nipper's countdown woke us for the actual New Year…one-and-a-half miles away. Happy 2019!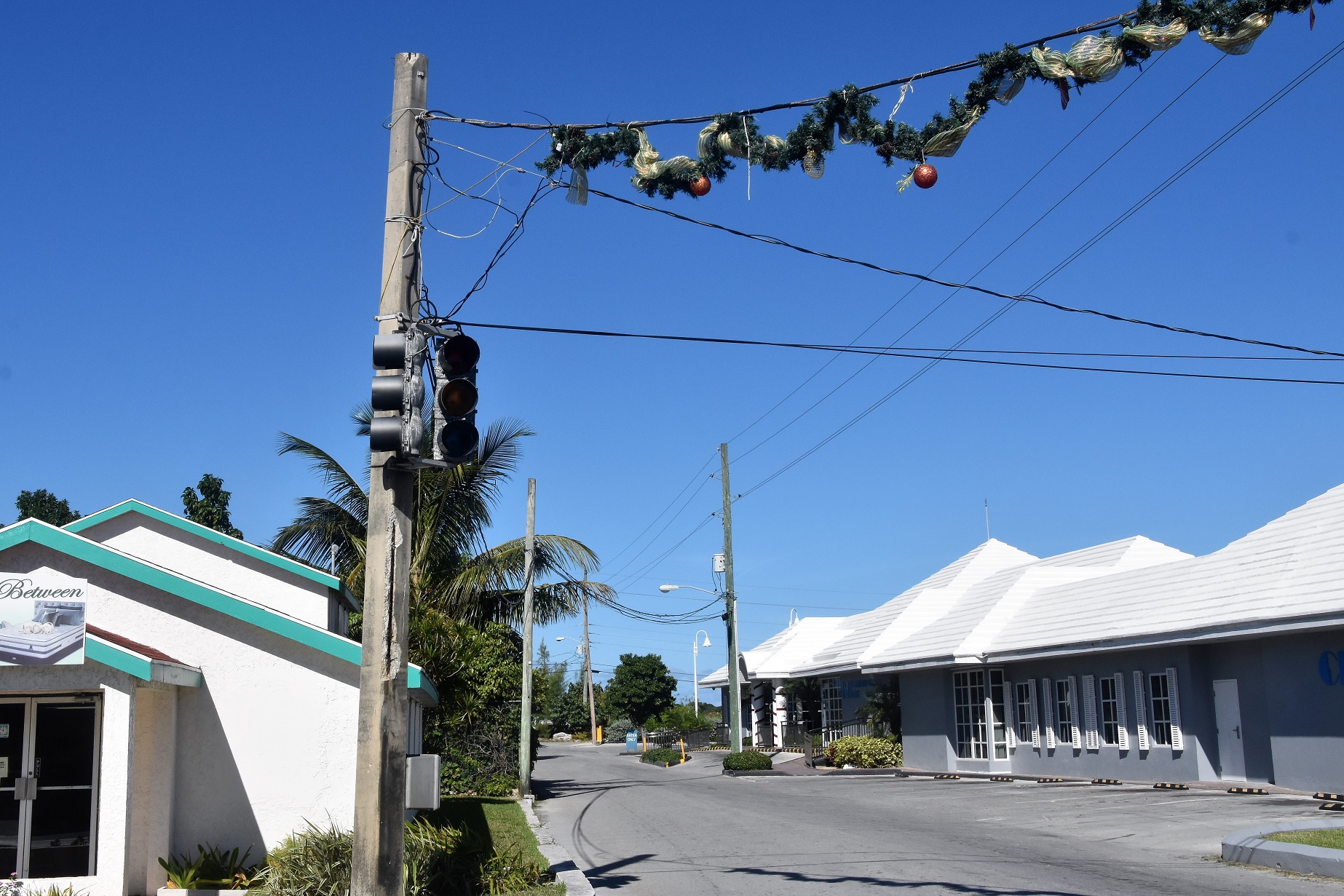 It was another calm morning as we tossed our lines at Orchid Bay (1/1). We made a short 2 hour hop to Marsh Harbor where we anchored in 7'6". This is a shallow anchorage but it is deep enough and there was plenty of space. Marsh Harbor is considered the big smoke of the Abacos with an ENORMOUS supermarket, real sized cars, sidewalks, boat and hardware stores, pharmacy as well as the sole traffic light in the Abacos. Okay, there is a second one but it is on the roof of Pete's Pub…so that does not count. We dinghied ashore to walk the town even though all was closed on the New Year's Day holiday. We passed m/v Sea Venture in the dinghy and caught up on plans since our blow together at Old Bahama Bay.
Our daily weather checks have us in a morning planning session due to a stretch of good weather ahead. Good enough weather that we are actually planning the next five days which includes two hops and a jump to Eleuthera on Sunday. Looks great but we will play it one day at a time (1/2). The New Year's holiday is over so off we went to Maxwell's supermarket. It is true that we don't need much more than some fresh veg but it is a HUGE market so it is a tourist sight unto itself (for cruisers). The anchorage is filling up which means cruisers are likely stocking up at Maxwell's while eyeing the same weather forecasts that we are seeing. The Government dinghy dock is packed and even a sea plane landed in the anchorage. Yikes, that must take some courage?! Ron and Bev (m/v Sea Venture) mentioned the Wednesday Night Rib Night at the Jib Room. It was nice to catch up and the Jib Room is as festive and welcoming as we remember with picnic tables on the porch and tables and chairs inside; twinkle lights decorating the ceiling and a rake and scrap band playing out back with a limbo game going simultaneously. Rib Night portions are big so one full meal and a second of only sides is a great way to go. Hey, Steve and Linda came, too (m/v Watershed)…also from the gaggle at Old Bahama Bay during the blow.
The weather forecasts continue to show a good stretch ahead so we have begun a move further south to wrap up the Abacos. The Abacos islands form an island chain 120 miles long over 650 square miles. We have not seen everything but we have had a great time. Off we went from Marsh Harbor to Tilloo Cay (1/3). It was a quick two hour hop when we made water and did laundry underway. We arrived in time for lunch via dinghy at Cracker P's on Lubbers Quarter Cay (http://www.crackerps.com/). Cracker P's is a casual tree house place where we had a burger and a pulled pork sandwich on homemade buns with coleslaw, mac and cheese and baked beans. Driftwood and floats and buoys have been painted with tropical scenes that hang from walls and ceiling posts and hummingbirds jam the sugar-water feeders. As I checked out the artist's painting corner I chatted with welcoming Linda Stewart who owns and operates the place with her chef husband, Patrick Stewart – definitely a friendly spot.
Fueled and ready for some beach treasures we headed to Tahiti Beach. Gulp – it has definitely been discovered. Check out the string of boats filled with beach goers along the shore. Drat. Oh well, we returned to Barefeet to snorkel off the boat. Bonanza! It is easy to reach the ocean floor at just 8ft of water (low tide). We spotted a giant red sea star beside the anchor chain, countless live sea biscuits (like bird's nests of gathered sea grass for camouflage when viewed from above), dead sea biscuits easily spotted as beacons of white for souvenirs and even some live corals. However, I am embarrassed to say it was the first time in the water since we got to the Bahamas on Dec 18th. That said - it was awesome - warm, clear water with treasures. I will clean the sea biscuits up with a bit of bleach water and they will be lovely. The day ended with a beautiful sunset beside luxury yacht Barcelona Explorer (http://barcelonaexplorercharters.com/) – she made a great silhouette in front of the setting sun.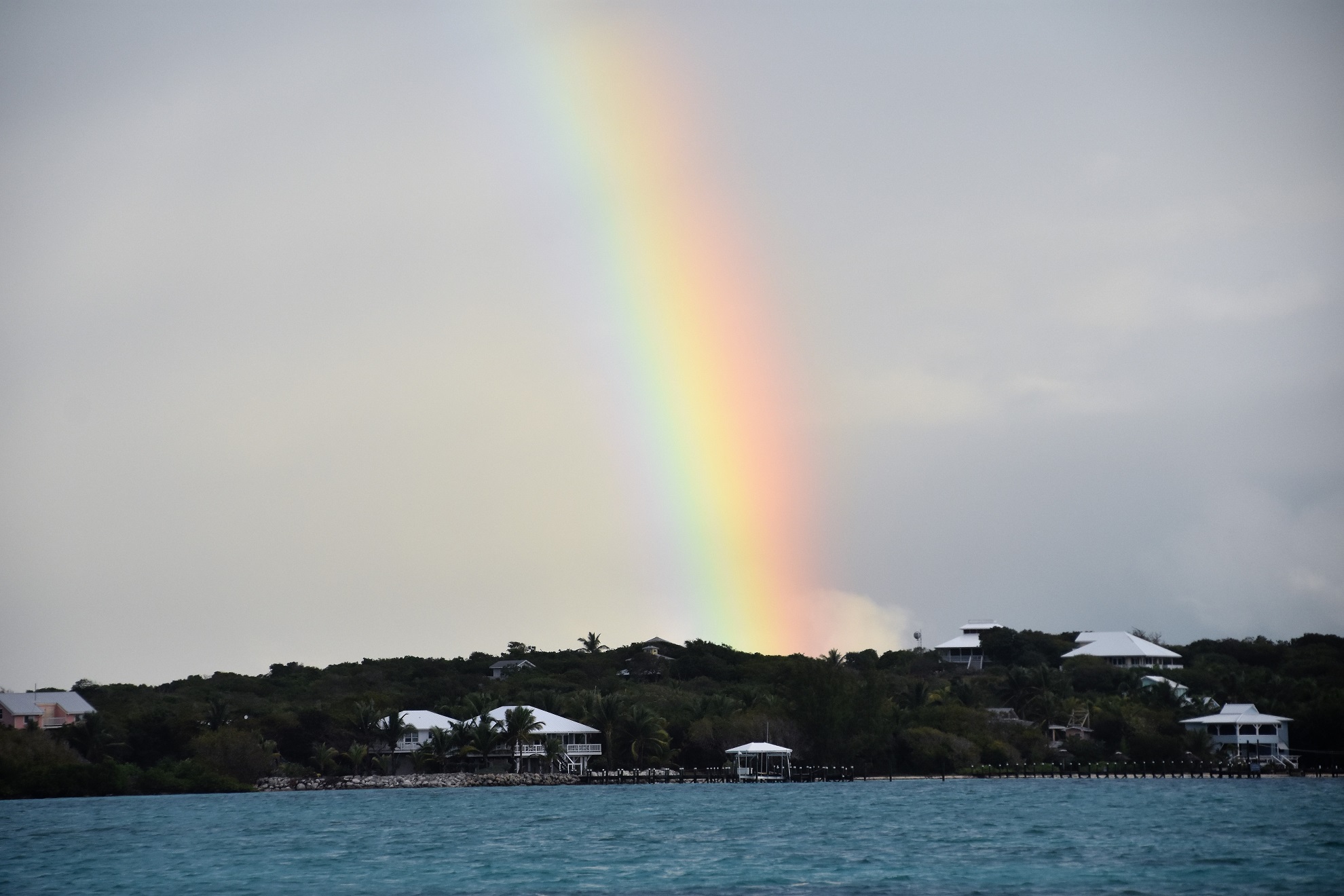 At o'dark thirty the wind piped up followed by off and on showers (1/4). We took the morning slow waiting for the storms to pass with poached eggs for breakfast and listening to the Cruiser's Net at 8.15am on VHF 68. Love their little catch phrase - put sand in your shoes when you leave and you will be back (tee, hee, hee). A bright rainbow signaled the end of storms and we were off for Pete's Pub in Little Harbour.
We have a couple of anchoring options for the next 36 hours but each option has a negative, too; the wind is supposed to clock around (taking us from sheltered to exposed)…plus, swell creeps in (creating rolly seas). We started with the anchorage in Little Bay but the surge was simply too rolly so we headed across the water to Lynyard Cay. Lynyard Cay is okay for winds right now but they might be spooky at night when the wind shifts and our butt will face the NEARBY iron rock shore. Well, there is nothing to do right now so we headed into Pete's Pub for a rum cocktail (http://www.petespub.com/).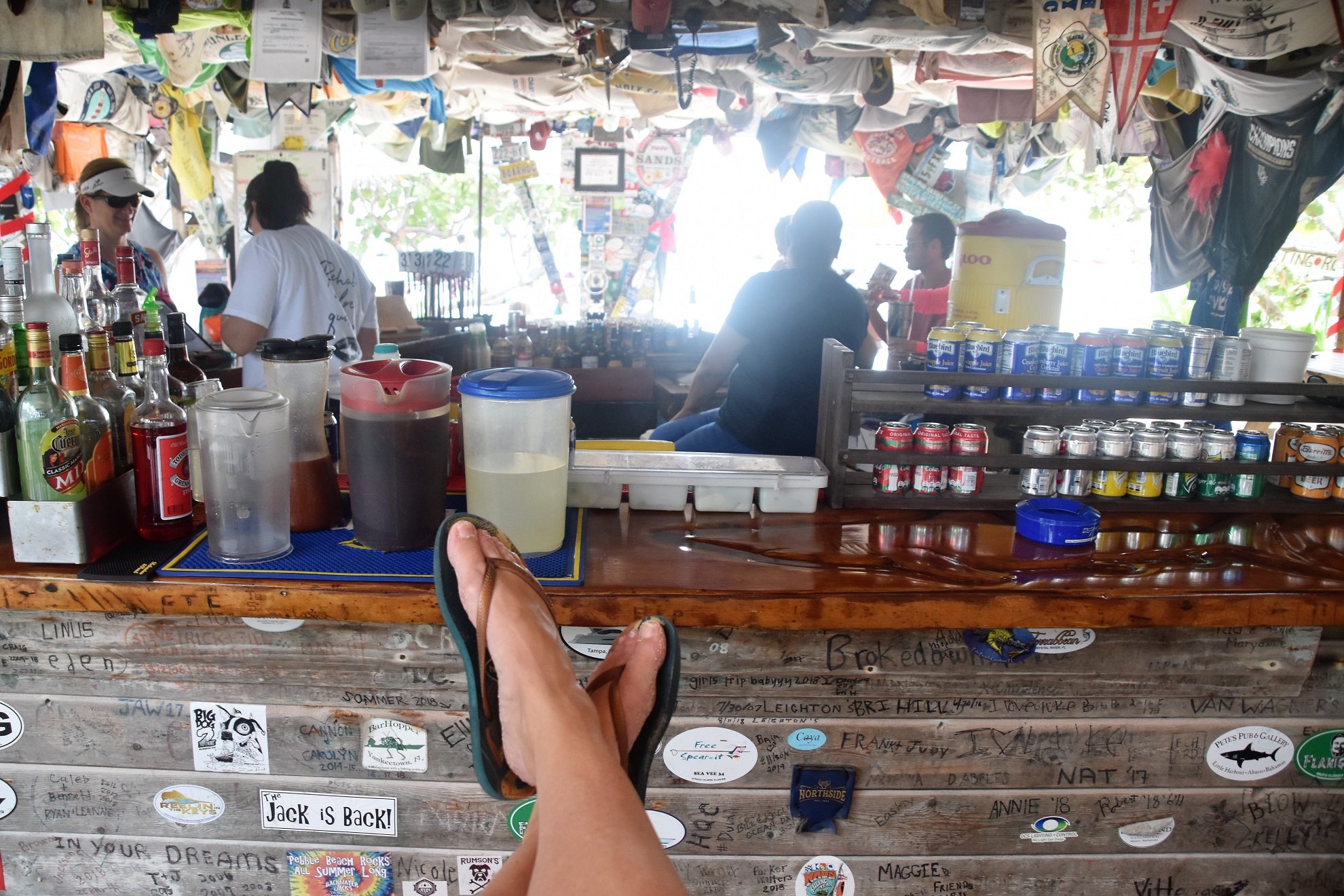 Pete Johnson (world renowned sculptor) arrived in the 1950's. He built a foundry with a restaurant on the side and he and his family lived in caves for the first 2yrs they were here. It's a quirky start but both the foundry and the pub are still going strong. It is hands-down our favorite bar in the Bahamas – great chill vibe with sand up to the bar, overhead roof for shade, the house cocktail "blaster" is delicious (5 rums and 3 fruit juices; orange, pineapple and a splash of grapefruit – that was as much of the secret recipe we could get) and t-shirts that are stapled to the ceiling rafters scrawled with names and celebrations. The blaster, served from an igloo water cooler over ice (yep, the big yellow ones you see on the sidelines of ball fields), was the perfect addition to an afternoon sitting in the shade staring at the turquoise water while a hook-on-a-ring-toss game was played off to the side. Another round, please.
We returned to Barefeet and raised the dinghy unsure if we would need to move the boat now or later…hhhmmm. Wind strength should not be scary but where could we be the most comfortable?! Our dilemma deepened when we came up from reading and noticed that the three boats anchored beside us had left. This definitely caused more than a bit of personal doubt. There really is no good answer with such uncertainty so we stayed put. Well, just as the sun went down two of the three boats returned because they said the surge was simply too uncomfortable across the way.
Yep, it was a bouncy night but no dramas ensued. After the sun was up we moved across the water to anchor off of Great Abaco Island with wind direction forecast to stay in the same place until tomorrow. Soon we were joined by the two boats beside us last night and six more boats as the day wore on as all are staging for a hop tomorrow in forecasted calm conditions. As we raise and lower the dinghy it is clear that Chris' JB Weld fix has worked on the hydraulic crane. Well done! We see only the slightest weep and I confirmed the oil level with a look in the reservoir. Ashore we spotted a small beach and we had another sea biscuit-palooza that was temporarily paused due to passing black clouds full of rain and wind…and a dramatic drop in temperature. Once the stormy-ness passed the conditions were mellow which bodes well for our 55 mile hop to Eleuthera tomorrow.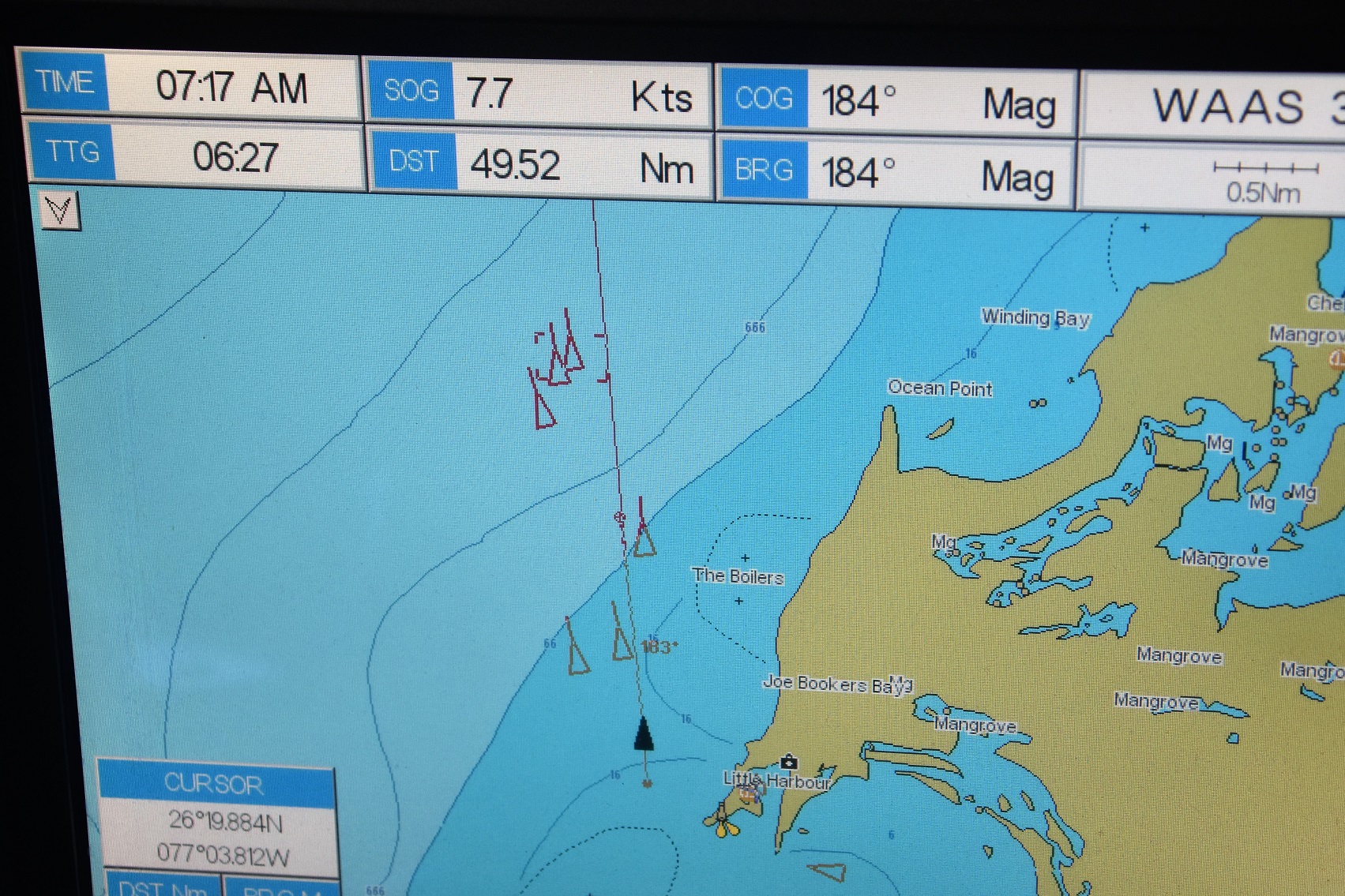 So long Abacos – hello Eleuthera. It was a marvelously boring hop from Little Harbour in the Abacos to Royal Island in Eleuthera as we traveled into the Atlantic Ocean, across the Northeast Providence Channel, between Egg and Little Egg Islands and into the section of the Great Bahama Bank upon which Eleuthera sits (1/6). The great weather means that there is quite the cruiser migration so there was plenty of fun chit chat between boats on the VHF radio. Plus, the chart plotter shows just a portion of the ducklings via AIS making the crossing with us today. On the journey we dragged a fishing line but we only got one bite…that got away (drat). No worries - grilled cheeseburgers aboard is just fine.

The anchor was barely set but we had just enough time to jump in the dinghy with snorkel stuff before the sun went down. Brent and Jessica (s/v Sea Duction) were here, too, so we took our own "cars" and dinghied together. It was a good trip but the sunscreen made us slippery as eels getting in and out of the dinghy. We saw loads of sea biscuits (alive and dead) scattered on the sandy/grassy ocean floor, a 3ft diameter ray gracefully floated by, a hermit crab the size of a watermelon strolled the floor, a 3.5ft barracuda zigged past (oops - I had my gold earrings in and barracudas love to investigate shiny things...so my return paddle was with my head above the water) and Chris took a few shots with the spear pole at some fish. Strike two regarding a fish dinner...oh well. Also, please note what we did NOT see - a shark (always good news). The afternoon got away from us so it was simple cheese and crackers for dinner. Totally worth it and the burgers will be great tomorrow night. For now, we plan to kick around Eleuthera for a bit before hopping to the Exumas.