Season Turnaround at Pensacola: April 19 2018
Barefeet is anchored in well-protected Little Sabine Bay in Pensacola Beach and we have a rental car for exploring (4/9). Off we go to Mobile! However, everyone we encounter and excitedly mention that we are going to Mobile responds with a sincere, "Why? Why not New Orleans or Biloxi?" Well, I guess those cities will be for another time…but…we do love New Orleans?!
Undeterred, we went straight for Oakleigh House located in a historic neighborhood 2.5 minutes from downtown Mobile for a bit of antebellum history. The house was built when cotton was king (1833) by a self-made man named James Roper (primarily a brick mason but also a dry goods merchant and a cotton broker). The home houses the decorative and fine art collection of the Historic Mobile Preservation Society which creates a snapshot of Southern living. The tour was informative and interesting (thanks Maggie). Did you know that the blue painted on the ceilings of exterior porches is a method to trick bugs into leaving the area because they think it is the sky? Oh, and it is supposed to work on ghosts, too. Yikes, the Civil War mourning etiquette for women vs. men was a world apart; women mourned for 2.5 years looking like burka clad, face covered Middle Eastern women through stages of deep mourning, full morning and half mourning whereas men mourned for a mere few months with a simple, black armband. The Oakleigh's collection of mourning etiquette was extensive and eye opening - bringing the historic ritual to life.
Departing the tranquil "suburb" we turned into downtown Mobile where we easily found a parking spot on the street, walked around and saw remnants of Mardi Gras past. Mobile was the original birthplace of Mardi Gras in 1703. What?! It seems that Mobile is forever living in the shadow of New Orleans (150 miles down the Gulf coast). "New Orleans is like your younger sister who married well and got everything she wants," said L. Craig Roberts, local architect. We enjoyed the walk through shaded parks, buildings with lacy wrought irom balconies and settled into Callaghan's Irish Social Club for an afternoon snack (gooey spinach and artichoke dip with garlic bread). But maybe folks are right – there is only so much to see in Mobile.
We returned to Pensacola via the east side of Mobile Bay to stop at Fairhope, Alabama. Fairhope was founded in 1884 by like-minded folks from the mid-West who created a utopian single tax colony. Since then lots of people dancing to different drums have arrived but the town remains Southern doiley and silver proper with flowers planted below every lamp post and hanging from every basket. Live oaks and dripping Spanish moss round out the landscape which tower majestically to create a look we really like. Unfortunately, we learned that there is a down side to live oaks. Their size becomes a disadvantage when hurricane soaked soil loosens roots enough that the trees topple over. Luckily, not all is lost when they topple. Chainsaw artist Marlin Miller regains some of the fallen majesty by creating massive carved works of art from the hurricane destroyed oaks. We saw a 30-foot-tall installation of seagulls circling with dolphins chasing a school of fish at the Fairhope Yacht Club – awesome.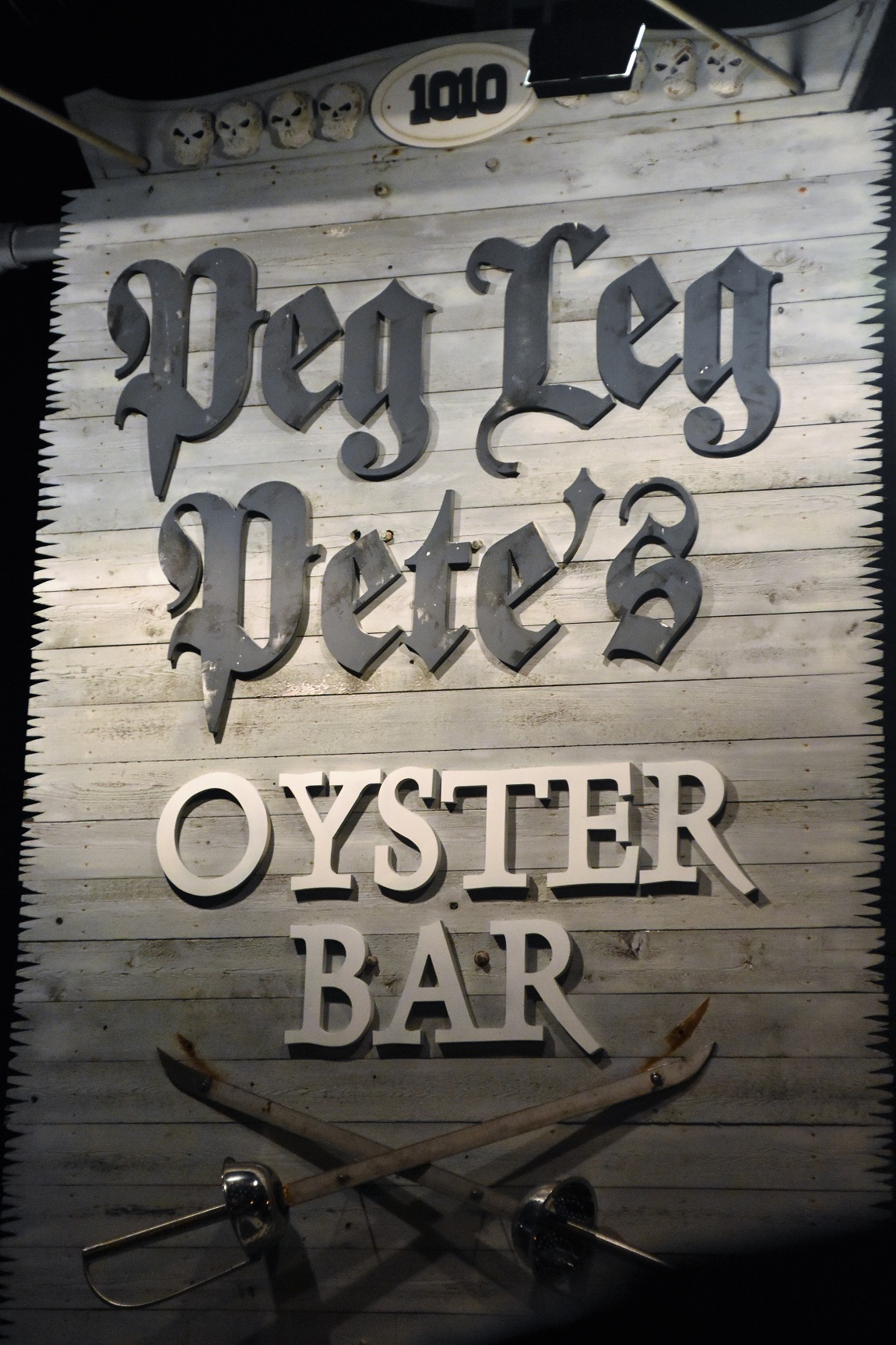 Back in Pensacola after a wonderful day of exploring we settled into Peg Leg Pete's for baked oysters with jalapeno, crispy bacon and cheddar cheese (yep, it's our new favorite). Peg Leg's also owns their own seafood company (like Frenchy's in Clearwater) so it is not surprising that the seafood is delicious. This was a great tip from Karen and Terry after a juicy burger together on our first night at sister restaurant Sidelines Sports Bar (http://sidelinespensacola.com/). On the way home we stopped into The Sandbar before getting in the dinghy and met colorful and friendly locals who love their corner of the planet. One patron even thinks I'm a movie star. Okay, the nurse from The Werewolf in London…but she was in a movie.
As we mentioned, New Orleans is "in the neighborhood" which is great news for our taste buds! Breakfast was at The Ruby Slipper Cafe on Palafox Street. The Ruby Slipper started in New Orleans after NOLA natives returned to the city after Hurricane Katrina and have since branched out further around the Gulf. Holy cow – that was the best breakfast we have had in a long, long time (and we cannot complain about any previous breakfast); crispy fried green tomato, thick bacon, biscuit that defies description…and the eggs benedicts?! Chris could not choose so he got one of each (cleverly called the peacemaker where you choose two different styles); one, apple braised pork with hollandaise and the other, fried chicken with pork tasso cream sauce. Out of this world.
We left well-fueled for a day at the Naval Air Museum (4/10). Plus, the sun is out – a great mood lifter after several grey days. We were lucky to visit on a day when the Blue Angels were scheduled to practice – and the sunny day meant the flying will take place. This is a rare treat for us out-of-towners but it is nice to know that locals still scurry while in a restaurant or pumping gas to catch a glimpse of "the Blues" when they hear the roar of the jet engines. Everyone arrives early and volunteers in white shirts and tan shorts fill the pre-show time with facts and stories. We sat on the grass and watched the show above; zipping through the sky in formation, narrowly missing each other at top speed and flying both upside down and right side up. Holy Van Halen they are awesome! (Note: Chris said no one will get the reference - in 1986 Van Halen released the song Dreams. The video was all Blue Angels flying. I loved it and cannot help dancing every time it plays!) Inside the museum we could have spent days combing through the in-depth naval air categories of all kinds; engines through time, boat types through time, flight plans, flight gear, weaponry, battle exhibits, Wall of Honor, individual contributions, naval aviation in Space, support at home and on and on and on (http://www.navalaviationmuseum.org/).
The day finished with Karen and Terry and several of their friends for sundowners at The Bridge Bar followed by a fabulous Greek meal at Spyros' Gyros (http://www.bridge-bar.com/). Spyros' is located in an unassuming strip mall but the food is Greek goodness. Yum! Did I mention how happy our taste buds are in the Panhandle?!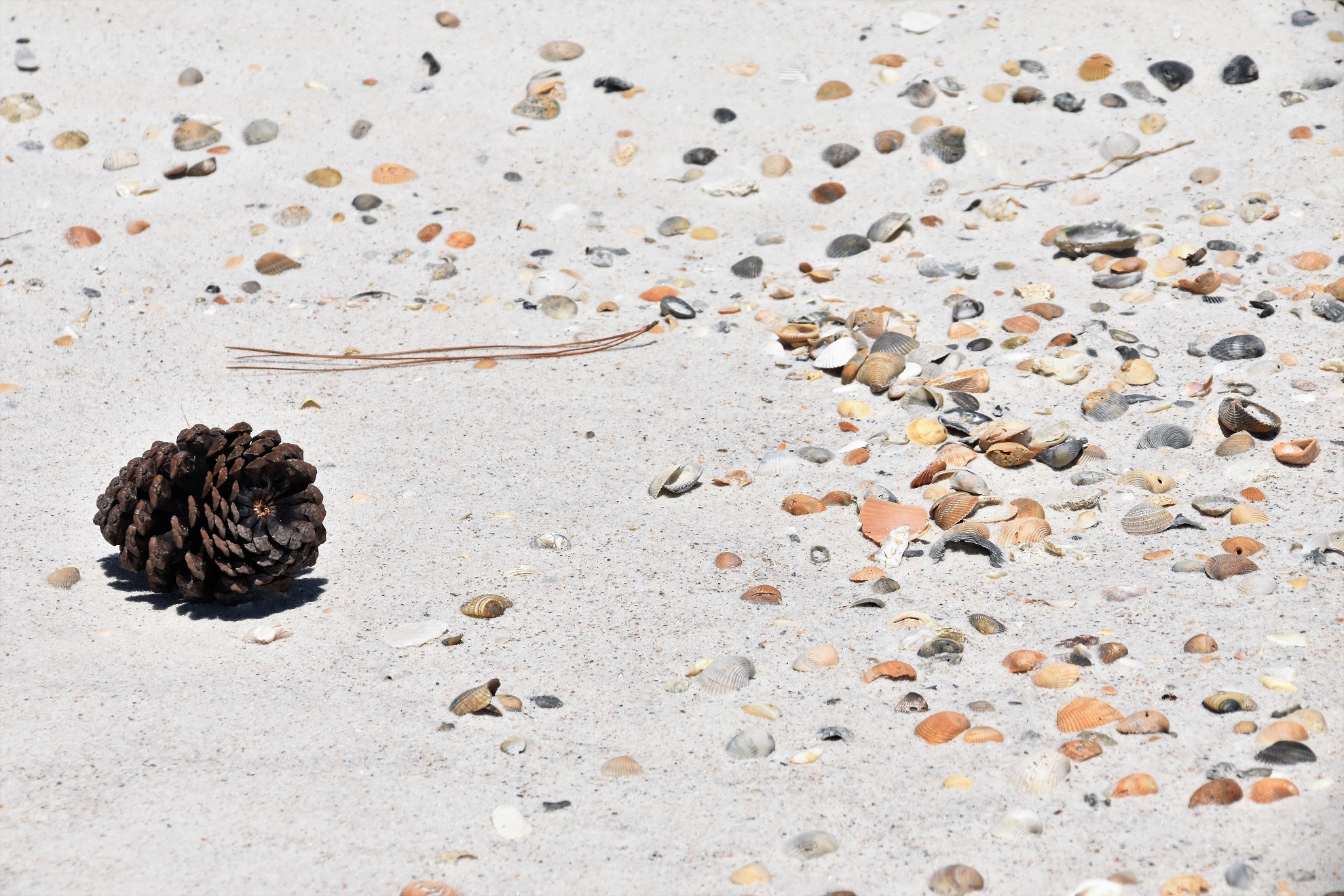 The Florida Panhandle is roughly 200 miles of Florida coast along the Gulf of Mexico between Georgia and Alabama with Pensacola being the westernmost city. It is a friendly beach town where living is easy with a manageable population of 53,000. The city was the first settlement in the USA but St Augustine gets the label "the oldest city" because it has been continuously inhabited. Hurricanes have periodically decimated and driven folks away from Pensacola...thus, not continually inhabited. Revolving rulers have given Pensacola the nickname "City of Five Flags" referring to the five governments that have ruled throughout its history; Spain, France, Great Britain, United States and Confederate United States. Wanting to see more we decided to head west along Florida's barrier islands which seamlessly connect with the Gulf Shores of Alabama. No kidding – the state borders look a bit suspicious if you are from Alabama and like a major win if you are from Florida. The beaches along the Florida panhandle are sugar sand beaches, and, as described by Jack A. Davis (author of The Gulf: The Making of an American Sea), "I think they are the best in the world. There's that emerald-colored water like a gemstone itself. What a lot of people don't realize is that those beaches are really the Appalachian Mountains. That sugar sand is eroded quartz, so when you walk on the beach, you walk on the mountains."
But we don't plan to go to the beach…not solely the beach (4/11). No way. We are headed to the five-star honky-tonk known as the Flora-Bama Lounge (http://www.florabama.com/). This place is an institution located literally on the FL/AL line. Songs have been written about it (Kenny Chesney, Jimmy Buffet, Chris Young, Blake Shelton…) and #1 Beach Bar accolade has been bestowed upon it (Playboy, Maxim, CNN, USA Today, Huffington Post…). It is twenty-two bars stitched together across added-on rooms and stages decorated with hundreds of bras (not dollar bills) and thousands of graffiti slogans (some rather sweet) that fills to capacity in two hours on holiday weekends…that's 30,000 people in two hours. Happily, we arrived at a quieter time - during dead week between Spring Break and the Annual Mullet Toss Tournament (no, not the tossing of hair but the tossing of a lifeless fish grabbed out of an ice cooler). It's the beach and it's hot so the drinks of choice are iced or from various slush style machines scattered around the bars (all fed from a central room of piped booze). The bushwaker is iconic and the most famous so we settled in for a view of the beach, a walk along the sand and live music at 2pm. The bushwaker is a creamy milkshake concoction with five liquors (including rum and Kahlua) that is perfect for a day with sand between our toes. We are glad it is quiet at The Flora-Bama.
Heading back to Pensacola we returned the car and joined up with Karen, Terry and gang for Happy Hour at the swanky Grand Marlin with its towering walls of glass followed by dinner and live music at The Paradise (http://www.paradisebar-grill.com/). Music is another happy result of New Orleans being in the neighborhood - great live music in a small venue. We had another night full of tall tales and laughs but ending as most cruiser rendez-vous end…with goodbyes. These are still hard despite how many we have had but we are comforted in the fact that they will be followed by crossing wakes in the future. Smooth seas Karen and Terry.
The anchor was up by 8am at Little Sabine Bay where we made the turnaround for this season (4/12). We will now retrace our steps back to Stuart, Florida, with the red channel markers of the intercoastal waterway on the left (metaphorically they are on the right). Conditions were calm and the ride was uneventful; perfect to make water and do a load of laundry underway. Our souls are full to bursting as we now know a new corner of the planet – this never gets old. The six-hour run ended after passing through the narrow entrance to Joe's Bayou where we dropped the anchor for the night (around the corner from Destin). Chris changed the broken windshield wiper, checked the generator zinc as well as the main engine zinc…both fine to finish the season. Hamburger and jalapeno pizza for dinner rounded out the day in the calm, protected anchorage.
It's Friday the 13th – lucky for us since it was our first date but long, today, because it is an eleven-hour motor to Pearl Bayou (near Panama City). We went back through Chocktawhatchee Bay and the Grand Canyon, re-entered the Eastern time zone, spotted shrimpers and bucolic scenes ashore and marveled at the craziness of water and currents. Our quiet hidy hole in Pearl Bayou was perfect for a solid night's sleep.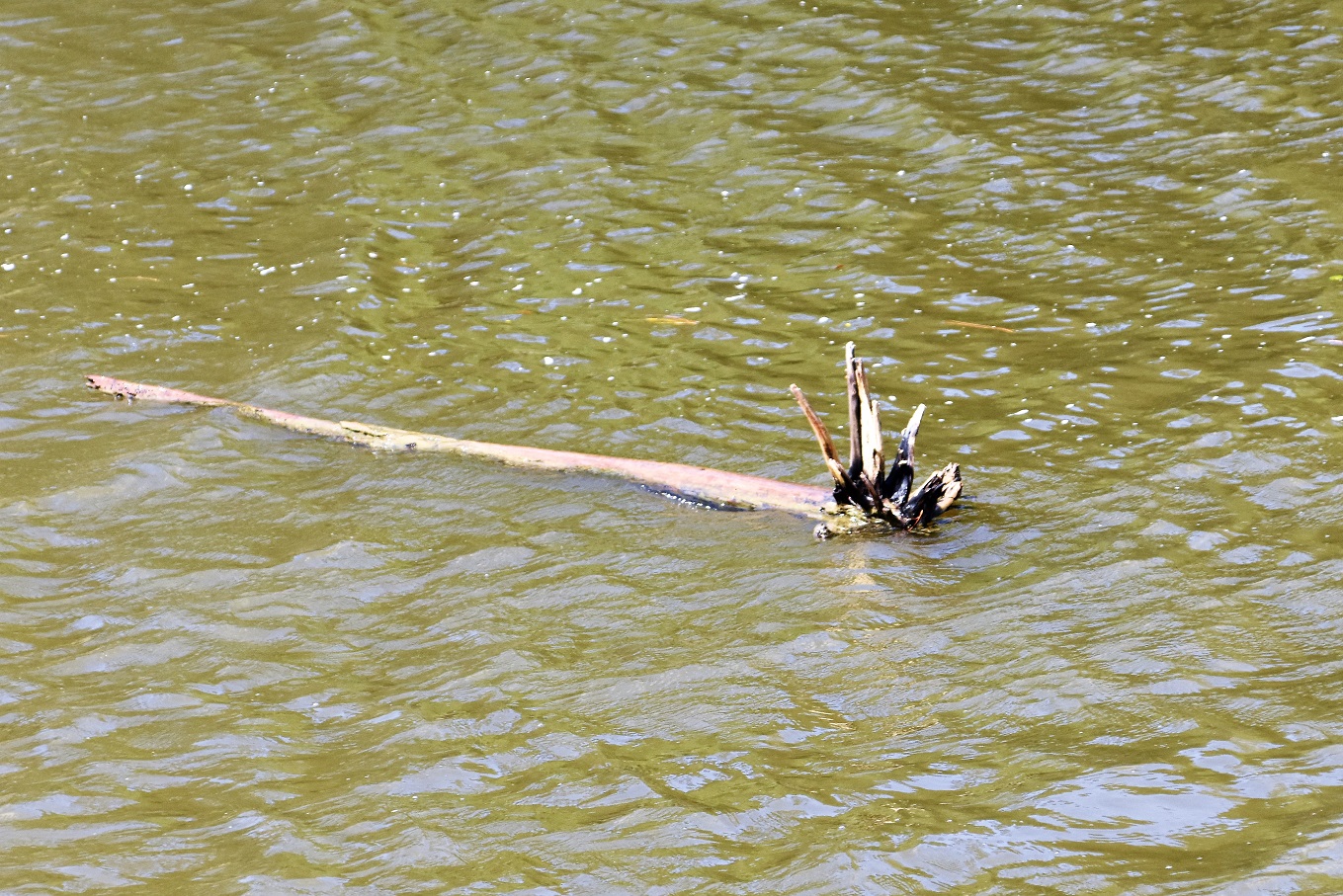 Decisions, decisions. We can stay in this hurricane hole for a couple more days in order to let thunderstorms with strong winds and rain pass…or…we can continue to Port St Joe and pull into the marina. We have not yet visited Port St Joe and the marina has availability. That is that – Port St Joe it is (4/14). We started pulling up the anchor as the sun rose above the horizon but a bit of a fire drill followed because a GIANT (3-inch long links) iron anchor chain was snagged by OUR anchor. Balderdash! We quickly swapped places so that I was at the helm while Chris wrestled the HEAVY chain off of the anchor. Keeping the boat hovering was an added challenge for me with wind and nearby shallow shores. We think the chain must have been to an old mooring ball but who knows…at least it is no longer connected to us. This would have been a good photo but there was a bit too much going on to get one. We were back in the intercoastal waterway moving east switching off being on watch to keep an eye on the waters and their contents. Dolphins leapt and swam in our bow more times than we could count. We saw several floating logs but they were easily avoided as we were nearly alone in the channels.
We turned off the intercoastal waterway into the Gulf County Canal for the final six-mile run to the Port St Joe Marina (http://www.psjmarina.com/). The winds were already up which made the short hop from canal to behind the Marina breakwater a bit of a white cap experience. Once inside the wind kept boat maneuvering tricky (overpowering the bow thruster) but three dock-hands helped make quick work of tying up. Strong, stormy conditions are still forecast for tonight and continuing for 24 to 48-hours so we took extra time with added fenders and lines. This is a friendly place but the ying and the yang of their welcome letter made us chuckle; blah blah blah…we have all items to provision your boat within walking distance; blah blah bla; easy to see why some boaters come for a day and stay a week, a month, a lifetime…final paragraph; in case of stormy weather seek shelter in laundry room or private restrooms. Good to know. All tied up and checked in so we wandered a bit. Yep, provisioning is easy with resources just steps away; Piggly Wiggly, CVS, hardware store, sporting goods store…and a cute old town downtown. Lots of resources for a town with the population of 3,400...or maybe they are poised for a growth spurt?!

We were snug in the marina with extra fenders and lines when the forecasted storm arrived loaded with heavy rain, lightening, thunder and strong winds (4/15). The weather had us rocking and rolling in the slip so much that pancakes were taken off of the breakfast menu because the batter would have crazily spread all around the griddle. The Coast Guard had warnings for small craft advisory with 25-30 knot winds and gale force gusts and 6-9 foot waves. We hunkered inside and waited as the storm progressed through its stages; wind direction shift (for a more pleasant dock position), rain stopped, cold temperatures arrived and a bit of blue sky peeked out. We reviewed our departure options for a Gulf of Mexico crossing vs. a return visit to Apalachicola to wait for benign crossing conditions. Looks like we might be able to cross in two days straight from Port St Joe but it is hard to believe at the moment with Mother Nature causing such turmoil.
The winds howled throughout the night and early morning with such strength that we made several trips up to the full enclosure as zippers un-zipped and tie downs loosened or broke. Winds were sustained at 40 knots with gusts stronger and waves at 11 feet. This is way more wind than was in the forecast. Our dock position for the wind direction was not perfect but only minor problems resulted. Eek – that's the life preservers nearly blown out of the dinghy. Then a switch flipped and the wind stopped on a dime. Crazy but so nice.
We walked into town for breakfast at the Sand Dollar Café (4/16). What an unexpected gem. There are not many choices in Port St Joe for breakfast and this one had us skeptical due to the cafeteria style warming trays in the online photos. We were wrong and had no reason to worry – the food was Southern goodness; cheese grits, bacon, biscuits…and a shrimp and grits sample. Yum – and we don't usually like shrimp. As we wandered around town we chatted with people who live in or near the area and discovered that the storm was unexpected for them, too; trees blew over, branches snapped off and general havoc occurred.
The quiet night morphed into a calm morning which had us on-track for an overnight crossing of the Gulf of Mexico (4/17). We never cease to be amazed at the speed with which weather conditions can deteriorate or improve. We tossed the lines from Port St Joe Marina and motored into smooth seas that just yesterday were raucous white caps in the bay and charging white stallion waves into the inlet. We are humbled by Mother Nature.
Off we went. We crossed Port St Joe Bay and exited past the peninsula into the Gulf of Mexico…passing Cape San Blas and St George Island/Apalachicola. We spotted two turtles in the emerald waters and were thrilled at the mellow sea state. The rhythm was gentle like a metronome rather than jerky and quick like castanets. Chris made an awesome pork tikka masala as the passage progressed without issue. We settled into our 3-hour watch schedule as the sun slipped below the horizon and the stars brilliantly illuminated the sky. The clarity must be extra clear due to a high pressure weather system that is tagging along with us. Wow – the scorpion constellation rose dead ahead of Barefeet.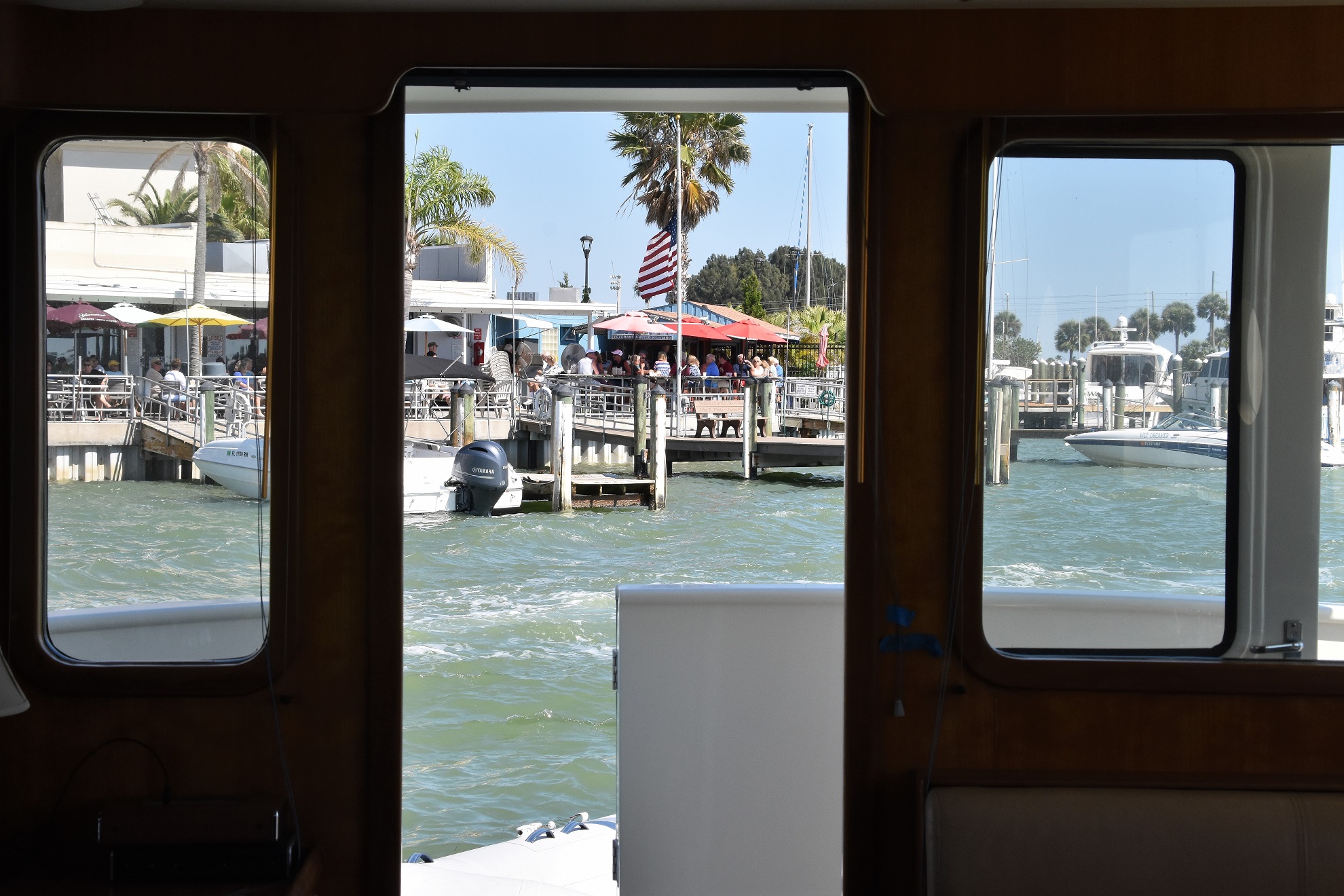 The sun rose with a green flash and continued smooth seas at our position three hours out from the Clearwater cut from the Gulf of Mexico into the intercoastal waterway (4/18). Fantastic! Soon we will be in the protected waters of the waterway from here all the way to Ft Myers (approx. 150 miles). Good weather ahead gives us our pick of anchorages. First stop was Madeira Beach just beside American Legion Post #273. We dropped the hook and zipped over to see if we could support them with our food and drink dollars. Nope - it's members only at the club. No worries, it was festive aboard Barefeet as dinner was prepared with their summer fun festivity ashore. And we had sundowners on the top deck with the Post's live music for entertainment. Ah, it's great to have another passage in the rear-view mirror. That soul bursting excitement is back and life is good. Dinner capped off the day with blackened pork tenderloin on the grill (recipe below), Greek salad and baked potato.
The rain-check pancake breakfast from Port St Joe was in full swing with butter and syrup and sour cream and powdered sugar (I'm the sour cream/sugar gal, Chris the New England pure maple syrup guy). We did a few small boat projects as the day quietly unfolded; I stitched up the holes in the fender covers and Chris caulked the top deck nose cone, port pilot house door catch and port side gate latch with 3M 4000 UV Aheasive Sealant (4/19). We kicked back and relaxed until the local Sheriff came to call. Seems the American Legion does not like where we were anchored despite being in the spot for more than 24-hrs (at least 150 feet from their docks) – thus calling the Sheriff to let us know that we were anchored too close to the Post. The Sheriff was surprised that we had already been here for 24-hrs. We re-anchored much to the relief of the Sheriff who ended our friendly chat with an embarrassed snort, "I've got better things to do - I was never here." Well, all we can say is that in our more than ten years of boating – we have never been asked to re-anchor; not in Yemen or Indonesia or Panama…only in the USA in front of an American Legion Post. Shame on them. Really?! You called the cops?!
Shaking off the bad vibes we were treated to big and small dolphins frolicking around the boat before we showered and jumped in the dinghy headed to the Angry Pepper Waterside Smokehouse for dinner (https://www.angrypepper.net/). The deck along the water with umbrellas and tiki thatch and fun was fantastic! We loved our beef brisket sandwich and grilled chicken wrap so much that the French fries were left on the plate. Now that's saying something for us. If you are ever in Madeira Beach head to Angry Pepper…you will not be disappointed.
Tomorrow we are headed for Sarasota where we will stay for a week or so as we do a few end-of-season boat projects and check out the area we had to leave too soon several weeks ago due to approaching bad weather.
Blackened Seasoning

Key West Commercial Fisherman's Cookbook

Crewman Pete Puentes
Ingredients:
1 Tablespoon paprika
4 teaspoons dried thyme
2 teaspoons onion powder
2 teaspoons garlic powder
1 Tablespoon sugar
2 teaspoons salt
1.5 teaspoons black pepper
1 teaspoon cayenne pepper
1 teaspoon dried oregano
½ teaspoon ground nutmeg
¾ teaspoon ground cumin
Method:
Mix all ingredients together. Good on sautéed veggies (onion, red and green peppers) or fish or chicken or pork. For fish – melt butter, coat fish in seasoning and cook in hot skillet. For pork – thoroughly coat pork tenderloin in seasoning and grill until cooked through (approx. 20 minutes).