Cayo Costa to Stuart – That's a Wrap: May 17 2018
We are happily anchored in Pelican Bay at Cayo Costa (5/1). The anchorage is just as protected and smooth as we remembered…but…there are a few extra bugs. That's love bugs, if you please. These flying Romeos and Juliettes live their (extremely) short adult lives attached to each other amorously continuing the family line. They do not bite but they are quite a nuisance…and messy to clean up every morning. Time for a boat project now that we are away from bouncy Sarasota. Our protected anchorage gives a rock solid foundation to trace wires and sleuth a weeping leak on the tippity top of the roof. Options for re-bedding have been found but the wiring for the nav light is a real head-scratcher. Answers are still elusive so we called it a day with pizza a la Chris (hamburger and jalapeno).
Round #2 for the wiring (5/2). It was a tag team effort of tugging and tapping and hoping to feel a vibration to follow the wire run. The hours passed and we pulled out every trick we had learned from the pros...finally getting a fish through followed by string (hoping the fish wire's edge would not slice through the wire wrap on the neighboring wires). We gained just enough extra length to make a solid connection where previously there had been spindley fibers. Yippee – the volts were there and we were back in business! It was a sundowner celebration followed by blackened seasoned veggie quesadillas. This is a huge success that we seriously doubted would result in a positive outcome.
As we float at anchor in Pelican Bay we see the seasonal cruiser migration with nightly boat count at 20 boats…daily turnover about ten boats. Our good vibes from the wiring success, yesterday, continued as friends Kim and Dave arrived from Sarasota (5/3). Welcome guys! They motored on the outside for a two-hour run followed by tying to our stern. Off we went to the State Park for a walk to the Gulf beaches and a look-see at the campground. Our festive first night ended with sundowners on the top deck followed by Caesar Pork Tenderloin and Chris' amazing mashed potatoes (with caramelized onions, feta, butter…you get the idea). Chatting continued well after the sun went down for a spectacular night display of stars blanketing the inky black sky.
More exploring is on the agenda for today. Our day started with a bit of breakfast theatre in the form of pancakes on the plate and bait fishing inches from our hull by a local fisherman making his daily rounds (5/4). He is net casting for bait fish hiding in the shadows of Barefeet. He made a nice haul into his live-well and off he went for bigger pelagic rewards. Time for us to move on, too. Dave made scrumptious Bloody Marys and we were off in the dinghy headed for the Tunnel of Love. We wound through the mangroves and I learned something new…the sacrificial yellow leaf of the mangroves in their salty environment (thanks Kim). It seems the bulk of salt is filtered from the salt water by the mangrove roots (approx. 97%); however, the remaining salt is directed to a single leaf which then turns yellow (approx. 1 out of every 100 leaves). Scientific research tends to discredit the yellow leaf theory but I like the ring of it.
It was a great day of fun! We walked another Gulf coast beach, loved the natural art of scattered driftwood, ducked into a small pool with fresh water vents that attracted manatees galore and grabbed a bite to eat at Cabbage Key. Yikes, I guess there was more to see through the tunnel of love…a 13 foot alligator. We missed him. Eegads! No joke, bartender Scott showed us his drone movie of the massive fella.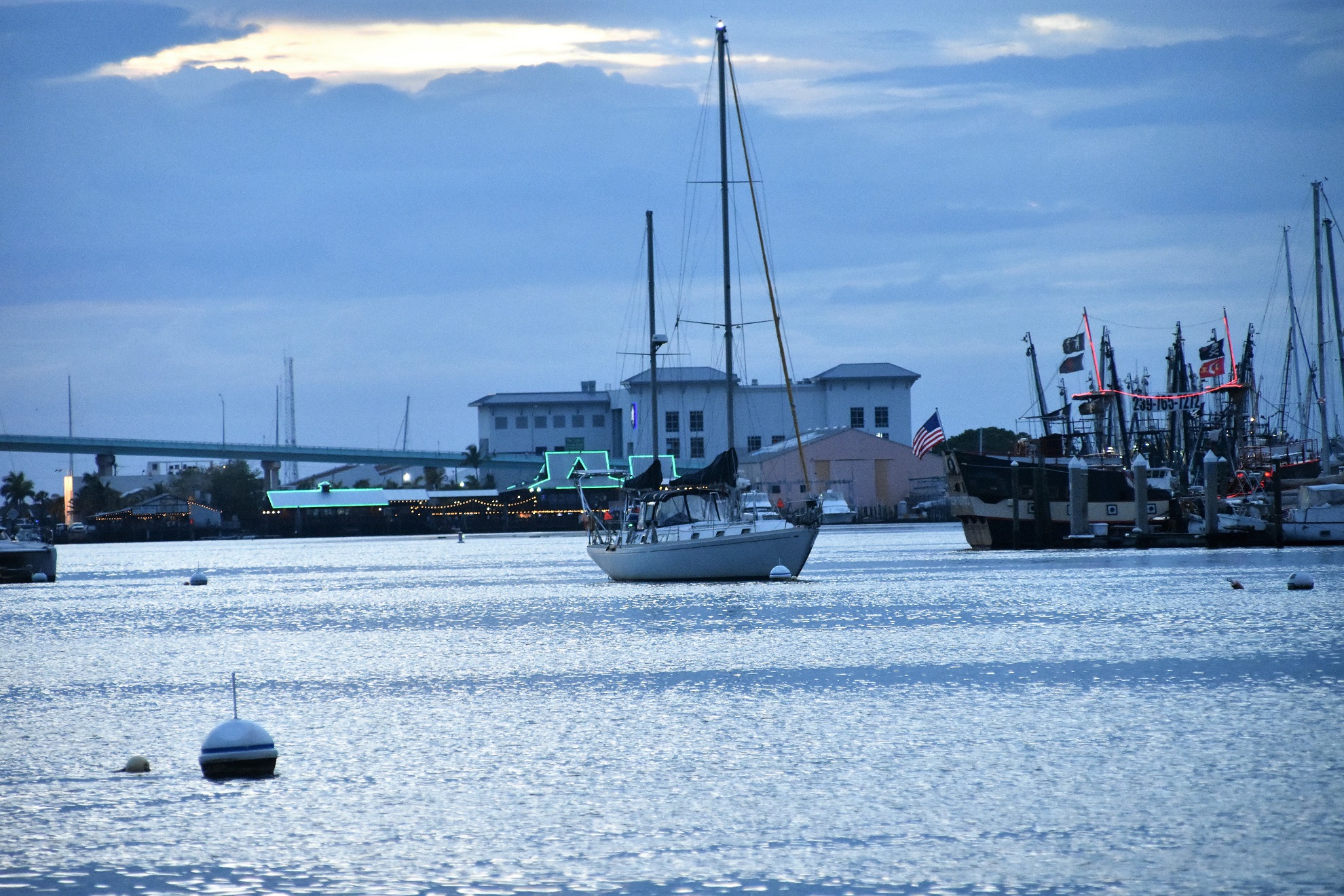 Sadly, the calendar keeps flipping forward and we need to say goodbye. Kim and Dave headed back north to Sarasota and we headed south to the mooring field at Matanzas in Fort Myers Beach (5/5). Entrance to the protected pool at Fort Myers Beach showed that the fuel dock was empty so we made a last minute change of plans to tie-up and fuel-up. Drat! Loads of scampering with ropes and fenders and bow thrusters resulted in the fuel dock closed because it's Saturday. Bugger – and the bow thruster went on the fritz which resulted in snagging mooring ball #60 without the bow assist. Our karma changed with a fresh water rinse from Mother Nature – much appreciated.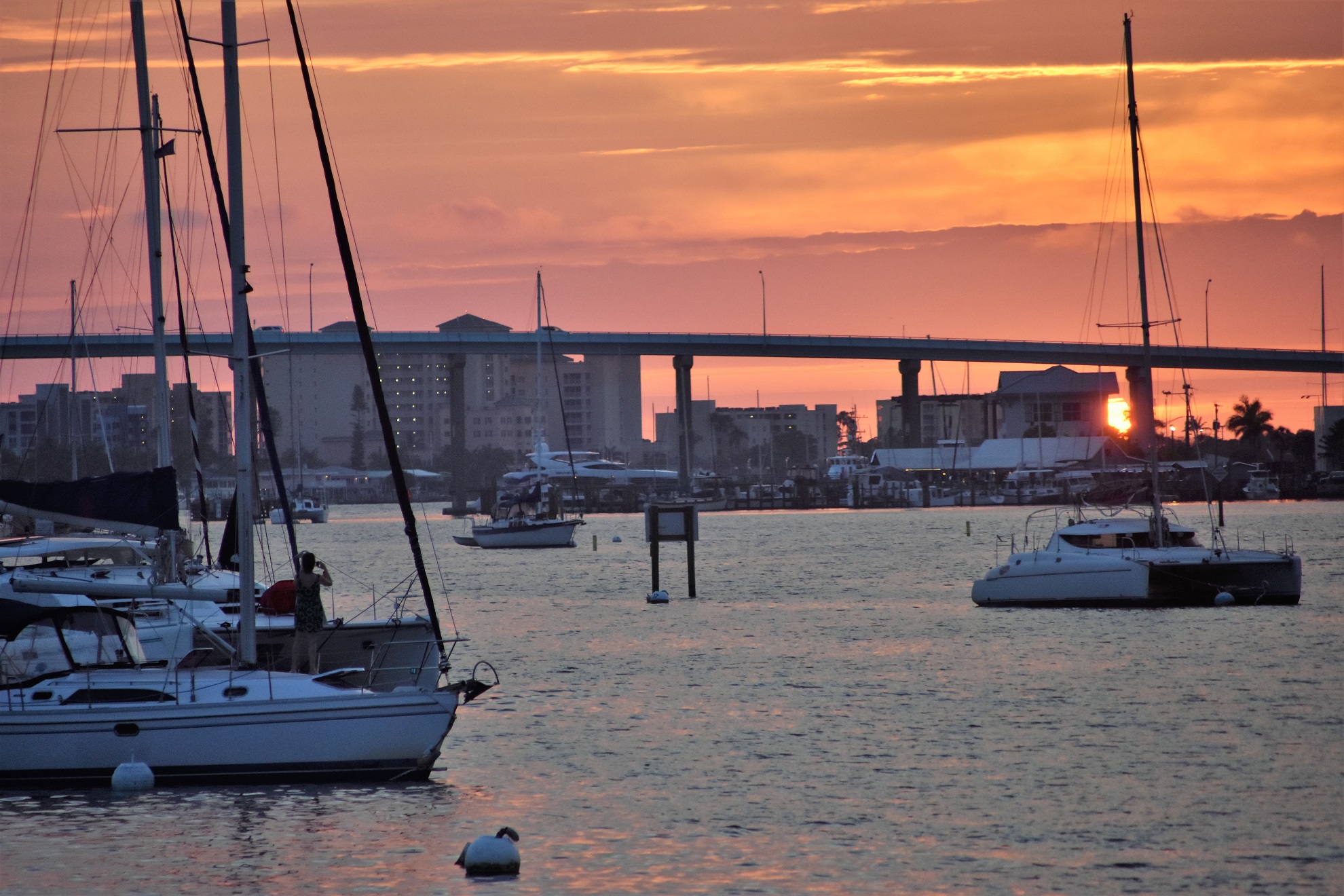 The next morning started with a thunderous dinghy motor that sounded like a lawnmower slowly making way through the mooring field…and requiring the owner to hold the engine at the right depth underwater to function. Not the gentle rooster crows of Key West but, hey – every place has its quirks. We lowered the dinghy and headed ashore for breakfast at familiar Plaka Restaurant followed by a stroll to The Goodz hardware (and ice cream) store (5/6). As I was stringing laundry around the boat to dry there came an, "ahoy," off the stern. We meet the coolest people! Mike and Carey are from Los Angeles and had to come over when they saw our hailing port of Marina Del Rey. Their boat hails from Los Angeles and spent time docked in Marina Del Rey. Chatting continued aboard and a dinner date ashore at Bonita Bills (http://www.bonitabills.com/). We look forward to crossing paths again down the way.
Fuel-up take two (5/7). We fueled up with our favorite side-arm carrying, boot shod, hat and rodeo buckle clad cowboy at 8am ($2.89/gal). Good for us it was fresh diesel but bad news for our cowboy because he has been up since 2am when the tanker truck called to say he was on his way to deliver. It was a great time to catch up – we'll see you next year. Our tanks were full, full, full as we ambled toward the Caloosahatchee River. We passed the shrimp boats and dockside market, tip of Bowditch Point (northern tip of Fort Myers Beach) and entered San Carlos Bay.
Dolphin made another visit to our bow. Hey, if we goose up the revs on the engine faster than our normal cruising speeed maybe they will leap in the stern wake like they do for the zippy sport fish boats. Will it work?! Yahoo – they leapt and spun like tops. That is a fun trick! Onto the Miserable Mile (aptly named due to its characteristic of a narrow channel with shallow shoulders). Erin manned the helm while Chris headed below to disassemble the bow thruster…conveniently located below the master mattress (can you hear the sarcasm). This was a first for Chris so he was unsure if anything could be done. He cleaned and re-assembled and voila – bow thrusters are back online. Great success!
The bow thruster functionality was nice to have as we entered the Franklin Lock (our first of four between here and Stuart). The landscape gently rolled by with a beautiful, tranquil green shoreline and we were the only ones on the waterway. Our stop for the night was anchoring in LaBelle just west of the Bridge Street bridge. Holy be-jesus is it hot at a still, humid 92 degrees F. We tried plugging in the portable fan but its power draw is the same as the fridge. No go…but the scenery is beautiful.
We pulled up the anchor from LaBelle in the calm of the early morning (5/8). The waterway was quiet as our coffee steams and we deeply inhaled the novelty smells of the land; fragrances of soil, blossoms and vegetation as well as the scent of fresh water. Gators patrol the shore as cows graze on the banks above. We passed through another two locks and arrived at Roland Martin Marina in Clewiston at 1pm. Captain Sam talked us in with concise details and conditions to the face dock – our home for the night. Clewiston is the sugar capital of the world. And it is not a designation taken lightly…rather…it is hammered home at every turn. For example, there is Sugar Realty located in Sugar Suites on (you guessed it) Sugarland Highway. Chris pickled the watermaker and made a quick rinse of the decks.
Captain Sam had reservations for a full house but it was not until the sky began to darken that EVERYONE arrived simultaneously; three boats ahead of us and three boats behind us. The iguanas and shore birds watched the docking show in the final rays of sunshine. We showered off the heat and travel of the day and headed to the Tiki Hut for dinner. It's our last night of the season before arriving at River Forest Yacht Center as we begin the process of buttoning up Barefeet for the summer.
As soon as the sun was up we tossed the lines from Roland Martin Marina and headed across Lake Okeechobee. It was a bit bumpy but no tossed cookies. The water truly looks like chocolate pudding with shallow depths of rarely more than eleven feet. Back in the waterway we passed through the final lock (open position due tothe lake's water level), the Indiantown Marina where a forest of masts stand beside the palms and the lovely homesteads that sprawl along the shoreline.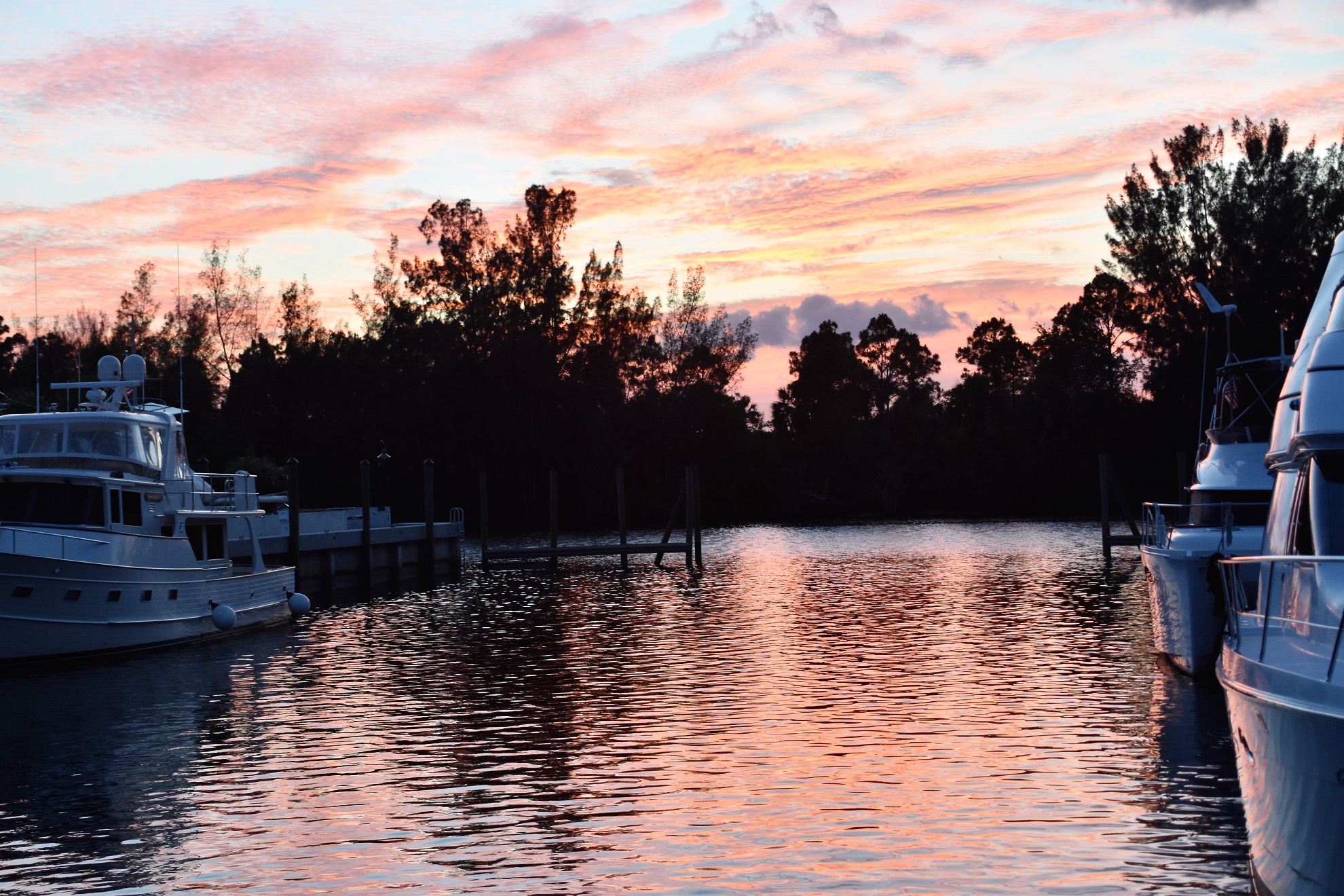 Here we are at the end – River Forest in Stuart. Let the flurry begin! We collected packages, picked up our rental car (gulp – a mini-van is just too big…we'll swap it tomorrow) and showered. The sun set with a beautiful show of red – red skies at night, sailor's delight. We agree - we are delighted.
Our prep along the way in Apalachicola, Sarasota, Cayo Costa, Fort Myers Beach, etc. has put us ahead of the game. However, there is still plenty to do so that Barefeet is buttoned up and ready...in case...a hurricane passes through. Our days started at 6.30am with breakfast at Galaxy Diner to fuel us until late in the afternoon: we cleaned, waxed and polished the stainless; cleaned the full enclosure and rolled it for storage with towels; flushed the generator and delivered the heat exchanger to Mike's Radiator; oil change for the main engine and filter change; scupper installed on the hull for watermaker intake; dinghy engine (oil changed, oil filter changed, lower unit oil changed), install Key West fabricated helm protection panel and on and on. It is a lot of work but we meet great people along the way that help to keep us on track. Matt at Mike's Radiator completed the heat exchanger at 5pm on Friday and waited for us to collect it (20 minute drive from the time of the call to his door) so that Chris could test it before we were hauled Monday morning (Mike's Radiator at 2930 SE Kensington in Stuart). Plus, the guys at NAPA Auto Parts at 745 SE Monterey Road are the friendliest folks EVER.
Our activities got a bit of a shake-up and have been re-sorted and sped up due to forecasted thunderstorms for more than a week. We needed to get everything from the outside cleaned and dried before it could be brought inside…then we could focus on inside projects. Our scrambling paid off and we were hauled between the storms – thanks J.P. Thankfully, all was not busy boat work. We had nice diversions with friends in the area. We caught up with Jason and Gail of s/v Two Fish as well as Tom and Suzie of s/v Priscilla. Everyone is well and happily traveling around – on the sea and on the land. After being hauled we moved ashore to a delightful AirBnB just minutes from River Forest. The riverfront home was the perfect place to unwind after long, hot days of boat work. And we discovered great sushi at Twisted Tuna (https://thetwistedtuna.com/) and tasty falafels at Tabuleh Café at Planet Ozone (https://planetozone.com/).
That's a wrap! We had a great 4.5 month season from Key West to Mobile. Next year will likely find us Bahamas bound but, first, we will let the dust settle and our heads stop spinning. Incidentally, I have completely written this log in the airport as we wait for a 4 hour departure delay…and still counting (5/17). The plane was not as lucky at dancing through the storms as we were. See ya next season!!