Dancing with Mother Nature Creates a Scramble to Key West: January 24 2018
Sometimes, land and water needs overlap. One of the projects on my ongoing list of To Do's was to take a photography class…as well as to learn whether I want a different camera and, if so, which one. I found a compressed 5-week class at the Museum of Fine Arts in Boston which perfectly fit into my wacky land/boat schedule. Initially, I was a bit worried that the course would be kinda snotty because it was at the MFA. Thankfully, that was not the case. And I liked the instructor and my classmates so much that I took a second compressed course. The instructor was Fran Osborn – Blaschke and he was as laid back as could be as he filled my head with aperture, shutter speed, etc. (http://www.franosbornblaschke.com/www.franosbornblaschke.com/home.html). When the courses were completed I was amazed at how much I had painlessly learned – thanks, Fran.
The course showed me that I gravitate toward "street photography" which has my camera right on target. However, after much research I decided to buy the 10-year newer version of my camera: Nikon D3400. The biggest impact of the new camera on the blog is that the pixel size per picture is MUCH bigger than with my old camera which means that each photo takes up A LOT more memory. I'm playing with that so that the blog photos are crisp but not too hoggy with download size. You might see changes here and there. As always, if you want to see a larger version of any blog photo – simply single click on the photo and a larger version will display.
We have settled into a nice floating routine at Fort Myers Beach where we can be self-sufficient on the boat or dinghy ashore depending on the situation or our moods. The Beached Whale is the perfect watering hole for watching sporting events but the decor is a bit schizophrenic - somewhere between a New England whaling captain's pub and a Bahamian conch shack. Geez, the 8.15pm Pats game start time is after dark and nearly cruiser midnight. We took a nap to prepare for the game and traveled with flashlights and dinghy nav lights to the dinghy dock (Jan 13). Nights and mornings are chilly which makes us happy to have our Surf Fur jackets for the dinghy rides. The jackets stop the wind and are warm and cozy (https://www.surf-fur.com/). These jackets are not appropriate for Boston's current arctic weather of 24 degrees F; however, they are perfect for the seaside chill. The Patriots are onto the next playoff game – yippee!
Back aboard and curled up warmly in bed it was early morning dark when the wind came up…quiet, quiet, quiet…BANG…get up?! Yep, out of bed went Erin to check the mooring line after the particularly loud bang (all okay). When the sun rose it was onto a slow and lazy Sunday. Chris has decided on the Lewmar H3 for our new windlass and the order was made. This piece of boat tackle is the motor/pulley system that mechanically lowers and raises our anchor and its chain which makes it super important for us who like to anchor. This decision came after loads of research and reviews on the internets including kudos from Practical Sailor. We spent the rest of the day hanging out with Bill and Louise at their condo; they organized and we did laundry in the background. After a good bit of progress we stopped for sundowners and nibbles. I experimented with pinwheel roll-ups and will definitely make this appetizer again. Plus, they travel well in a cooler (recipe below).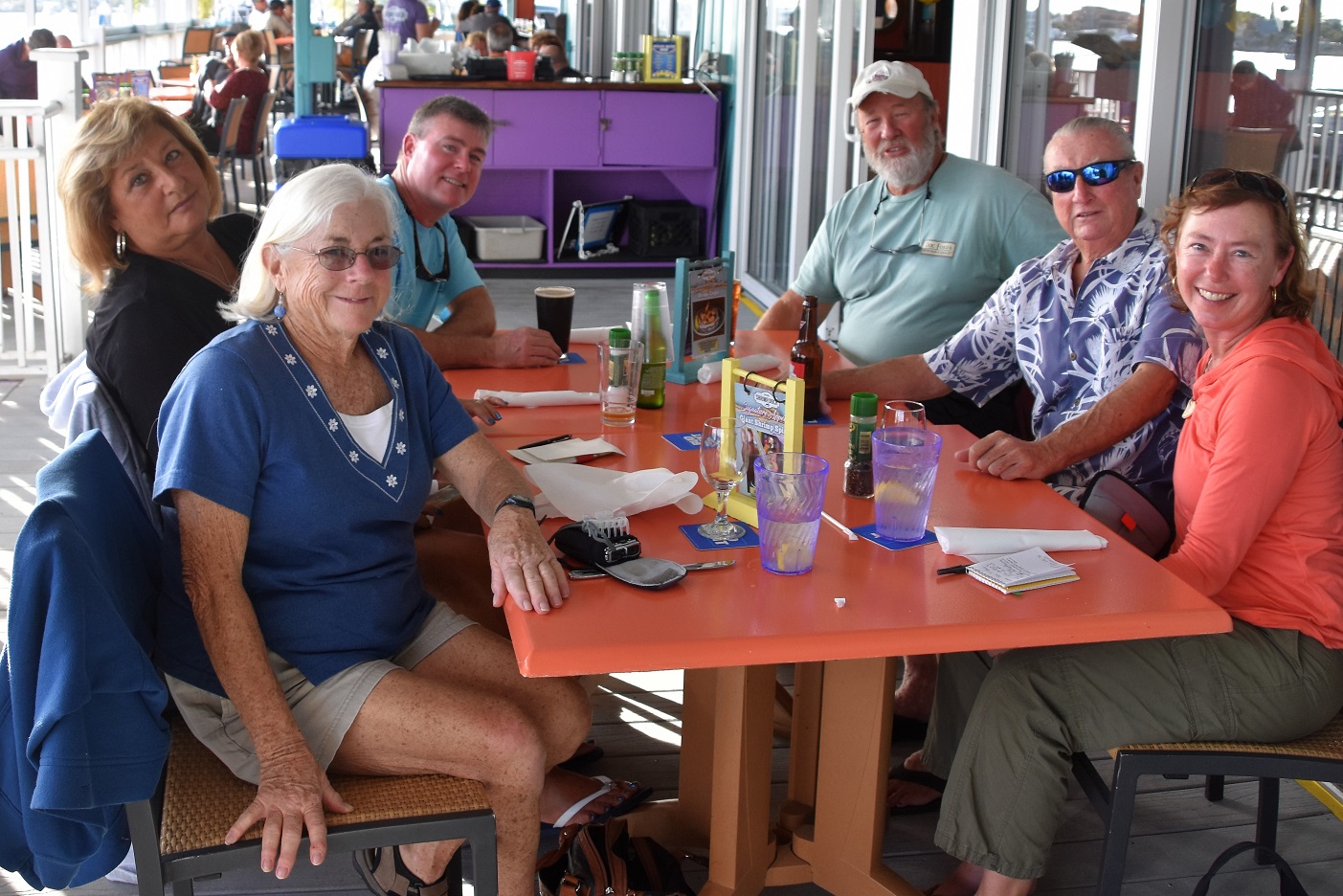 It was another chilly morning but we were up and at 'em early with wet keisters on the deflated dinghy tubes (yes, NFL Deflategate was a lie…unless you say that Mother Nature was to blame/credit). Once ashore, Print Shop Ink printed out a windlass footprint diagram to scale for us…yep, only one existing hole matches the old windlass footprint – the others will need to be filled with epoxy and new ones cut. Additionally, Chris checked the heat exchanger zincs for the stabilizers and hydraulic pump as well as the main engine vibration damper. The zincs are crazy small at the size of a 1" drinking straw but they keep corrosion from happening which would bring things to a halt. Before we knew it, it was time to have a Cove Haven Marina reunion with Sue and Steve (m/v Main Course) and Bill and Louise (s/v Andelen). We arrived at the Shrimp Dock just as they opened and did not leave until the sun had set (https://www.fortmyersbeach.org/member/shrimp-dock/). Everything has a time and place. Those days in 2005 in Barrington, RI, were one of those times. Lots of friendly, water-loving folks gathering almost nightly for sundowners and always ready to lend an experienced hand when needed. We were lucky to be introduced to cruising through these folks and we are lucky to still have them as friends.

Heavy morning dew means deck work is delayed until the decks have dried (Jan 16). This gave us a chance for a walk on the beach followed by breakfast at Reese's. The tide was out which made the sand easy for walking; however, our quick pace made it hard for me to find shells. Even so, I managed to spot a couple of keepers…and the early morning light was beautiful. Reese's is a homey place with a major cow theme tucked in the mini-mall beside Print Shop Ink. Fueled up we were ready for the day! Bill and Louise swung by and off we went to pick up supplies; West Marine, Ace Hardware, Lowe's, Home Depot, Total Wine. Wow, you guys are awesome!

We were back to the boat, decks were dry and it was time for Stage 1 of the Windlass replacement; fill the not needed deck holes from the old windlass with epoxy. Chris has gotten good at this skill which makes him quick and not messy. Prep and clean-up close at hand made for an efficient project. Our busy day was rewarded with a peaceful sunset – cheers!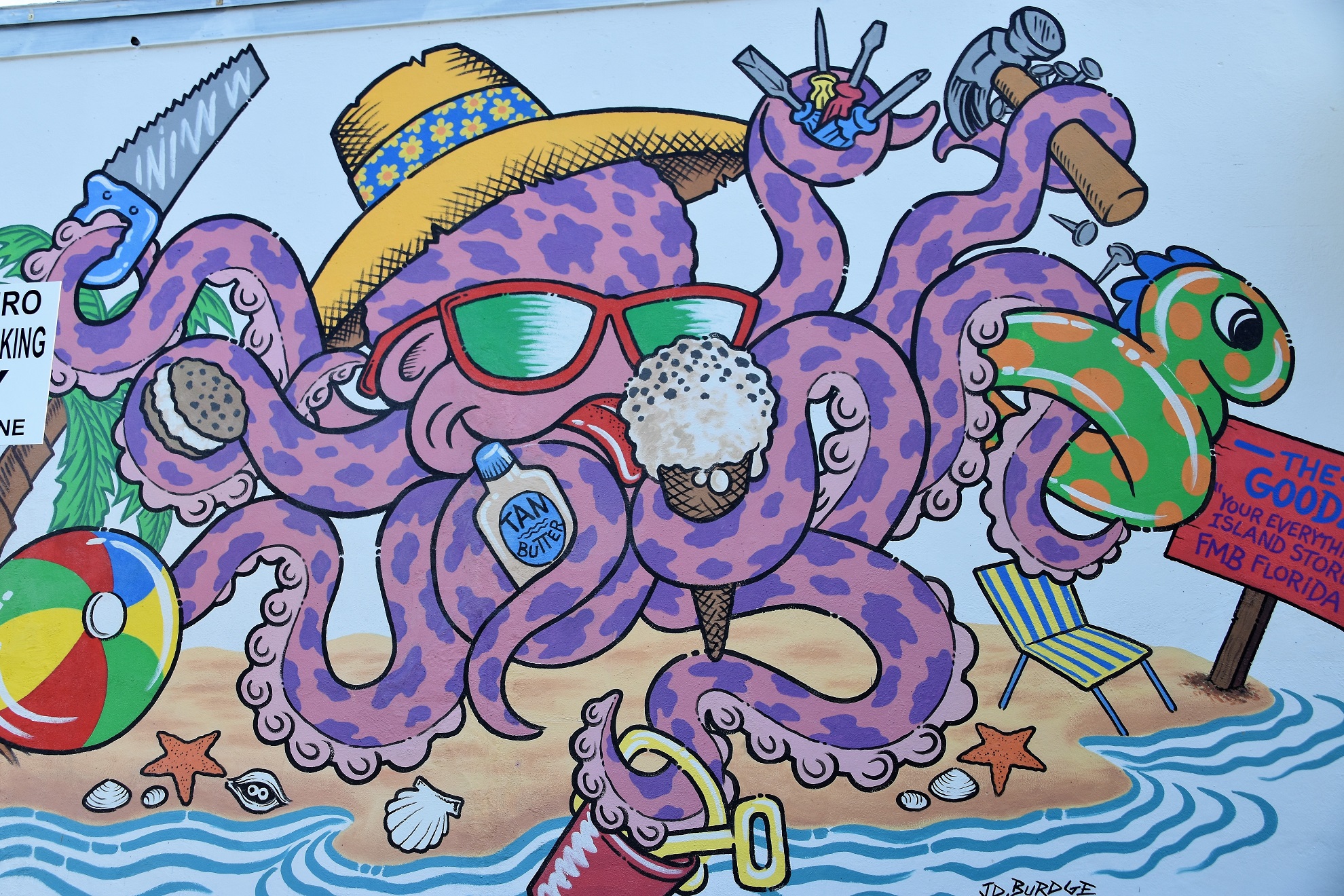 Stable weather means that we keep moving forward with the windlass replacement project (Jan 17). While the morning dew was drying we had dropped eggs on toast - extra delicious with Farmer's Market multi-grain bread. Chris is practicing for his major hole filling fiberglass job and needs another tool for the job. Sadly, our initial excitement about the inventory at The Goodz was a strike out…drat…so we went further afield to Gavin's Ace Hardware on San Carlos Boulevard.
Okay, Chris is ready to make the first cut into Barefeet's deck followed by a 12-to-1 scarf in five gradients for added strength when the new fiberglass is laid (1/4" depth and 3" square)…gulp…here goes. Looking good but it will be a slow, tedious process despite the plugged-in Dremel (no way a battery model would have had the endurance for this job). And we might need more bits?! Chris grinds while Erin keeps the shop vac continuously sucking fiberglass dust. Both of us have breathing masks and eyewear – fiberglass should never be taken lightly and should not be ingested. We finally called it a day with sundowners on the top deck beside cheddar cheese and triscuit crackers. So far so good. But I won't let work zap my food creativity so I made chicken fried rice for dinner. It was a first-time success and chef Jet Tila is batting a thousand for me (his Pad Thai was also a success back in Boston). Honest, the fried rice tasted like it came straight out of your favorite Chinese restaurant (recipe below). Thanks Jet Tila (https://chefjet.com/).
Bbbrrr…50 degrees F at 1.30pm (Jan 18). We've got the boat heater on (powered by the generator) and hot coffee in mugs. No fun. This cold front should pass by tomorrow and be back into the 70s. We took the time inside to order more drill bits from McMaster-Carr rather than schlepp all over the greater Fort Myers area (https://www.mcmaster.com/#). Dang – our cleverness was slapped down by winter storms which will delay delivery until Monday. Fortunately, Bill and Louise swooped to the rescue with a lift back to Gavin's Ace Hardware (Jan 19). You guys are lifesavers! After several hours with metal bits (that wore out) and grinding stones the grinding above and below the deck was done; stair steps were carved then smoothed to a slope. Yeah! Now some thinking before glassing. And it's off to lively Bonita Bill's for dinner where Loretta kept us fed and our glasses full despite a packed house for karaoke (http://www.bonitabills.com/). What a hoot!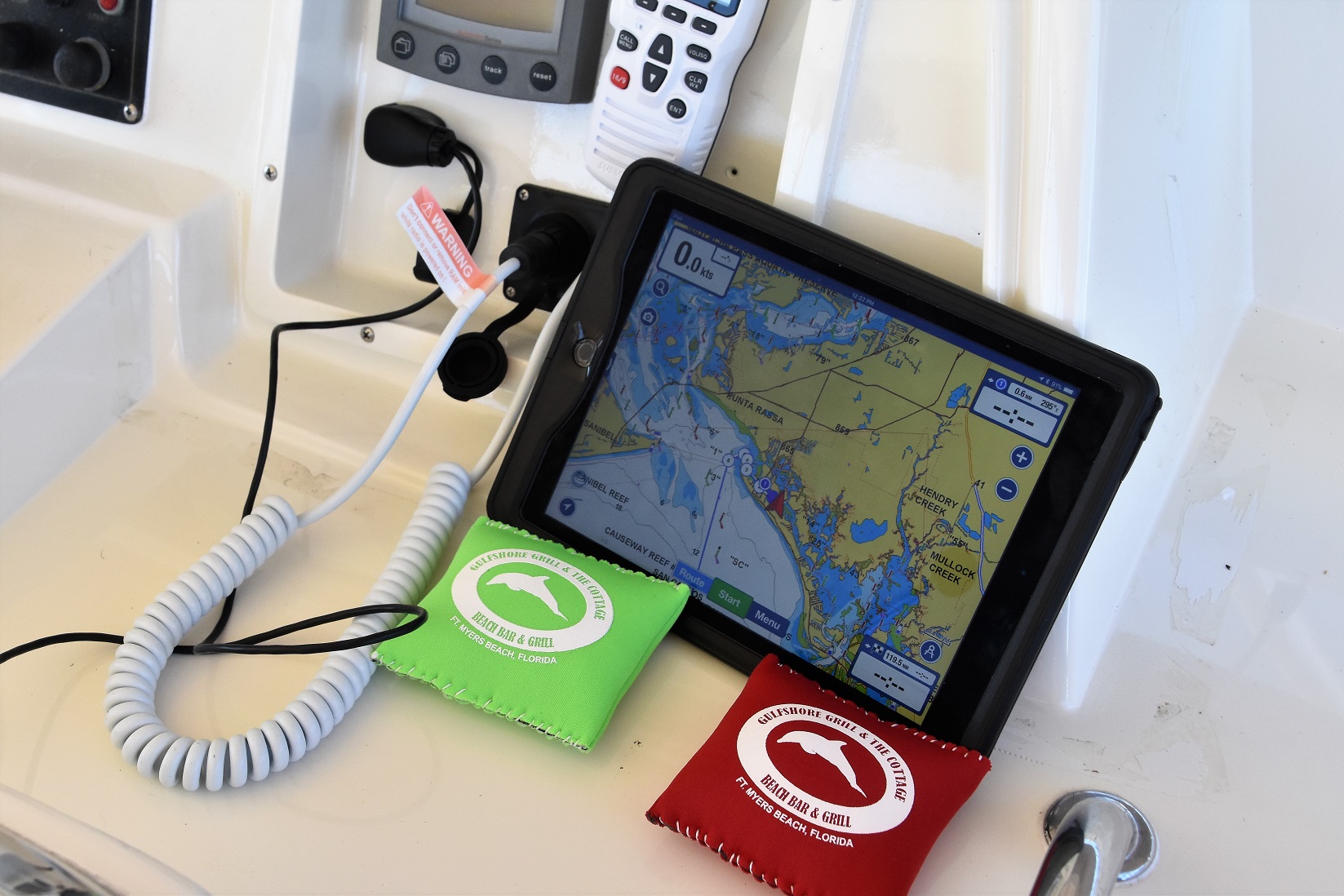 I am not always needed during the windlass project so I have done a few projects of my own; ordered a cap rail mat, cleaned-up work areas, removed summer tape from windows with a razor blade, cleaned windows inside and out (vinegar and water is my preferred cleaner) and made two bean bags for support of the iPad used upstairs for navigation. Cleaning is my superpower but I can be crafty, too. I sewed and filled two can koozies with glass floral stones. Voila! Fun and functional!

We are primarily focused on the windlass replacement; however, we are secondarily keeping an eye on a weather window to Key West. We have a dock waiting for us January 31st and we'd like to be there. It is too far in the future to know for sure but there might be a strong wind system at the exact time we can move after finishing the windlass. Murphy's Law but we will keep an eye on both and keep moving forward.

The day started warmer and no generator/heater was needed. Today is the day for fiberglassing because the grinding is complete, weather looks good (dew point and temperature are more than six degrees apart) and supplies have been gathered (Jan 20). Chris prepped the fiberglass mats, two-part epoxy and backing plates; improvising a work bench via a collapsible step stool. Everything was ready when Bill and Louise arrived about Noon. Once prepped the process took less than an hour so Bill and Louise stayed for a visit. Time just slips away when we are with these guys…and…they were a great distraction to keep Chris from looking too soon at the fiberglass before it kicked properly. Shadows got longer and pretty soon we dinghied Bill and Louise back to their car as the sun went down. See ya soon! Back aboard we had a Mexican pizza with carmelized onions and green peppers with cumin grilled chicken.

Voila – fiberglass reveal was early this morning and it was a success! Chris is very happy. Now onto a bit more sanding followed by application of the fairing compound (Jan 21). Geez – this stuff is so light that it practically floats off the spoon from canister to mixing cup. You know the weather is improving when jet skis are spotted on the water. In the afternoon we were back at the Beached Whale for the Pats playoff game. Yippee – New England is Superbowl bound. But can't it ever be a comfy win?! We were on the edge of our seats with nervousness the entire time.

The boat has been dictating most of our schedule lately so today we started with a schedule of our own which did not include Barefeet (Jan 22). A lovely sunrise accompanied us to the Plaka Restaurant for a tasty diner breakfast. Later we explored the length of Fort Myers Beach via trolley. It's only a total of about 8 miles to Lovers Key State Park but we checked it all out. Trolley driver Larry has been in Fort Myers Beach since 1966 and filled us in along the way; every day starts with two trolleys but ramps up to eight during peak hours…and Spring Break is cheek to jowl mahem. We returned with a walk along the beach to finish out our non-boat morning. But now it's back to boat stuff. We filled up with diesel and water at Ballard Oil ($2.79/gallon – ouch). Former bull rider, Tom, kept us entertained while the tanks filled with stories about rodeo competitions and hijinks between competitors…and about periodically out driving the local Sheriff. So how did an 80-year old former rodeo guy (still wearing his boots, gun and hat) wind up on a shrimp dock?! Well, his wife said no more bulls or horses. But Tom says that's okay (with a twinkle in his eye) because he still has his saddle. Boat work continued as Chris drilled new deck holes for the windlass and I dinghied ashore to do a load of laundry. Phew – that is it for today.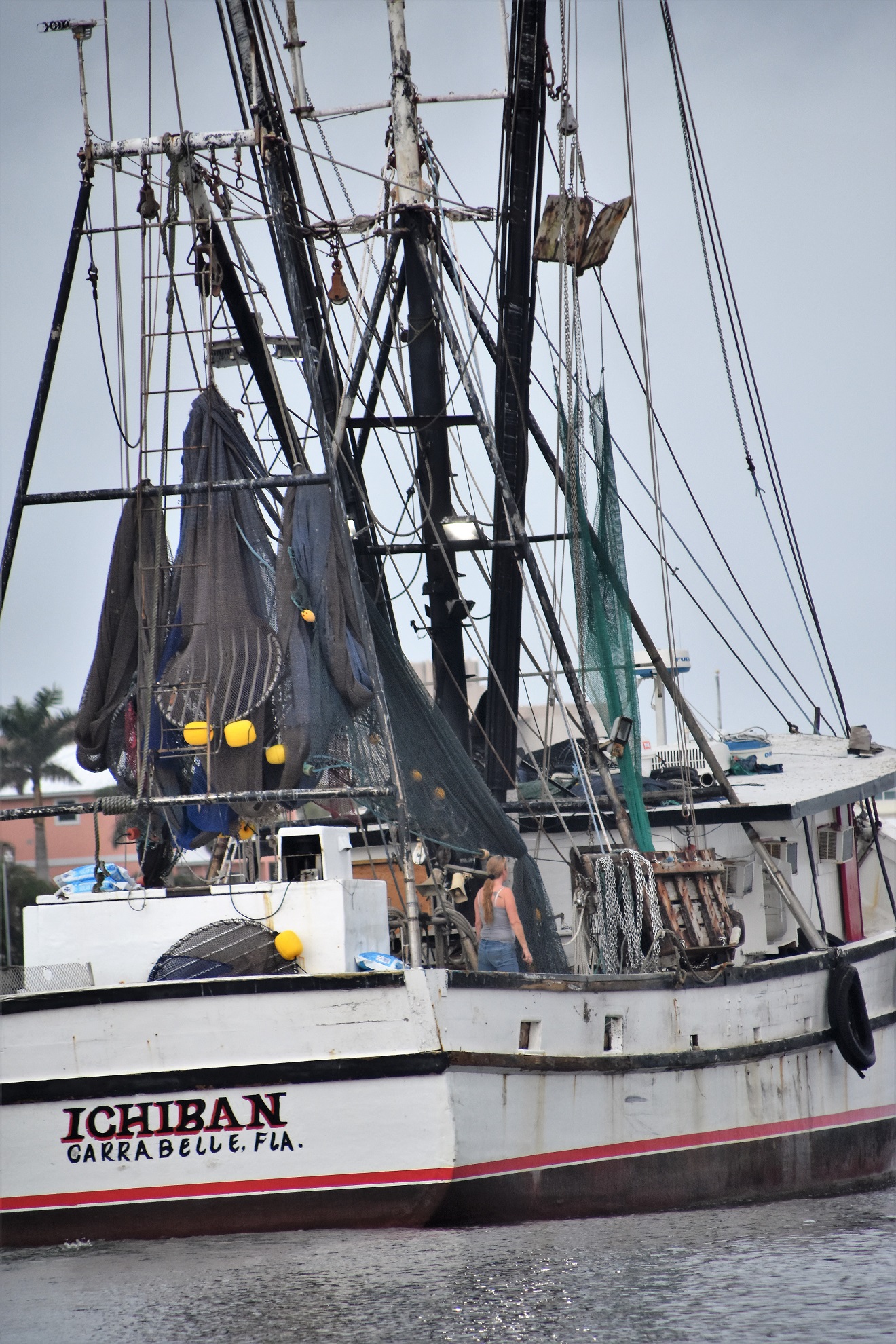 Decisions, decisions. The day started with both of us in a snit because actually making the decision is the hardest part. We were looking at weather reports (with all but the next 24-hours with honking winds for the foreseeable future), no anchor to allow a stop for the night on the 120 mile run to Key West (overnight is the only answer) and a dock slip reservation starting in seven days (already paid for). Is there room at the dock if we arrive early? That seems to be the pivot point…if there is dock space we will go…if not we will wait until the next weather window. Decision made - dock space was available so we scrambled to get tools stored, route mapped and we were off…following a shrimper out of the harbor. So long Fort Myers Beach – it's Key West or bust (Jan 23).
It was very smooth conditions for the 120-mile overnight jump with loads of wildlife; dolphins, birds, moon jellyfish...is that a sea snake?! Heck, we could even see the string below the crab buoys leading to the pots. Night fishermen, periodic fog banks and the ubiquitous crab buoys were the only things that required focus as we ate a filling dinner of easily made Mexican Shepard's Pie (recipe below). A bit of humor was injected into the black-as-a-bat's-ass dark night when a commercial fisherman got on the VHF radio with a thick southern drawl asking an unlit sailboat, "It's a big ocean out there - I'm just trying to figure out where you're going." The slow sailor's timid response finally came with, "I'll flash my flashlight at you." The even-keeled captain who had seen it all commented, "I'm not worried about the nets I'm dragging, I'm worried about me hitting you." Tee, hee, hee – Hollywood cannot make this entertainment. All in it was a great passage! Lucky we scrambled when we did because weather forecasts are calling for 25-30 knots for the next week...which would have had us locked down in Fort Myers Beach unable to see a weather window to get to Key West.
We continued slowing our speed throughout the night but it is hard to wait for the sunrise when we are so close (Jan 24). We arrived at the start of the harbor markers at nautical twilight. When the actual sun rose the dark was initially replaced by thick fog – drat. Thankfully, it quickly passed and we smoothly entered our slip at Key West Bight Marina! This will be our home until approximately March 5th. Our first task ashore was coffee and donuts from Glazed Donuts. After two years they did not disappoint (http://www.glazeddonuts.com/). And yes, they buy sugar by the pallet.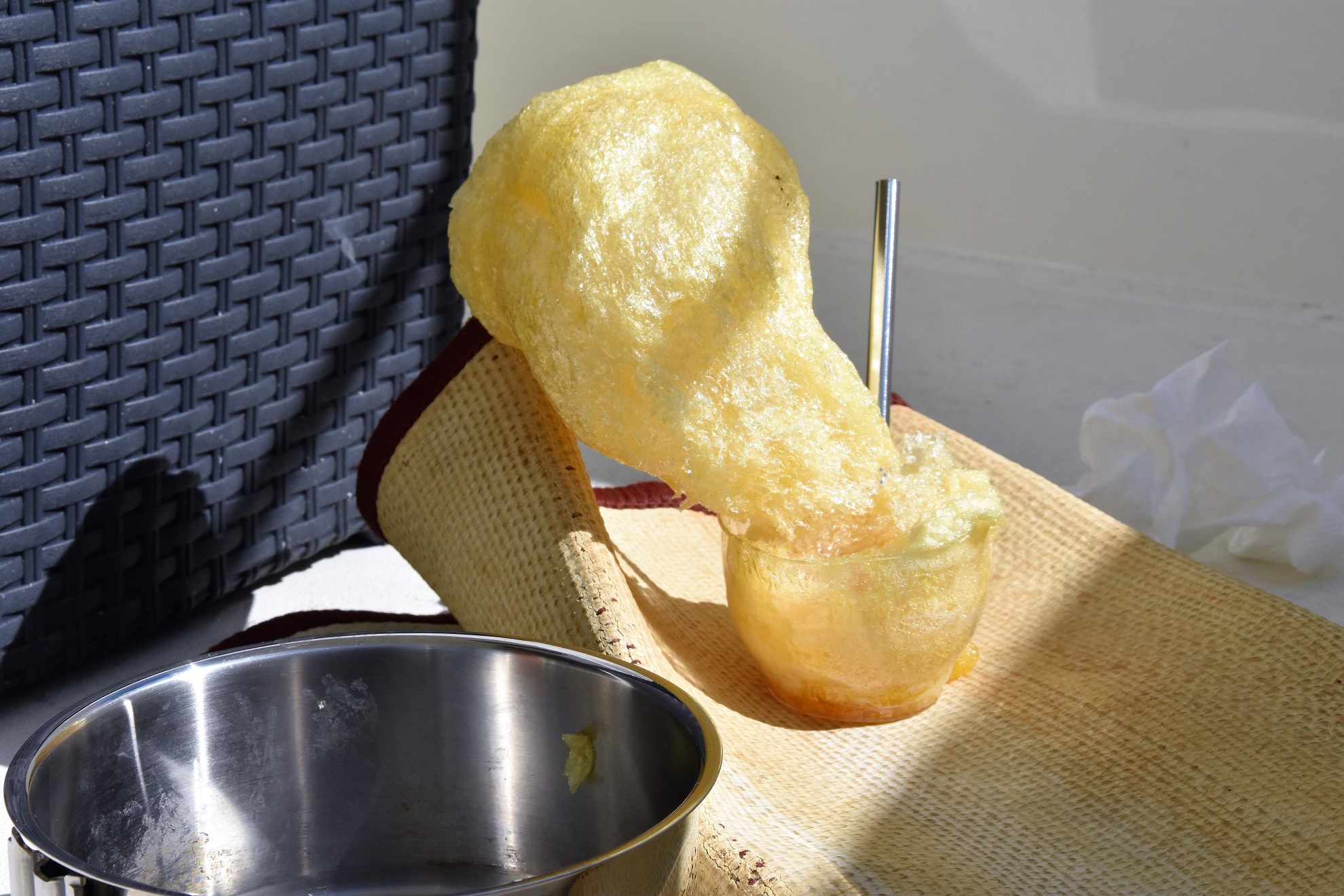 Now back to the windlass replacement project and straightening up after the passage…and showers for us. It was a bit more drilling and filling with epoxy on the deck. This two-part epoxy is quite the science experiment. Once it kicks it generates A LOT of heat. I placed the plastic cup of kicked epoxy in a metal bowl with water but it still became a smoking vesuvious.

There are leaves on the trees and no sign that hurricane Irma passed through less than six months ago (that devastation is, sadly, concentrated in the middle Keys). Yes, even the chickens are still roaming around and pecking the ground. We look forward to settling into Key West with manageably sized boat projects and time to explore this zany, creative, colorful place. Off we go!


Erin's Pinwheel Roll-Up Appetizers
½ cup deli ham, chopped
8 oz cream cheese, softened
½ cup cheddar cheese, grated
½ teaspoon garlic powder
4, 8" tortillas
Sprinkle of fresh basil (optional)

Thoroughly mix ham, cheeses and garlic powder. Quickly microwave each tortilla for a few seconds to soften. Evenly spread cheese mixture on entire tortilla surface, sprinkle basil, roll and wrap individually in plastic wrap. Chill in the fridge or cooler until ready to serve. Remove from plastic wrap and slice into 1" pieces. Serve and enjoy.




Jet Tila's Perfect Fried Rice
Ingredients
Rice
3 tbsp cooking oil
4-6 garlic cloves, coarsely chopped
2 eggs, lightly beaten
4 cups day old rice, long grain or jasmine
1/2 tsp salt
1-2 tbsp thin soy sauce
1 tbsp oyster sauce
1/2 tbsp sugar
2 tsp white pepper
2-3 green onions, chopped

Chicken & Marinade
3-4 oz. chicken, sliced for stir fry
1 tsp cornstarch
1 tsp baking soda
1 tsp vegetable oil
pinch of salt


Directions

1) Combine chicken marinade in a small bowl and reserve.

2) In a large skillet, heat oil until a wisp of white smoke appears. Add the eggs and lightly scramble until just set.

3) Stir in the chicken and garlic cook for about 2 minutes, until chicken is almost cooked through.

4) Fold in rice pressing down in small circles to separate rice grains. Add salt, thin soy sauce, Oyster sauce, and sugar. Continue to fold for about a minute or two. Don't be afraid to scrape rice stuck to the bottom of the pan. Cook until rice absorbs the sauces and is slightly crisp on the edges.

5) Fold in green onions and white pepper, cook for an additional minute. Serve immediately.




Mexican Shepherd's Pie (serves 4)
1lb hamburger
1 packet taco seasoning
1 can corn, drained
1 can red or black beans, rinsed and drained
1 packet instant potatoes
1 cup cheddar cheese, grated (or more – as you like)
1 (4oz) can green chiles or jalapenos (depending on your spice preference)




1) Brown hamburger and season with taco seasoning packet per packet instructions. Set aside.

2) Hydrate potatoes per packet instructions. Goose flavor with cheddar cheese, peppers and whatever else you like.

3) Layer 9x13 casserole: taco seasoned hamburger, corn, beans and potatoes. Add more cheese sprinkled evenly on top (optional).

4) Bake at 350 degrees F for approximately 30 minutes until heated through and lightly browned.