Sarasota to Dunedin – No Need to Rush: March 28 2018
Strong weather passing through our area in a couple of days has us on the move from Sarasota a bit earlier than desired but we will be back because there is more to see. There was no need to leave at the crack of dawn for the five hour hop to St Petersburg; however, our late morning start was longer than expected because Mother Nature dropped a thick blanket of fog before the sun came up (3/19). No joke – the Coast Guard closed Tampa Bay until the fog lifted at 11.15am. Once underway, the conditions on the waterway and on Tampa Bay were smooth and quiet…just how we like it. And perfect for making water underway. We passed under the impressive 175ft Sunshine Skyway Bridge with honks and toots from nearby boats. Hey – that's m/v Fat Cat from Key West (the morning Thai food delivery gang). Hopefully, we will cross paths again in port since they are headed to Clearwater like us. It is fun to keep the cruiser coconut telegraph going through email, VHF and texts. As we move north we refer to notes from Sean and Louise's (m/v Vector) trip this way last year and take our own notes for Bill and Louise's (s/v Andelen) future trip along this path. Once in St Pete we tied to mooring ball #19 in the Vinoy Basin at the Municipal Marina. My 12ft boat hook is still awesome but the oyster shell covered mooring line was a painful surprise as we attached to the ball. Wow – we are right in the thick of things! And the nearby shore lit up like a fairy land as night fell with trees wrapped in twinkle lights. I think we're going to like it here.
We sorted ourselves out with a marina key to showers, bathrooms, laundry and dinghy dock as well as picked up a rental car. Marina amenities are all included in the $17/day mooring ball fee. The rental car is for exploring. There are a number of areas ashore that we want to see but strong winds mean that we will keep the boat in one place…instead, we'll explore via land. Our first exploration was 16 miles north to Safety Harbor (3/20). We learned about Safety Harbor from Cody at a fishing store in Key West. His recommendation was spot on. Chris found a cozy coffee shop while I strolled Main Street. There are palms and live oaks, boutiques and antique stores and a varied selection of watering holes from Irish pubs to barbeque with live music and stools at a sidewalk window to Hawaiian shaved ice. Holy cow – and a granddaddy of a live oak smack in the middle of town. At over 300 years old this tree has seen a lot. Geez, in 1718 Florida was sparsely populated with Spanish conquistadors and Seminole Indians…a bit has certainly happened since then.
Strolling down Main Street the eclectic vibe of the town was clear to see. A creativity explosion was all around at the Art Center and sidewalk chalk art was still in place after the weekend Art in Bloom Festival. There were dragons, maidens, a tribute to Stephen Hawking, flowers, sci-fi images and fruit all completely drawn with chalk on the sidewalk. Each painting is vibrant and detailed and amazing. Moving from shop to shop I learned that a tornado watch was in effect for the area until tomorrow…and heavy rain storms due at any moment. Thankfully, the rain held off until we were back in the car. But once it started it did not let up…so glad to have seen the chalk art.
Back in St Pete we ducked into Hops and Props for some dinner. Chris dropped me at the door and gallantly parked the car and ran back to the restaurant. Yikes, he came through the door and all mouths in the place dropped open. He looked like he had, literally, swum to the restaurant. Lacking the ability to form any words the bartender tossed him a couple of dry bar towels before his puddles got too out of hand. Now the bad news – the kitchen is closed because they ran out of food over the weekend and have not had time to get the smoker going again. Gulp. Okay, we'll try the local brew pubs on draft and snack on smoked salsa and chips…dinner will come later. A few drinks later the rain finally stopped so we headed to Frescos for dinner. Back to the dinghy and we were reminded about the rain - the dinghy was filled with water above our ankles. Out came the bailing pump and off we went back to Barefeet.
The keyhole shaped Vinoy Basin is well protected but a roll is often present with varying degrees wobble…maybe the cement walls add to the seemingly perpetual motion?! In the morning we hashed out a rough plan for our time in St Pete; what would be explored via land and where we would later explore via anchorage based on the evolving weather forecasts before we make the overnight jump from (roughly) Tarpon Springs to Apalachicola. Sorted. Now back to the day ahead (3/21). Chris headed to Tampa for some poker fun at the Derby Lane Poker Room (http://www.derbylanepoker.com/) while I checked out a couple of things here in town. I was two for two on the day; thumbs-up for the Chihuly Collection and the Craft Art Gallery but thumbs-down for chef Michael Mina's Locale Market and the St Pete Museum of History. No worries – you can't like everything.
Back aboard Barefeet I did some baking that has been gnawing at my recipe library. We have loved fresh-squeezed orange juice and vodka cocktails in Florida but I hate to throw away the leftover pulp. Problem solved - I sleuthed online and found a bread recipe that was perfect for my boat pantry inventory. The recipe is called Juice Pulp Quick Bread...but that doesn't sound very appetizing to me so I'm going to call it Cinnamon Orange Bread (recipe below). Good timing - the bread is out of the oven and I am off to the Old North East Tavern to meet Chris (http://www.oldnetavern.com/). With only one phone and one dinghy our plans are a bit fluid with contingencies like books to read in our bags and a few back-up plans. This time it was to meet at the Old New England Tavern at 6pm (ish) for dinner. Let's see how it goes. It was a nice walk from the dinghy dock through different eras of St Pete on the way to the Tavern; from the art deco grand dame Vinoy Hotel of the 1920s to the tree lined streets and historic craftsman style homes to the very modern murals. Our plan came together and Chris soon arrived for a nice dinner while we caught up on each other's day. He enjoyed his poker afternoon but finished on the bubble. Drat! Eighty people started the tournament and pay outs went to the top seven players…Chris was number eight.
Mornings remain chilly due to Nor'easters in New England so we bundled up as we walked to breakfast at 2nd and 2nd (http://2ndandsecond.com/). Walking back to the boat we stopped at the St Pete Museum of Fine Art for the exhibit of costumes from the Star Wars movies (3/22). It was pretty cool and the costumes are truly works of art and ingenuity…like the cooling suit inside the Chewbaca costume and the flowing robes that survive fight scenes which George Lucas described as energetic cock fights. Next up was the Art in Bloom exhibit where local horticulturists from amateur to professional match a flower arrangement with a work of art at the museum. The museum was small but the art was fun to see…including the boy harassing the stork. Back aboard we did some chores like laundry, making water and de-bugging my computer (thanks Chris). We made a second try for dinner at nearby Hops and Props just a few steps from the dinghy dock (http://www.hopsprops.com/). Their menu is limited to what they have smoked onsite and everything is smoky delicious-ness. We went for the smoked shepherds pie and mac and cheese with smoked bacon. The meal was comfort food at its best with another local brew to wash it down – Cycle brewery's crank IPA.
Regional weather forecasts are settling out for the near future which will have us departing in four days to head towards Clearwater since strong winds will be funneling straight into the mooring field. Unfortunately, longer-term forecasts for our overnight hop are still changing daily which has our wide window to cross shrinking down to 12hrs of calm. We'll keep an eye on that in order to move when the conditions are comfortable.
Tampa is about a 25 mile drive from St Pete so we made a day of it (3/23). We started at the Henry B. Plant Museum…originally, the exotic and luxurious Tampa Bay Hotel. Plant built the Moorish styled hotel in the 1880s. It was vast (150 manicured acres with 511 rooms/suites), full of luxuries (first elevator, electric lights and telephones installed in Florida) and decorated with items Plant and his wife had hand selected in Europe. After forty years of operation the Great Depression and its associated collapse of tourism forced the hotel to close. Today, it is part of the University of Tampa with only a single wing reserved to recreate the glory days of the hotel. During its glory years, the hotel hosted luminaries and royalty and starlets as well as Teddy Roosevelt and his Rough Riders (during the hotel's time as the base of operations for the Spanish-American War). We lingered and imagined what stories the walls could have told about the elegant social functions in the salons and ballrooms or out on the spectacular veranda.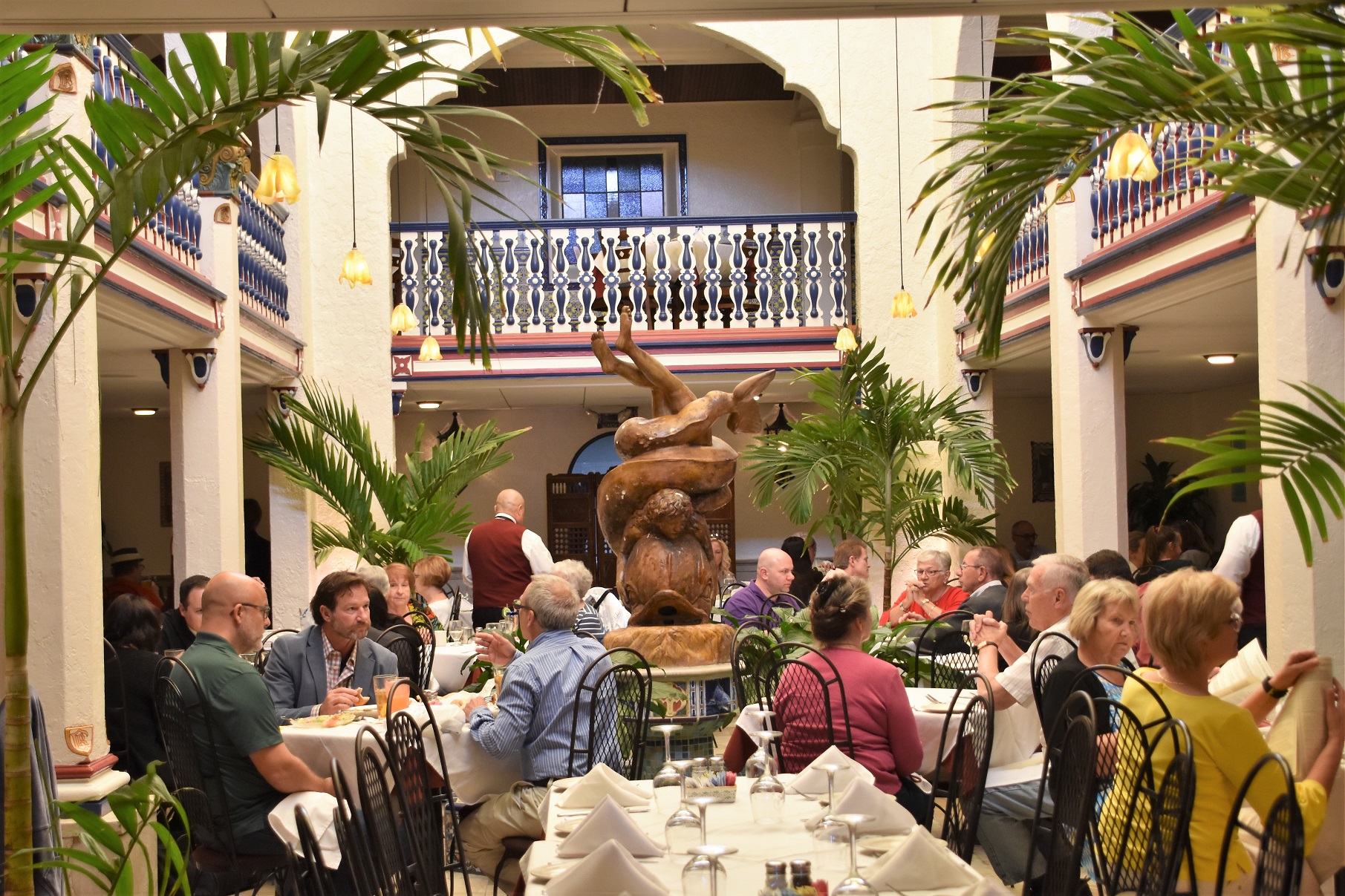 Next stop – lunch! We headed to Tampa's Ybor City neighborhood (pronounced Ee-bor) and the Columbia Restaurant (http://www.columbiarestaurant.com/). Founded in 1905 it has been a family run restaurant for five generations. The flavorful Spanish/Cuban menu keeps the restaurant buzzing for lunch and dinner with eight servers continuously scurrying in each of the three large dining rooms. We stuck with the house favorites; black bean soup, black bean cakes, paella, Cuban sandwich and 1905 salad. The salad is great theater as it is made (individually) table side (like a Caesar salad) and it is loaded with flavor (lemon, garlic, ham, olives...and a bit of lettuce). We were stuffed and enjoyed the entire experience.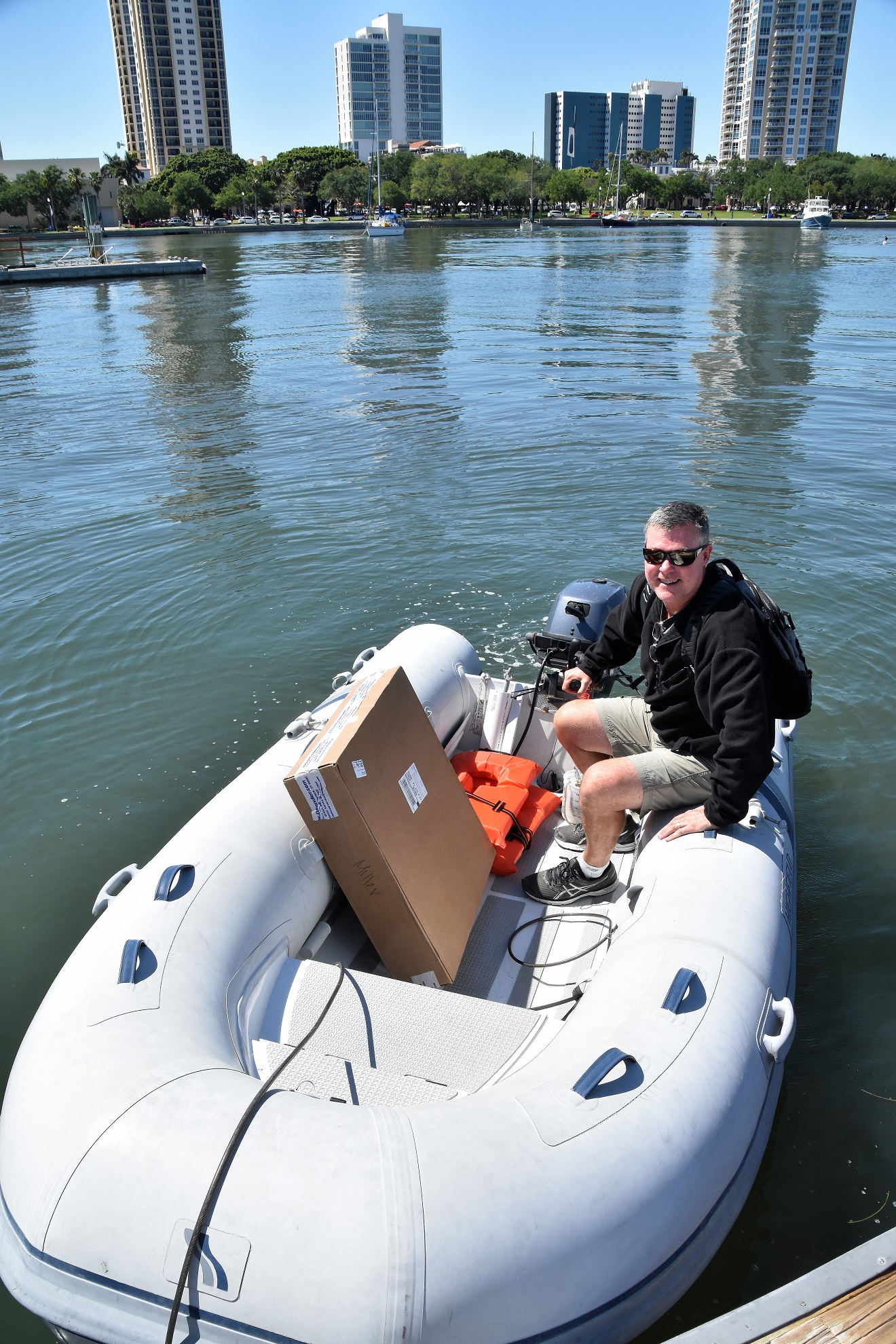 Back in St Pete we handled a bit of boat parts ordering. Being a boat in transit (aka on-the-move) means ordering online is more complicated since we do not know where we will be to have a delivery sent. The hatch in the pilot house continues to have a small leak which Chris has tried to repair numerous times…but the leak continues to return. So, rather than wait for the leak to get bigger Chris is ordering a new one and will replace the hatch. Sadly, after much measuring the hatch was the wrong size. Drat! Oh well, the folks at the UPS store at 740 4th Street North could not be nicer which gives the frustrating process a silver lining (they mailed the reverso pump back for us yesterday).
Our day started with a BIG Farmer's Market (3/24). Holy guacamole – there are loads of fruits and veggies but not so much "craft" stuff. We prefer the fruit and veg markets and walked away with fixins for a Greek salad for dinner. Breakfast was from the empanada stand – yum! Chris headed off to the Poker Room while I explored Central Street and all its consignment shops, global eateries (including a SE Asian Hawker restaurant) and murals. We reconvened aboard Barefeet for a quiet dinner of grilled steaks, baked potato and…farmer's market Greek salad.
Weather forecasts continue to show strong winds funneling into the St Pete mooring field so we will keep to our plan and move along tomorrow for the Clearwater area. Provisioning runs to top up the pantry and liquor cabinet were completed after a nice breakfast at Trips (http://tripsdiner.com/). Laundry and the return of the rental car rounded out the afternoon before we headed to Ferg's Sports Bar to watch the Duke game in the current round of March Madness (http://www.fergssportsbar.com/). Wow – this is some kind of neighborhood sports bar; located beside Tropicana Park (home of Tampa Bay Rays), TVs everywhere (70+), open air covered deck and bar, indoor bar, patio that can hold 3,000 people (pep rally venue – what sports bar doesn't have that?!), dog park (so you can have a beer while your dog plays), chandeliers and disco balls hanging amongst road signs and twinkle lights. It is very festive…even if your team loses. Unfortunately, Duke lost and that is the end for their 2018 season.
This is just uncanny. It is the third time this season that we have had a slow start due to heavy fog…even though…previous days were clear as a bell (3/26). Huh?! That's okay because it's easier to make tomato, basil and cheese sandwiches for breakfast while at anchor. Plus, distance to cover is just 5.5hrs which meant we could depart at Noon and still be fine as we tucked back into Mandalay Channel for good protection from strong winds expected later tonight. Off we went once the fog lifted - dropping the mooring lines at St Pete.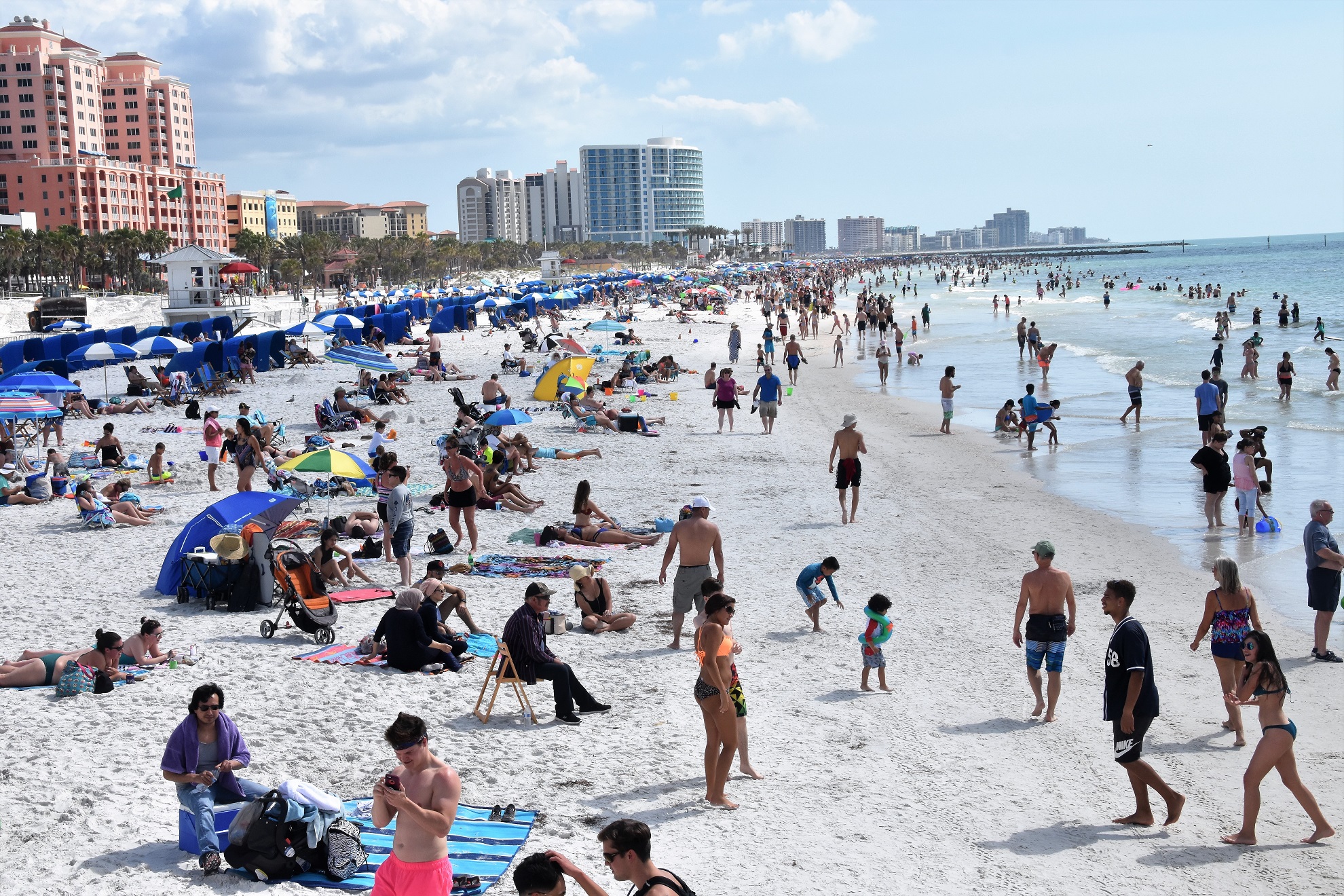 It was a leisurely motor through the barrier island protected waterway. Our anchor was down at 3.30pm after seeing nothing less than 6.6ft (on a rising tide) through the pass back to our anchorage in Mandalay Channel where we anchored in 9ft. We lowered the dinghy, showered and headed into Clearwater. Yikes – there is no doubt that Spring Break has clearly sprung as we checked out the scene. The beach is packed! And we are definitely in the geezer-aged category of this population (tee, hee, hee).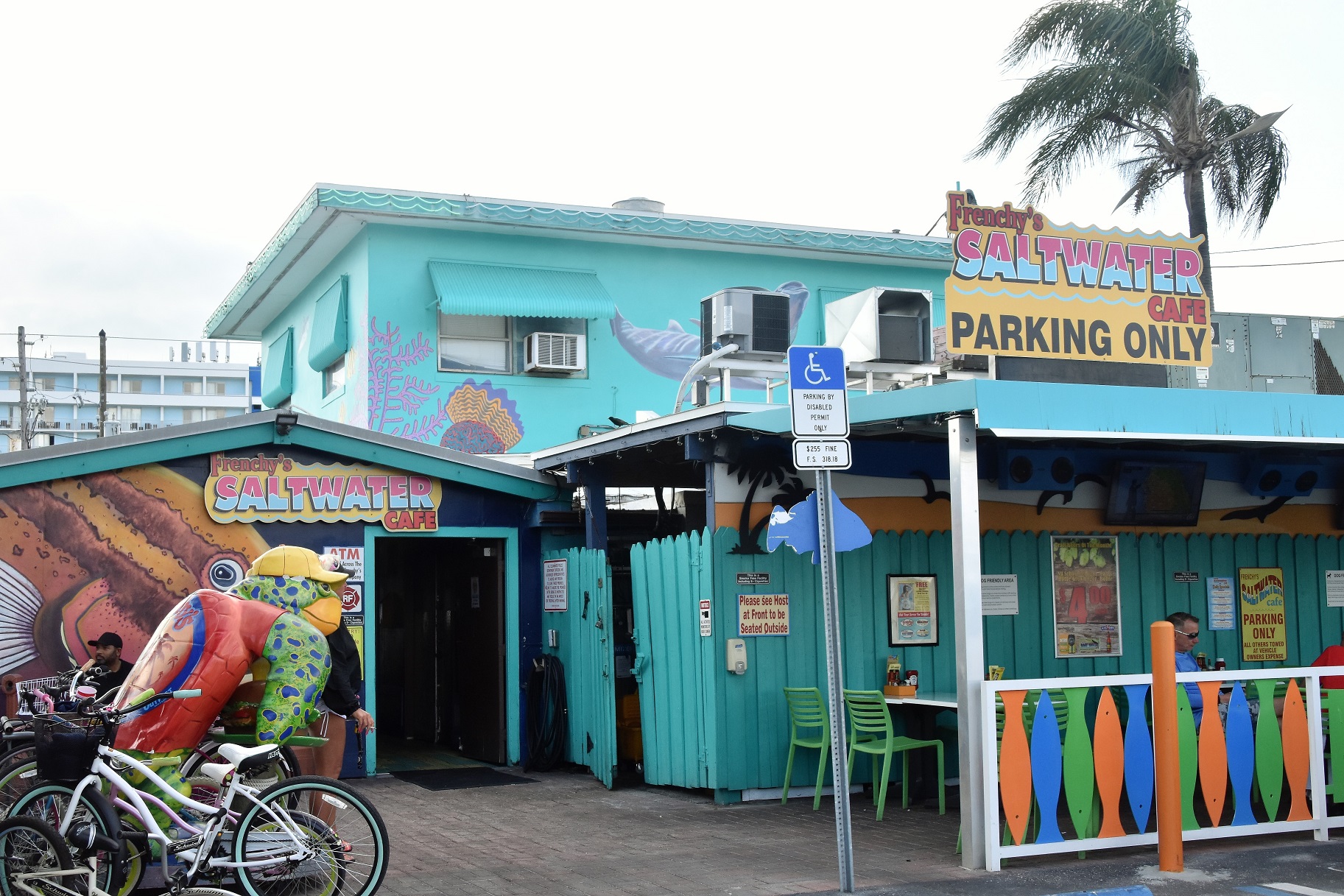 Shoreside access is in short supply in Clearwater and Frenchy's is one of the few ways ashore. No worries – that was our dining plan. You see, the grouper sandwich has taken on almost mythic qualities on the Gulf of Mexico where grouper used to be caught as big as Goliath and slapped around like sides of beef. It is a summertime memory etched in many a kid's youth…and every summer ever after. The sandwich is said to have been invented in the Tampa Bay area and Frenchy's is one of the few remaining places that still considers the grouper sandwich to be a signature dish. There are a few Frenchy's outposts but we headed to Frenchy's Saltwater Café because that's where the dinghy dock is (https://frenchysonline.com/). No need to mess around. We ordered two original grouper sandwiches; fried, beer battered, tartar, lettuce, tomato, American cheese, onion roll. You know the American cheese they are talking about – the kind found wrapped, individually, by clear plastic wrap (yep, old school). The sandwich was moist and tender without a hint of fishy-ness. It was delicious and has now made a memory for us. Of course, the bartender's coconut margarita wasn't bad either.
Our meal done we had the bar tender time stamp our dinghy parking ticket. No kidding, it's only a two-hour limit. The time limit is loose on a Monday (when we were there) but weekends are more strict when they can have people circling the dock and 80-90 boats come and go during the day for a meal. We exited out the restaurant's back porch and walked down the fishing boat dock to our dinghy (yes, Frenchy's owns a fishing fleet, too). The fish are delivered right there…steps from the kitchen. We chatted with the fisherman and got a few more details about the fishing process…not for the faint hearted. Each boat heads out into the Gulf of Mexico for 10-14 days with a spool of braided steel long-line totaling five miles in length and hooks are spaced every thirty feet. When they return they are loaded with 8,000 - 9,000lbs of fish. We appreciated our sandwich even more after that chit chat. Thanks Frenchy's and extended crew.
Every new weather download shows our weather window for crossing the Gulf shrinking and shrinking until it finally collapsed altogether. We stayed put for a lazy day aboard in Mandalay Channel – heck, we did not even lower the dinghy (3/27). We read and I did some stitchery and Barefeet made some water; however, we did manage to rally for a chicken tikka masala pizza for dinner.
Since we won't be jumping across the Gulf today we have a few extra days to explore the area (3/28). We picked up the anchor and moved right around the corner to Dunedin. It was, literally, sixty minutes from anchor up to anchor down. Dunedin (pronounced Dun-eeden) was founded by two Scotsmen in 1852 and the Scottish heritage continues to be active today with the wildly popular, annual Highland Games (now in its 52nd year). We headed ashore and checked out the area with a pit-stop at the Coffee & Bakery Company followed by a Mexican lunch at Casa Tina's (https://www.casatinas.com/). These folks are from Mexico and helped to launch the original Senor Frog's in Mazatlan so we knew we were in for a taste bud treat – ah, comfortingly delicious. We collected maps and Jolly Trolley schedules and will plan out the next few days until weather improves for a boring crossing to Apalachicola – no pain, no pain. Plus, the 37-mile Pinellas Rail Trail Bike Path passes through connecting Tarpon Springs, Dunedin, St Pete, etc…maybe we'll get on a bike (https://www.railstotrails.us/fl-pinellas-trail.html)?! We'll percolate on these options but right now the sunset calls.
Cinnamon Orange Bread (aka Juice Pulp Quick Bread)
Ingredients
Nonstick cooking spray, for spraying the loaf pan
2 1/4 cups all-purpose flour
1 1/2 teaspoons baking powder
1 teaspoon ground cinnamon
1/2 teaspoon baking soda
1/2 teaspoon kosher salt
1/2 teaspoon ground cardamom, optional
3/4 cup packed light brown sugar
3/4 cup vegetable oil
1/2 cup granulated sugar
1 teaspoon vanilla extract
3 large eggs
Directions
1 1/2 cups fruit and vegetable pulp leftover from a juicer. Recipe writer used 1 cup berry/apple and 1/2 cup carrot, but any combination will work here. I used pulp from squeezing four oranges.

Preheat the oven to 350 degrees F; spray a 9-by 5-inch loaf pan with nonstick cooking spray (see Cook's Note).
In a medium bowl, whisk together the flour, baking powder, cinnamon, baking soda, salt and cardamom if using.
In another large bowl, whisk together the light brown sugar, vegetable oil, granulated sugar, vanilla and eggs. Add the dry ingredients to the wet in 2 additions, folding together until just combined. Fold in the fruit and vegetable pulp.
Pour into the prepared pan and bake until a toothpick inserted in the center comes out clean, 50 minutes to 1 hour. Set aside until the pan is cool enough to handle, then unmold the bread onto a wire rack to cool completely before slicing.
Cook's Note
If you don't have a juicer, substitute 1 1/2 cups of any combination of finely grated fruit and vegetables for the pulp. Alternatively, this can be made 1) in a muffin tin - just reduce the baking time to about 20 minutes, or until a toothpick inserted in the center of one comes out clean or 2) in three mini-loaf pans – same amount of time (approx. 50 min) , or until a toothpick inserted in the center of one comes out clean.