Going South - Sarasota to Cayo Costa: April 30 2018
The panhandle remains in the rear-view mirror as we continue south along the west coast of Florida. The hook was up from Madeira Beach at 7.30am (4/20). Back we went through Tampa Bay (less 6.6 miles by taking the short-cut) and across Sarasota Bay. The areas of wide-open bay allowed me to finish my stitchery while still driving – great to have the auto-pilot. I love this colorful and fun bit of Key West that I have been working on throughout the cruising season. But I cannot wait to see the stitchery finished and wrapped around a brick ready for deployment in Boston as our porch door stop. Chris reading and me focusing on the stitchery quickly passed the time and we soon arrived at our home for the next week or so at mooring ball #97 at Marina Jack's just off of downtown Sarasota (https://www.marinajacks.com/). Phew - we were lucky to have reserved ahead because we got the last ball due to the Boat Show weekend at the Marina. After dinner we checked-in with Kim and Dave and friends at Social (Chris went to high school with Dave so it is always fun to catch up) (http://socialonfirst.com/). We chatted and laughed…and Chris and I marveled at all the high heels, fancy hair and sleek, tight dresses - we are no longer in the laid-back Panhandle. The return dinghy to Barefeet was under a star filled sky.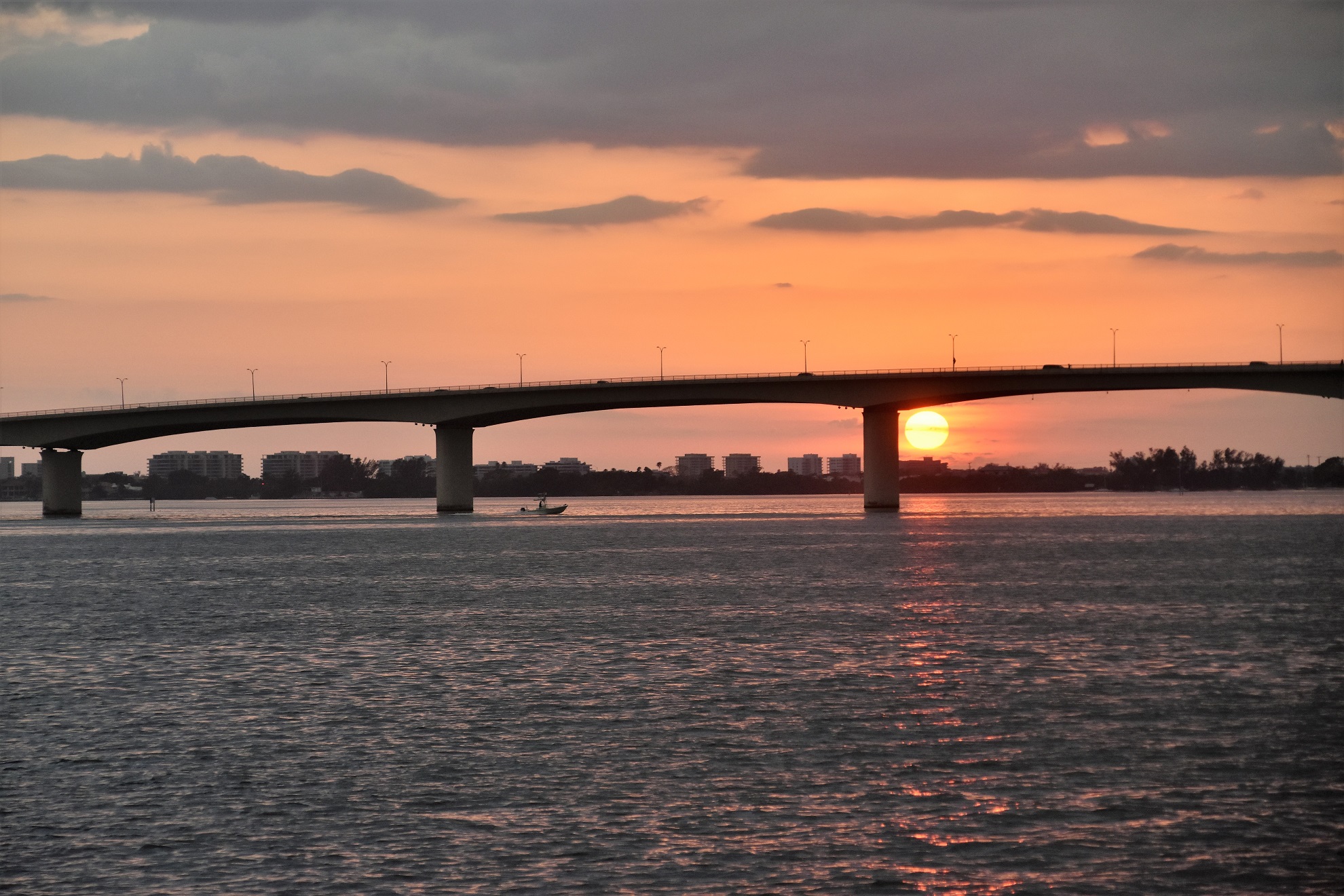 After a breakfast of blackened pork quesadillas aboard we headed back ashore to collect our Enterprise rental car. Spring Break is over and prices are back to normal ($175/week). There was nothing on the agenda so we just checked out the town. Oh, Chris needs a haircut. Well, there is a barber pole and walk-ins are welcome. Voila! Nick the barber was an 82 year old professional at Jack's Barber Shop on Main Street. Added bonus – he is Serbian and provided the name of a market that sells cevapi. Cevapi is small, finger size sausages that are grilled, squirted with lemon and stuffed into a pita with sliced onion and garlic/cucumber/yogurt sauce. I have a recipe to make the sausages from scratch never dreaming I would come across the actual item. Yep, International Market on Fruitville Road was just the ticket (https://intmarketsarasota.com/). This will be a fun boat feast! Later, Chris headed to the Hard Rock Casino for a bit of poker and I stayed aboard where I was treated to a sunset rainbow and stunning sky colors.
Being in one place for a few days gives us a chance to explore and give Barefeet some TLC. Time for a few boat projects; Chris checked the valve gaps on the generator and installed backing plates on the pilot house door dogs (the door dogs make a tighter closure to keep water on the outside) and I removed tape residue from the top helm station (4/22). The tape residue was left when we removed the plastic covering after the summer. Lots of rumors circulate about what tape is best but even then manufacturers tend to switch up recipes...which invariably leave behind a gummy mess. I was armed with a plastic scraper, a bottle of Goof Off and paper towels; soak, scrape, repeat. It's tedious but it works…until the fumes sent me to la la land. I stopped for the day for a bit of fresh air and a lie down but after recovery there was plenty of time to shower and create a bit of drinks and bits for sundowners aboard with Kim and Dave. We had a great time as the sun went down and the music played…with tentative plans for a Cayo Costa rendez-vous in a week or so.
While back in Port St Joe earlier in the month during the wild winds a tear was created in one of our full enclosure panels. We wanted to keep the tear minimal so we jumped on a repair ASAP. I had sleuthed a canvas repair shop and off we went to Unique Upholstery in nearby Venice, FL (4/23). Fingers crossed it will be a smooth process. Staying ashore for dinner we headed to Main Street for dinner at Cask Ale & Kitchen where the place was lively - musicians played in the corner and bartenders were proud of their craft surrounded by countless flavored syrups and fresh garnishes and herbs (http://caskalekitchen.com/). Our walk to and from the dinghy dock gave us a chance to see more of the downtown along with the whimsical bicycle art stationed at various corners with different color themes; blue, yellow, pink and orange were spotted tonight. The evening wound down and on the dinghy ride home it was clear that the winds are down and the night is quiet…until…bang, bang, bang. What is that?! Fireworks! Ah, very cool.
Refreshed and restord, the day unfolded again with a bit of Barefeet TLC; additional adhesive removal (fully ventilated and with gloves this time), greased the grease points on the dinghy, greased the watermaker, tidied up the stern deck (including adding gasket material to the underside of the lid of the stern lazarette) and placed online orders to defender/mcmaster/amazon due to our staying in one place for several days. Our cruising season is winding down just as it is for the cruiser community as a whole. We sit on the mooring ball and watch the cruiser migration underway with folks passing through north and south as the season changes from cold to warm – just like us (4/24).
Barefeet TLC morphed into Sarasota exploration as Chris chose a spot for dinner. He found a dynamite place – Owens Fish Camp (https://owensfishcamp.com/). It's a 1923 cottage where we continued our Southern eating habits; Gulf oysters, jambalaya and fried green tomatoes. The cottage has a backyard larger than the restaurant...with peanuts boiling on the fire in a cast iron cauldron and a tire swing hanging from a tree. We finished dinner then sat on a porch swing in the backyard to listen to the Stillhouse Shakers - banjo, harmonica, fiddle and guitar (https://stillhouseshakers.bandcamp.com/). It was a great night.
Although anxious about our canvas repair - all seems on track. We picked up the repair job and highly recommend Bryan Wildasin owner of Unique Upholstery in Venice (941-484-4227; http://uniqueupholsteryfl.com/). He did what he said he was going to do in the time and at the price he quoted. Not a common occurance for anything in the Marine world. Thanks Bryan! Later, Chris put the wing engine to bed for the season with the changing of the transmission oil, the engine oil and the engine filter (4/25). It is nice to shorten our list of items to be done in Stuart.
Today, we did a bit of divide-and-conquer (4/26). Chris stayed aboard to make water (stopping to clean the filters four times – it's an all day affair in murky water), lowered the grey water sump pump sensor and measured/ordered lines with spliced loops to be used when we are on a mooring ball (Rigging Only http://riggingonly.com/). As for me - I took the car for my errands; disposed of wing engine waste oil at Auto Zone (they could not have been friendlier about it), purchased replacement Yamalube gearcase oil for our inventory, stocked the liquor cabinet at Total Wine and filled the larder at Publix supermarket. Phew - a final bit of laundry in the marina machines and it was time to call it a day. It was a To Do list day but Sarasota is a nice size so traffic is not crazy, the skyline is generally low-rise and there is a lot of green space and trees (population 56,600)…plus, Le Barge Cruise always makes us chuckle when she floats past complete with real palm trees during her daily dolphin and sightseeing tours.
Showers were done after all was conquered so we headed ashore for some fun. We went to the Blue Rooster for dinner and stayed for live music from the Singing Divas (http://www.blueroostersrq.com/). The mac & cheese and pulled pork sandwich were crazy good. And the Divas, Shantel and Brenda, had the crowd on their feet dancing all night. We were a bit skeptical of the audience's energy level as the crowd filled with older, retired folks but they can cut quite a rug! Everyone had a raucous, toe-tapping time. And the casual setting gave us a chance to chat with band members between songs. The base player spent two years at Berklee College of Music in Boston (very cold for a native Florida boy) and the guy on the tambourine looked more like an extra from Jim Belushi's Animal House movie than a musician. But when I mentioned that he does not miss a beat...he calmly replied, "No, I do not." We will really miss the live music of northwestern Florida.
The calendar keeps moving and we wrapped things up in Sarasota by returning the rental car and settling up with Marina Jack's (4/27). The morning clouds quickly burned off to produce a beautiful, sunny day. In the afternoon, Chris permanently wired in the fuel transfer pump (taking over the 12 volt line previously needed for the fridge) followed by a farewell dinner with Dave and Kim. They created a delicious dinner of (self-caught) fish tacos at their place before we headed to Sabrossa Kitchen to hear Hymn and Her perform (https://www.sabrosasrq.com/). Thanks for the warm welcome and great music tips – we'll be back.
Good weather continued and we were off the Sarasota mooring ball at 8am for a 5.5hr motor to Cape Haze (4/28). Sarasota in the rear-view mirror was a serene vista. Our intercoastal water way route gradually filled as the day progressed; kayaks, paddle boards, jet skis, pontoon boats and fishing boats. Who wouldn't be on the water on a day like today?! We ducked off the ICW at red buoy marker 30 (north of Placida) into a nearly 360 degree protected anchor spot…quite literally a 9ft deep pool (thanks for the tip Sean and Louise, m/v Vector). We dropped the dinghy and made an initial investigation of the Don Pedro State Park in order to return for further exploration tomorrow. We took the cut through the mangroves and saw fish darting below the water's surface, fish jumping bodily above the surface of the water, a majestic ray on the sea floor, a shy manatee snuffling at the surface, a small, elegant shark and nest building osprey overhead. Nature is alive and well.
Back aboard Barefeet and there was plenty of time for dinner prep. I broke out a favorite recipe that is often left unmade because I get a bit of pantry hoarder syndrome. You see – the ingredients have a long shelf life so I keep saying I'll keep it for later…later…later. Well, the season is winding down so I think "later" is now. It's Artichoke Heart Pasta from Deb of s/v Wings – creamy and delicious…even as leftovers re-heated the next day (recipe below). Thanks Deb!
The wind died down through the night and produced a calm, quiet morning in our anchorage pool (4/29). We returned to Don Pedro State Park for a bit of shelling - crossing the ICW to head a bit north before entering the mangrove cut into the Bay. There are a few green and red channel markers which encourage travel on the edges of the Bay so that the grass in the shallow center is undisturbed for the manatees. We tied up to the dock and dropped our $2/person entry fee into the box. It's a nice park with room to relax in the shade or the sun. There is a large covered area with a dozen picnic tables - already beginning to be claimed when we arrived early on the beautiful Sunday. Hey, there are even flush toilets – that is fancy. Our stroll along the sand periodically splashed some water at our feet - warmer than we have felt since our arrival in January...the seasons are changing. We collected a handful of olive shells (looking like bracelets to me) and loved the driftwood and shell sculptures that dotted the shoreline. It was a slow, lazy day for us. Back aboard we heard the rhythmic arrival of dolphins; water ripples, arch up, exhale, arch down; water ripples, arch up, exhale, arch down. Dinner was satisfying and gooey crinkle cut cheese fries before the full moon made its brilliant appearance.
The morning again dawned quiet and calm but there was no need to rush to pull up the anchor because we were moving a mere ten miles south to Pelican Bay in Cayo Costa...and needing high tide to get over the shallow bar entrance (also happy to have our track from the last time we entered saved on the navigation computer). With coffee in hand we let the morning progress as we watched the osprey in the palm trees and the large grey cranes in the pines. Okay, it's time to go (4/30). Off we went at 9.30am after a good 20 minutes of hose washing to get the dense clay/shell mud cleaned off of the anchor. We kept our speed slow on our cruise so that we could run the watermaker for two hours. We ambled past Boca Grande and a floating bait shack in Gasparilla Sound...a calm, boring motor - just how we like it. Our tide dictated arrival was right on time and we slid through the entrance with half a foot to spare. There are about 20 boats nicely spaced out gently floating at anchor. We like this place and we will stay here for a few days before making our final steps past Fort Myers, through the Okachobee Waterway and into Stuart to wrap up the season. Ah, that soul bursting excitement hit me again.
Artichoke Heart Pasta (from Deb on s/v Wings) serves 4
Parmesan cheese (garnish)
2 Tablespoons olive oil
3 cloves garlic
2 small jars marinated artichoke hearts (approx. 12 oz)
1 cup sour cream
¼ cup parsley, finely chopped
1 medium onion, finely chopped
1 teaspoon salt
1 teaspoon basil
1 cup cream cheese
1 pound pasta (rigatoni, elbow, penne, etc), cooked
1 pound jumbo shrimp, peeled and deveined
Saute at medium-high heat in a large frying pan the olive oil, onion, garlic and spices until onions are transparent.
Add artichoke and some or all of the marinade, totaste.
Reduce heat to low and add sour cream, cream cheese and cooked pasta.
Periodically stir until all ingredients are combined and smooth.
Serve and garnish with Parmesan cheese.
Note: Use shrimp if you have it and cook them with onions at the start until almost cooked but still pink. Then continue recipe instructions. If you don't have shrimp feel free to double the amount of artichokes for a more substantial main dish or serve as is.