Enjoying Key West with an Eye on Our Departure: March 5 2018
The temperatures are changing – today we stowed the comforter on the bed because we are solidly in the 80sF (2/22). Sporadic showers rinse things off and I have spotted a pelican showing off his hunting skills nearby…close enough for photos. Work continues on the boat and around the marina. Divers regularly clean the bottom of boats of growth but they refuse to be in the water after 4.30pm. Nope, not because of missing Happy Hour but because of missing the bull sharks that parade through in the afternoon looking for fishing scraps. Sharks are sharks but bull sharks are known to be extra aggressive – get out of the water.
Watermaker filters were changed and taxes were filed. Plus, Chris has installed a splash/protective guard in front of the wiring for the windlass. Okay, it looked good before but now it looks even better…and shouldn't get jostled or bumped inadvertently. I made my usual gopher runs around town and never cease to enjoy the color and whimsy that is Key West. The project required cutting by Monroe Glass & Mirror and perfectly filled the day until Mickey and Caroline arrived in the evening (2/23). They are boating friends from Boston who have come to Key West for the first time. We started at Schooner's Wharf to kick off the Key West experience.
The longer term project is the drying out of Chris' closet, leak sealed and re-installation of a closet light (the old one was totally corroded out). Sounds straight forward but it takes time like all boat projects. Today the closet was put back together along with all of its contents. Yippee – open space returns. And more gopher runs with more whimsy…heck, even the plants explode with color. Work was done so our fun began. The evening started on Barefeet's top deck with Key West's own Smilin' Bob's Smoked Fish Dip appetizer and cocktails before moving onto a Key West Duval Street stroll through eateries, cocktails and live music with Mickey and Caroline (2/24). We have been sampling smoked fish dip around the island (it's a thing) but Smilin' Bob's is our favorite. This smoked fish dip should not be missed if you spot it in the supermarket in the seafood area.
Everyday items in Key West seem to morph into creative outlets that I love to spot as I wander around town. Recently, it was the humble mail box. Once I saw one I started to spot many, many more. And the one with the fountain was a small scale replica of the front of the house behind. Wow – very clever.
The calendar keeps moving forward which also means cruisers are moving along. Diana and Tom of s/v Cecilia Marie hosted a farewell dock party because they will be leaving in a couple of days for Marathon to put the boat away for the season before returning to jobs up north. It was great fun to chat and nibble and hear about itineraries…and share Tom's favorite rum – Kilo Kai from Curacao (2/25). The party took an international turn when nearby boaters brought along visiting Thai friends. Chris and I loved using our two Thai phrases (hello and thank you) and swooning over the flavorful Thai dishes we remembered from our time there. One thing led to another and before we knew it directions to the supermarket were described and they were off for ingredients to make us (and the dock) homemade Thai food. Holy ginger and pepper they were not kidding. Morning care packages (still warm) were delivered all along the dock (2/26). No time for me to have a tutorial but I will try to make these myself later: pepper spiced pork and hard boiled egg stew (moo palo); ground chicken with ginger, cilantro and lime with rice; and marinated, grilled beef with rice. We feasted like kings – thank you (khapunca/crap).
Our calendar is moving along, too. We have started to look at weather forecasts in order to plan our move north beyond the Keys. We are paid up at Key West Bight Marina through March 7th but we need to confirm exact departure details with Mother Nature. This means we need to wrap up parts ordering online, confirm the engines and systems are still happy after being idle for a month and strategize our cruising itinerary (after gobs of input from anyone and everyone willing to chat with us about the west coast of Florida). I got our propane tank filled and Chris changed out the main engine's impellor. We both got haircuts…all is clicking nicely. Unfortunately, on a negative note the fuel polishing/transfer pump is still leaking despite a changed out O-ring…rats…get that new pump ordered ASAP.
Goodbyes and hellos continue on the docks as Mickey and Caroline depart for Boston, s/v Cecilia Marie tosses their lines and m/v Vector arrives after an overnight hop from Ft Lauderdale (3/1). Through it all neighbor cat, Jack, keeps watch. We are lucky to be in this vibrant cruising community.
Festivities with friends does not keep us away from projects – there is time for all of it. March 1st turned into a day full of boat projects. Chris ground out the doors on the Portuguese bridge locker doors to prep them for new hinges and added support via epoxy to the starboard bow anchor locker door in order to re-install the hinge. The photos are a bit of before-and-after with the epoxy being smeared into the void like peanut butter followed by the smooth, filled end result and the final in-place re-installation. All in all a clean project. The other March 1st project was messier and full of scrapes, scratches and strained muscles.
The "other" project was the replacement of the final water system hose from clear to opaque. Initially, it was billed as an improvement project (stopping issues before they are issues) because nothing broke to make us fix it; however, when the hose clamp deteriorated in Chris' hand I guess it was/became a fix-it project. First, remove the old hose. Ah, that sounds so simple. Chris used a trick he learned from a professional tradesman by literally connecting the old hose to the new hose with screws. Go right for the gusto…do not mess around with tape or string because it never holds and the hoses WILL separate in the least accessible place of the run (yes, this has happened to us). What followed next was a lot of pushing and pulling and feeding hose until new, clean, opaque hose was strung. I am sure I was quite the sight as I (once again) paraded past the deck seating at The Half Shell Raw Bar with a few feet of nasty old hose and corroded connections on my way to the dumpster compactor. How I love that dumpster for disposal. Thank you Key West Bight Marina. New hose strung, flesh grabbing hose clamps removed (making future projects less wound causing) and we were back in business. Pretty, pretty!
Relaxing over dinner at Onlywood Trattoria with Sean and Louise (m/v Vector) was nice until Chris got slammed by a flu bug. Not sure if it was the heat of the bilge work…or what…but he was down for the count after (likely) being the only sober person ever to toss their cookies in the planter. Nothing stayed down throughout the night until half a banana at a time and a bit of Gatorade every couple of hours finally stayed put later the next day. No fun for Chris! But the quiet time for me meant no gopher runs for parts which freed me up to dive into a stitchery project. Okay, it's needlepoint but that sounds so old and stodgy.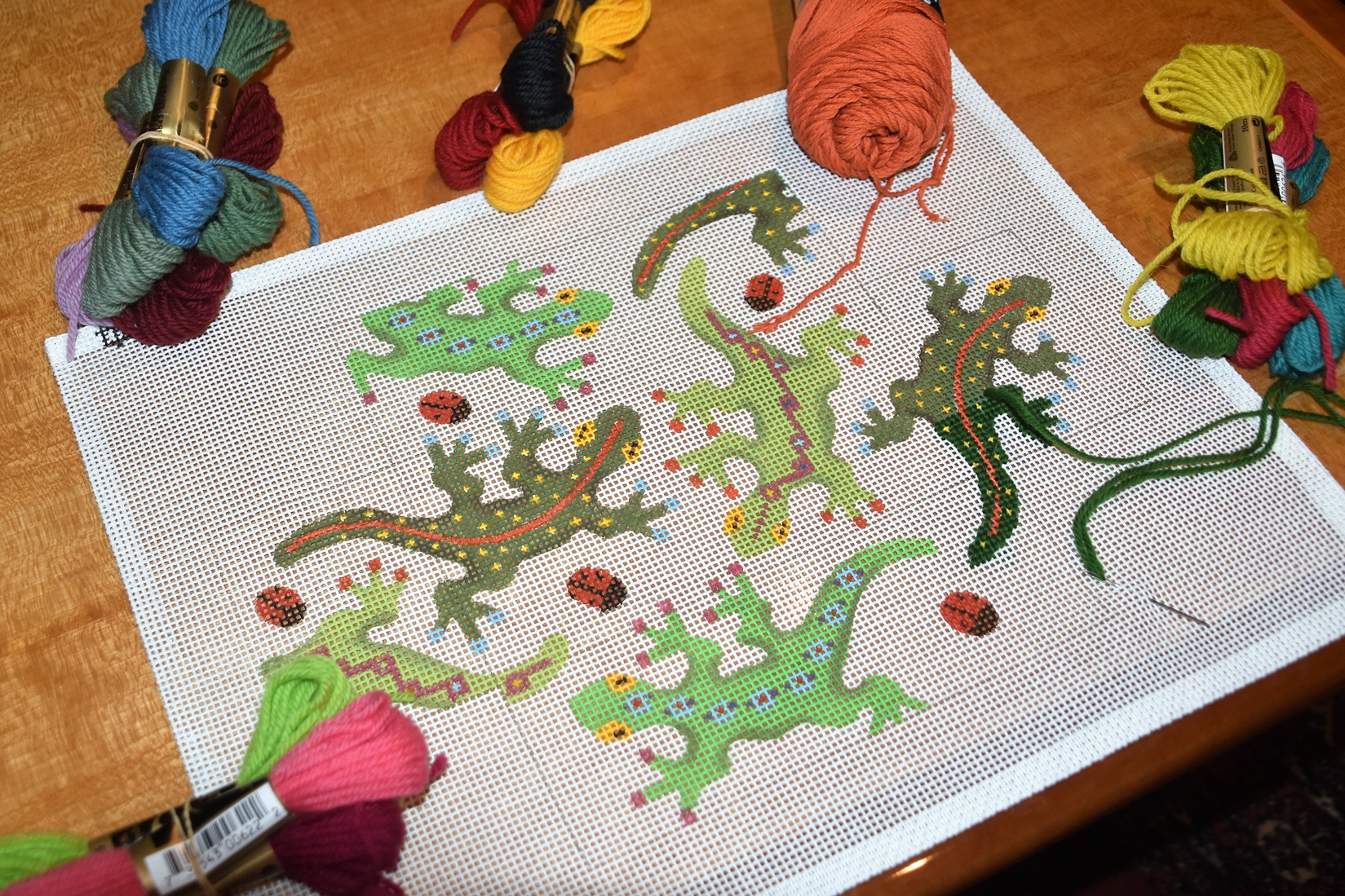 On my third visit to Island Needlework on Fleming Street I chose a project. The Island Needlework shop owner, Julie, is super friendly and she is encouraging enough that I think I can do it. Her designs are fun and colorful without being stuffy. It took me some thinking but I chose a piece that will, ultimately, be wrapped around a brick as a door stop to be used at home in Boston. I am super excited but was a bit overwhelmed when Julie said - okay, you have chosen your canvas...now choose your colors. Gulp. What?! I thought that my choosing colors could happen next time around after my feet were wet. In I went (with helpful hints from Julie). The background will be the large burnt orange yarn, the bundles will be the different gecko color schemes and the dots are red and black lady bugs. I love the colors and I will try to get a bit done before we leave so that I can return to the shop for additional tips. I am making great progress; enjoying the geckos but the ladybugs are not very fun (3/2). I have nothing against ladybugs but they are just not fun to stitch. Who knew?!
The weather has turned cool again (comforter is back on the bed) and the winds have cranked up. Hhhmmm. Our quiet weather for weeks is changing which means our departure is more and more uncertain. Winds have been divine for departure for weeks...until...well, now. So it goes. We are paid up until Mar 7th which does not look good to leave - Mar 5 maybe but Mar 9 or 10 look better. We checked and Key West Bight has room for us to stay an extra day or so...so we will leave Mar 8, 9, 10 or 11...based on the winds. Our potential stops are Cape Sable (if weather is settled), Shark River, Indian Key/Russell Pass, Pine Island...kinda playing it by ear because the weather keeps shifting with every new weather report. What a nice place to noodle this calendar question.
Every passage of twelve-hours shows an updated GFS weather model complete with wind and wave forecasts. We are finally seeing beyond our departure and it looks promising (3/5). Phew. The start of our exit from Key West will have us the most exposed so we are looking closely at the wind speeds and wave heights and frequency. Nothing to do but wait so we became vacationers and joined the other tourists as bums-on-seats. We joined the Conch Train tour with Sean and Louise. It was fun to hear the stories - part lore, part myth and maybe a smattering of truth about the capers and shenanigans of the resident characters.
Excitement for new adventures and impatience with the weather keeps us on our toes. But we won't rush Mother Nature and simply keep to our boating strategy – no pain, no pain. Our spirits keep buoyant. Least of which is because of Dante's Restaurant and Bar. Every time we go on and off the dock we smile and giggle as we pass the Spring Break hormone epicenter that is Dante's. Their recipe for bringing the kids in is easy…a pool (swimsuit attire), exuberant DJ, cocktails and food. That's it. And that's it from us for now. We'll have more news soon as the weather forecasts become more solid.