Projects, Friends and Community in Key West: February 22 2018
We continue to move ahead on several projects which feels good and means many tools can be stored away (2/9). The washing machine is back in place with more robust hoses…but where did Chris' awesome flashlight disappear to?! Sealed up back in the washing machine hole? Fast forward a few days later and it was located in the back of a tool shelf – phew. I made a supermarket provisioning run and together we washed down the exterior of the boat because the strong winds left behind loads of foggy salt spray. Barefeet looks great! We settled into a dinner on the grill only to discover a mold-o-rama once we lifted the cover. Eegads – that needs a clean. It was a bit of a kick in the teeth but steaks cooked on the stovetop worked out just fine. Dessert was live music at the Sunset Pier Bar by Billy the Squid. The New Orleans/Key West connection goes back to hurricane Katrina. Key West threw out the welcome mat after hurricane Katrina to New Orleans musicians and they continue to return year after year.
There is no doubt that Key West is a town where tourism is the primary industry. The local population is 25,000 which literally explodes during tourist season when holiday makers arrive by land and air and even two or three cruise ships per day…yikes…population can swell to close to 100,000 people. As we have seen in other tourist driven places the name of the game is, "bums on seats." Our harbor location puts that front and center with fishing charters, scuba charters, lunch cruises, sunset cruises and anything else on the water. For the next week we will solidly join the tourist crowd as friends Lino and Phyllis will be visiting from Boston. We met them at the airport then hit the ground running with lunch and live music at Schooner Wharf, sunset carnival at Mallory Wharf and sundowners at Sunset Pier Bar (2/10). It is great to see them!
In between the fun eateries like Harpoon Harry's and happy hour at the Half Shell Raw Bar or the Turtle Kraals Tower Bar we wandered the charming, tropical streets where orchids are lashed to palm trees (honest – that's it…attach and leave it alone - beautiful) and funny signs are on every gate. Plus, we squeezed in some small scale boat projects. The final windlass wiring dilemma was solved as Chris and Lino sleuthed the connections via VHF radio walkie-talkie style (2/12). Success! Hey, we even had a visit from a meandering manatee.
We never cease to be amazed at what can be found in the nooks and crannies of Key West. What about wood fired pizza?! Yep! The spot is Onlywood Pizzeria and Trattoria tucked in a back courtyard with only a tiny sign visible on busy Duval Street (https://onlywoodkw.com/). However, this place is far from unknown – it was packed. Thanks for the find, Phyllis.
Our central location in Key West means that we don't need a car but when we decided to go explore the Keys on the Overseas Highway we did a one-day rental with Enterprise (2/13). There are 42 bridges that connect mainland Florida with Key West – a distance of approximately 127 miles. However, there is no need to go all the way to the mainland…Islamorada at Mile Marker 81 should be fine. Locations along Hwy 1 usually use Mile Marker numbers (MM) for reference. Key West is Mile Marker 0 and it goes up (and north) from there. We had a sunny day for our road trip which illuminated the water to a bright turquoise blue – stunning. Our stop at Bahia Honda State Park (MM 36) showed visible hurricane Irma damage because beaches were re-arranged and lush foliage was simply stripped away. I have a bit of a before and after photo; one taken in 2016 on the left and the other in 2018 on the right. I did not think about comparing the photos until we were home so the 2018 photo is not panned out...but...I did not pan out because there was no greenery to photograph.
A perfect lunch spot on our return trip (turn off at approximately Mile Marker 30) is the No Name Pub on Big Pine Key (http://nonamepubestore.com/pub/). Their tag line is, "You found it." Okay, this loses a bit of romance with individual phones fitted with GPS. However, their food is pub awesome, décor is quirky (staple gun behind the bar for attaching dollar bills to the ceiling, walls, whatever), staff is friendly…and…you just might spot a Key Deer. We feasted on gyros, black bean burgers and on-site smoked pulled pork. The final drive back was the perfect amount of time for a cat nap (sorry, driver Chris).
The car returned and back aboard we continued with boat projects and town exploring after a sweet start to the day at Glazed Donuts (2/14). I cleaned the grill and Chris shaped and cut down the bed foam topper. It seems when Chris asked for a FIRM mattress – he got it. Ahhhh – that should remove our lingering kinks and creaks. Lino and Phyllis did some town exploring and strolled to the Southernmost Point buoy for a photo op. Hey, it's Valentine's Day! We are two very happy couples who decided to eat on the boat to avoid the fixed price and mushy heart stuff at the restaurants. Our waterside dining on the top deck was perfect; started with hummus and smoked fish dip appetizer and cocktails followed by grilled steaks, mashed potatoes (with grilled onions, feta, butter) and fresh, chilled salad.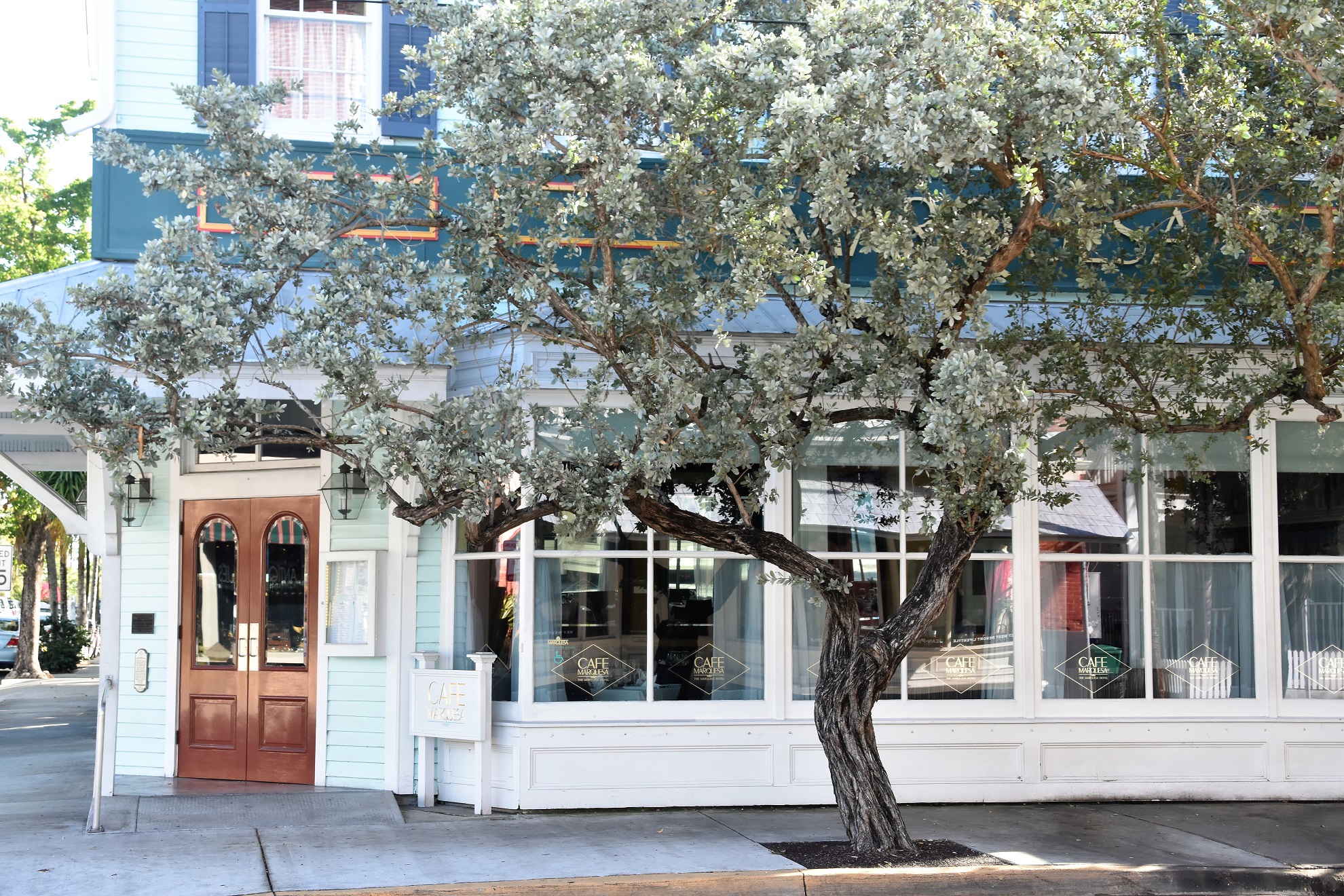 Chris loves having three hardware stores within walking distance of the boat which means he simply cannot help himself from continuing with boat projects. Today, he tested the wing engine and installed the final part on the washing machine (a flared bronze T)…reconnecting water piping just barely in time for showers before our special dinner at Café Marquesa (http://marquesa.com/cafe-marquesa/). Key West does casual very well and Café Marquesa does white tablecloth beautifully (and without feeling stuffy). It was a delicious meal and a lovely evening (2/15). Cheers to great friends! Our walk home showed the palms and foliage and flowers bathed in swaths of garden lights and stars sprinkled in the dark sky beyond. We will sleep well tonight.
The next morning we fueled up at familiar Harpoon Harry's for breakfast before joining the Key West Home Tour (2/16). The tour is organized by The Old Island Restoration Foundation (https://www.oirf.org/). Their tag line is, "Washington never slept here…but Key West homes have many interesting tales." The tour included five private homes spanning 140 years. We enjoyed seeing inside the different homes as well as the unique neighborhoods around and between them. The homes ranged from a modernized circa 1880 conch cottage to an 1870's home site with expanded, party-sized gallery, pool and garden (reminders of Key West when Fantasy Fest began) to a sleek and modern reinterpretation of combined small cabins for post-Civil War laborers to a post-WWII housing boom concrete block rambler. We compared and contrasted our favorite houses and bits within them on the outdoor patio of Fogarty's on Duval Street. There was shade and misters and snacks and cold, adult beverages.
We are sorry to admit that it is Lino and Phyllis' last day. We started with a bit of housekeeping before ending the day with a bang. Last minute souvenir shopping was accomplished as well as airline check-in and a travel snack. Off to see the sun slip into the horizon at Turtle Kraals Tower Bar. It has been a great trip and these guys have again found us in a new corner of the world. This time we were at a dock for the entirety of the trip – it's a new twist because these guys are used to being at anchor in Fiji, Greece or the Bahamas. Our night ended at B.O.'s Fish Wagon where we found an interested patron happy to take our picture if we would hold his wine – done. He had fun with the task and snapped several silly shots that show just how much fun the four of us have when we are together.
Lino and Phyllis got into an Uber before the sun came up and should be back in Boston before the snow starts to fall in the evening (2/17). It was back to the two of us aboard Barefeet. After coffee and news we dove into the bow anchor lockers…literally. One-by-one each locker was emptied, cleaned, floor lined with cut-to-fit dri-deck and repacked. The dri-deck should keep the chain from soaking in a puddle of lingering salt water (since the drain hole is not exactly at the lowest point in the locker). It was a hot and sweaty job but easier with two. Bonus – we wore our bathing suits to gat a bit of a tan. Chris re-worked the spare anchor and spliced on a thimble for easier spare anchor attachment. Re-packed lockers and we are now certain what exactly is in each locker and that all bits are in working order.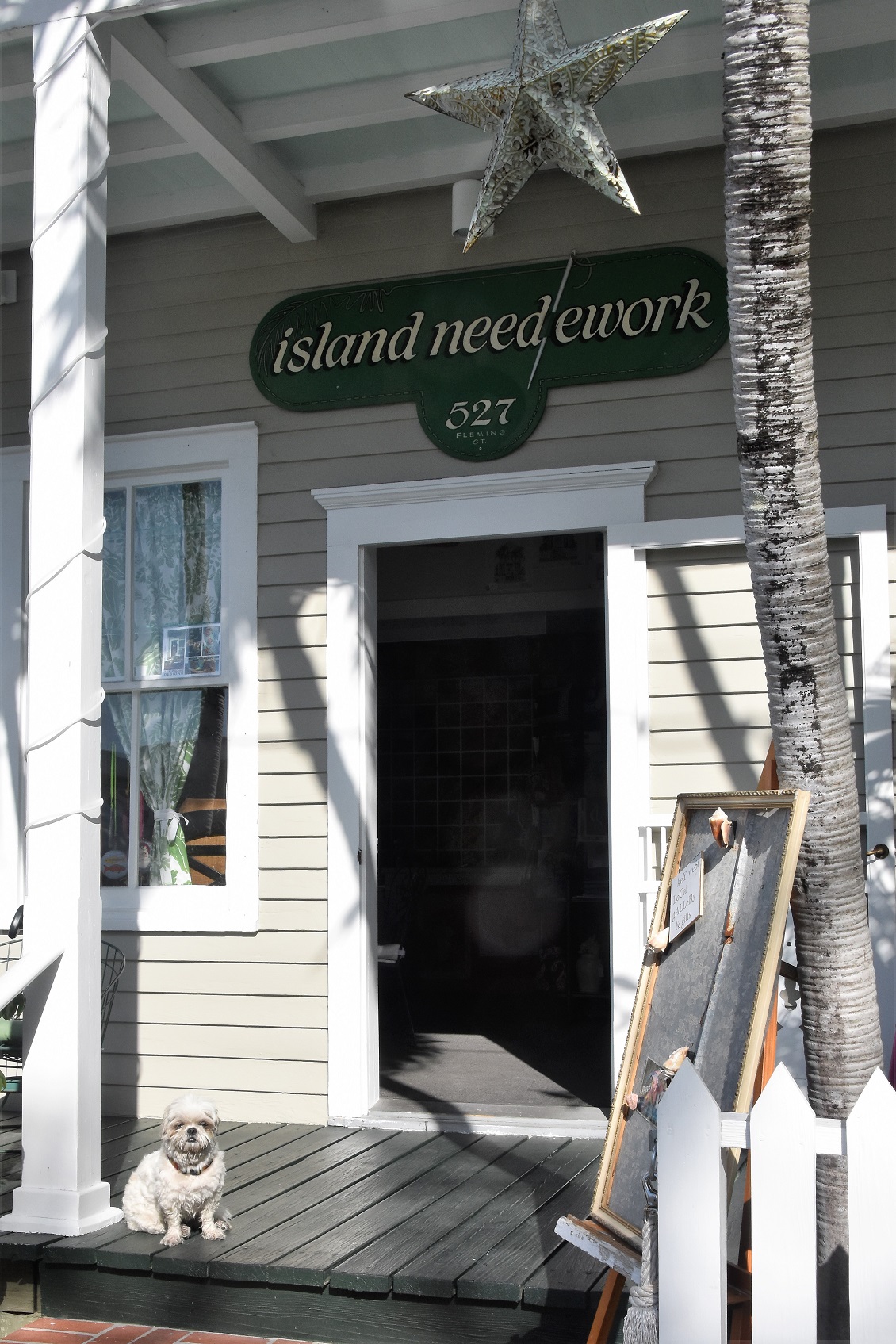 As mentioned, Key West is a tourist town. However, there is also a real sense of community where people look out for each other. Even us. Anyone born here is called a Conch but you are considered a local after 7 years. Incidentally, that 7 year mark is better than my not-yet-a-local status in the North End of Boston after 20 years. Key West restaurants and organizations regularly have fundraisers for residents and local charities. For example, the chef at Café Sole runs a Rock N Roast BBQ afternoon for the Catholic Church, the Commercial Fisherman's Assoc raises money for scholarships and various organizations set up bake sales in front of the supermarket. Shop owners and tradesman often ask us how long we will be here. When we respond, "A month and a half," we are rewarded with a warm smile and additional conversation. For example, a gallery show invitation in a few days with apps and wine at Lucky Street Gallery. Or a stitchery circle on Tuesdays from 10-Noon at Julie Pishke Designs Island Needlework shop (http://juliepischke.com/). These are nice conversations and we enjoy knowing people's names and being remembered ourselves.
Our bit by bit projects are wrapping up – wow! We did a load of laundry on the boat and the process went off without a hitch. Check. The watermaker is working and a flush cycle several days after the initial unpickling went off without a hitch. Check. The anchor and all of its chain was lowered and brought back into the boat with the new windlass without a hitch. Check. Discovering new Happy Hours tonight came off without a hitch. Check. Friends on neighboring s/v Cecilia Marie introduced us to the White Tarpon Happy Hour…and the finish of the Daytona 500. Holy cow – one, whole roasted chicken for $6…amazing – now, that's finger food.
We love our life afloat but sometimes we can feel a bit isolated with land and cruiser friends miles away. But then we receive a commiserating email or an accomplishment shared or a random meeting on the docks and the miles melt away. Jay and Jialin were passing through and spotted Barefeet across the docks – ahoy! The last time we saw these guys was in the Exumas of the Bahamas last year. It was a fun time to catch up…and peekapoo pooch Windy is as adorable as ever. Smooth seas.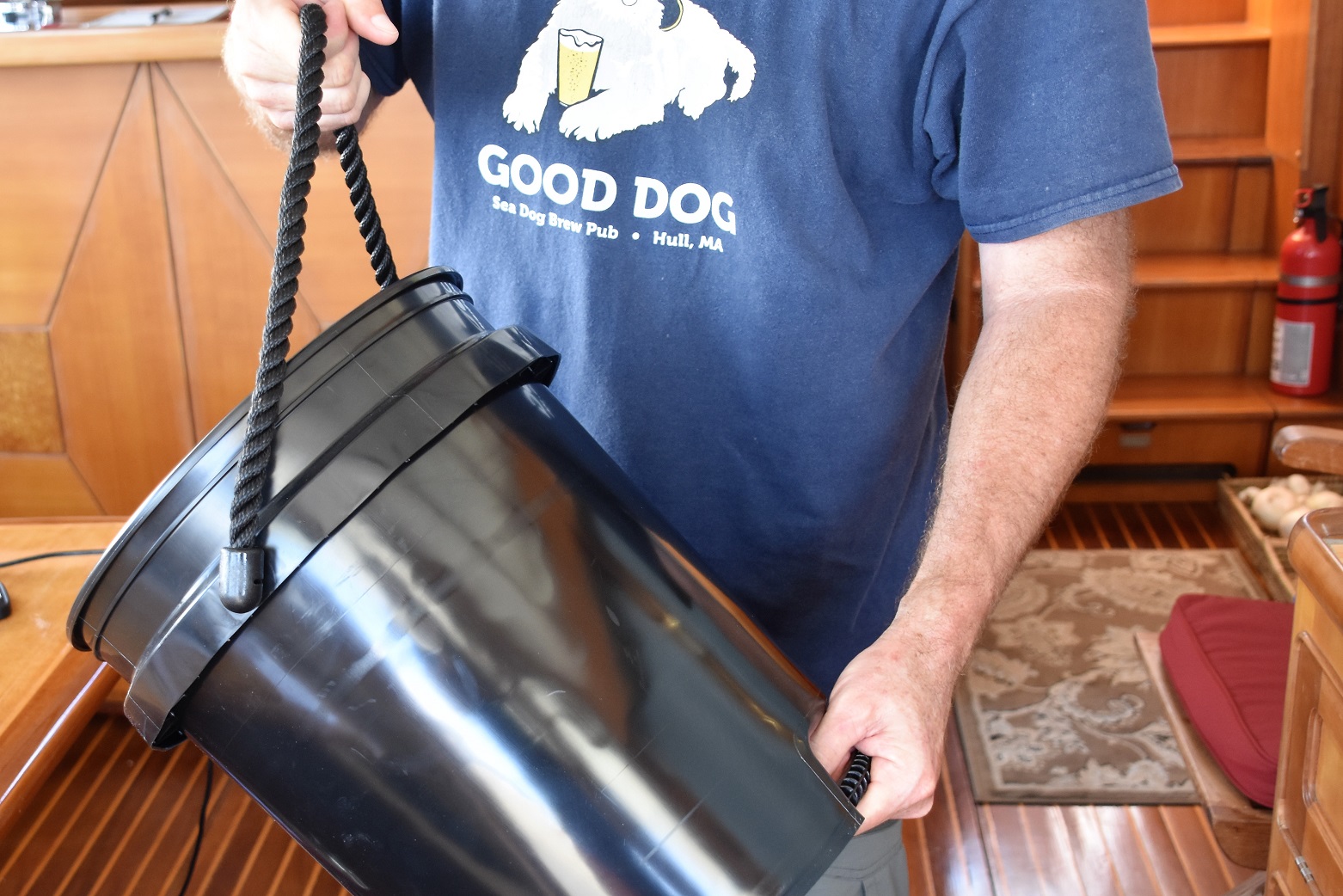 Back to projects (2/19). Today, it was drying out bilges for (hopefully) the last time and dissecting the shade and screen on the hatch over our bed. A few screws and washers were needed so it was a couple of trips to Cubanos Hardware. Plus, I needed a bucket for our deck hose because the current one is deteriorating from so much sun and heat. The Cubanitos said – we have a bucket for you. And indeed they did. It is awesome! There is a rope handle on top for easy gripping and an integrated handle on the bottom for easy tipping. Brilliant! As I returned for my second round of parts I gushed that the bucket is the perfect size for the space – thrilled that it is a keeper. They asked what my husband thought about me being so excited about a bucket. I said he was thrilled (but I am a bit nervous about being so thrilled about a bucket - tee, hee, hee). Civilized sized projects led easily into fresh orange juice and vodka sundowners with steak nachos on the top deck. We love checking out the sunset harbor theater of boats.
Our project list is created by us but sometimes the boat shows us a new area to focus on. This time it was a deck scupper drain that needed to be re-bedded. The scupper was secretly allowing a drip behind Chris' closet. A little epoxy here for the new screws, wire brushing of the drain plate there and all was sealed up and ready to go before dinner. Timing was perfect because rain came hard at night but the drain was dry inside the boat.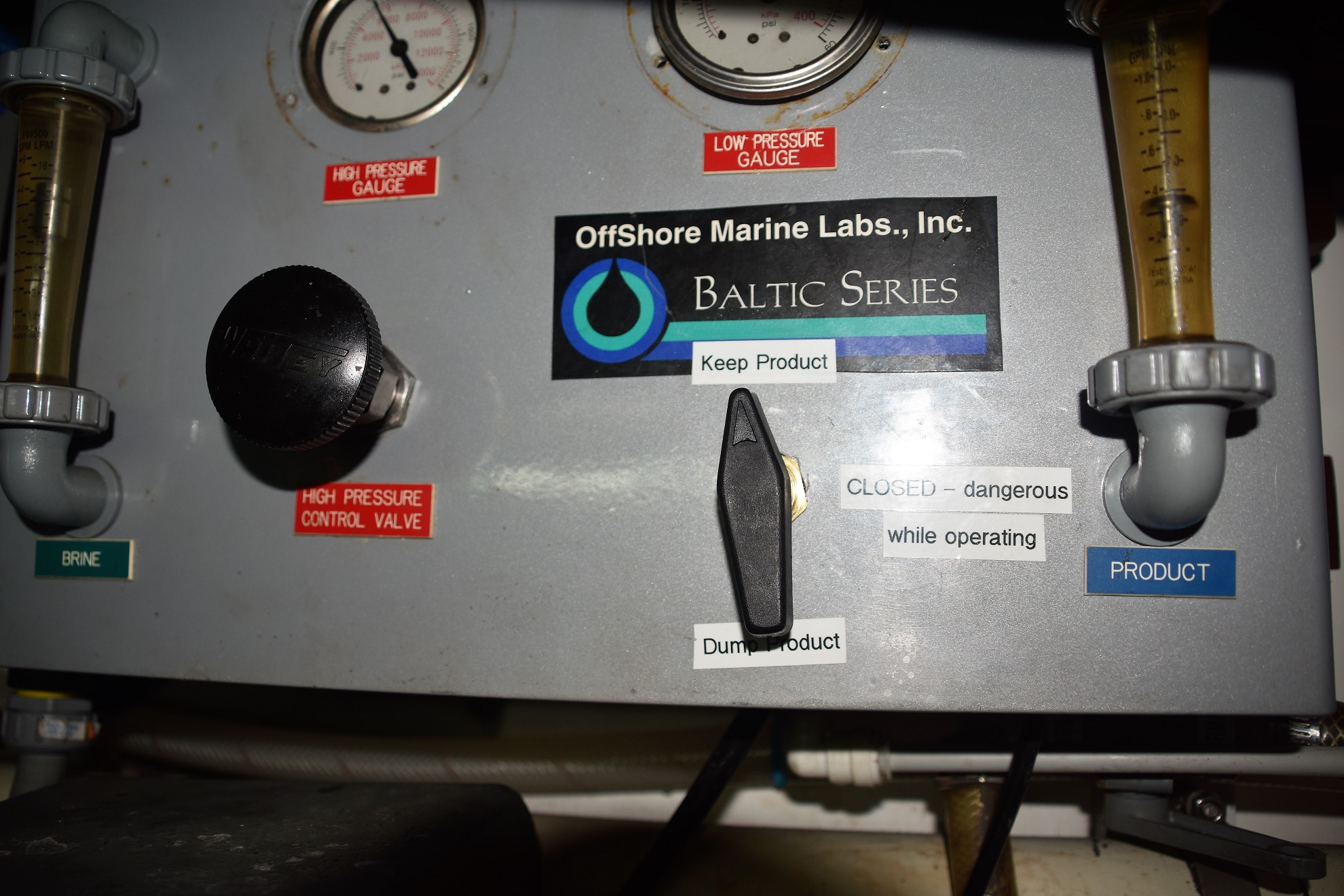 Next up was an improvement project rather than a fix-it project. The improvement project was for the watermaker. Chris replaced clear tubing with opaque tubing (reduces growth), installed a manual dump valve (so that I am less likely to blow out the sight tube) and ran the fresh water line to the kitchen sink for easier taste testing. However, even the "good" projects require drills and dremels and at least one trip to Cubanitos Hardware store (2/22). Final count was two trips to Strunk Ace Hardware and one trip to Cubanitos. Yep, even best intentions require more than a single pass. The first go-around produced a leak but some tinkering with connections dried it up. And Chris says that my labels make it look more professional - thanks, everyone likes a pat on the back. The switch was flipped and we were making water and putting it into the water tank - ta da!

We look forward to continuing at this pace until we depart Key West around March 7th. Our rough itinerary after that is to slowly head up the west coast of Florida to Mobile, Alabama, then back to Stuart, Florida, where we will get the boat put to bed at the end-ish of May before returning to Boston. It is a pretty vague plan but history has taught us that too much precision does not mix well for a cruising schedule dependant on Mother Nature.