Dunedin to Pensacola: April 8 2018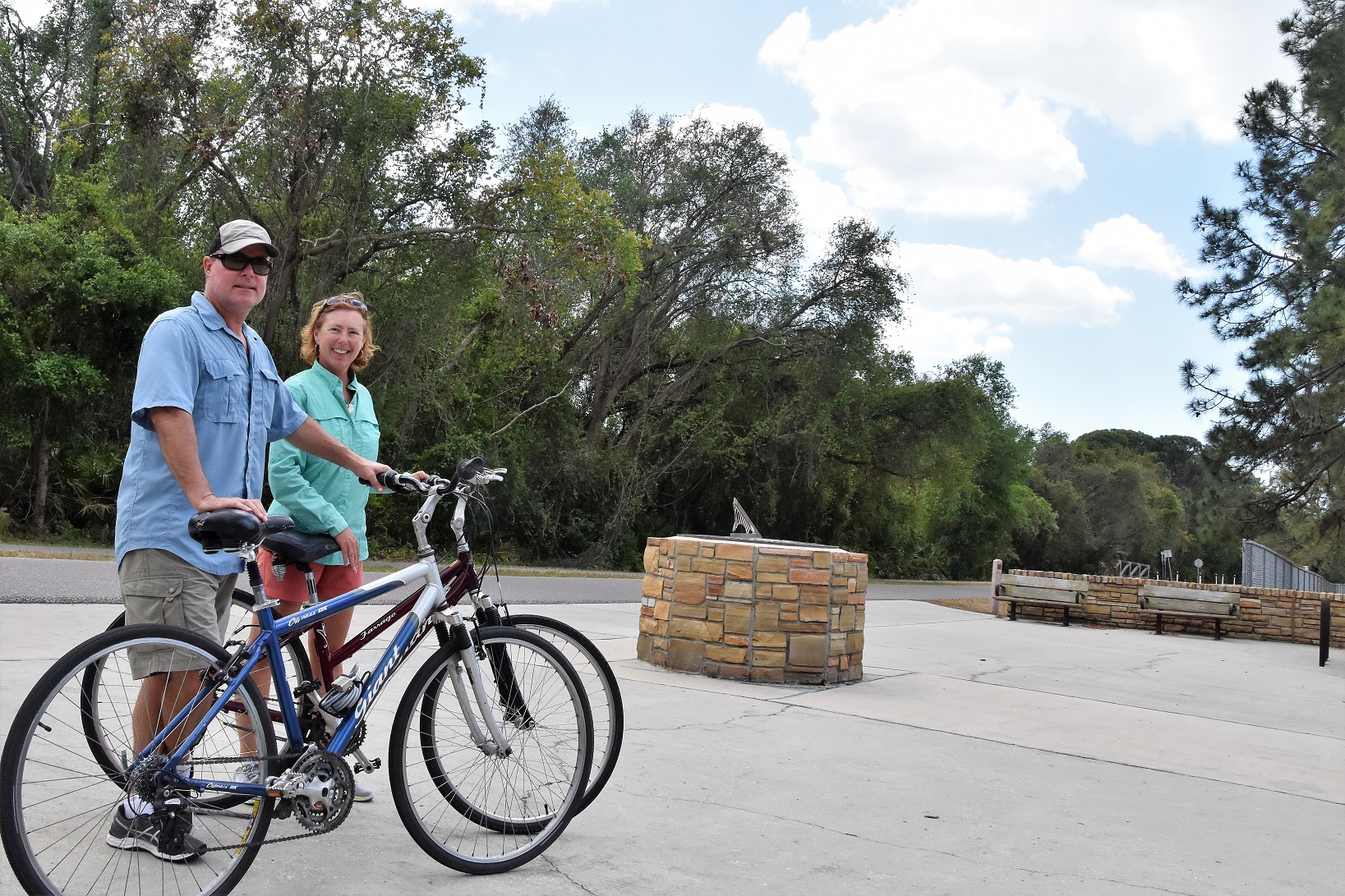 Since we cannot cross the Gulf of Mexico just yet - we will explore on land. Forecasted strong winds means Barefeet will be bouncing at anchor so we made a plan to head ashore for the day to take advantage of the otherwise gorgeous day - warm weather and blue skies (3/29). We rented bikes at Energy Conservatory Bike Shop and headed for the Pinellas Rail Trail (https://energybicycle.com/). Our plan was to bike ten miles to Tarpon Springs for lunch, check out the sponge capital of the world and return to Barefeet after the winds died down. The rail trail was fantastic! It's totally off the main road, practically flat and dotted with self-service repair stations complete with tools and air pump. We passed through Ozona, Palm Harbor and Crystal Beach before arriving in Tarpon Springs.
Tarpon Springs was settled in 1876 by farmers and fishermen but quickly transitioned to a sponge industry mecca in the 1880s. Divers from Key West and the Bahamas were the first sponge divers; however, in 1905 divers from Greece were recruited and soon took over the industry. To this day Tarpon Springs has the highest percentage of Greek Americans of any US city. A red tide in 1947 wiped out the sponge fields and that was it for the sponge industry. Today, tourists have replaced sponges as the product du jour.
The main drag in town is Dodecanese Boulevard (of course it is). It's all a bit schmaltzy but we wandered the spongeorama gift store, heard Greek being spoken everywhere and picked up a couple of cans of dolmades and some mountain oregano. Lunch was a tip from the bike shop owner and it was great. Mykonos was a fantastic lunch of horiatiki salad, gyros, french fries and tzatziki. The place had tiled floors, wooden chairs, paper placemats with a map of the Greek islands and food so delicious that it was like your favorite Greek Ya Ya grandmother made it. Opah! The return bike ride was a bit slower with a rest stop at the American Legion Post located right on the path.
What a difference a day makes. Yesterday was sunny and clear but today is grey and chilly (3/30). Chris did the final hinge installation on the Portuguese bridge locker doors. The light chop and wind made for a difficult installation and a messier than desired application of 3M 4000 UV caulking…but the functionality is fine (keeping water from seeping in through the screw). Dinner was a return visit to Casa Tina's. We have been lucky twice with favorite cuisines; delicious Mexican food and delicious Greek food. And the craft brew names are a kick. This time Reef Donkey from Tampa Bay Brewing Co. Back aboard and it was a restless night due to the rain and wind causing boat rocking and noise.
The weather remains grey and chilly but we know the day will improve and the sun will come out in the afternoon (3/31). Our morning weather check shows that our Gulf crossing weather forecast still looks good for tomorrow – good news. It is hard for us to wait when we know that departure is imminent. Thankfully, we have some distractions on the calendar; a Farmer's Market followed by the Dunedin Highland Games kick-off. Drat – the Farmer's Market was more heavily weighted to crafts but we still found a few veggie items. This part of Florida seems to have loads of different cultural heritages and they all hold tightly to their traditions (and recipes); Mexican (Casa Tina's), Greek (Mykonos), Scottish (52nd Highland Games and Festival). We grabbed our picnic dinner, camping chairs and Kindles to head ashore for the festivities.
The Highland Games were a short walk down a sandy lane from the dinghy dock. Dunedin is a low-rise seaside town and this neighborhood distills that charm even further. Once in Weaver Park we settled in for a couple of hours as the kick-off unfolded.
We broke into our picnic basket; wine – check, loaf of bread – check, pre-sliced cheese - oops, still in the fridge back on the boat. Oh well, it's a fair so the funnel cake vendor took up the slack. The Highland Games are actually not until next weekend complete with competitions; solo piping and drumming, highland dancing, pipe bands and Scottish heavy athletics (lifting and tossing a 100+ pound log, etc.). This is the Hail to the Chieftain kick-off event when the Honorary Chieftain arrives by canoe and enters the Festival escorted down the 725 foot pier by a pipe band of more than 30 bagpipers (and drummers, too). How cool does that sound?! Too bad the sun does not set until 7.30pm…tick tock, tick tock…did we mention that we can be impatient?!
Remember that pre-sliced cheese we left in the fridge? Well, it made wonderful Havarti with dill and sliced tomato quesadillas for breakfast - voila! The anchor was up at 10:15am as we waved goodbye to Dunedin. By 11am we were out the Clearwater cut and into the Gulf of Mexico. The beach remains rockin' with sun worshippers and Spring Breakers. Oh, Happy Easter! Our departure patience paid off with calm conditions and sunny skies – perfectly boring. We are glad that we waited. The water color changed from stunning emerald to deep sapphire as we got further into the Gulf. An easy dinner of Dr Martin's Mix was hot and flavorful as we motored along without another boat in sight. The full moon helped keep the dark night gloom to a minimum for the 160 mile passage.
Patchy fog throughout the night and early morning kept the radar busy and super useful. At 8am we entered the East Pass into St George's Sound (4/2). All was placid with swooping bald eagles, pelicans in formation and jumping dolphins. The barrier island landscape means that we still have bridges to pass below. All bridges are named in honor of someone or some place. Here the man of the hour is Dr John Gorrie and his 65 foot Memorial Bridge. Dr John Gorrie?! Who is he? Well, he invented the ice maker and was a refrigeration pioneer that lived in Apalachicola. That does seem like a needed invention for the hot climate of Florida (and there is even a museum dedicated to his work in town). By Noon we were docked at the Apalachicola Marina (thanks for the line help David and Jeff). Arrival to this small fishing hamlet makes it clear that we have made a change in latitude because the nearest Coast Guard announcements come from Mobile, Alabama; fishermen on the VHF radio have slow, southern drawls and the marina guys carry a glass of iced tea at all times. Apalachicola is the oyster capital of Florida and a place I have been looking forward to visiting since we started planning this itinerary. Our first task once tied up is for Chris to sort out the stages and timeline for the pilot house hatch replacement. I started laundry and have mapped out the route to the Piggly Wiggly supermarket. The docks are lively as shrimp boats come to fill with fuel. This is definitely a working waterfront.
The new hatch was waiting for us at the marina so work began immediately. Measurements appear to match so Chris removed the old hatch and sees a short-ish list of items to get the new one installed. Screw holes do not match (of course) so the old holes were filled with epoxy. Cure time will be 24-hours – project to be continued. Not needed as a gopher, I took the chance to walk to the Piggly Wiggly supermarket and was again reminded that we are in a new latitude with distinctly southern favorites on the shelves like Duke's mayonnaise, White Lily flour and fried okra in the freezer. It seems you are nobody in this town if you don't have a smoker in your yard (including in the parking lot of the Piggly Wiggly) or a ceiling fan on your porch. Palm trees meld seamlessly with the live oaks and Spanish moss with oyster shells tossed on the roads and paths. That's it for chores for the day. Quick showers and we headed into town with my hair still wet. First stop was two beers at Oyster City Brewery where I made a quick friend of Fat Jack the parrot (and his owner John…doing his best impression of a pirate). Apalachicola raw oysters (of course), duck fries and fried goat cheese was the perfect casual dinner at The Tap Room. We slept well with full bellies and with an overnight passage in the rear-view mirror.
Our boat projects have gone smoothly; pilot house hatch was installed and the fuel pump was hooked up and is operational for fuel transfer between tanks (4/3). Yippee! Plus, I did a total boat interior clean. Barefeet is squeaky clean and ready for adventures further west. It is quirky to be moving east/west instead of our winter usual north/south. Apalachicola is described as the unspoiled "forgotten coast." Shhh – let's keep its charm between us. Chris camped out at a coffee shop while I explored the town stopping into seaside boutiques and snapping photos until it was time for cocktails when we headed to Apalachicola Ice Company. Just four years ago the space was a huge marine supply store founded in 1909 (then moved across the Bay) but today it is a neighborhood hang out with wine served in small jam jars and open mic night every Wednesday night. Food is limited to bagged chips, freshly popped popcorn and pickled eggs until their custom-built food truck is delivered later in the summer. Owners James and Erin are excited for the road ahead.
We'll return to watch open mic night but tonight we'll eat at Hole in the Wall restaurant. Could this town be any funner (oops – I mean…any more fun)?! The restaurant was hoppin' and we got the last two seats in the place (at the bar – our favorite). When my wine was delivered I cackled with laughter for a good five minutes…totally festive and I think EVERYONE needs a glass like this. Apalachicola oysters featured prominently so we had half a dozen steamed oysters with jalapenos, crispy bacon and cheddar cheese. We loved them! And got the recipe from the bartender: clean and open oyster; sprinkle with bacon, jalapeno and cheese; cover and cook in microwave for two minutes…done! We will have to try this at home. Sorry, the photo is the decimated remains because they were too good to pause for a photo until eaten.
A bit of this and that today with engine work (setting the main engine valve gaps), hose test on the new hatch (not a drip – fantastic), orange cinnamon bread baked and a bit of laundry (but a hick-up ended with clothes needing to be wrung out until the gremlin was fixed). In town golf carts buzz among the cars which keeps the single stop light the biggest hurdle to easy pedestrian/motor cohabitation. We are feeling on top of projects so we did some work on hobbies; reading Spanish, stitchery and more reading (4/4). Dinner at The Owl Café (The Tap Room's fancy sister) was delicious and a bit more fancy with sauces and homemade dressings. We rounded out the night at open mic night with plenty of local talent taking the stage. Our favorite was the rendition of Tom Waits' Chocolate Jesus – gravelly goodness.
It is hard to leave this charming spot but we have more to see before turning around for the season (4/5). The slip at Apalachicola Marina is a tight squeeze and a bit tricky with wind and current thrown in but dock help from David and Jeff was invaluable. They walked and warped the stern out and around the slip into the river. Phew – no loss of gel coat is always a success. Our short 2.5hr motor had us anchored at Oxbow Anchorage. This place is definitely our own episode from Mutual of Omaha's Wild Kingdom. There are gators hunting, bald eagles gliding and a swarm of bees trying to architect a new home in an almost dead tree. There is not supposed to be any wind so we can practically touch the trees ashore. Our dinner of Caesar pork tenderloin, mashed potatoes and peas with a bottle of wine had us feeling on top of the world. Wow – we love this boating life! It was hard to fall asleep as we strained to hear critter activity ashore.
Our short travel day yesterday was made up for today (4/6). We made a ten hour move to Choctawhatchee Bay located solidly on Florida's panhandle coast. It was a long day but the scenery was stunning; dripping Spanish moss, pine trees, palm trees slowly gave way to bright white sand dunes. We passed through the "Grand Canyon," below bridges higher than 65' (no opening dance required) and past bodies of water called bayous and creeks rather than rivers or keys. The views remind us of the ICW through the Carolinas on the east coast – some of our favorites. Countless dolphins played in our bow and pelicans plopped into the water in search of a snack. We changed over to the Central Time Zone to drop the anchor at 5.45pm. Dinner was quick and easy Caesar pork quesadillas after sundowners on the top deck. Goodnight.
We woke before the sun in the hopes of being beyond the wide-open Choctawhatchee Bay before the thunderstorm whipped up (4/7). Drat – not to be. Well, in any case, we had to move from the exposed anchorage. We got started and will simply see how far we get. The skies darkened and rain pelted. Eegads, the Coast Guard on the VHF radio warned of tornadoes ashore and waterspouts offshore. We see lightning and hear thunder - it is pretty spooky when the storm cells pass overhead dumping even more rain and swirling winds - especially when they actually canted the boat with a lean to the left. Bugger – the center windshield wiper crapped out which makes it harder to spot the channel markers…gggrrr. We took our first out and anchored after four hours off of Santa Rosa Island in 12 feet with a sandy bottom. Strong winds forecast for tonight have been labeled a "small craft advisory" so we will stay in the snug spot to plan our next explorations in the areas of Pensacola and Gulf Shores/Mobile Bay, Alabama. On the plus side, Barefeet got a great car wash style fresh water rinse with water from loads of angles and is drying out, sparkling clean. And what a difference a few hours makes?! I'm making great progress on the stitchery looking at the sand dunes. The day wound down with cocktails on the top deck with a Chris pizza in the oven and a triple barge passing in the channel. Cool!
Today we finished the route that we started yesterday with arrival at Pensacola Beach (4/8). It was a chilly morning (48F) but conditions were calm. We had mapped out a couple of anchorages that appeared to have good, all around protection so that we could rent a car and explore by land. Little Sabine Bay was the first on the list and a home run. It was wide open without a soul anchored; restaurants a dinghy ride away and an Enterprise Rental Car just a short Uber ride away. And the perfect spot to catch up with Karen and Terry of s/v Sora. The last time we saw these guys was in Phuket, Thailand. We were both part of the sailors Class of 2007 who criss-crossed through the South Pacific and South East Asia together. Wow – we picked up right where we left off at The Sandbar on Pensacola Beach. As Karen said, "It feels like nine weeks since we last saw you…not nine years." We caught up on travels and trips and family and learned about future plans. We told tall tales and laughed and laughed.
This is our turn-around spot for the season – we made it! We will explore the area by land for a few days then start making our way back to Stuart, Florida, where we will put Barefeet away for the summer. Life is good.
Dr. Martin's Mix (I Hate to Cook Cookbook by Peg Bracken)
1 – 1.5lbs pork sausage (hamburger will do, too)
˝ teaspoon salt
1 Tablespoon Worcestershire Sauce
1 green pepper, chopped,
2 green onions, chopped
3 celery stalks, chopped
2 cups chicken stock
1 cup raw rice
Crumble pork into skillet and brown it. Pour off a little of the fat, if needed.
Add remaining ingredients and stir.
Dr Martin then puts the lid on and lets it simmer at the lowest possible heat while he goes out and sets a fracture. When he comes back in about an hour – his dinner is ready.