Boston to Florida to Bahamas: December 18 2018
We returned in May to Boston after a great cruising season from Key West to Mobile. Our time in New England was full of fun. We built a bridge (for Chris' Dad), met up with cruisers passing through the area (Louise of s/v Andelen, Sean and Louise of m/v Vector, Vicki and Tom of m/v Grand Baron) and reconnected with friends and family on both coasts and in-between in the Midwest. But before we knew it the calendar had flipped to the Holidays. The Thanksgiving turkey was deconstructed into parts for the freezer and we were headed to Florida.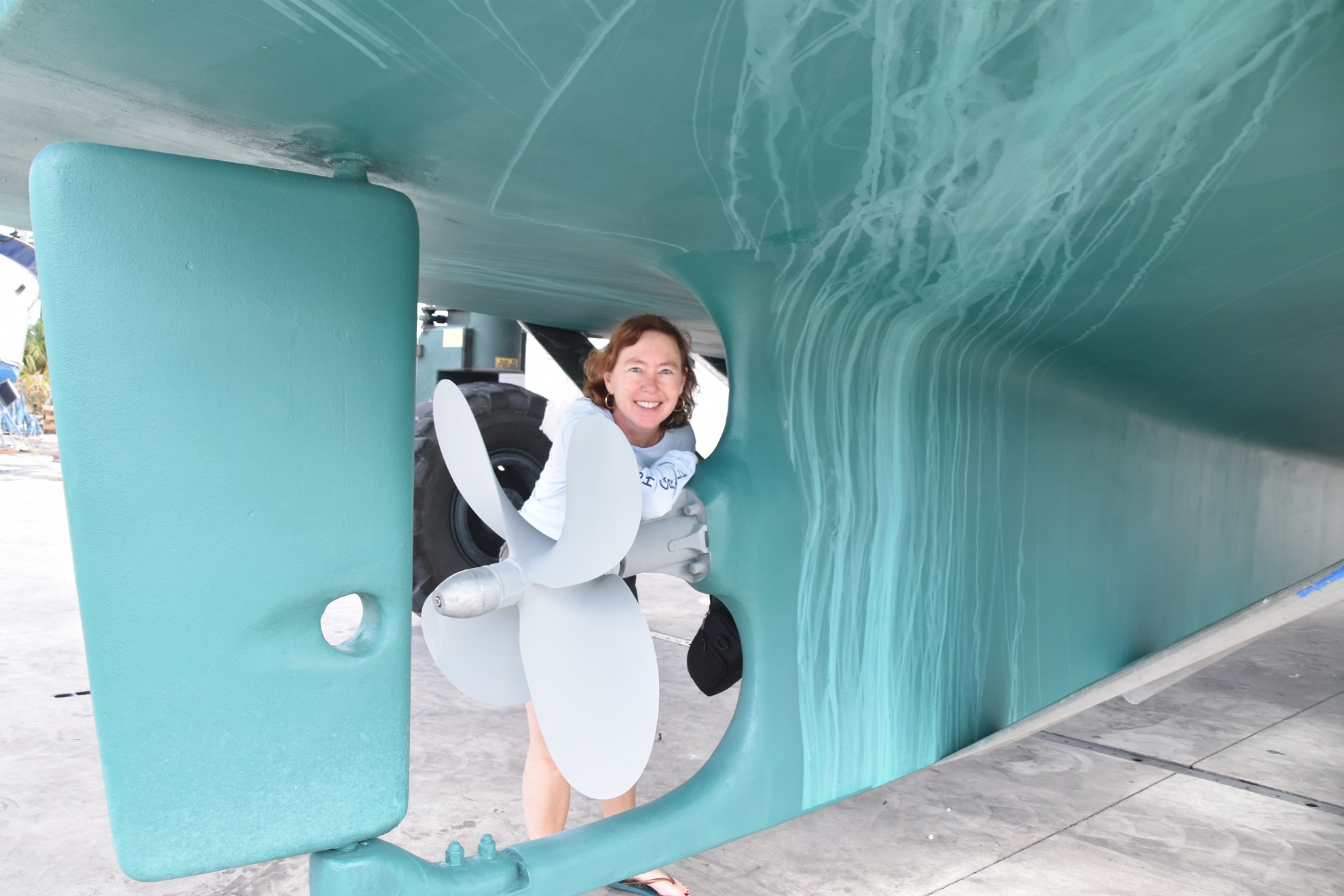 We swapped out our boots and jackets in Boston's 22 degrees F for shorts and flip flops in Florida's 73 degrees F (12/6). At Riverforest in Stuart all seemed on track. We climbed the ladder and peeked inside Barefeet. All looked great and not musty at all (we love our dehumidifier and fan). Our first task was to re-hang the fourteen enclosure panels on the top deck. This year we rolled each section with a towel for padding and they looked great. Actual hanging was both easier and harder than expected but the silicone spray smoothed the bolt rope into the track like a dream. Back down the ladder and the zincs were checked – only one replacement needed – and we loved the new bottom paint job. All set and we were wrapped up in time for dinner at Twisted Tuna and a sleep at the Marriott Courtyard. Tomorrow the real fun begins as Barefeet is splashed back into the water and we are back aboard.
The day started with breakfast at familiar Galaxy Diner on S Kanner Highway with the same friendly folks as we left last spring (12/7). Barefeet was back in the water and happily floating at 12.30pm. Yippee! We rode with Barefeet in the slings and were gently lowered into the water. A large snapping turtle kept an eye on the process and could not have been more disinterested; however, his level of indifference might be why he has such a scarred shell. Chris hung out with Juan as the new stern thruster was given its final bits of installation; however, the thrust is only happening on one side…hhhmmm. I began my gopher runs with a wash of sheets at the laundromat and the first of (likely) many visits to Chapman Marine (http://www.chapmanmarine.com/). Driving around town has a holiday feel with many cars sporting Christmas trees strapped to their roofs.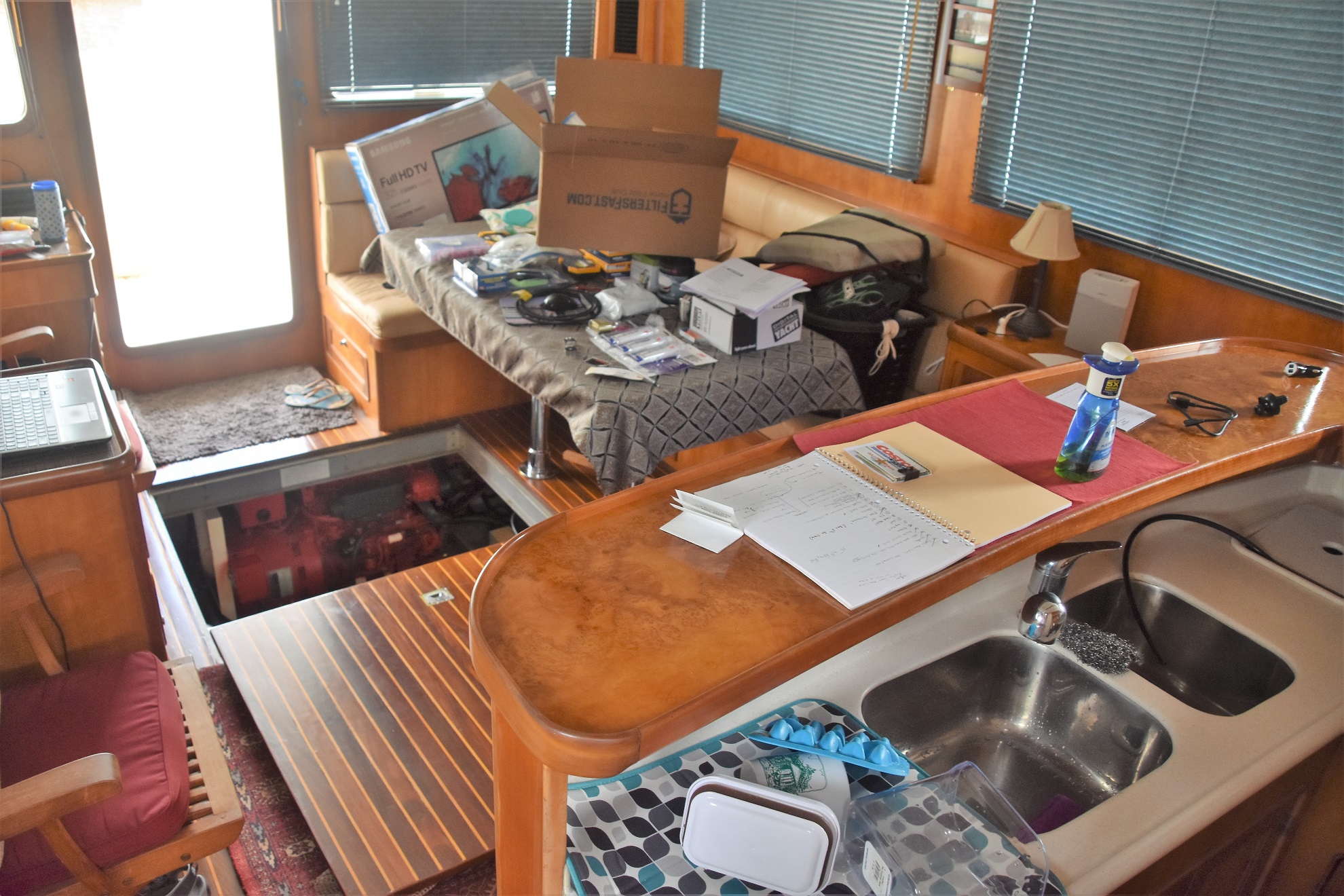 Stowing two duffel bags worth of stuff and the dusting off of systems has begun; fridge is cooling, water tanks are flushed and filled, generator is sparked up, water maker is run…and on and on (12/8). Our current process is a bit like getting into a car that has been sitting on blocks for six months and then driving across the Mojave desert for 48 hours – we want to be as sure as possible that systems are solid. Plus, we do not see a weather window to jump to the Bahamas so there is no need to rush. I dropped off the used (but clean) towels from the full enclosure storage at the Humane Society of the Treasure Coast (https://www.hstc1.org/) and filled up the propane tanks.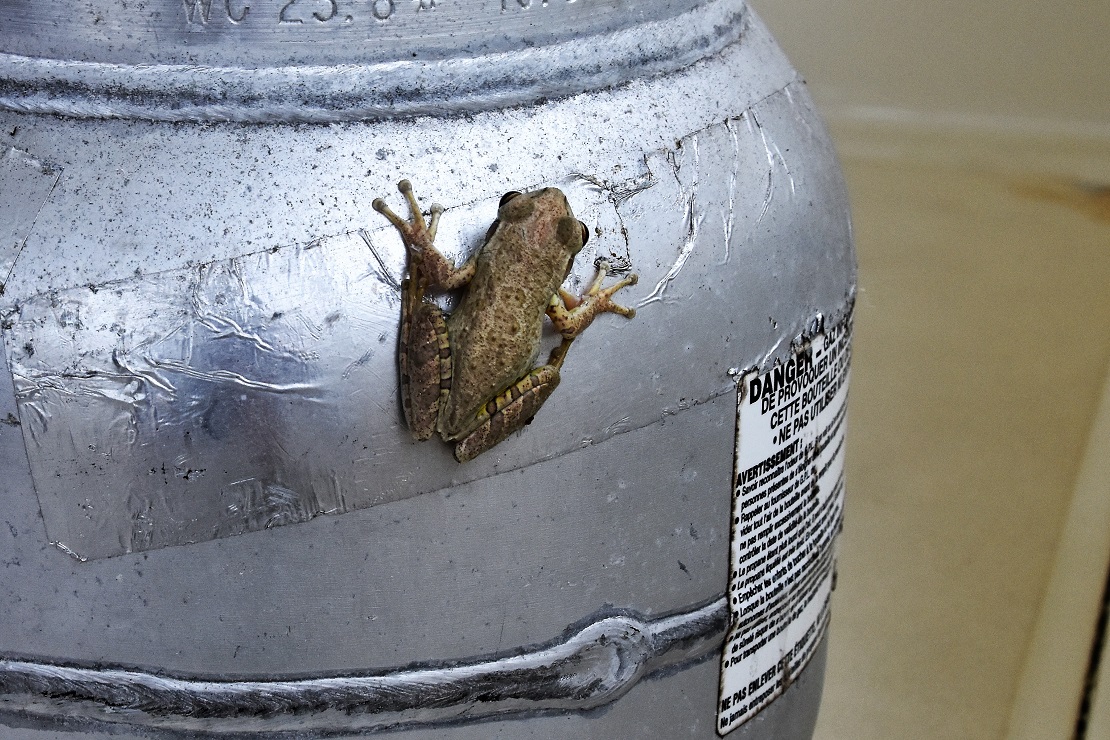 Our small propane tanks were filled by a friendly guy with nothing more than a foldable table and a tarp in a gravel parking lot beside a GIANT propane tank; yep – cash only…so I headed to an ATM next door at the A&B flea market for cash (also picked up fresh Florida oranges). Back aboard to re-connect the tanks and a neutral looking tree frog about the size of a half dollar jumped around like crazy. Oh, so that is who has left all the poo in the tank box?! We have found a number of these fellas at various levels of dehydration around the boat. Let me tell you that it is quite a shock to reach down and grab something off the floor only to realize that it is a mummified frog – eek - that is when I jump around like crazy. The day ended with dinner at Charlie's and a Duke basketball game. Deep fried oreos were a sweet treat for a sweet win.
We are still feeling a bit scattered as we work through systems and take a full pantry and spares inventory in order to create shopping lists (12/9). Oops – just found our first unexpected repair – the guest shower barely dribbles water…replacement is necessary and we will add those parts to our shopping list. A couple of fun purchases have been a new grill and a small TV. The dust is settling and we were off to watch the Pats play Miami on the TVs at Charlie's. Holy cow – game day is crazy here?! There are oodles of TVs with each showing different games, windows are shuttered for maximum viewing pleasure and neon signs abound for splashes of illuminated color. Fans are scattered everywhere and most are decked out head-to-toe in team swag. Straight in front of us close-by at 12 o'clock is a table of Chiefs fans, further out are Miami and Pats fans, at 1 o'clock is a Ravens fan, at 3 o'clock is a Saints' couple (complete with pom poms), at 9 o'clock are more Saints fans and at 11 o'clock are more Pats fans. The mix of games and jerseys and cheers is a bit chaotic but quite exciting. Sadly, our good vibes did not result in a Pats win…there is always next week. At least the wings were good…and the restroom signs made us chuckle.
With the propane tanks sorted out we are now showering, sleeping AND eating aboard. Dusting off the stove we had crescent rolls filled with ham and cheese for breakfast (12/10). Now if I could only remember where the hot pads live? Oh yeah – in the drawer below the stove. Got it. I scampered around town for dinghy fuel, a bit of food from the supermarket, again to Chapman Marine, etc. Chris sparked up the dinghy for a smooth test drive, installed the new nav light (all working after much surgery last season in Cayo Costa on the Gulf Coast), tested the anchor windlass, checked the main engine and stood-by while a stern thruster pro sorted out our wiring problem. Wow – a stern thruster with more power than a dragon fly will definitely make docking easier for us. Dinner was a couple of new recipes from friends; tomato bisque casserole from Eleanor and chicken rolls from Jeannie (recipes below). Both are keepers and will stay in the rotation. The red blob item in the photo is the tomato bisque. It was great tasting but I goofed a bit on the proportions (because I halved it) so it was more sauce-like than solid...next time it will look better. Regardless, it was really tasty and totally simple to make.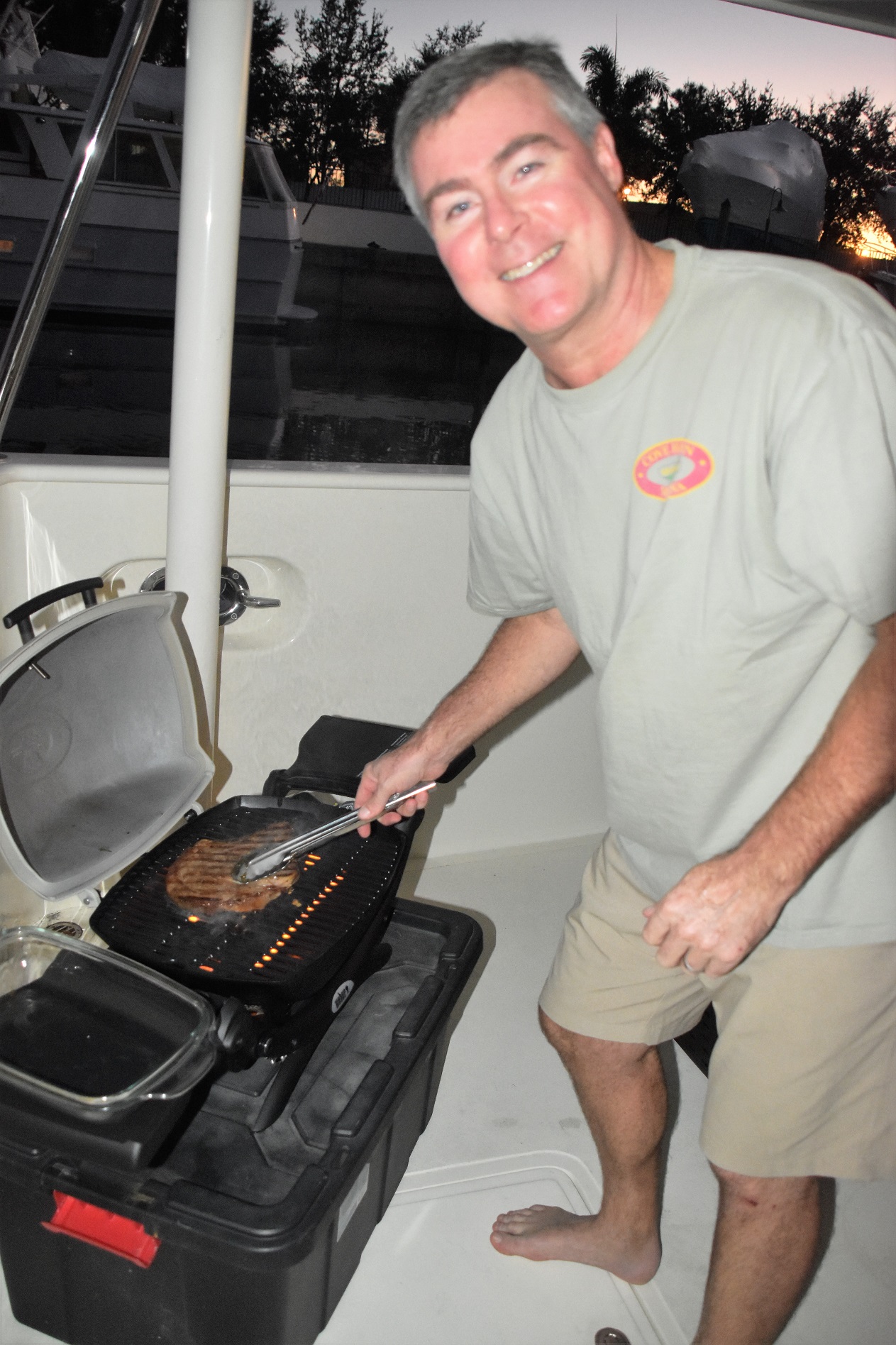 Okay, we had another hiccup…in the form of the stabilizers (12/11). The starboard stabilizer remains pinned all the way to one side. Gulp, we are holding our breathe and seeing the end of the world (aka thousands of dollars to fix and months of lost cruising time). Chris called the pros at Stabilizer Marine who passed along a few tips. Phew – the stabilizer is back in the fold and responding to the controller…thanks Craig. Next up was a bit of fun. We took a trip to Bass Pro Shops (two more camping chairs and a table for the top deck) and Chris is installing a wireless boat navigation system. Yes, that classifies as fun for him...especially after a toiletry stock up at Walmart (not fun). Oh, and the laundry machine aboard is working, too. We are full steam ahead! Dinner on a functioning grill of Korean marinated steak was a great way to end the day (recipe below).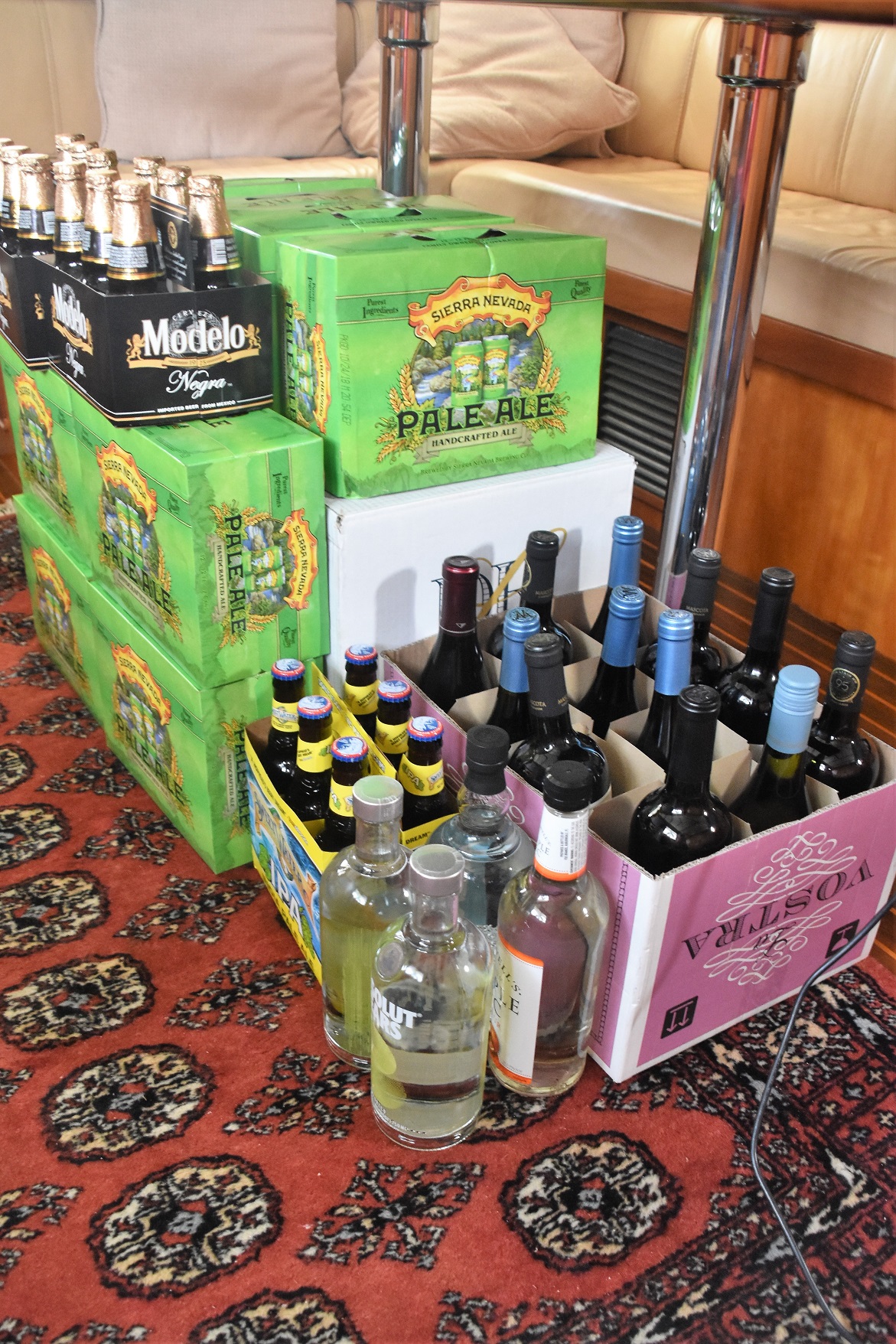 The next day the heater was turned on to chase the morning chill for a morning of coffee and biscuits with steak, eggs and cheese (12/12). Chris and I reviewed/bickered about our Grocery-List-Afloat. This list keeps us going for about 4 months without need of a market – done, now it's time to fill it. First stop was Costco with the primary focus of meat (e.g. 12 pkgs chicken breasts, 6 double-pack pork tenderloins, 20 Italian sausages, 6lbs burger meat). Some items were already broken down to meals for two but the rest was done by us with the vacuum sealer – thanks Jeff and Jen, still chuggin' since 2006 (e.g. burger reduced into half-pound bundles, sausages into one sausage per bundle, etc.). Next up was the booze run to Total Wine (this list had much less Erin/Chris bickering – tee, hee, hee). Hhhmmm…this looks like too small of a pile?! But it is hard when we think back and compare it to the provisioning in Panama for six months of exploring French Polynesia. This is just three months in the Bahamas.
Lists are winding down and flip flops are broken in (12/13). We replaced the busted epoxy bucket and epoxy contents at West Marine, got needed oils from NAPA on SE Federal Hwy (still the friendliest folks around), made a first stab at the supermarket list (an odyssey to say the least). Back aboard and it was a reduction of excess outer packaging and stowing in every available nook and cranny. Good thing we do not expect guests for awhile because their beds are filled with supplies.
Projects are wrapped up for now and it's time to make ready to leave the docks (12/14). Chris cleaned Barefeet from solar panel roof top to bilges below. I struck out for the final items on the grocery lists. This was several one-off stops for our more exotic fare from places like Planet Ozone and Tabuleh Café on SE Federal Highway (large mini-mart at a Sunoco gas station – no joke - for Middle Eastern/Mediterranean items) (https://planetozone.com/) and Asian Specialty Products on SE Federal Highway for sushi prep (yes, we WILL catch a fish) (http://www.asianspecialtyproducts.com/). I also made a meatloaf ready to bake when we are at anchor tomorrow night. Sundowners were a friendly affair as we invited over neighbors Janis and Chris. They are great folks that were in the flavor business (really – for things like Doritos, vodkas, Bailey's, etc.) – fascinating. Chatting went well past dark and we didn't even budge when the skeeters swarmed.
Socializing took precedence last night so laundry was pushed to this morning (12/15). No worries because it's a quick hop to Hobe Sound for anchoring tonight. Lines were tossed at 10.30am and we were off! We anchored at Hobe Sound on the ICW - (red marker 44) just into the no wake zone and beside a palm tree studded sand bar (we have been here before). It was a smooth water day but drizzlies started as we anchored. Oh well but it looks like it is already clearing. The already prepped meatloaf will be baked for dinner with dehydrated taters. Looking forward we are still playing the Bahamas crossing next week by ear and waiting to be closer to the day so the weather forecasts can settle one way or the other.
Awesome – we slept like rocks and awoke to a calm and peaceful morning (12/16). Today was another short hop (16 miles) to West Palm Beach. We anchored between the Flagler and Royal Park bridges. The rain has left and has been replaced with sun and mid-70s temps. All is drying out nicely. Moving the boat has added a new level to dusting off the systems. The stabilizers are working, fuel system flowing (not leaking), engine purring, batteries charging, nav system on target and water-maker is making water. Phew! Check, check, check and we were off ashore to see the Pats game at West Palm Brewery and Wine Vault (https://www.westpalmbeer.com/). It is billed as a Pats fan watching spot so we were in. Seems the owner, John, is from Peabody, MA, and loves beer and wine. Beer is made on site and wine is made in Napa (where he goes for any hurricane evacuation). We like his Pankauski cabernet and decided to buy a case for our journey. Well, the Pats lost but we had a nice time and met a neat guy.
It was a calm night but the currents and light wind had us too close to gorgeous double-master s/v Wolfhound from New Zealand (12/17). No worries, we moved a bit and re-anchored. All set. After breakfast we headed ashore for the (hopefully) last parts for the guest shower. The walk was a charming surprise. It was about one mile through the El Cid Historic Neighborhood of West Palm Beach (http://elcidhistoric.org/). The lovely neighborhood came of age in the 1920s – homes were a wonderful mixture of glamorous Hollywood haciendas, craftsman bungalows and colorful Key West. Plus, there were tons of trees and hedges and streets were a mere one lane in each direction. Hall Hardware was perfect (https://www.hallhardwarepb.com/). Family owned since 1945 and they have EVERYTHING…most importantly, the parts we needed. Hhhmmm…we returned to Barefeet and she was stuck aground on a random high spot – drat. Neighbor Ken on m/v Barbara came over and helped with Chris to dinghy bump Barefeet back to floating…sheesh; third time anchoring has got to be the charm (we hope). With much gratitude we zipped over to m/v Barbara with a bottle of wine and many thanks – neat couple with two parrots onboard (each 20+ years old; Cody green and Yuri grey). Okay, let's get the dinghy tied down and check out the weather for a possible crossing tomorrow. What's that?! Hydraulic oil leaking from the dinghy crane?! Darn it. Do we stay and get it fixed (it looks like just a weep)? Head across in good weather conditions and fix it along the way? Aaagghhh…as Bobby says – when you're off the dock 80 is the new 100% of what works on your boat. We'll sleep on it and see what the weather forecast is in the morning. TBD.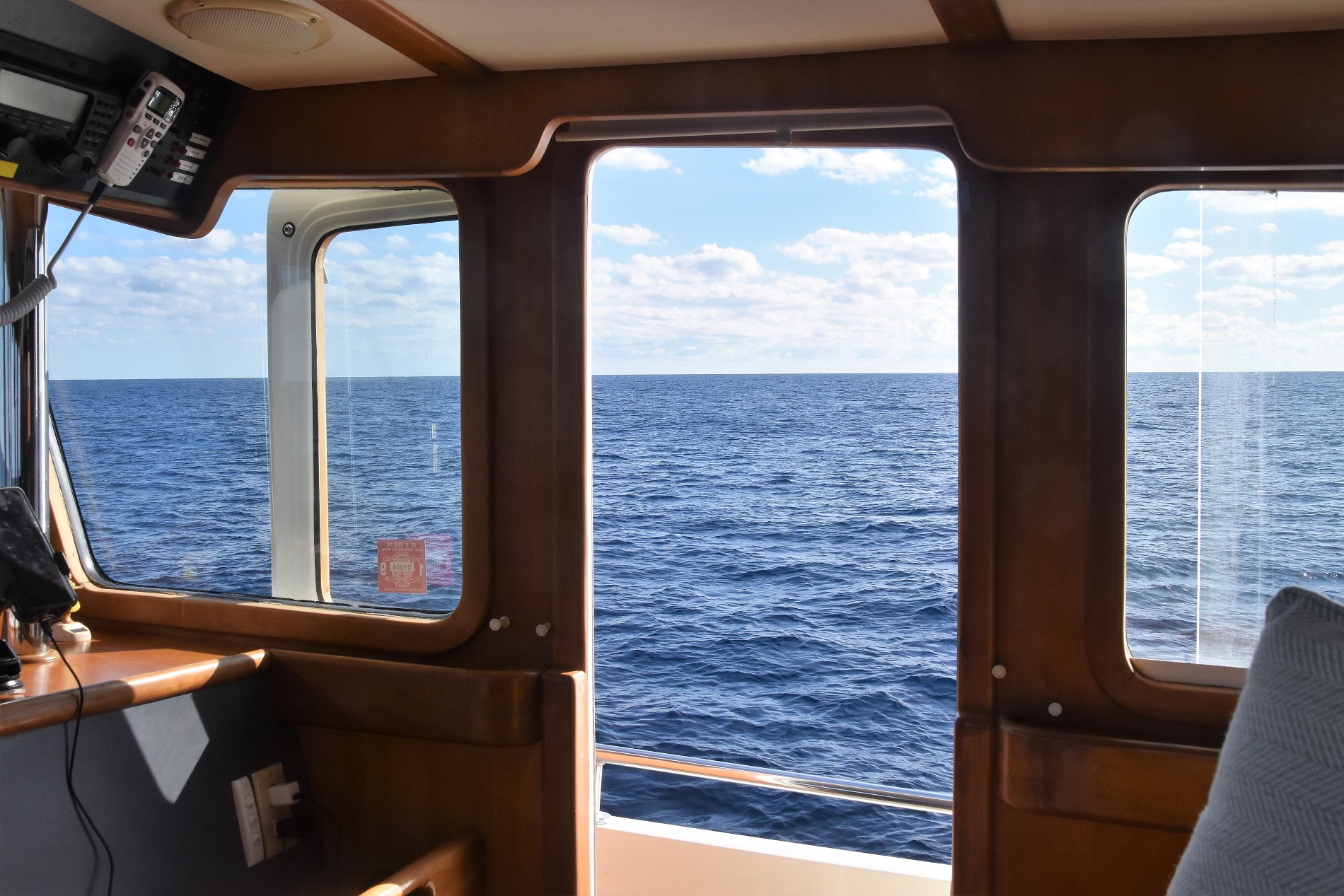 Well, the crossing weather forecast looks good and Chris thinks a degreasing followed by a JB Weld fix will work for the hydraulic leak. Now just to be sure there is room at the inn at West End. Yep, there's room so we were off at 9am (12/18). It was a 60-mile crossing (including the Gulf Stream) from West Palm to West End. Conditions were as expected - bumpier to start (neither sporty nor salty) and mellowing as the day wore on. Throughout the day, the sun shined and the sky was bright blue. Plus, the watermaker worked underway. The exterior scupper was the solution. We tied up at Old Bahama Bay on Grand Bahama Island just as the sun slid below the horizon. Dockhand Kyle tossed paperwork and we were off and running. Chris finished tying up and I got us checked in with customs and immigration - even received a 120-day visa stay (score). The marina was abuzz with activity as fisherman came back to clean and carve up their massive fish and grill them on their boats - very festive. We topped off the day with a dinner of cheese and crackers and peanuts on the top deck...not fancy but perfect (we will have a feast tomorrow night). Wow – it has been just twelve days since we arrived in Florida and we are already into the Bahamas. Yippee!
Tomorrow Chris will dive into the leak on the dinghy crane hydraulic issue and we will stay here to wait out the strong winds passing in a couple of days – the word "gale" has popped up in some forecasts – happy to be snug.
I'll close this blog with a funny quote we spotted at Charlie's Neighborhood Bar…Some days I amaze myself. Other days I put my keys in the fridge.
Jeannie's Lemon Chicken Rolls
8 Chicken cutlets (pounded ¼ inch thick)
8 Thin slices deli ham
8 American cheese slices
3 Lemons
Stick of butter, chopped
White wine (1/2 cup optional)
Optional bread topping: ½ cup bread crumbs, 1T parsley, 1tsp oregano, 1T olive oil)
Season cutlet with salt and pepper. Layer ham and cheese on cutlet. Roll and secure with toothpick. Lay seam side down in greased baking pan. Evenly scatter chopped butter. Squeeze lemon juice in pan and top with lemon slices. Cover with foil and bake at 400 degrees for 30 minutes. Remove foil. Sprinkle with optional bread topping. Return to oven for 10 minutes to brown. Serve with rice pilaf. Freezer option: wrap uncooked chicken roll individually in plastic wrap then store in freezer bag.
Tomato Bisque Casserole with Two Cheeses (from neighbor Eleanor) serves 4-6
Preheat oven to 375 degrees F.

3 cans (16oz each) stewed tomatoes, Italian seasoned with basil
8oz crackers, crumbled (Ritz 3.5 cups)
8oz cottage cheese
2 cups cheddar, shredded

Mix all into a bowl.
Place in a 2 quart greased casserole dish.
Bake 45 minutes.

If you like the straight forward version above feel free to experiment: add additional herbs and sugar (due to tomato acidity), add a sprinkle of cheese on top in the last 5 minutes, soften two onions in olive oil and add to top and/or save half cup of cracker crumbs for top.
Korean Steak (Andrew Carmellini) serves 4-6
1 cup soy sauce
1 cup coca-cola
¼ cup sesame oil
¼ cup hoisin sauce
4 cloves garlic, chopped
4 green onions, minced
2 bone-in rib eye steaks (2.5lbs each)
Optional garnish: kimchi and daikon radish (peel and grate)
Mix together soy sauce, coke, sesame oil and hoisin sauce. Add garlic and green onions, mix well. Marinade steaks 12 hours to overnight. Remove steaks from marinade onto a plate to come to room temp (approx. 30 minutes). Grill steaks until desired doneness. Let meat rest five minutes before slicing thin. Garnish as desired. Serve with citrus rice.