Ambling in the Abacos: December 28 2018
Yippee - our cruising season has begun! This cruising season we plan to travel from the Abacos in the north of the Bahamas to the Exumas in the south and wrap up with one month in Key West. Our first stop in the Bahamas was Grand Bahama Island – north of the Abacos and a perfect spot to start. It is a first visit for us but put on our radar by friends on m/v Mandalay at Riverforest. They are correct – it is a gem. All checked in and tied up so we started our first morning in the Bahamas with a walk and a cup of coffee around the grounds of Old Bahama Bay Resort. The exuberant fishermen from last night were departing and it would likely be just us few cruisers to wait out the blow (12/19). Sliding in just before the winds was s/v Wolfhound. We went over and chatted with them and apologized for getting so close while anchored back in West Palm Beach. They were kind and said they were not worried – unlike with the French who basically lean into you as they anchor – they felt we were miles away. Thanks for the understanding…and we agree completely about the anchor habits of the French.

Onto the crane dissection…on a work platform with a nice view. Chris degreased the leaking part and loaded it up with JB Weld. Heck – it looked like a silver version of a Maker's Mark bottle. Now it needs to be left alone to sit and set. So we took the chance to borrow bikes and head into the West End Settlement. "Bikes" is a strong descriptor for the transport; mismatched handle bars and seats, rusted chains and odd bits missing here and there – like, say, a pedal. However, they got us into the settlement and back. West End is the capital of the island whose original fame came from rum-running during Prohibition. In the settlement there were a few small markets that were neat as a pin; a 700 (liquor store); fragrant (aka stinky), rotting conch shell middens dotted along the shore and a bit of remaining hurricane devastation. Freeport is also on this island and it is hard to imagine that its commercial center was upstaged by sleepy West End but we like its sleepy vibe.
The day ended with sundowners on the porch of the Old Bahama Bay bar with music by cruisers; Jim and Bentley (s/v Salty Paws… saltypawsband.com) and Jane (m/v Old Rosie). The harmonies were wonderful and often familiar songs for all to sing along (John Denver was popular). It was a relaxed evening but the biting bugs liked me WAY too much and I finally sought out bug spray. Sadly, the damage was already done and my thighs were polka-dotted with bites. Drat! Chris was definitely smarter with his long pants.
We woke up and started with double checking lines and fenders in anticipation of the wind (12/20). At this point the JB Weld has set so we reassembled the crane and tightened it down. Phew – it is all about being in the right spot when weather comes. We are happy not to be out in it; rather, in a marina where we can easily walk off the boat onto grass covered lawns or sandy shores…and…avoid becoming a human kite. Neighbors Jessica and Brent (s/v Sea Duction) came over for sundowners. We were on the top deck where the winds whipped and the full enclosure rattled and flapped…but our crackers didn't fly away (and Brent clocked 33 knots on his wind meter – monitored on his phone). They say that you can carbon date a cruiser by their means of communication. Well, these guys had some new info for us about VPNs (virtual private network). Chris had looked into VPNs a few years ago but the process was clunky. Today, it is quick and easy at VPN Unlimited…at just $4/month (https://www.vpnunlimitedapp.com/en). We'll give it a try in the hopes of getting televised USA sporting events that are blocked in the Bahamas. Thanks for the tip!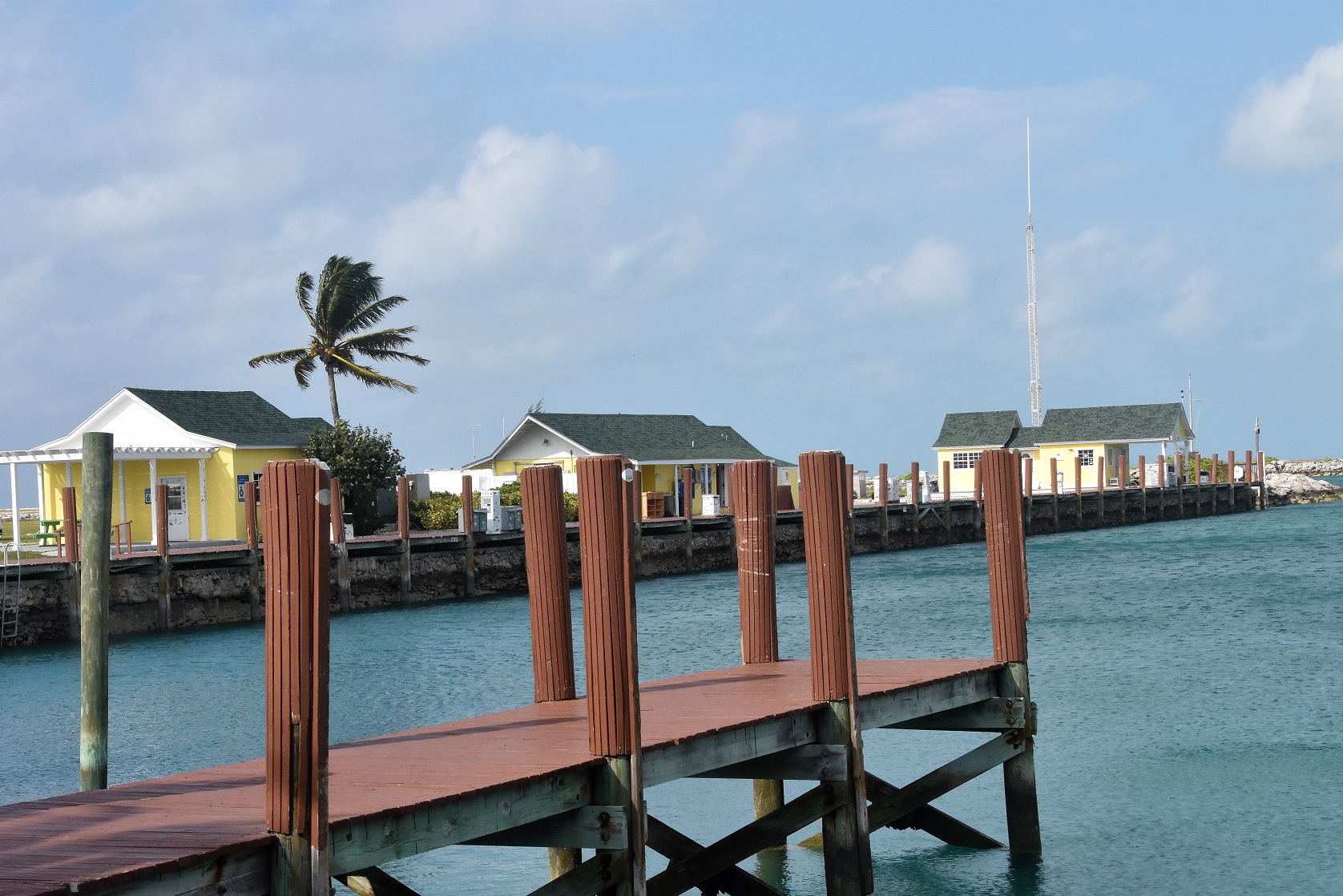 The winds continued which kept us largely boat bound (12/21). We watched the Duke basketball game via the VPN (awesome) with a great win. And I made gingerbread for the Marina office, Customs & Immigration…and Chris (recipe below). The sun and clouds came and went. Plus, rainbows appeared and vanished throughout the day. Neighbor sailboat windmeters clocked 40+ knot winds and offshore buoys stated 12ft waves with 7 second periods – yuck. Everyone is eyeing a Sunday departure (not the originally anticipated Saturday). We walked with a cocktail to the calm side of the island to watch the sunset - what a difference that makes in wind strength. It was a tough night to sleep as the wind clocked and new sounds sprouted at each degree change.
It was a chilly morning but the winds are starting to calm (12/22). The massive storm has been throughout the Bahamas as well as along the length of the eastern seaboard with winds and rain and flooding. Okay, it's time to dive into the plumbing replacement of the guest shower. Chris squirmed and slithered into a tiny spot to remove the old plumbing from the back and cap the water lines. What, could it be that the holes of the old and new will line up?! Not exactly but the amount of surgery needed is small. Initial thoughts envisioned a giant cut in the shower wall with fiberglass to repair and seal. This minimal surgery outcome is much better.
Looks like tomorrow is departure day so we walked along the beach, fresh water rinsed the boat and filled the water tanks. All cruisers have the same thought and decided for a no-more-blow sundowners pot luck to celebrate. Old Bahama Bay had us set-up on a balcony shaded from the wind which was super nice. It was a fun night with boat cards exchanged and itineraries roughly planned out. Even Mother Nature joined the party with an amazing Super Moon!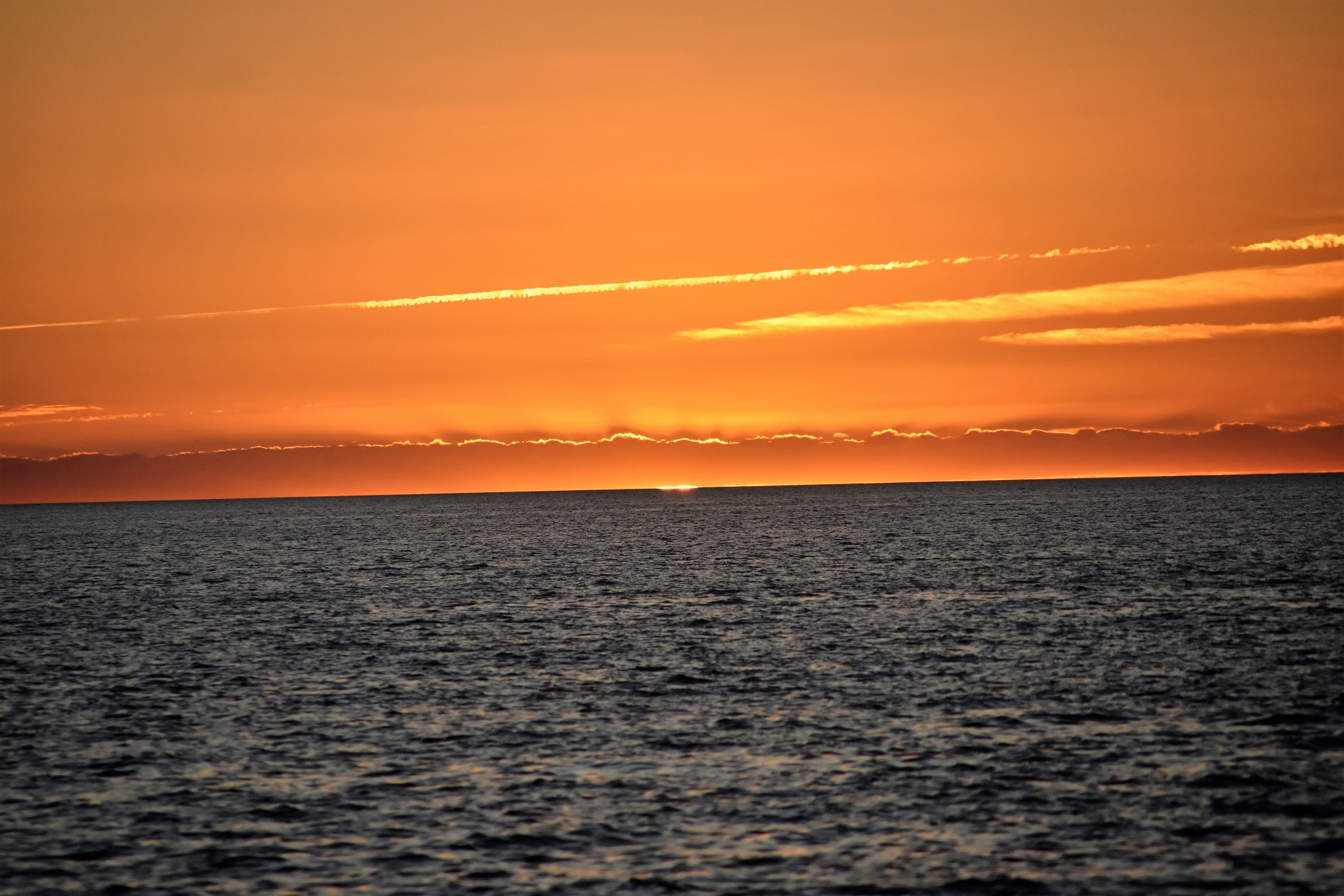 As hoped, we tossed our lines from Old Bahama Bay as the sun came up (12/23). We were off along with the other cruisers around Indian Rock, beside (shallow) Church Bank and into Little Bahama Bank. It was a line of ducklings headed for the Abacos! With the exception of Marsh Harbor (2011) the last time we were in the Abacos was in 2006…eek…twelve years ago. We look forward to seeing places we missed back then as well as returning to familiar places. Tonight, Barefeet's final destination in these calm conditions is Cave Cay – a new anchorage for us. We were the only boat in the anchorage and there was not even a house ashore. The anchor was secure so we hopped into the dinghy and headed ashore. The shoreline was pulverized coral and shells without any real treasures but exploration is always fun. Our first anchor in the Bahamas was great! Dinner was pizza and the Patriots' game…with a win. Yippee!
The morning was chilly so we sparked up the generator (12/24). Yikes – that sounds awful! Our purring kitten was replaced with a village of angry sprites banging hammers. This was not in the plans at all. The generator is necessary but redundancy means that the only thing solely powered by the generator is the watermaker. The batteries and hot water can be topped up with the engine which will keep all other systems running. This is going to take some thinking and we should get to a larger island to sort it out…like Marsh Harbor. We pulled up the anchor and slid through a narrow cut seeing 7.6ft at the shallowest point (our draft is 5ft5in). It was a short hop and we anchored in 9.5ft at uninhabited Allans - Pensacola Cay – another new anchorage for us. Just four boats at anchor feels peaceful and remote. Fun land exploration had us searching for a massive naming tree loaded with flotsam labeled with boat names and dates. Paths had been cut across the island and marked with whatever washed up on shore. There were stacks of buoys marking path entrances and a shoe arch once into the brush. There were faded fenders and discarded jugs and bits of colorful discarded polypropylene rope. We had a couple false starts but we eventually found the naming tree. And it definitely looks like a Christmas tree trimmed by cruisers. It is Christmas Eve, after all, and we feel festive.
The hurdle between us and Marsh Harbor is the Whale Cay Cut. It is a narrow cut that can be treacherous to pass through if conditions are not pretty benign as you exit the "inside" Sea of Abaco out into the Atlantic Ocean (for about three miles) and then re-enter back into the Sea of Abaco. We'll see how the day shakes out before making a final decision to pass or not. We pulled up the anchor at 6am with me in a headlamp in the hopes of lighter conditions earlier in the day (12/25). Local insight is helpful and daily reports are made about conditions in the cut; however, it is Christmas Day so we are not sure if Barometer Bob will make a report today (http://barometerbob.org/). Instead, we put out a general information call for conditions on VHF16. There is a boat one hour ahead of us who will report back. Nah – looks like another day would be better with current conditions of confused seas and 3-4 foot waves eyeballed directly. No problem. We'll wait in Manjack Cay while the winds pass and the conditions mellow. Plus, with Christmas Day and Boxing Day holidays there would not be anyone around to look at our generator anyway.
Instead, we anchored close to shore for the most protection from approaching winds and headed ashore to check out the mangroves. Incidentally, the crane is doing great – slight leak remains but it's working well. Wow – the water is gin clear with a bottom of white sand and swaying grass and edges lined with mangroves. The watery paths wind for quite awhile. We spotted a few lazy turtles but they swam off without even deigning to poke their heads above the surface. Looks like there is plenty to explore while we wait for the winds to pass. Back aboard we clicked on Christmas tunes, enjoyed our decorations (thanks Mom) and feasted on Chris' famous chicken tikka masala. Merry Christmas!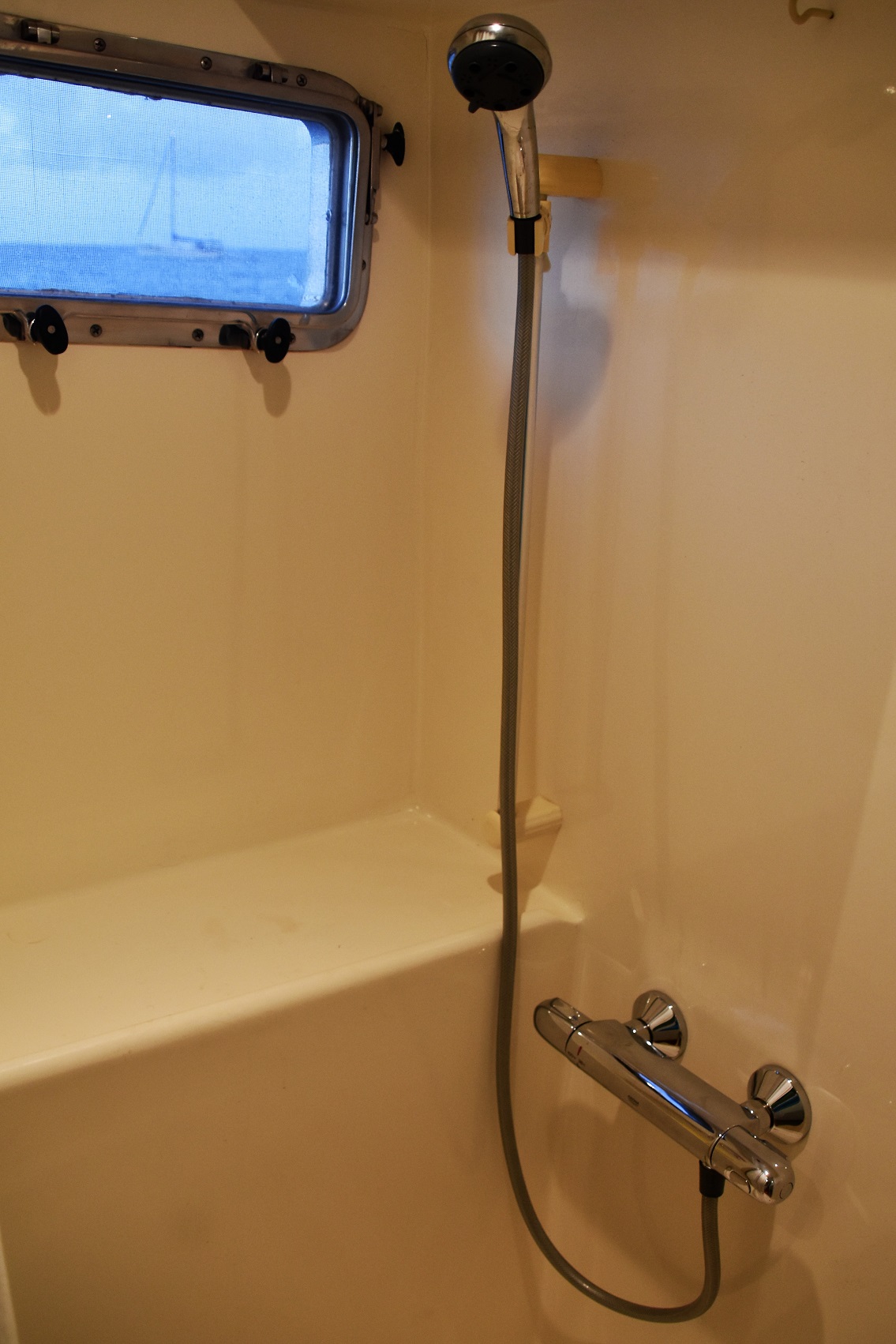 Our protected spot at Manjack Cay creates a solid platform to continue the guest shower plumbing replacement (12/26). You may remember that when we got aboard in Stuart we noticed that the guest shower was only dribbling water. Chris took this as a sign to rip out the plumbing and get a "proper" thermostatic valve faucet installed (aka water comes out at a determined/desired temperature). Gggrrr – one of the two fittings does not give that satisfying "click" into place and continues to leak (really?!). Excellent – it was the boat inventory to the rescue. Hooray! The project was completed after again squirming between and behind tanks and pipes in the engine room. Not to be left out of the squirming fun Erin did a double-check that no leaks were happening. Check.
Work was completed in the morning so we headed out to explore in the afternoon…despite the 20+ knots of wind. There is a house and a couple of cottages ashore with friendly, welcoming owners. They have picnic tables and chairs on the beach, a covered swing in the shallow water, a coconut husking station and signs to various trails around the island. The only rule is to leave the roaming chickens alone – got it. We struck out from Manjack Beach for the Ocean Beach walk. It was a bit more than a mile through shaded paths with layers of leaves cushioning every step. Ocean Beach trail signs peppered the trail to keep us on track. Once at the ocean beach we did not daudle in order to avoid being munched by noseeums as the afternoon wore on (thanks for the tip Tamara). Back on the Manjack Beach Chris went for a swim and we noticed the soles of our sandals covered in nasty, sticky burrs - definitely not a barefoot sort of path. This is quite a nice place and we are glad to be "stuck."
The generator is still an issue that has us scratching our heads and wringing our hands. Chris called around now that Christmas and Boxing days are done but adding vacations to the mix means mechanics are slim pickings. The mechanic in Marsh Harbor is on vacation until Jan 2 but we found someone in Green Turtle who is around…but will the winds die enough to move and will there be room for us at a dock?! There is nothing to do but wait to see how the weather turns in a couple of days.
We relaxed and read until the afternoon when we headed ashore to the Art Trail (12/27). It is another shaded path with bits of art scattered along the trail. Everything is made from flotsam that has washed ashore or bits of nature that have blown down…all with the addition of a splash of paint or a snip of string. Flotsam is cool and people are super creative. There were some spooky things, some whimsical and some funny. There was a broken hockey stick, floats assembled to be scarecrows, a roller hockey medal, float and net painted to look like an alien, bits of driftwood shaped and painted into animals - wow. They were fun to spot and the wind was kept (mostly) at bay.
We are modifying our power habits with the dead generator. The engine is run for topping up the batteries and making hot water; however, if we can reduce our power needs that would reduce the amount of time the engine needs to be run. Back aboard we had chicken stir fry for dinner in the mind-set of consolidating our US bought meat into a single freezer. That is really a bit of a pipe dream because we just started the season and two freezers are pretty full. The generator saga continues and is a tough one which leaves us wringing our hands for the way the season will unfold if the generator is out of the mix of our power options.
The winds howled overnight at Manjack Cay but mellowed as the sun came up (12/28). We fortified ourselves with breakfast burritos and Barometer Bobs weather forecast. Okay, looks good to make the one hour move for a generator consult if we can find dock space (might be tough with all this wind which has had boaters hunkered down). First, George Cross (242-577-5175) answered his phone and can see the generator in Green Turtle and second, we found room at Leeward Yacht Club docks…and a face dock to boot – we love face docks (https://leewardyachtclub.com/). I scooted to the market to buy a couple of ingredients to make torta di riso in order to keep occupied and for an easy breakfast tomorrow (recipe below). I started the walk to town and was quickly offered a ride by Gus in his golf cart. Gus has been coming to Green Turtle for six years and loves it. Dropped at the market and purchases made I headed back to Barefeet. Hey, there's Gus again and I got a ride along with nice conversation. Thanks Gus.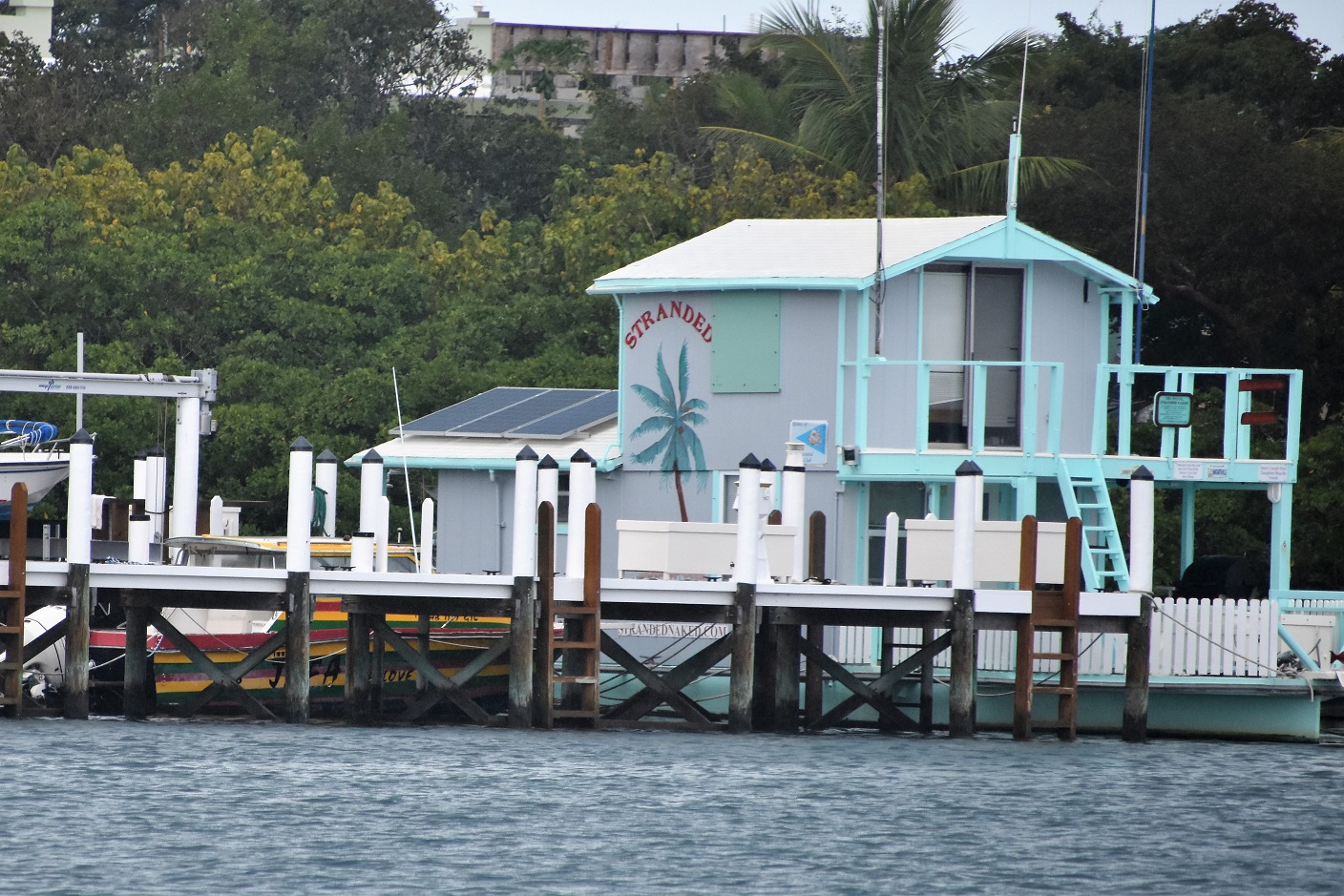 Back aboard and George is nuzzled up to the generator. George says we need hearing education - the sound we hear is not a clang but a pop and likely a valve issue. This is way down the food chain of complex issues so we are getting excited. Here goes - the sound was caused by a loose nut on one of the rocker arms which kept an exhaust valve closed all the time. Chris thought it was a piston problem and we were doomed. In hindsight, Chris might have seen the loose nut if he took off the valve cover but the sound was just too depressing. After George's review only one nut was loose - George checked them all and all were fine and solid. George chuckled and said that Chris must have been distracted as he worked through the eight nuts with feeler gauges previously. Problem solved and we have a new item on our shopping list for go/no go feeler gauges - cool gadgets. Another tip was the use of a simple pen and paper chart with hash marks when each nut is checked once...generator run...and re-checked. This is a HUGE relief. George will return in the morning for a final tune up but we are thrilled with this outcome. Not to mention that George is a cool guy with stories about Green Turtle go back to the 80's.

It was time for quick showers and a walk into town to meet cruisers at Plymouth Rock Liquors for happy hour (a Friday night tradition).

As we exited Leeward Yacht Club who passed by but Gus.

Hey, Gus!

This is how rumors get started (tee, hee, hee).

Gus was headed to the same place so off we went.

I introduced Chris who gave the generator success report and Gus showed us a few highlights of town.

Once at Plymouth Rock Liquors we found Ben and Jane (m/v Old Rosie) and several other cruisers. Plymouth Rock is, as the name suggests, a liquor store. You buy the bottle and then drink it through the night. Every now and then a snack is passed like crunchy peanuts or cocktail dogs with mustard. The jovial and welcoming crowd happily spills out onto the street.

Rumor has it that there is live rake and scrape music at Pineapples Bar and Grill (and a burger). We meandered over with Ben and Jane while ogling and photographing the many Christmas lights in this neat as a pin town. The music was lively, the burger was juicy and I have been reunited with Bahamian coconut rum. It was a great night and we have met more friendly cruisers to look for down the road. Green Turtle is a lovely spot that we need to return to in order to see what we missed on this quick visit; Sundowners Bar (opens daily at – you guessed it 5pm), Miss Emily's Blue Bee Bar (creator of the Goombay Smash cocktail), Two Shortey's Takeaway and more. We are loving our return to the Abacos!




Rich and Sticky Black Gingerbread
(Hingham's Out of the Ordinary cookbook) makes 2 dozen
1.5 cups flour
2 teaspoons powdered ginger
2 teaspoons cinnamon
1 cup soft brown sugar
½ cup golden, corn or maple syrup
½ cup butter
½ cup dark molasses/treacle
1 cup warm milk
2 teaspoons baking soda
2 eggs, beaten




Grease deep 7.5" x 11" baking pan. Line with baking parchment.
Mix flour, ginger and cinnamon together.
Combine brown sugar, golden syrup, butter and molasses in a sauce pan. Heat until butter melts and mixture is smooth, stirring constantly.
Remove from the heat.
Stir in flour mixture; stir in warm milk and baking soda mixture; add beaten eggs and mix well.
Pour into prepared baking pan.
Bake at 325F for one hour (or until firm).
Remove to wire rack to cool. Cut into bars.




Torta di Riso (Sasha Martin's Life from Scratch) serves 6-8




6 slices bacon, chopped
1 Tablespoon oil, plus more for baking dish
1 onion, chopped
3 cups left over, refrigerated white rice
½ cup Parmesan cheese, grated
6 eggs, lightly beaten
Parsley, chopped
Salt and pepper

Preheat oven to 400 degrees F.
Saute bacon in oil until fat renders.
Add onion until lightly brown. Set aside and cool.
Meanwhile, in a medium bowl add rice, Parmesan, eggs, parsley, salt and pepper. Stir.
Add cooked mixture. Blend well.
Pour into lightly greased 8x8/2qt baking dish. Bake 35 minutes or until golden brown.
Cool 15 minutes. Cut into squares. Serve room temp or cold.