A Whirlwind of Boat Projects Follows Mother Nature's Lead: February 8 2018
Our arrival in Key West has us taking a longer view of schedules and projects. It's a rough theme we have adopted for this cruising season – see fewer places but spend more time in each place. Spending more time in a place gives us a chance to do everyday things rather than zip from Historic Site to local eatery to boat projects always with a feeling of urgency and weather window departure at any moment. However, slowing our pace is a challenge with our brains still rapidly circulating project lists, shopping lists and weather reports. We will dial it down gradually - unable to flip a quick switch. The palm trees wave in the wind, pelicans swoop & dive, roosters & hens peck at the dirt and the scent of the sea lingers. We love being in this zaney, colorful, laid-back place.
Chris continues with the windlass and I have started finding daily life resources like supermarkets and a gym (Jan 25). The Winn Dixie supermarket was a bus ride away and way more of an odyssey than I expected. However, after doing anything once – the next time will be easier (I hope). Deciphering the bus schedule required multiple maps to pinpoint drop-off points, my desired stop had no sign (and an inflexible bus driver whizzed right past me) and the fellow passengers were a tough lot…closer resembling the craziness generally reserved solely for the DMV clientele which is rarely dealing with a full deck. That said – little things are falling into place. We love the boarding mat! It is not an engineering marvel but it is functionally perfect; acrylic carpet with a no-slip underside and weighted on both ends with sand. This allows us on and off the boat without marking the paint on the cap rail. And on and off the boat we go! Tonight was Happy Hour at Schooner Wharf located just a few steps away down the docks (http://www.schoonerwharf.com/). Drinks are half price at Happy Hour and we LOVED the raw tuna nachos. They are not the cheapest app on the menu but they blew us away with the piled high tuna just off a fishing boat on a bed of crispy wontons topped with a bit of seaweed and a drizzle of salty/sweet sauce.
Key West is an island of a mere 2x4 miles so everything is nearby. We do a lot of walking around town and contortions during boat projects but the gym gives us a chance to have an actual workout. We did not realize one key reason for the gym was going to be the need for a solid platform…winds are honking which has the boat bouncing despite being at the dock. Key West 24hr Fitness is perfect and not more than a few steps away. A little more ambitious are our dock neighbors on s/v Obsession who are headed to Cuba for a race. We had sundowners aboard Barefeet before they leave tomorrow. As a bonus – Captain Church gave us travel tips for the Alabama shoreline before they were off to a race meeting. Sorry guys - strong winds have delayed the race start by one day.
Los Cubanos Marine Hardware on Caroline Street is as great as ever with all the bits and bob that we needed to complete the windlass wiring (Jan 27). I did some laundry and mapped out a bit of a Key West walking tour based on the hilarious history described by Joy Williams in her book, "The Florida Keys." Bill from s/v Andelen passed along the book which guaranteed it was a keeper. The tid bits are fascinating and the characters are colorful. For example, Pan Am was the first international airline recognized by the Post Office and made its first flight from Key West to Cuba in 1928. Pan Am replaced Aero-Marine which went out of business. But here's the part I like – Aero-Marine Airways made flights to Cuba in the early 1920s with passengers, mail and…a pigeon. The trained pigeon would be released in case of trouble over the open ocean. Clever! And then there's the people. Holy Cow! Take Joe Russell. Russell was a rumrunner, a charter boat captain and a bar owner who is most famous for his friendship with Key West's most famous citizen Ernest Hemingway. Their friendship started when Russell cashed a royalty check from Scribner's…that a bank down the street would not. Joe Russell's bar was Sloppy Joe's which had a couple of different locations before settling on Duval Street in 1937. Local lore has it that the final move happed because of an increase in rent of $1/week and was executed, "in the middle of the night when he and every drunk in town moved the bar." Literally, every piece of furniture, fixtures, mirror…even the urinals (the one Hemingway snagged is still at the Hemingway House and Museum).
Another delay for the race to Cuba followed by the ultimate canceling of the race would not deter our neighbors on s/v Obsession. The boat crew had a vote and departed at 11.30am anyway - regardless of race status (Jan 28). Good luck guys! Soon we were off on land to The Bite to watch an afternoon Duke basketball game. Drat – it was a loss to Virginia for the Blue Devils but The Bite looks like a gem of a local spot quietly off the tourist track. And at $30,000/month rent on Duval St – who can blame them for the more mellow locale. Ending the day with cocktails on the top deck at sunset is full of theater; from the sunset cruises on the elegant schooner Hindu or the Sebago party catamarans complete with live bands to the returning charter fishing boats to the wedding party photo ops (looks like someone is in the Coast Guard). We have a lot to entertain us nightly. Eventually, our stomachs began to grumble so we headed downstairs for another fish recipe from The Key West Commercial Fisherman's Cookbook – snapper with coconut sauce (recipe below). The snapper was fresh as can be from the dockside Half Shell Raw Bar's fish market and the creamy flavors in the sauce were delicious. Wow - I have yet to find a dud recipe in this Cookbook.
Daily tasks are being handled for a second time which means they are a smoother process; breakfast aboard, supermarket run, going to the gym, cleaning the decks, laundry and Duke basketball watching. Walks around town are never dull; a van painted entirely by sharpie pen, funny signs on every gate and flamingo bikes. In the sidelines I am trying to track down a trip to Cuba…that's TBD. All the while it is blowing like stink which has us bouncing like we are on passage rather than tied up at a slip. Forecasts say that the winds should lighten in a few days. Tick tock. In the meantime, the windlass project continues and I have started a templating project (Jan 30). During storage season of 6-ish months we need something to protect the top helm controls. Last time we used shrink wrap and tape. Sadly, the tape left terrible residue behind so we'll try a piece of quarter-inch opaque acrylic next time. And Los Cubanos has a resource just a few blocks away – Monroe Glass & Mirror on Simonton Street. Los Cubanos never disappoints – thank you.
In order to have Monroe Glass & Mirror cut the plastic they will need a template. I started with a piece of poster board then transferred it to cardboard for a dry fit. The cardboard was found in the nearby dumpster from a discarded flat screen TV delivery - perfect. It was hot work with sweat dripping everywhere. And as mentioned online, "how to template" responds: keep trimming cardboard, curse, trim, swear, trim and after eight hours your template will almost but not entirely be what you need. That sums it up. Final "cuts" were sanded to get better angles and we have a good template. Off to get a quote. Geesh, the wind is making it into a bit of a wonky sail that requires some wrangling on the walk over to Monroe Glass.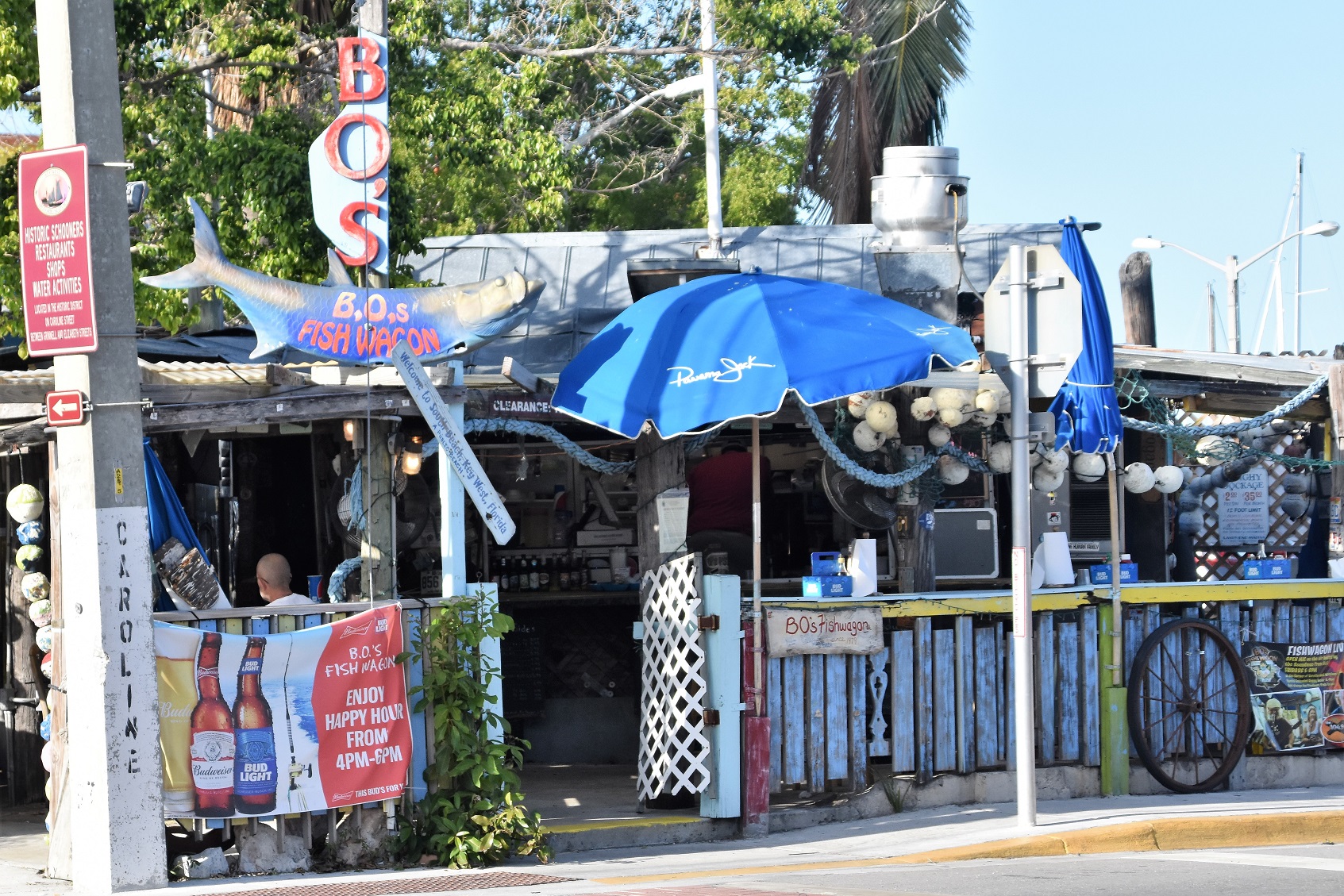 Hooray – the windlass wiring is complete and it is onto painting…tomorrow. Gulp. That is a new skill for Chris but he has researched and chatted with lots of folks. During walks around town we learned that there's some live music at the Green Parrot tonight (Jan 31). Burgers and handmade onion rings came first at B.O.'s Fish Wagon because the only food at the Green Parrot is popcorn. Key West is one of the few places we have been where many culinary stars for a restaurant do not automatically mean many dollar signs. B.O.'s Fish Wagon is a perfect example; three stars and one dollar sign.
Onto the Green Parrot just a short stroll away (https://www.greenparrot.com/). In 1890 it was a grocery store incarnated later as a bar even later as a Navy hangout bar and today it is an icon. The Parrot's rep was formed one night at a time as revelers spilled out onto the sidewalk. There is live music, energetic dancing and "no snivelling." Patrons are hippies, sailors and travelers. On the night of our visit the music started at 5.30pm to a packed crowd. In front of the band danced a woman in a Marilyn Monroe-esque white dress from her dress-blow-up-over-the-subway-vent scene in The Seven Year Itch. The dancer rocked as she likely did at Woodstock, Studio 54 and the Troubador. The rest of us swayed on our barstools or leaning against the wall below a ceiling draped in a parachute strewn with green twinkle lights. And we smiled a bit every time a woman entered the ladies' restroom. You see the restroom door is practically ON the stage. Honest, if the door swings too wide it will, quite literally, whack a band member's ass. It is clear to see that every patron has a story – what a wonderful menagerie it is.
Chris is onto the painting stage of the deck windlass project. This painting thing is new for him but eventually research has to stop and he has to dive in (Feb 1). The actual painting was three coats spaced 30 minutes apart. The prep was done and very quickly the painting was done. Eek but there is a single hair from the paint brush left behind in the paint (both a roller and paint brush are used to minimize bubbles). I scampered for a toothpick which excised the errant hair. Okay, let's get off the boat and away from the toxic paint fumes. It was a nice afternoon with a visit to the gym followed by live music at Schooners's Wharf. Back aboard Barefeet it was meatloaf and mashed potatoes for dinner (recipe below). That really hit the spot!
Holy guacamole – the paint reveal showed marvelous success! The sun was barely up but we had to look – oh, the deck looks really awesome. The paint will harden thoroughly over the next few days before the new windlass is placed on top. Yippee! The sun got brighter as we drank our coffee and who is that?! Hey, it's s/v Obsession back from Cuba! Well done guys. The rest of the day proceeded with a mellow tone. I picked up some shorts that were altered by Lynn at the Seam Shoppe (http://www.tropicalfabricsonline.com/), saw more Key West creativity and renewed online our US Coast Guard and state boat registrations. Chris feels like he has his life back with the windlass project (almost) behind him. So we jumped in the dinghy for an afternoon zip to check out the mooring field and anchorage. Strong winds make it a pretty exposed spot – we're happy at the docks.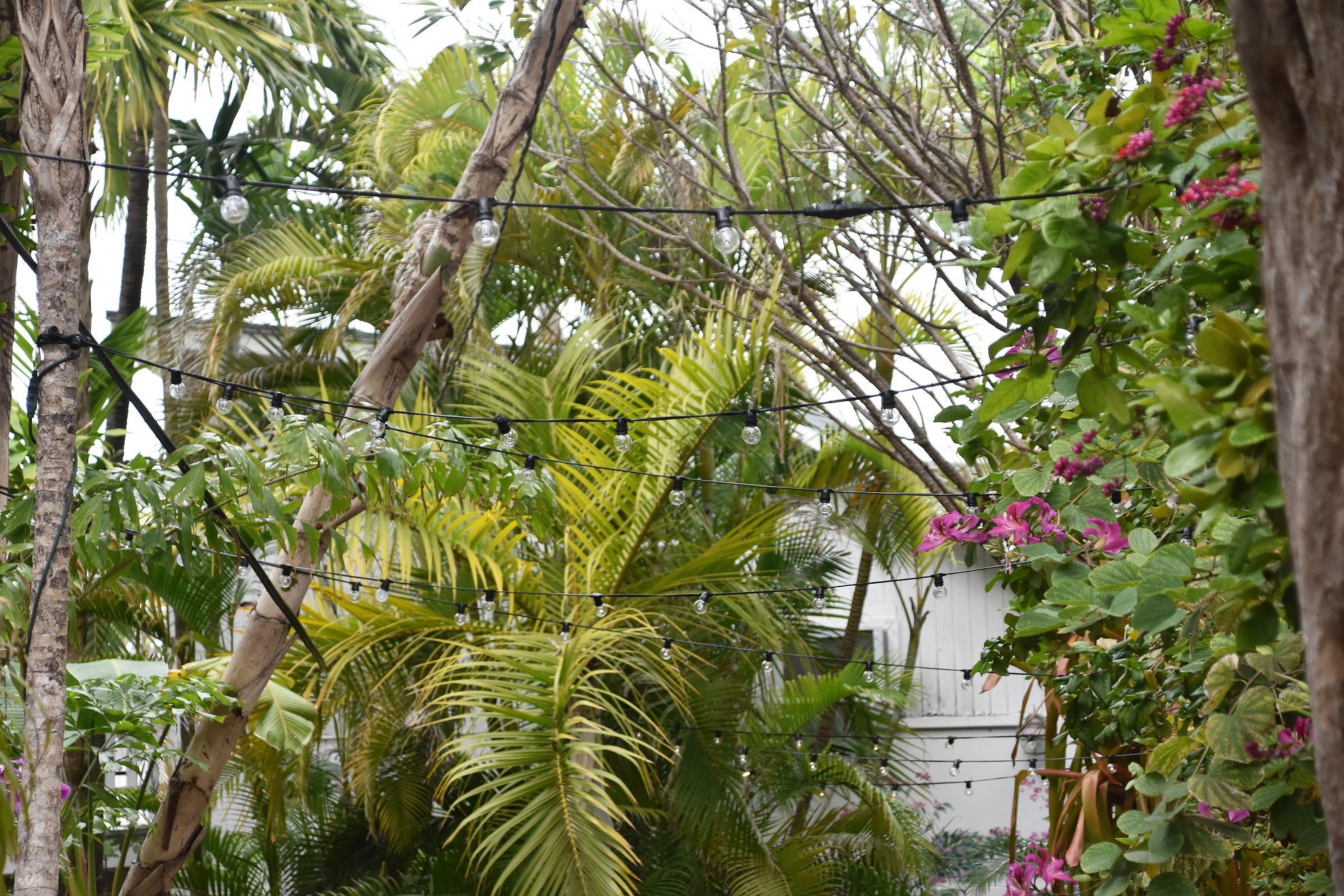 The day started out gently and with my hopes of no longer living in a tool shed (Feb 3). But things started to go south at Noon when Duke lost to unranked St Johns…ggrrr. That said, misery loves company and it seems that it was a bad day for ranked teams in general; Duke, Kansas and Kentucky all suffered upset losses within hours of each other. The last time this happened? Sports commentators scrambled to find out…oh, it was when 50 Cent's 'Candy Shop' topped the Billboard charts, the iPhone didn't exist yet and Britney Spears and Kevin Federline were America's most discussed celebrity couple. Tee, hee, hee – March Madness should be as interesting as ever. I walked to Fausto's supermarket for a few items with the (continued) misguided hope that the boat would no longer look like a tool shed when I returned. Nope and drat. Chris attacked the stern lazarette which meant all contents were vomited around the decks. Scrubbing, starboard bilge and scupper hose replacement and a trip to Strunk Ace Hardware filled the afternoon and delayed sundowners until after dark. Let's hope today's bad karma is left behind for the Superbowl tomorrow. Go Pats!!
"Erin, I have cornered and trapped a frog but you need to help get him off the boat," Chris whispered. Hhhmmm…not quite the wake up I expected in the pre-dawn hours. And not sure where this little guy came from but he was suction-cupped to the wall before being escorted to a nearby bush (without roosters in residence). Pancakes and coffee were a nice recovery. Back to the stern lazarette after a trip to West Marine. Plastic wire ties were snipped but the starboard hose would just not budge. Ah, there is one more wire tie behind the air conditioner (blind cutting with a knife removed it). Chris fed pristine, white PVC tubing while I yanked cracked, old, black rubber hosing. Hose replacement is very rewarding. Unfortunately, our rewarding day ended there because not even my Key West Pats bracelet bling could bring enough good karma to the Pats. We lost the Super Bowl. But I love my fish hook bracelet – thanks Jane (https://www.etsy.com/shop/HookedOnKeyWest)!
Sunrise was beautiful this morning with apricot and orange splashes of color behind the black silhouettes of palm trees (2/5). I checked in on the cut plastics quote…in progress…and the day trips to Havanna…not running yet. So my day didn't feel very productive despite my trips around town. Yikes – and what did I do to get such a colorful bruise on my right big toe?! I don't remember that happening…just another boat bite. But Chris had a banner day – the windlass is installed and running! We are back to a fully functioning cruising boat. Wow – it looks like it has been there all along; grinding, sanding, fiberglassing, painting, wiring – they were all a success. Let's celebrate at Schooner's Wharf – tuna nachos here we come. Cheers to Chris!
Barefeet seems to be a bit of wildlife central. This morning we woke up to find a tiny, scuttling crab outside on the back deck (2/6). He was also released to the wilds (like the frog). Chris completed such an amazing project with the windlass that I wanted to give him a present. And what sounds good for someone who has spent the last few weeks jammed in a tiny hole in contorted positions?! A massage, of course (http://mobilemassagekeywest.com/). Chris returned feeling loose as a goose and much improved. But try as he might he could not stay away from boat projects. Chris dusted off the water maker and all is in order and making sweet water. For dinner I went back to the Florida Keys Commercial Fisherman's Association Cookbook for red snapper parmesan. Okay, the Half Shell Raw Bar's fish market was sold out of red so our dinner was yellowtail snapper parmesan. It was a breeze and cooked up moist and tender (recipe below). But just-in-case this new recipe tanked I made a favorite side, too, that is an amazing explosion of flavors - roasted potatoes with garlic, orange and mustard (recipe below).
Our boat projects have slacked off with fewer hours than sunrise to sunset - phew. However, they keep coming and our day starts early enough that Harpoon Harry's is the only breakfast place open…but that is not a hardship because it's across the street and their breakfast sandwich is awesome (2/7). Remember the burst hose line from the washing machine that happened back in Stuart? Well, that project is on-deck. Neighbor Ron helped Chris shimey the washing machine to the floor and it is time for hose replacement. Some parts are nearby but others will have to be ordered. We'll slink past until all can be gathered and installed. And while that area is opened up Chris will change out even more old, cracked black rubber hoses for the pristine, plastic white ones…bilge hose and master shower sump hose. Did we mention how rewarding hose replacement is?! Plus, we used a little trick we learned from a pro that is a lubrication for more easily sliding hoses and wires in SMALL spaces – Premium Synthetic Clear from Klein Tools.
I have also been entering the project game with cutting of dri-deck to fit the floor of the stern lazarette. This lazarette seemed to bear the brunt of the hurricane exposure getting soaked with water and leaves. The old mats were chucked, compartment cleaned & dried, Chris replaced hoses and I'm adding the final step with a layer of dri-deck which keeps all that is on the floor raised above water that passes through. Dinghy fuel jerry cans were re-filled and stowed. It is great to get everything back into the lazarette (and out of sight/underfoot). Both of our hands were scratched and blistered but that did not stop our evening; dinner at El Siboney and live music at the Green Parrot. El Siboney is a Cuban food institution and we can see (and taste) why (http://www.elsiboneyrestaurant.com/); half of a roasted chicken, a Cuban sandwich and rice and beans were plentiful and reasonably priced. This is a definite repeat and the perfect fuel for the Parrot. Our walks to these locations had us strolling in quiet neighborhoods with many folks sitting on porches wishing us a good evening.
Yesterday was a full throttle work day with today cleaning up the edges (2/8). I picked up the upper helm plastic cover from Monroe Glass and it fits like a dream. Yippee! Chris says I am two for two with boat projects. Nice…but do I really want to be "too" good at boat projects?! Speaking of boat projects – the marina has projects of its own replacing pilings. Check out the enormous work barge hovering nearby…and by nearby…I mean we could pass the Grey Poupon between us.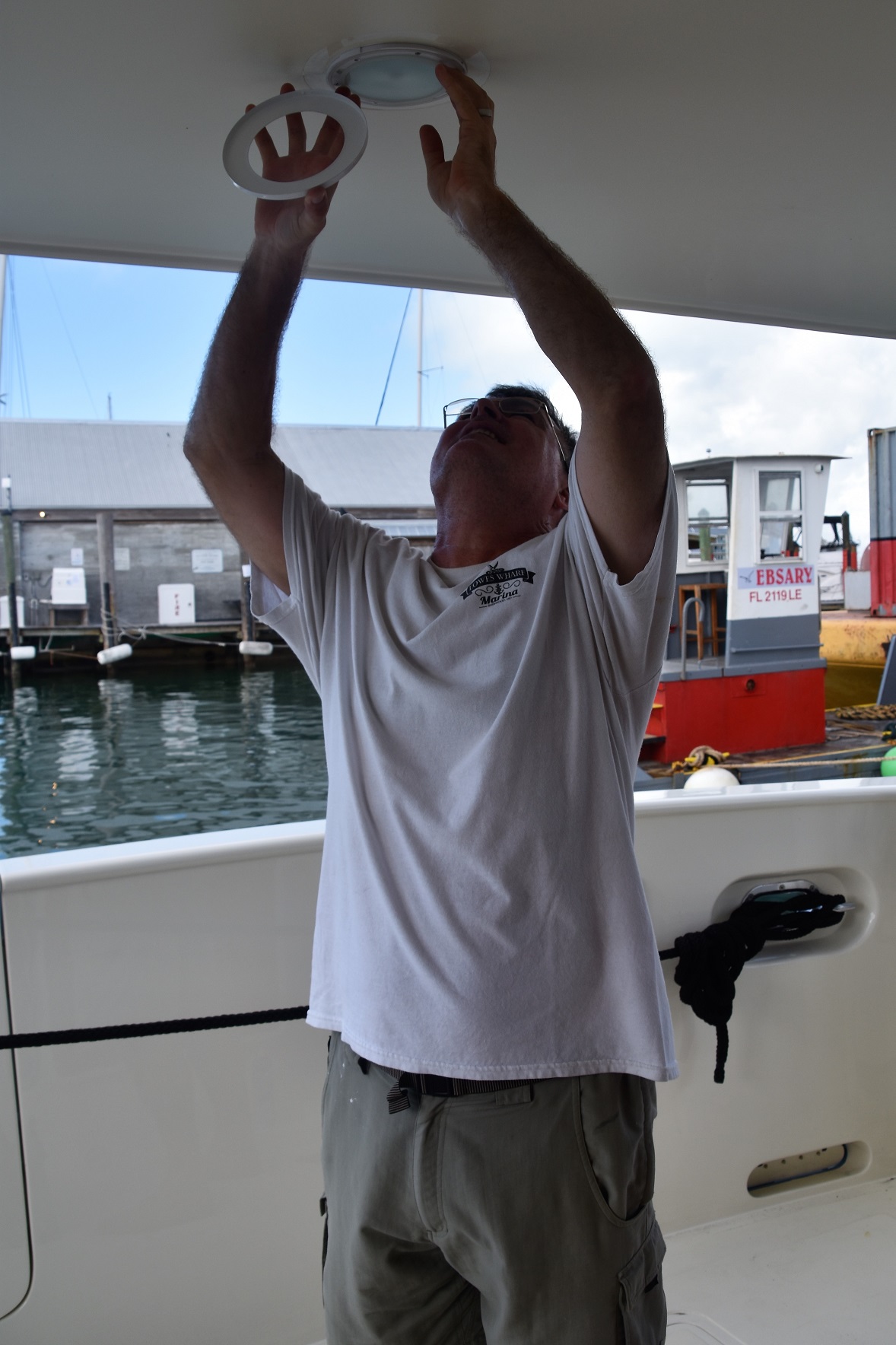 Chris is on a roll as he installed seven exterior light covers. This has been an odyssey not worthy of documenting other than that our two year untidy, open holes will be pretty, covered and functioning ASAP…but make no mistake - Imtra is VERY proud of their lights (as reflected in their pricing). It was my third trip to Cubanitos Marine Hardware before Noon – cleaning up the edges involves many bits and bobs. Nervously, we switched on the power and – behold – all seven lights illuminated. Wow!
This whirlwind of boat projects for us has followed the lead of Mother Nature and her honking winds. Our projects have needed parts and a few resources but, primarily, it has been our own labor and sweat…which helps to keep our budget in line. The winds are lightening which also has us eyeing a slowdown in work projects but it is not easy for us to slow down with a marine hardware store next door and a solid dock for stability. But we will try. There is so much fun to see and do and eat in Key West! We are inspired. And I think we need a disco ball for our guest bathroom at home. Why not?!
Snapper with Coconut Sauce (serves 4)
Florida Keys Commercial Fisherman's Association Cookbook
Josh Niklaus, Captain R&R Key West
4 large snapper filets
1 lime, juiced
2 Tablespoons olive oil
3 teaspoons garlic, minced
1 medium onion, sliced julienne style
1 stalk celery, sliced julienne style
1 Tablespoon tomato paste
2 cans coconut milk
1 chicken boullion cube
2 bay leaves
1 tomato, seeded and sliced julienne style
2 cups cooked white rice
Cook rice according to directions. Sprinkle fillets with lime juice. In a large, deep skillet, heat oil on medium. Stir in garlic, onion and celery and cook for 10 minutes, stirring often. Stir in tomato paste and cook 2 minutes. Stir in coconut milk, boullion and bay leaves. Bring to a boil and simmer on low for 10 minutes, stirring occasionally. Stir in tomato slices. Add fillets, gently pushing them into the sauce. Simmer for 5 minutes or until fish is cooked and flakes easily with a fork. Place cooked rice on a plate with fish fillets on top. Ladle sauce over fillets and serve.
Old Fashioned Meatloaf (serves 4) by Paula Deen
1 lb ground beef
1 green pepper, chopped
1 egg, lightly beaten
1 onion, chopped
2 cloves garlic, minced
1 ¼ teaspoon salt
¼ teaspoon black pepper
1.5 teaspoons Worcestershire souce
½ cup quick cook oats
8 oz canned diced tomatoes, drained
Topping
1/3 cup ketchup
2 Tablespoons brown sugar
1 Tablespoon mustard (hot dog type)
Preheat oven to 375F. Saute onions and bell pepper until soft. Add garlic and saute two minutes more. Set aside. Mix all meatloaf ingredients well (including sautéed veggies). Place in baking dish and shape into a loaf. Mix topping ingredients and evenly spread on top of loaf. Bake for one hour. Let rest 15 minutes before cutting into it so that it holds together.
Red Snapper Parmesan (serves 6)
Florida Keys Commercial Fisherman's Association Cookbook
Bill Prevost, Big Pine Key
2lbs red snapper fillets
1 cup sour cream
¼ cup parmesan cheese, grated
1 Tablespoon fresh squeezed lemon juice
1 Tablespoon grated onion
Dash of hot pepper sauce
Paprika
Preheat oven to 350 degrees F. Thaw and skin the fillets if necessary. Cut into serving size portions. Place in a single layer in a well-greased 12x8 baking dish. Combine remaining ingredients except paprika. Spread sour cream mixture over the fish and sprinkle with paprika. Bake for 25 to 30 minutes or until fish flakes easily with a fork.
Roasted Potatoes with Garlic, Orange and Mustard (serves 4-6)
Aglaia Kremezi
2/3 cup olive oil
4 to 6 cloves garlic, minced
2 Tablespoons Dijon mustard
1.5 Tablespoons dried oregano or thyme, crumbled
1.5 teaspoons salt, or more to taste
2 teaspoons Maras pepper or a good pinch of crushed red pepper flakes
1 teaspoon ground cumin
1 teaspoon ground turmeric
2 Tablespoons fresh lemon juice
½ to 1 cup fresh orange juice, as needed
3 lbs potatoes, peeled and cut into 1.5" cubes
2 oranges, washed, halved and cut into thick slices
3 teaspoons chopped fresh oregano and/or 5 fresh thyme sprigs
Preheat oven to 400 degrees F. In a food processor or blender combine olive oil, garlic, mustard, dried oregano, salt, maras pepper, cumin, turmeric, lemon juice and ½ cup orange juice. Pulse to get a thick sauce. Place the potatoes and orange slices in a single layer in a 13x9" baking dish and pour the sauce over them. With two spatulas (or your hands), toss well to generously coat the pieces. Cover loosely with parchment paper and bake in the lower part of the oven for 40 minutes. Take out of the oven, uncover and toss. The potatoes should be bubbly and easily pierce with a fork. Taste and adjust the seasoning. If the pan is dry, add a bit more orange juice and toss. Bake, uncovered, for 20 minutes more, or until the potatoes are cooked through with nicely browned edges. Sprinkle with oregano/thyme and serve at once.