Work Before Play: January 20 2017
Thanksgiving and Christmas are behind us and things feel on fast-forward. We packed up the holiday decorations, cleared out the leftovers in the fridge, watered our window succulents and closed up our apartment in Boston in order to return to Barefeet at Brunswick Landing Marina on December 29. Arrival at the Jacksonville airport made it clear that we were in a new latitude. Check out the swimming turtle with the stocking cap beside the baggage claim carrousel?! Rather than rush back to the boat we decided to have an "ignorance is bliss" dinner at Tipsy McSway's before stepping aboard the boat. Waitress April remembered us from October and we cheerfully compared notes about the holidays. Yippee – back at the dock and Barefeet was still floating! This was not a shock but there is always a smidge of unknown that is unavoidable.
Holy cow – we really did sort things out before we left in October. A bit of provisioning and we are ready to head south toward our haul-out date of January 16 in Fort Lauderdale…which gave us plenty of time to catch up with globe girdling cruisers Liam and Annie (s/v Gone with the Wind). It is always comfortable and familiar with these guys as we catch up; a three week power boat charter in Alaska for them and New England cruising for us.
Happy New Year!! It is 2017!! And it is a sports tri-fecta for us. We only follow three sports teams and they are all playing this weekend – Duke's men's basketball, USC football (in the Rose Bowl) and New England Patriots football. Okay, we got two out of three wins and that was great (better luck next time Duke).

Provisioning was quick with a need for only two weeks of dining aboard; including some pulled pork from Southern Soul BBQ stored in the freezer for quick meals later on (http://www.southernsoulbbq.com/). We tossed our lines and waved goodbye to Liam and Annie and we were off (Jan 3). See you guys down south or across the Gulf Stream in the Bahamas. Cumberland Island passed with views of wild horses ashore and dolphins playing in the bow. We were making good time so we chose to keep going beyond our initial anchor spot to anchor further south in South Amelia River. It was a calm spot and perfect for a celebratory first-night-on-the-hook dinner of grilled steaks, baked potatoes and peas.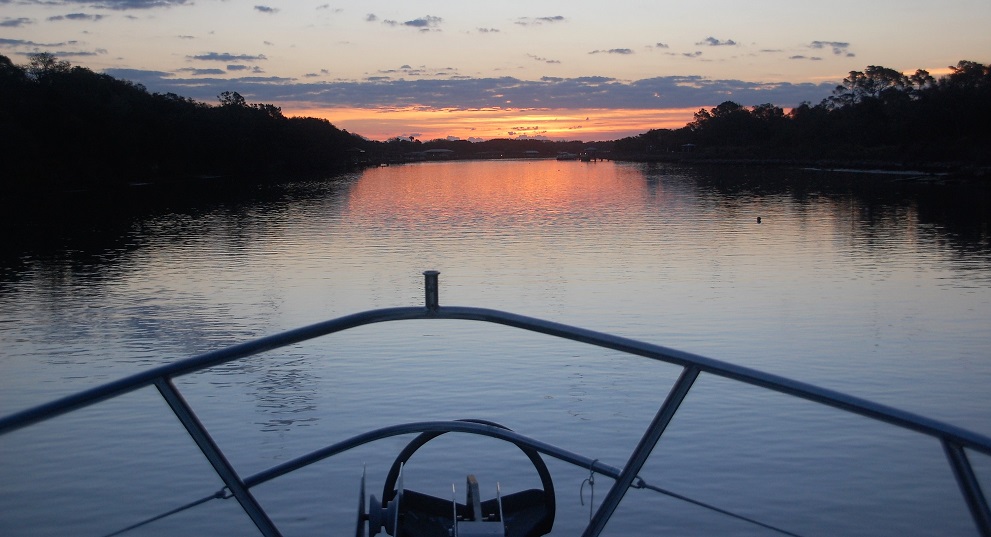 One more weather check confirmed rough conditions offshore which means staying inside along the ICW is our best choice for now…and guarantees sleeping every night without a night watch schedule. We have been making more miles than expected each day which has us nicely on schedule. Last night we arrived as the sun went down, had dinner aboard, slept and departed as soon as the sun came up. Oh, and caught the fantastic Duke win over Georgia Tech (streamed on the laptop). Calm conditions continued inside as we departed Hammock Beach Marina just as the sun was coming up (Jan 4).
A shift in the weather has us focused on a dock slip in Melbourne in two days in order to wait out strong winds and thunderstorms that are pushing inland. However, for tonight we anchored in Mosquito Lagoon just north of Cape Canaveral (no launch tonight). Today, we have again seen countless dolphins and several manatees along the waterway. Boy, sailors must have been at sea for a looonng time to think these dawdling slugs looked like an alluring mermaid. Poor devils! We were the only boat anchored as Chris whipped up a chicken stir-fry for dinner (Jan 5). Soy sauce and Thai sweet chili sauce are all that is needed beyond chicken and veggies of choice atop steamed rice. Voila - quick and delicious! The day ended quietly and we were treated to an unbelievable night sky. The stars were so bright in the clear, black sky that it felt like we could reach out and grab them. Stunning!
The departure from Mosquito Lagoon was magical as layers of fog draped over palm trees and shoreline – lingering just a moment before the heat of the sun cleared the air. Our motor from Mosquito Lagoon to Melbourne had us passing through Haul-Over Canal (Jan 6). We were treated to a wonderland of critters along the shoreline; kingfisher, osprey and pelicans congregated so close to NASA. It was a real ying and yang, nature and technology. It feels good to be back on the water.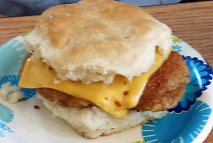 Research and reservations came together and we were very lucky – the wind howled and the rain poured on Saturday (1/7) but we did not miss a beat tied up snug at Eau Gallie Yacht Basin (587 Young Street in Melbourne, FL). We walked into town for a biscuit breakfast before the rain (https://www.yelp.com/biz/oh-biscuit-melbourne-2); did a couple of boat projects – 1) installed a fan in the master cabin & 2) sorted out engine exhaust fans (which had Erin squeezed into a corner tighter than a Butterball turkey in its wrapper); plus two trips to the hardware store. But it was not all work because circumnavigator buddies Tom and Suzie (s/v Priscilla) live nearby and we met both nights for dinner. Quirky Steagles pub is for home sick Pennsylvania folks…hence the combo name of Steelers and Eagles (http://steaglespub.com/). Steagles has great Philly cheese steaks and server Veronica could not have made us feel more welcome. Tom and Suzie are doing great and it is so much fun to share stories and tell lies with these two.
Our leisurely cruising has felt more like a scheduled delivery but it has paid off because we have secured a haul-out five days ahead of schedule. Our remaining ports before Fort Lauderdale continued at a more modest pace because it was blowing like stink and we needed to pick our nightly anchor spots with added precision. Causeway Island at Fort Pierce provided smooth water while the wind howled overhead and repeatedly strained the anchor chain (1/8). It was just us and one other boat who both bobbed and weaved and hunt ed at anchor throughout the night. Next up was Lake Worth in the Palm Beach area of Florida (1/9). This anchorage is a nice cruiser hang out while waiting for a weather window to hop across to the Bahamas. There is a Publix supermarket and a Duffy's sports bar within easy dinghy distance but tonight we stayed aboard due to continued strong winds. Well, if we cannot bring ourselves to the pub we will bring the pub to us. It was a cozy dinner of cheese fries dipped in sour cream/Thai sweet chili sauce on the top deck. Cheers!
Lake Worth was followed by Lake Boca (1/10). It was fewer miles than usual but it felt like a lot due to so many bridges. The multiple, short bridges (usually less than 15 feet) require added waiting as most bridges open on a schedule…every thirty minutes on the half-hour, every thirty minutes on the quarter hour…you get the picture. However, an anchor beer and some dinner via dinghy at the Two Georges Waterfront Restaurant at The Cove made it all worth it (http://www.twogeorgesrestaurant.com/). Holy cow – there were swimming iguanas crossing the ICW from bridge base to bridge base for a spot in the sun. Crazy critters?! Who knew iguanas could swim?! The dinghy ride home sparkled as daylight darkened and interior lights and chandeliers were illuminated. Wow! This is one of the wealthiest neighborhoods in the country and we can see straight into the jewelery box interiors from our drive home through the streets of water.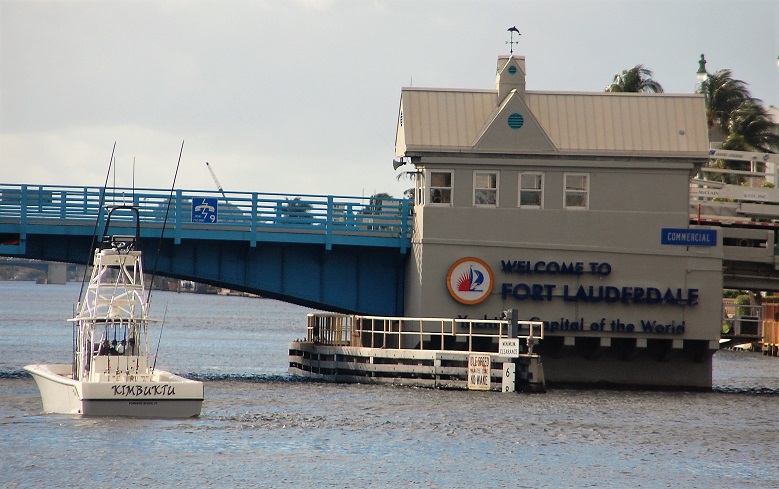 Here we are – ready for our haul-out. Our arrival at Lauderdale Marine Center took the tide into account so that we had as little current as possible getting up the New River (1/11). Sadly, slack conditions did not last long enough for Chris' maneuvering into the slings…minus bow thrusters (that had worn themselves out getting up the river). Needless to say, there was A LOT of adrenaline flowing but no paint was lost. Well done, Chris!! Being back at LMC was like coming home. We visited with friends at the LMC offices and at Luu Marine. We are in good hands as we simply tidy up the edges of massive jobs the last time we were here. Our last stay was seven months but this time it will be more like two weeks. Our projects are smaller in scope than ever before but Ft Lauderdale is a boating mecca in all commercial ways which means it is a good idea to bundle jobs together and get them done now. Our early arrival should guarantee that we are back down the New River before Feb 11 when the river will be closed until Feb 23 for maintenance on the railroad bridge. Sheesh – there is always something new to account for.

The boat and yard is a beehive of activity during the day and quiet at night. Okay, we are living on the boat while she sits on a parking lot but it is all good. The boat is high up off the ground on supports so we take a 14 step ladder/stairs on and off. It is a secure ladder so I am only a little nervous with each entry and exit. For meals we are returning to familiar nearby eateries because we cannot cook while "on the hard" otherwise, the pipes would all empty onto the pavement. Icky! And we trot nearby to showers at the marina facilities toting our shower caddies (college dorm memories flood back to mind).
Projects are moving along well with Chris directing activities on the boat while I scurry around town tracking things down to keep parts supplied. Yesterday, I had success in the replacement of two throttles for our upstairs steering (old ones were badly pimpled and corroded on pot metal which is not a good recipient of plating). Yippee – perseverance paid off after two plating shops, one boater store, a marine warehouse and half a day of time later. But the job is done and crossed off the list. And it's Friday so we joined in the free hot dogs and beer party at the chandlery (1/13). Everyone was dirty and sweaty after a day of boat work but it was a lot of fun. Golf carts parked three deep and hot dogs flew from the tables faster than…well…free food after a hard day of physical work at the end of a long week.
The weekend is a quieter time in the yard with most contractors closed down. We took this opportunity for extended time away from the boat and went for a walk at Dania Beach (1/14). The wind blew and the skies were grey but it felt good to stretch our legs. There were tankers lined up offshore but the exiting fishing boats had our sympathies – no fun today. Looking at the high tide line made us glad that we were wearing sneakers because there were tons of Portuguese man o'war jellyfish-esque critters. Yikes – these guys have nasty tentacles that can pack a painful (and even fatal) sting accompanied by welts.
Our projects continue but it usually takes about three days to wrap up any one task which feels like slow progress. However, at the end of each day we see that we are further along than we were in the morning. The gas spring under the stairs was tracked down and replaced, the anchor roller was further modified for smoother anchor drop/retrieval (thanks Ronnie at Luu Marine), anchor was out to be galvanized, EPIRB was replaced and registered with the Coast Guard, SIM card for the Bahamas arrived, purchased new dock lines with spliced eyes (thanks Charlie at West Marine), boat radio station registration was renewed with the FCC, sun shades for the top deck (thanks Enclosures Unlimited), strengthened bow wave breaks (thanks Luu Marine), bottom paint (also Luu Marine), replacement of final two diesel lines (thanks CS Systems), grease the windlass, zinc replacements…and on we go. At the end of the day we shower and skedaddle away from the 7am – 7pm grinding and fumes and sanding and motors that are a constant reminder that we are in an industrial complex and the largest boat yard in the United States. Jimbo's Sandbar transported us to a waterfront tiki bar with live music (1/17). We felt miles away from the boat yard as we nibbled ahi tuna nachos and sipped tropical drinks (http://jimbossandbar.com/).
Tasks "in process" tend to take some crazy turns. Over the years we have heard some wacky stories about galvanizing in third world countries…anchor chains are sent off to a galvanizing shop only to be returned cut into smaller pieces because it was easier for the galvanizer (gulp) or power is lost during galvanization which means all items in the galvanizing bath are now a solid cube of metal…not to be heated again until el Jeffe agrees with el Politico (double gulp). We were hopeful for our process in the US of A at the one galvanizing shop in the Miami area. I swapped emails, sent photos of the anchor and we were off to deliver the anchor at 7am on Monday morning. Hey, the anchor fits in the trunk of the rental car – excellent. The galvanizer was in a concrete, industrial neighborhood full of warehouses, fleets of semi-truck trailers and offices with decor that had been in continuous use since the 1970s. Aymee was efficient and friendly while processing paperwork and informing me to check back with her on Wednesday morning. So far so good. I called back Wednesday morning to check on the status and received a response which I had not anticipated and left me speechless…we have no power so please call back in the afternoon. My mind did a loop-de-loop as I pieced the words together (my own gulp). Let's see what happens in the afternoon. Phew – the afternoon brought a thumbs-up response so off I went to bring the anchor home…dressed in her new, glittering and sparkling silver dress.
We continue with projects and can definitely see the light at the end of the tunnel.