Our Fluid Schedule Sloshes: April 10 2017
The weather forecast is at it again – yep, wind. This time - fairly quick and not arriving for a few days but the cruisers are already strategizing and planning itineraries. Some are headed to other anchorages, some are headed to marinas, and yet others are parking the boat and heading home for a week or two…everyone is different. As for us - we will stay put because we have friends arriving into Staniel Cay. In the meantime, we did a drift snorkel through the pass between Fowl Cay and Big Majors and generally got out and about like everyone else on the calm day (3/21). The drift snorkel was fun and really shot us through the pass so it was nice to be holding onto the dinghy. Small errands snuck in like a bit of food shopping at the Blue Store as well as dropping off the propane tank for a fill at Isles General Store. It is easy to dinghy around with flat water.
Staniel Cay Yacht Club is the hub of activity on this small island. The island is as interesting for what it does not have as for what it does have: no for ATMs or phones…yes for a medical clinic with a nurse in residence, a couple of small stores (think 7Eleven type) and endless vistas of water that must be seen to be believed. The Yacht Club is a bit of community center and celebration point with burgers and beer in a laid back bar, wifi on the porch and a fish cleaning station that attracts sharks…and the sharks attract two legged creatures; go pro camera wearing teens, bikini clad females and even small children. It seems the posted sign does nothing to deter the vacationers from jumping into the shark's food dish and splashing around. No thanks! As far as we know – no one has been lost…but the future of our species may be in question (tee, hee, hee).
Today's the day! Friends Lino and Phyllis arrived into the airport right on time via Watermaker's Air (3/23). Okay, "airport" is a bit grandiose. It is really more of a gazebo beside a long strip of pavement. Welcome back! Not much has changed since their last visit two years ago but we hit the ground running and quickly changed into beach attire for an afternoon on the sand bar near the former Sampson Cay Marina (now a private club owned by a sole individual). We wanted to start their trip off with some fun in the sun because the winds would arrive the next day which will keep us boat bound.
As the winds geared up we took it easy, read and caught up on goings on in eachothers lives over the past couple of months. The day slid by nicely. Oh, it's four…it's time to pour. Dinner was a bit of grazing on kielbasa bites, hot artichoke cheese dip and pineapple chunks.
Overnight, the winds lightened enough for us to do a bit of snorkeling off the beach (3/25). Plus, we checked out the swimming pigs. There has been a bit of drama recently because several pigs died all on the same day which has resulted in a few changes…like depositing food into a bucket ashore and a shade gazebo for pig "safety." The swimming pigs have been a tourist attraction for decades but more recent popularity has seen the number of visitors positively explode. The pig beach is a non-stop parade of boats that come to see and feed these aqua swine. As for me - I think something is afoot on the human side regarding the pig deaths...more likely a result of Bahamian human fiefdoms rather than anything else because the pig habits have not changed in years...so their mortality rate should not change either.
Wow - there are a lot of pigs. Their population seems to be exploding, too. Unfortunately, the pigs were a bit of a let down. They are getting quite lazy in their largess of multiple food deliveries each day. And since the food is in a bucket placed away from the water they are loathe to swim for food...bastards. But I gotta say...my opinion is that pigs walking on the beach are not the same thing as pigs swimming...not sure how this will all shake out. I decided to flaunt the system and threw potato peels to the oinkers from the dinghy. This sorta worked to get 'em swimming and I got a photo that LOOKS like a pig is swimming. Oh well, it still remains a spectacle…and draws even a sea plane for a visit. Holy cow?!
Another must-see in the area is a snorkel into Thunderball Grotto. This spot has been popular with Hollywood and pops up in several movies: in 1965's James Bond's "Thunderball" as well as 1984's mermaid Darryl Hannah in "Splash" (Tom Hanks was in the movie, too) and "Into the Blue" with Jessica Alba and Chris Walker in 2005. There are loads of colorful fish and beautiful coral to see as you snorkel into a cave-like room with light shining in from way above the water's surface through the cave. It is easiest to enter at slack low tide so that is when we arrived…along with everyone else. We anchored the dinghy outside the cave entrance, donned our flippers and masks and were off (3/26). This sight did not disappoint. Not yet done with the water we returned to Barefeet for a bit more swimming and jumping off the boat before dinner aboard. Tonight was Korean ginger marinated bulgogi style chicken on the grill (recipe below), steamed rice and pickled cucumbers.
As hoped for – the winds mellowed even further which meant we could move the big boat to Cambridge Cay - just a short 2-hour motor north (3/27). It was fun to share this gorgeous National Park anchorage with Lino and Phyllis because arriving by cruising boat is the only way to visit overnight. Stunning! We walked the ridge, snorkeled the aquarium and had a beach day on the sand bar with snacks and cold beers. After dinner we were watching the stars come out as m/v Theodore made an announcement to the anchorage on VHF 16…keep an eye in the sky for the space station that will pass overhead. Wow – it moved quickly - that was cool!
Good morning! In order to fuel up for our walks Chris started our day with a tower of pancakes. Yum! Our beach walks did not find many shells and zero sea beans; however, there were plenty of sponges and sea fans. The washed ashore items often created their own artful arrangements at the tide line.
While having cocktails before dinner fellow cruisers Jack and Judy stopped by for a chat. Jack and Judy of s/v Regalita are from Idaho but are loving their current time in the Bahamas after completing the Great Loop. Well done! Jack mentioned that it is possible to see the Southern Cross constellation just at the edge of the horizon at 2am. Get out of town – really?! We are not usually awake at that time but we set an alarm in order to catch the constellation (3/28). Wow – a wonderful sight and well worth the o'dark 30 viewing time.
The next day we headed back to Big Majors anchorage in order to stage for Lino and Phyllis' departure (3/29). We had burgers and rum drinks at the Yacht Club, wandered the island, surveyed the boats on the docks and were generally mellow and lazy. Lino was the real adventurer as he tried a cocktail that none of us were brave enough to try…a peanut colada. Hhhuuuhhh?! It simply does not sound appealing in any way, shape or form. Okay, but when described as a frozen snickers bar I was intrigued enough to try a small hummingbird sized sip. It was alright but I'll stick with my coconut rum. Before we knew it the visit was over and Lino and Phyllis were headed back to Boston where a storm of wintery mix conditions would greet them. Bbbrrr! See ya when we are back to Boston later in the Spring (after the storms wrap themselves up, we hope).
We returned from the airport to Barefeet with rolly conditions due to a wind shift. Time to plan our next move. Next stop – Andros. This would be a new Bahamian island for us. New places are exciting but there is also a tinge of unknown which gets my nerves a bit unsettled. Through word of mouth we have been told to visit Andros; the immigration officer in Nassau (who is from there), the dive master in Georgetown (who is from there) and a handful gushing and exuberant cruisers. However, the cruising guides and blogs are pretty thin when discussing the area which has us playing it by ear and leaving our itinerary even more fluid than usual. We moved 10 hours with departure at the earliest point of sunrise twilight (6.15am) in order to arrive in the last bits of daylight. Our path exited Staniel Cay across the shallow Bahama Bank via the Decca Channel into the deep Tongue of the Ocean to anchor in Middle Bight of Andros (4/1). Yikes – the anchoring was tricky due to shallow depths, varied holding in grass/sand and a swift current. Needless to say – it took us a couple of tries. Chris conveyed urgency through tone and I did not even get mad (that was a first…and an indication of the stress of the operation). The hook eventually set and we prepared for a pizza dinner. Very quickly we realized that the Middle Bight area being described as "buggy" was a vast understatement; however, the five exclamation marks should be taken seriously. We closed all windows and doors and fast. Barefeet soon became a sauna which had us turning on the air conditioner while running the generator. Gosh – we NEVER do that. But giant green flies, no-see-ums and mosquitoes were all clammering to get inside. When it was dark (and bug free) we ventured outside with a flashlight to peer into the wondrously clear water (clear even by Bahamas standards). The ground did not look so scary now which made us feel better. Hello! Who are you? There was a large 3-foot+ fish guarding our anchor. Thanks fella. We are not sure what type he was but maybe a cobia.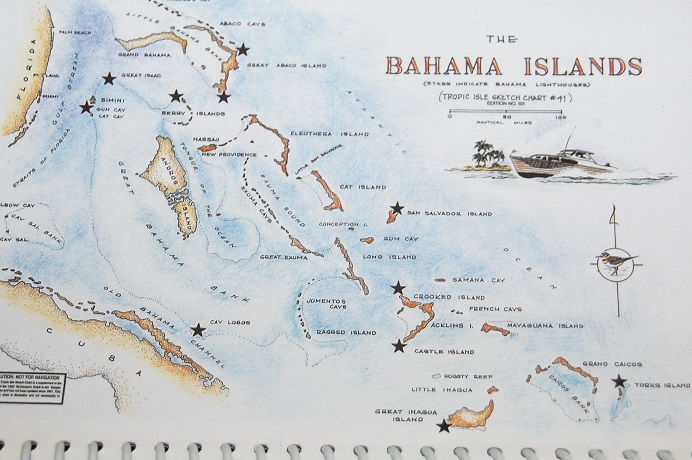 Andros Island is northwest of the Exumas, west of New Providence (Nassau) and southwest of the Berry Islands. It is by far the largest island in the Bahamas group at 2,300 square miles; however, the population is modest at 8,000 people. IN a nutshell: most of the island is water consisting of creeks and shoal inlets, land is covered in forests of pine and hard woods as well as farms (many worked by Menonites), bird life and insects are more prolific than other islands, deep blue holes dot the waters, it is the bonefishing capital of the world and paralleling the island's east coast is one of the largest barrier reefs in the world (over 140 miles in length). We want to see more but these biting bugs are again the protectors of paradise and require a strategy…slosh goes our fluid itinerary.
We will move north to Morgan's Bluff anchorage (yes, as in the celebrated pirate) in the hopes of better options to get to shore and explore the island. It was a gentle ride but again a long day of motoring (4/2). Also, it again took a few tries to get the anchor to set. As the water cleared it might have finally stuck because it looks like we snagged a sunken boat. Gulp. Well, the sun is going down so we will address that in the morning. Thankfully, we were not alone. There were a dozen cruising boats which created a comfy community feel. But we did not see anyone on our journey from the south. What was their route?
It was another fitful night's sleep due to rolling conditions that ramped up as the night went on. Eegads! We really tried to ignore the rolls but there was nothing for it – we needed to move and tuck closer to shore (4/3). We gingerly raised the anchor and left the sunken boat (or wall board as we later learned) on the sea floor. Moving closer into the anchorage had us chatting with boaters and apologizing for getting so close. Everyone understood and commiserated with the tight spaces and the poor holding…really just a veil of sand.. Oh my. We prefer to back down on the anchor to confirm that it has set but that was not an option here.
The uncertain anchor situation meant we needed to leave one person on the boat to keep an eye on things at all times. Our fluid itinerary sloshed yet again into another direction. Chris would stay on the boat and I would get myself to the Androsia batik factory in Fresh Creek 70+ miles south of Morgan's Bluff. Rental cars were fully booked and no phone numbers could be found for taxi cabs so I started walking…thumbing a ride seems to be the norm. Soon a mini-van pulled alongside and asked if I needed a ride. I started by making excuses about wanting to stretch my legs because I only saw two men in the front seats but then I spotted the outline of a woman and a child in the back seat behind the tinted window - I'll take the ride. Okay, take me where you can – thank you. Making small talk I asked how they had fared in the October hurricane. When the response came that 90% of Lowe Sound Settlement was wiped out I was embarrassed at my ignorance and tried my best to recover by asking how things were going. Not well but they were moving forward. My end point was a couple miles down the road at a three-way intersection. Thanks for the lift.
The only structure at the intersection was a small, squat, nearly windowless cement box. As the only place to start I walked myself into what turned out to be an air conditioned online gambling room (I guess that explains the lightning fast internet on the island). Laptops ringed the outer walls, a folding chair placed at each and an office in the corner complete with a plexiglass window like a ticket counter at the movies (or the collection point for your belongings after being released from jail). My brain was pinging all over the place…trust or not…or what. I chatted with the woman behind the glass and asked if I could call a cab. Soon a woman behind me said that she was going to the airport which is where the cabs congregated. Great! Some time passed and nothing happened as I stood alone in the middle of the room squishing thick, green carpet beneath my feet. So, I asked again about a phone number for a taxi. A man sitting at one of the laptops said he was going to Fresh Creek and he could drive me. More time passed and I asked the woman behind the glass how much a cab would cost because I wanted to pay a fair price for the ride. "A lot," was as definitive of an answer as I could get. The lady who initially offered the ride to the airport said she was ready to go. I mentioned the ride offered by the man at the laptop to which she said, "Which man?" I pointed and said, "That man." "Okay," she said after looking at him, "You can go with him." I again asked the lady behind the glass about the price because someone had offered to drive me to Fresh Creek. "Who," she asked. I pointed and said, "That man." She craned her neck unsatisfactorily from behind the window and instead exited the office for a clear view. She replied, "Okay," after looking at him, "You can go with him." Two thumbs up from two different females was the best I could hope for. Off I went with Virgil but I was cautiously optimistic.
Virgil said we would go to the airport first where I could ask about a taxi fare but he would charge me less than what was quoted. Positive point. Virgil sipped a beer throughout the ride. Negative point. On the way to the airport he lightly tapped the horn at every vehicle we passed and was greeted in return. Positive point. We passed a woman wandering aimlessly on the side of the road and into it from time to time. Traffic was light on the two-lane road but it looked odd. Virgil made a call which I only caught bits and pieces of due to a strong accent. It seems he was calling the police to come pick up the wandering woman who needed her medication…or else she would become delusional…which was the state she was in at the moment. Positive point plus some.
One step at a time but the positives were piling up for Virgil. We had our chat with El Jefe cabbie at the airport and $80 was agreed upon between Virgil and me. Later we picked up Virgil's friend who was walking along the road. He sat behind me. Negative point and my nerves tensed. Thick accented conversation ensued but lots of laughter and friendly banter kept me feeling (mostly) at ease. Virgil provided some life advice that seemed on-point for his friend's situation despite the fact that his friend did not want to hear it. Positive point. His friend got out where he needed to and it was just me and Virgil again. We had stunted conversations but he seems like a good human who genuinely cares for others. It was about 1.5 hours until we arrived at Fresh Creek.
Once at the town Virgil asked me what I specifically needed to do. One thing - visit the Androsia Hand Made Batik factory (http://www.androsia.com/). No problem. He knew the place and was a classmate of the woman who ran the factory store, Lorraine. Lorraine greeted him with a big hug but hastily informed me that the only reason she let him greet her that way was because they were classmates from primary school onward. Positive point (the Bahamians are conservative in dress and behavior). Okay, I was relaxed and was glad to be shepherded around by Virgil…no more counting pluses and negatives.
Androsia batik are handmade textiles and garments that are made in only one place – Fresh Creek on Andros. In the beginning (1973) the fabrics and garments were hand painted with wax and dyed on the beach at The Small Hope Lodge (which Androsia co-founder Rosi Birch and her husband founded in 1960…http://www.smallhope.com/). Since then the process has been refined and is now executed in a few small buildings; however, the process is very much the same as it was on the beach. The sponge and wire molds for application of the wax are handmade and kept. Older molds cover the walls from floor to ceiling in the wax room. I arrived at lunchtime so Lorraine volunteered to walk me through the rooms and explained the process from start to finish. It is fascinating! The designs are cheerful and the colors are vibrant! I took pictures and asked tons of questions but Lorraine never seemed to be impatient.
Founder, Rosi Birch, enjoyed the creative outlet of the batik process; however, she was even more passionate about the employment that the factory would provide for local women. This is a wonderful story. We wrapped up at the factory store and a couple of purchases by me. Thank you – Lorraine.
Virgil and I were back on the road chatting about food and this and that. He asked if there was anything else I wanted to see…like the Blue Hole or other island sites. Nope – I'm good. Well, he insisted on one visit – a drive through The Small Hope Lodge. Yep, that sounded perfect. During the long drive back I asked Virgil about the hurricane damage. He said it was bad and made a short detour to Lowe Sound Settlement to show me. It was very tragic to see: tanks thrown across roads onto houses, buildings completely leveled, all restaurant take-aways swept away, trees smashed onto cars and buildings. It had been about six months since the hurricane hit but it will be much longer until things are back up and running. Additionally, the previously sandy anchorage at Morgan's Bluff was nearly scoured clean (explaining our poor holding). Back at Morgan's Bluff I called Chris on the VHF but Virgil insisted on shaking Chris' hand before continuing on his way. Thanks for a great day Virgil!
Back aboard Barefeet and I prepared an artichoke cheese dip for sundowner cocktails and nibbles on the beach. The whole anchorage showed up and most of the folks were new to us. We all stayed chatting as long as possible swapping future itineraries and former paths to Andros. Three of the boats have just arrived from Florida – oh, that is why we hadn't seen anyone coming our way. The end of the festivities came abruptly when the mosquitoes swarmed. No kidding – Chris said I must have had twenty buzzing around my head. Ick!
Our fluid itinerary began to slosh again. We wanted to spend more time in the Bahamas but there is a window to cross to Florida…followed by strong winds…followed by an unseen window to cross to Florida. We had hoped to check out the Berry Islands but there is nowhere to hide from the passing winds (and no room at the only inn - Great Bahama Cay Marina). After the hurricane what little was in the Berrys has been badly damaged...but will be re-opening soon. Mother Nature has spoken - we will depart Andros...pass Bimini in the early AM (double-check Gulf conditions)...come in the Port Everglades Class A inlet in the afternoon…and anchor in Lake Boca. We are not in a hurry to get back to Boston so we will dawdle in Florida...eventually getting to Stuart to put the boat on the hard before flying back to Boston. It's a bit squishy.
I made a Mexican Shepherd's Pie for the overnight jump and we pulled up the anchor at 3.45pm (4/4). This timing should allow us to benefit from the mellowing sea conditions as well as to cross the Gulf Stream during daylight. The initial exit from Andros had us re-thinking our plan because the sea was rough and messy. Thankfully, the conditions settled down once we were further offshore and the plan seemed intact. Our route was through the Northwest Channel, across the several thousand feet deep Tongue of the Ocean, into the 15-20 foot shallows of the Bahama Bank, sliding past Bimini, crossing the Gulf Stream and entering the ICW at the inlet of Fort Lauderdale. All went well and we were anchored by the afternoon surrounded by Spring Break revelers (4/5). Music blared, jet skis zipped and we loved the celebratory environment.

Just one more hop for us and we would stay put for a few days in an anchorage with enough protection that winds would be (practically) a non-issue. Trump was in town (and just fired missiles into Syria) which had added security zones on the ICW in the area of Mar-a-Lago. We slowly passed through the zones and anchored in Cocoanut Grove in West Palm Beach – between the Royal Park and Flagler Bridges (4/6). Nope – that is not a spelling error…it's how cocoanut is spelled here…some sort of historical spelling but it's on the street signs and many written histories. We were back in the land of the big PX (as Bill and Louise say) so off we went to the floating dinghy docks for an anchor cocktail at lively Bradley's Saloon. Our brains are always a bit jumbled as we move from disparate lands in short periods of time: two nights ago on a beach for BYOB sundowner cocktails at Andros with cruisers and meager resources ashore following a destructive hurricane to tonight in vibrant West Palm Beach where there are restaurants galore, plenty of public trash cans and a Publix supermarket bigger than the batik factory. Let's jump into our new destination!

Industrialist Henry Morrison Flagler (cofounder of Standard Oil) first came to the Lake Worth Region in 1893. He described the area as "a veritable paradise" which he quickly built into a booming resort town which quadrupled in size from 1920 to 1927 and never looked back…especially with the advent of air conditioning for year-round living in Florida. Today, West Palm Beach has a population of 100,000 full time residents. We started our education on the island of Palm Beach at the Flagler Museum, originally named Whitehall and built as his residence in 1902 (http://www.westpalmbeach.com/attractions/flaglermuseum/index.html). The structure is massive and impressive despite a Flagler residence for just six weeks per year. The inner courtyard was more than simply beautiful because it provided added ventilation and cooling to the interior rooms. And check out the four cheeky fellas peeping at the bathing nymph in the corners of the fountain. THere were only a handful of people exploring the museum which made it a relaxed and enjoyable experience (4/7).

The next day we continued our discoveries of West Palm's history by walking our feet off on the island of Palm Beach (4/8). But first we had another soft and flaky Parisian breakfast at Paris Bakery & Café on South Olive Avenue in downtown (http://www.parisbakerycafe.com/). Okay, back to the island which is easily accessed via drawbridges for pedestrians and autos…but looks pretty sci-fi with street lamps at 90 degree angles when raised. The Breakers Resort (founded in 1896 by Henry Flagler) is another stunning building (https://www.thebreakers.com/). Despite fires in 1903 and 1925 it reemerged each time more opulent and luxurious than before. The 1926 iteration was modeled after the Villa Medici in Rome. Wow – every inch of the hotel is gilded and opulent with potted palms, sumptuous seating nooks and calming exterior landscaping. Word quickly spread and the resort's reputation grew with year-round visitors from European nobility to the Rockefellers to the Vanderbilts to Walt Disney to Greta Garbo. What amazing glitter and glamour!

The area churches and synagogues are also stunning pieces of architecture. We stepped inside the Church of Bethesda-by-the-Sea (Episcopal) after bypassing the Roman Catholic Church because a funeral was in progress for Yveylne "Deedy" Matrix – a political path finder and the first female mayor of Palm Beach (elected in 1983 and served for 10 years). The main road on the island of Palm Beach is South County Road which is a charming street crowded with chic restaurants, the Classic Bookshop, stylish children's boutiques, places of worship and a thrift shop. What?! Okay, a "resale" shop. The Church Mouse is a resale shop whose donations originate from the Church of Bethesda-by-the-Sea (http://www.bbts.org/about-us/church-mouse/). They have everything from clothing to furniture to china place settings. Of course I checked it out…after depositing Chris in a shaded garden with his book. Two lovely summer blouses will return with me to Boston. That's it for today and we headed back to the boat. We were pooped.

Lively (and delicious) eateries are crammed into the walkable downtown area just a stones throw from the floating dinghy docks. We focused on Clematis Street at Rocco's Tacos and Grease Burger Bar and Subculture Coffee. Yes, clematis is a native flower that is part of the buttercup family but we keep saying chlamydia…not at all part of the buttercup family (and likely not what Flagler intended when he named the street). As we wander the vibrant neighborhood with live music and murals we notice that the average age of the city is markedly different than the rest of Florida…by about 30 years. This is a town that is younger than we have experienced in the rest of Florida and far from dusty musty. People jog along the river sidewalks and bike below palm lined avenues. Much vitality oozes through the many murals painted around the city. The murals are amazing and varied in both theme as well as style. The mural project is thanks to local artists and students who have been revitalizing buildings with paintings since 2011 thanks to the LULA Mural Project (http://www.lakewortharts.com/). They keep my camera clicking throughout our walks. If you are lucky enough to be in West Palm in November be sure to check out CANVAS - the nation's largest outdoor museum show (http://canvaswpb.org/).

We will continue a bit further north to put the boat to bed until next winter…but we still have more fun in the sun before returning to Boston.




Korean Ginger Marinated Bulgogi Style Chicken (Food & Wine Magazine)
1/3 cup soy sauce
2 Tablespoons sesame oil
1 Tablespoon honey
1 Tablespoon vinegar
1 teaspoon ground black pepper
3 scallions, thinly sliced
3 garlic cloves, minced
1 Tablespoon freshly grated ginger
2 Tablespoons sesame seeds
1.5 lbs chicken breasts

1) In a re-sealable bag combine all ingredients except 1 Tablespoon sesame seeds and chicken. Mix around. Add chicken and turn to coat. Seal bag and refrigerate for 2-4 hours.

2) Grill over moderate heat, turning once until lightly charred and cooked through. Sprinkle with remaining sesame seeds, slice thin and serve.

3) To use remaining marinade – heat on stove to boiling. Serve beside chicken.

4) Accompaniments include: lettuce, steamed rice, kimchi, cucumbers, sriracha chile sauce.