Evaporated & Condensed Milk and Their Many Uses...Slowly Discovered: March 21 2017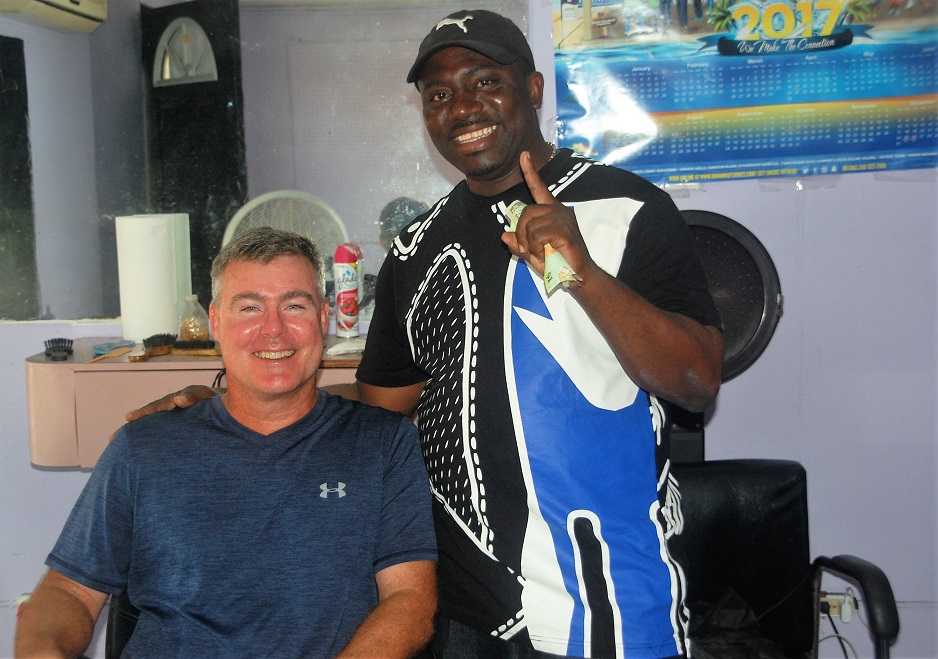 The winds are coming in tomorrow but today we will scoot around while conditions are calm. Priority number one – collect our friend from the airport. We headed into town for a quick taxi ride to the airport. But first – a couple of odds and ends. Like Chris getting a haircut. Gilbert did a great job at Count Your Blessings Unisex Salon (tough to fit all that on a biz card).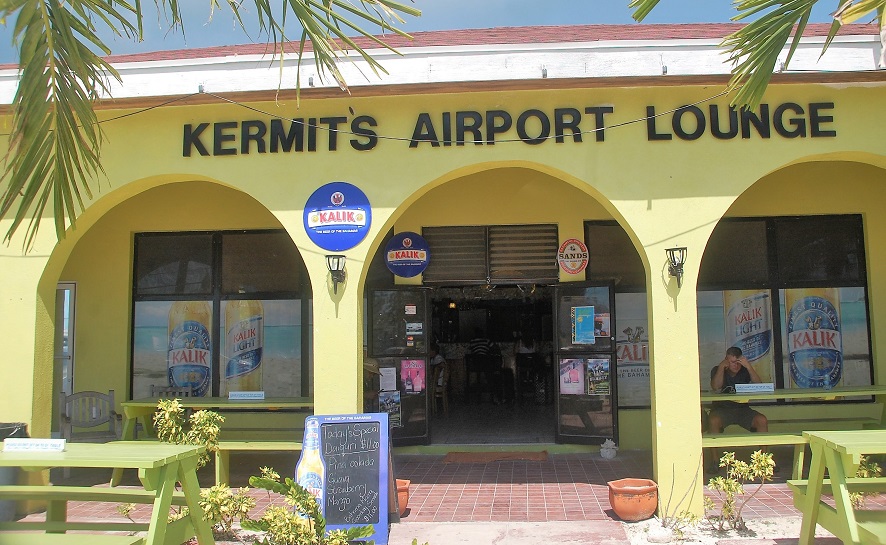 Leslie of Taxi number 12 whisked us from Exuma Markets to the airport about 20 miles north of town where we waited at Kermit's airport lounge for Tracy's plane to arrive (3/3). "Lounge" is a fancy word for this casual café and bar with picnic tables and domino tables under the shade of a few trees…but…they have ice cream sandwiches and it is a nice place to wait for plane arrivals. Planes are easily spotted because the runway is less than 300 feet away with a mere playground style chain link fence barrier. Tracy has landed - welcome!! She left sub-zero temperatures behind in Boston and will soon have sand between her toes. We love having visitors on Barefeet but the Bahamas is trickier than you might think to make a connection because it has the infrastructure of a third world country despite being just 90 miles from the USA. The turquoise blue water and white sand beaches beckon but flights and island connections are notoriously unreliable. We have met many Bahamians who have to get to Nassau from the Exumas for business appointments and they leave one day ahead…honest…and even spend a night in a hotel in order to better guarantee that the one hour flight transports them in time for their appointment. Sheesh. As soon as we arrived in the "Big Smoke" of Georgetown Tracy checked her calendar and made flight plans within a week. Way to scramble and get it booked.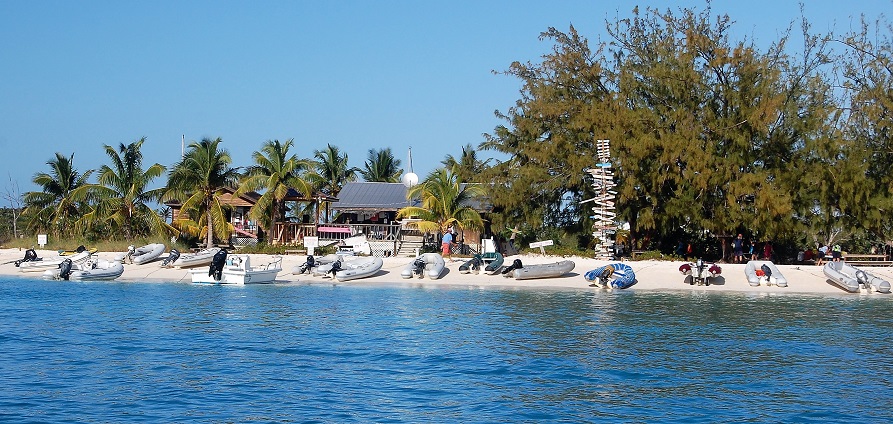 After the taxi back to the dinghy dock, the dinghy ride across Elizabeth Harbor, unloading at the boat and changing into sunshine gear we headed to Chat N Chill for a welcome drink. Cheers! Welcome to paradise. We watched sand volleyball, checked out the shoreline stingrays and marveled at the great weather. Shadows began to lengthen so we headed back to the boat for a dinner of grilled steaks, baked potatoes and a greek salad.
The next 72-hours proved the weather forecast correct as it blew like STINK – the boater's version of snow days where life comes to a screeching halt. Winds stayed at a solid 25-30 knots with gusts to 40 knots. Anchoring behind Stocking Island kept waves in the anchorage manageable since the wind direction held constant but getting off the boat was not happening. We played Mexican Train Dominoes, read…and slowly moved happy hour and dinner earlier and earlier in the day. Hey, it's four – it's time to pour. I know that according to many people boaters tend to get really worked up about wind but this was crazy. Friends on s/v Island Girl had guests arriving from the states only to have their plane waved off in Georgetown because the plane was coming in sideways (3/4). What?! They rerouted back to Nassau and then back to Fort Lauderdale and will attempt again in two days. Yikes!
The winds continued to blow but we were snug aboard Barefeet relaxing on the top deck looking for the random meandering turtle or dolphin (3/5). Salt spray was building up crunchy and opaque on windows and hand rails without much easing in sight. Waves building hourly in the sound could be seen from the anchorage rising ABOVE the trees (to the right of the catamarans in the above left photo). Holy cow! Later in the afternoon, Mother Nature allowed us some optimism as the storm front visibly passed with a clear cloud line of demarcation. But we kept things civilized with fresh squeezed orange juice/vodka sundowners and nibbles followed by a dinner of Caesar pork tenderloin with mashed potatoes.
Yep, you guessed it - there are still white caps in the anchorage but it is time to head ashore since the wind has lost a teensy, tiny bit of its bite (3/6). Cabin fever sets in regardless of the view. We dinghied to Sand Dollar Beach and headed across the island to the sound side. Wow – the sea is impressive (and humbling). Waves are big and the time between them is miniscule. Our anchorage is definitely the place we want to be right now. We walked and walked the beach enjoying the movement and the sunshine. Back aboard for dinner where Chris made hamburger and jalapeno pizza and Tracy made a side of skillet Mexican street corn (recipe below). Yum!! Thanks Tracy. And imagine that everything was already in our larder – no trip to the market today (even if we could dinghy across the harbor).
This like every morning starts with a review of the weather on windyty.com and the cruisers' net (VHF 72 at 8am). Folks are definitely getting a bit stir crazy – deciding to make trips around the anchorage in full foul weather gear and dinghys that bounce and buck like rodeo bulls (3/7). As for us, we kept our trips short and made another excursion to shore with the specific purpose of finding sand dollars. We clued Tracy in on what to look for to find them and we were off and running…with lots of stops for pictures because the watery vistas are amazing.
Winds slightly lessened in the afternoon which was all the encouragement we needed to be sure Chris got to the poker tournament at St Francis and Tracy and I had dinner at Lumina Point (http://www.stfrancisresort.com/ and http://www.luminapoint.com/). Dinner was a delicious girl's night affair with fruity cocktails, grilled steak and cracked conch. Lumina Point is a short dinghy ride into Turtle Cove from St Francis but the winding route is not without its excitement in the dark and at low tide. The moon helped but I still had to pop-up the engine in order to get across the sandy shallows. Over at St Francis the poker tournament was still going strong when we arrived after our dinner; however, tables were starting to be combined as players were knocked out one by one. The field dwindled from 63 to 2…and it was down to Chris and Pam (yes, our Chris). Pam is a cruiser of the Bahamas for 15 years and won the night – congrats! Chris came in second with a prize of cash, a bottle of dark rum and a St Francis golf shirt (and a big hug from owner Jillian). Well done! Back to Barefeet for a celebratory cocktail and to get Tracy to bed because she has a full day tour of the Exuma Cays tomorrow. Elvis will pick her up in his water taxi at 7am…sleep fast.
Tracy was off via Elvis' water taxi for her Exuma Cay tour and we puttered around the boat. While having a cup of coffee a PDQ catamaran named Echo slowly drove past us in the anchorage and we said that we used to have a PDQ. They said - wow - what was her name? We said, "Barefeet." Then they took our breathe away - Echo was Barefeet. Holy guacamole - totally amazing. Mary and Jeff zipped over after anchoring. They are a lovely couple traveling like crazy and loving it…in places like Honduras and Belize and Panama. I asked them if they had any questions about the boat (yes, they have been on her for 2 years...but you never know). They did not have any questions but they mentioned how great the radio install and the watermaker install were - both done by Chris just before we tossed the lines in 2006. Oh, and they love the diesel tank tender for exact fuel level (also installed by Chris). Those observations felt good. Wow – life has some crazy symmetry.
Dinner aboard was a jovial meal of Exuma tour recap. Tracy's tour was 10 hours and she saw everything…I mean everything…even conch salad made 10 minutes after conchs were gathered. If you are in the area and want to see loads of sights in a compressed time frame (say, because the weather pipes up and blows like stink) give Coastline Adventures a try (http://coastlineadventuresexuma.com/). That's a wrap for Tracy's visit and we had her back with Leslie of Taxi number 12 for her return to Boston (3/9).
Now for us to chisel off the several days worth of accumulated salt spray…well, soon. We are back to the two of us and looking at weather forecasts with traveling in mind. Top of the list is when to head north back along the Exuma island chain? Hhhmmm. But we'll take it slow and enjoy the new calm weather conditions…including an ARG meeting on Honeymoon Beach at 4.30pm (Alcohol Research Group). The meeting was well attended with more than thirty dinghies anchored along the shoreline. You know it's a cruiser party when some of the dinghy anchors could anchor the mother ship, too – never take a chance. We chatted, shared itineraries and grazed from a groaning table of nibbles. Our contribution was Cathexis Glazed Kielbasa Bites (recipe below). We learned this aboard (you guessed it) m/v Cathexis one evening. The Bites are sweet and savory and they fly off the serving plate. And with only two ingredients they are a snap to make. Thanks Gary and Tina.
Alright, it's really time to get the salt off! I was armed with a 2-gallon bucket of water/vinegar mixture and a sponge. It's my favorite sponge. Okay, stop laughing but, yes, I have a favorite sponge. Chris was armed with the 50-foot hose and the fresh water was "on." Chris did an initial soak, I sponged stainless, windows, etc. with my vinegar water and then Chris rinsed it all off. It only took about 30 minutes and now we are ready to play (3/11). And play we did. Off we went with Melanie and Paul on their barge for a bit of sandbar exploring followed by lunch at February Point. The barge is utilitarian in order to help them maintain their island but it also provides a solid platform for shallow water fun. The draft is a mere inches below the water's surface and takes nothing more than Chris giving her a shove to get us back moving again. Wow – the Bahama waters simply do not disappoint. Thanks for a relaxing day.
The weather forecast says we will have good weather in a few days to depart Georgetown, jump out into the Exuma Sound and then pass back into the Bahama Banks. That is fine by us – no drama is no drama. While waiting we walked the backbone trail to the southern tip of Stocking Island then returned along the beach. Drat – there simply are not many beach treasures this year…and not a single sea bean. Returning to the dinghy we had a fun meet-up and chit chat with PDQ owners as well as Belize rally boats thanks to an invite from s/v Echo. We learned about great cruising grounds like the Yucatan, Honduras and Belize (Cuba not so much)…maybe we should check them out for ourselves?! Next year?! So much to see!
In our four visits to Georgetown over the past ten years we have done very little land exploration. With tips and recommendations from Melanie and Paul we made a day of terra firma fun. Off Chris and I went with a rental car from Berlies Car Rental picked up at the Exuma Markets (http://www.berliescarrental.com/). Our plan was to drive from Great Exuma onto Little Exuma and to its tip and check out the sights between here and there (3/13). This is not a far distance at only 17 miles so we should have plenty of time to stop as we like along the way. Directions are pretty straight forward because there is only one road that connects the island from stem to stern – the Queen's Highway. It was paved 25 years ago by the USA and hasn't really been touched since. The road is one narrow lane in each direction that crumbles quickly at the scalloped edges. Oh – and the driving is UK style…on the left. Got it. Our first official stop was the Tropic of Cancer Beach. Is that it – the beach access road?! Nope but it is a stunning beach. On a little further and we found it. Oh, there actually is a sign – there it is. The beach is on the meridian line of (you guessed it) the Tropic of Cancer which is the northern border of the Tropics. It is said to be the most beautiful beach in the Exuma chain but we are hard pressed to say that any beach in the Exumas is "ugly."
Back on the road and just before Williams Town we spotted "The Pillar." The view was again spectacular with the added detail of a clear reminder of a product that helped shape the Caribbean in general and the Bahamas in particular - salt. Lore says that the 30-foot Tuscan pillar was built in the Loyalist Era (late 18th/19th century - that's when the folks in the American colonies who were still loyal to England skedaddled out of North America with land grants to set up plantations and other businesses in the Bahamas). However, that might be a bit more lore than fact but who knows...the pillar was built at some point in the past. Regardless, the pillar marks the "Great Salina" salt ponds where salt was raked, harvested and loaded onto ships. Salt - the seemingly mundane and abundant product of today found on every restaurant table and hot dog cart was once no less than an empire builder for those countries that controlled its production and distribution (like Venice). Due to the great value of salt (back in the day) the Bahamas was also valuable; producing salt by the bushel to the amount of 10,000 tons per year from the 1670s to the 1860s. Even today Morton Salt produces over one million tons per year on nearby Great Inagua; however, the rarity of the product has certainly changed…and Morton is not ruling any empires.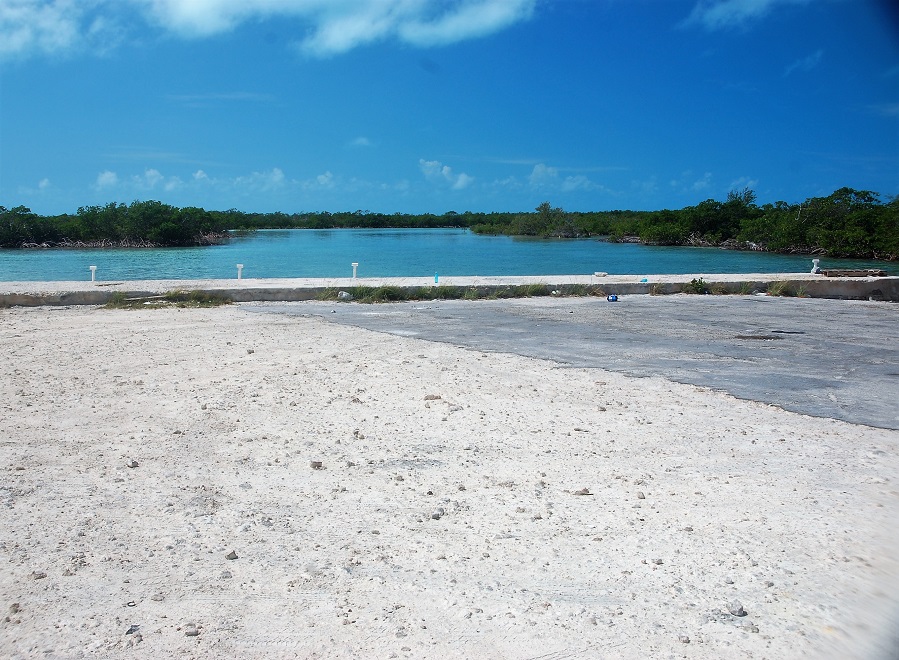 Our stomachs started to growl which meant we needed to keep moving. We drove to the end of the road at the tip of Little Exuma and there we turned around. Incidentally, it absolutely looks like the end of the road – no doubt about it – it's the tip of Little Exuma. It was just one more stop before lunch. It was a humble church with colorful stained glass windows; biblical scenes on one side and secular scenes on the other such as sailboats on the sound and the salt pillar...beautiful.
Lunch was at the well-loved and delicious Santanna's Bar and Grill (https://www.tripadvisor.com/Restaurant_Review-g147429-d1526324-Reviews-Santanna_s_Bar_and_Grill-Great_Exuma_Out_Islands_Bahamas.html). This beach shack has only a few things on the menu; cracked conch, lobster, shrimp, grouper and chicken…each topped with grilled sweet onions…served with sides of coleslaw and corn. Once our orders were taken place mats were set and sterno cans were lit (that's to keep the flies away from the meal – and it really works). The meal was fantastic and filling. We liked it so much that we tracked down the word "cracked." What makes this sooo tasty?! Cracking seems to be a method of cooking where meat is pounded thin and tender then fried in a light batter consisting of eggs, flour, condensed milk, salt and pepper. Condensed and evaporated milk (sweetened as condensed and not as evaporated) is abundantly displayed in every meager market inventory in the Bahamas and certainly winds up in loads of things from cocktails to desserts to mac and cheese…to cracked everything. Let's try this at home for a bit of the Bahamas in Boston. And while on the boat - these ingredients have a long shelf life...perfect! I'll keep sleuthing for more recipes.
Santanna's marked the end of our land tour. We leisurely drove back north with full bellies and a greater understanding of the area. Some last minute provisioning, parking the rental car at Exuma Markets (keys left under the floor mat) and we were back aboard Barefeet ready to pull up the anchor in the morning. Our nearly three weeks in Georgetown were full of fond memories and reminders of the past as well as new friends and experiences. As Ollie on s/v Dejarlo says each night on the VHF, "Goodnight Georgetown."
The winds mellowed throughout the night and conditions were as hoped for in the morning when we pulled up the anchor from Sand Dollar Beach (3/14). We exited Elizabeth Harbor into the Exuma Sound and it was a gentle 42 mile ride to charming Little Farmer's Cay. Back inside we picked up a mooring ball from Little Farmer's Cay Yacht Club. While on the move we ran the watermaker. The watermaker has been going strong then all of a sudden…stopped. Chris sleuthed and investigated but could not find any indication of why it would have stopped. But deeper investigation found a burnt out fuse and a section of the circuit board in need of soldering. A spare fuse was found and the soldering gun heated up. Voila! Chris did it again! Well done.
Now it is time to shower and head to Ty's Bar and Grill. It's my birthday! Chris took me for a laid-back meal on the beach; spicy chicken sandwiches with french fries and rum punch. The restaurant is on the island's runway which can provide a bit of a floor show. Two small planes were parked with students from a Florida aviation college visiting for Spring Break. They departed after an afternoon in the sea and sand (and before our walk back to the dinghy along the runway). Later, the sun began to set which was our cue to go, too. On our way out the ladies in the restaurant learned that it was my birthday as we thanked them for the meal. They gave well wishes and the lovely lady in the beads sang Happy Birthday to me with a blessing. Her voice was beautiful and it was a thoughtful and warm ending to a lovely night.
Next stop – Staniel Cay and Big Majors anchorage. Winds made the sea choppy but not bad since we were inside the Bahama Bank. It is a good day to move and we see many other boats doing the same – both north and south (3/16). Wow – there are more mega yachts than last month in the anchorage…complete with inflatable slides from the top level into the sea. Maybe Spring Break? We tucked close to shore but not close enough on our first attempt so we pulled up the anchor and moved even closer to land and it is, indeed, less rolly. Phew. We will hang out here until friends arrive Mar 23rd. Being in one place for a few days gives Chris a chance to do a few boat projects. He has been perfecting the gasket seal on the pilot house door and it is coming along nicely. It is slow because the gap is uneven and needs more here and less there and even more over here…additional layers were added once the lower ones had dried. Done and ready for a rain test. The engine room provided another project – engine mount painting. Chris stripped, primed and painted a corroded engine mount in the engine room. The corrosion comes from a nearby zinc that needs to be routinely changed. Corrosion cannot always be avoided but it can be managed…right Picasso?! Looks great!
March weather in the Bahamas continues to be its squirrely self. The winds continue to pipe up then mellow back down every couple of days...and we find that if we turn sideways in the bed we roll less in certain wind/wave conditions while trying to sleep. Who knew?! Temperature is also fluctuating. One day we are in bathing suits and the next we are "bundled up." Another cold front rolled through at 74 degrees F which actually had us in fleeces...seems our blood is thinning again.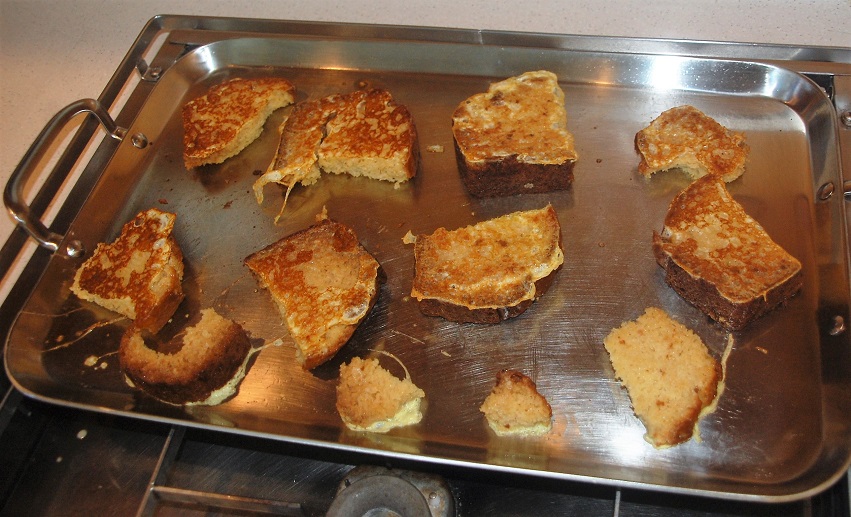 Today is a calm day so we went exploring in Pipe Creek (3/19). This was a great tip passed along from new friends Pam and Bob on m/v Mint Julep. We met them the day before on the beach with their guests (her sister and nephew). It was so windy that sitting on the beach in the protected cove was the best plan. It is good to have options. The whole gang is from Louisville, Kentucky, and a pleasure to chat with. I tried a coconut bread recipe that I brought to the beach to share. It was okay but may have suffered because I goofed and used baking soda instead of baking powder...that's okay because the leftovers were good for french toast this morning.
We dinghied all the way to Compass Cay then slowly made our way back to Big Majors. The swirls of ocean blue colors looked more like they belonged in Willy Wonka's candy store as they changed from sapphire sour blue raspberry twist sticks to turquoise ribbon candy to aquamarine butter creams…even baby blue raspberry salt water taffy and electric jolly rancher sours. What a sight!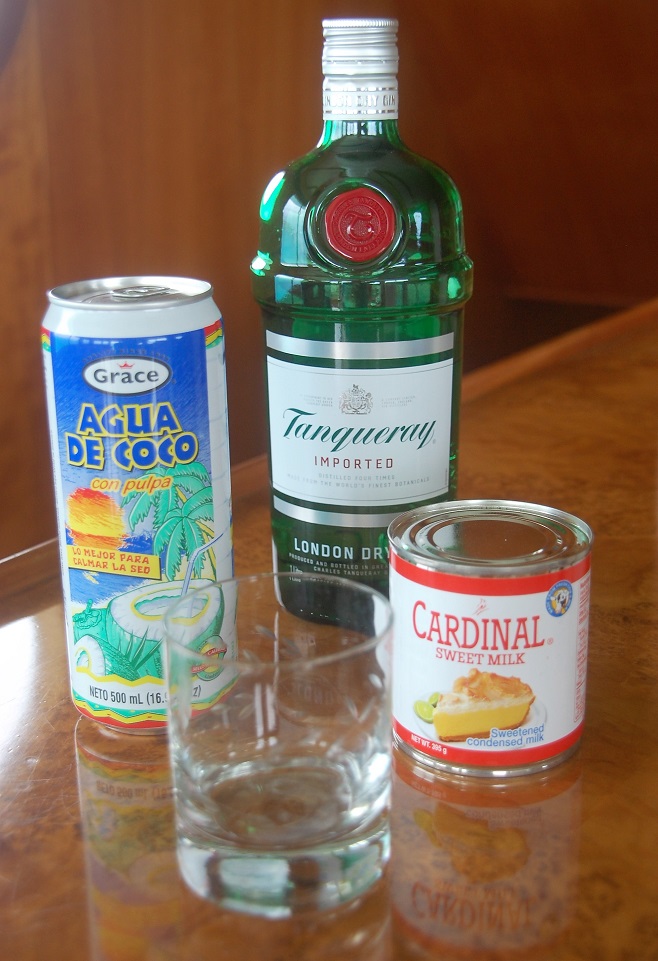 Back aboard we ran the watermaker and readied for sundowners with Pam and Bob. As I mentioned earlier regarding the cracked conch – I need to better understand the true breadth of the uses for condensed/evaporated milk (sweetened and not) because the Bahamaian market shelves are packed with the stuff. The recipes are slowly being discovered and I will keep at it. One more recipe has been found - in the category of cocktails. Specifically, the gully wash or sky juice cocktail. I was a bit skeptical but Pam was game so we gave it a try; 1 oz gin (or rum), 2 oz coconut water and ½ oz sweetened condensed milk. We used gin. Shake in a shaker with ice until frothy (makes one). Skeptics be damned this was good…and as Pam said, "This dog can hunt." Needless to say we made another batch. The sun slowly sank as we nibbled, shared boating stories (they have done the great loop – super cool) as well as future itineraries. Thanks for the fun night.
Skillet Mexican Street Corn (Tracy and simplyhealthykitchen.com)
Ingredients
6 ears fresh corn, husks removed and kernels cut off cob (about 4-5 cups)
1 Tablespoon vegetable oil
2 Tablespoon mayonnaise
¼ cup green onions, thinly sliced
1 jalapeno pepper, seeded and stemmed, finely chopped (optional)
½ cup fresh cilantro leaves, finely chopped
juice of one medium lime
2 ounces cotija cheese (or queso fresco, or feta)
1 tsp chili powder (more or less to taste)
salt, to taste
Instructions
Heat oil in a large skillet over medium high heat. Add corn and cook without stirring until corn begins to char (about 2-3 minutes). Toss corn and let cook for an additional 2-3 minutes (without stirring). Give the corn one final toss and repeat cooking for additional 2-3 minutes until corn is charred on all sides. Turn off heat.
Add remaining ingredients and stir to incorporate. Add salt to taste. Serve immediately.
Note: if fresh corn is not available you can use frozen (thawed) or canned corn. (4-5 cups)
Cathexis Glazed Kielbasa Bites (Tina m/v Cathexis)
2 lbs kielbasa
12 oz ginger ale
Directions
Cut kielbasa into 2-inch slices (cut slices into crescents if smaller is desired…they are easier to eat).
Place in a large skillet with the ginger ale (regular, this does not work with diet ginger ale).
Bring to boil, then reduce heat to medium. Do not cover pan.
After 15 to 20 minutes, ginger ale will be reduced and start to caramelize.
WATCH CAREFULLY because you don't want it to burn.
At this point, keep stirring until chunks are glazed.
Serve on a platter with toothpicks inserted. They are sticky and yummy!