Embracing The Wind Gods: March 2 2017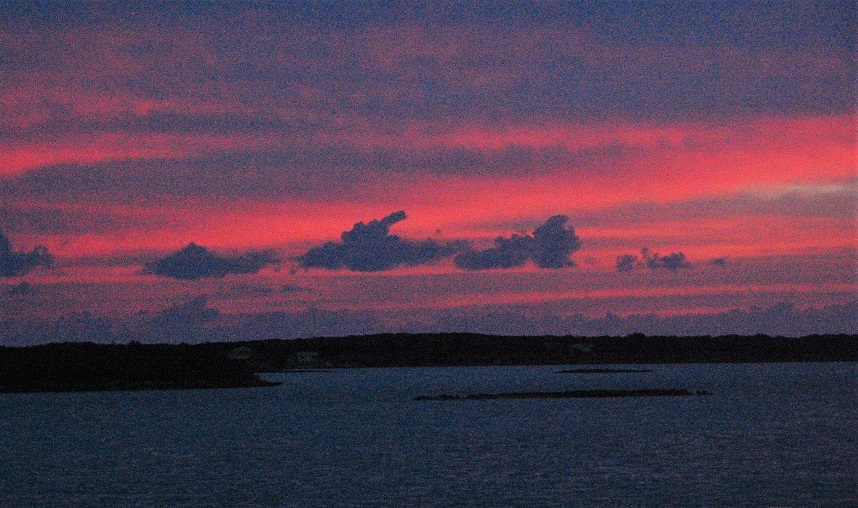 The Wind Gods – every culture has their own mythology with varying representations: Zephyrus, Boreas and many more for the Greeks; Cardea and Venti for the Romans; Njord for the Norse; Niltsi for the Navajos and on and on. They are goddesses, giants, gods, spirits, twins, demons and everything in between. There is no need to fight the wind no matter what you call it. We simply plan our days based on their moods because strong winds mean waves and rough seas (even in an anchorage) which make it hard to cook or sleep…and make dinghy rides wet and pounding.
The weather forecasting models for the Exumas continued to disagree in detail; however, what was clear was that strong winds clocking around were on the way. We liked our snug spot at Red Shanks. The mail boat just unloaded so we made a run to town – scoring three zucchinis and a couple of odds and ends…as well as disposing of a bag of trash for $2 (2/21). Sunset was a stunning display of red…will this negate the weather forecast?! You know…red skies at night, sailors delight…and all that. Chris headed to $5 poker at St Francis and was the big winner!! Well done!! Gulp. But the dinghy ride home was non-trivial in the dark, moonless night around 10pm; one hand on the handheld GPS to follow the track home, one hand on the engine and one hand for the flashlight. Wait – that's three hands. It was a rotation and a bit crazy…oh, avoid the sunken boats and coral mounts, too.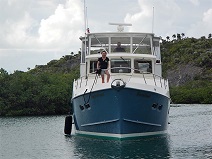 Despite our well protected spot – we got an invitation we could not refuse. It's a cold front party and we're invited. Melanie and Paul invited us and another boat (m/v Twin Sisters) to tie up at their lagoon dock until the cold front passed. All tied up in the afternoon and dinner was a marvelous potluck affair (2/22). We contributed a hot artichoke cheese dip and a side of roasted potatoes with lemon, garlic and oregano (recipes below). Twin Sisters brought homemade focaccia and a ramen salad. Yum – the focaccia was soft and flavorful…and Chris has added the recipe to his repertoire. Melanie and Paul grilled pork tenderloin and wrapped everything up with brownies and vanilla ice cream. With full bellies and a lull in laughter we retired to our respective vessels and agreed to reconvene after breakfast for a walk of the island.
The winds howled and the rain pelted throughout the night. However, the sun came up bright and clear with only the strong winds remaining (2/23). We walked the island and sat in the gazebo…marveling at our good luck to be visiting with friends while weather conditions were unfriendly. Beachcombing provided lovely sea fans and several pieces of sea glass. How will I keep the sea fans in one piece all the way back to Boston?! Dinner was another joint effort…pasta puttanesca. Paul made homemade pasta and we all contributed larder items for the sauce plus some additional nibbles. Sausage, Cheese and Chile Dip Casserole with tortilla chips was our contribution (recipe below). An after dinner adventure followed as we headed to the trails with flashlights-in-hand to search out ghost crabs. No luck but we continued to the gazebo for star gazing. Amazing!
As forecast, the winds died down the next day after lunch and we were off to an anchorage across the harbor on the western side near Crab Cay (2/24). Thanks for the generous hospitality, Melanie and Paul (and new recipes, Russ and Lori). Anchorage conditions remained good until the wind died which allowed the ocean roll to dominate and, boy, was it wobbly. Up came the anchor and we moved across the harbor back to Sand Dollar Beach before breakfast (2/25). Much better for eating – smooth and mellow.
The wind remained quiet which meant it was a perfect day to travel or explore (2/25). We are staying in Georgetown so exploring we went. Sand spits across the way at Man of War Cay beckoned at low tide. We only found a single sand dollar but the views were unbeatable - swirls of creamy sand and blue water as far as the eye could see. Returning back to Sand Dollar we stopped for a snorkel on a reef. Dinghy buoys made it easy to stop and reduce damage to the reef. There was hard and soft coral, colorful fish and even a few shells walking along the ocean floor (no – I left them there).
Current boat count is 307 boats in Elizabeth Harbor. It looks like a small city. Being holed up due to previous day's winds meant everyone was buzzing around like us in the calm conditions. It was a lazy afternoon so we headed to Chat N Chill (http://chatnchill.com/). This laid back place on Stocking Island has soft sand underfoot and shade from whispy pine trees overhead. The bar is a must visit spot with many folks leaving behind reminders of their boat. The small bar shack is filled cheek to jowl with boat shirts hanging from the rafters and boat cards papering the walls. We grabbed goombay smashes (with floaters) and headed to the shaded wooden benches.
We bumped into friends Dave and Lisa enjoying the beach with family visiting from New Hampshire. Crazy to be snow plowing last week and slathering sunscreen this week. We visited and played in the sand. Dark sting rays patrolled the shallow water which were mostly ignored by the toddler grandkids.
Winds remained light which kept us exploring (2/26). We took a Sunday drive through the anchorage saying hello here and there as well as walking across Sand Dollar Beach to the Sound side looking for beach treasures. I love to find pretty shells and coral but I am never quite sure what to do with them. New friend, Lori, wore some beach combing pieces on twine as bracelets. They look great so I focused on finding items with ready-made holes for stringing. Ha – but there does not seem to be any twine ashore in town. Oh well, I'll keep collecting and simply assemble back home…unless I dig some string out from the boat cupboards or lazarettes.
A few boat projects have snuck in like splicing a replacement anchor chain painter and securing the anchor to the chain with seizing wire. And, hey, is that water in the bilge?! No! Chris has a very nearly bone dry bilge but spotted some water. Oh, it is leaking from the plastic jug of distilled water meant for the anti-freeze – that is easy to fix – toss the plastic jug. That's it – keep projects to a minimum.
The anchorage remains chock-a-block with boats and every single one is unique and fun in their own way. One of our neighbors, m/v Barbara, has a beautiful figurehead on the bow and a parrot as a pet. The parrot yelps and squawks from time to time which adds a festive twist to the anchorage. So many boats concentrated in one place leads to lots of fun and games – especially because it is Cruiser's Regatta. We generally stay to the fringe of the activities but we could not keep away from the two stage Coconut Challenge (Feb 27). It was a hoot! Stage 1: Teams of four assembled in dinghies (with motor removed). At the sound of the start whistle all teams propelled themselves into the bay with a single flipper fin per person to gather as many coconuts as possible. Stage 2: Team collected coconuts are taken to the beach where a coconut thrower stands backwards and throws a coconut over their head while the remaining team members try to catch the thrown coconut in garbage bags. Holy cow – catchers don helmets (not their first rodeo) and scamper wildly trying to get as many coconuts in the bag as possible. Everyone had fun with endless laughs and giggles.
You know cruising...sorting out mechanical issues and having fun. Today it was 1) getting the generator back up and running and 2) painting paradise in a coconut (3/1). I was holding my breath for the generator but the painting was loads of fun. Happily, both turned out well....1) we have done a load of laundry and made water and 2) I painted paradise in a coconut.
The generator has had a minor issue for awhile but it has not yet been tracked down. Cruisers routinely stop by whenever we run the generator commenting on the white smoke. Yes, we know about it...then suggestions for a fix are laid out and debated. Thanks to the solar panels the generator is only run to make water, do laundry and heat water (if we have not moved the boat). However, we still consider it an integral system of the boat that we do not want to be without. Chris has been making fixes over time such as replacing the exhaust elbow and water pump but the smoke remains. One more idea has crept in so Chris figured he would give it a try with a bit of hot water and vinegar to flush out the heat exchanger. Some black gunk and metal pieces from the zinc came out so maybe that was it. Balderdash! Turning the generator back on to check the impact of the flushing and $#%*@ water shot from the end cap like a firehose spraying the engine room with salt water. Gggrrr – the cap is cracked and the generator cannot be run. A friend arriving on Friday will bring a replacement part but we hope that is all that is needed. We put out a call on the morning cruiser's net and found that someone has a cap and a seal that we can use (it is used parts kept as a spare). Yippee! We will give Brian on s/v Ambergris new parts when they arrive and in the meantime we gave him a six pack of Sierra Nevada beer for "rent." Thank you, thank you. This generator fire drill has been an odyssey but all is sorted.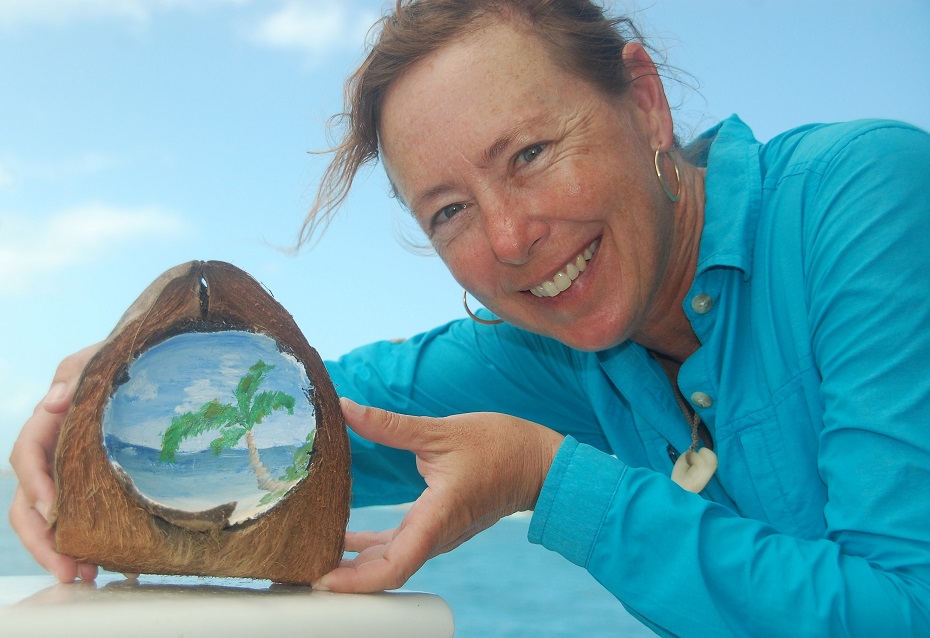 Now onto the fun. There were about 20 of us seated at the wooden tables in the shade in front of Chat N Chill (yes, sand between our toes). A cruiser walked us through the painting process one step at a time and provided all the materials. It was loads of fun! All of our results looked great but, also, they were all very different. I am happy with my efforts and might be able to try it on my own again in the future. Plus, I drove myself to and from the event in the dinghy so that was a bit of confidence building thrown in for good measure, too (beach landing solo and windy conditions kept it interesting).

Winds are expected to pipe up again in a couple of days but not as dramatically as last time. Plus, the direction should be better but we'll keep an eye on it. For now we'll stay anchored at Sand Dollar.

Artichoke Cheese Dip (oldie but a goodie)
9oz jar/can artichoke hearts in water; drained and chopped
1 cup Parmesan cheese, shredded
¾ cup Hellman's mayonnaise
8 oz cream cheese, softened

Mix together all ingredients until well blended. Scrape into 9" pie dish. Bake at 350 degrees F for 30 minutes or until golden brown. Serves with crackers, bread, dippers.


Roasted Potatoes with Garlic, Lemon and Oregano (Aglaia Kremezi) serves 4-6
3lbs potatoes; peeled, and cut into 1 ½" cubes
½ cup olive oil
4 garlic cloves, minced
1 ½ teaspoons dried oregano
½ cup beef or chicken stock
1/3 cup lemon juice
1 teaspoon salt
Ground black pepper
2-3 Tablespoons fresh oregano, chopped

1) Preheat oven to 400 degrees F.

2) Place potatoes in a single layer in a 13x9 baking dish. Pour oil over them. Add garlic, dried oregano, salt and pepper to taste. Toss well to coat.

3) Bake 15 minutes. Add stock and toss. Bake 10 minutes. Add lemon juice and toss. Bake 10-15 minutes until cooked through.

4) If you like – broil a few minutes until golden brown.

5) Sprinkle with fresh oregano and serve at once.

Sausage, Cheese and Chile Casserole Dip by James Villas; Crazy for Casseroles cookbook
3/4lb bulk pork sausage (or cubed steak or ground beef)
8oz block cream cheese, at room temperature
7oz can Rotel tomatoes and green chiles
1/4lb extra sharp cheddar cheese, grated
cilantro, chopped for garnish after removed from the oven

1) Fry sausage over medium heat, breaking up with a fork until well cooked. Drain as needed.
2) Preheat oven to 350 degrees F. Grease 11/2 qt casserole.
3) Combine sausage, cream cheese and Rotel. Mix until well blended.
4) Scrape into casserole. Sprinkle cheese evenly over the top. Bake until bubbly (approx 15 minutes). Rest for 5 minutes. Garnish with cilantro. Serve hot with corn chips.




Russ' Focaccia Bread (makes two 1lb loaves)
1 3/8 cups lukewarm water
2 ¼ teaspoons granulated yeast
2 teaspoons salt
1 ½ teaspoons sugar
2 Tablespoons olive oil
3 ¼ cups unbleached all-purpose flour
½ teaspoon dried thyme
¼ teaspoon dried rosemary




1) Mix the yeast, salt, sugar and olive oil with the water in a bowl.


2) Mix in the flour without kneading, using a spoon, food processor or stand mixer with dough hook. If not using a machine, you may need to use wet hands to incorporate the last bit of flour.

3) Cover (not airtight) and allow to rest at room temperature until dough rises and collapses (or flattens on top), approx. 2 hours.

4) The dough can be used immediately after first rise or stored in the fridge (not air tight container) for 12 days.

5) Flatten into ½ - ¾ inch thick onto 9x13 cookie sheet. Dimple surface with fingers.

6) To own taste smear some olive oil, garlic paste, thyme, rosemary, salt, pepper on top.

7) Let rest 20 minutes. Bake 20 – 25 minutes at 425 degrees F.