The Chillin' Boat: February 21 2017
There is some clocking wind approaching that means we need a place to hide and we have a vague plan…let's head north and re-start our Exuma chain exploration. We rushed to Staniel Cay from Florida so this will give us a chance to visit some new places that we sped past last week. It is not usual for us to go "backwards" but we have oodles of time and there are 365 islands (cays) in the Exuma chain. We pulled up the anchor at Big Majors Spot for a quick two hour hop to Cambridge Cay/Little Bell Island (2/8). This is a new spot to us and it is stunning! It is part of the Exuma Land & Sea Park so moorings are available but we found a nice anchor spot and settled in. It was still early so we headed over to snorkel the aquarium – packed with coral and fish. Wow! The staghorn coral is massive. And the surging water has some of the coral breaking the surface like fingers waving from below…kinda creepy.
Back to the big boat and we met our neighbor who mentioned he would soon be calling his Mother. Hey – sure enough, there he is up the mast making a phone call – clever cruiser to get strong reception in this remote location.
Our calm anchor spot was a perfect platform for Chris to swap out the fresh water pump. Not sure exactly what is going on but the volume of water is less strong than it used to be. Out with the old, in with the new…but the flow rate has not improved. Could the house water filter be clogged? But it was changed three weeks ago…hhhmmm…seems too soon. Yep, that was it. Our jostling around must have stirred up stuff in the tank and clogged the filter. Okay, mystery solved but now the "new" water pump needs to be returned back into it's box and the (well functioning) old water pump needs to be put back into service. But get crackin' because there will be sundowners on the beach. Chris scampered to get the project done and tools policed while I organized our cocktails and an appetizer platter of cheese, crackers and a jar of my homemade bread & butter pickles. Our water pump story was fun fodder on the beach with Chris now being called "water pump." However, most folks soon shared similar stories and some have even resorted to writing on blue tape – check filter – pasted on pumps because they have done the same thing so many times. It was all good fun on the beach but the bugs were herding us deeper into the water and we all finally had enough bites and called it a night.
The winds remain in the forecast so we decided to keep going north to Highbourne Cay Marina while the cold front passes (http://highbournecaybahamas.com/). Highbourne is a mere 35 miles southeast of Nassau which will place us well north to re-start our exploring when the winds pass. We tied up at the fixed dock and I slowly made some dinner to have ready in the wings whenever we wanted it (2/9). It is chilled gazpacho blanco and torta di riso (recipes below) – perfect for a hot night after a stroll to the fish cleaning station. Barefoot and cocktails in hand we headed to see what the fishing was like today. Below the water was the usual population of nurse sharks...and even a couple new faces - bull sharks – all ready for any and all scraps. As you can see - these guys on a big boat/sport fish combo had a good day; mahi, wahoo and several lobsters. And it was our lucky day, too. Because they gave us a jumbo slice of wahoo the diameter of a basketball. Grillin' for dinner tomorrow!!
Highbourne Cay is a repeat visit for us and a lovely excuse to visit when the strong winds blow. The island is 3 miles long and not much more than a marina, a restaurant and a handful of well-appointed vacation cottages (aka houses). Golf carts are the sole mode of vehicle transport. The wooden docks are smooth from use and dotted with gazebos tacked with boat names and sayings from those who have passed through…all made with driftwood and shells and paint. We walked over to the white sand beach finding small treasures of our own and enjoying the warm sea breeze. I think we are finally the chillin' boat as we were described by our Hawaiian boat painter in Fort Lauderdale. Tonight, we grilled up half of the wahoo with blackened seasoning and shared it with boat neighbors. It was delicious!
Right on cue the winds passed so we tossed the lines at Highbourne and are back heading south along the 365 Exuma Cays (2/11). We were so smitten with Cambridge Cay that we went back. We anchored in the same spot and stayed for three nights. The first night we stayed aboard and grilled the second half of our wahoo largess. Wow – this is amazing fish!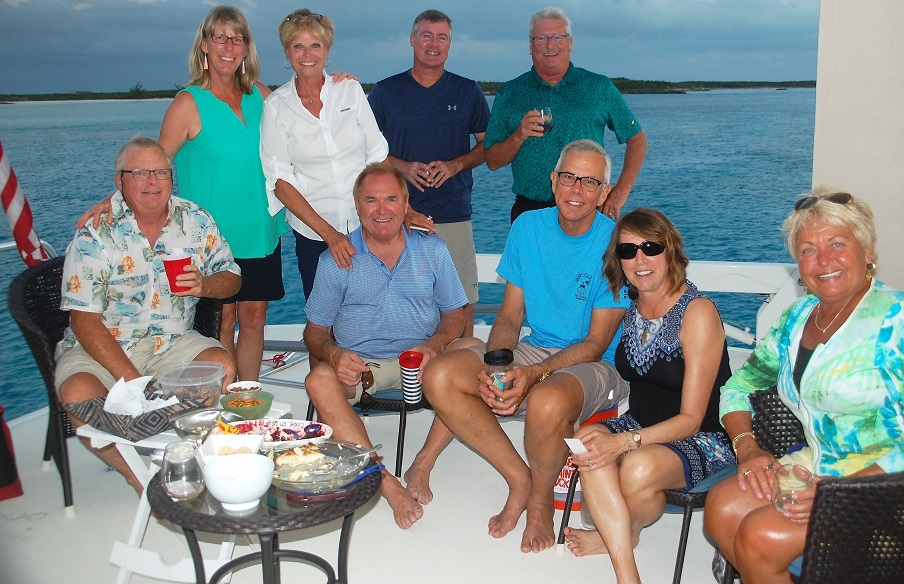 We hiked across the (small) island on a trail we spotted last time but did not follow. It is clearly marked with conch shell borders and scattered palm fronds. Along the way we met a cadre of new friends. Selfishly, and hoping to avoid the bug experience of our last sundowners ashore, we invited everyone aboard Barefeet. It was a fun bunch and we are all headed in the same direction so we hope to cross paths again; m/v Putz'n Around, m/v Job Site, m/v Grand Baron and m/v Sum Escape. Everyone brought their own cocktails and an app to share. Hey, who knew raspberry/habanero jam atop cream cheese was soooo delicious?! Need to track that down. Thanks for the laughs and delicious nibbles.
Our exploring of Cambridge Cay continued as we made it to the top of a "hill" which provided a panoramic view of the area. The blues of the ocean just do not quit; from gin clear white to aquamarine to turquoise to sapphire. Stunning. The land ashore in the Bahamas is more similar to a desert despite the palms and greenery...more scrubby and tenacious rather than lush and lazy. The air is clean and clear with rarely a dominating scent to be found. On our walk up the hill we were nearly bowled over with a floral aroma that stopped us in our tracks. What is that?! We snapped a photo but did not find a match after a quick internet search – more research is needed. A return visit to the aquarium snorkel spot was calmer and more relaxed with less wind and surge…so beautiful.
Dinner was chicken tikka masala pizza for two and I guess we are not as remote as we think. The Aga Kahn and Johnny Depp are neighbors to our anchorage on their respective private islands but we have not had either over for sundowners…nor received dinner invitations of our own (tee, hee, hee).
Very light winds greeted us in the morning and delayed our departure as we gawked at the water after the wind ripples were quieted and removed. A black stingray ambled by clear as a bell fifteen feet below the surface. Alright, it's time and off we went to Little Farmer's Cay (2/14). We exited through Conch Cut into Exuma Sound with wonderful, calm conditions and returned inside to Farmer's Cay Bank. Winds are again passing through and we should have some protection in this area between the islands. Rather than anchor we took a mooring ball because the current rips and rages through here then reverses. Eegads – I heaved and wrestled to attach our line to the ball as Chris worked to hold the boat steady in the current. Mission accomplished but I have a few more bruises to add to my collection of "boat bites." It seems the mooring balls are made extra big and beefy so that zooming motor boats do not snap them off. We checked in with Roosevelt Nixon and stretched our legs into town. The island is only about 1.5 miles so the walk will be gentle. It's Valentine's Day so we wandered into Ty's Sunset Bar and Grill for a drink and some french fries…but don't look for a sign because it blew away in the last hurricane (http://www.tyssunsetbarandgrill.com/). Bartender, Coach, was as welcoming as could be and filled us in about the island…and that everyone is still recovering from the annual First Friday in February Festival. During the Festival the island population of 55 swells into the several hundreds.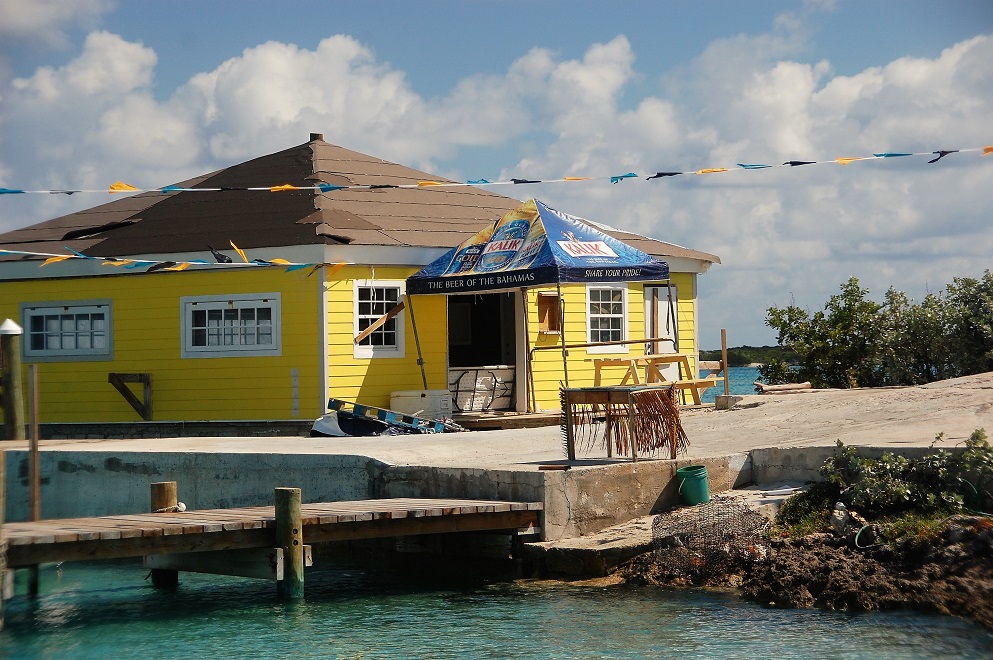 We dinghied around into town looking for a tomato for our Greek salad for dinner – no luck and the mail boat is not expected until tomorrow night. Oh well, no worries. On our way out of the harbor we spotted Coach and mentioned our tomato search. He reached into the conch salad station and handed us one – free. Oh my, that is one of the kindest things ever done for us – thank you. Our salad was perfect and we toasted Coach before digging into our grilled steaks.
The mooring balls and few dock slips filled up due to the forecasted winds (2/15). And it's our friends from Cambridge Cay – small world. We reconnected and helped with mooring ball pick-up and slip entry agreeing to meet at Ty's for sundowners. Then we were off back to the town harbor where turtles thrive and frolic. Dylan feeds them and they are happy to say hello. Bits of conch are cut off of a frozen lump of conch but all that is needed for the dinner bell is a few bangs on the wooden table and turtles come running for a snack. The day passed uneventfully. Before long it was time to head to Ty's. We packed up oatmeal chocolate chip cookies as a thank you for the tomato from the day before and we were off. It's a short walk from the Yacht Club to Ty's but it involves walking the length of the island's sole runway. No need to worry because it is easy to spot an arriving or departing plane. We gathered around the deck as the sun sank into the ocean with rum punch, kalik beer and fried conch.
The next morning started with an announcement via VHF 16 from Julian of the Yacht Club inviting everyone to the Yacht Club for Happy Hour tonight with free conch fritters and drink specials (2/16). Sounds good. And it's perfect timing after staying on the boat all day making sure we did not come loose or chafe through the mooring line. The winds kept bouncing us around all day but rewarded us with a vigorous fresh water rinse just before we headed in for Happy Hour. Ashore we told more lies and met more cruisers. It is hard to believe that conditions will be calm and benign enough in 12 hours that we will all move on.
But the night passed and we awoke to marvelously calm conditions. We were so giddy with the conditions that we did not even make breakfast before tossing the mooring line and getting under way. Exiting into the sound was a bit rolly but nothing to complain about. Breakfast of ham and cheese crescent rolls filled a wrinkle. We clicked on the auto pilot, grabbed a book and a cup of coffee and calmly motored six hours to Georgetown. My current book has everything happening across all plot lines - drat - it just did a major switcheroo on me. Okay, I have been robbed of hours of my life and I want them back. I have been reading a 500+ page book which has gently meandered through Charleston, SC. There have been peaks and valleys, plot twists and characters that I like and others that I don't like but this was not expected. Wham! The book ended and all but two characters remain alive or not evil to the core. What?! Dead or evil to the core. Drat. Well, time for Chris' hamburger and jalapeno pizza with a cocktail to wash away the…I've already forgotten what. It is nice to be back in familiar George Town.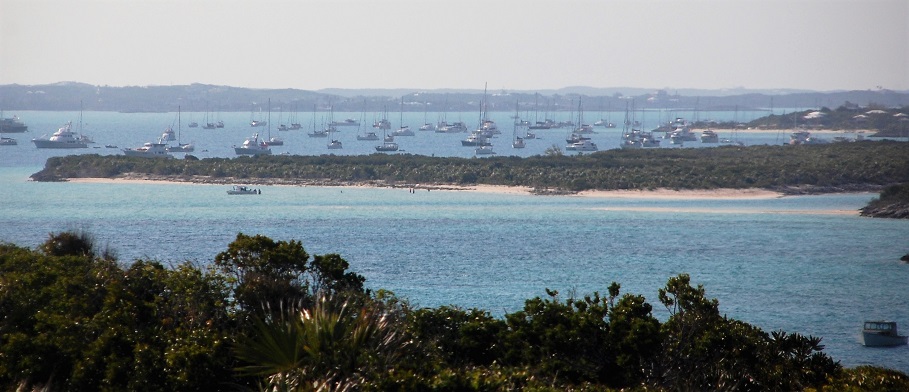 We are back in Georgetown but it seems bursting at the seams with boats – more than we remember...literally hundreds of boats. Oh, now we get it - we have arrived just before the Cruiser's Regatta. Gulp. A lot of people enjoy the regatta but it is a bit too much structure for us so we will keep to the fringes. Plus, we have friends to catch up with. First, a zip in the dinghy across Elizabeth Harbor, under the bridge and into Lake Victoria for a trip into town where we picked up a couple of boat items at Top II Bottom and a couple of pantry items at Exuma Markets. Very much like we remember; Elvis for a water taxi, cabs ashore for airport shuttles identified by numbers (e.g. Taxi 13, 19, 57…), $5 poker at St Francis, well stocked grocer Exuma Markets (even better after the mail boat is unloaded) and computer center down the block with ice creams in the freezer.
Friends Melanie and Paul are at Top of the World so we decided to get together after lunch (2/18). We have not seen these guys in two years but it was like we had just gotten together yesterday – we picked up right where we left off catching up on boats and travels while walking their beautiful island. Holy cow, a boa constrictor snake joined us for a minute, too. He was beautiful! Paul picked him up but Mr. Boa soon kept going at a slow amble. The only thing that made us realize that four hours had passed was the arrival of the biting no-see-ems. Gotta go but we will get together again soon.
We are very lucky! It was a second day to meet up with old friends (2/19). This time it was Lisa and Dave. We have crossed paths in the Bahamas, New Hampshire, Florida and we always get on like a house on fire. It was sundowners aboard Barefeet then juicy, stuffed burgers at Hideaways (http://www.hideawayspalmbay.com/). The drive home was a bit exciting at low tide and their shallow draft whaler was the best option for the conditions. Stars were bright above but we all had flashlights pointed straight into the water to creep out of skinny water. Not too difficult because there was no wind so we could see clearly through the water. Slow and steady wins the race – no bumps or portage necessary. Thanks for a great evening!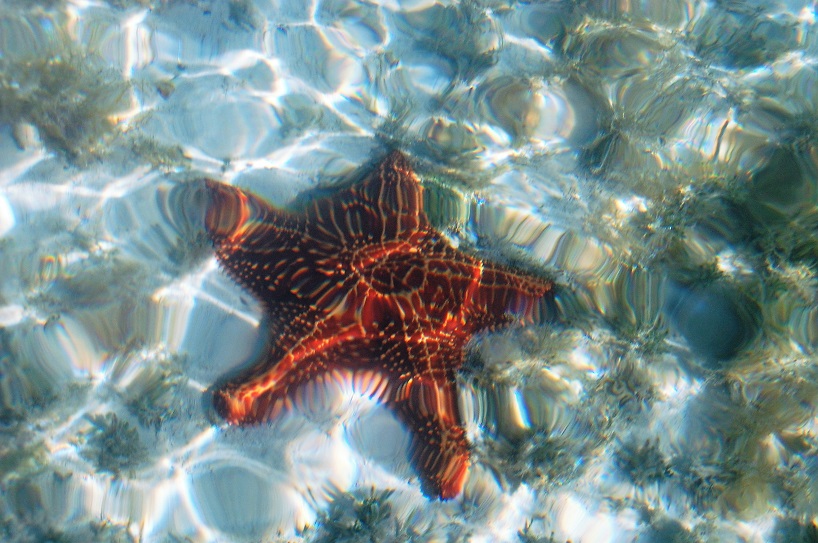 Massive forecasting model disagreement about weather conditions in a couple of days has us tucked into Red Shanks anchorage (2/20). It has the best all around protection short of a marina AND still has dinghy access to town. That's it for now - it's time for the hours of power to make water and do laundry with the generator (solar panels can do almost everything…but even they have limits).

Gazpacho Blanco (serves 2-3) from Great Exuma, Great Food Cookbook
1 cucumber; peeled, seeded and cut into chunks
½ cup chicken broth
½ cup sour cream (or yogurt)
1 clove garlic, minced
2-3 teaspoons wine vinegar (or apple cider vinegar)
Salt to taste
Garnish – chopped tomatoes and onions
Place all ingredients into a blender. Blend and chill. Pour into bowls and garnish with chopped tomatoes and onions.
Torta di Riso (serves 6-8) from Sasha Martin, Life from Scratch
6 slices bacon, chopped
1 Tablespoon olive oil, plus more for baking dish
1 onion, chopped
3 cups leftover, refrigerated rice
½ cup Parmesan cheese, grated
6 eggs lightly beaten
A little parsley, chopped (or dried oregano…no fresh herbs aboard Barefeet at the moment)
Salt and pepper
Preheat oven to 400 degrees F.
Saute bacon in olive oil over medium heat until fat begins to render. Add onion and lightly brown. Set aside to cool slightly. Meanwhile, add cooked rice, Parmesan, eggs, chopped parsley, salt and pepper to large bowl. Stir together with cooled bacon and onions. Pour into slightly oiled 8x8/2 quart baking dish. Bake about 35 minutes or until golden brown. Cool 15 minutes before cutting into squares. Excellent served room temperature or cold.