2017 Cruising Season Wraps Up: April 28 2017
This final cruising season post is soooo overdue that it is ridiculous. I have no excuse but somehow, some way I could not write the final post of the season. I am sure the self-help/psychologist/mindfulness folks could come up with loads of reasons. No problem – have at it. As for me, I'll simply write this April 2017 post from chilly Boston on New Year's Eve where the temperature struggles to hit the double digits and I wait for the New England Patriots game to start at 1pm.
So long West Palm. Off we went for our last night before getting the boat put to bed for the summer. Our evening destination was spent on the hook in Hobe Sound (4/11). We were just inside the no wake zone with loads of water fun; swimming, sandbar…all until nightfall when we had the place to ourselves. Dinner was an easy grill of burgers with Greek lemon potatoes (recipe below) and sautéed zucchini.
Weather was squirrely and as Murphy's Law would have it there was a rain downpour during our time working the lines at the lock. Oh well, it was strong enough to be a perfect fresh water rinse for the decks (and us). Our arrival and docking at River Forest Yacht Center was smooth and easy – thanks guys (4/12). Let the storage process begin! There was laundry, work on the stabilizer (and purchase of a $400 tool to do the job – ggrr), replacement of the fuel fill and vent hoses on the starboard side, water shut off on the boat…and a trip of two to Chapman's Marine Supply on S.E. Indian Street (http://www.chapmanmarine.com/). We didn't knock off until 6pm with the reward of dinner at laid-back and friendly Charlie's Bar and Grill (4/13). It seems Charlie is an alligator (http://www.ilovecharlies.com/).
Our continued storage process continued with early morning starts and breakfast at Galaxy Diner (https://www.tripadvisor.com/Restaurant_Review-g34657-d1097986-Reviews-Galaxy_Diner-Stuart_Florida.html). It's a humble mini-mall diner with a Greek bent and murals on all the walls – genle way to . Erin attacked the stainless with cleaner and wax (thanks for the tip m/v Twin Sisters) while Chris made the 85 mile drive south to Ft Lauderdale for a $75 seal kit (cheaper than the $900 replacement). Ooops (I mean crap) only to find the kit out of stock upon arrival. But they'll send it. Tick tock and fingers crossed (4/14).
Nothing to do but wait for our seal kit to arrive which is perfect timing because friends Jeff and Jen are vacationing and we'll meet for dinner in West Palm (4/15). Yippee! We hit our favorite Rocco's Tacos for dinner then glam-ed it up at the Breakers for a cocktail which was positively buzzing with activity. Great to see you guys!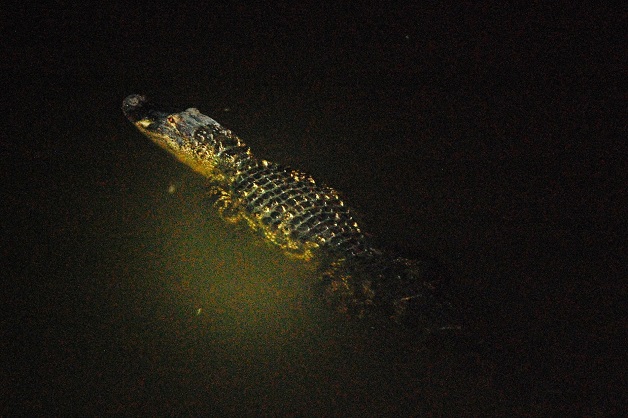 The vacation day is over and we were back at the storage process: vinegar all boat surfaces in the hopes of impeding mold (wiping ceilings, walls, floors…); oil changes and zinc changes for the generator, main boat engine and dinghy engine…check, check, check. Rain is not on the horizon which is good for our boat work; however, it is causing water levels to drop. Lock openings have been reduced from on-demand to only once every three hours. It was another long day which ended with sausage, green/red pepper and feta pizza aboard and OJ with Tito's cocktails (4/16). Yikes – we have a stealthy neighbor! Dinner was over, the sun had set and I was closing the pilot house doors when – holy guacamole – those are gator eyes staring back at me from the water inches from the boat?!
On and on we went; 2x sea strainers cleaned; top deck canvas removed, door dogs installed; no seal kit until Friday (tick tock); Chris installed a new poop tank pump. Sheesh, our day feels like Chapman's Marine, Home Depot, Ace Hardware…repeat (4/18). And our 9 foot gator still makes his evening swim beside the boat. Gulp. Final project is a duo soap wash of the boat's exterior – Chris with the brush and Erin with my favorite sponge…a shared hose…and each of us with our own bucket of soapy water. Phew, we dragged into Charlie's for dinner but all was completed and she's ready to be hauled. Will the seal kit arrive before the 21st?!
In the meantime, we'll put the rental car to good use – a road trip to Fort Myers to visit Bill and Louise (4/19 and 4/20). These guys showed us the ropes of cruising back in Rhode Island in 2005 and we have remained thick as thieves ever since. We had cocktails aboard s/v Andelen, dinner at The Cottage and a great breakfast send-off at Marti's Family restaurant joined by Alice and Greg. Marti's has THE best biscuits and gravy on the planet and is located at 16200 San Carlos Blvd A. Now back to the boat and the stabilizer seal kit FINALLY arrived. Chris installed (using the kitchen as a work bench…where else?!) and checked for success…no leak. Yippee!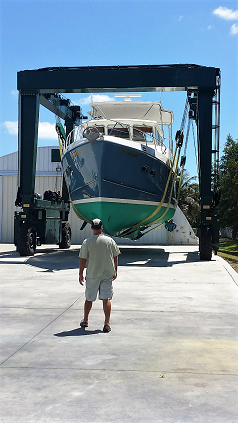 Right on schedule we hauled at 11am (4/21). The dehumidifier was installed (after a three-way plug was retrieved from Ace Hardware), the final two sea strainers were cleaned and she was buttoned up for the summer. So long Barefeet! River Forest will check on her and send us updates until we return in January. For us it's a road trip back to Boston. First stop tonight is visiting Tom and Suzie in Melbourne just 1.5 hours away. It's always a fun time with these globe-girdling cruisers and tonight was no exception.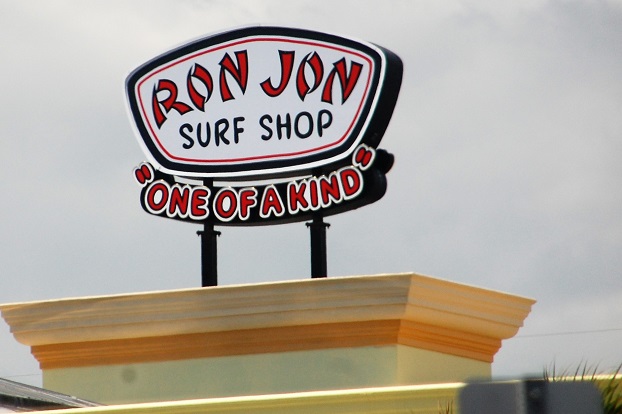 Why not make a stop at the famous Ron Jon Surf Shop? Stop we did but, well, it's not quite all that it's cracked up to be. And clearly all was going too smoothly…until…Chris realized he left his wallet on the boat. What?! Nothing for it…it's two hours south back to the boat then two hours north to our starting point of the day. Despite our back and forth highway schlepping we made it to our Hampton Inn in St Augstine in time for dinner at lovely Caps on the Water (http://www.capsonthewater.com/). You cannot beat the deck with chandeliers hanging from the live oak trees dripping with Spanish Moss (4/22).

Our drive home continued with some unfamiliar and some return visits; stops in Beaufort (SC), Asheville (NC), Staunton (VA) and Princeton (NJ). Beaufort was hot and humid but the jasmine was blooming and languidly draped over fences and tree trunks, live oaks stretched their branches wide and the marshes along the ICW were peaceful (4/23). We enjoy the gentle pace of this town and finished up our visit with dinner at delicious Saltus River Grill (http://www.saltusrivergrill.com/).

We fueled up for the next leg of our trip at Blackstone's Café (http://blackstonescafe.com/). The breakfast is simple but tradition is the foundation of this local downtown staple. The Pledge of Allegiance is solemnly said while standing – daily – at 8am (Beaufort is home to the Marine Corp Air Station). It was a rainy drive to our next destination of Ashville, NC. The Biltmore is stunning and Asheville has become a real great destination for food. This time we tried Biscuit Head for breakfast (amazing), cocktails at Montford Rooftop Bar (beautiful) and dinner at Nightbell. Chicken butter is amazing – you have to try it!! Our friend Parker was in town so it was fun to see his favorite haunts (a friend of both of ours but Chris met him first - at Duke where they both got MBAs).

Just a couple more stops and soon enough we arrived back in Boston (4/28). Warm weather welcomed us and we had dinner on the balcony (we'll see how long the heat lasts...fingers crossed). It was glorious! Okay, but there was a hitch in the get-along. Our upstairs neighbor seemed to have a leaking dishwasher which flooded our kitchen for an undetermined amount of time. Drat! We cannot seem to escape water and its devilish behavior. Fixing the cabinets goes to the top of our To Do list after the initial clean-up…and pizza dinner.

Okay, now we are all on the same page. Sorry for the delay and I plan to be more consistent once back on the boat. We return to Florida on January 2nd and hope to splash on January 3rd. Winter cruising here we come!


Greek Roasted Potatoes with Garlic, Lemon and Oregano (Aglaia Kremezi)

3lbs potatoes, peeled and cut into 1.5" cubes

½ cup olive oil

4 garlic cloves, minced

1.5 teaspoons dried oregano

1/3 cup lemon juice

1 teaspoon salt

Ground black pepper

½ cup beef or chicken stock

2-3 Tablespoons fresh oregano, chopped

1) Preheat oven to 400 degrees F.

2) Place potatoes in a single layer in a 13x9 baking dish. Pour oil over them. Add garlic, dried oregano, salt and pepper to taste. Toss well to coat.

3) Bake 15 minutes. Add stock and toss. Bake 10 minutes. Add lemon juice and toss. Bake 10-15 minutes until cooked through.

4) If you like – broil for a few minutes until golden brown.

5) Sprinkle with fresh oregano and serve at once.

Optional: just before serving sprinkle feta evenly on top.