Winter - Better to Have a Northern Chill Down South Than to Have a Warm Snap Up North: February 28 2016
Poised for a departure always has us filled with a mix of emotions ranging from angst to excitement: hurry – we have to see everything before we leave; can we do it – the ocean is a big, tempestuous thing and we have been at a dock…maybe we don't have "it" anymore; provisioning – are we sure we have enough; friends – we have made new friends and now we are leaving; excitement – we are off to see something new. These and many more emotions swirl as we await an imminent departure…whether it's the 3,000 mile crossing of the Pacific or a 65 mile hop to Cape Sable. We keep to our routine as best we can and monitor the weather for any changes.
Mother Nature kept to her forecast and we departed Key West at first light on February 16. Our patience to wait out the bad weather was rewarded with a beautiful, calm day of cruising. Bonus - to start we had a passing rain storm provide a much needed fresh water rinse. Throughout the day we spotted dolphin playing in the bow, pelicans soaring overhead and turtles calmly bobbing at the surface (until they spotted us and then immediately sped below the surface). It was a solid ten hour day of travel that had us dropping the hook at Cape Sable at 5pm…just in time for sundowners. We were the only boat in the anchorage – who knew Florida could be so remote?!
We were lucky enough to have calm conditions which meant that we could dinghy ashore for what is touted to be an AMAZING shelling beach. I took a shopping bag just in case the rumors were true. Wow – we were not disappointed! It was awesome. Tons of angel wings, stiff pen shells, scallops, whelks, small conchs…and even an Atlantic giant cockle (with both sides still connected). Scattered between the shells were bits of what initially looked like coral but upon closer investigation were actually sponges. Maybe they eventually harden to a coral state but certainly not when we saw them. We were discerning about exactly which shells we kept but still managed to fill a gallon ziplock with shells. This took some time but we had nothing else on our dance card. However, Mother Nature called and I ducked behind a "bush." Sadly, it was just inland enough that in the short time I was squatting…I got bitten on both north and south cheeks by diligent mosquitos on patrol. A quick return to the water's edge had me back beyond their reach.
It has been a wonderful two nights in a remote spot but the ocean roll is building which makes the anchorage more rolly than we like. So off we went for the 10,000 Islands in the Everglades National Park. The day started with a bumpy sea but smoothed out about half-way along. This trip has us changing water masses – exiting the Florida Bay and entering the Gulf of Mexico…a first visit for us.
Our anchorage was in Russell Pass at Indian Key (2/18). It's a nicely protected spot between various mangrove islets. The islets/islands are not much more than high spots in the coastline or produced by mangroves growing on oyster bars…and they number in the hundreds (not the thousands). Almost all of the islands are uninhabited which creates a feeling of remoteness…and amazing star gazing. We settled into the tranquil spot quite quickly and even delayed our departure by one day so that we could keep exploring.
Friends Bill and Louise raved about Everglades City so that was our first day's adventure (2/19). We dinghied two miles to town…a bit of wind against tide created more excitement (and wetness) than we liked but our newly fixed outboard engine performed like a champ. Once to town we ambled along the sleepy streets and the commercial fishing operations along the water. The town of 400 residents is neat as a pin but not quite as active as it was when frequented by FDR, Truman and Eisenhower. However, the Rod & Gun Club is still around and a historic place for a beer on the porch where it is not hard to imagine the times when this part of Florida was frequented not only by Presidents but also rum-runners and murderers on the lam.
Just not ready to leave this lovely spot we stayed another night in order to do a bit of fishing and a bit of exploring in the mangrove alleys (2/20). We heeded the warning to bring a hand-held GPS because it is easy to get turned around in the similar landscape of water and mangroves. Chris was armed with both fishing rods and I was armed with my camera. We never saw more than a couple of boats. The calm lapping of water against the mangroves and the gentle wind in the trees mesmerized us. We both gave the casting method of fishing a try but it was a day of fishing…not catching. Every so often we spotted a bird in flight or perched and ready to catch his own dinner. The spoonbilled pink fella looks a bit odd on the branch but was pretty cool in-flight (but I missed that shot).
The next morning we awoke to an amazingly calm day and decided it was time to move along to Marco Island (2/21). Plus, friends, Lisa and Dave, are anchored in Smokehouse Bay. They go back to our time in the Bahamas in 2007. We want to catch up with these guys! It was a gentle ride and not too far – we could spot the high rise condos behind the pelicans as we left Russell Pass.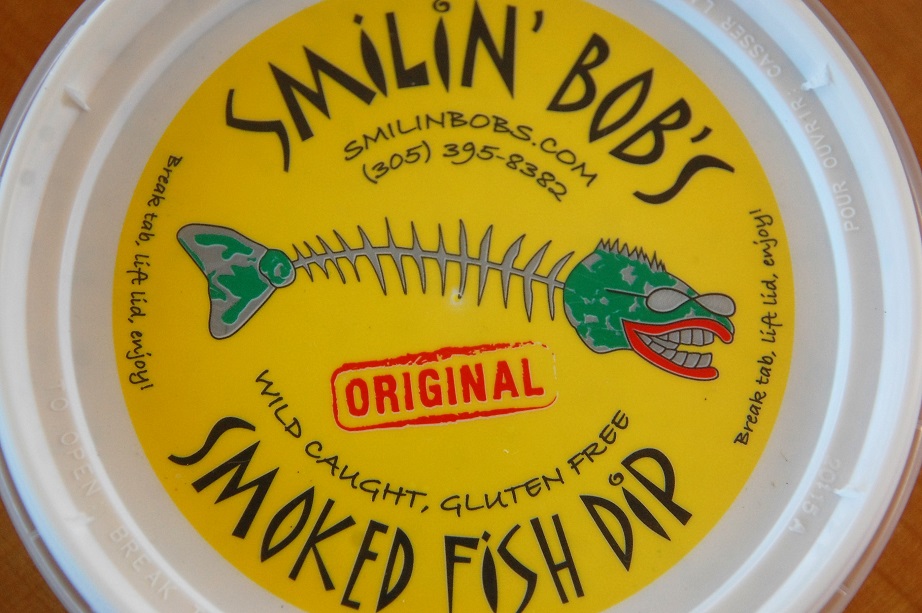 Smokehouse Bay is an anchorage with an (almost) complete 12ft depth surrounded by canal homes and a couple of restaurants (aka well protected on all sides). The tricky part is winding your way in from the Gulf. We made it without bumping the bottom but we did see 7ft (we draw 5.5ft). Gosh, it is great to see old cruising friends! We swapped tips and ideas because they came from the north and are headed to Key West…and we are headed north after being in Key West. And of course we told lies and had drinks and bits. One of our food contributions was Smilin' Bob's Smoked Fish Dip. It's a Key West staple that was introduced to us and, now, it's slowly expanding further north (http://www.smilinbobs.com/). Give it a try if you see it.
Marco Island is an extended stay spot for us because we have friends coming aboard, Jodi and Rich. They flew in from Boston and it is a crazy, small world. Holy cow – on the plane they sat next to a woman I worked for back-in-the-day just before we left for our circumnavigation…in 2006. Unbelievable. (Hi Penny - you were a wonderful leader and great boss)
Sunny, pleasant days meant we could explore the area in any way. Marco Island is the largest of the 10,000 Islands at 24 square miles. We started nearby with a walk along Tigertail Beach (2/23). It is 79 acres of white sand beaches, mangroves and emerald waters on the Gulf of Mexico. There were shells galore but most were inhabited so we let them be (plus, there were signs which required it). We enjoyed catching up as well as viewing a few bits of funky; like the shell shrubs and the cow sand sculptures. Back aboard for sundowners on the top deck and we realize that Marco Island has plenty of its own rituals. The place is not a disco/night club hot spot (9pm is said to be Marco Island Midnight); however, they have fun. We were chit chatting on the upper deck and slowly heard music getting louder and louder…but where was it coming from?! Oh, the Black Pearl pirate ship…of course. But that was not all. There are a couple of low rise condo complexes ashore with pools and lounge chairs and - like a biological, internal clock – the area (previously abondonded due to the setting sun) was again filled with people. This time they all joined in the YMCA dance as the Black Pearl blared the iconic Village People song. Have you seen the movie Cocoon?! We could not stop laughing but everyone was having such a great time that we couldn't help but join in with the deck dancers and got cheers of our own…of course we know the moves (and so do you – don't try to deny it). How to follow that?! The next song is always Sweet Caroline by Neil Diamond...of course it is.
Well, that pretty much exhausts the attractions on Marco Island...and the food is, "fiercely mediocre," as Chris says. On the weather front - it is sunny but winds are strong so we could not take the big boat to the Everglades. No problem – we went to the Everglade via rental car (2/24). We started at the Museum of the Everglades to get a bit of background (http://www.evergladesmuseum.org/home.aspx). However, the background is not too overwhelming or dense. For example, one of the exhibits is the spoon that served baked beans at a town picnic. No joke. Once that was wrapped up we asked a museum volunteer (and life-long resident) for a recommendation for a boat tour. Our first attempt struck out due to the high wind situation but, luckily, the air boats are still operating. We jumped on a one-hour tour with Captain Jack's Airboat Tours (http://www.captainjacksairboattours.com/). This seemed a bit hokey but it was awesome! We sped through mangrove tunnels with Captain Mo and spotted many critters; a Mr and Mrs Gator (Mrs Gator playing hard to get behind the mangroves), several different types of birds, a family of raccoons. Wow! Back on shore we held an alligator and I gave him a smooch. Chris passed on the smooch and simply took the photo – chicken. Dark clouds were gathering so we headed back to Barefeet. The winds stayed up and rain came and went through the night but in the morning we learned that 15 states experienced much worse – including tornadoes.
It was Rich and Jodi's last day (2/25). We all have a soft spot in our hearts for The Mucky Duck on Captiva so off we went (http://www.muckyduck.com/). Plus, it gets us closer to the Fort Myers airport for their departure. The northern winds have made a dramatic drop in the temperatures but the charm of this beach-y spot cannot be diminished. We lunched on pub grub and bought a few souvenirs (to replenish shirts that have finally worn out over years of wearing). Final stop was the airport. So long guys – great to share our lifestyle afloat with you. See ya next time!
We were back to just the two of us. Winds remain strong and chilly from the north so we will likely stay put until Monday (2/29)…then move 42 miles north to Fort Myers. In the meantime, we have done a few boat projects and Chris has proclaimed that we are now officially in the realm of preventive maintenance. Yippee! It has been a lot of work and bloody knuckles but the boat feels solid and familiar. Two of the final projects were tracking down the phantom 2amp draw and replacing a leaking sea strainer (for the generator). The 2amp draw was determined to be the back lighting on the electrical panel switches – check – all electricity is accounted for. The sea strainer leak was discovered when Chris was re-wiring the batteries. It was not a show stopper leak so we purchased a new one in Key West and simply waited for the time to make the switch. "Make the switch" sounds so simple and easy but it was hours of removing the old (including a philips head screw that was missing its head), creating the new platform bracket and hooking it all together. Then the moment of truth – is water flowing?! And no ocean coming in?! Bingo! It's shiny and new and flowing…and not leaking. The photos show the Chris-created mounting (literally from spare scraps around the boat) and the installed strainer in its tiny spot between hoses and other mechanicals…shoehorn recommended.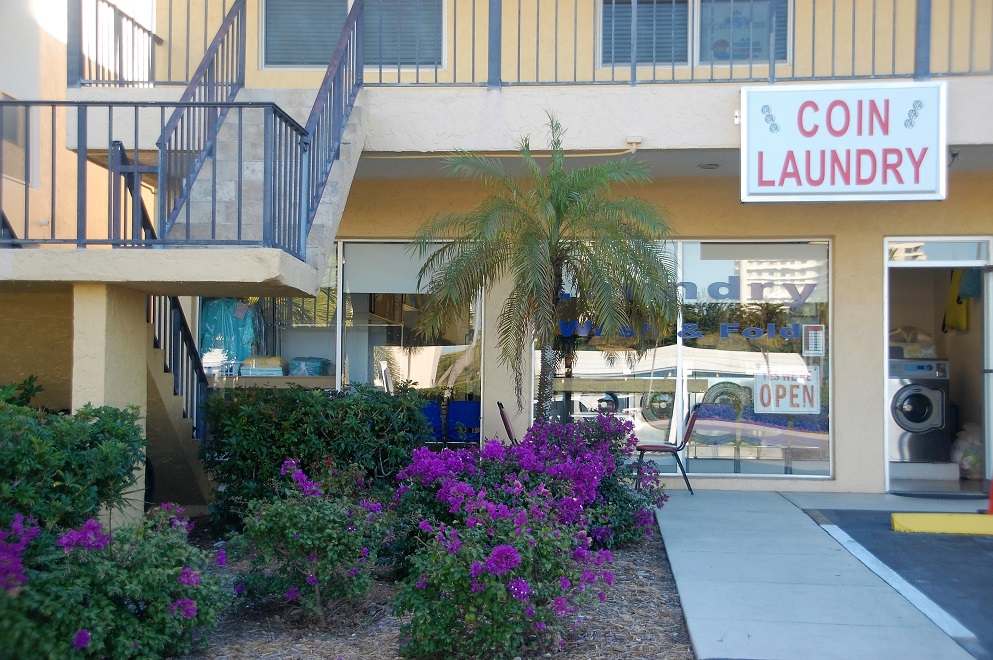 This Marco Island anchorage is a great one with good holding for the boat, marvelous resources ashore for us and solid dinghy docks to connect the two. The rental car was a short walk away, there is a Winn Dixie supermarket a stone's throw away (as well as CVS, Walgreens, restaurants…) and even a laundromat. I was a bit worried there wouldn't be a laundromat because the town is rather swanky; however, I found one nearby and it is lovely. It is in a mini-mall (as are most things in Florida), tucked in the corner. There are plenty of clean and new machines and loads of current magazines to while away the time. It's Marco Island Laundry on North Collier if you need one while in the area (http://www.yelp.com/biz/marco-island-laundry-marco-island).