Reluctant Departure from Key West: February 14 2016
We have a nice walking route on Stock Island which allows for a breakfast pit stop at DeLuna's Café and some chit chat with the ladies behind the counter, Christy and Janet. They are cheerful and friendly so we try to time our arrival between the rushes so that we can kibbitz; after the fisherman and before the office workers. Chris continues his boat projects without much bandwidth to plan fun stuff so I have become the Barefeet cruise director/organizer of fun. His head is currently puzzling out the wiring from the solar panels to the batteries – specifically, how to get the wires the exact length needed and crimped. Yes, the wiring was newly installed but Chris has seen a voltage drop and wants to reduce/eliminate the drop for maximum charging as well as get the Ft Lauderdale installed shunt corrected. Chris will add a bit more detail about this project here...go Chris...Yes, dammit, the wires were installed professionally at great expense. Unfortunately - not only did they install understized wireing at the time, but the electrician also installed the panels on the wrong side of the shunt. What that means is that the device that measures amps in/out of the batteries does not "see" the solar panels. So you never have any real idea if you need to recharge your batteries or not - nor what kind of a load is on them at any particular moment. This is unacceptable. Sadly, the only fix was to install a new shunt (the thing which measures amps in/out) in the engine room down where the solar charger was located. That means running new wires from the battery monitor in the pilot house to the new shunt in the engine room, as well as rewiring the battery bank so that the batteries lead to the shunt first and then to the negative bus. The wires required are big (4/0 guage for anyone who cares) and don't bend well. They also require a serious machine to crimp them. Of course, since we are worried about voltage drop the old crappy battery connectors need to be replaced, too. Plus, we also need to put some over current protection in the solar circuit (which the professional seemed to miss). All this needs to be done on your belly and twisted up like a pretzel. Think twice, cut and crimp once.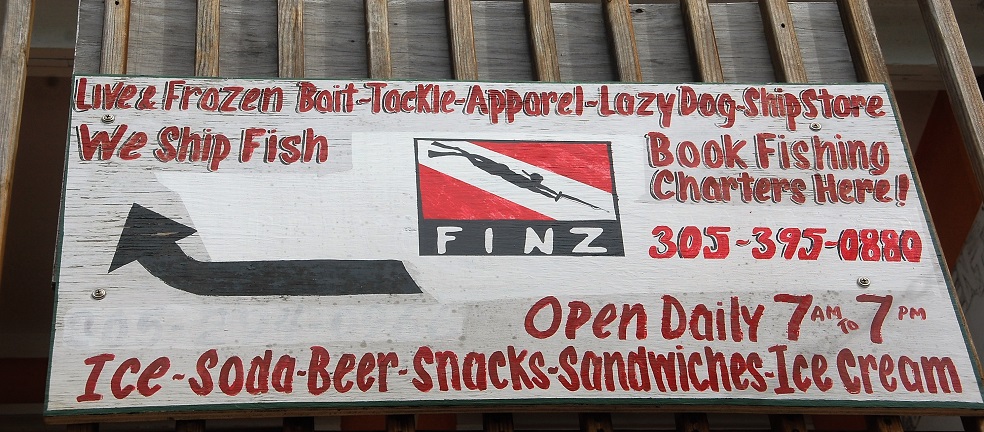 But have no fear because it is not all dull work for us. I have taken the chance to sleuth out a half-day of speargun fishing. I talked to a local dive shop, Finz, then Chris and I went back to finalize our plan (http://finzdivecenter.com/index.html). It will be just the two of us, an instructor and a captain for four hours of free diving and speargun instruction. We tentatively decided on the date of February 2nd; however, we left it flexible because the weather has been so squirrely. Luckily, the weather cooperated and we had a gorgeous day above and below the water with clear, sunny skies and good sea visibility. Instructor Levi was patient and conscientious and thoroughly familiarized us with the equipment. Donning 3mil wetsuits had us yanking and wiggling and groaning these rubbery body corsets into place. This made us realize how spoiled we have been with warm water oceans. Into the water we went and started looking for fish. I decided to play tourist and look for shells while Chris and Levi went off hunting. Chris used the speargun and was successful! Okay, it took some practice – both shooting and reloading underwater…yikes, tricky business. A few fish merely lost some scales and swam away but a couple were caught and we have a new way to bring home our own dinner. Plus, I have some blackening seasoning ready to go...already sampled with sauteed veggies in a quesadilla (recipe below). It was a great day on the reefs off of Key West. Thanks Levi and Phil! We highly recommend these guys if you are in the area.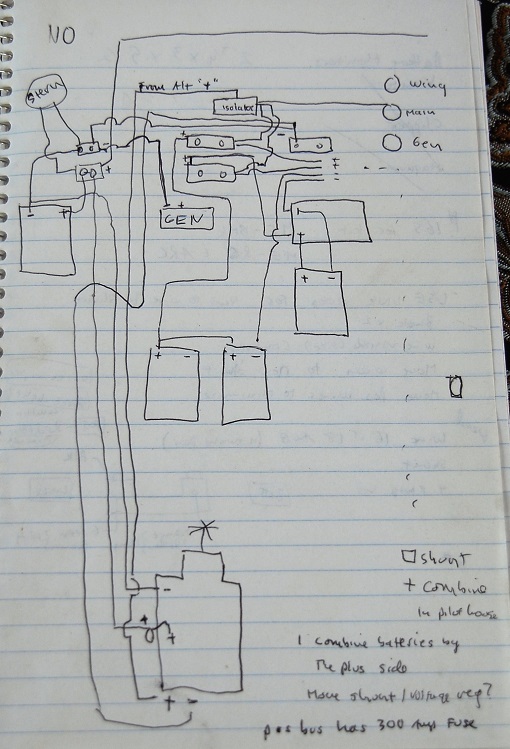 Chris puzzles mentally (on the wiring) as well as works tangibly on projects (dinghy tie-down and anchor gypsy and leaking sink) while I work on tasks around the edges like lining up an outboard motor mechanic to diagnose our engine problem. It is under warranty and has never quite run smoothly. Fingers crossed we can get it sorted.
However, cleaning is where I get a bit carried away. I started with a small bit of deck cleaning but didn't end up stopping until stainless had been un-rusted, large gummy/greasy bits were removed and the entire deck had been scrubbed. Phew! Barefeet gleams…but…I underestimated the amount of sun I got as my project continued to expand…resulting in the fact that I now look like the poster girl for what NOT to look like after a day in the sun.
Enough puzzling and outlining…it is time to start the wiring project since Chris has found a solution to the crimping issue…Los Cubanitos. This is not a Latin rock band but rather the crew at Key West Marine Hardware Store on Caroline Street (https://www.facebook.com/keywestmarine/). They will cut and crimp our needed runs of wire which is BIG wire - roughly the size of an Oscar Meyer hot dog. The crimper found online that would be big enough to do the job is priced at $1500…gulp…not to mention it would be a bear to store once the project is wrapped up. At $2 per crimp these guys are a perfect solution. Several trips to the store already and pretty quickly we are on a first name basis with the friendly and knowledgeable Los Cubanitos – Fita, Nick and Armando. Plus, there are two great breakfast options nearby which means we can still start the work day early but more slowly at either Harpoon Harry's or Pepe's (http://harpoonharryskeywest.com/ and http://pepeskeywest.com/).
Chris bends and twists and crams himself into crazy small spaces where he works on the wires in one position long enough that his body actually falls asleep. However, one by one the wires are measured and crimped and attached to the appropriate busbar…but we are back living in a tool shed.
Long work days and tools strewn everywhere make take-out a great dinner idea…and a chance to sample a Key West favorite – Sandy's Café (http://www.kwsandyscafe.com/). I went for their celebrated Cuban sandwich and Chris went for a chicken burrito. We returned with our steaming bag of aromatic goodness and could not get to the top deck fast enough (to avoid staring at the tool shed of the main room). The food was great! And since there is a laundromat attached – maybe I can finagle a twofer in the future.
We are beginning to see the end of our month in Key West on the calendar; however, there is no noticeable change in the weather conditions. January 2016 data is in and this January Key West has seen a 500% increase in monthly rainfall (from an average of 2 inches to 9 inches this year). El Nino is certainly living up to its reputation and has January 2016 recorded as the wettest month on record (since records began being kept in 1932). However, a passing five-day cold front has us optimistic that cold fronts are becoming longer which might herald longer quiet periods in between. More calm periods will give us a chance to make our next hop…to the west coast of Florida and up to Fort Meyers.
In the meantime, friends of friends, Carl and Deb, have taken us into their social circle with dinner at their place as well as Happy Hour bar hopping. It has been nice to have a local group of folks to hang out with. And we keep exploring more and more Key West gems like the Lazy Gecko on Duval Street for cocktails and the Green Parrot on Whitehead Street for live music (http://www.thelazygecko.com/ and http://www.greenparrot.com/).
Motivation has been primarily focused on boat projects so that we can be ready to scoot when the weather gets nicer. This has been successful as our list of projects continues to dwindle and I feel right at home popping around town to grab this or that resource as needs arise. What has been harder?! To muster the motivation for proper dinners aboard; however, at the risk of feeling like Barefeet is not much more than a take-out window or a PB&J joint – I have continued with my fish recipes (Feb 6). The latest was black grouper in Panang Curry (recipe below). Holy cow – this is another keeper! The fish was new to us but an easy and perfect recommendation from the folks at Fishbusterz. The mix of flavors in the curry was awesome; a bit of sweet from brown sugar and creamy from coconut milk and heat from chilies and salty from fish sauce and snap from fresh peppers, onions ginger and cilantro. Yum!
You won't believe it but the wiring is complete (Feb 10)! Chris is over the moon - all the volts and amps and math indicate that the solar and batteries are netting out. Okay, except for a phantom 2 amp draw…but…that's for another day. Our 1200 watts of solar panels are flowing and being tracked for power to the batteries…comparable to running your microwave in reverse.
Honest, our list of projects is positively evaporating. Sabrina from Cosme's Marine came by with the new carburetor for the outboard motor and the dinghy is purring like a kitten – something she has never, ever done (Feb 11). Sabrina is on track to become a certified Master Marine Technician under Master Juan's tutelage (http://www.cosmesmarine.com/). She switched from diesel engines to outboard engines because - and I quote, "with my tiny fingers they give me all the little hand jobs" (followed by blushing to her roots after realizing what she just said - tee, hee, hee) - you work with what you got. Thanks Juan, Lynn and Sabrina!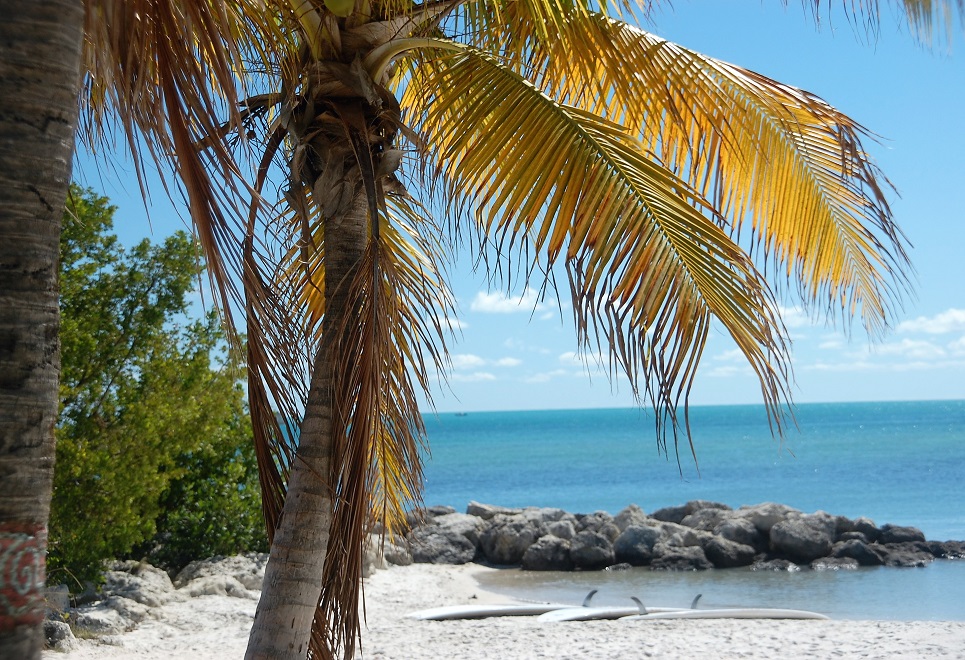 Now it's time to enjoy Key West without projects hanging over our heads as we plan a departure…possible weather window next week for a 10hr hop to the west coast of Florida. Things are lining up. And for icing on the cake - Mother Nature has decided to give the forecast a bit of normalcy with clear skies, warm(er) temps and bright sunshine. We are lovin' it and do not take it for granted…especially because it is negative 20 degrees F with windchill in Boston.
Pizza Alert: we have a new flavor. It is garlic, bacon and at the last minute – sliced bananas. What?! Well, we were intrigued and curious when friends mentioned this favorite of theirs to us so we made an inaugural run under construction supervision of Deb and Carl. These guys learned about this flavor combo while in South Africa and we will definitely make it again…now named the Deb & Carl pizza.
We have had a great month in Key West! It is a place with a combination of characteristics that mix really well for us. Goodbye for now before the bottom growth roots us here but we will be back. Assuming that weather holds we will make a ten hour/65 mile hop to Cape Sable on Tuesday, February 16. Bugger - old habits die hard and our provisioning for the passage has us sliping into old patterns of get-what-we-need-for-a-three-month-period-without-resources...nope...it is just a long, single day passage with Florida supermarkets on the other side. Scale back the provisioning and relax.
Our Key West wrap up:
ˇ Caribbean island - chickens roaming and crowing everywhere
ˇ Great food - think New Orleans where the restaurant next door is always better…even if it's a take-out window
ˇ Casual vibe - no drycleaners
ˇ Live music all day flowing from open windows and doors - just drop in or stay awhile
ˇ Color everywhere - murals and mosaics even on mailboxes and porches
ˇ Happy Hour options galore - it's practically a competition between bars as each tries to outdo the other
ˇ Flip flops - that's all you need to enter any establishment
ˇ Humor - on anything with words…like the Stoned Crab digital billboard...Wanted: iguana jockeys – experience a must
ˇ Welcoming people - from different places and dancing to different drummers but always friendly
ˇ Driving by landmark - left at the dolphin statue, right at the 5 foot giant conch
Blackening Seasoning (crewman Pete Puentes - Florida Keys Commercial Fisherman's cookbook)
1 Tablespoon paprika
4 teaspoons dried thyme
2 teaspoons onion powder
2 teaspoons garlic powder
1 Tablespoon sugar
2 teaspoons salt
1.5 teaspoons black pepper
1 teaspoon cayenne
1 teaspoon dried oregano
1/2 teaspoon ground nutmeg
3/4 teaspoon ground cumin

Note: For fish - melt butter, coat fish in it and dredge fish in seasoning. Cook in hot skillet.
Note: For grilled veggies - slice veggies of choice (peppers, onions, mushrooms) and sprinkle with 2-3 Tablespoons of seasoning. Saute in skillet with olive oil.
Panang Curry (from Deb on s/v Wings) serves 3
3 Tablespoons Panang curry mix (we find the small cans of curry paste in Chinese supermarkets or the international aisle of normal markets but you can use whatever curry you like – red, yellow or green curry paste)
2 Tablespoons fish sauce
1 can (14 oz) coconut milk
1 red pepper cored and sliced
˝ cup cilantro, chopped
1.5 lbs firm fish (or chicken breast), sliced
2 Tablespoons lime juice
1 Tablespoon brown sugar
2 Tablespoons ginger, thinly sliced
1 red onion, thinly sliced
1) In a medium skillet mix the panang curry with half the can of coconut milk. Stir frequently until bubbly.
2) Add the remaining coconut milk, red pepper and onion. Bring to a boil and simmer 2 minutes.
3) Mix together the lime juice, fish sauce and brown sugar. Add to simmering sauce along with fish (or chicken). Bring to a boil then reduce heat to medium and simmer for 5 minutes, stirring occasionally.
4) Add cilantro and ginger. Stir and cook another 1 – 2 minutes more until the meat is cooked.
5) Serve over rice.