Northerlies Honk Like They Want To: January 22 2016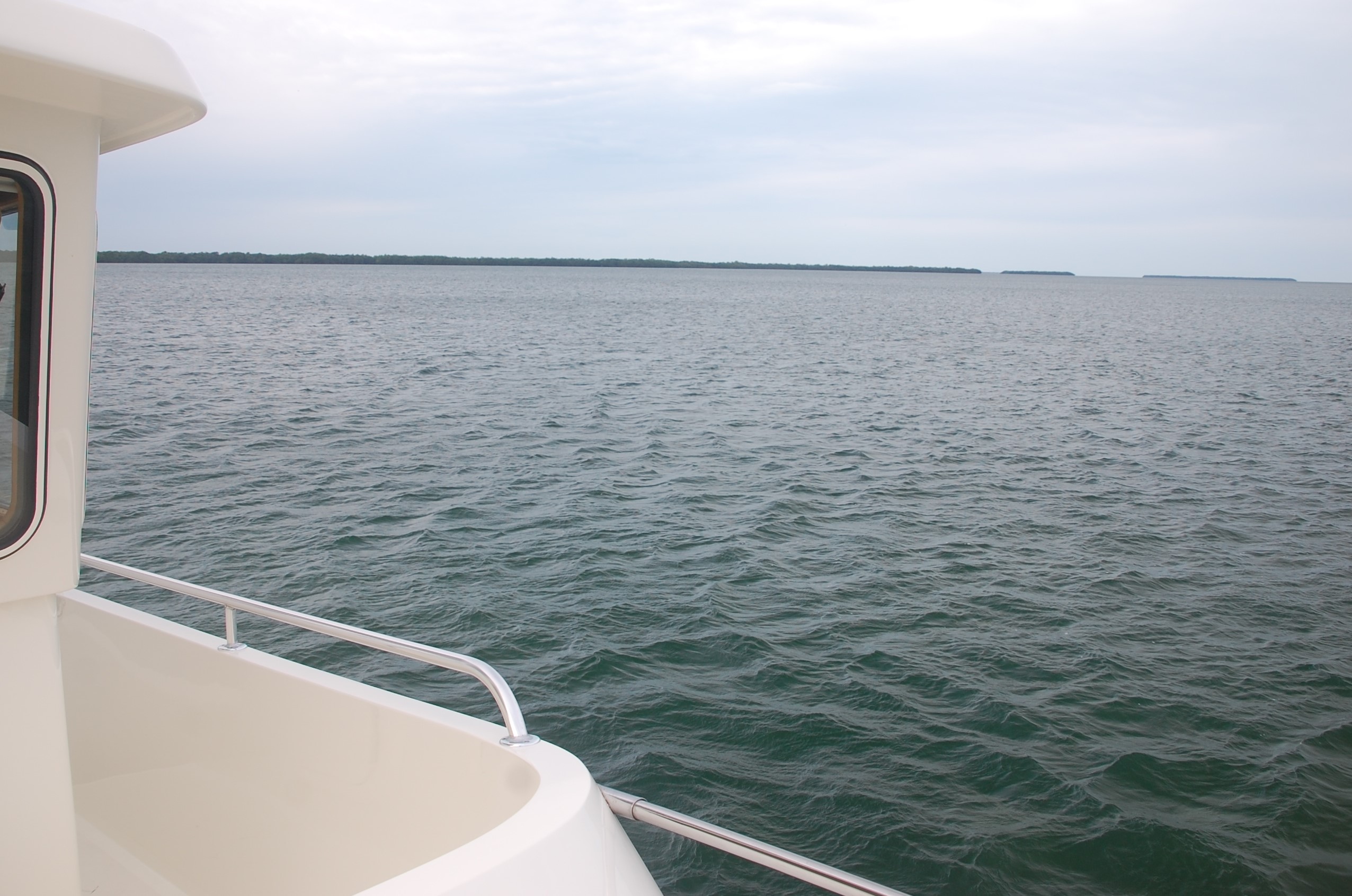 We continue to be the only boat anchored within eyesight on the eastern edge of Bahia Honda State Park at Johnson Key. We hear the winds howl but the boat does nothing more than a subtle shimmy – this is a well protected spot. The local classic rock radio station comes in loud and clear with dive reports and fishing reports and weather reports. The fishing report announcer is a hoot and pretty well sums up the forecast, "…those northerlies can honk like they want to but we're still fishing."
Marathon Key is 5-7 miles away. It is a hopping place with bars, restaurants, marinas, realtors, hospitals (people and pets) and all sorts of civilization. However, we feel like we are camping - calm and peaceful. Heck, we have not even seen a pleasure or commercial boat pass by in the distant channel.
Our fist morning at anchor had me focused on a breakfast of dropped eggs on toast. I went about gathering my ingredients and gasped when I opened the egg carton…they were nearly all broken?! Gosh, we must have rocked and rolled more than I realized the previous day. Nope – on closer inspection the eggs had frozen. What?! Well, there is a first time for everything. Nothing to do with them but toss them overboard. Onto breakfast Plan B…lighter on the eggs and heavier on the refried beans.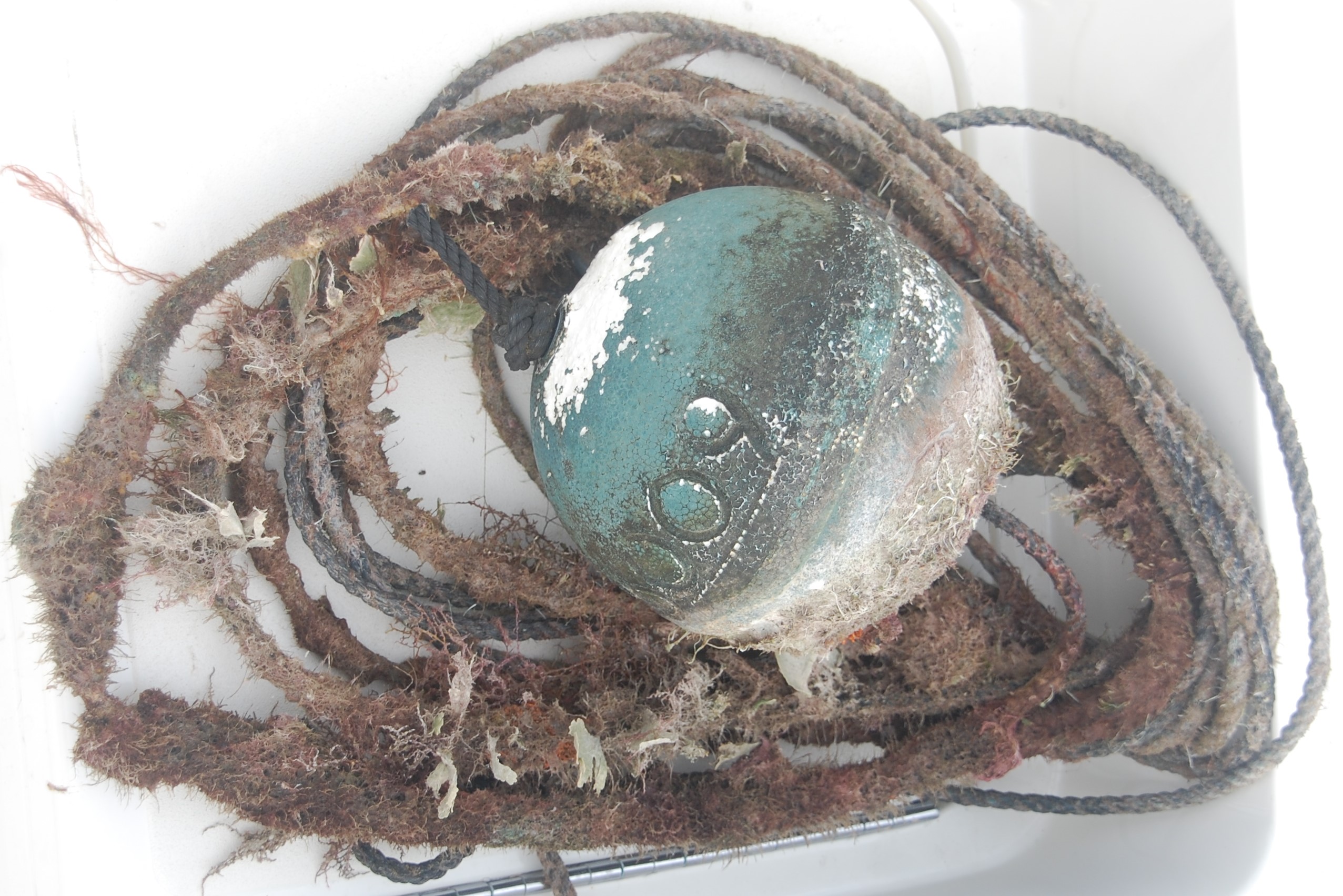 Happily, there is not much excitement or drama out here. However, yesterday morning we awoke to a coconut banging against the hull. Later, the sun revealed it to actually be a crab buoy with a long rope attached…sans pot. We repeatedly unsnagged it from the stabilizer, the stern thruster, etc. It seemed we could not get it to float away. So be it…welcome aboard. I bundled up the buoy and line and placed it on the front deck.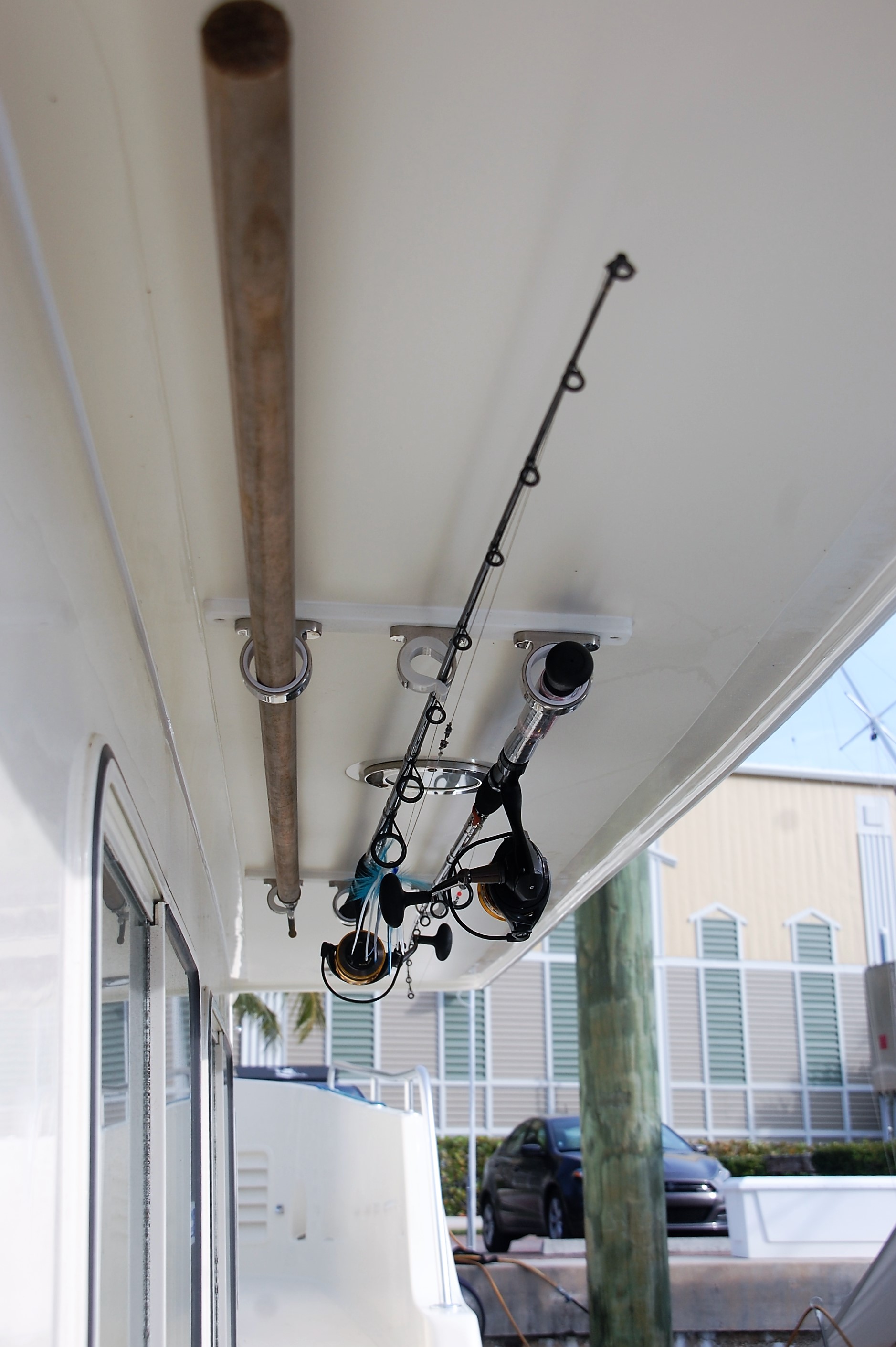 As expected, the cold front has brought chilly temperatures which has us in fleeces during the day, under blankets at night and me making lentil soup with grilled cheese sandwiches for dinner (Jan 12 – recipe below). Our quiet time at anchor has given us a chance to organize, straighten, fine tune our itinerary and even do a couple of small boat projects. I have updated our logs on the website and Chris has mounted our exterior rod holder...providing a bit more order after weeks of feeling like a tool shed rather than a home. But To Do lists remain longer than our arm.
The stalled cold front has kept us in our snug anchorage. We continue to use our below deck systems like the generator, heater (no snickering, please), watermaker, auto pilot, washing machine, fresh water system (gummed up after so much construction debris) etc.; however, they have been largely untouched for months while the exterior work was done. The systems are solid but they need a bit of TLC to get them back to their fighting strength. Today, we again turned on the water maker (which has been working fine) only to have it blow off a pump fitting. Okay, this pump fitting is made of titanium. Yikes – that is some high pressure! Not sure how that happened but we "know people." Phone calls back to Ft Lauderdale and the replacement part was being sent to us in Marathon. Thanks Henry at Southeast Power Systems for helping us out (http://www.diesel-plus.com/locations.php). Okay, time for dinner and we had ground beef burgers with Velveta shells on the side…hot, gooey and nicely sticks to the ribs.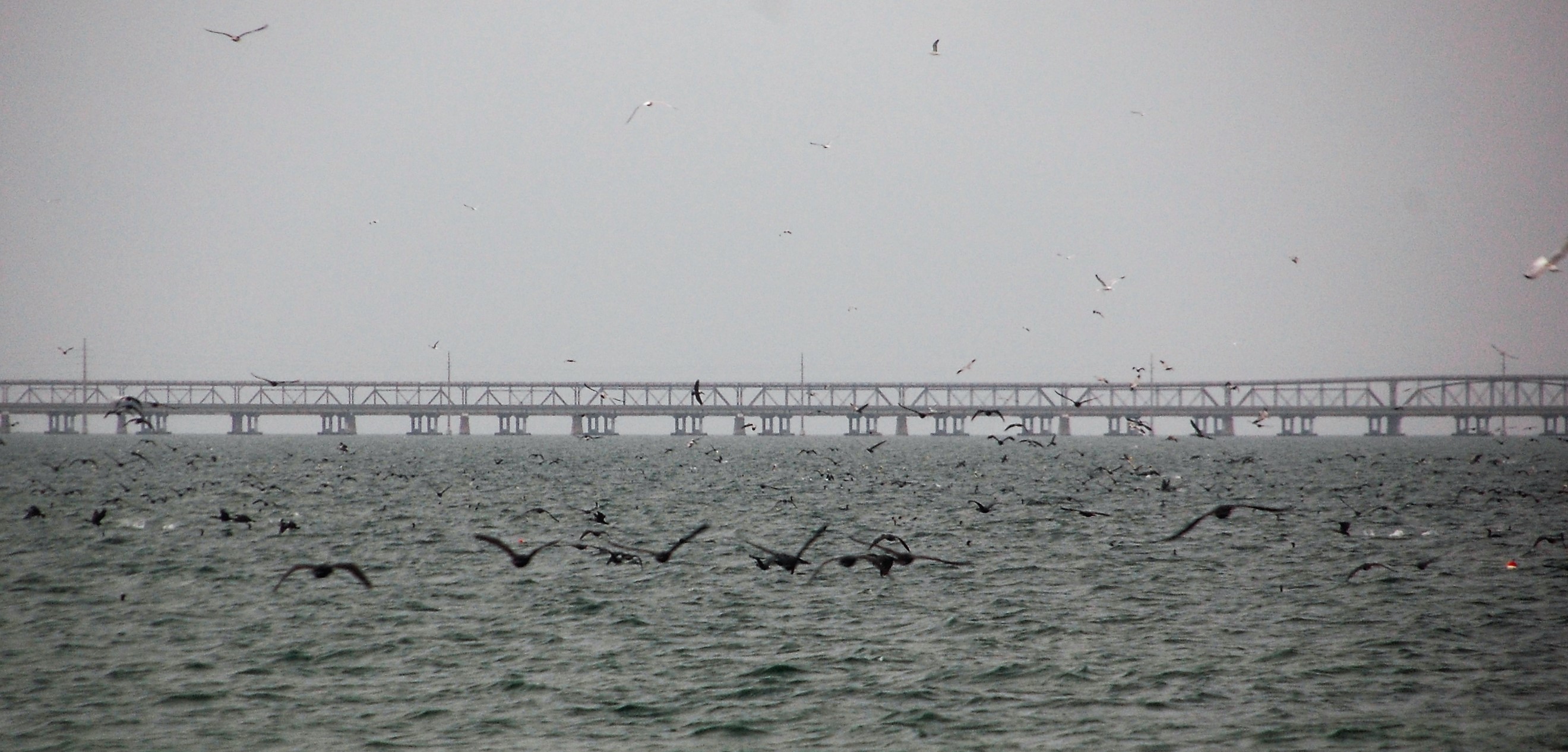 Time to pull anchor and get our part. We motored to Marathon through the grey and drizzly day and witnessed quite a bird feeding frenzy. It was a crazy melee of sea gulls, cormorants, turns and pelicans…all diving and gliding with little regard for anything but the seemingly huge cache of fish below the surface.
Forecast wind direction meant it was better to anchor on the north side of Marathon so we picked a spot off Pretty Joe Rock and dinghied to get the part at Marathon Marina and RV Resort (Jan 15). These guys also went out of their way for us and accepted our package even though we are not staying at their marina. Thanks! Don't be fooled - there are LOTS of great people in the world.
It seems we may have unconsciously pinned too many hopes on a longer pit stop in Marathon. There has been crazy weather with strong winds clocking around from every direction accompanied by drizzly rain and grey skies…only to start all over again just as they finish. It's all pretty unusual (so the locals tell us). These conditions have boaters scurrying into marinas. Understandably, there is no room at the Inn and we will need to move on…at least we have our back-stop anchorage at Johnson Key if nothing else pans out.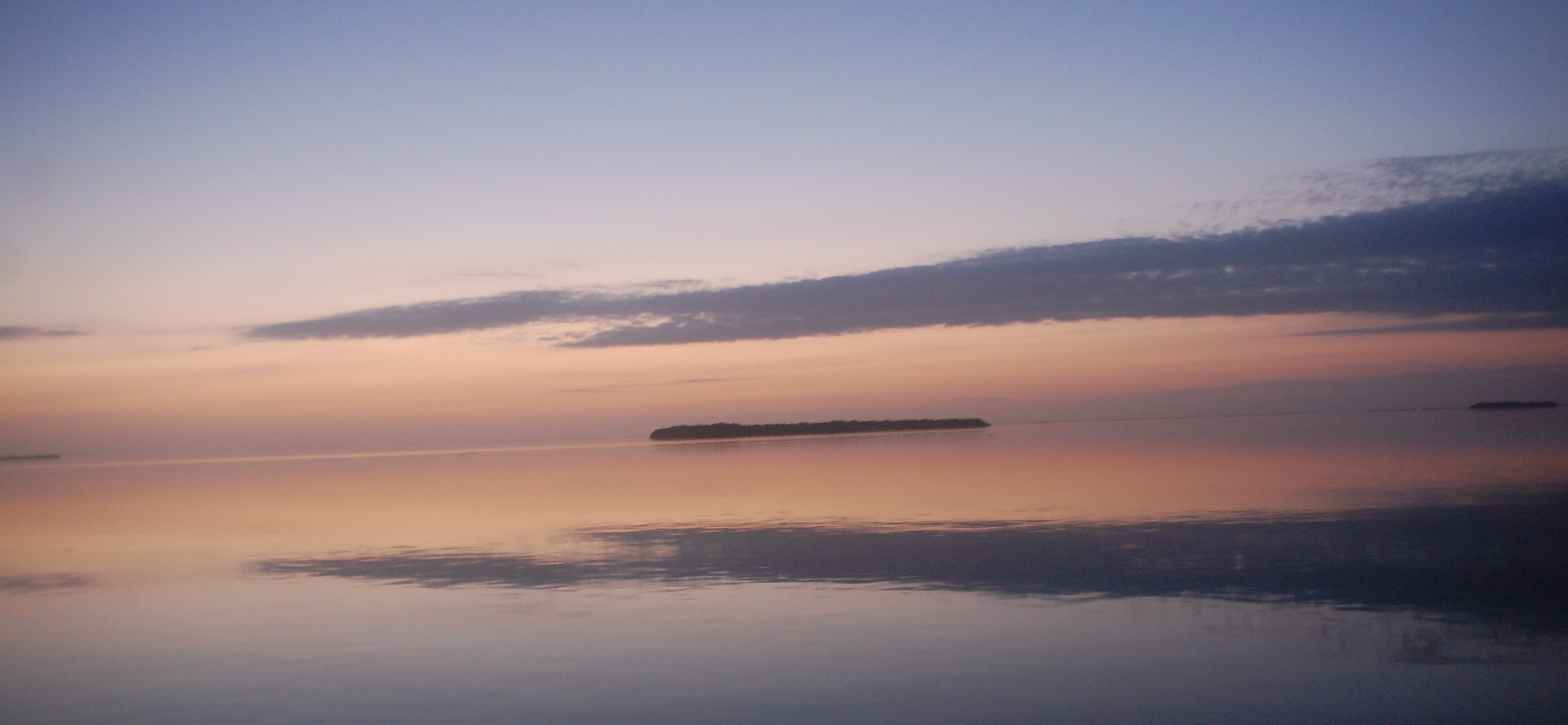 Sure enough - back to Johnson Key we went for one more night and the sole boat in the anchorage. About dinner time we saw 40 knots or more with total white out conditions from sheets of rain. Yikes! On went the chart plotter as the only way to determine whether we were dragging. No dragging but our nerves were frayed. Thank goodness that was the last storm hurrah before the sun set. Serene calm welcomed us for the sunrise the next day…must be the calm before the next storm (Jan 16). Latest forecast: tornado watches, 60 mile an hour wind gusts and massive rain…where are we?! The plains of the mid-west?! Fast forward and we are happily tucked into what is quite possibly the last slip in all of Key West. No kidding, boat space is squeezed because there is a fishing tournament in town with a $10,00 purse for the heaviest king mackeral weighed in, annual Sail Week is this week (12 countries and 24 states represented) and one marina is closed for renovation. Our luck is strong at the moment and we are glad to have the secure spot from which to explore Key West…and a couple spots north (by land) that we had to blow past on the water due to weather conditions.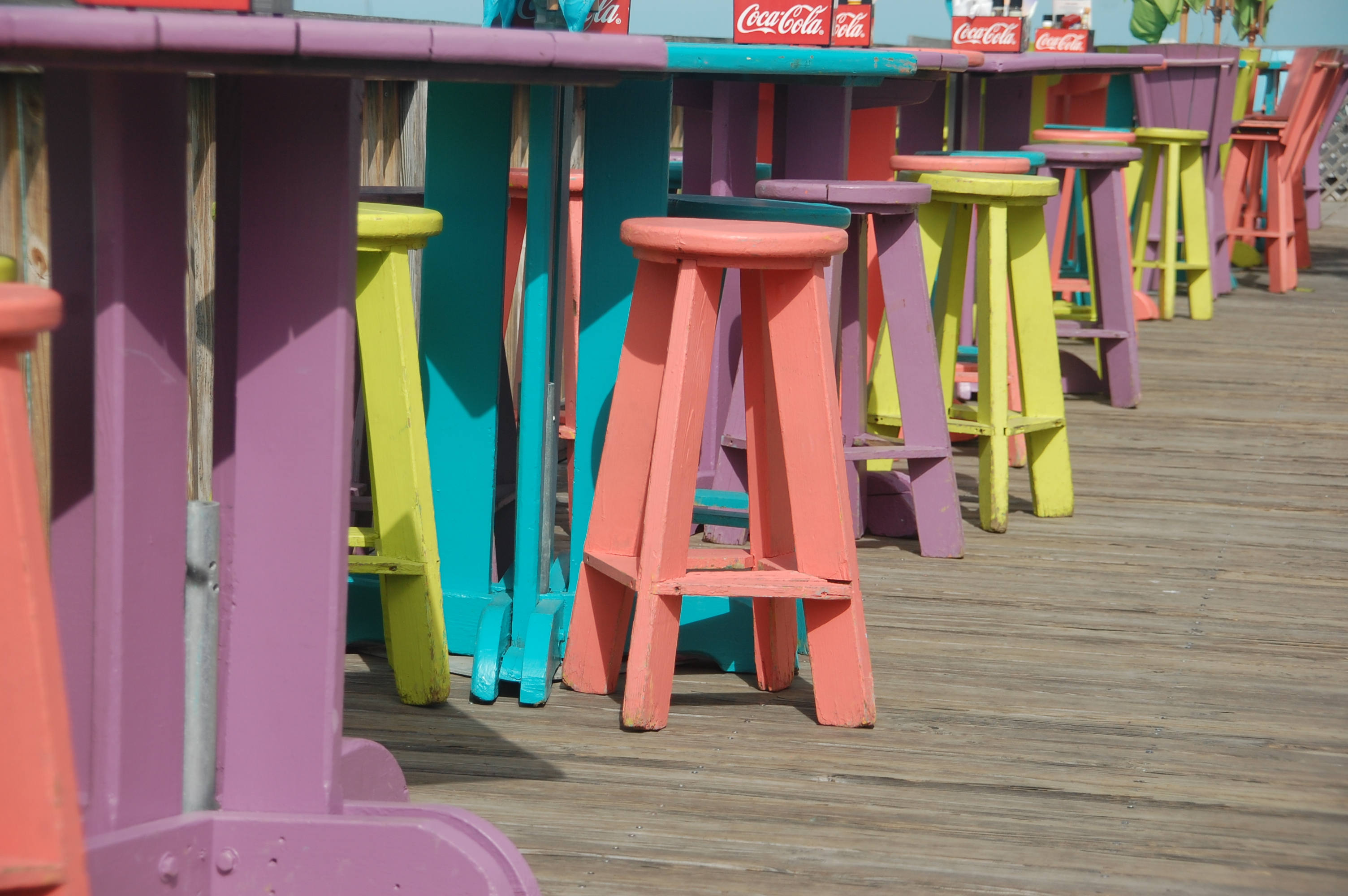 Our marina is at the northern end of Key West on Stock Island. Stock Island is a bit more mellow and old Florida than Key West but both are casual and laid back. Within 48-hours we had visited the Home Depot, both West Marines and the Key West Marine Hardware Store. We should be all set to complete our projects. While finding our project resources we also wandered a bit of Key West. It is a fascinating mix of commercial fishing; shaded southern porches; whimsy…and drinking (it was founded by pirates).

Time to dive into projects. We have a long list of items but we are checking them off at a more civilized pace rather than at the rate of headless chickens. We got up to speed on Florida dinghy regs (purchasing a small fire extinguisher and making copies of the dinghy registration to have aboard) – don't get us started because it is a sore nanny-state point with us. Let's just leave it that we were given a citation warning by the Coast Guard and are now in compliance. Below deck gremlins have been focused upon; clearing filters in the master shower lines, dissecting the water pressure issue in the guest shower and watermaker hose replacements. In between we have wandered the eateries of Stock Island such as Hurricane Hole Restaurant for the Pats vs Chiefs game (http://www.hurricaneholekeywest.com/); De Luna's Café for Cuban breakfast pastries and coffee (the coffee is small and strong like espresso and often referred to as Cuban cocaine); and the longtime local favorite Hogfish Bar and Grill (http://www.hogfishbar.com/home). Hogfish has definitely been discovered but it is still a wonderfully quirky dockside watering hole with delicious cheeseburgers and fish tacos…but…our real favorite was the rice and beans. Wow – awesome!

We have been happy with our decision to duck into a marina due to strong winds. Boat projects continue to click off and we have focused on making fish recipes. As most people know, Chris and I are not big seafood lovers; however, when it's fresh we are quite happy. Just down the road from the marina is a fish market called Fishbusterz (http://www.fishbusterz.com/). They are the largest fishery and seafood market in Florida…and well stocked to introduce us to the fish of the Keys. We started our fish odyssey with yellowtail snapper in a citrus beurre blanc sauce (recipe below). The sauce recipe is from the iconic Key West restaurant Blue Heaven and it's simpler than the name would indicate…mostly just reducing the few ingredients. Holy cow, this is a keeper! The fish is tender and mild with the sauce adding a delicious combo of creamy and pucker twang (Jan 20). Funny thing about the last photo. I nearly forgot to take the complete meal photo...until only one bite remained.

Taking a break from boat projects we decided on a Keys road trip north along Highway 1 to visit some of the places we had missed on our way south (Jan 21). Armed with a home brewed pot of coffee we hit the road. Jackson Square in Key West is mile marker 0 and Stock Island is mile marker 5. Our first stop was the Bahia Honda State Park between mile marker 36 and 37. Our Johnson Key anchorage had us anchored on the edge of this 524 acre park for several days but this was a chance to visit the sandy beach and old bridge that are the center of the State Park. This is a lovely spot where we enjoyed soaking up the scenery…made even better by the bright sun which showcased the many shades of the blue water. Twelve miles further north we hit the Big Smoke (city) of Marathon where we made a quick pit stop for Chris to get his hair cut at the Village Barbershop. Driving during a weekday had traffic at a very manageable level so we kept going to Islamorada at mile marker 81.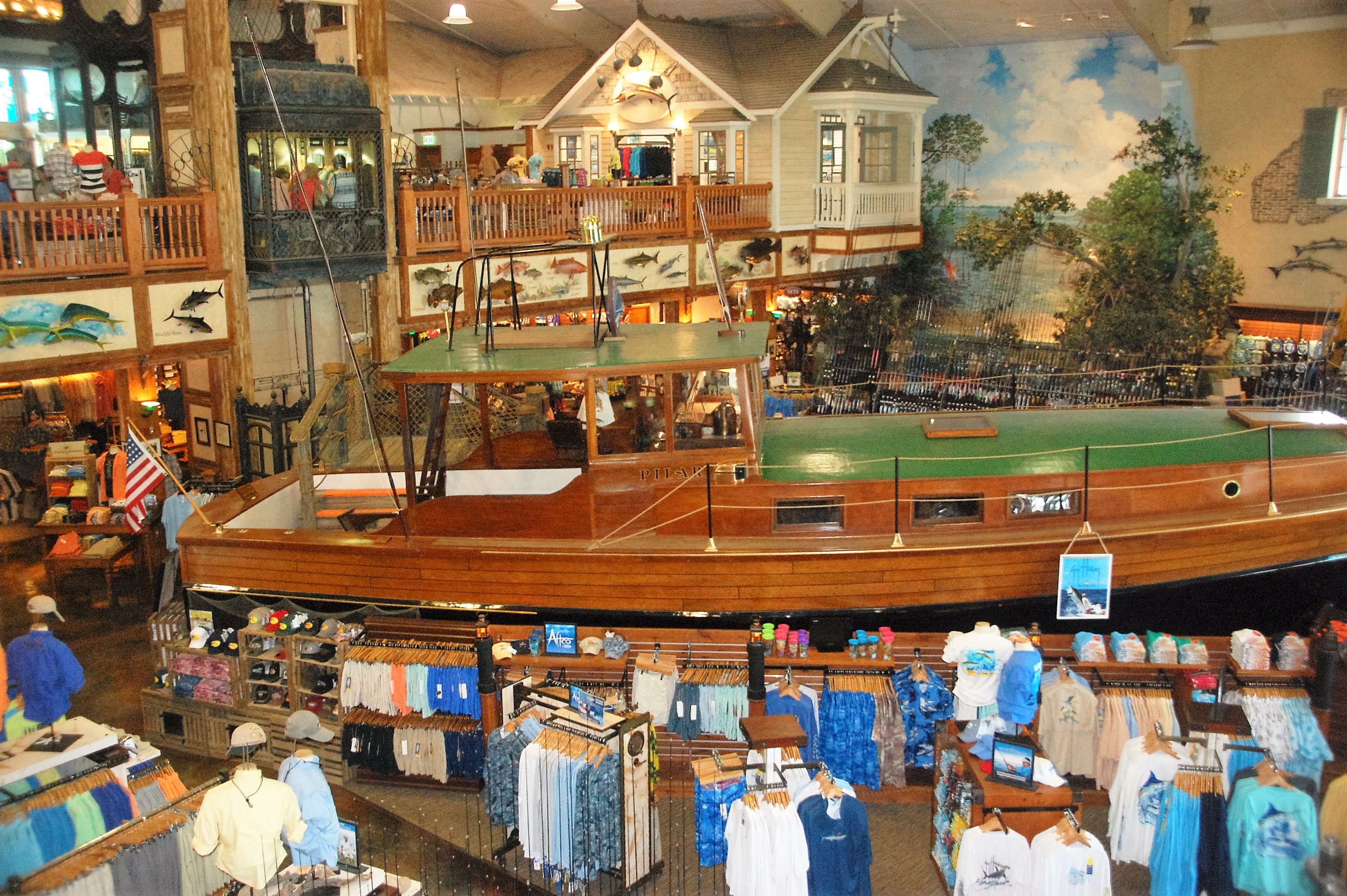 Islamorada is home to the Worldwide Sportsman (purchased by Bass Pro Shops in 1997). It is a sportsman's dream like the other locations; however, this location also has beautiful architectural touches which remain from the original store that was founded in 1967 and became an institution of fly fishing in the Keys. Heck, it even has the half-sister ship to Hemingway's m/v Pilar (used in the movie Key Largo with Bogie and Bacall). The original Pilar is on display in Cuba. We roamed the aisles and were just as enamored of the sportsgear as we were of the beautiful building; inlaid wood designs on the floors, beveled glass window panes, brass door pulls of alligators, wrought iron porch railings of mangrove limbs, mounted game fish scattered on the walls - it was a stunning building.
Time to turn around because we had one more scripted spot on our Keys road trip…No Name Pub on Big Pine Key at mile marker 30 (http://www.nonamepub.com/). We have visited this spot before and were eager to return to the casual vibe and pizza. Dollar bills are the decoration of choice and it is said there are $90,000 worth stapled to the low ceiling, walls, door jams…you name it. Driving to Watson Boulevard can be tough…especially because there are more signs to be careful of the endangered Key Deer than anything else. We were ready to call the Key Deer thing a hoax until we saw one as we headed to our car. They are smaller than your average deer and quite cute (http://www.fws.gov/refuge/National_Key_Deer_Refuge/).
That was it for our road trip. Back aboard Barefeet we had a mango and rum sundowner with Papa's Pilar Rum – blended in downtown Key West of multiple rums from the Caribbean, Central America and Florida...and very tasty. Sundowner entertainment was provided by the daily afternoon return of charter fisherman with their catches. The action gets going as the fish are filleted and scraps are tossed to the impatiently waiting pelicans. We had a great day! Now we will double-check lines and batten down the hatches for another two days of honking wind and pelting rain - the cycle of the season is established.
Greek Lentil Soup
3 Tablespoons olive oil
1/2lb (250g) green or brown lentils
3 medium white onions, chopped
5 cloves garlic, chopped
5 cups water
2 bay leaves
1 laurel leaf
3 Tablespoons white vinegar
˝ cup olive oil
1 can (13oz) crushed tomatoes
2.5oz tomato paste
Salt and pepper
Optional garnish: feta
1) Soak lentils in warm water for one hour.
2) In a large pot heat 2T olive oil and saute onions and garlic until transluscent.
3) Add water, strained lentils, bay leaves, laurel leaf, vinegar and ˝ cup olive oil. Simmer 30 minutes.
4) Add tomatoes, tomato paste, salt and pepper. Simmer another 30 minutes until soup is thickened and lentils are soft.
Serve with crusty bread. Garnish with extra vinegar and thick slices of feta.
Blue Heaven Restaurant Citrus Beurre Blanc for Yellowtail Snapper
1 oz of white wine
1 1/2 oz of lemon juice
1 1/2 oz of lime juice
10 oz of cream
4 oz unsalted butter (1 stick)
3 tablespoons all-purpose flour
2 6- 8-ounce yellowtail snapper, grouper or other snapper fillets

ˇ Place the first three ingredients into pot and put on a medium heat until reduced by two thirds.
ˇ Add 8 oz of cream and whisk into citrus mixture, return to heat and reduce by two thirds and mixture is of a thick almost butter cream sauce consistency.
ˇ Remove from the heat and whisk in the remaining 2 oz of cream and drop large pieces of soft butter in and stir the butter into the sauce.
ˇ Meanwhile, pour flour in a shallow dish and dip fillets in it to coat. Melt remaining 2T butter in a pan and cook fillets, turning once, till fish flakes easily, about 8 minutes.
ˇ Serve fish and drizzle with cream beurre blanc with, steamed fresh green beans and fresh corn.